When it comes to small living room designs, countless styles, unlimited furniture options and being able to get anything in almost any colour makes the process a tricky challenge. However, there are a number of ways to make a compact lounge space seem larger by splitting them into 6 key tips. Moreover, find out what are some of the common design mistakes you can make in these small spaces, too.
Here are a few helpful design tips to make the most of your small living room.
#1: Put in furniture that doesn't eat too much space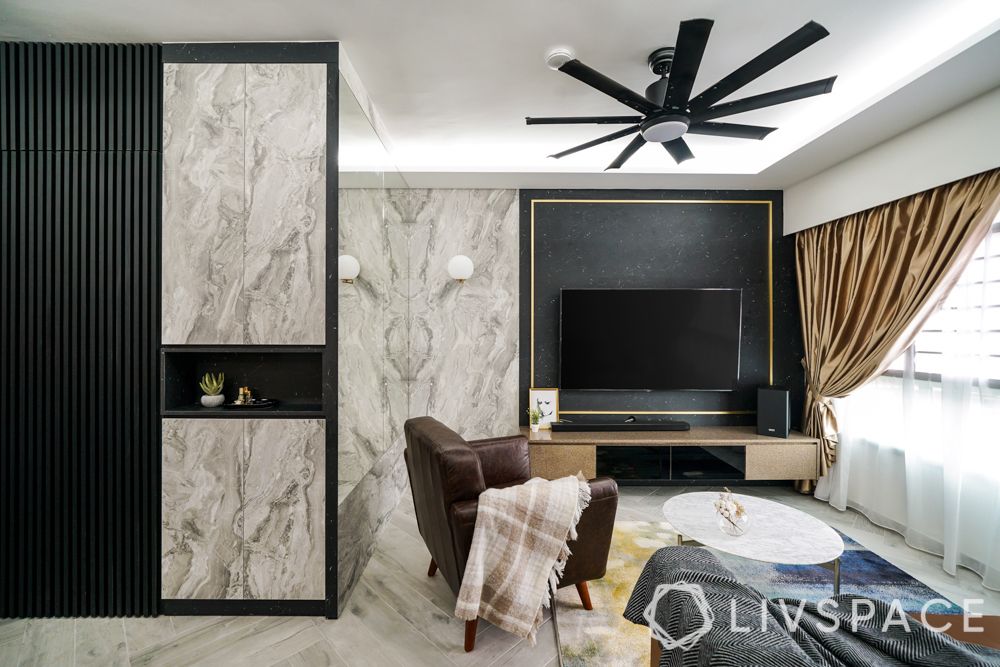 Picking out furniture for a compact HDB or condo can be a tricky challenge. While measuring the room and visualising the space is important, don't forget about picking out the right kind of furniture.
Our recommendation for seating
Your best bet for plenty of seating is an L-shaped sofa. However, these pieces can look bulky in a small space. Therefore, consider opting for upholstered arm chairs in addition to a minimal sofa. Similarly, ottomans and upholstered stools can be brought out for extra seating.
Our recommendation for TV unit and storage
Furthermore, wall-mounted TV units are a sleek and space saving element just like the in-built shelving in this 3-room BTO. Smart storage designs can give you the opportunity to display books and curios without taking up any floor space. A simple coffee table in the middle of the room can also be used.
#2: Use mirrors to make the space look bigger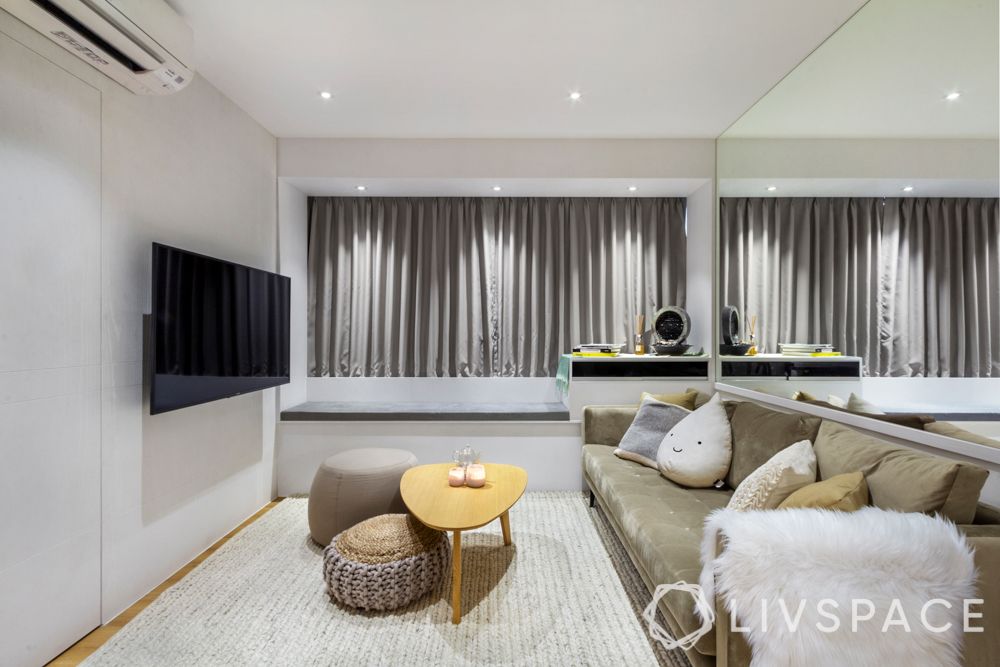 The most useful and effective decor items to invest in are mirrors. Wondering why? Mirrors have the ability to make a room feel larger and double in size. There are a number of ways to use a mirror. The living room in this 69 sqm home has a mirror on one wall to help make the room look wider. You can also place mirrors on the opposite wall of a light source like the window. This maximises the light that instantly brightens the room.
#3: Invest in multipurpose designs
When it comes to compact lounges, we know how important custom furniture is. Making use of every nook and corner to optimise the limited space is what a smart design is all about. In this 85 sqm home, storage and style goes hand in hand. This sizable storage unit is a mix of custom and modular design that was placed on a wall with a window. The custom made settee blends in seamlessly with the vertical modular storage. Moreover this storage unit works as a shoe cabinet, coat closet and even a bookshelf. And it's cleverly crafted to not block the window too!
#4: Keep in mind colours and patterns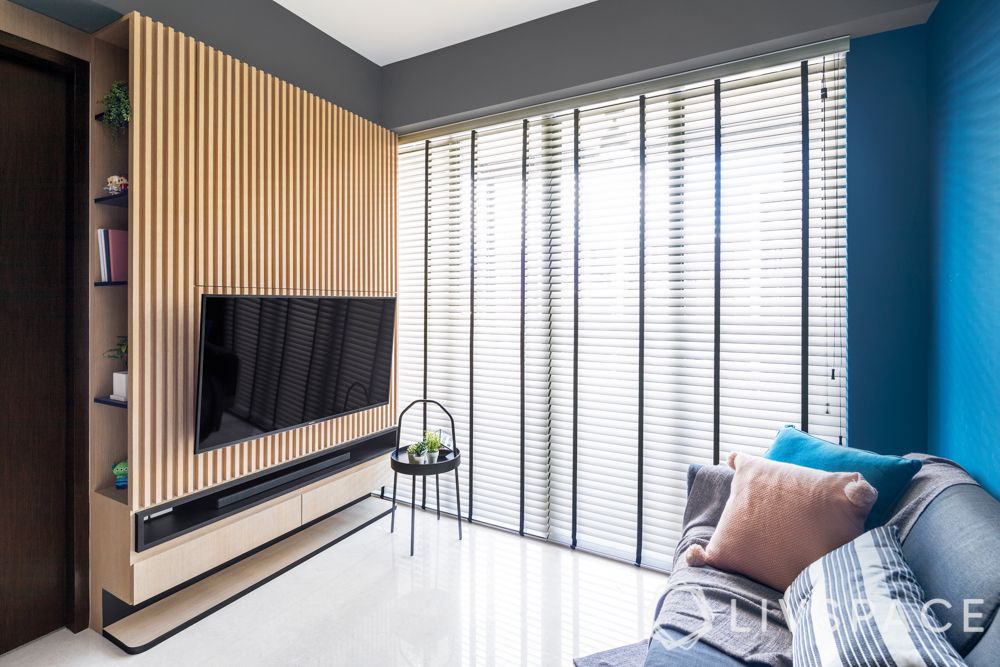 One of the first design elements to look into are the colours of a room. Depending on the amount of light and space available, you can pick out the right colours.
If you have a sizable window and plenty of natural light that can brighten up the room then opt for neutral colours as well as bright solid colours like blue. However, if the room doesn't get a substantial amount of natural light, opt for pastel shades while choosing lighter colours for the floor and ceiling.
When it comes to incorporating patterns in a small space, keep it simple. Pick out patterns that you're familiar with like stripes, chevron, herringbone, criss-cross, clover, etc. In this 46 sqm home, the TV unit is made of timber slats in a stripe pattern that creates the perfect visual break while giving the room a designer look.
#5: Carefully consider lighting options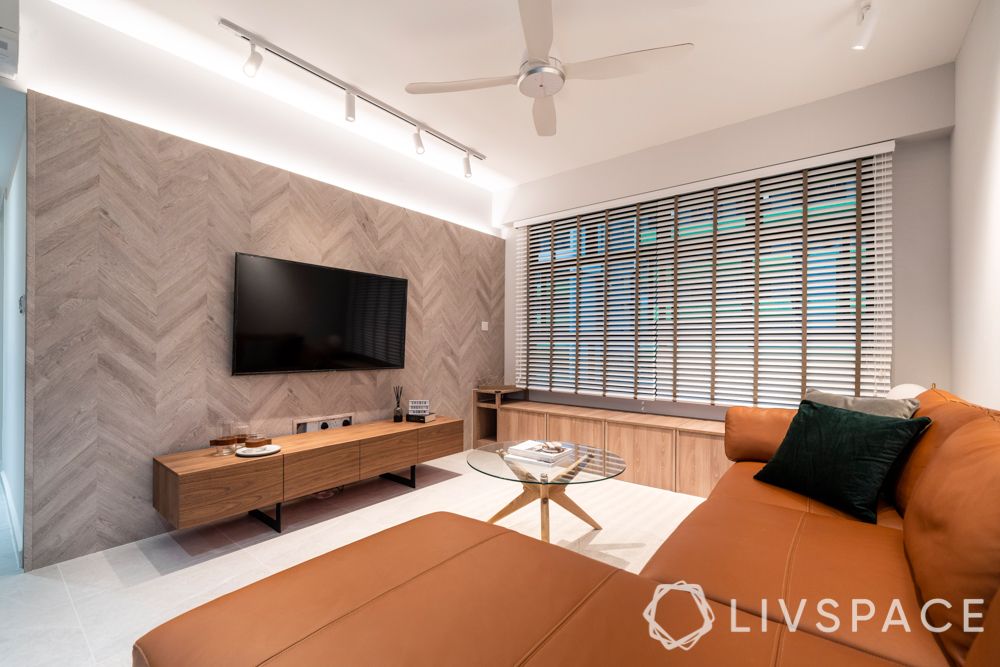 One of the last elements to consider for small living room designs is lighting. While you might think that plenty of lighting will help create a bigger and brighter room, it could go wrong!
Therefore, keep it simple and minimal with ambient lighting. Carefully consider false ceiling and floor lamps for a small space as it can reduce the ceiling height and floor space.
Here, the living room in this HDB BTO gets all the light it needs from the track lights and wall to wall window.
Our recommendations
Track lights
Sconces
Table lamps
Take a look at this lighting guide to explore all your options
#6: Avoid these mistakes for small living room designs too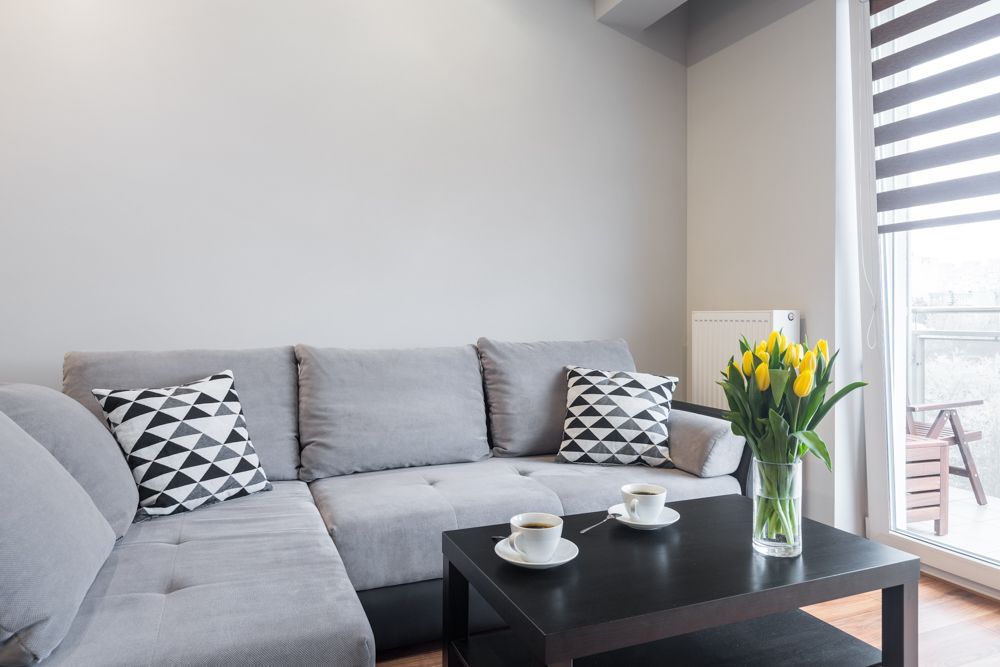 Here are some design mistakes you should avoid while designing your compact living space:
Avoid purchasing oversized sofas with large cushions. This reduces floor space and gives the room a bulky look. Moreover, it makes maneuvering around the living room difficult.
Ensure you have more than one source of lighting. Windows, ceiling lights as well as ambient lights make a living room functional.
Sticking to one design style can give the room a monotonous look. Switch it up with colours and patterns to give the design more depth.
Picking out furniture that is not functional and comfortable can set you back. Always select furniture that is minimal and cosy.
If you're looking for tips to design a compact bedroom, take a look at How to Make a Small Bedroom Pretty and Functional?
Send in your comments & suggestions to editor.sg@livspace.com.