When it comes to designing compact spaces, our designers have some great tips up their sleeves. From space-saving furniture to hacks for adding extra storage space, there are many ways to nail the small room design. Whether you are looking for colour options for the walls or thinking about the type of wardrobe you should be getting, it's all answered here! Check out these amazing compact bedrooms from homes that we've designed so far and pick up an idea or two for yours.
#1. Which is the right colour for a small room?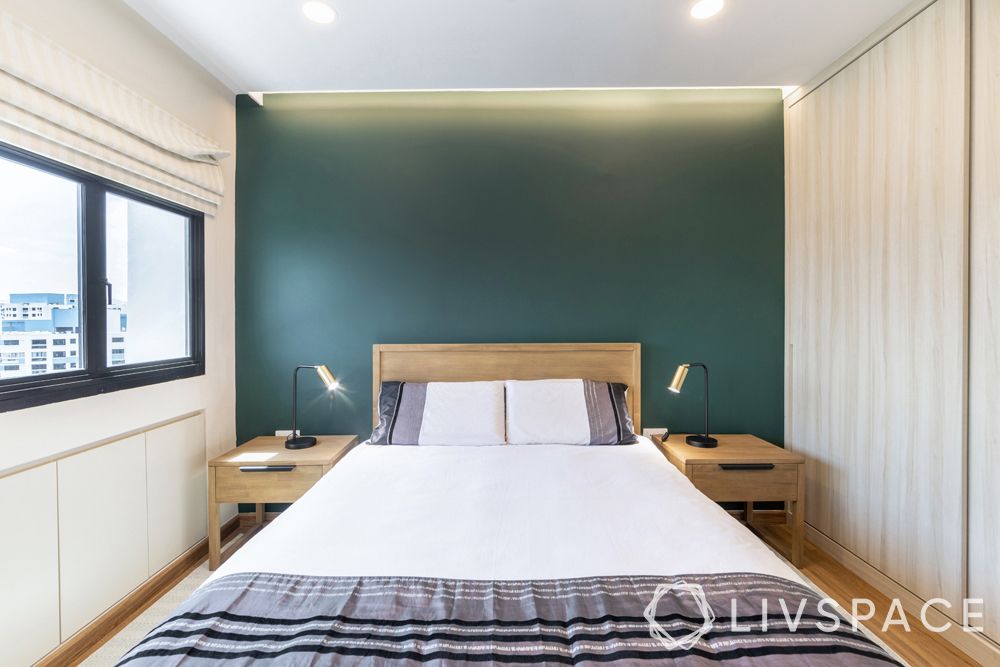 Light colours are your best friends when you are dealing with a tight space. For the obvious reason that it reflects more light and tends to make the room appear larger than it actually is. This does not mean you cannot add any colour to your room and you have to stick to whites and beiges. We suggest you keep it at an 80:20 ratio. Make sure most of your walls are white, cream, beige or any other light colour and add one feature wall. Here, we have used a sea green feature wall as a design highlight to keep things interesting.
#2. What is the essential furniture for a compact room?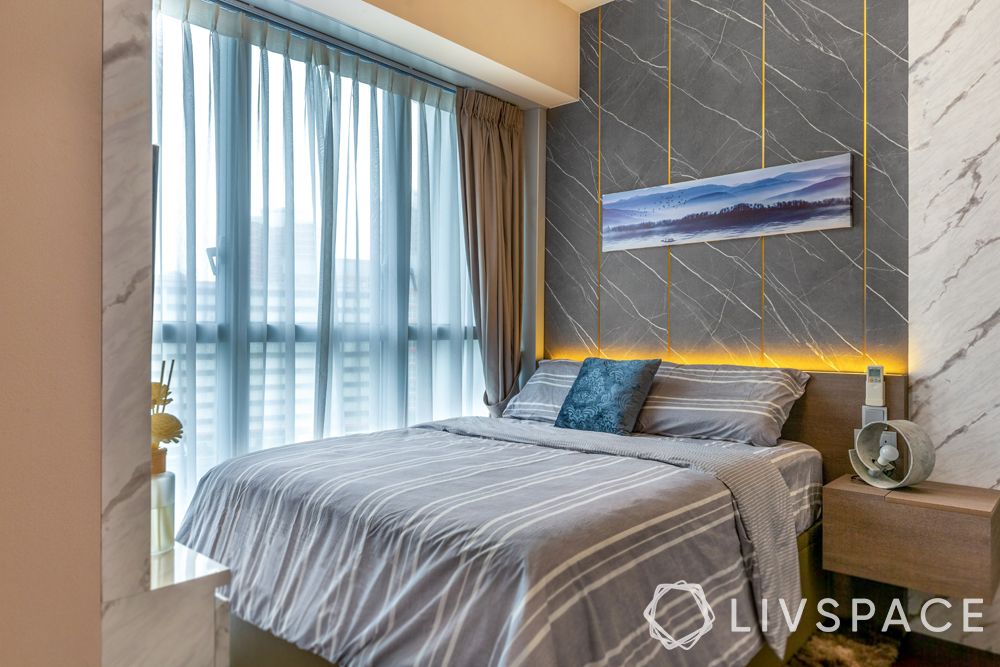 A bed and a wardrobe are all that you actually need in a small room design. But that's never enough, right? So, what do you do to bring in other furniture pieces that you cannot do without? For instance, if a side table is absolutely essential for you, then make sure you opt for a wall-mounted alternative. This will save a lot of floor space and look minimal as well. Floating furniture is your best bet when dealing with a compact room like this.
#3. How can one add more storage space?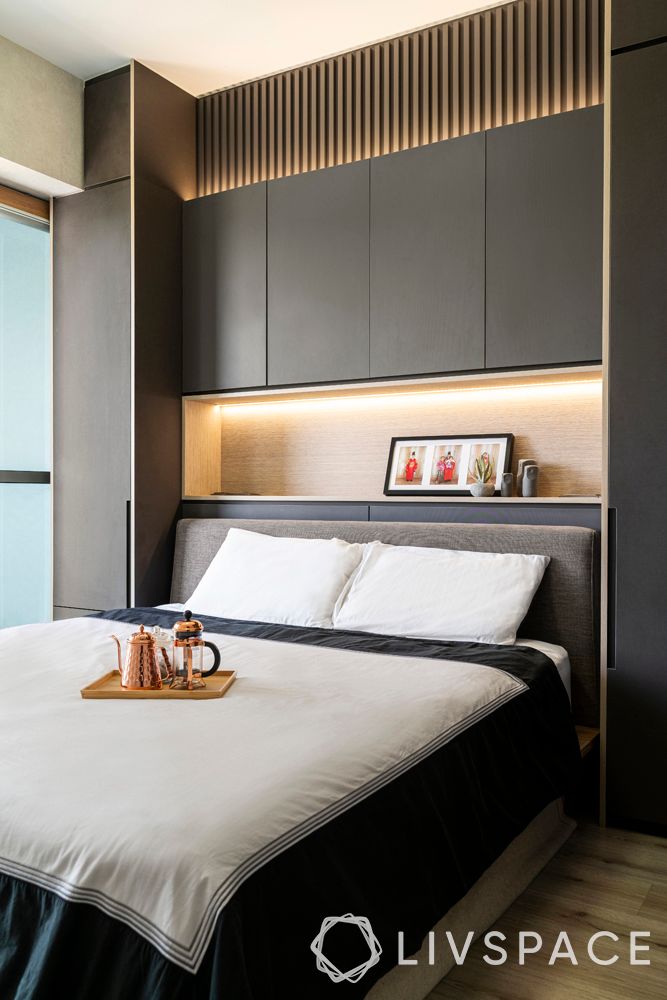 Vertical storage is the answer here. When you don't seem to have enough space for storage, look towards empty walls. You will be surprised to know that those bare walls can become storage units for a small room. We absolutely love the idea of having headboard storage and recommend everyone to try this tip. Here, an entire headboard wall has been used to create cabinets and display space. Your linen and heavy things can be stored in these cabinets while the niche acts like bedside table storage. You can have night-time essentials like your watch, books, medicines and so on in that space.
#4. Which is the right wardrobe for my small bedroom?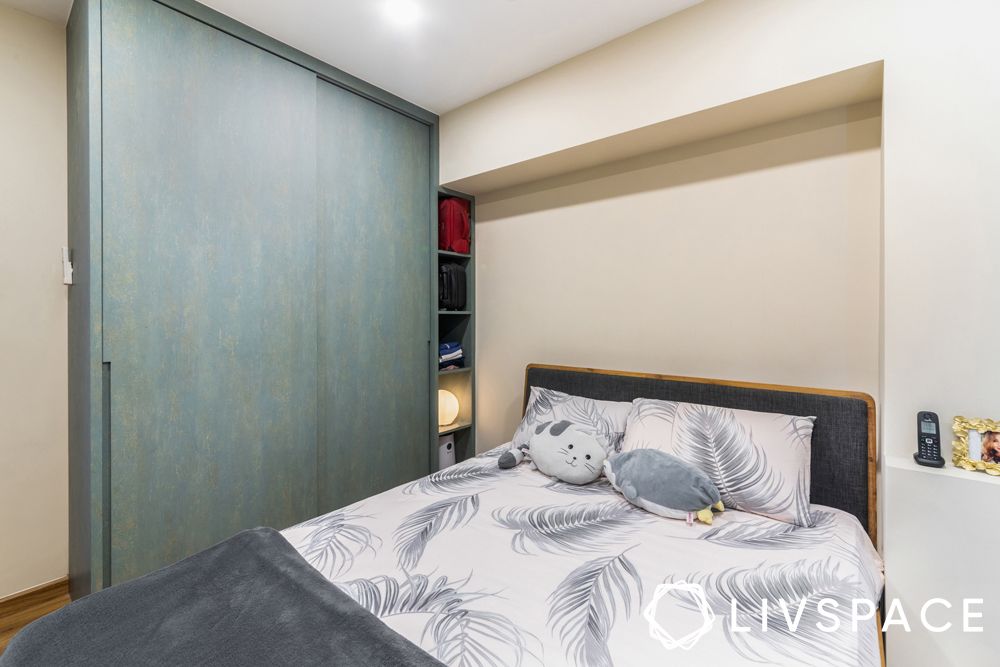 Undoubtedly, sliding door wardrobes. There's no second thought about the importance of sliding door wardrobes for a small room design. Our designers almost always prefer adding these while designing compact bedrooms because you do not need any space in front of the wardrobe. Unlike hinged wardrobes where you need to allow space for doors to open and close. To make the most of this tip, you can also add an open shelf next to the wardrobe to keep you bags and shoes.
#5. What kind of lighting would suit my small space?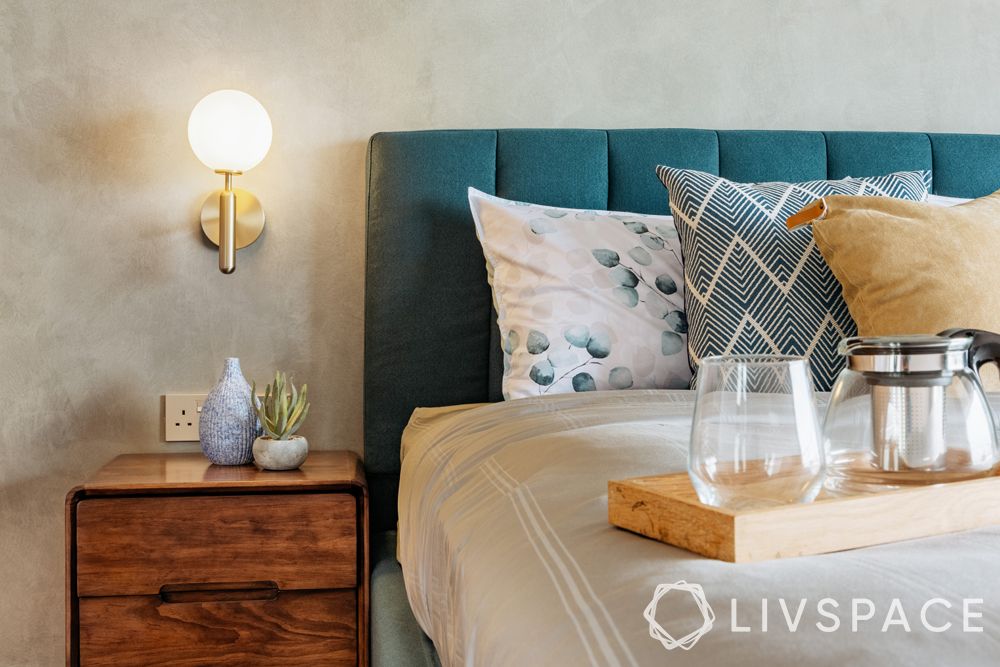 A mix of ambient and task lighting should be ideal for a small bedroom. When opting for task lighting like lamps or pendants for the bedside table, make sure you get wall-mounted ones. A simple wall-mounted light can save a lot of precious space on your side table. Also, always choose lights with dimmers to create an unforgettable ambience. After all, even if it is a compact space, it is a bedroom and it has to be comfortable and cozy.
#6. How does one add a multi-purpose space in a small bedroom?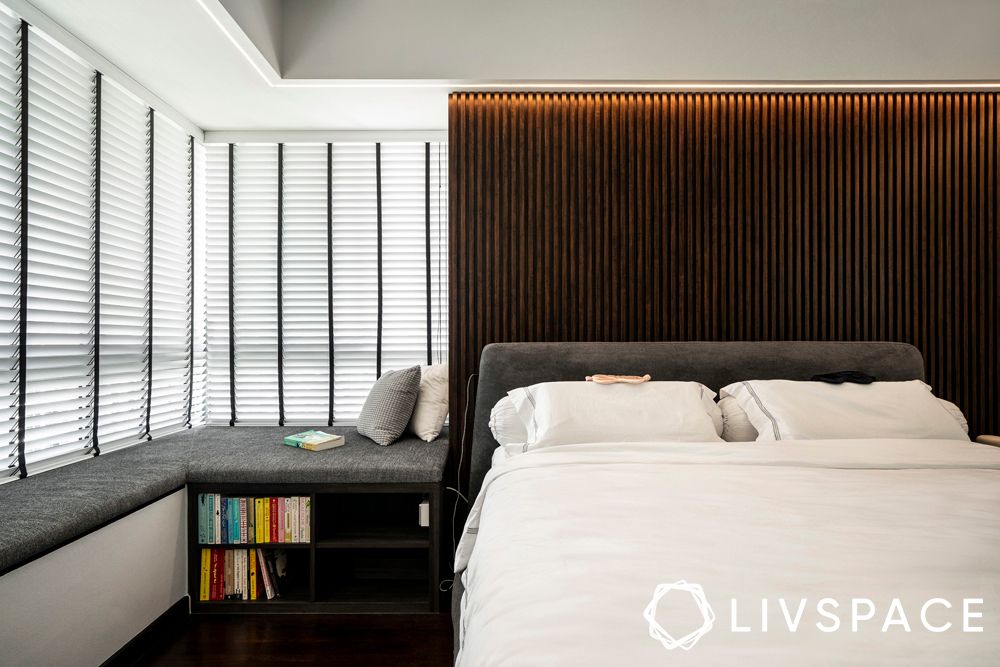 By utilising any dead space that you feel can serve another purpose. For this condo, our designer has added a bay seating in the bedroom. And not only that, you can also spot storage underneath the seating area. This can be used as a bookshelf and this corner can easily turn into your reading corner by noon. So, always think about how many ways you could use your bedroom and don't waste any space!
We hope you have clarity on how to get the look right when you're getting your small room renovated. If you're looking for more ideas, check this out: 6 Game-changing Design Ideas to Try for Small Bedrooms in 2021.
Send in your comments and suggestions to editor.sg@livspace.com.