Every home must make room for some basic activities: cooking, eating, bathing, sleeping and sitting. The function of sitting can be further subdivided into sitting for various purposes. For example, sitting down to rest, sitting comfortably watching a movie or sitting down to eat a meal. A different kind of seating arrangement is required for each of these functions; so we need to make do with using small space interior design techniques to make room for all of them.
We specialise in the concept of interior design ideas for small house. The following is a curated list of Livspace homes that have seating squeezed into the smallest of spaces.
How to choose furniture for small spaces?
While selecting seating furniture for your compact home, you can follow these tips:
Furniture should neither be too big nor too small for the space. So, make a note of the dimensions of the area and choose furniture that sits perfectly
Pick furniture that can be fit in a corner
Go for a monochromatic colour palette
Select small and lightweight pieces, preferably with slender legs
Feel free to do away with small accent pieces as they can clutter
Opting for multi-functional furniture can make your space more efficient
What Seating Options are Good for a Small Living Room?
#1: Poufs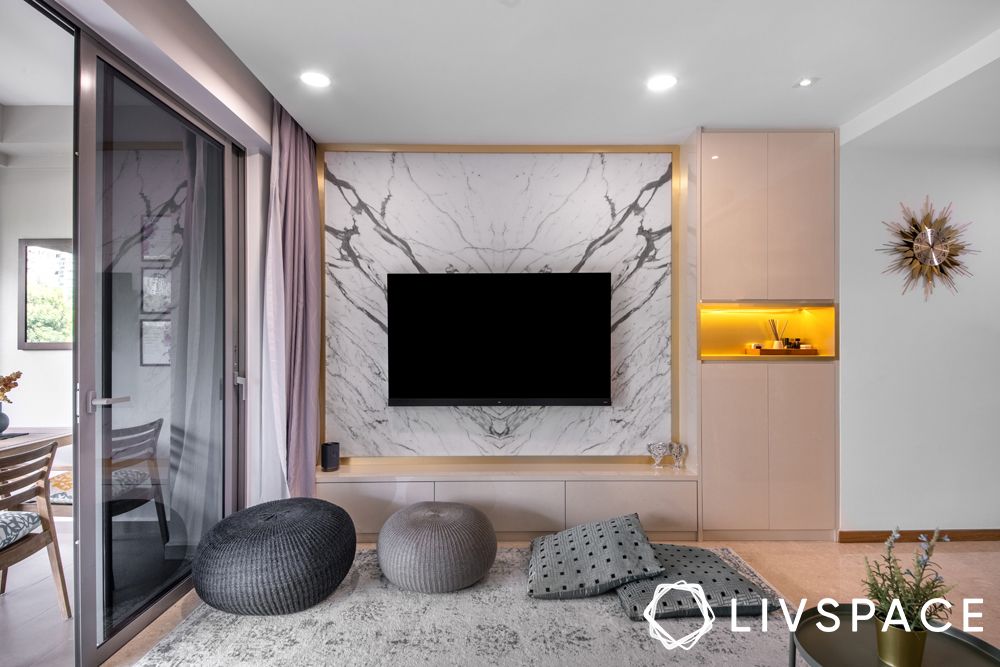 If you have a narrow living room where there isn't enough room to fit in a two-seater couch after placing a three-seater sofa, use poufs to supplement the seating space. These are easy to move around and can also act as accent pieces for the living room.
#2: Ottomans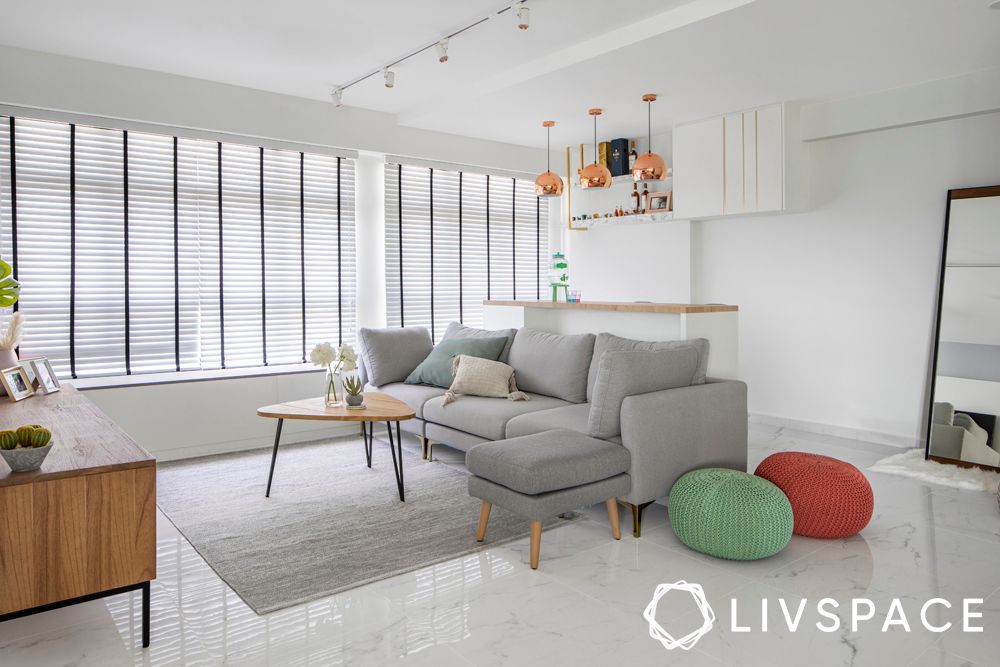 Ottomans, can be used to create 'me' corners within the living room. It could be a special spot where you like to sit down and enjoy a leisurely cup of coffee.
#3: Seating by the window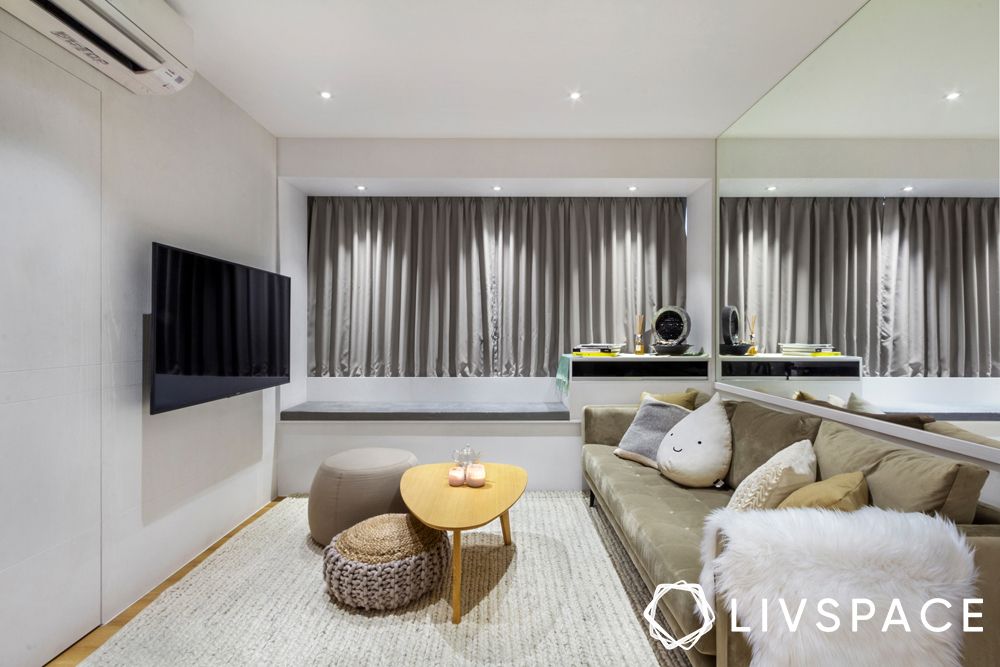 When you have utility on your mind, go for space-optimised seating options. Bay seating is a great way to add extra seating without occupying any extra floor space. If you want to make it work harder, add storage underneath the seating.
#4: Futons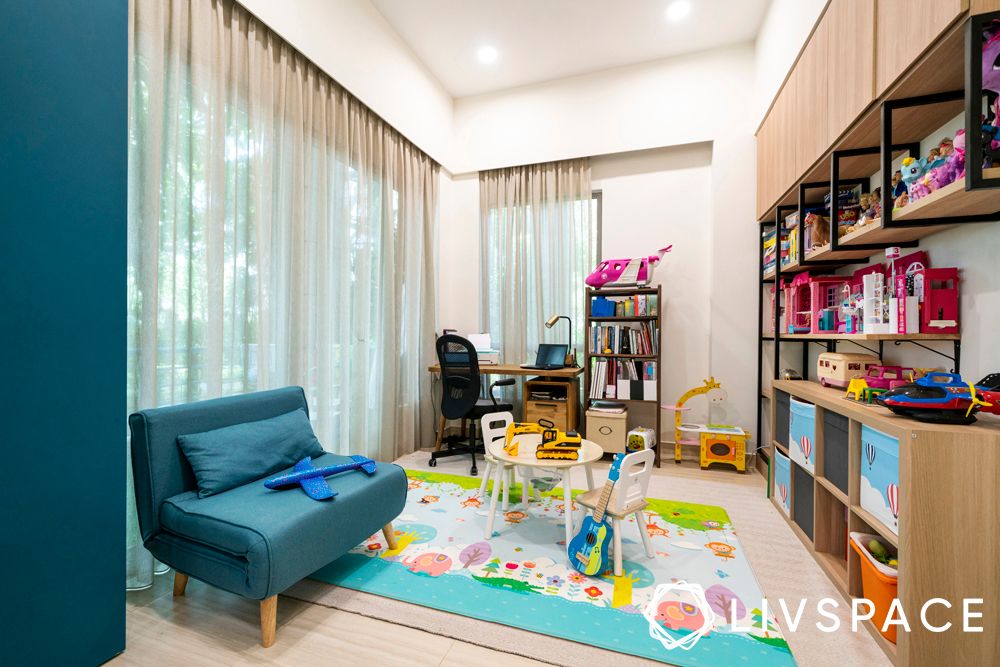 Futons are very useful for small apartment interior design plans. They can be used as regular couches or be rolled out like rugs on the floor to huddle around and play board games.
Seating Options for Cosy Diners in Small Space Interior Design
#1: High stools for breakfast counter-cum-dining table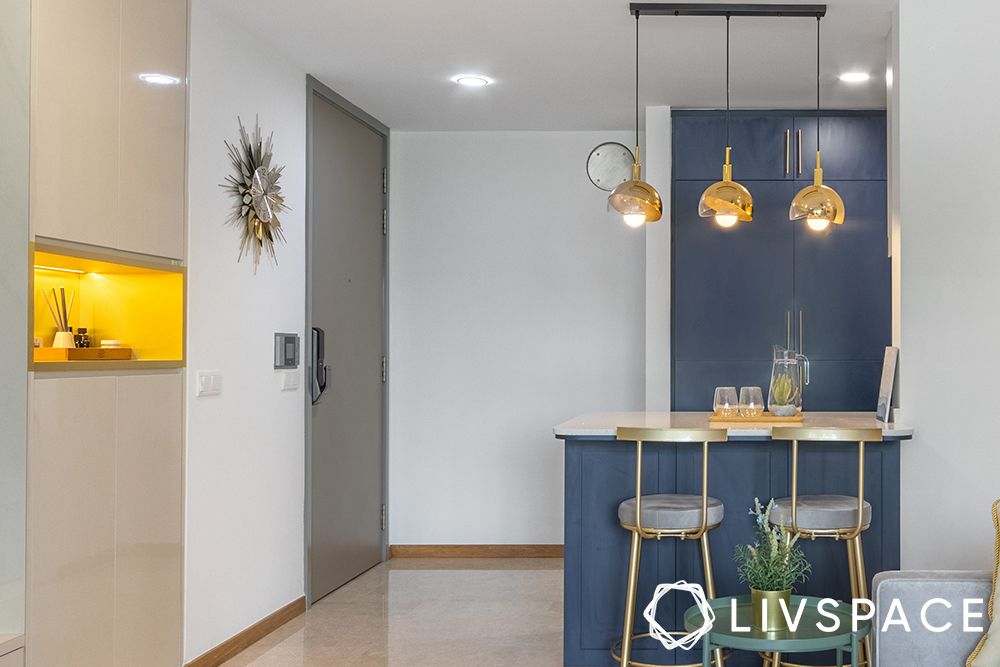 A large dining table is redundant if you are a nuclear family and do not entertain much. Two-seater dining tables that fit into narrow passages are a rage among millennial couples these days!
#2: Long seat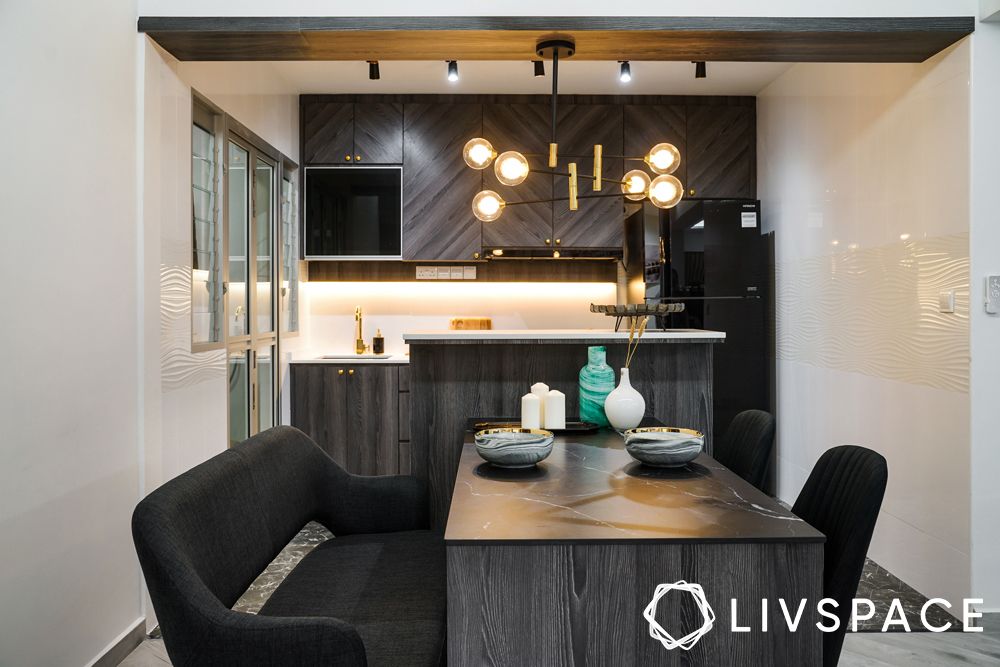 Cosy and compact, this Livspace Home manages to fit a four-seater dining table in less than 50 sq feet. Just with a comfy long seat you can accommodate one extra person in this dining space.
#3: Bench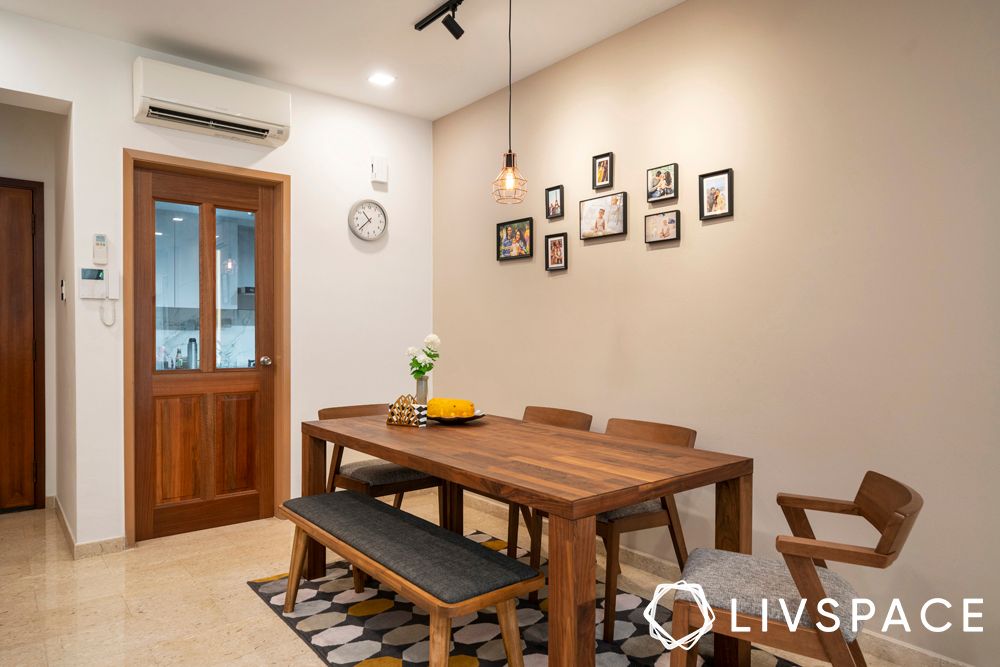 When in doubt, opt for a bench. This is one of the tricks to squeeze in functional furniture in compact spaces. This cushioned bench is not only space-saving but also super comfy for a tiny room design like this.
What About Seating in the Bedroom?
#1: Window seat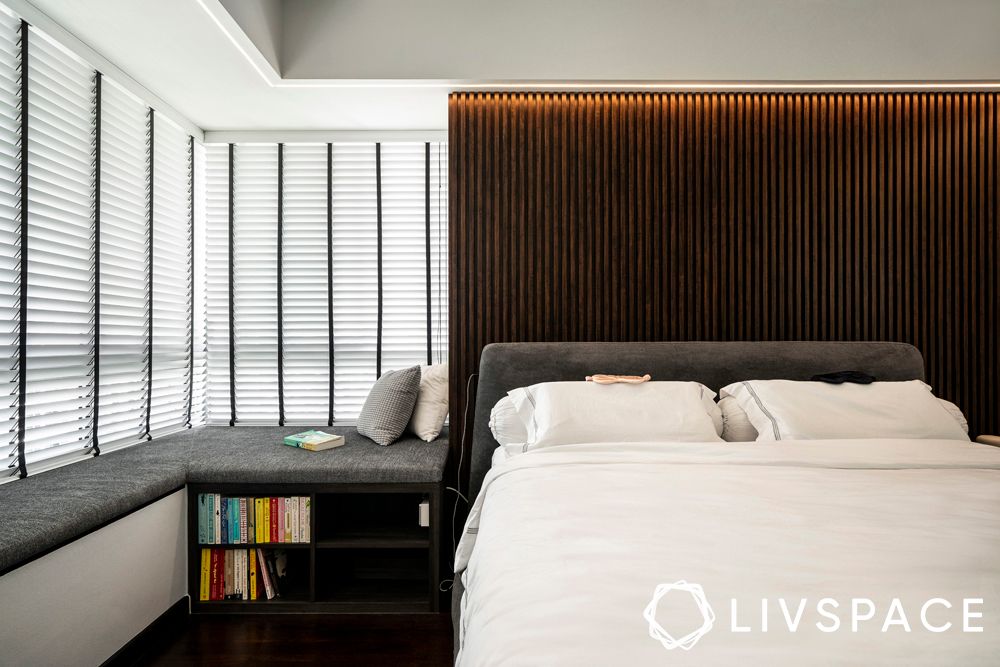 Bay windows are a new trend seen in Livspace homes that allows designers to squeeze seating into what is essentially the window sill. Apart from seating, storage also can be accommodated in this space. If it's a room with a view, then these are the best seats in the room.
Check out this home here: How This Clementi Avenue Flat Got a Fresh, Minimal Look.
#2: Stool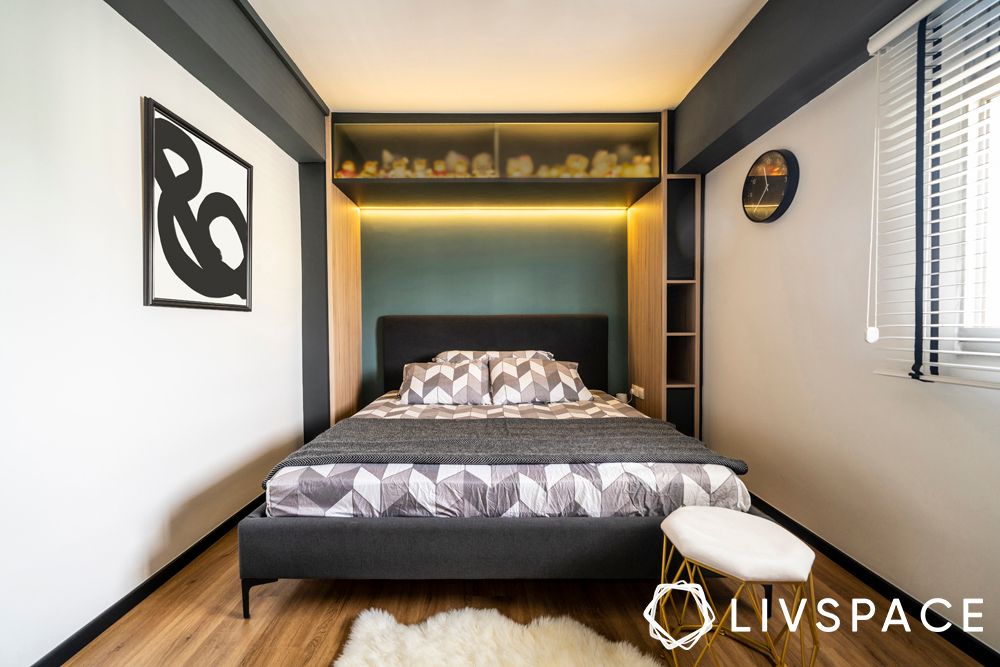 For compact bedrooms, stools and ottomans make the best seating options. This tiny stool for example, is both easy to move around and stow away when not in use.
#3: Compact accent chair
An accent chair is a great addition to a compact bedroom and its sleek frame occupies bare minimum space. This chair will prove to be exceedingly functional while entertaining friends who are close enough to gather for a chat in the bedroom.
#4: Floor seating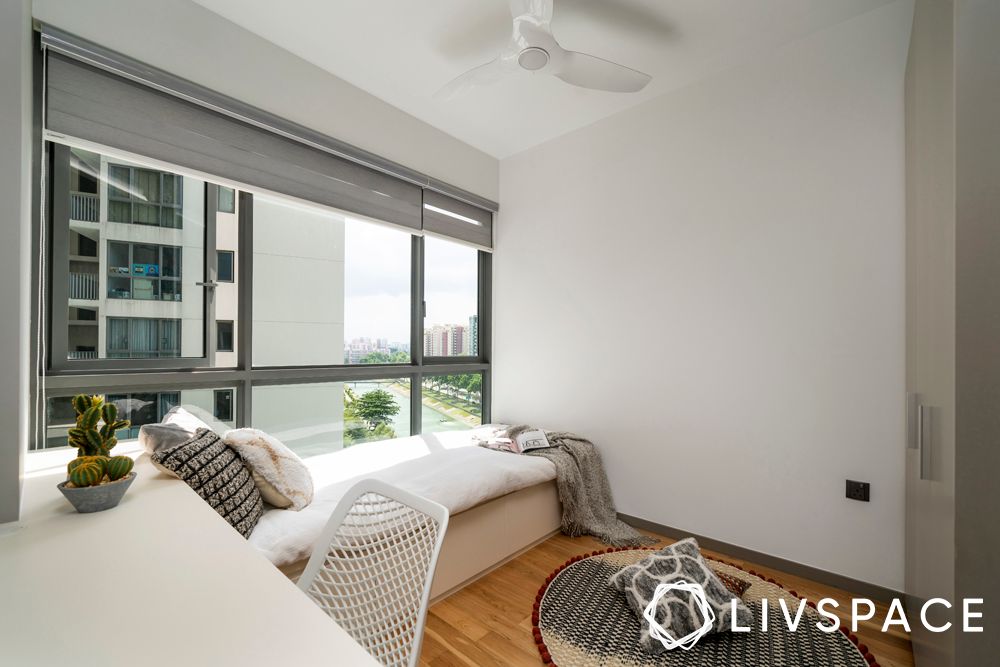 Sometimes seating should be basic and fuss-free; just like the floor seating arrangement, we see in this Livspace home. Moreover, floor seating means there will be one thing less to trip over in the utter chaos of your bedroom!
Check out this home at The Riversails here: This is How You Design a Stylish Elder-friendly Condo.
The Many Small Space Interior Design Balcony Seating Options
#1: Bean bags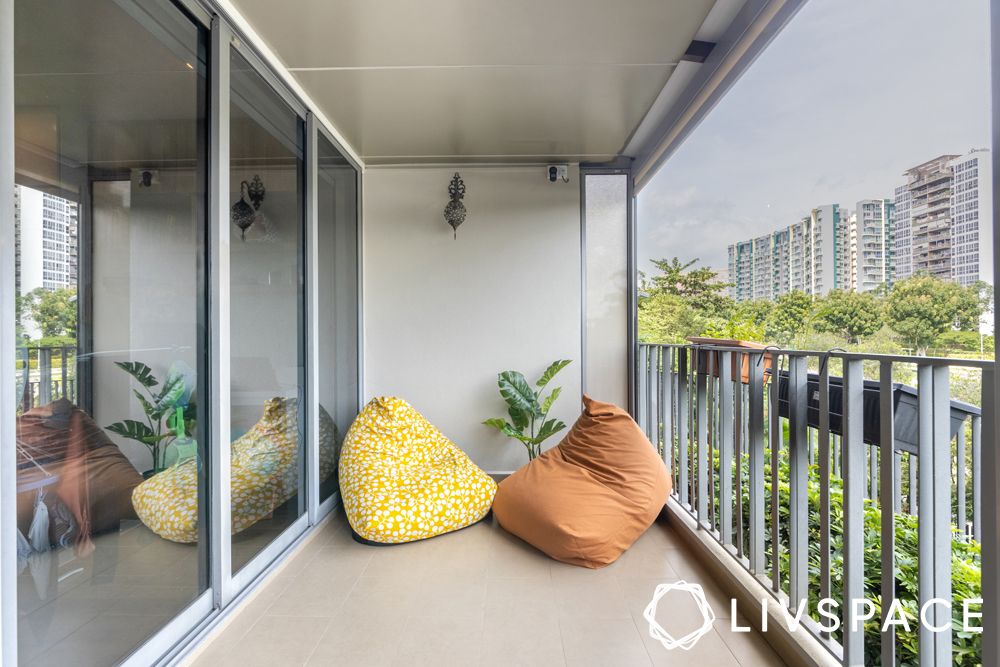 A couple of bean bags and oodles of sunlight are all you need to transform this narrow balcony into a reader's coven.
#2: Swing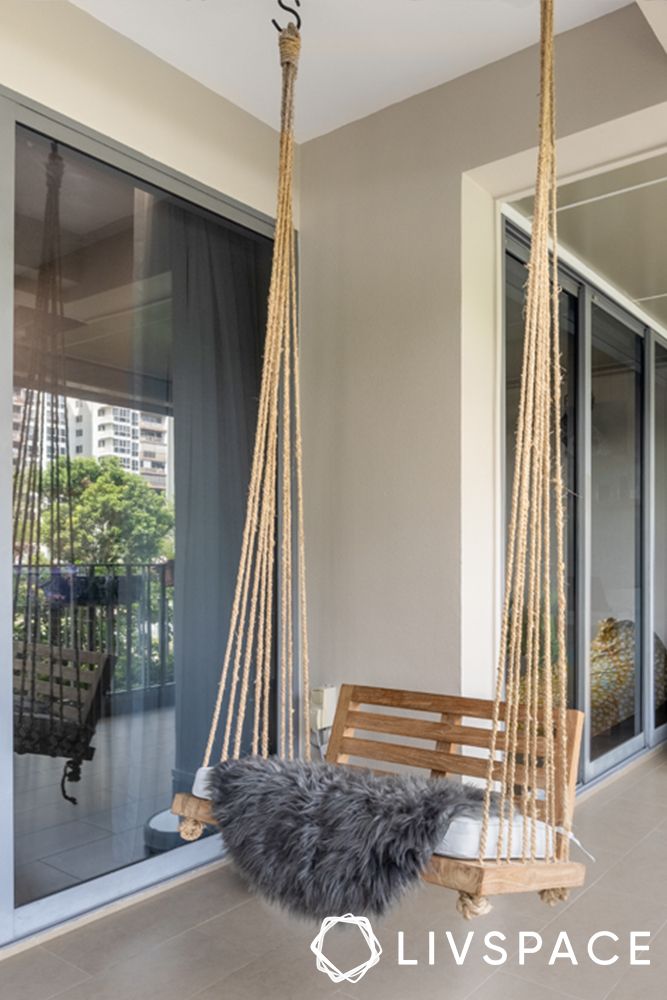 Swings are versatile in their appeal and timeless as a style statement. They also serve as fit accessories while implementing small space interior design ideas.
#3: Compact rattan furniture set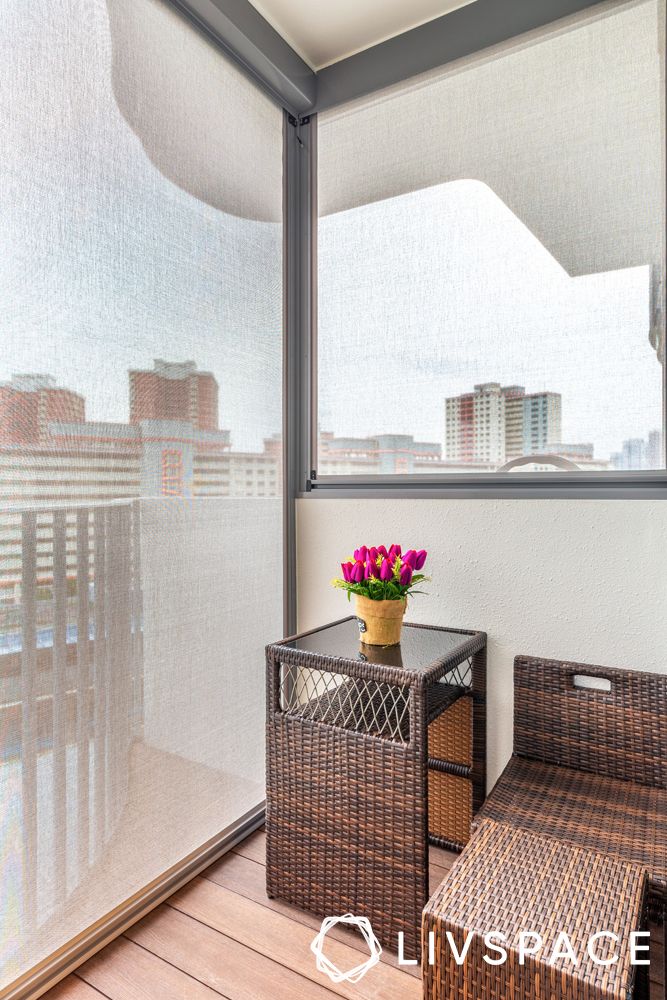 Rattan furniture is ideal for balconies and if you need a full set, then this one has everything from a table, chair and stool. It could fit into the smallest of balconies while still leaving room for some potted plants.
#4: Knitted chair and table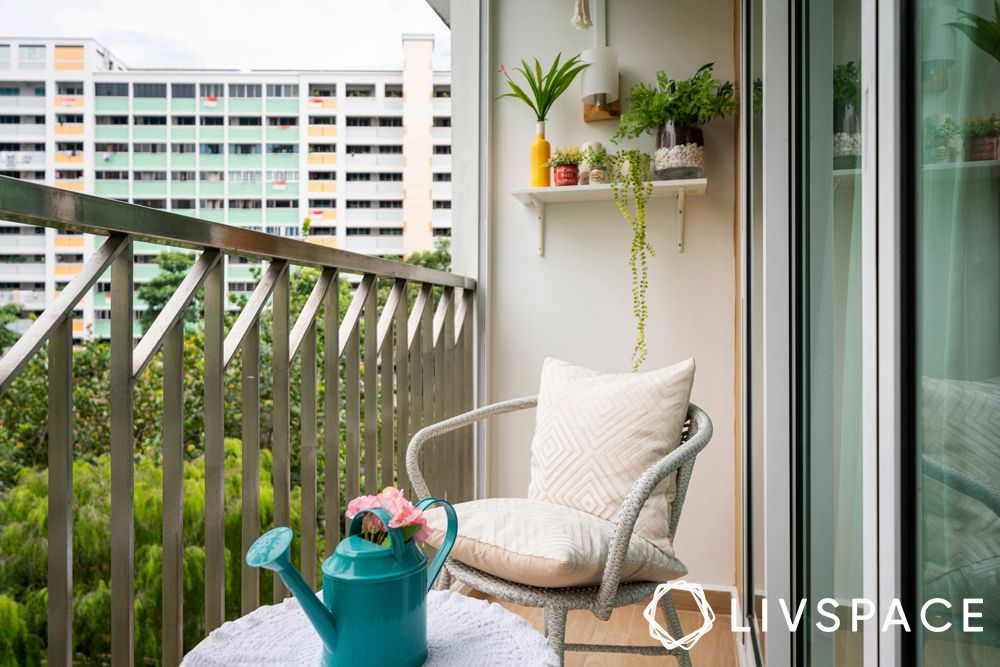 The rustic charm of this knitted coffee table and chair seem all the more appealing as the set is compact.
Other Kinds of Seating
#1: Folding study table set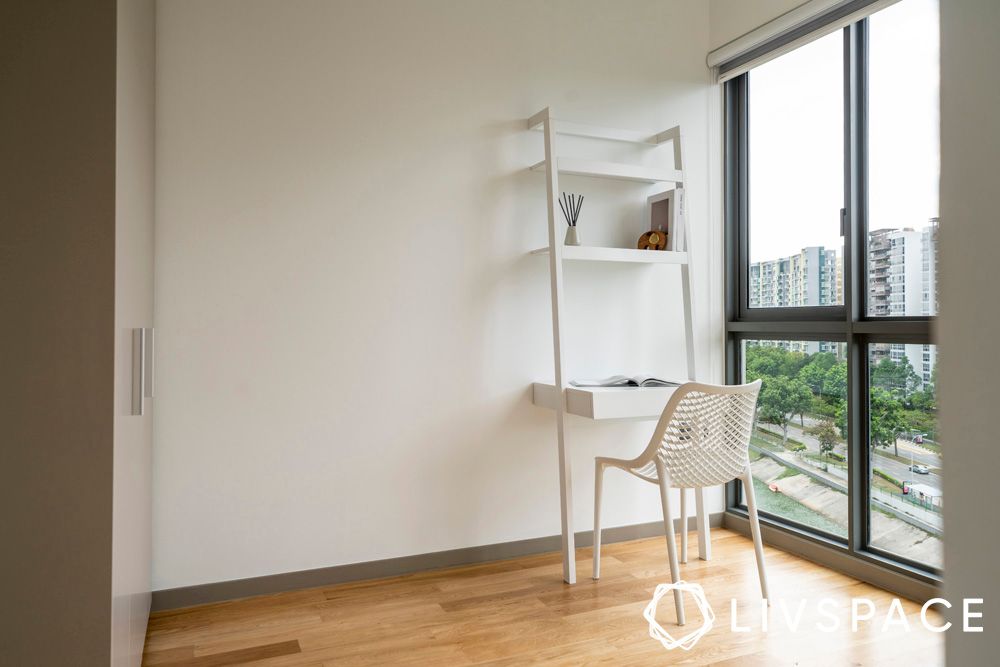 This reading nook is every bibliophile's dream. The designer chair stands out in contrast to the tall bookshelf-cum-study table. If you like to laze around as you read, you can always walk around a little and stretch out.
#2: Chaise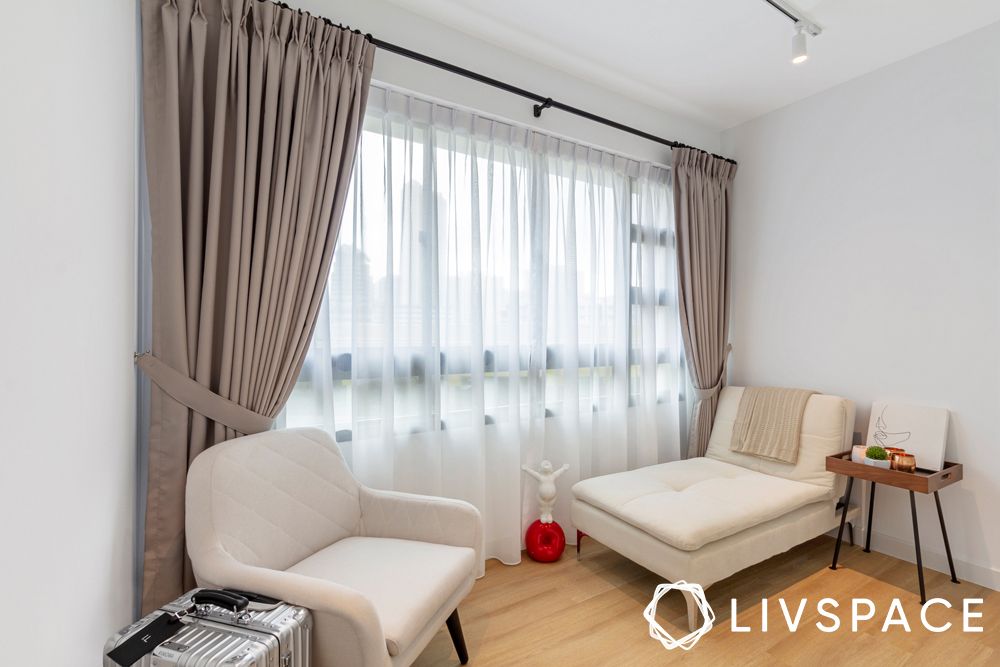 Take a leaf out of the book of Persian style for creating the best seating arrangements within limited space. This look has an upholstered chaise paired up with a chair and the set up looks ideal for a round of board games on a game night!
#3: Niche seating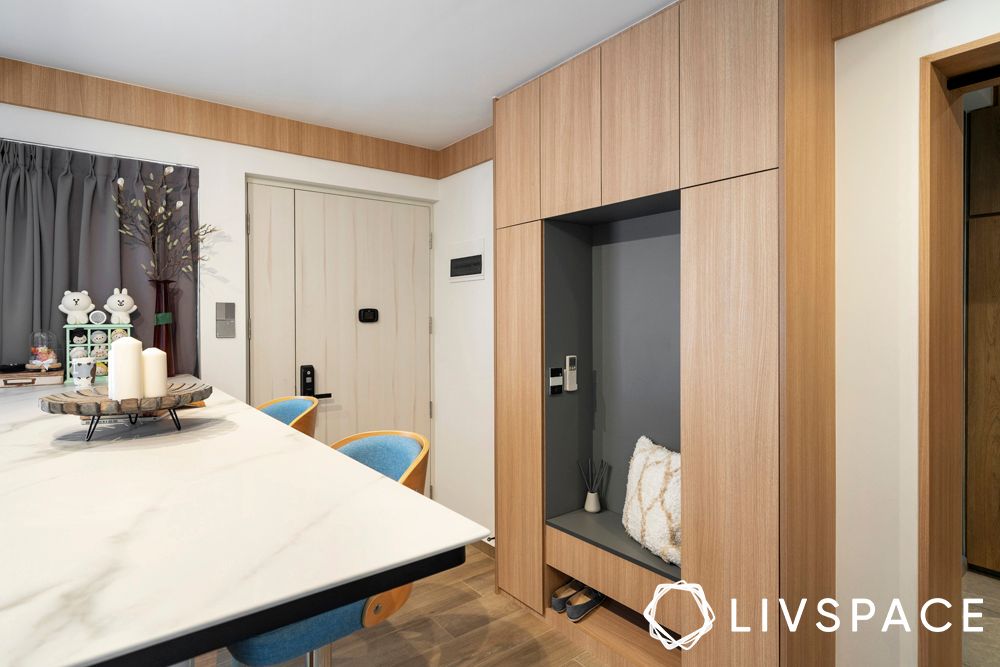 When you do not have enough space to have a full-fledged foyer, carve out a niche in your entryway and create one. You can sit in the space created and store shoes underneath.
#4: Tiny kid's furniture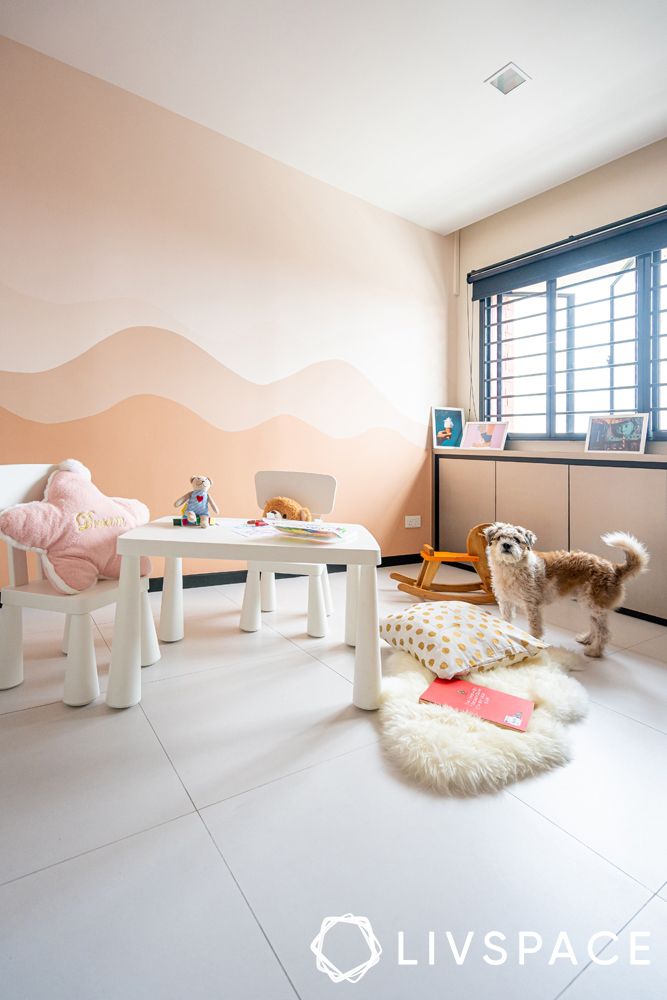 This kid's furniture is the best bet for your little ones. It can fit in the tiniest of spaces and acts as a hobby zone where they can host their own tea party!
Tour this smart home renovation:
How Can Livspace Help You?
No matter the budget, it is always better to consult a professional when it comes to redoing your small space interior design. Schedule an online consultation with Livspace's expert designers to get quality, safe interiors within your budget. Safety is our topmost priority, click here to find out how interiors are being delivered following all safety protocols.
If you are looking for more minimal ways to refurbish your HDB or condo, check this out: These 6 Japanese Design Elements Could be Game-changers for Your Flat.
Send in your comments and suggestions to editor.sg@livspace.com