The bathroom is one of the most important components of your home, making it an important space from a design perspective. While bigger bathrooms have more room for experimentation, a toilet design for a small space can be tricky. However, a small HDB toilet design may even have its advantages when you use the right small toilet design ideas.
If a small bathroom has you stumped, we've curated some amazing small toilet and bathroom ideas for you. We've identified the most problematic areas in small HDB toilet design and can show you how to resolve them! Follow our suggestions for small toilet design ideas and make the most of your tiny space.
#1: Not Segregating Wet and Dry Space in Your Small HDB Toilet Design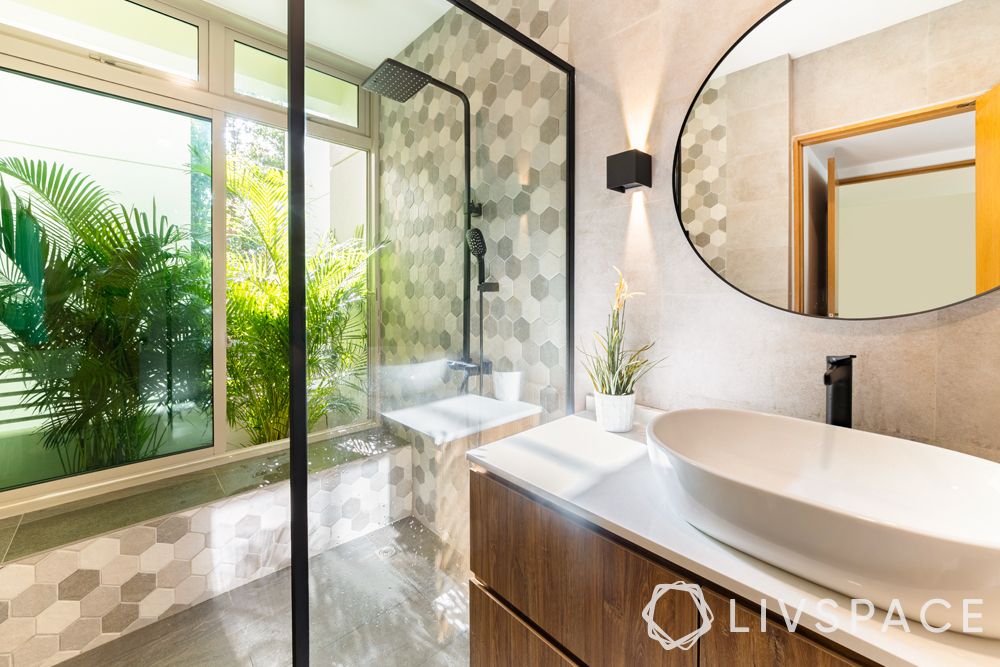 Segregating a bathroom into wet and dry areas is essential, especially in a toilet design for a small space. For easy identification, the wet area is the section where the bathtub and shower are located.
How To Fix It
Some small toilet and bathroom ideas you can try here is to place a physical barrier between the wet area and the rest of the bathroom. This type of small HDB toilet design helps prevent mould and makes the bathroom easier to clean.
Similarly, there are plenty of other clever small toilet design ideas you can use to separate these zones. Different colours or textures on the walls and floor of the dry zone, frameless glass to create a partition, or using a shower panel are some of the ways in which you can separate the two.
#2: Poor Lighting Ruins Toilet Design for Small Spaces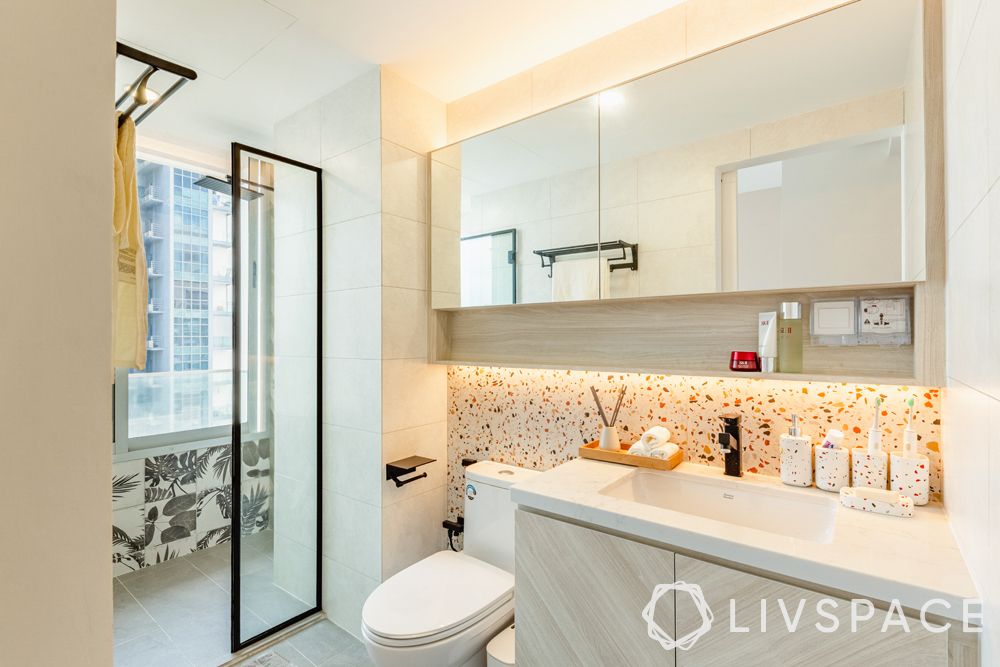 No matter how pretty or well planned a bathroom is, if it is barely lit, a smart small HDB toilet design won't make much of an impact. Light is essential in the bathroom to perform everyday activities like shaving or putting on make-up.
How To Fix It
There are different small toilet design ideas to tackle this problem. Natural light is the best and most preferred option so go ahead and install that window. Another alternative is to concentrate on highlighting certain elements. This can mean recessed lighting under cabinets or behind the mirror.
Take advantage of the small toilet and bathroom ideas earlier suggested for wet and dry areas, and light them differently to show separation. Light can be your best ally to enhance the decor in your toilet design for small spaces.
#3: No Proper Storage Can Do a Lot of Damage to Your Small Toilet Design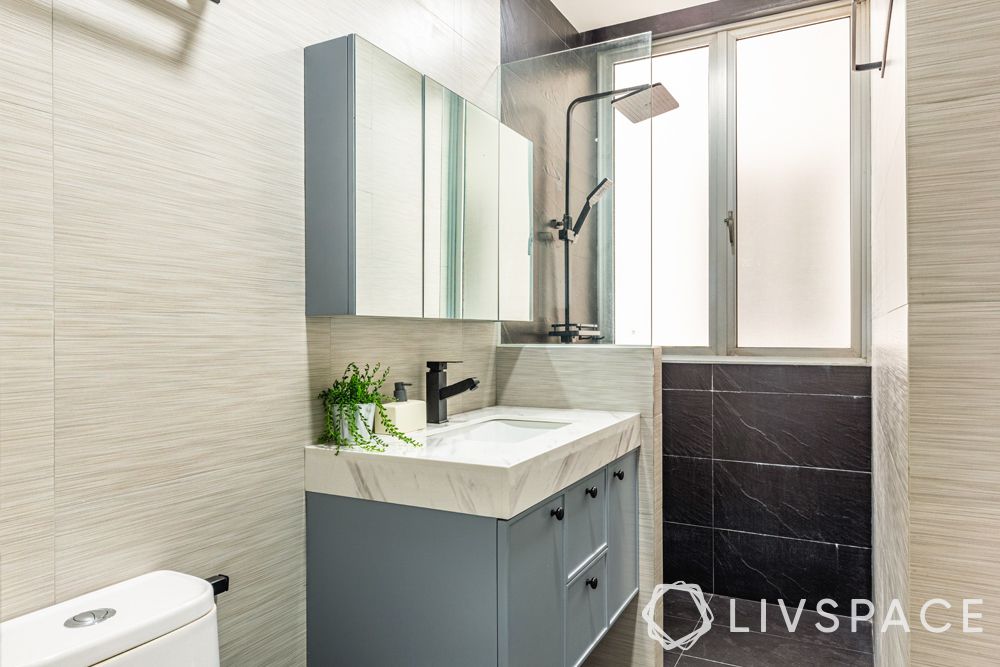 Occasionally, many mistakes are made in the name of small toilet design for small spaces. One of the biggest being sacrificing the storage capacity for aesthetics. You know your needs and only you know what you want to store in your bathroom, so embrace relevant small toilet and bathroom ideas accordingly.
How To Fix It
When thinking about a small toilet design for small spaces, think about how you can use every part of the room as a possible place to store bathroom essentials. Placing cabinets under the sink and a mirror with storage capacity are just a few examples of how you can make better use of the space without overcrowding.
#4: Small Toilet Design Ideas That Lack Ventilation Are a Red Flag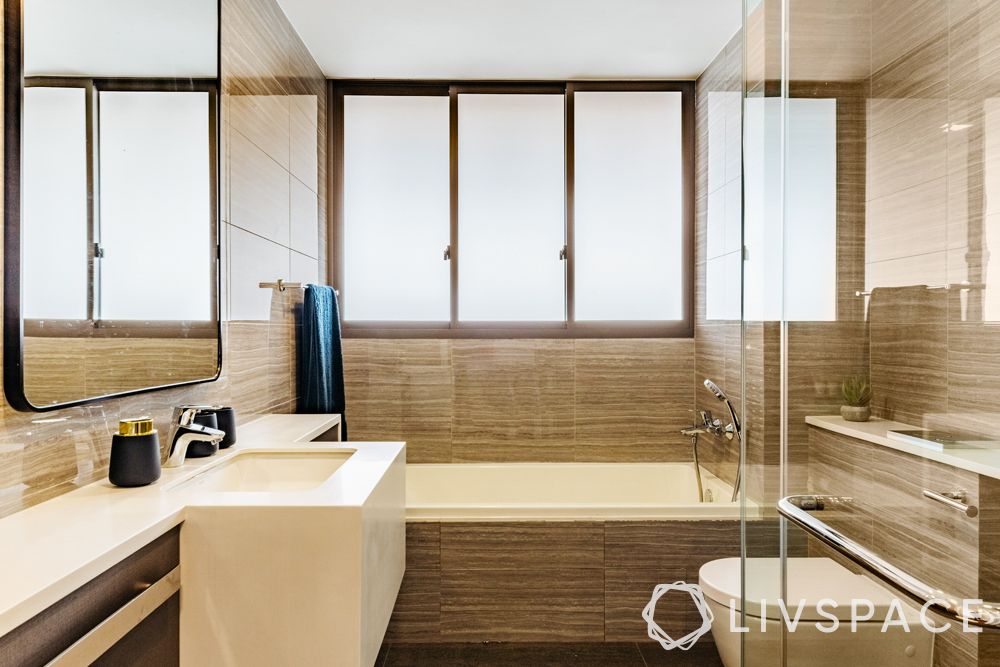 A lack of ventilation almost always leads to dampness. With time, this is something that can gradually deteriorate the state of your bathroom and your health.
How To Fix It
With a good window, you would have both, light and good ventilation. But if this is not possible, consider using small toilet and bathroom ideas that include an exhaust fan; the closer to the shower, the better the rate of ventilation. In addition, you can also place dried plants to bring in an element of fragrance to your small toilet design ideas.
#5: Slippery Tiles Can Cause Accidents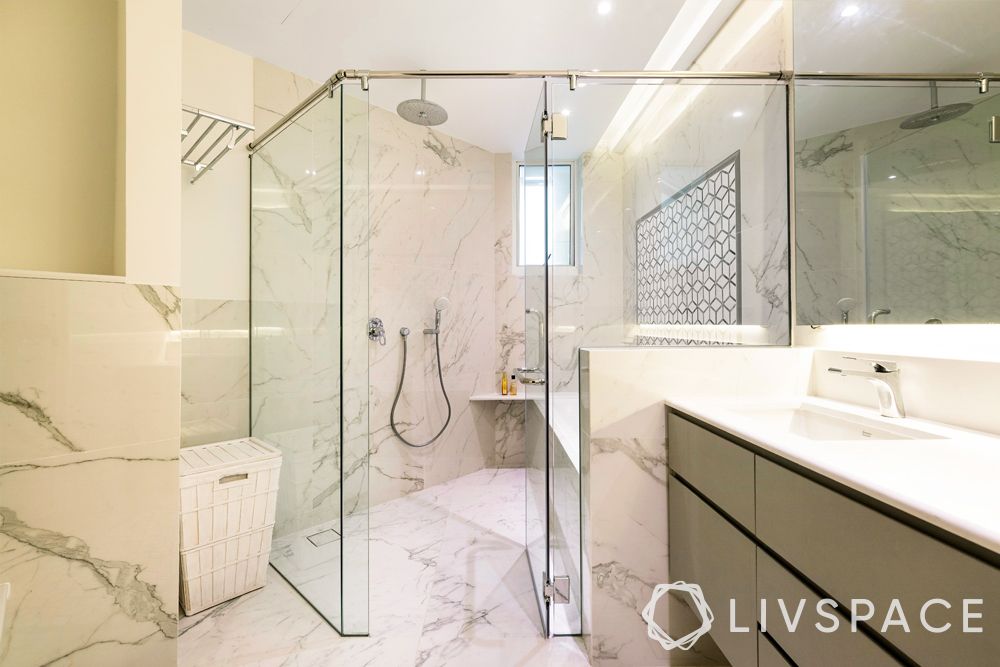 In bathrooms, you will invariably, almost always, find some water on the floor. Most accidents at home happen in the bathroom and you can never be too cautious.
How To Fix It
Use non-slip tiles in your small toilet and bathroom ideas. That is the golden rule to keeping your space safe and accident-free. Homogenous floor tiles offer great non-slip qualities making them perfect for your bathroom. You will also find an infinite number of designs and colours among them that can help you liven up your space.
#6: Unused Space is a Design Faux Pas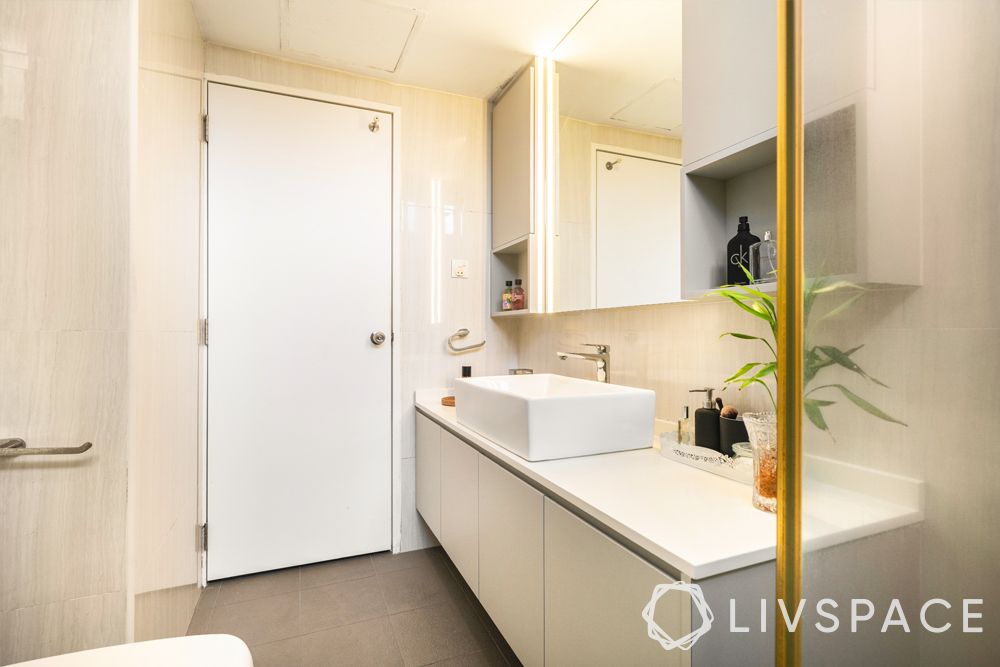 Effective small toilet design ideas are based on the primacy of ensuring there is no wasted space. When you overlook the area around the washbasin or toilet, you inadvertently end up wasting space.
How To Fix It
A helpful small toilet and bathroom idea you can use to counteract this, is with the correct selection of a vanity unit. Alternatively, combine cabinets, display shelves and a vanity table extension to make the best possible use of space.
#7: Forgoing Style in the Name of Function
Simple small toilet design ideas need not necessarily mean you skip out on style. Embrace small toilet and bathroom ideas that can help you achieve a bright and clean space.
How To Fix It
Painting the walls in clear shades will help you make your small HDB toilet design feel more spacious than it really is. However, this could end up looking boring, so make the most of small toilet design ideas that play with different colours and textures.
Also Read: How to Design a Bathroom That Stands the Test of Time
#8: A Flat Design Lacks Depth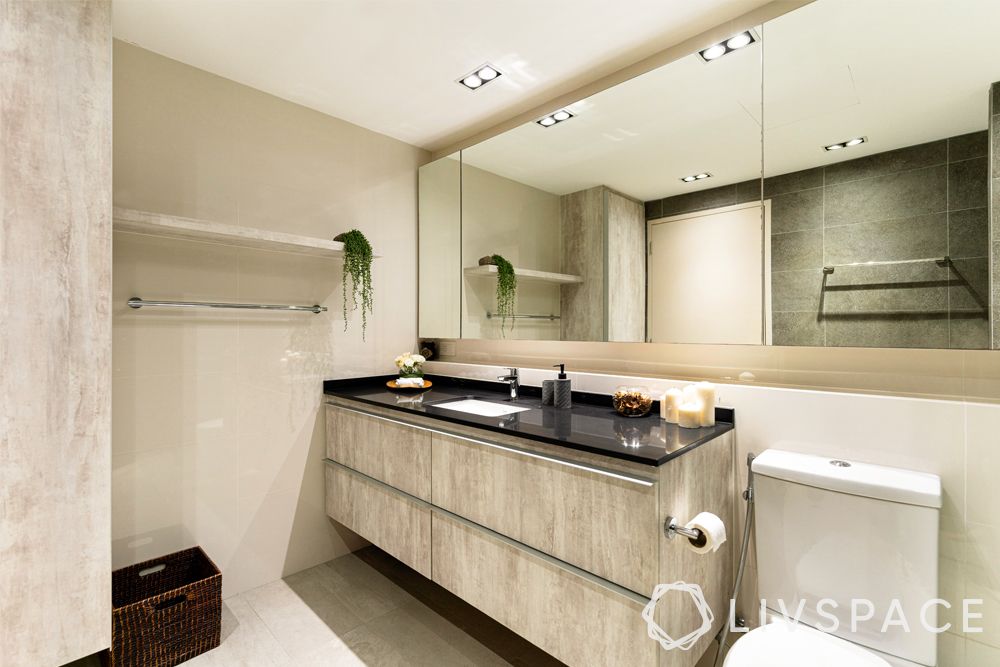 In spite of the compact size, you can always make the bathroom look more spacious than it is. This is where small toilet and bathroom ideas can be especially handy.
How To Fix It
Some small toilet design ideas to achieve this include using light and using neutral colours to add depth colours. Another great hack is to extend the mirror along the wall. It reflects light and makes the bathroom appear larger than it is.
Also Read: Attractive Wall and Floor Tiles Are All You Need for Your Bathroom Makeover
#9: One Towel for the Bathroom is Not the Most Ideal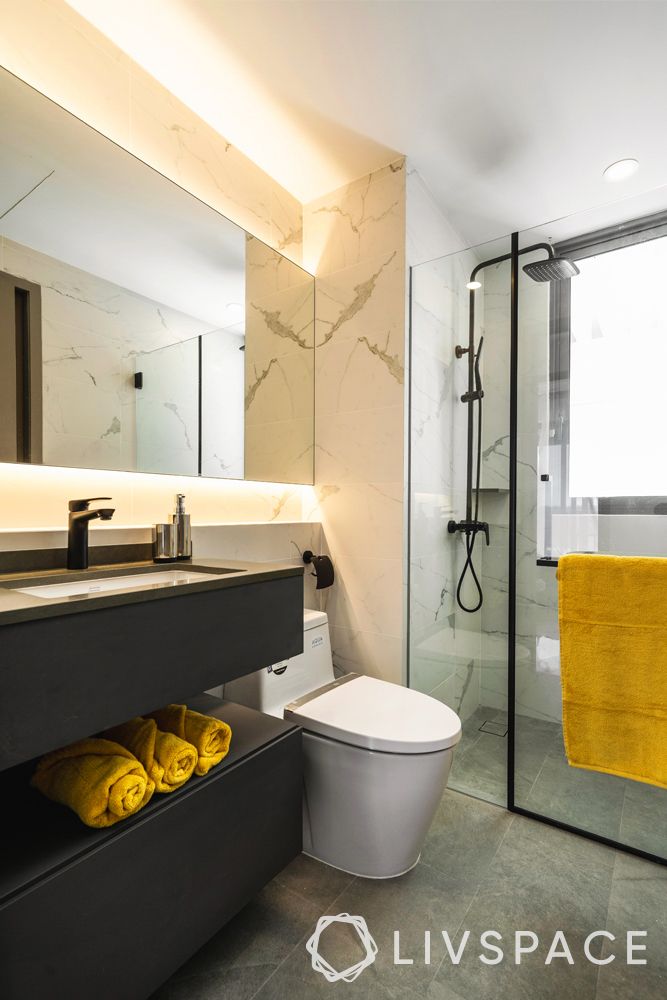 It is not the end of the world but it can be very frustrating not having space to hang more than one towel.
How To Fix It
To eliminate this problem, you can have multiple towel racks mounted against the wall or your shower door that will not take up much space. Another excellent option for small toilet and bathroom ideas is to store clean towels in a well-designed designated area in a basket or under the sink. This helps improve accessibility without having to drape them around your space.
#10: Cramming Your Small Bathroom to the Brim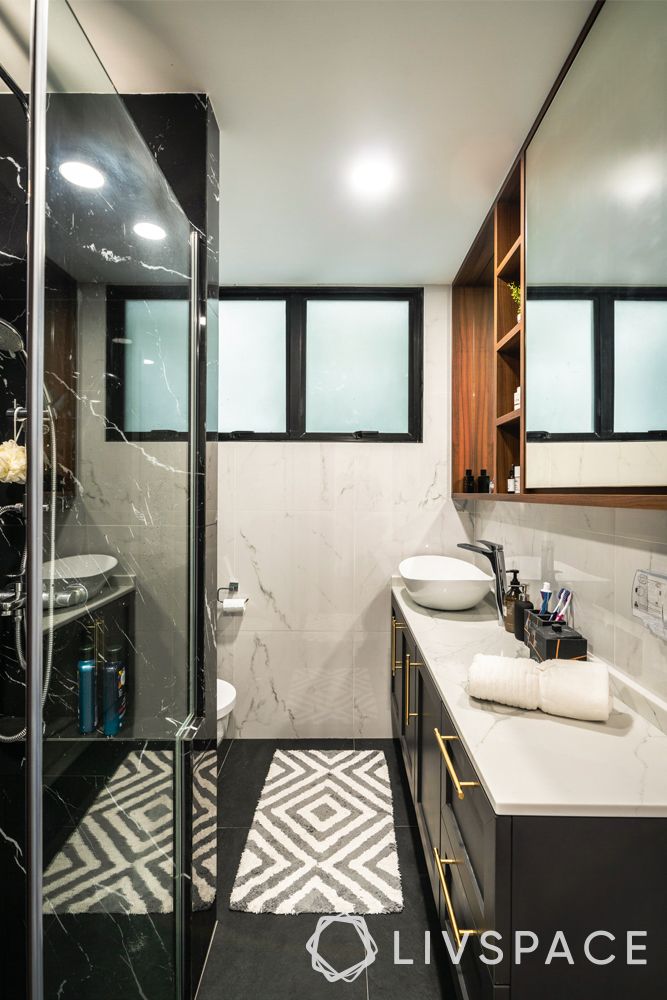 With toilet design for a small space, the possibility of overloading can be high. Moreover, the absence of clever thinking can also make the space look and feel cramped.
How To Fix It
When planning your small toilet design ideas, you can look at classic, elegant colours like black and white. Compositions like these are compatible with several other shades. The remaining interiors can then be made more vibrant with decorative elements. By adding pops of colour and textures to the room, you can avoid visual clutter.
Tour this HDB design:
How Can Livspace Help You?
We hope you found these small toilet and bathroom ideas useful! In need of more ideas and inspiration? Check out 6 Simple Small Bathroom Ideas to Make the Most of Space.
We hope you found our ideas useful! If you want your home to be just as beautiful, then look no further. Book an online consultation with Livspace today. Have some comments and suggestions you'd like to share with us? We're all ears! Feel free to write to us at editor.sg@livspace.com.