Gone are the days when you had to compromise on the look and feel of your home because of limited storage. So when Elena and Bernard at Prince Charles Crescent asked for a functional space that is also clean and bright, they got just that. Livspace designer, Noel Tan Rongkeng, designed their 5-room condo following an English theme with farmhouse details. Apart from that, the ample storage units incorporated in this serene home is what caught our eye. So, without further ado, let's look at the storage ideas that Noel came up with for this beautiful condo.
#1. Use the TV unit for storage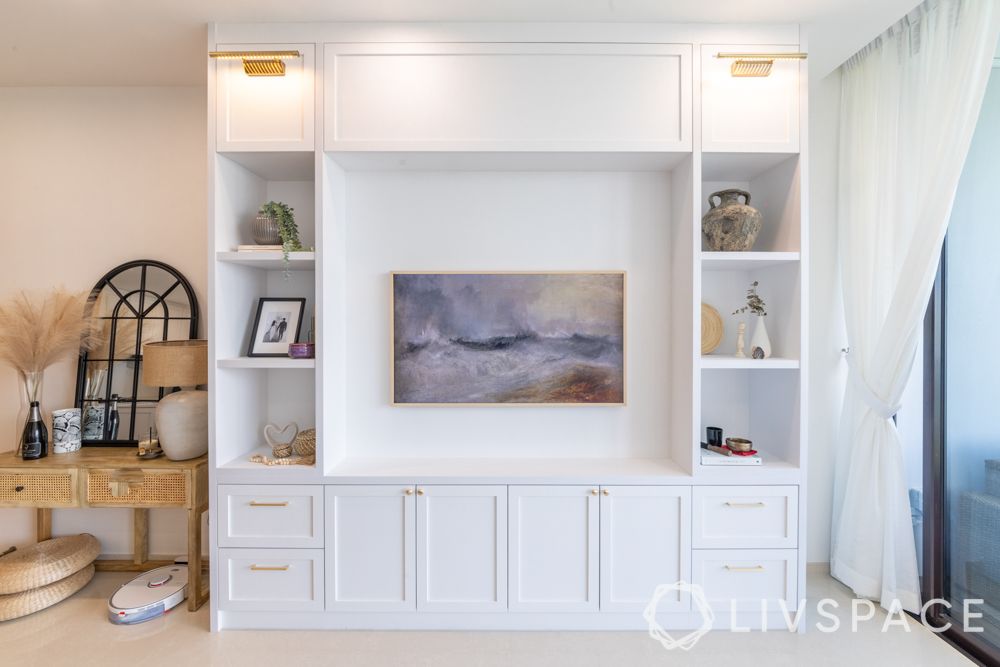 As the living room is where a family gets together, the goal is for it to be inviting and clutter-free. So, what is a better storage idea than a TV unit with cabinets and shelves? Store away books, newspapers, bills, unused decor items, etc., in the deep cabinets. And use the display shelves for your prized possessions.
#2. Drawers and cabinets for convenience in the kitchen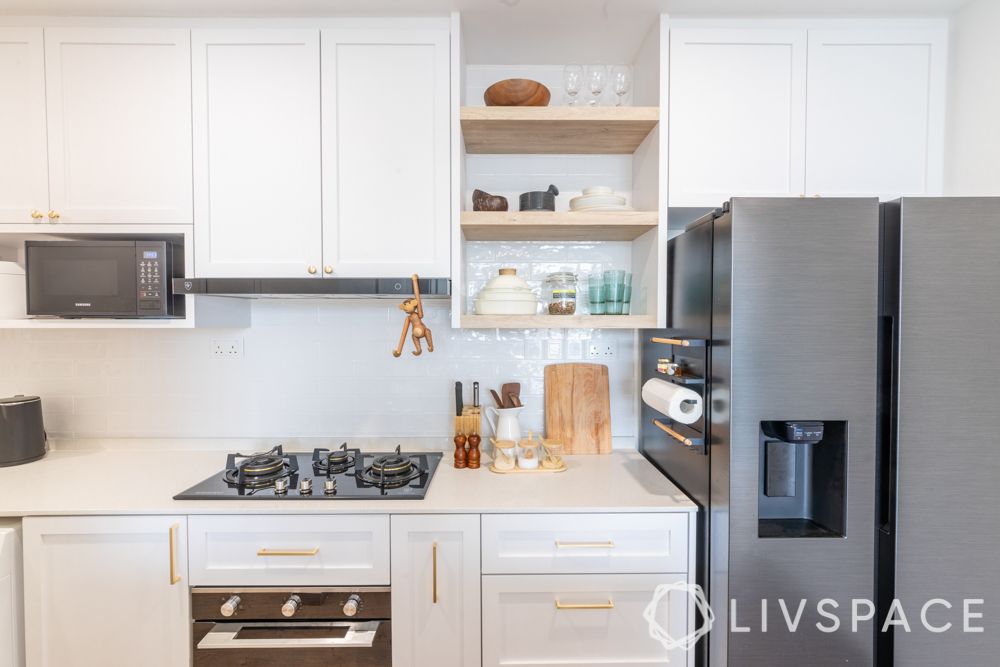 If we had to choose one room to add many storage units, it is the kitchen. This is because many items are required to prepare food, be it ingredients, appliances, pots, pans or knives. So, for a functional and convenient kitchen, Noel installed deep cabinets and pull-out drawers.
A wide shelf is dedicated to the oven, saving counter space. By installing a cabinet above the refrigerator, Noel ensured that even this space was not wasted. If you have a large pantry and loads of appliances, then take the storage ideas applied for this kitchen as inspiration.
#3. Save space with fold-out furniture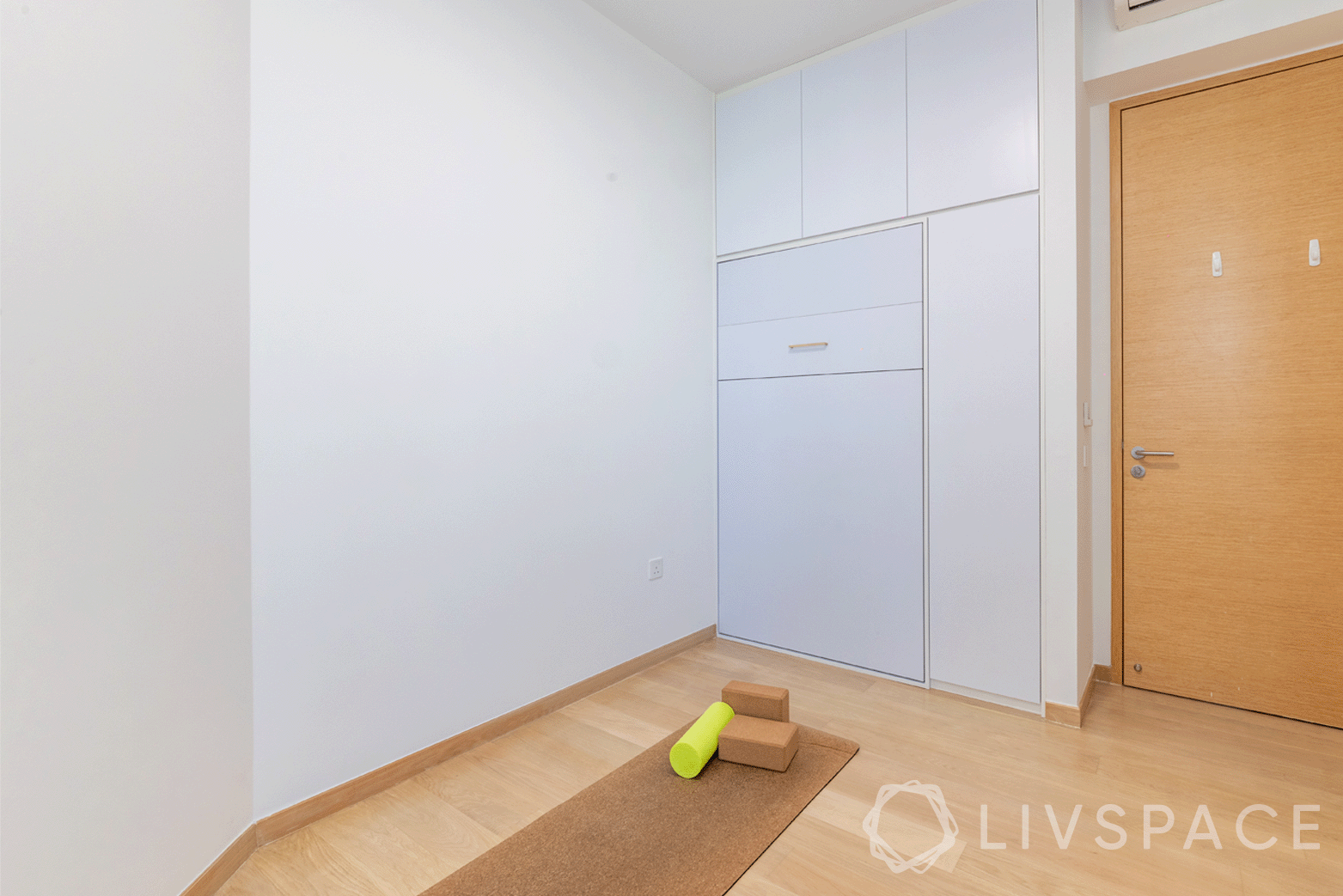 Not everyone can afford to have separate rooms for every activity. Thus, the idea of multifunctional rooms was born. Here, Elena and Bernard had a spare room in their condo that they wanted to use for exercise and as a guest bedroom. So, Noel installed a fold-out bed unit with shelves. You can just close it when not in use, saving a lot of floor space.
#4. Floor-to-ceiling wardrobes for the bedroom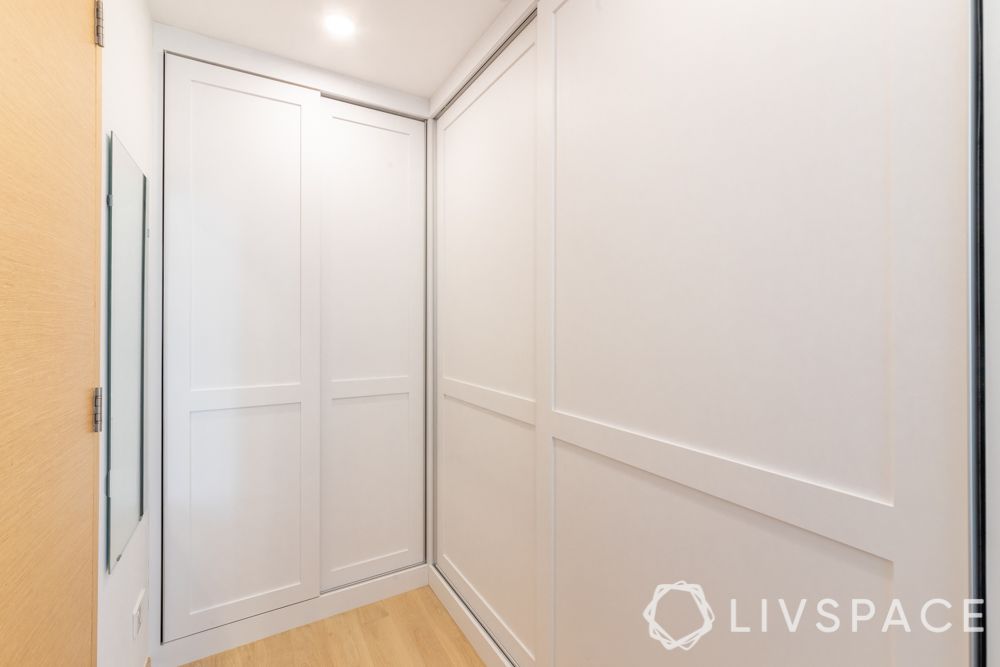 To exude that Modern Colonial vibe, shaker-style wardrobes were installed in the master bedroom. These built-in floor-to-ceiling wardrobes should be one of the go-to storage ideas for a bedroom as they are huge and perfect to fit in all the essentials. Also, the white finishing looks gorgeous and is in tune with the rest of the condo.
There you have it, some practical storage ideas designed by yours truly, utilising every inch of the condo. If you are looking for more such design ideas, check out 5 Reasons Why Space Is Not a Constraint.
Write to us with your comments and suggestions to editor.sg@livspace.com