If you have children, a quiet area free from distractions becomes essential for them to study peacefully. Even as working professionals, the need for a quiet space where you can work without disturbance or sit and read never really goes away. While some of us have the luxury of a separate study room, we often have to make the most of available space.
If you've been thinking where and how you can fit study units into your home, Livspace has got unique solutions for you! Here are a few study room designs that we crafted for Singapore homes.
#1: Stand-alone unit in a small room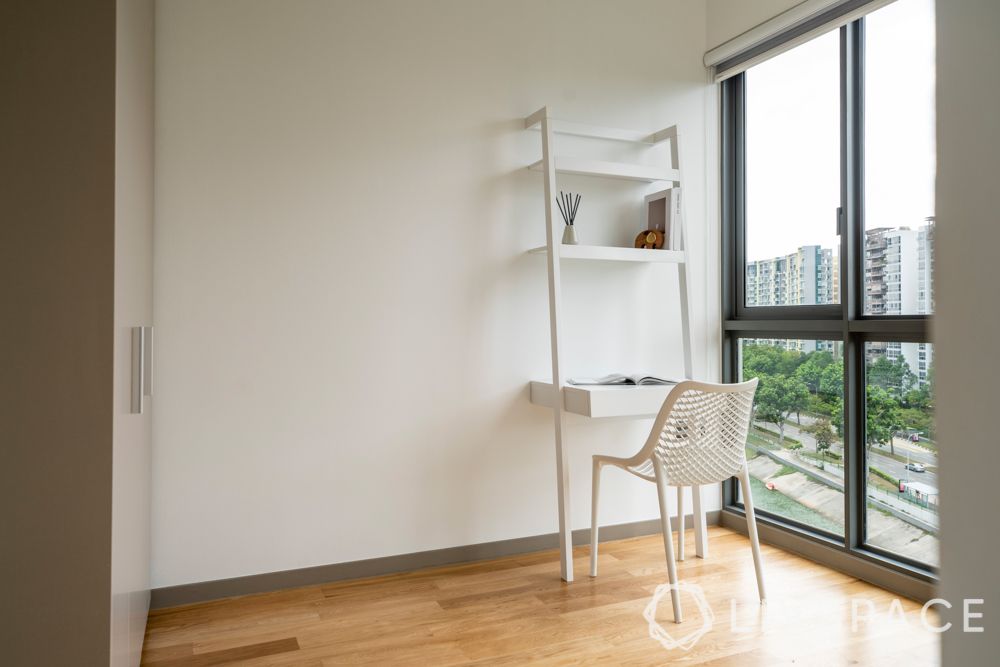 Who livs here: Marcus Tan and his wife Amy Law with their two daughters
Location: 20 Upper Serangoon Crescent, The Riversails
Have one bedroom too many at home, or one that's too small to use for a specific purpose? You can convert this into the perfect study room! This empty room stands out with a minimal white study unit with ladder shelves. When placed near a door or window, this unit receives ample natural light that makes studying or working easier.
Design Takeaway: The white unit sits perfectly in a corner of the empty room with white walls and light wooden flooring. While this unit is minimal, it has enough place for the essentials, thus keeping unwanted distractions at bay. What's more, you can place this lightweight and minimal unit in a corner if you decide to repurpose the room later.
#2: In a dead space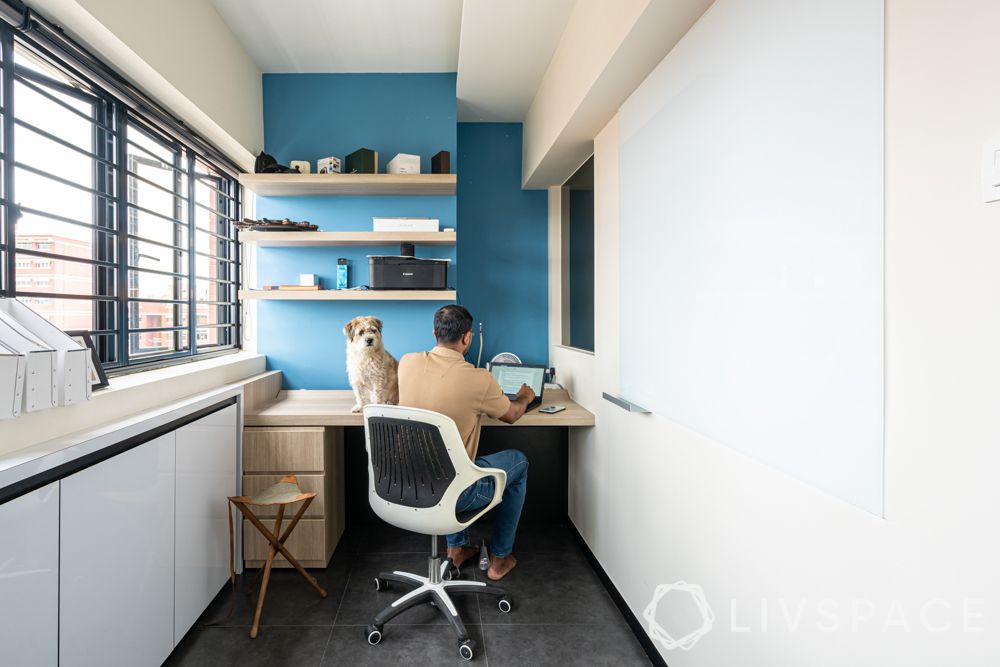 Who livs here: Ramachandran K and Piyali Bhattacharya
Location: Elias Road
Annoyed by the narrow passage that leads to a dead end in your home? You feel like it's taking up space, but don't know how to use it right. Such was the case with this Elias Road home. So they built a custom table to fit perfectly into this closed area. Furthermore, some mounted display shelves on the wall turned an unusable space into a flourishing one!
Design Takeaway: Make the most of a dead space by turning it into a study. If you feel that the walls are closing in on you in the narrow area, choose white or other light colours on opposite walls to make the passage look spacious. Further, you can go ahead and splash the colour of your choice on the wall behind your table – this personalises study rooms with little effort. Put up one or two wall-mounted shelves to keep your essentials in arm's reach.
3: In a compact bedroom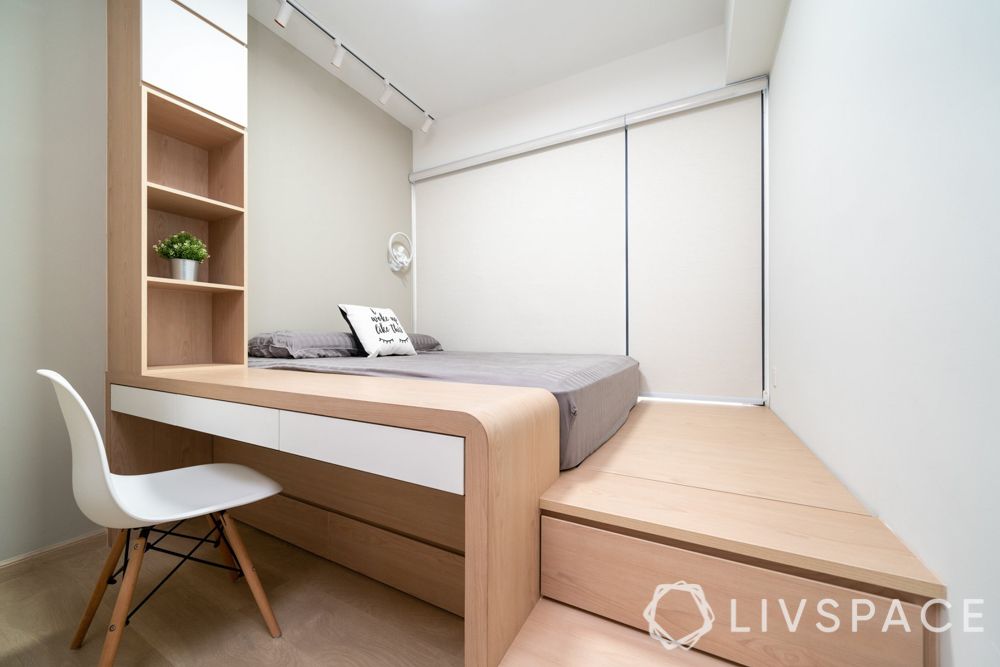 Location: Fernvale Road, High Park Residences
The homeowners wanted a platform under the bed for storage, so the Livspace design team decided to utilise the same in creating a compact and stylish study. The table smoothens the transition from the platform to the floor, and simultaneously transforms the area into a simple home office.
Design Takeaway: If you're thinking of getting a platform bed with storage underneath to save up on space, get it crafted with a study table too. Opt for a sleek and compact table with only one line of drawers. And if you want more storage space, consider display shelves on the wall that keep the room looking open and spacious.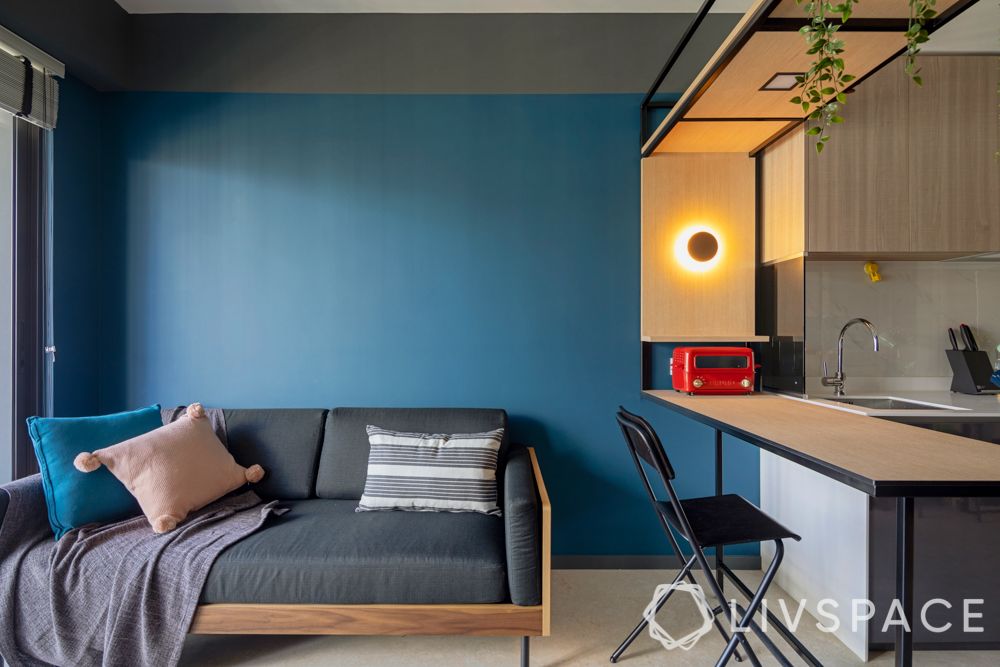 Who livs here: Ms Desiree Ng
Location: Botanique at Bartley, Upper Paya Lebar Road
Not everyone has the luxury of setting aside a separate room for their study. Add the right lighting over the breakfast counter, and voila! It transforms into a sleek makeshift workspace. In this home, a foldable chair is all that's needed to turn the breakfast counter located between the kitchen and living room into a makeshift study room.
Design Takeaway: In a compact home with no space for a study rooms, consider using your breakfast counter as the study table. It's also extremely convenient to be uber close to your kitchen so you can treat yourself with snacks in a jiffy during work hours! Since it's a compact space, surround yourself only with the essentials to keep the space looking open and clutter-free!
#5: By a window lounge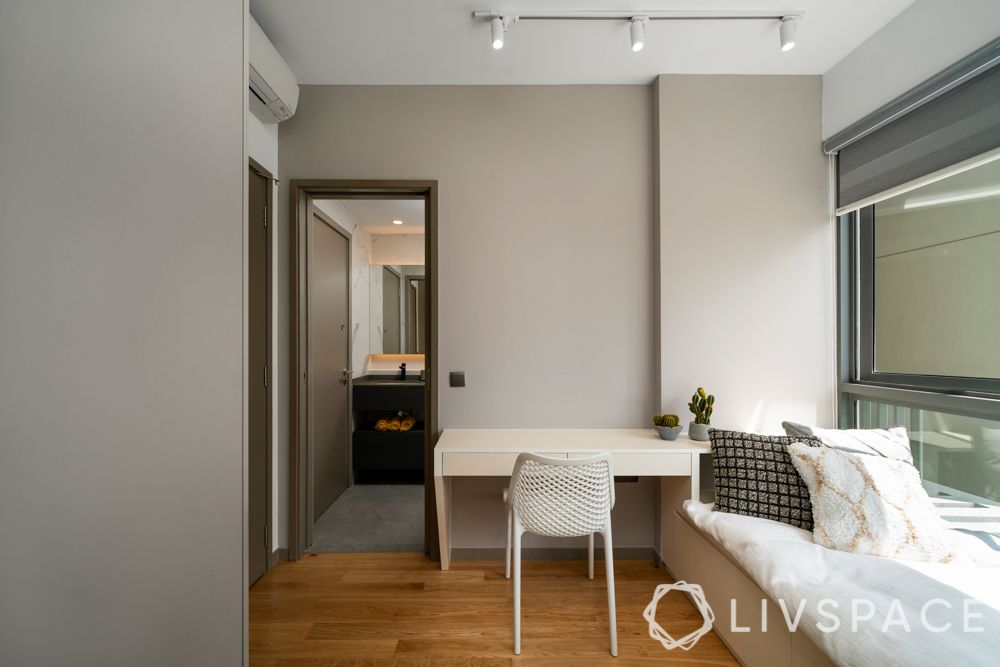 Who livs here: Marcus Tan and his wife Amy Law with their two daughters
Location: 20 Upper Serangoon Crescent, The Riversails
Not all study rooms need to be in the bedroom! This home had ample space between the window lounge and the door, so the Livspace design team suggested adding a minimal table to make the most of it. The table fits into the dead space like a glove, and instantly transforms it into a work zone.
Design Takeaway: A sleek and minimal table that fits into the space between your window lounge and the door could help you make the best of your room. Add a lightweight chair to make the space comfortable without being too heavy on the eyes.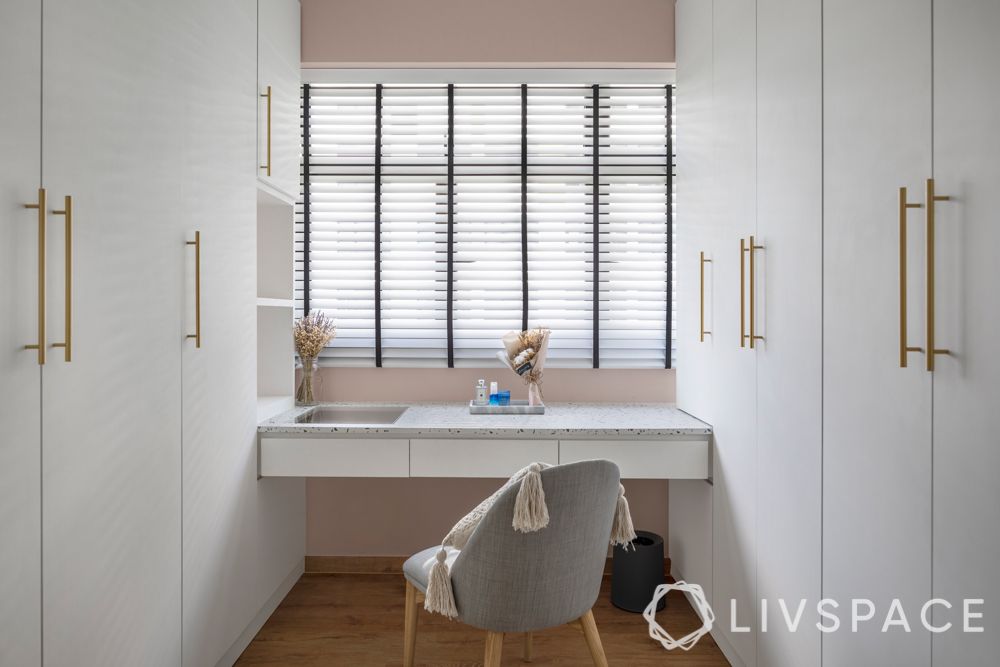 Who livs here: A couple, Ian Ng and Wong Huiting
Compact homes need custom tables that fit snugly into dead space. With this in mind, Ian and Wong fell in with the idea of a minimal table between their wardrobes. While they chose largey neutral colours for their home, they demarcated this space with dusty pink wardrobes. To complete the look, they have a terrazzo table top.
Design Takeaway: If you have two wardrobes facing each other, consider bridging the gap with a legless study table. This saves up space and keeps your room effortlessly minimal. Not to mention, study rooms between wardrobes can also double up as a makeshift vanity nook too. Multi-functional spaces for the win! Pair it with an upholstered chair to keep your home office chic and snug too.
#7: In a spacious bedroom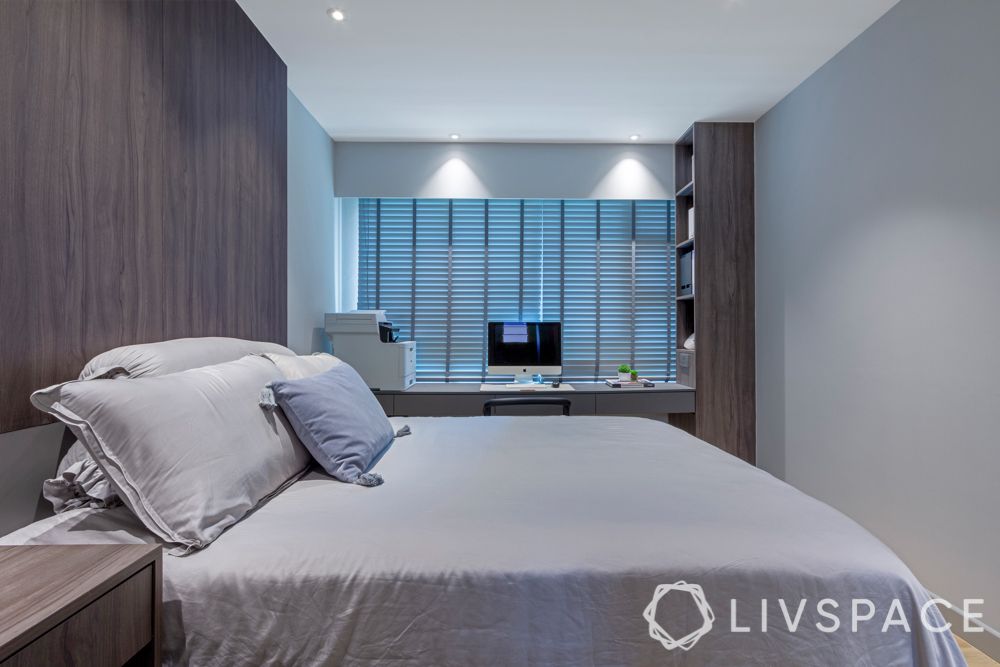 Who livs here: Ivan and HuiMin
Location: Havelock Road
If you have a spacious bedroom, consider having a designated study table with enough space to store your essentials and more nearby. Consider this restful bedroom done up in mild greys that create a relaxed setting. It also flaunts a cabinet on one side and task lighting right above the table for improved focus.
Design Takeaway: If you have ample space at the far end of your bedroom, consider crafting a table that occupies one side completely, preferably next to a window. You can also have it fitted with a floor-to-ceiling cabinet on one corner to stash books, photographs, and other essentials. Avoid blocking windows with cabinets and let your work space bathe in sunlight. Moreover, with a fully functional study, you are less likely to work from the bed!
Wondering how your interior designer can help you out? Read How Can an Interior Designer Help You With Your Condo?
Have other thoughts? Write to us at editor.sg@livspace.com