Too many cooks spoil the food. We've heard that one! . But have you heard that a badly organised kitchen can also spoil the food? And your mood too? Whether you have just renovated your kitchen or looking to renovate it now, planning for an easy kitchen organisation should be on the top of your priority list. Thus, Here are some smart kitchen organisation tips you need for your kitchen.
Essentials for Smart Kitchen Organisation:
#1: Change the Layout to Amp Up Kitchen Organisation
Sometimes a kitchen can be quickly decluttered and organised by adding up a pantry, kitchen cabinet or other kitchen organiser units. This can result in a layout-change of the kitchen. However, the only thing to lose in this trade-off is walking space. However, you can try an all-white kitchen layout design to give it a more spacious and airy appearance.
#2: Account Storage for Better Kitchen Organisation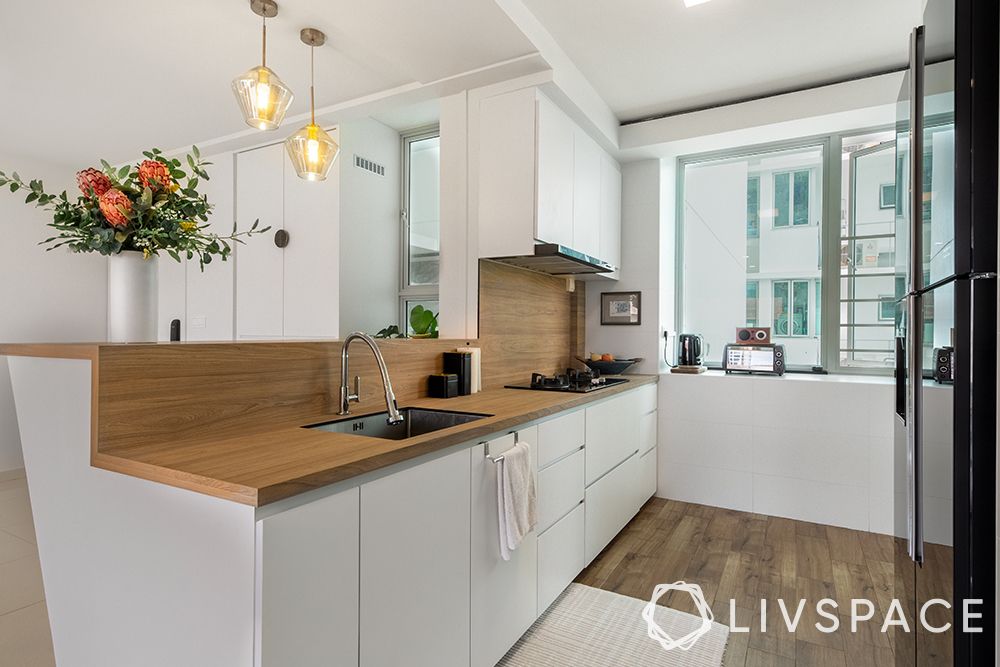 One of the things that can be done before renovating your kitchen is to take into account the kitchen storage. What do you want to display? What needs to be hidden? Make a list, if possible and watch our designers design a kitchen for you that leaves the space super clean.
#3: Kitchen Organisation Based on Height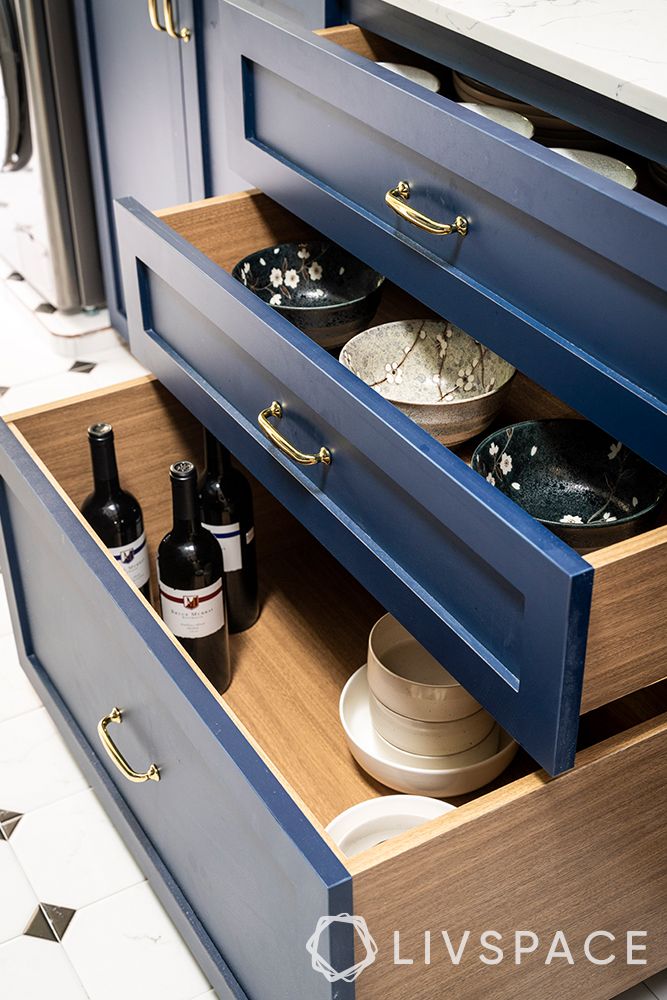 A kitchen cabinet that contains things that you employ constantly should always be in comfortable reach. Do not put things out of your reach when looking to organise your kitchen. Additionally, the utensils or ingredients which you rarely use can be kept in the higher cabinets.
#4: Install a Tall Pantry Unit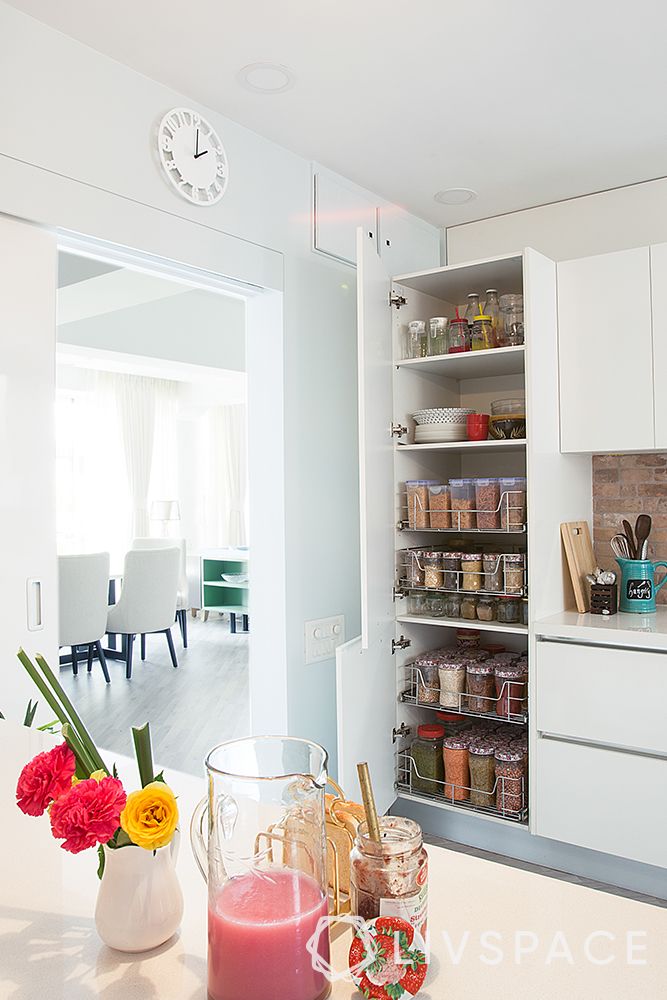 A kitchen pantry unit can hold an army of groceries and other condiments. Likewise, a tall unit can easily hold the weight of several kitchen organisers in one.
Pro Tip: Follow the golden rule of pantry organisation. Arrange things in a way that every item in the pantry is visible. It makes the pantry accessible and easy to clean.
#5: Add Butler's Pantry to the Kitchen Organiser List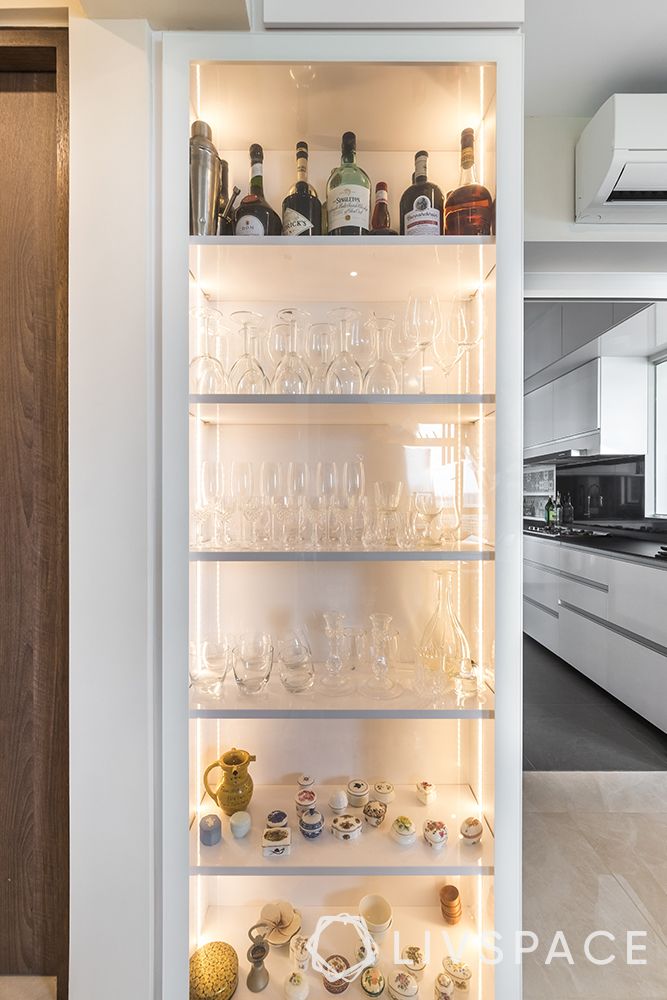 A butler's pantry is a transitional kitchen cabinet installed between the dining room and the kitchen. Not to mention, it is a luxe feature which is helpful to hold crockeries, wine bottles and other kitchen accessories.
#6: Mix Open and Closed Units for Finer Kitchen Organisation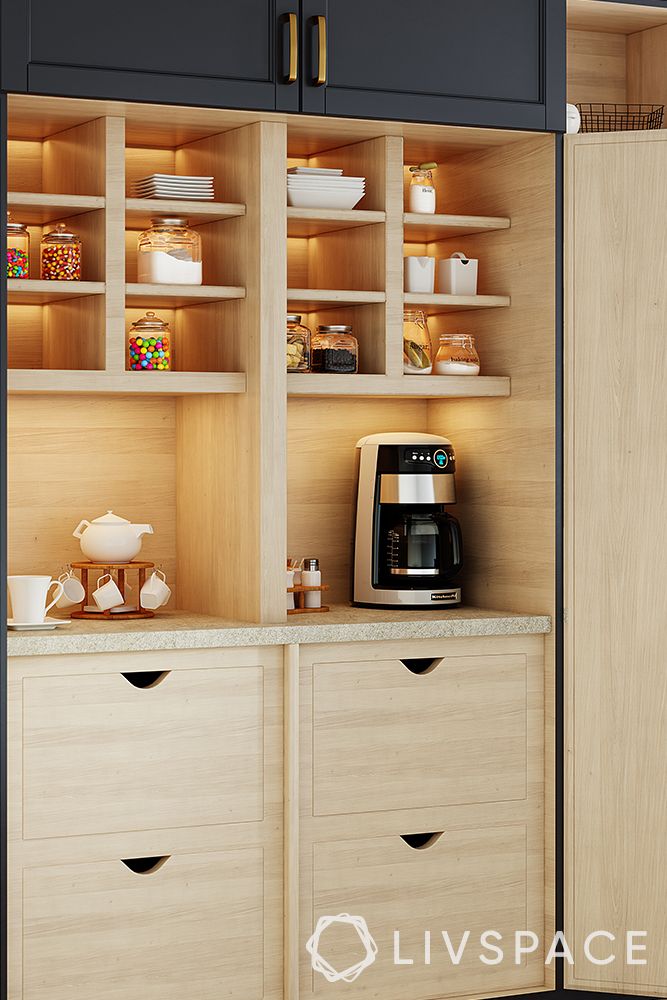 A mix of open and closed cabinets provides for the maximisation of the organisation benefits. While an open kitchen cabinet will make the space appear airy, the closed ones keep the heavy accessories hidden.
#7: Kitchen Organisation and Pull-out Drawers go Hand-in-hand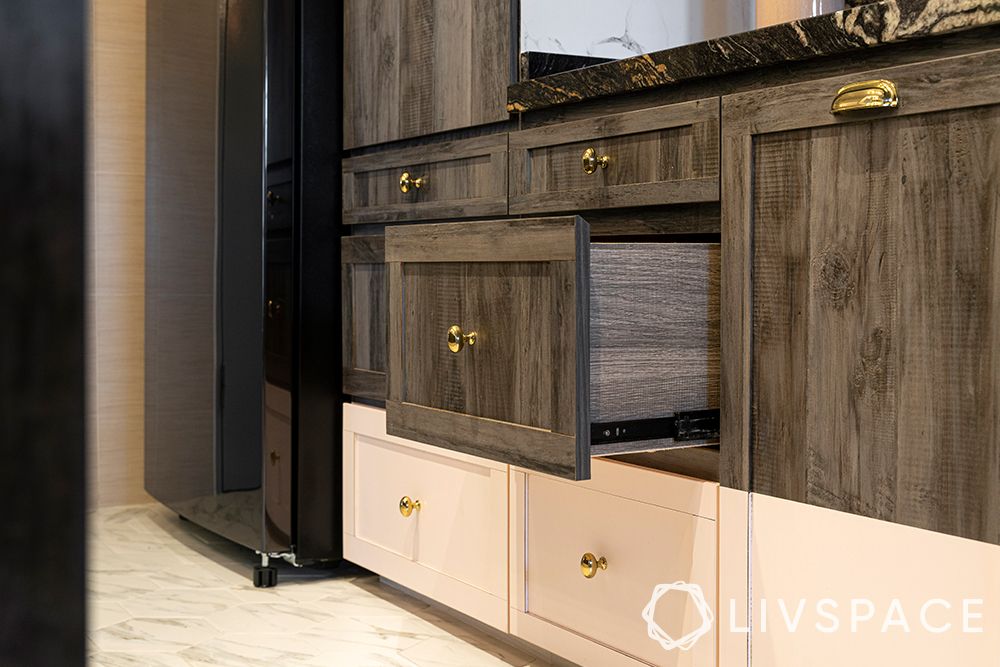 Pull-out drawers have become the new kitchen cabinets that come with a modular kitchen. Indeed, organizing your kitchen is super easy with these drawers as they can fit in a plethora of items.
Pro tip: Get drawer dividers for better drawer organisation.
#8: Keep the Corner Units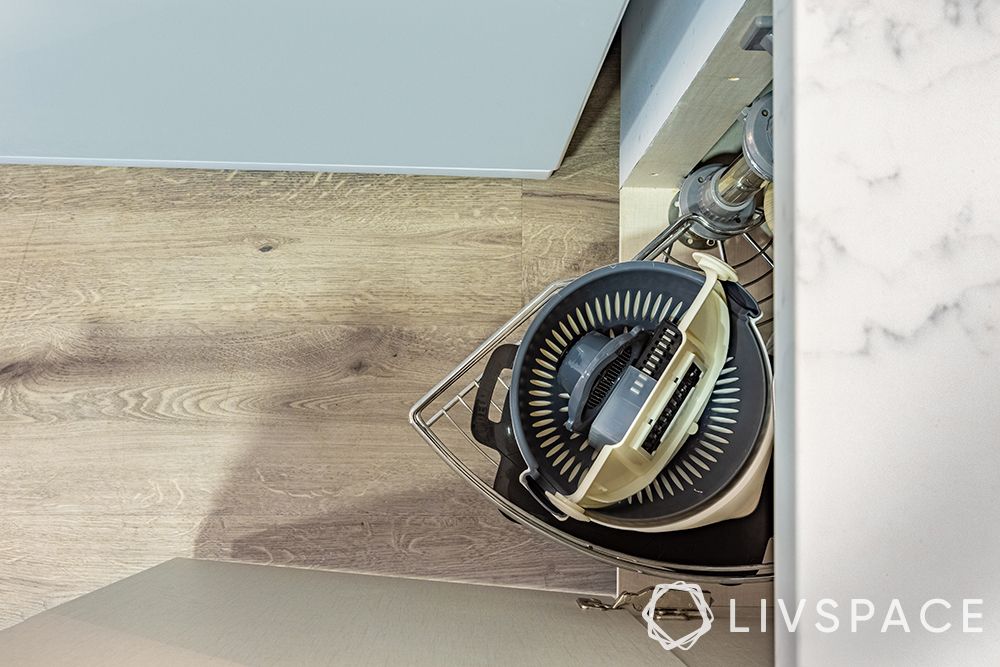 Every kitchen organisation is incomplete without a corner unit. Not only do they add storage ability to a cornered space, but they also offer a wide range of kitchen organisers that can be fitted in, according to your needs.
#9: Utilise Dead Spaces With this Kitchen Organisation Tip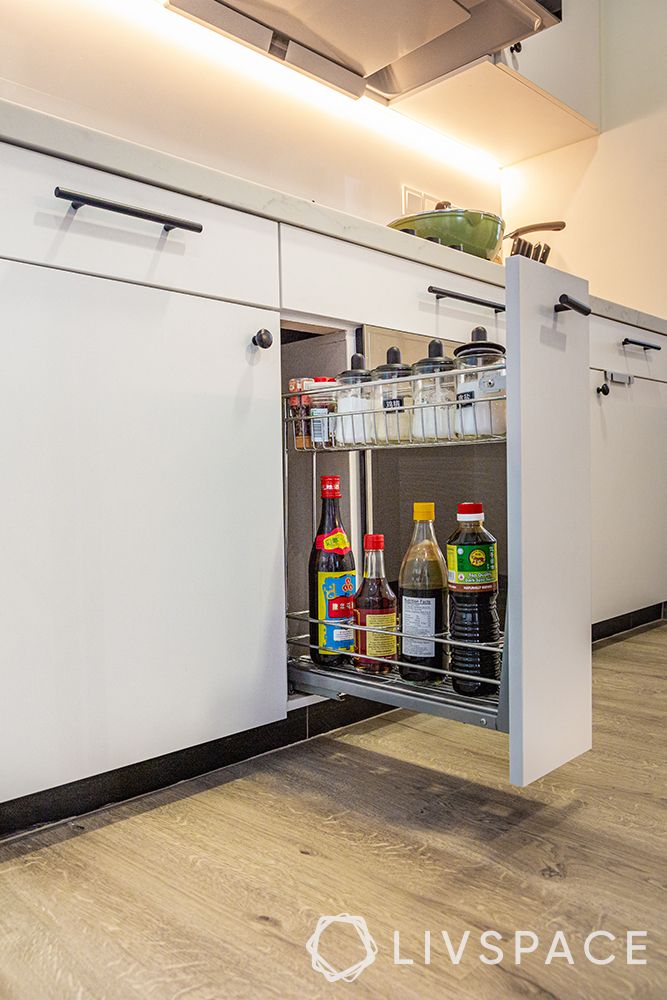 No small space is small enough to not fit anything in it. A renovated modern kitchen should make sure there are no dead spaces. Even the tightest of corners can be utilised for kitchen organisation and decluttered storage.
Also Read: 6 Must-have Internal Kitchen Accessories to Help You Optimise Your Kitchen
#10: Avail Hanging Units To Unlock New Kitchen Organisation Potential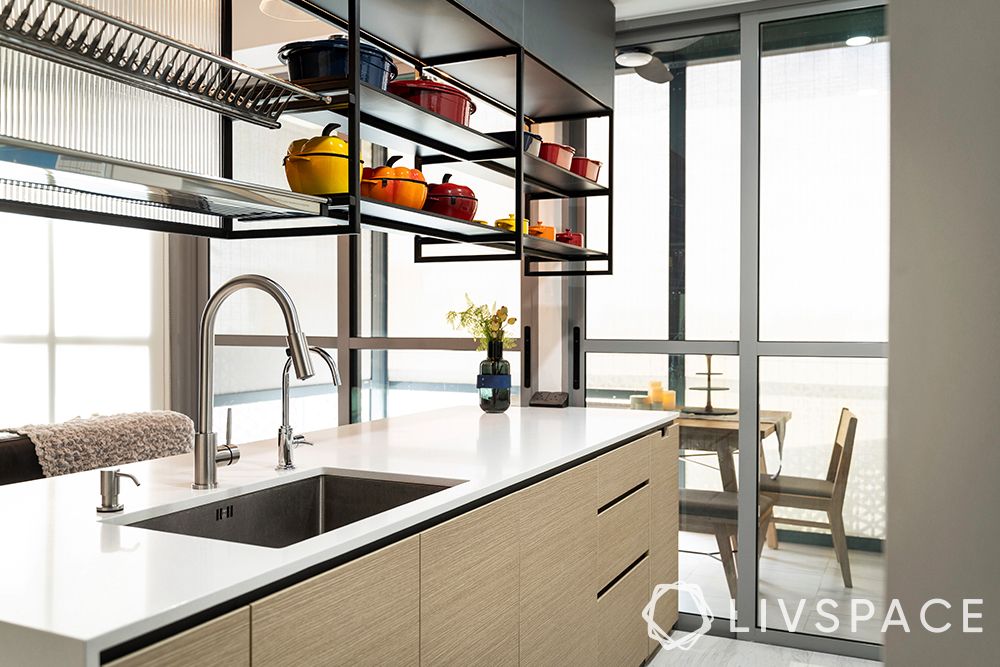 Hanging units can come to save the day where the lower kitchen cabinet layout is maxed out. As seen, they can also be open or closed. The best part is that they can be installed separately too.
#11: Turn Your Kitchen Island Into a Storage for Kitchen Organisation
Kitchen islands aren't just your breakfast tables. They can function as an effective kitchen organiser unit too if made with smart storage. Here are 6 Kitchen Island Design Ideas Perfect for Every Kind of Interior Style.
#12: Extend Kitchen Organisation with a Jar Cabinet
A line of jars can be organised simply by extending the upper kitchen cabinet. It is up to the homeowner to decide if it will look good in their kitchen or not.
General Rules of Kitchen Organisation:
#1: Categorise for the Perfect Kitchen Organisation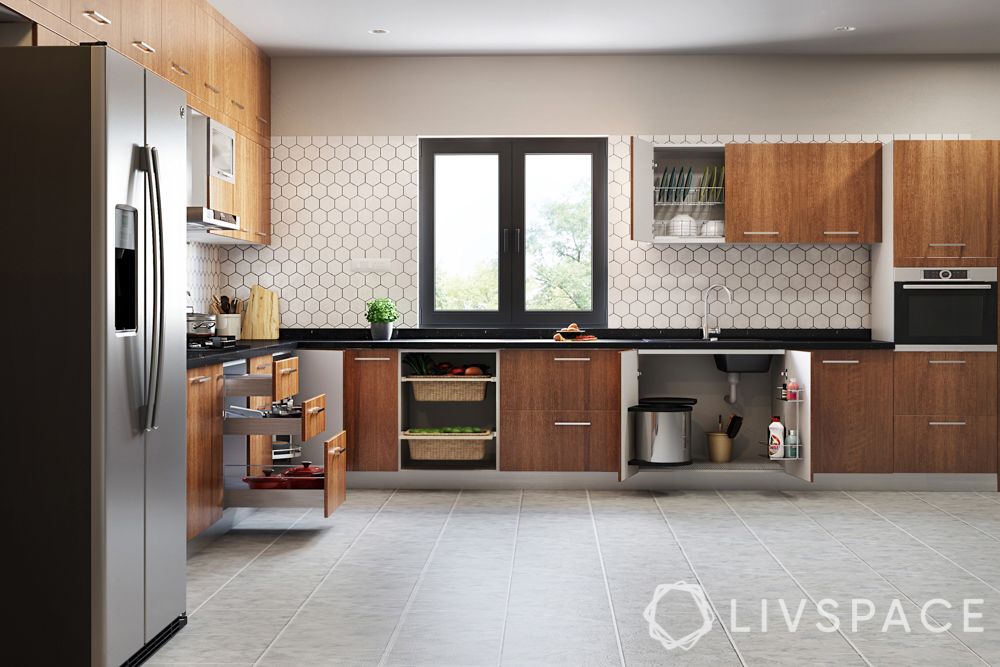 Organisation according to categories is important. For example, the nearest kitchen cabinet to the cooking stove is best for storing cutlery as makes it easier to reach out and pull a cutlery when in need.
#2: Go the Marie Kondo Way of Kitchen Organisation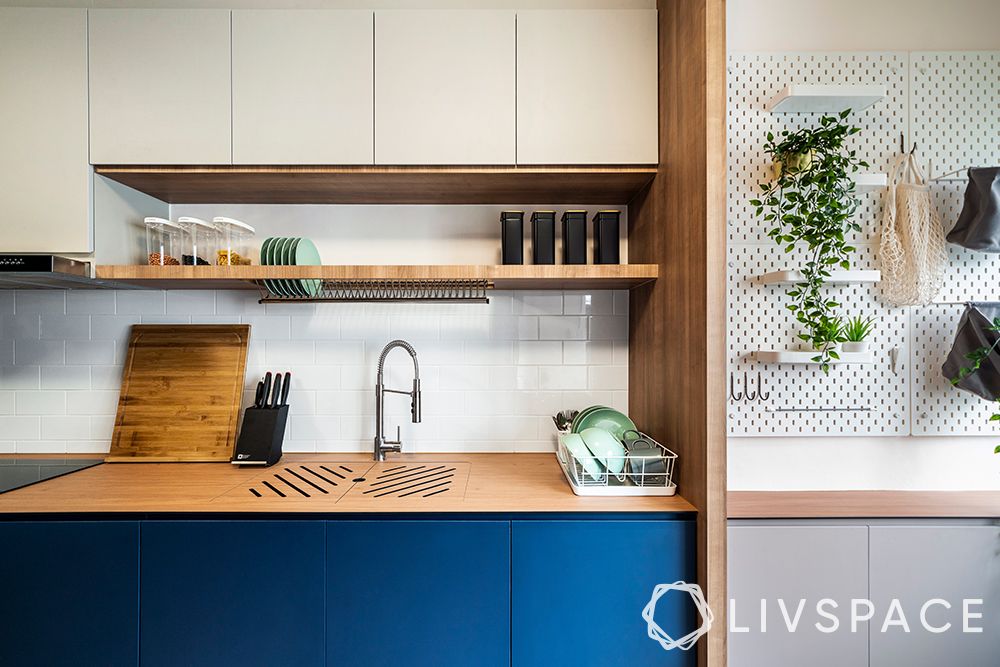 Marie Condo is a famous home organiser celebrity with her own Netflix special named 'Tidying Up With Marie Condo'. Her idea is to get rid of anything that hasn't been used in a long time. This is quite a helpful technique that helps to readily declutter.
#3: Vacuum out Crumbs From Your Kitchen Cabinet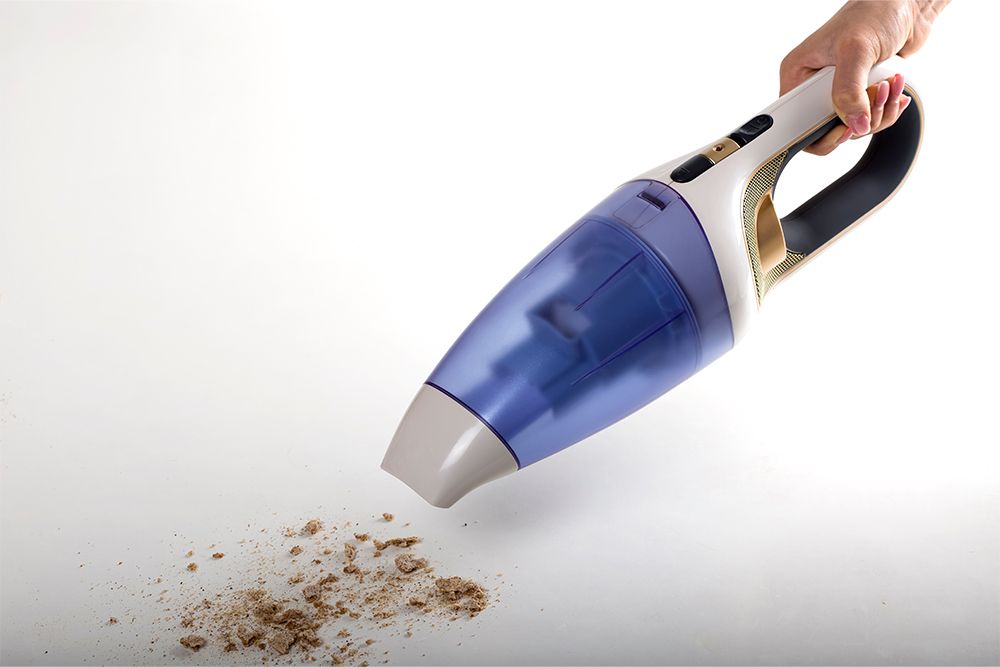 It is easier to have a smaller vacuum handy and use it to clear out smaller kitchen cabinet crumbs. It helps you save time from pulling out everything at once and then cleaning it.
#4: Employ Kitchen Organisation for Kid Safety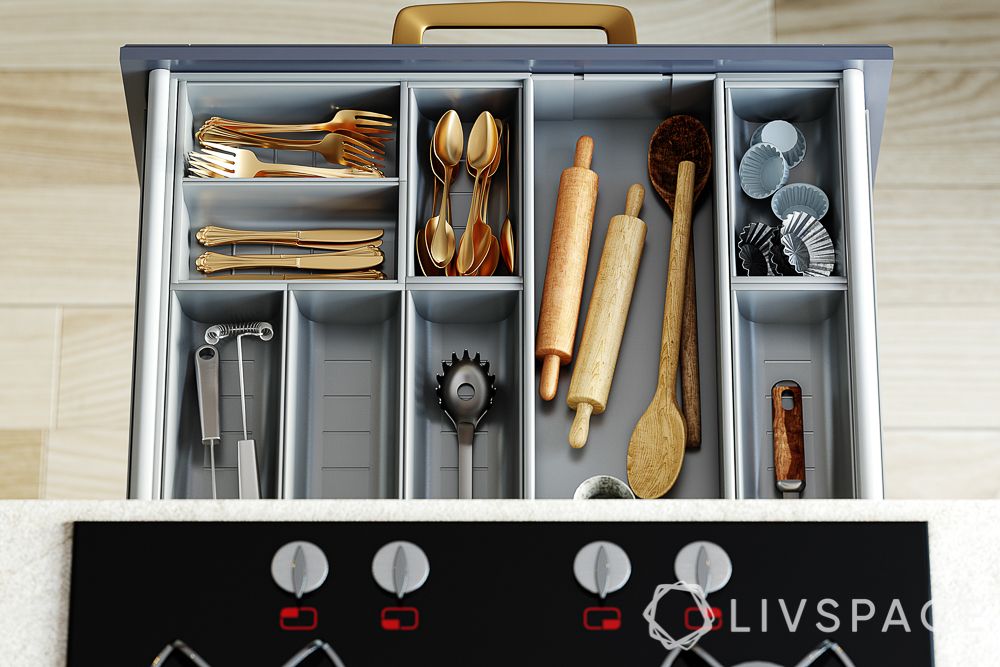 Kitchens should also account for kids' safety. For example, putting sharp objects in a kitchen cabinet that is reachable for your kids is not the ideal way to go.
#5: Ample Lighting For Better Kitchen Organisation: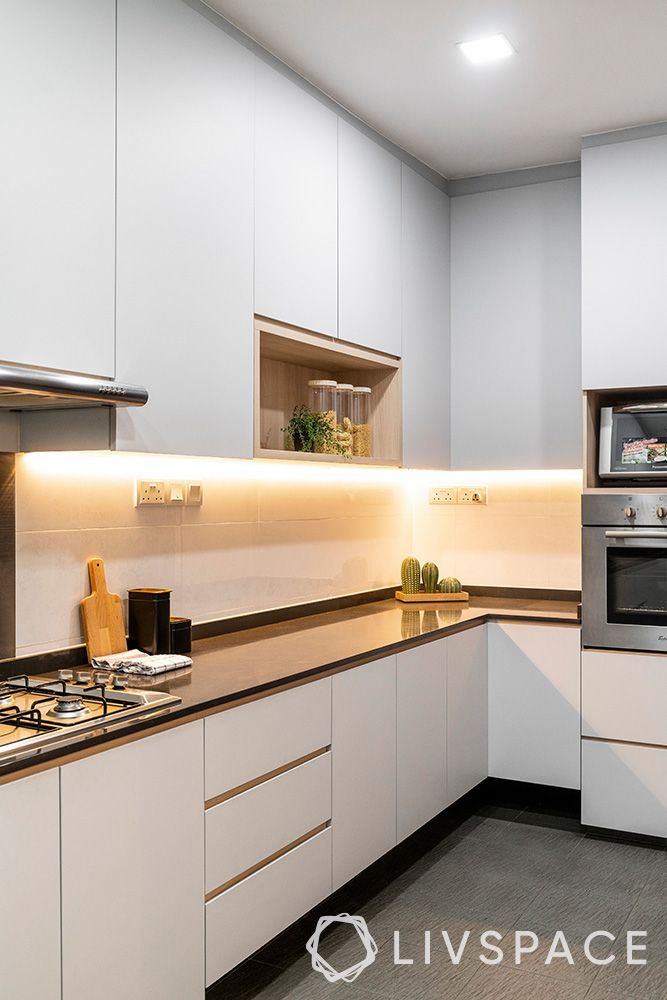 Lighting your kitchen aptly makes for a clean and organised look, thus, making organizing your kitchen easier and aptly supervised.
If you liked this article, consider reading Need Designer Tips for Organising a Small Kitchen? Check This Out.
Tour this BTO:
How Can Livspace Help You?
We hope you found our ideas useful! If you want your home to be just as beautiful, then look no further. Book an online consultation with Livspace today. Delivering safe home interiors has been our No. 1 priority. Click here to find out how interiors are being delivered following all safety protocols.