When you decide to get your home renovated, there are some places that you definitely need to redo. Toilet renovation is one of the most important aspects of a renovation, especially in resale flats. This is because we want the space to look cleaner and in tandem with the rest of the home design. But does the thought of getting your toilet renovated tick you off? After reading further, you will be better prepared to deal with it along with your designer.
Read this quick guide on toilet renovation to know what you need to keep in mind and where you should spend your time and money.
#1. What are you looking for?
The primary and most important question to answer before you start the renovation is whether you are looking at a regular, functional space or a designer hotel-style look for your bathroom. Are there elders in your home? Or kids? Then you will need extra features to facilitate their needs as well. Another thing to consider is the number of people that will be using it—whether it is only for family members or guests as well.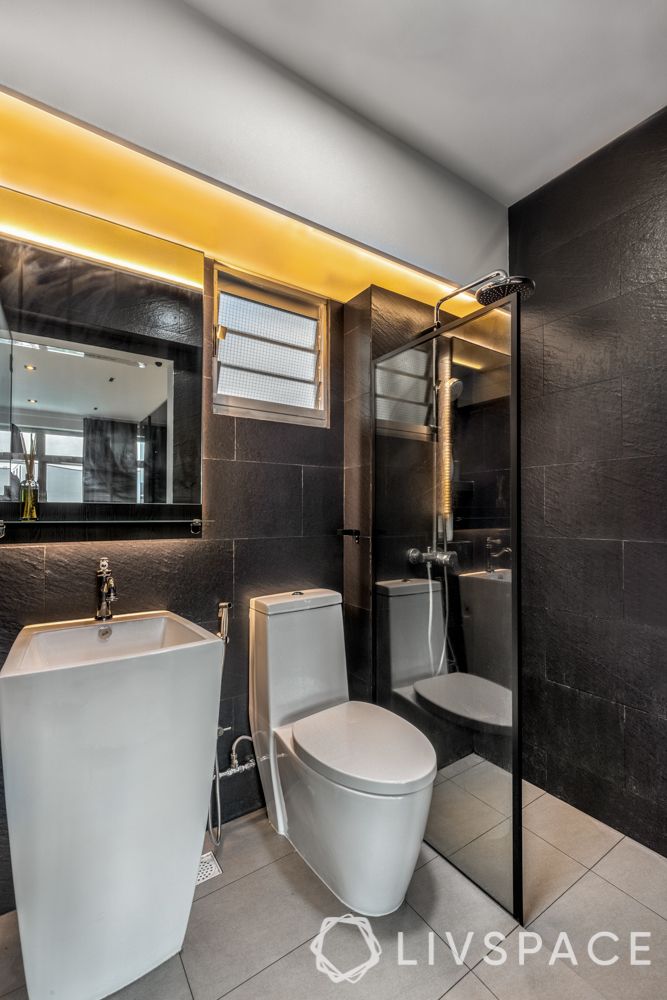 Answering these questions will help you and your designer decide the way forward. The design, theme, functionality, materials, fixtures and so on will depend on what you are actually looking for in your toilet renovation. Determining all these factors beforehand will save you a lot of extra cost.
Also, if you live in an HDB, then you need to read this before you start renovating: Everything You Need to Know About Renovating Your HDB.
#2. Things to keep in mind
Easy maintenance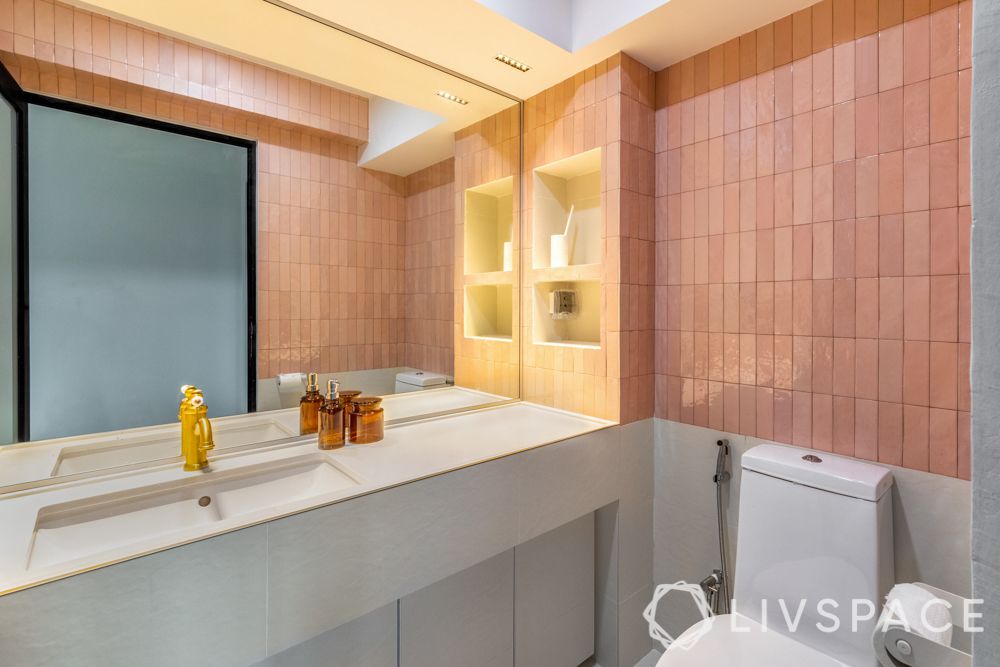 Whether you're getting a simple toilet renovation or a luxurious one, no one likes dirty tiles and countertops over time. It's always better to choose materials that are easy to clean and maintain. While you can polish tiles or remove dirt from grout lines regularly, it is advisable to stick to non-porous materials for the countertop. Opt for tiles and quartz and avoid marble or cement screed surfaces.
Dimensions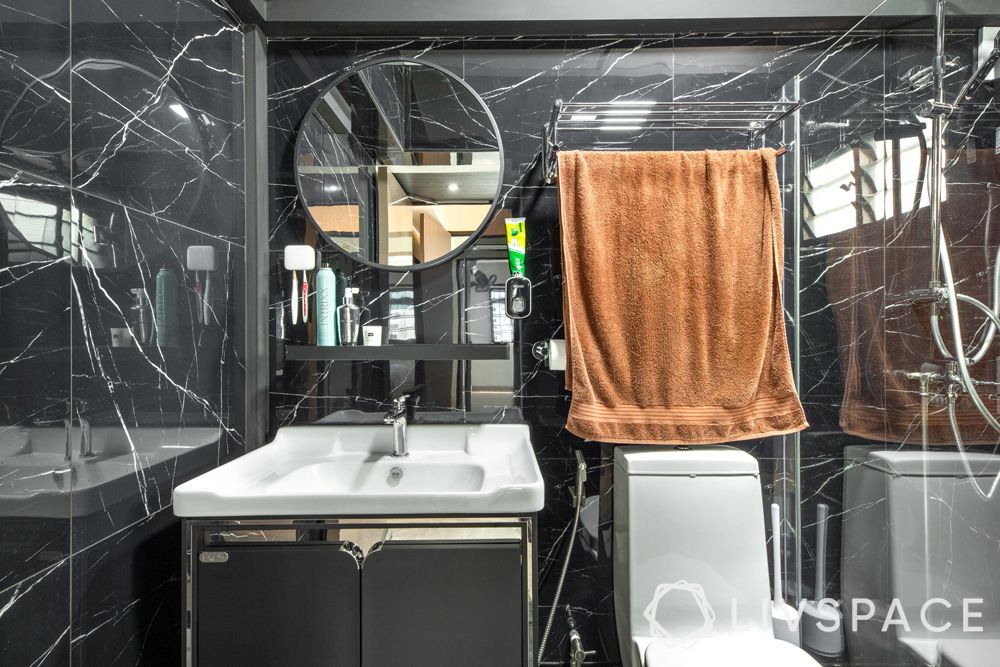 Your designer is the best person to guide you with the right dimensions for your toilet renovation, but it's best to be prepared so that you can have a meaningful discussion. Here are some easy dimensions to remember:
If space allows, have at least 50-55 cms of passageway in front of the toilet.
The ideal sink height is around 70-75 cms.
A comfortable shower area should measure around 75 cm x 75 cm square.
Make sure the showerhead is at least 180-190 cm above the floor.
Water efficiency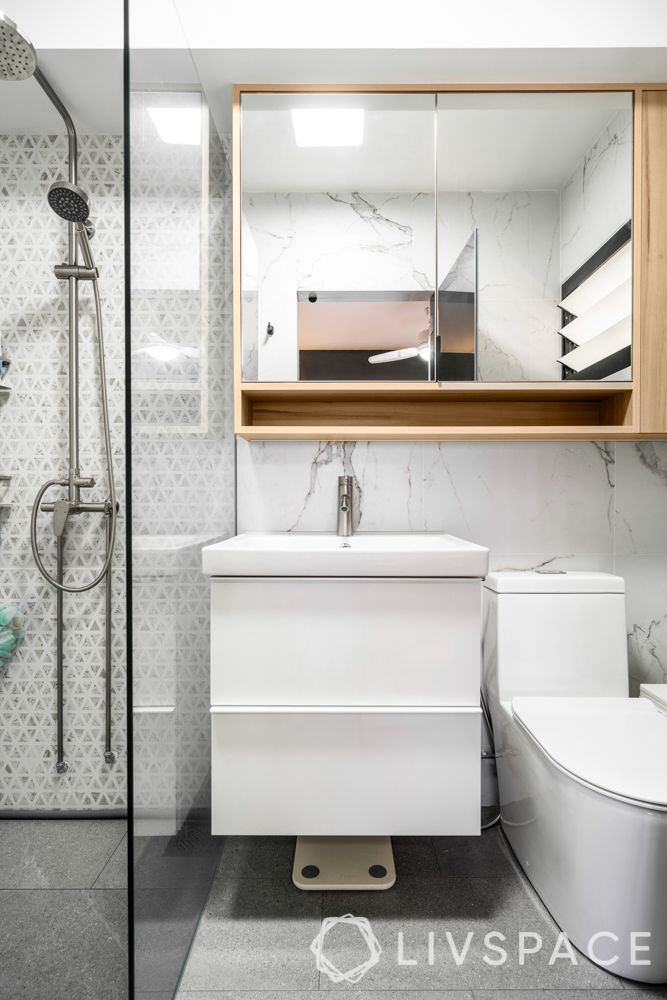 This one's an important point to note and we should all be cognizant of the fact that conserving water is essential. Therefore, as far as possible, try to invest in taps and fixtures that are designed especially to conserve water and enhance water efficiency.
#3. Essentials to renovate
Tiles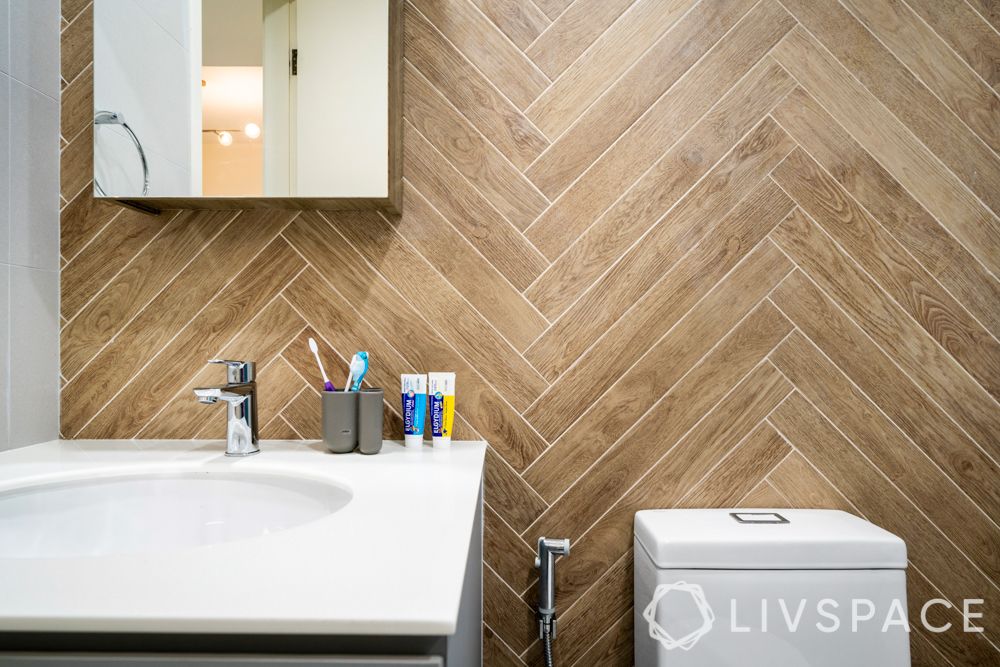 It's a given that you must break the old tiles in your bathrooms and give it a fresh new look. New tiles can instantly amp up the look of your toilet and add a touch of style to boring interiors. There are multiple options to choose from but we suggest you let your designer decide the best. They will help you with the right tile design, pattern and material to go with. Try laying the tiles in a pattern like herringbone to make simple tiles stand out.
Shower cubicle
Let's all agree that glass shower cubicles are a powerhouse of dirt and water stains. As much as they look good and elegant, glass partitions are tricky to maintain. And when you are moving into a resale flat, you definitely want to hack the existing glass shower cubicle and build a new one. Make sure you get a compact glass partition just enough to sustain water splashes. This way, you will have to worry a little less about cleaning up a bigger surface.
Vanity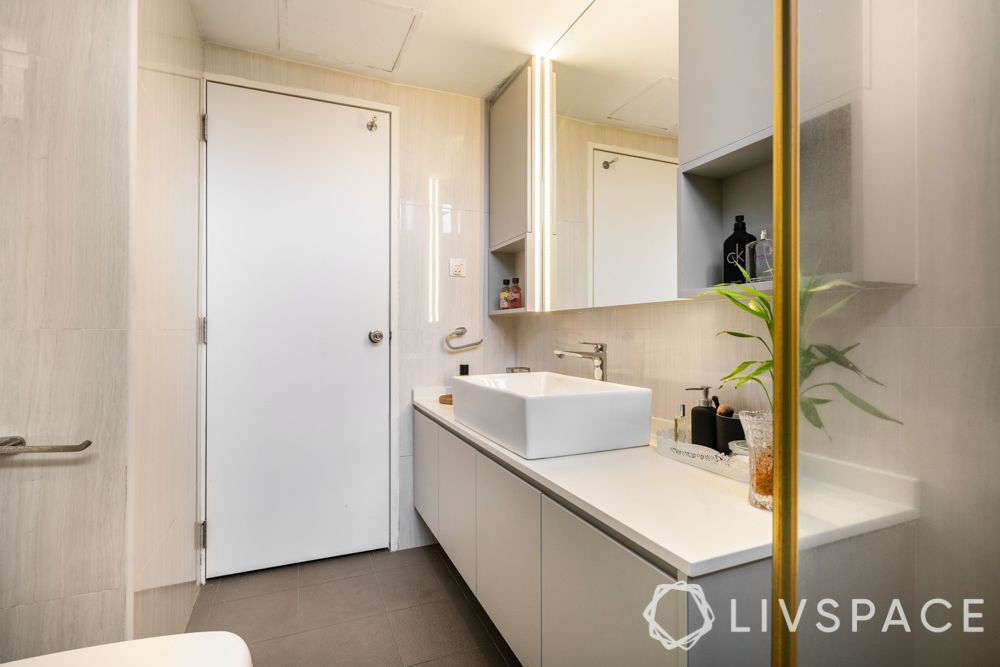 As you move into a new home and think about toilet renovation and how you want to accommodate your needs, you will realise that a good vanity unit goes a long way. You should invest in a material that won't wear out in humidity since your bathroom is going to remain damp. Opt for a wall-mounted vanity if space is a constraint.
Sink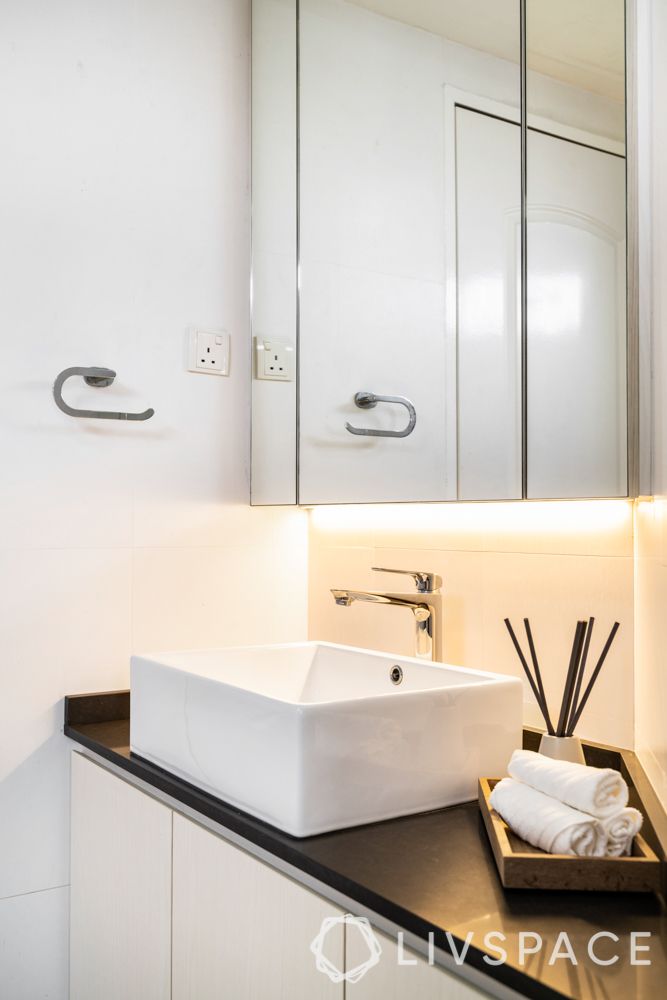 Another aspect that you must consider refreshing is the sink. Whether you want to go for a basic design or stay in trend with the latest sink designs in the market, you should get a new one for sure! Your designer can help you choose the right one according to the design.
#4. Storage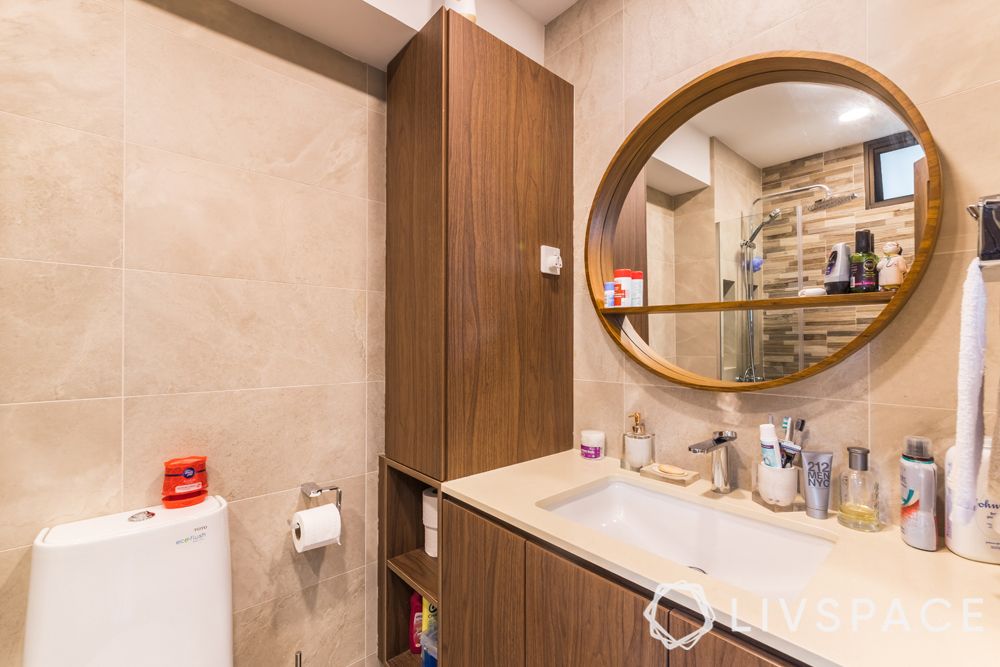 Always plan the storage space in your bathroom well. This will help you avoid clutter from growing in your toilet. Even before you start the toilet renovation, think about the kind of storage you require so that your designer can help you with it. Are you planning to keep all bath accessories, linen, towels and appliances in the bathroom itself? Then you might need a tall cabinet next to the vanity to take care of all of it. For everyday items, make sure you have open shelves and niche storage.
#5. Ventilation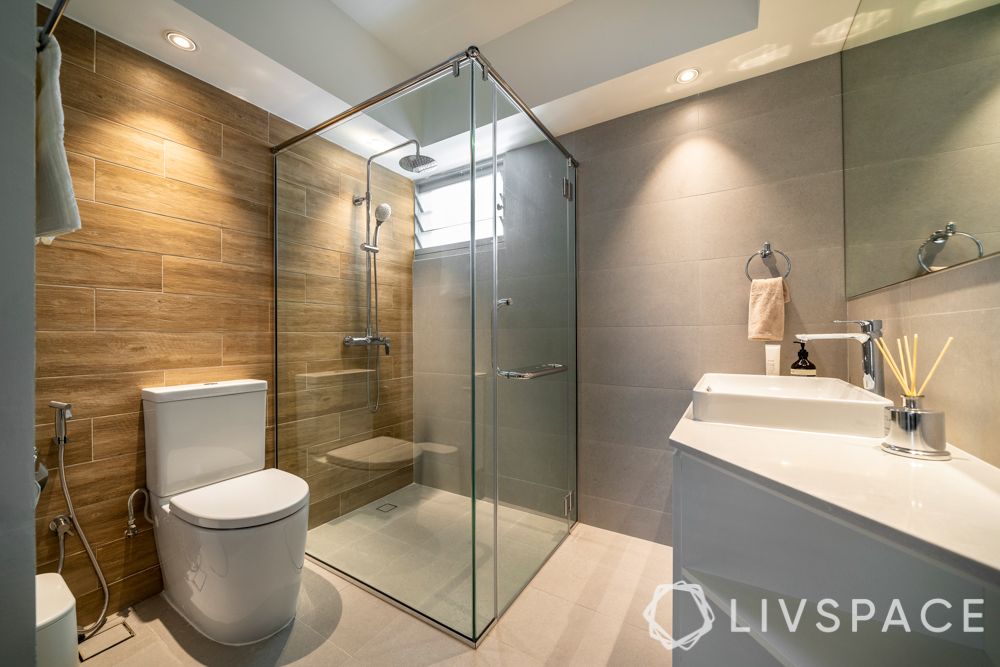 How many times have you visited a friend and realised that their toilet feels suffocating when you used it? This is a common mistake that most of us make while getting our toilets renovated. We forget to account for ventilation. While an exhaust fan might seem enough, we suggest you consider a window if possible, especially in the shower cubicle since it might get suffocating in there.
#6. Fittings and fixtures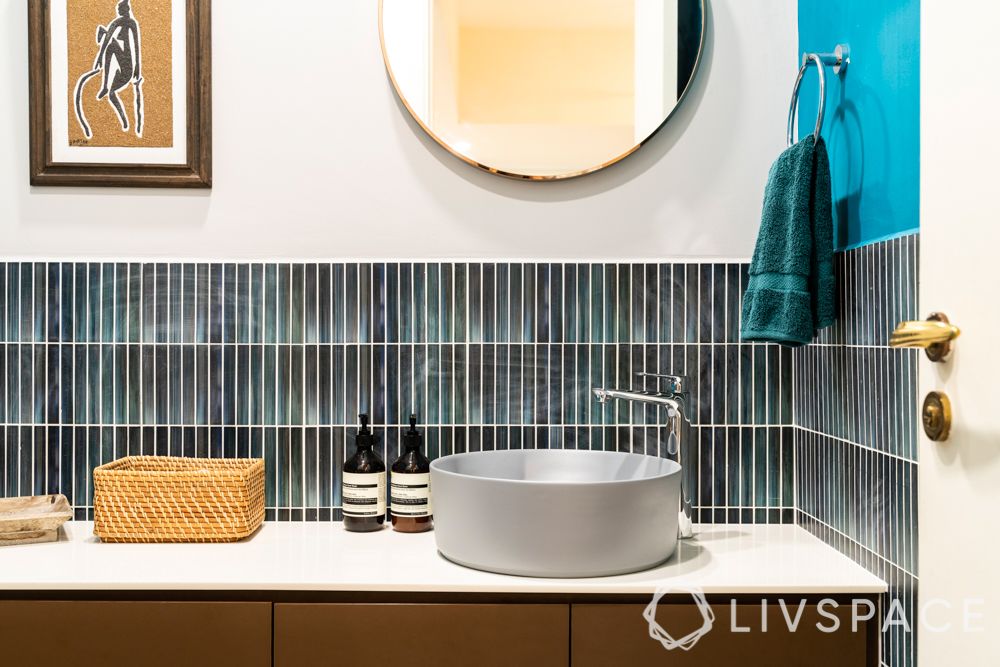 Did you know that you are going to be spending maximum money on your bath fittings and fixtures? Therefore, it's important to look at the different options and brands available in the market that suit your style and budget. Some things to keep in mind:
Before you buy your taps, make sure you have selected the sink and check for tap holes to see what sort of taps you can fit there.
Opt for wall-mounted sinks for compact bathrooms but understand that you will have to sacrifice on some storage space if you get one.
Top-mount sinks are the most common types of sinks and they fit in almost every kind of countertop.
Shower heads come in different types and sizes like handheld, rain, and so on. Check the water pressure in your toilet to know which shower head will be the best.
Read about the cost involved in renovating your toilets here: Everything You Need to Know About Toilet Renovation Cost.
#7. Lighting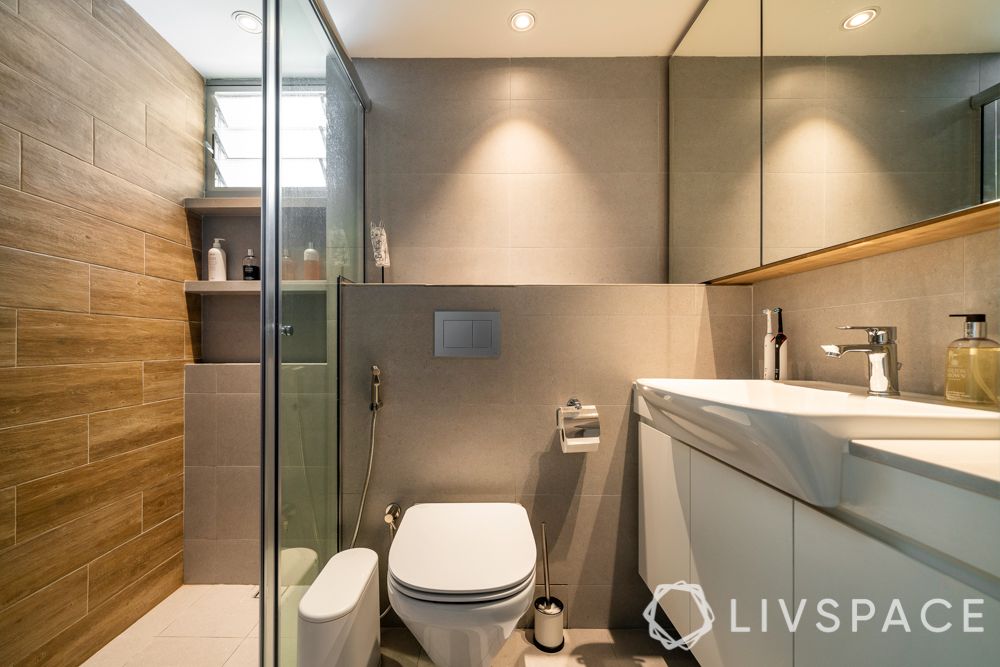 A bathroom should have a combination of lights, and the most important are ceiling lights. You should have ceiling lights in the shower area, toilet and vanity area. Task lights can be added on the vanity mirror to help you brighten the space and facilitate grooming sessions. For that spa-like effect, consider getting LED strips under the cabinets or bathtubs. Also, make sure you get water-resistant lights only.
#8. Specifics for small toilets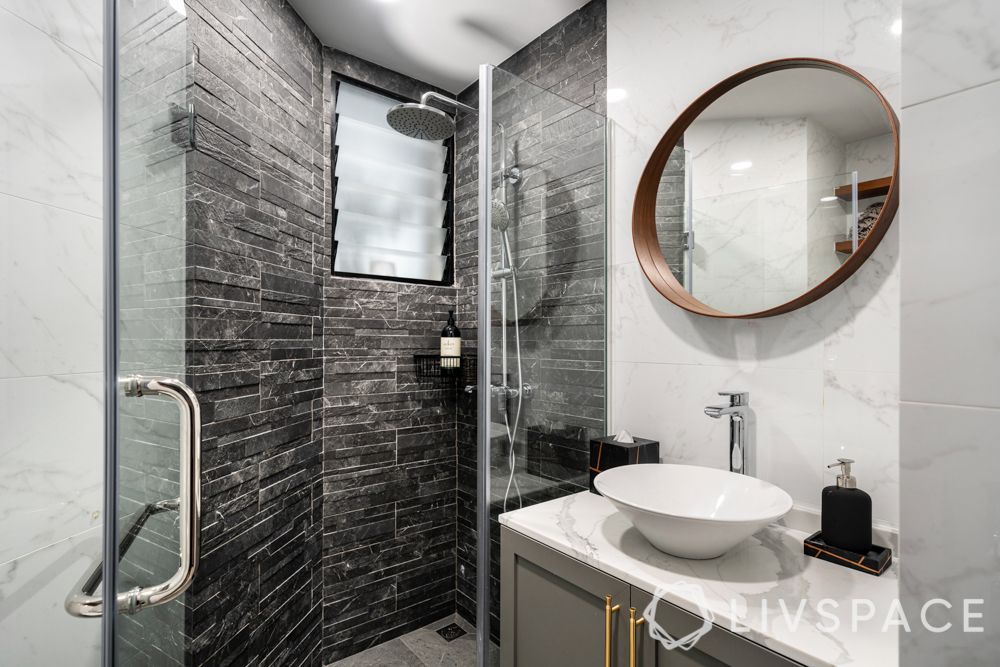 We know that designing or renovating a small bathroom is not easy and there are many details that you need to keep in mind while you are at it. Some quick tips to follow are:
Keep the look minimal and free of clutter.
Make sure to use light colours on the walls and flooring.
Opt for a floating vanity and toilet.
Update to classy and sleek hardware to attract attention to the right places.
You can read more about small bathrooms here: The Best Small Bathroom Ideas to Make the Most of Space.
This guide was written to help you be better prepared for your toilet renovation and know what you should not miss revamping and what you can avoid if you want to. Read this to get more insight: How to Design a Bathroom That Stands the Test of Time?
Send in your comments and suggestions to editor.sg@livspace.com.