Whether you are embarking on a complete bathroom renovation journey for your bathroom or just planning some DIY renovation, you must know everything about toilet renovation package cost. Hacking a toilet and designing it from scratch definitely requires some effort and money but before you get into the buying process, have you jotted down what you actually need?
Renovation is a great way to make fixes to an existing room without having to hack it completely. This is where we come in! With inputs from Noel, our designer, this bathroom renovation cost Singapore guide will help you spend your money wisely and we will help you make an informed decision about which parts of your bathroom need more attention.
How much is bathroom renovation cost Singapore?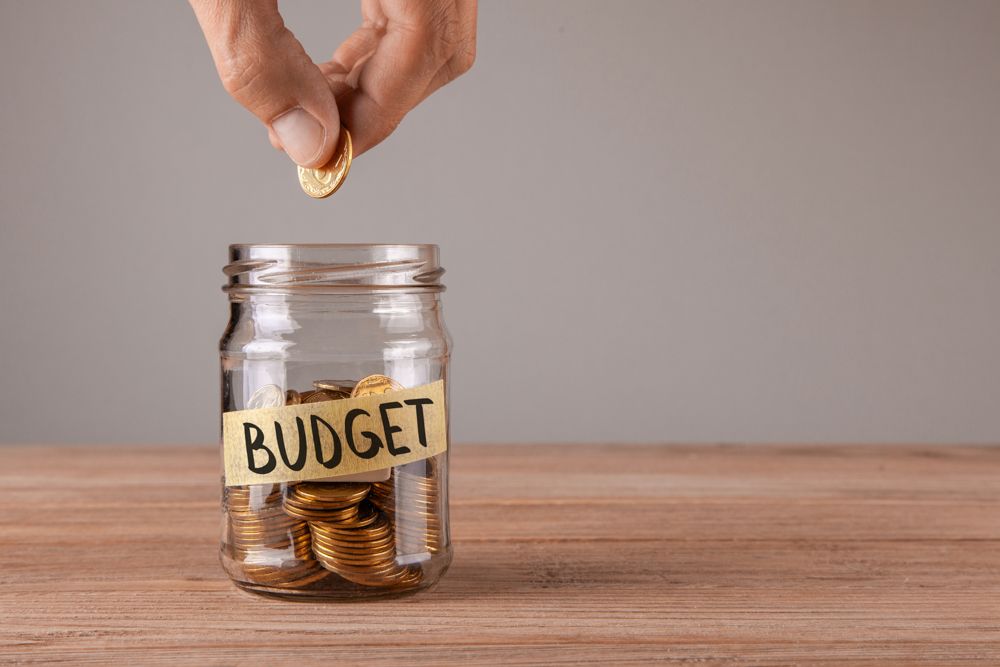 While on average, you will be spending about S$4,000–S$7,000 on an entire toilet renovation, here's an estimation of a basic toilet renovation cost:
| | |
| --- | --- |
| Hacking a bathroom | S$1,200–S$1,500 |
| Plumbing | S$1,200–S$1,500 |
| Tilling | S$3,000–S$4,000 |
| Shower screen | S$600–S$850 |
| Vanity (depending on the size) | S$850–S$1200 |
Of course, these costs are indicative and relative. You will have to take into account the materials and finishes you are opting for. For example, are you looking for fancy, designer tiles or regular ceramic tiles? Do you need a huge vanity unit or a compact one? Everything is going to change your budget little by little. Find out the bathroom design trends that are hot this year.
What can alter your toilet renovation cost?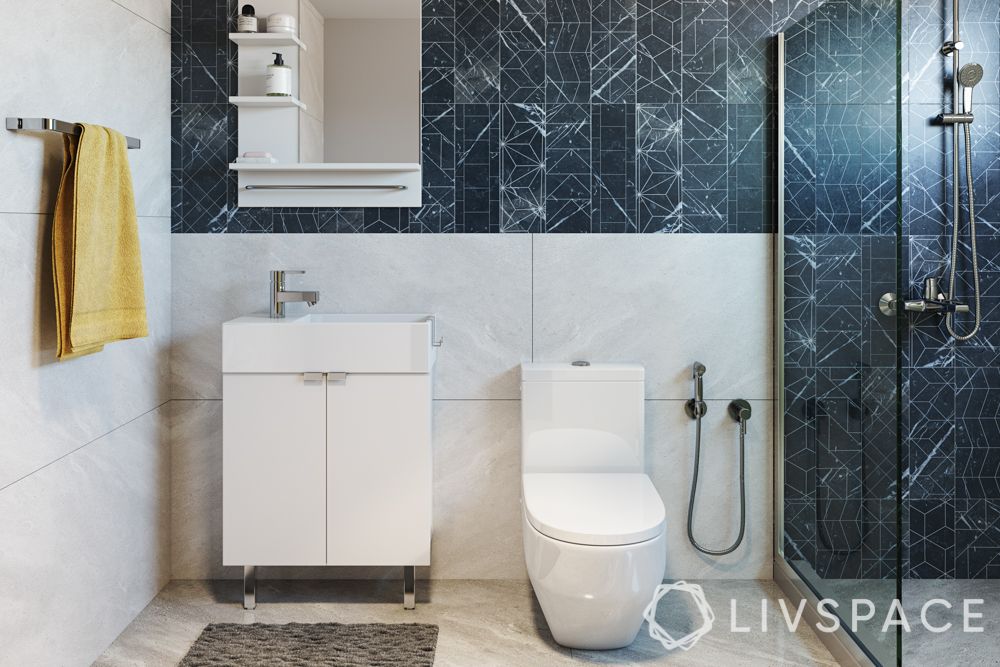 The answer would be your bathroom fixtures and accessories. These can really alter your budget. For example, if you opt for a smart shower with voice and WiFi control, you are not going to get it at the price of a regular shower. Similarly, heated floors and non-slip floor finish can raise your toilet renovation cost.
Certain fixtures are slightly more expensive than regular alternatives. For example, a bathtub or a concealed rain shower is definitely going to increase your budget. Similarly, a wall-hung WC and taps will bring up your budget since the construction procedure for these are different.
What are the basics of a toilet renovation?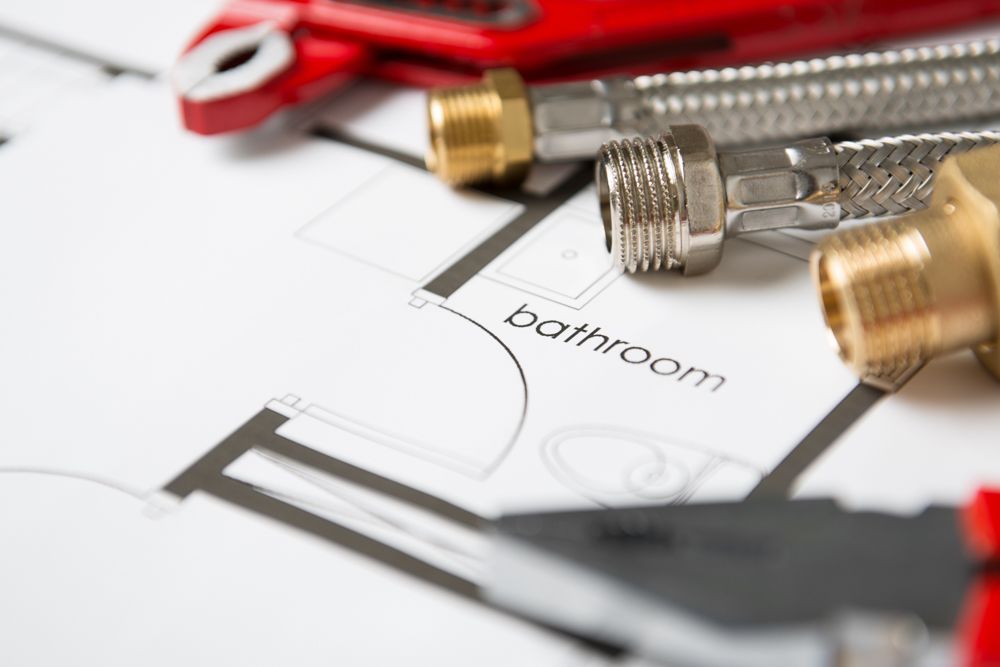 Unless you own landed property in Singapore or buy a new condo, you will mostly be purchasing resale HDBs or condos. This means that it is only wise for you to redo your toilet. Usually, in old bathrooms, the water pipes are concealed behind the walls and the first step to renovating this space is new water pipework to prevent any leakages. Waterproofing the floor tiles is the next and very important step.
The most common issues in a toilet are water seeping through ceilings and leakage in the walls. It would be best to consult an architect, a designer or a trusted contractor during the planning stage of your toilet renovation, to avoid unexpected costs later.
What is bathroom renovation cost Singapore and what is included in this package?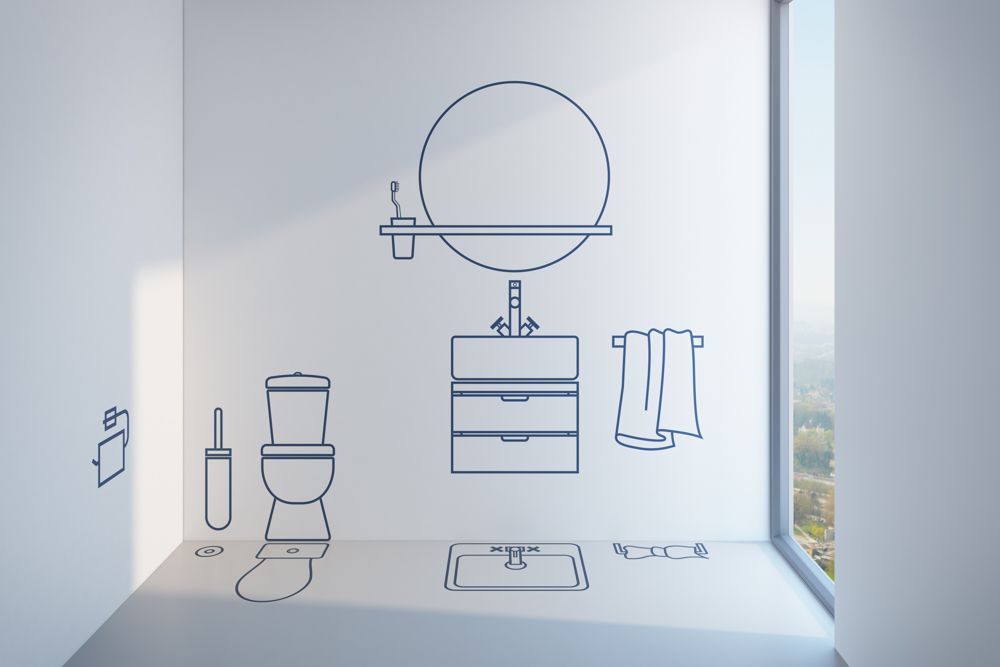 Once you consult an expert for your toilet renovation cost, they will give you a list of things that you should change, given the condition of your bathroom. If you really do not want to spend a lot on your toilet renovation, you must be able to pick out the must-renovate things in your bathroom.
Usually, when you opt for a complete bathroom renovation Singapore package, it includes some basic things like:
Hacking
Plumbing work for new piping
New tile finish
Waterproofing works
Shower screen
New bath fixtures
But you can plan where to spend and save and cut down your bathroom renovation price.
What should you ask before getting a toilet renovation?
When our designers interact with homeowners to design any part of their home, they ask a lot of questions related to their usage, needs, preferences, lifestyle and so forth. You have to do the same when it comes to getting your toilet renovation done.
What is it that you are looking for in your bathroom?
Are you looking for just the basics?
Or do you want a designer touch?
Do you need to get a child-friendly or/and an elder-friendly design?
How many people will be using this bathroom?
Listed below are more deciding factors for your bathroom renovation cost:
Easy maintenance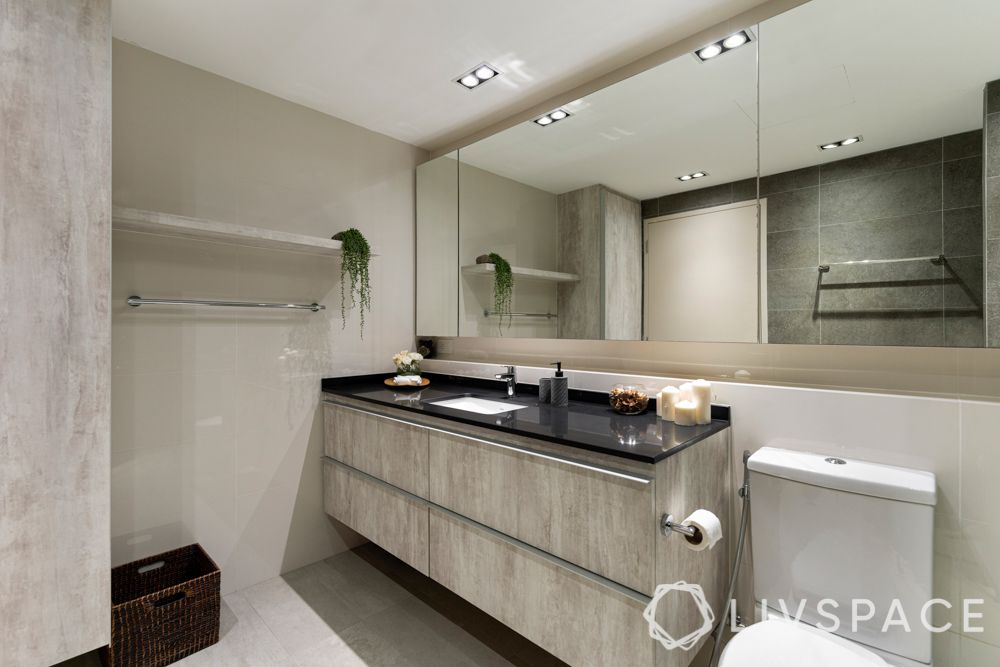 Once you have answers to the above questions, you will figure out that no matter what your reason is for your toilet renovation, you will need to regularly maintain it. After all, who likes cleaning things all the time or looking at stains and sulking? While figuring out your toilet renovation cost, keep in mind the materials you are going to choose. Opt for tiles and quartz as surface materials because they are non-porous and easiest to clean.
Tip
Always choose large-sized wall tiles, preferably without grout lines, and anti-slip floor tiles with grout lines for better grip. You can also choose frosted-glass partitions in your shower to minimise the appearance of water stains.
Storage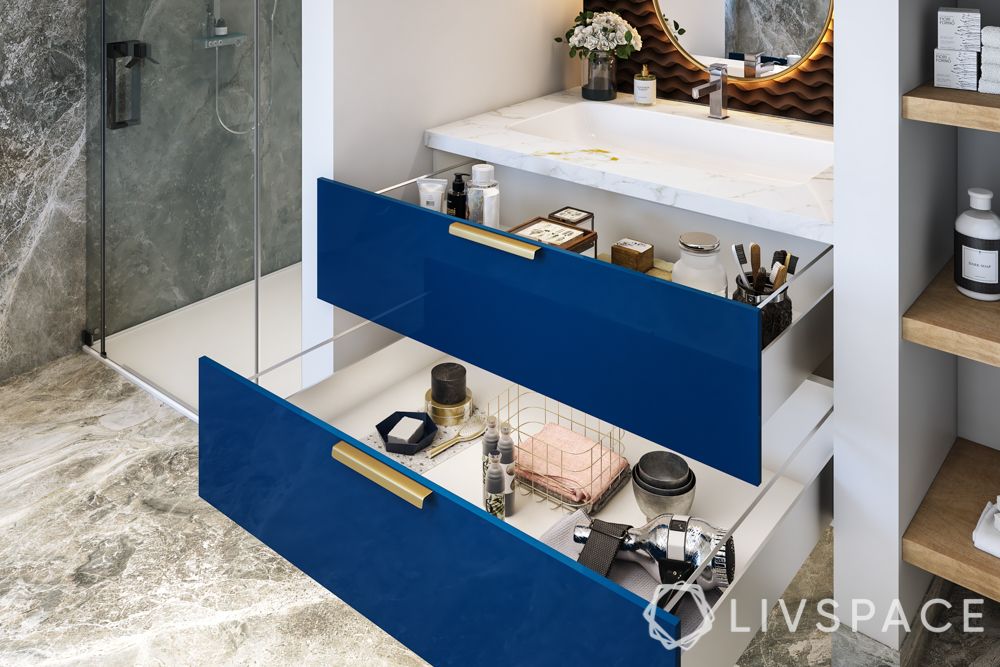 Coming to another important aspect of your toilet renovation, your storage requirements can alter your toilet renovation cost immensely. Always assess the availability of space and your needs before you decide on that vanity unit. If you happen to have a lot of things to store here, then you should go for a vanity that has ample drawers and cabinets.
Tip

If you are not sure about getting a full-fledged vanity unit or lack adequate space for it, then we suggest you go for something simpler, like open floor-to-ceiling wall shelves. They are a great and cheaper alternative for bathroom storage.
Design/Aesthetics
For some of us, our bathroom is an extremely important space and we are all about personalising it. So, if you are inclined towards adding designer elements to your bathroom, then allocate at least a small amount for this from the intended toilet renovation cost.
Just like the homeowners of this impressive 4-room condo who added a decorative marble tile inlay above their bathtub, this quirky artwork elevates the look of this space and adds an elegant touch.
Essentials to keep in mind
There are certain things that cannot be compromised when it comes to toilet renovation. So, remember to set aside money for the following.
Ventilation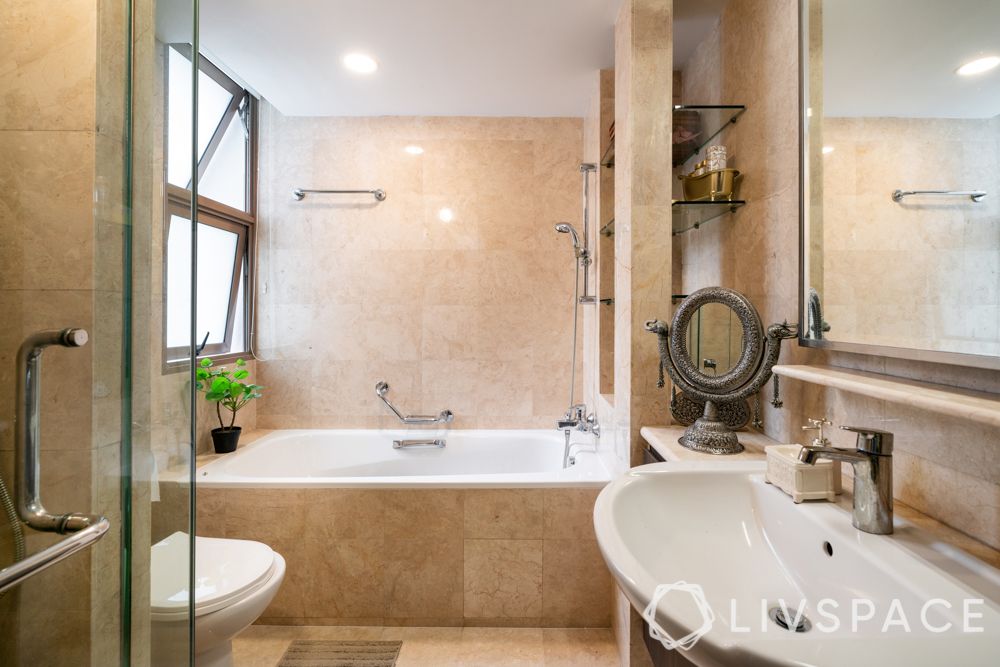 Your bathroom requires proper ventilation as it has the potential to trap moisture and lead to a malodorous space. If you do not have windows, you might want to hack a wall and create an opening to promote some sort of ventilation. Frosted-glass windows and venetian blinds can offer privacy in these areas.
Space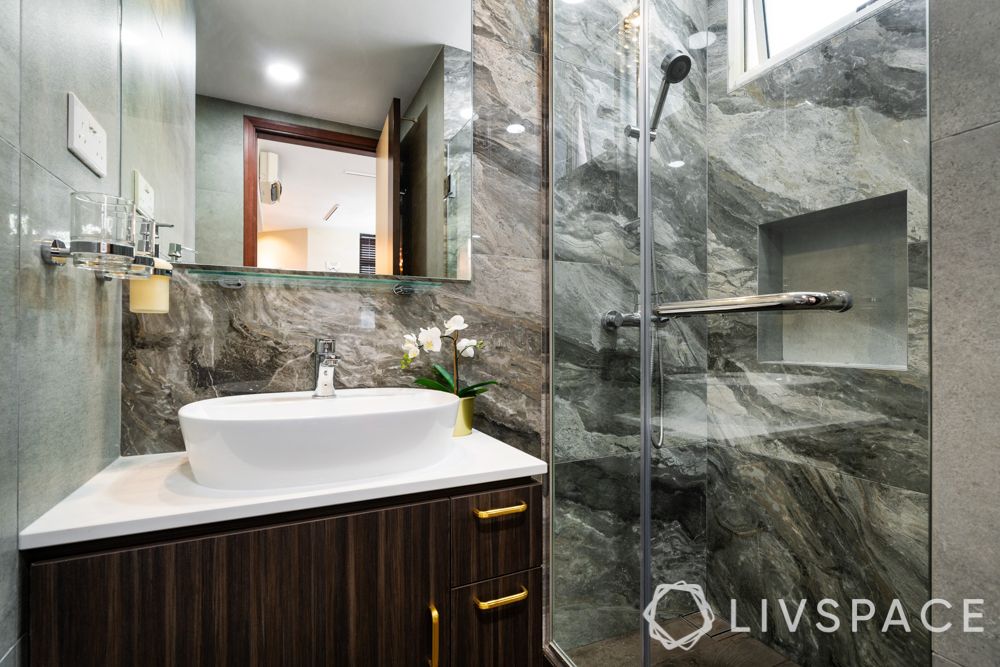 Working with a compact bathroom? Then you need to plan the layout in such a way that the entire space is well utilised. You do not need to compromise on the design or utility just because you are dealing with less square footage. An experienced designer can help you get an ergonomic bathroom within your toilet renovation cost.
Lighting
Last but not the least, do not forget to add the right type of lighting in your bathroom, especially if you are dealing with tight spaces. We suggest you invest in LEDs and recessed lights for the ceiling as they last longer. Of course, you will need lights that are moisture-resistant and keep your vanity and sink area well-lit.
3 interesting toilet renovation tips that everyone can try
#1: Expand your toilet space by extending it outwards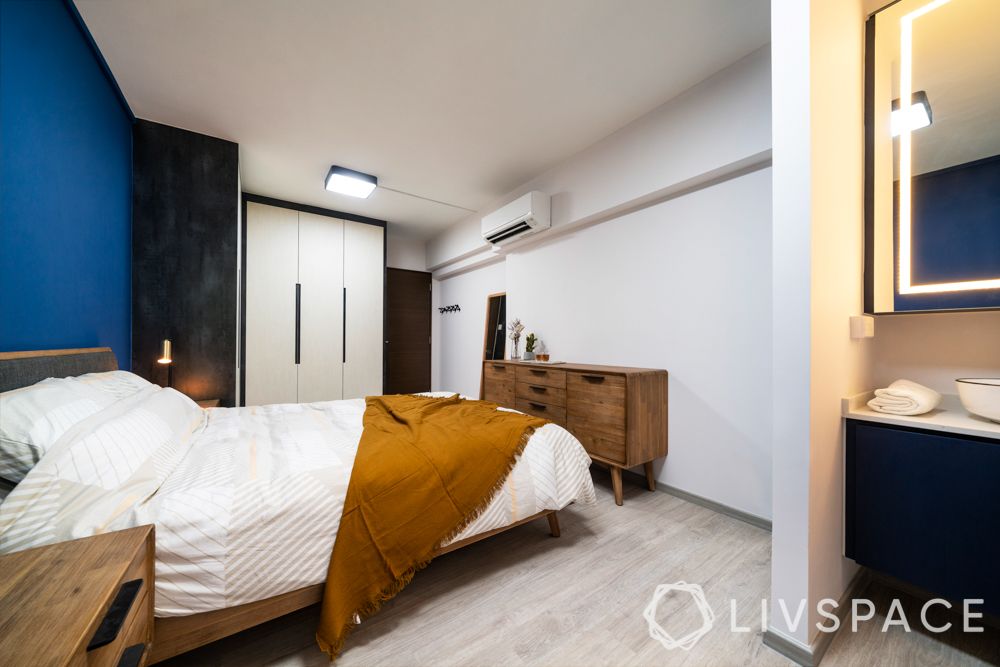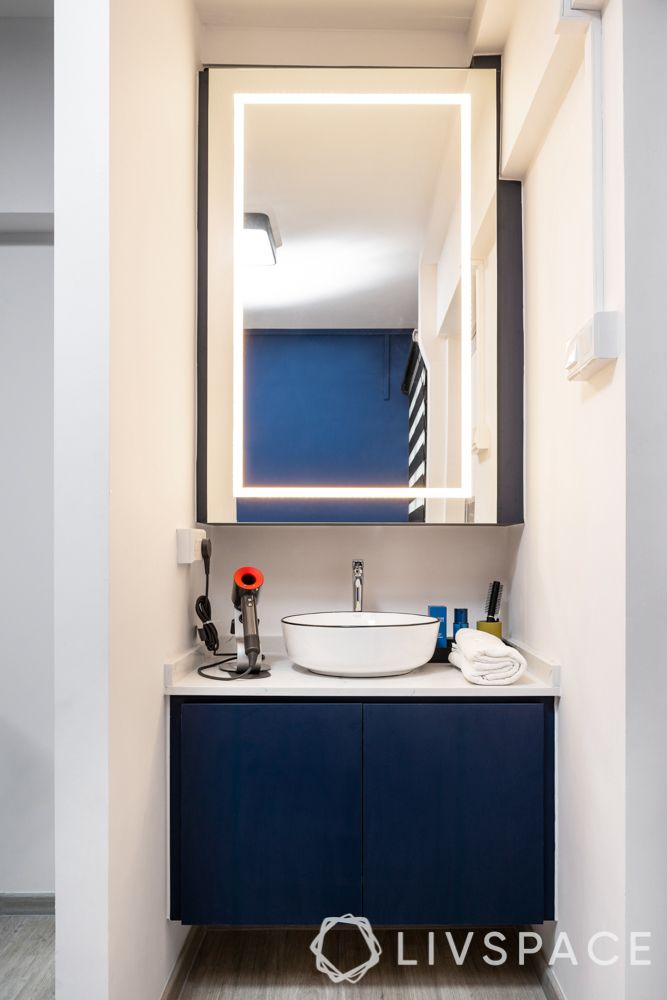 During your toilet renovation, you might realise that you need more room than what is available. If space allows, you can always extend your toilet area by breaking a wall. Your vanity area can easily be incorporated into this extra space.
#2: Try installing sliding doors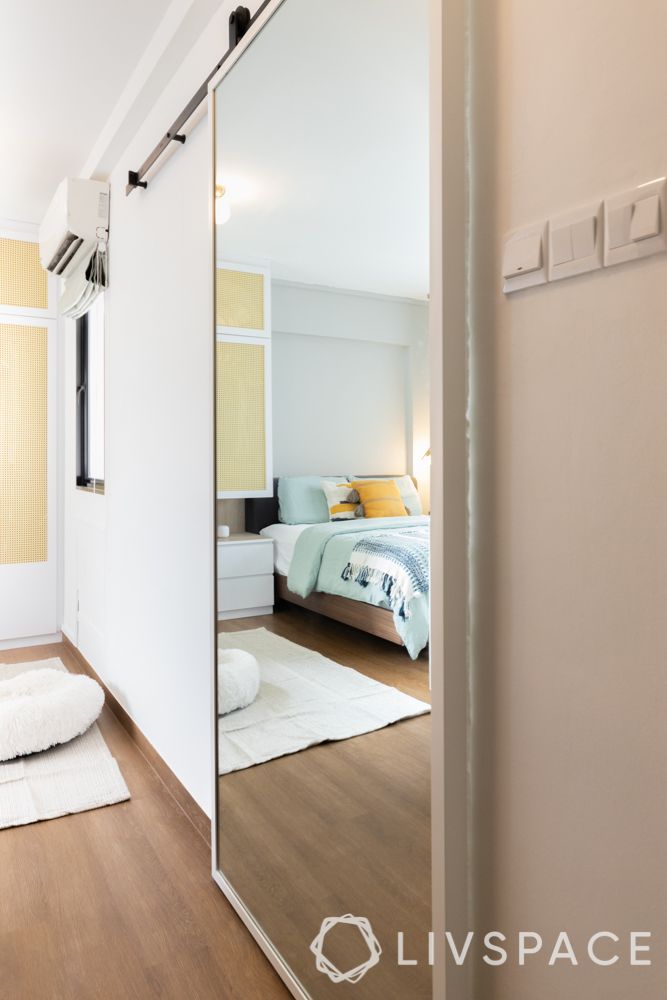 Instead of regular hinged doors for your toilet, try installing sliding doors. This will not only save you some space but will also look unique. Get a mirrored door and turn it into a full-length vanity mirror if your toilet renovation cost allows for it. You can install Hollywood lights around it for a glamorous effect. This is ideal for compact bedrooms as hinged doors need clearance space while opening and closing.
#3: Build niche storage in your shower area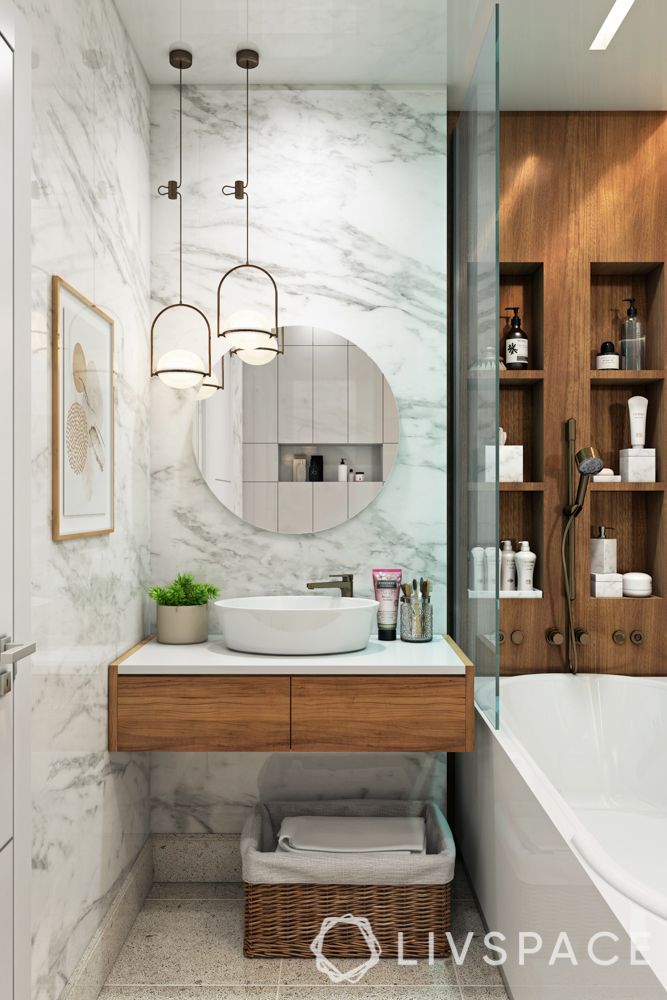 It is always a good idea to be clever with storage when it comes to controlling the toilet renovation cost. Experts recommend niche storage since it is easy to get done. Utilising vertical surfaces is a great way of adding storage. Whether it is your shower area or vanity, these can be really useful.
Before you begin, you should familiarise yourself with the bathroom design trends that are hot this year and also educate yourself on the ways to design a bathroom that stands the test of time.
If you are also looking to renovate your kitchen, do it along with your bathroom renovation so that you don't have to go through the civil work twice.
How Can Livspace Help You?
We hope you found our ideas useful! If you want beautiful interiors for your home, then look no further. Book an online consultation with Livspace today. Delivering safe home interiors has been our No. 1 priority. Click here to find out how interiors are being delivered following all safety protocols.