The TV wall design has become an essential part of every home. However, this is also one of the first things guests see in your home. So if you want to make the most of this space, go right ahead! Struggling with ideas on creating something unique for your home? Peek through our favourite TV feature wall designs from Livspace homes, and you're sure to find something that's perfect for you!
#1: Luxe modern TV wall design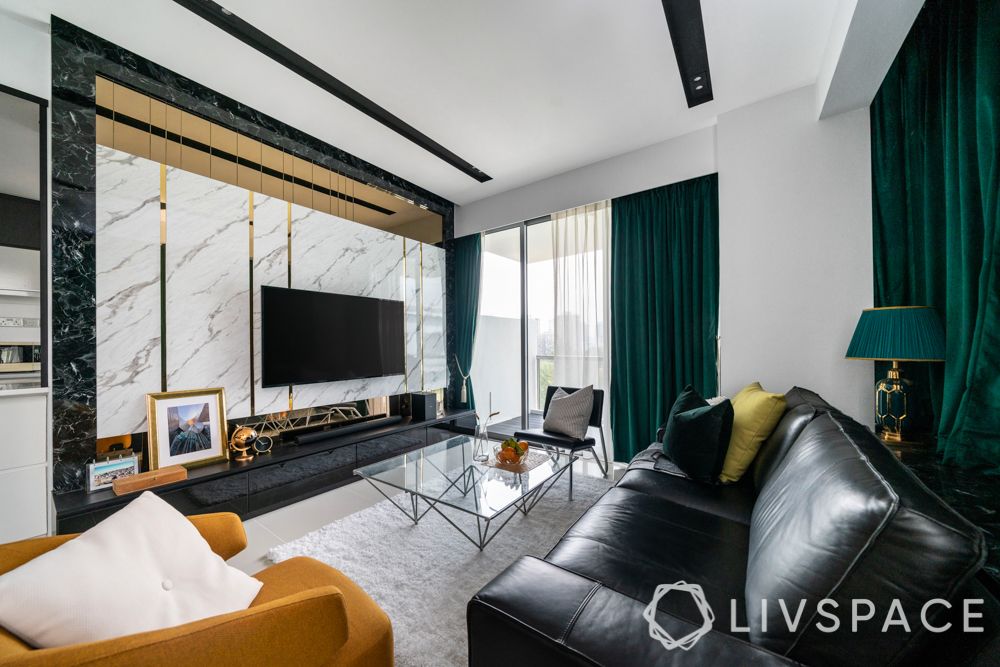 If you're looking for a luxurious design for your home, this might be the perfect TV wall design for living room. While it reminds you of marble, the designer has actually crafted this unit with glossy white marble-finish laminate. The black-and-white TV wall feature comes with gold trims. A copper-tinted mirror completes the look.
#2: Go grand with a wooden unit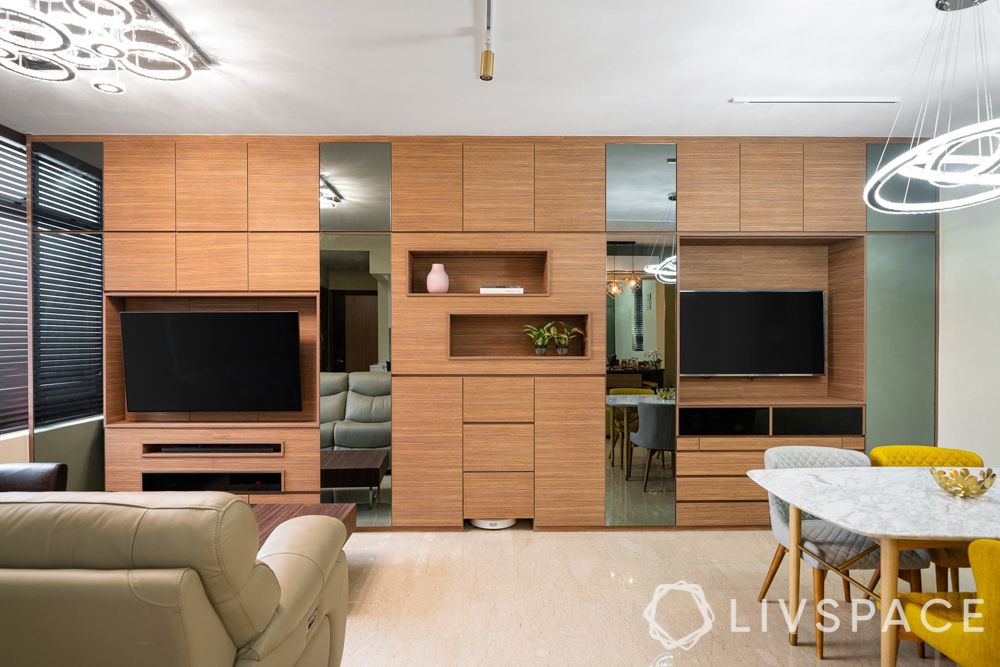 If you want your living room to feel warm and cosy, opt for a TV wall design in wood. Take your cue from this walnut brown laminate TV unit. It comes packaged with storage, with cabinets and niches of various sizes. At the same time, the addition of mirror panels makes the unit look larger than life.
#3: Simple TV wall design with wooden panelling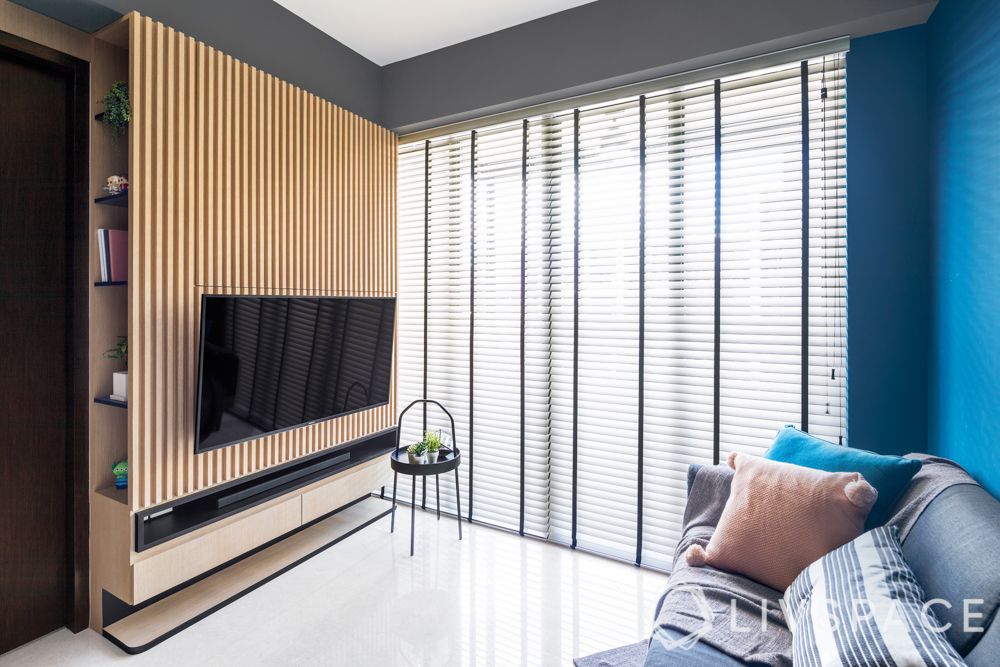 This compact wooden panelled unit is one of the perfect TV wall ideas for a small living room. This adds texture to an otherwise plain space. It's got open shelves on the side that aren't immediately visible to the eye as well where you can stash books, tiny potted plants and other essentials.
#4: Shutters to conceal your TV and storage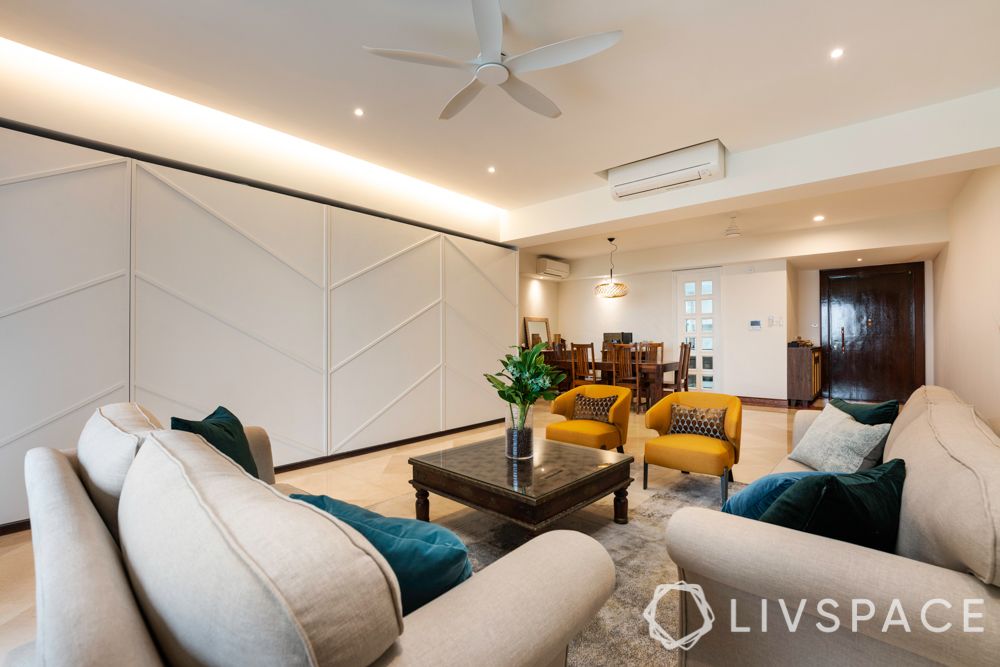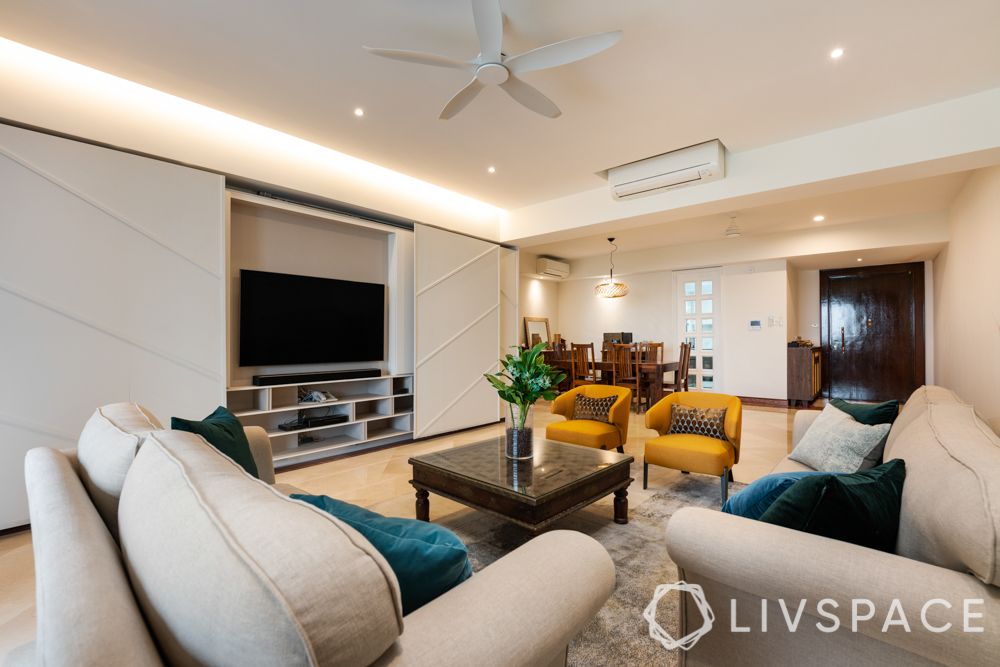 If you're struggling between having the TV at the forefront of your living room and hiding it away, the best option is to keep it behind shutters! Opt for a sleek white shutter with a chevron pattern that you can proudly display even when you want to keep the TV out of sight. What's more, you can pack storage behind these doors! A pretty and smart TV wall design, isn't it?
#5: White and wood TV unit that's minimal yet efficient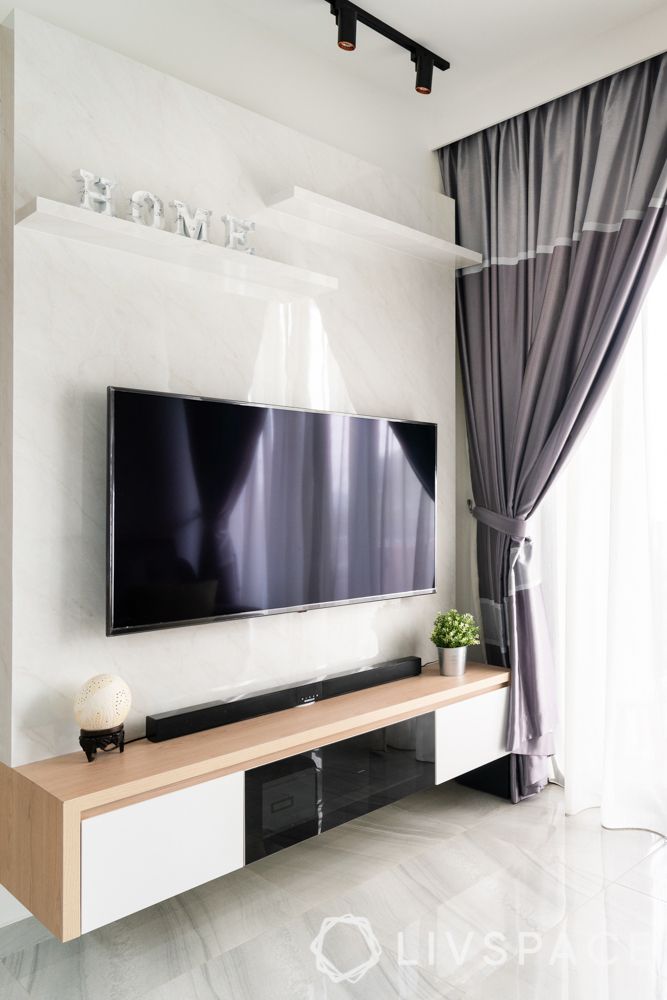 Are you all for simple and functional designs? Especially if you are looking for something compact for your small living room? In that case, this unit was crafted for you. This fuss-free design comes with a minimal white and wood unit placed against a white wall. You can also show off your knick-knacks on the display shelves above the TV!
#6: Neutral-coloured TV unit exhibiting a plush look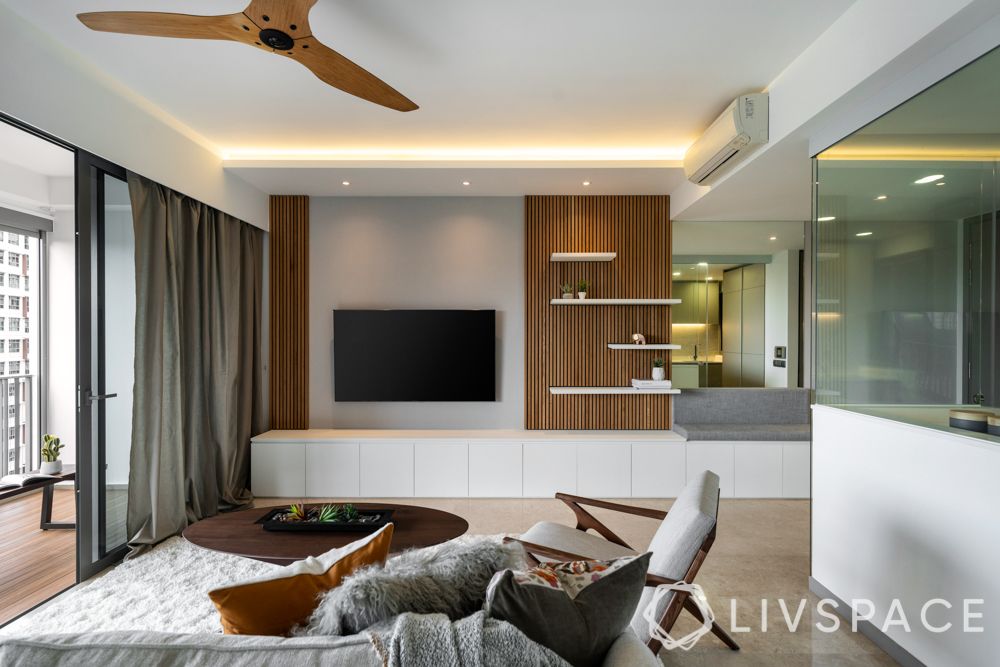 If you love neutral colours but want a plush look for your home, check out this TV wall design. This unit comes complete with a grey painted accent wall, white cabinetry, and wooden panelling on both sides of the TV. You can even add some display shelves to complete the look. Add some profile lighting to make the entire space to look brighter! 
#7: Turn it into an accent wall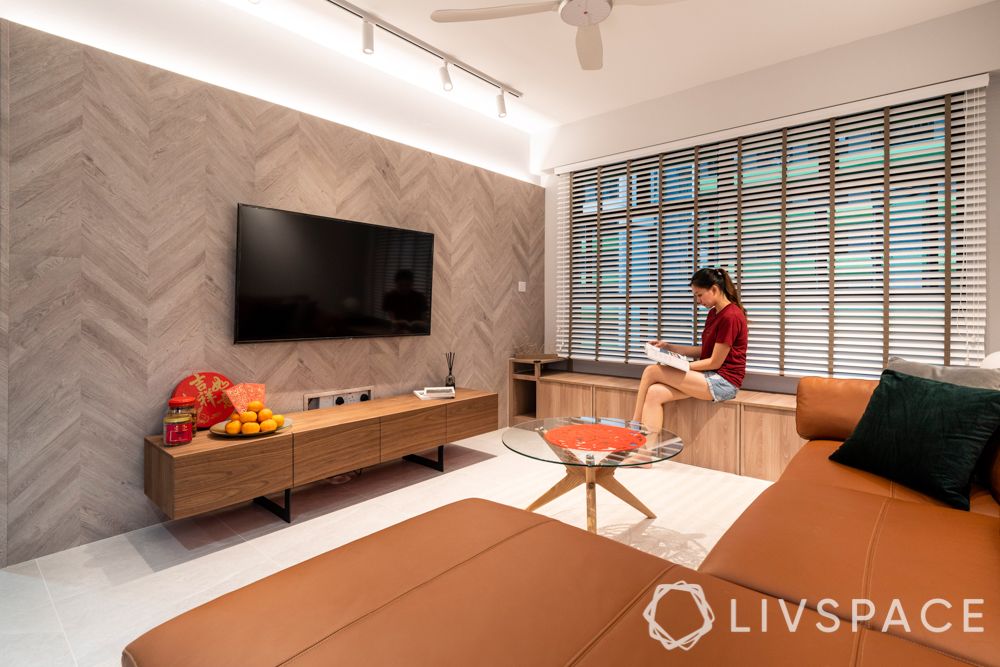 Are you looking for a sleek TV unit, but are disappointed with all the designs? We've found the missing link for you! Opt for a gorgeous accent wall. Check out this custom wall crafted out of vinyl flooring, which makes it look intriguing while remaining pocket-friendly. What's more, this unit hides wires neatly away!
#8: A plush and luxurious TV feature wall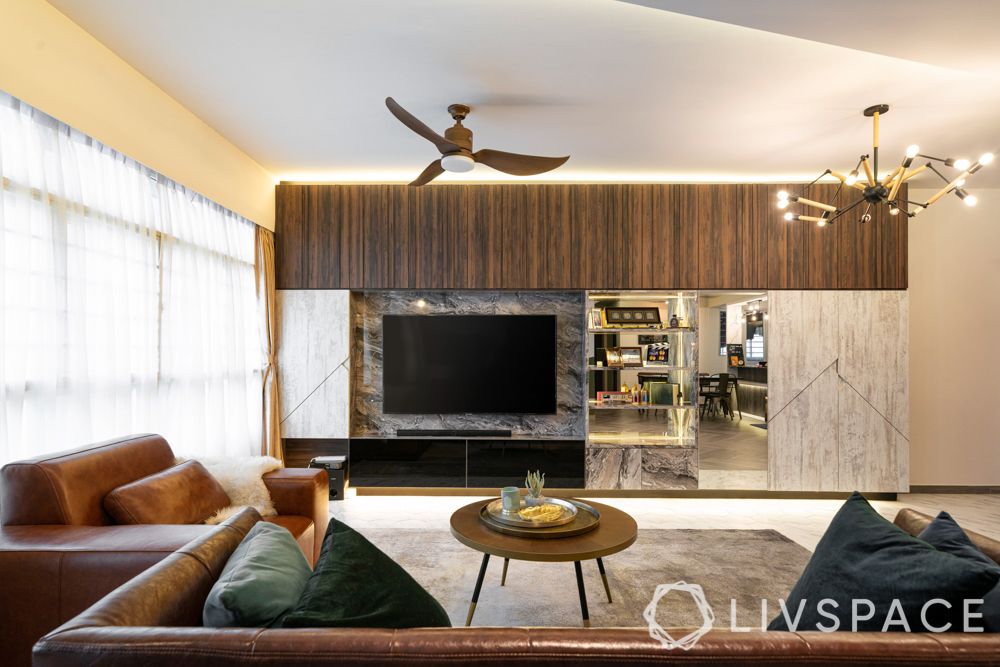 This unique design was crafted by a Livspace designer for the interiors of his own home. So if you're looking for a luxurious design for your TV unit, consider this spectacular piece. This home comes with marble-finish laminate behind the TV and wooden laminate above the unit. You can even add a mirror on the side to open up a compact place. It's also the perfect way to hide an inconveniently placed door! You can also check out how an interior designer crafts his HDB interiors.
#9: Play with gorgeous dark hues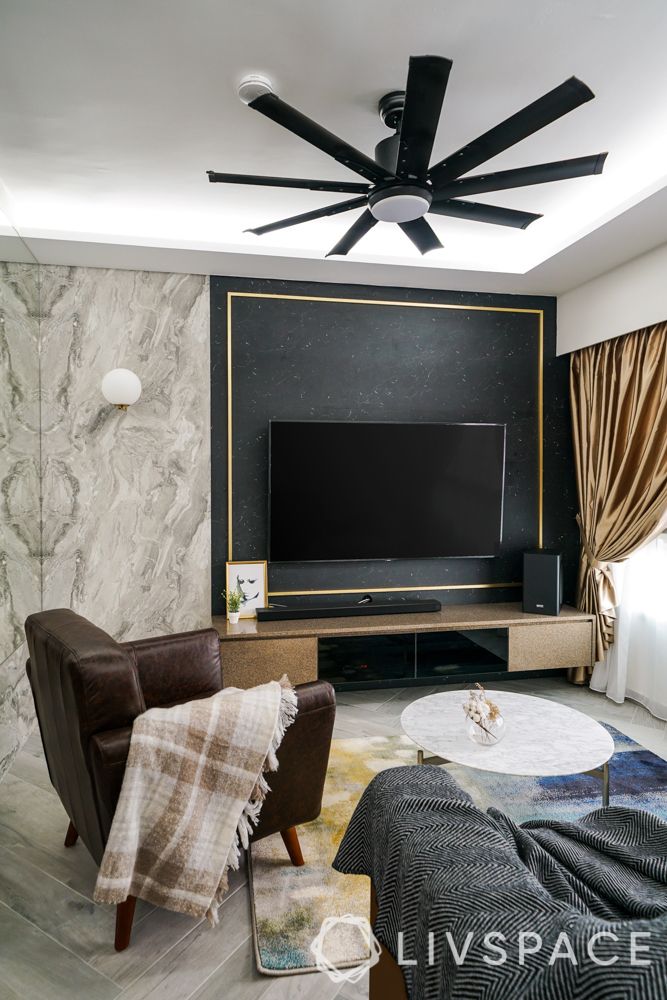 If you love dark hues and believe that they add a touch of warmth to your interiors, we have the perfect design for you! Take a look at this TV wall with a dark back panel, with a spotted pattern that will remind you of stars on a moonless night. It forms the perfect background for a floating wooden cabinet in a warm wooden tone. The choice of colours make this space unique, don't you think?
#10: White against a pop colour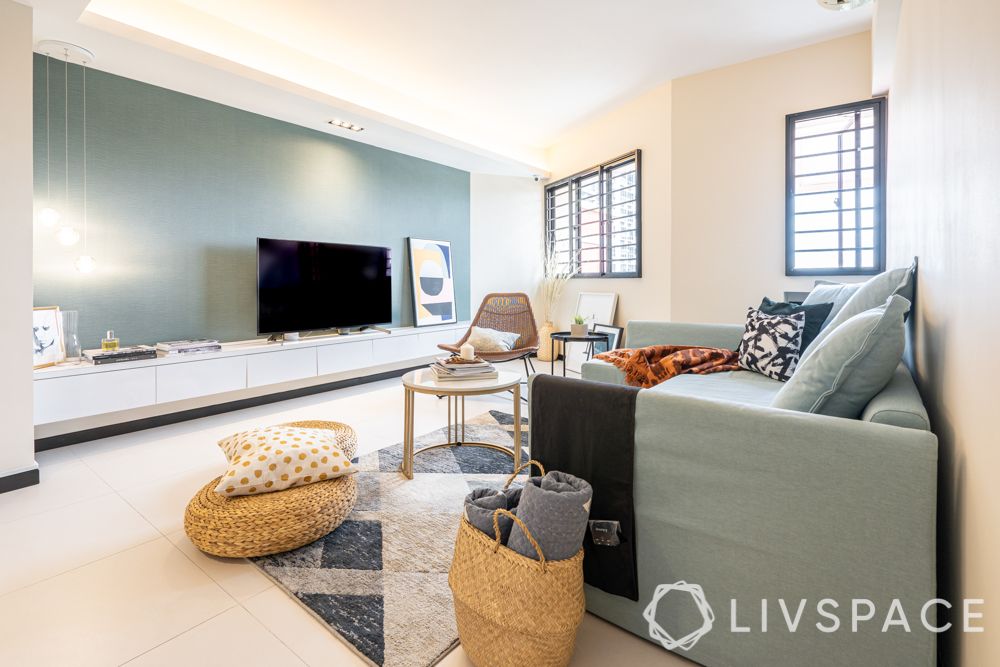 If you're looking for light hues at home, opt for this sleek white wall-to-wall TV unit. Pair it with a steel blue accent wall, and your room looks open and bright. You can even amp up the look with a cluster of pendant lights on the side!
#11: Keep it classy with minimal designs
This simple TV wall design flaunts a freestanding unit with ample storage. If you're looking for something sleek and small, this might be the TV unit of your dreams. Consider a wall-mounted TV with a wooden cabinet. This keeps most of the wires hidden away, while the cabinets allow you to keep all the essentials at hand.
#12: A TV unit with ample storage for compact homes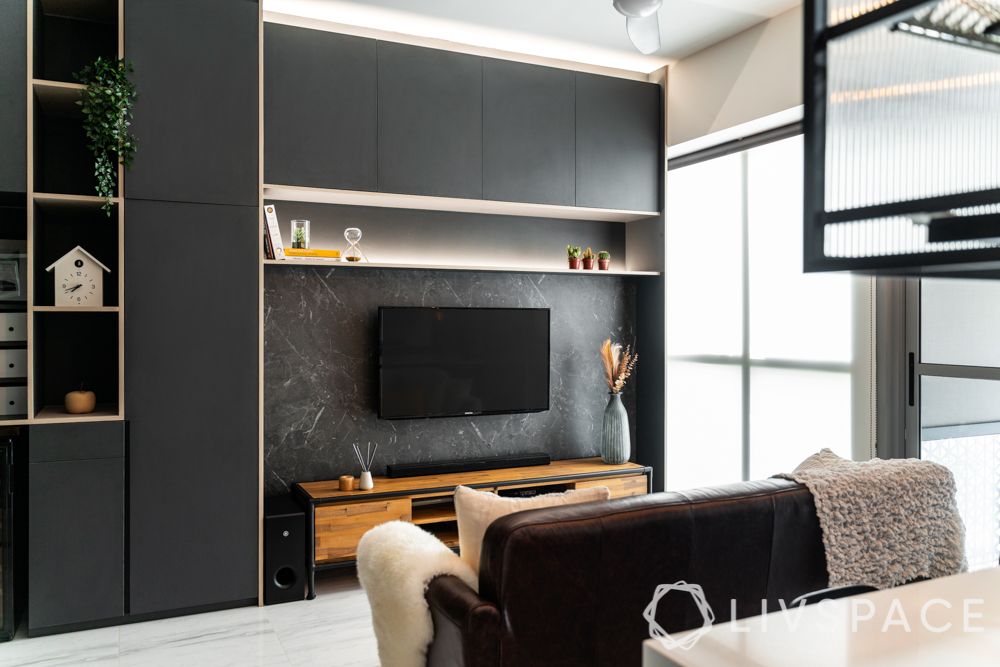 When it comes to small homes, floating units are always recommended. But this home says otherwise. In this compact condo, the entire TV wall is utilised, putting the vertical space to maximum use. Along with numerous cabinets, there are display shelves too. Our favourite is the one above the TV as it is backlit, breaking the monotony of dark shades.
The back panel in marble-finish is also worth a mention as it is chic and aesthetically pleasing.   
#13: Big and bold TV unit with open shelves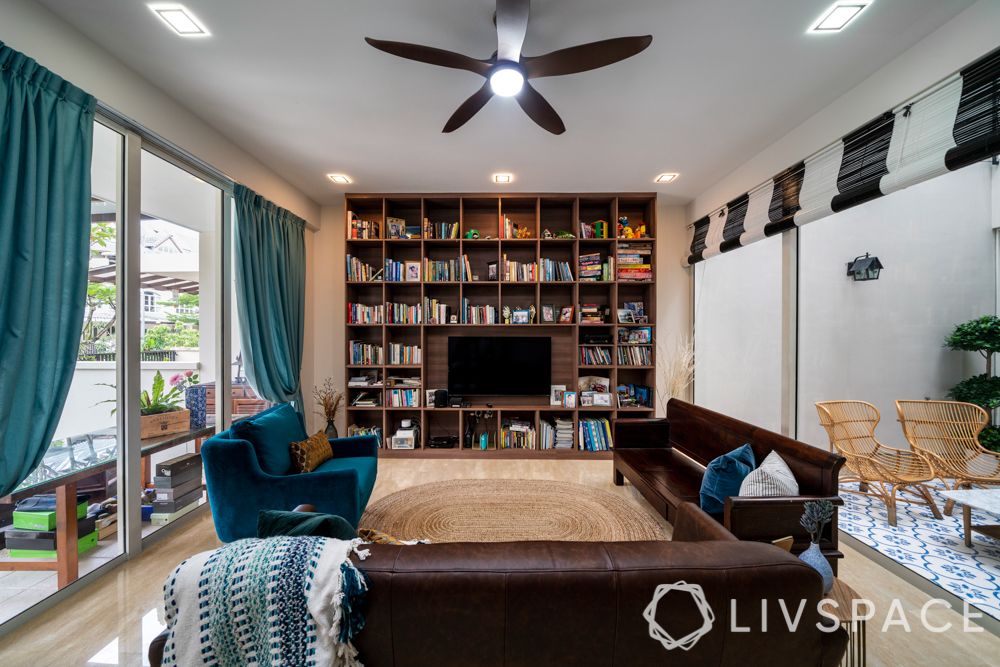 Wondering how to make your TV wall design unique and functional? Take a cue from this living room. Cleverly using the vertical space, this floor-to-ceiling unit can accommodate several things along with the TV. Here, the homeowners have used it to store books. Looking like a mini library, this set-up will definitely grab some eyeballs. 
#14: Industrial-style TV wall design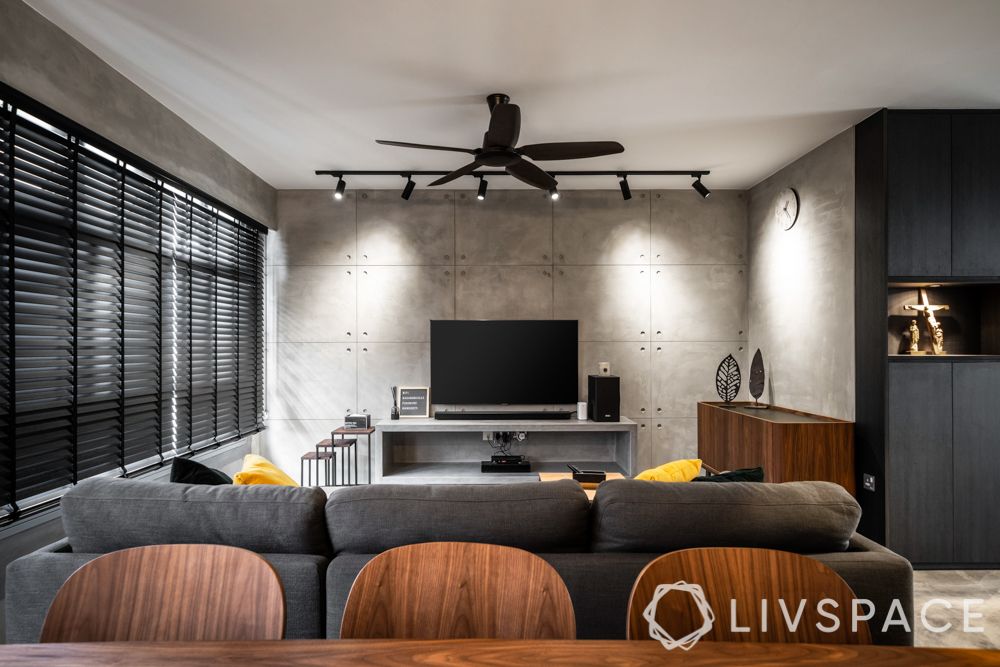 This industrial living room has simple grey floating unit. The open shelf holds the electronics and the top is for display. But the TV wall design doesn't end here. There is also a stand and console table placed by the TV wall. The wood adds warmth to the sober grey backdrop. This proves that you don't always have to use one big unit. Many small units, if picked correctly, can tie together the look of the room.     
#15: A TV wall that serves as a partition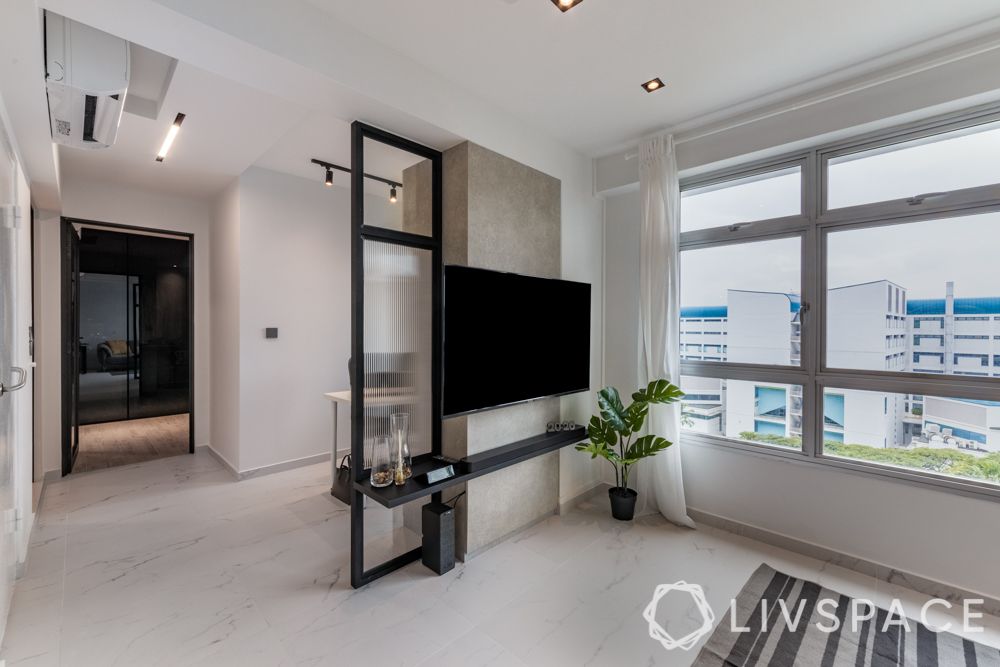 Have a partition wall in your home? Turn that into a simple TV wall. In this home, just the wall couldn't hold the TV, so it is extended with a glass partition. A floating shelf is also installed to carry the necessary items.
FAQs about TV walls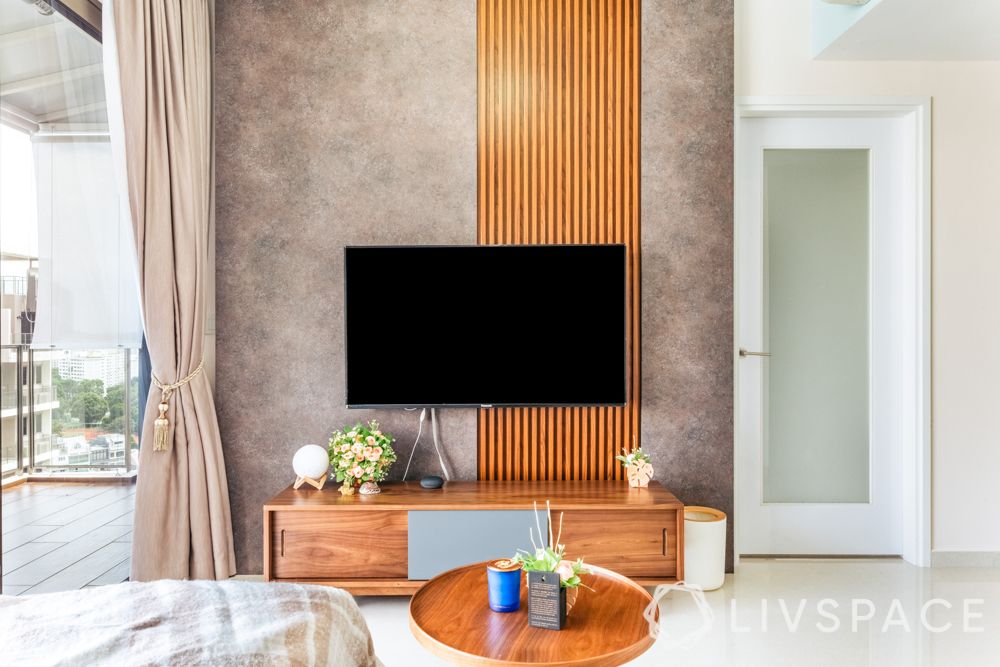 Q1. How do you make the TV wall design look good?
The TV shouldn't be the only deciding factor when it comes to the TV feature wall. Pay attention to the design as well. Consider the colours, materials, shapes, colours for a gorgeous look. 
Q2. Which colour is best for the TV feature wall?
As we mentioned earlier, the feature wall colour is important too. You have many options to choose from. Go basic with a white or neutral-toned wall and build upon it. Or you can turn it into an accent wall by using pop colour and unique finishes. Another way to elevate the look is by using the right lighting. 
Q3. How much storage should you have in your TV unit?
How much ever you require. But the key to a neat looking TV unit is to have a combination of open and closed storage.  
Q4. Where should you place your TV?
The TV must be placed in a room with good acoustics and where the audio is clear. The wall in that room must present the TV as the focal point.   
How can Livspace help you?
We bet you are impressed with our curated list of TV wall designs 2021. If you are looking to redecorate your TV wall, then Livspace is your go-to design expert. Our designers will design and deliver quality interiors. Book your online consultation now!
Learn more about our COVID-19 safety protocols here.
Wondering what you want your living room to look like? Check this out to get you started!
Send in your thoughts and suggestions to editor.sg@livspace.com