The living room is a space where we spend a good amount of our daily life. What's more, this room is the first space we see when we enter our homes. Whether it's about entertaining guests or unwinding after a long day, how we design our living rooms is important. In most modern homes, the living room flooring begins at the front door and continues straight into the family room, almost like a red carpet into your home. Apart from the general layout, picking the right living room floor tiles can help take your home from basic to cosy in mere minutes! We'd like to show you how.
If you fall, I'll be there!

– Floor
Here's what you need to know before you decide on your living room floor tiles:
#1: Laminate Flooring That Spoils You for Choice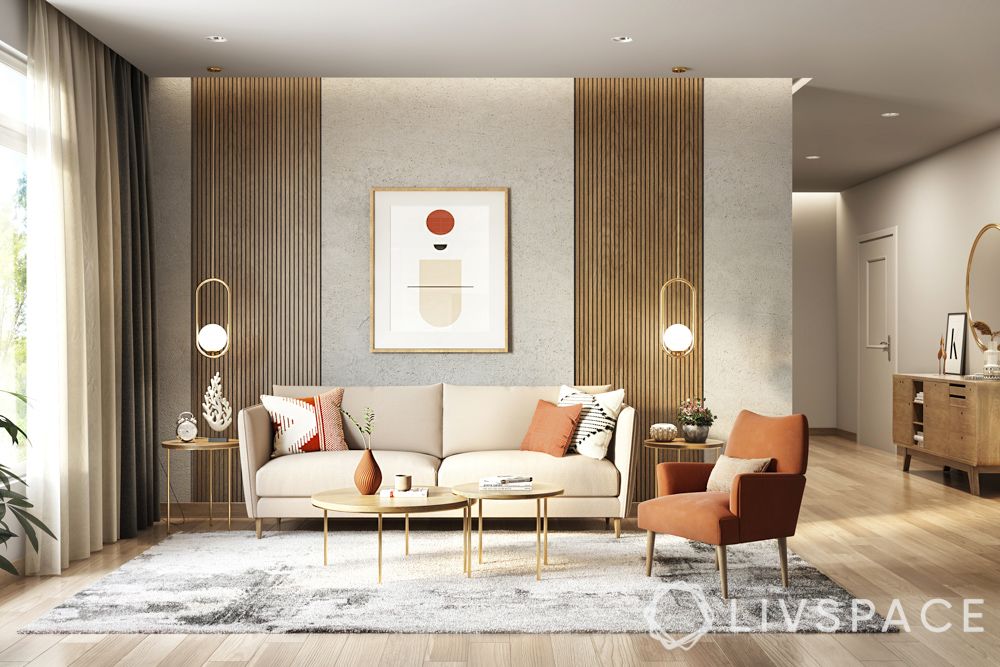 So what exactly are laminate floor tiles? To begin with, they are a hybrid form of flooring that consists of four layers. Each layer performs a different function and adds to the overall durability of these tiles. These living room floor tiles often resemble wood and can be a good substitute for hardwood flooring, based on your budget.
These tiles may look like real wood, but only contain pressed wood chips in the base layer. Interestingly, despite its resemblance to wood, the finish is nothing but an image layer of rendered wood!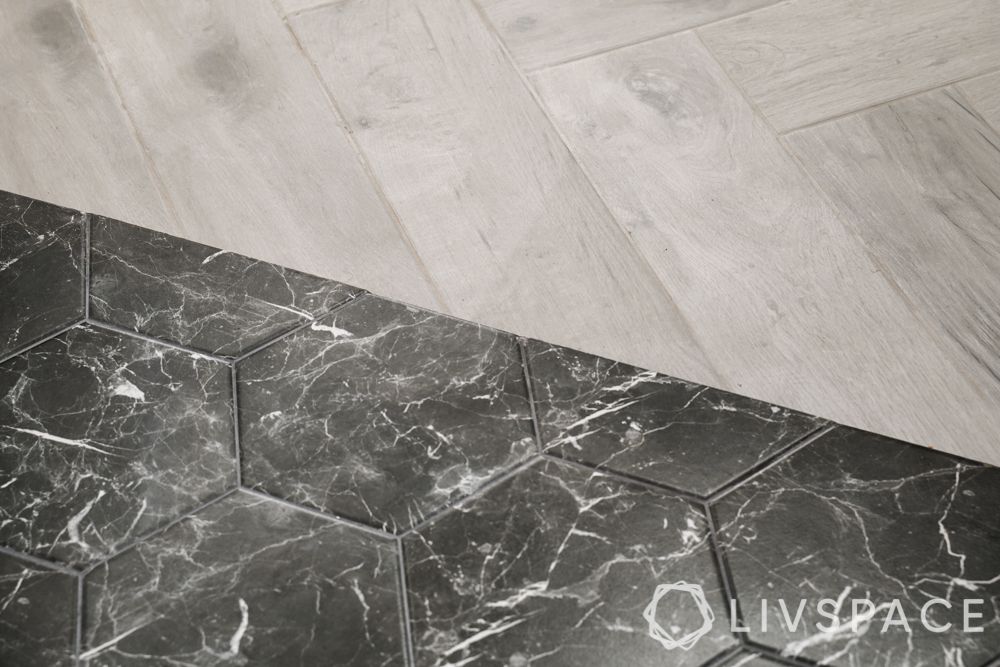 Due to its durability and affordability, laminate is a great option for tiles for your living room. As these tiles are not made of real wood, they can easily be customised in a variety of ways. Based on your needs, you can choose which type of laminate design works best for your interiors.
For homes on a budget, laminate flooring is the best way to create the impression of wooden flooring at a fraction of the cost.
Pros
Scratch-resistant and perfect for homes with pets
Easier to clean compared to other flooring options
Affordable and inexpensive for homes on a budget
Cons
Laminate floors are not fully moisture-resistant and can lead to swelling
Depending on the quality, laminate tiles might not look as genuine as real wood flooring
#2: Marble Tiles for Living Room With a Modern Touch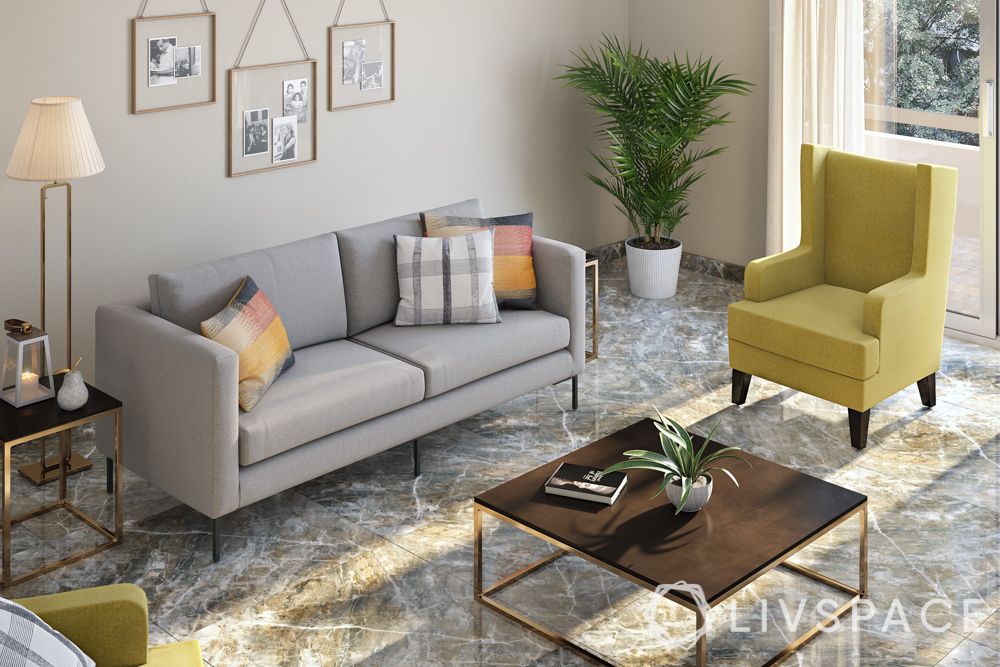 Marble is a great choice for homes looking to add a touch of elegance to their living room floor tiles. The appearance of marble is not the only luxurious thing about it, these floor tiles are also priced at premium rates. However, with beauty comes maintenance, making this type of flooring an expensive choice even post purchase.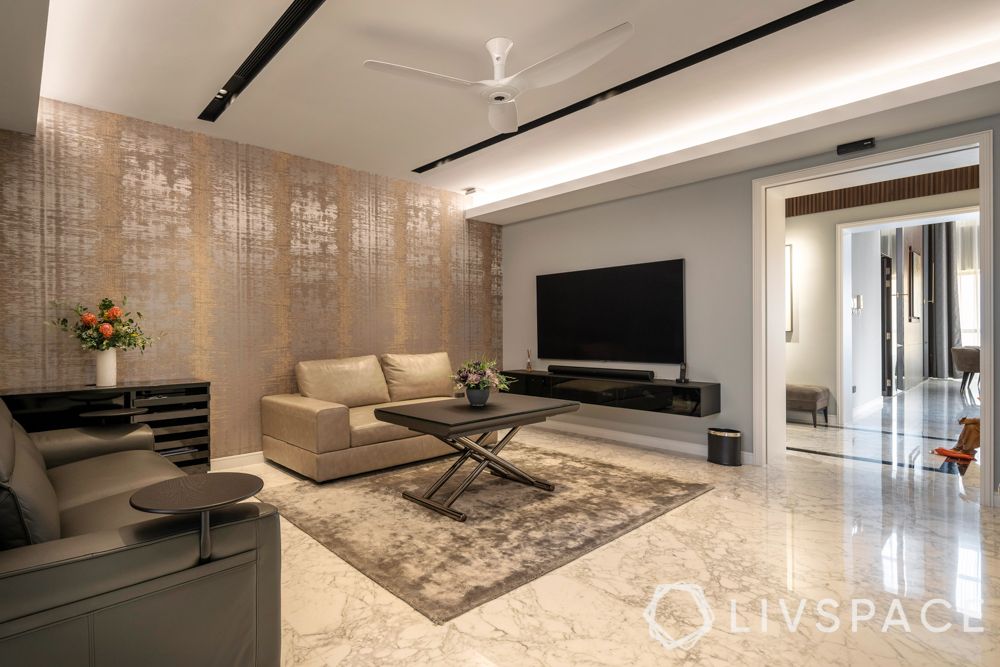 Marble is known to be porous and will require a sealer to avoid water or spill damage. Without this, frequent exposure to water can lead to discolouration of your tiles. This process will need to be repeated annually, for the best results.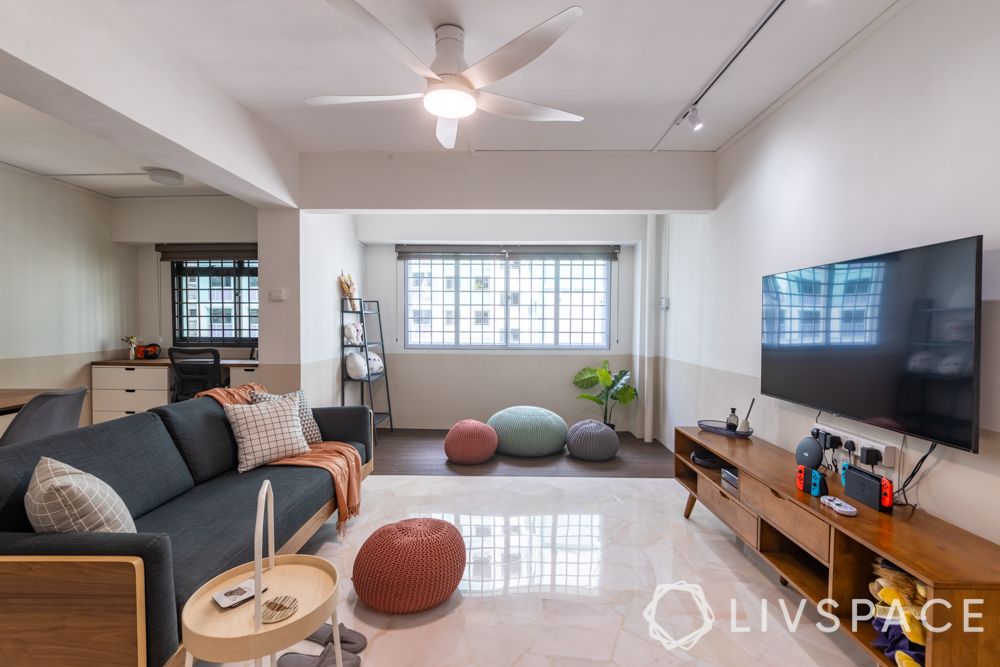 In terms of design, marble is a great option for living room floor tiles as the chances of accidental spills occurring here are low. In the Livspace Home pictured above, this Scandinavian style HDB makes use of both marble and vinyl flooring in the living room area. The ability of marble to comfortably pair with other tile designs makes it incredibly versatile.
Pros
Increases the resale value of your home
Is known to be a durable material and lifelong investment
Cons
Can be prone to discolouration and require high maintenance
Can include high installation fees
#3: Parquet Tiles for a Spacious Feel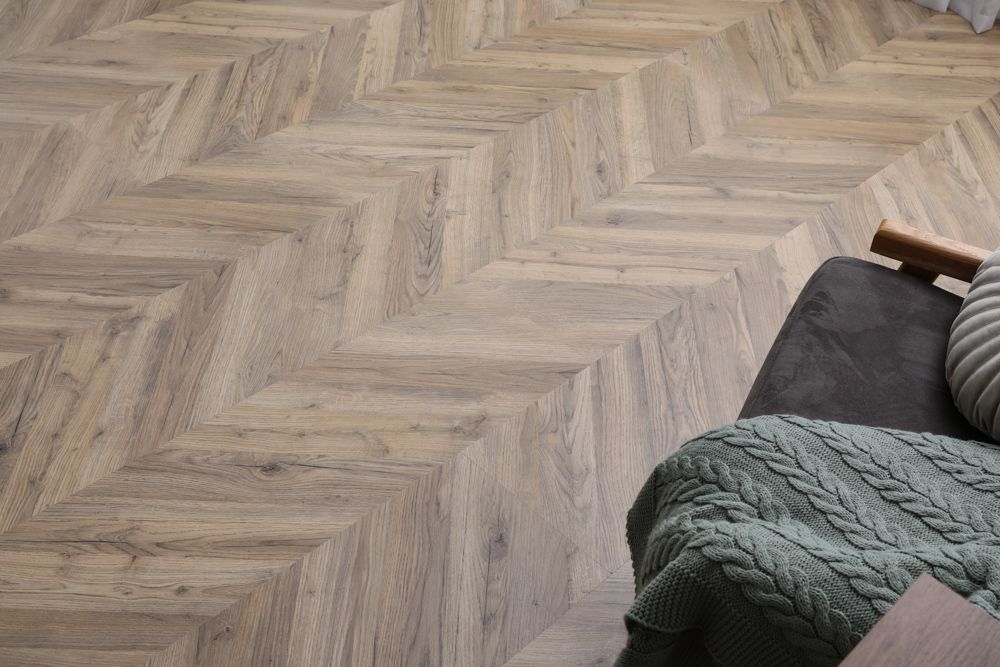 Unlike laminate flooring, parquet tiles are made of hardwood and are usually arranged in repetitive patterns to create a Chevron effect. Being made from hardwood, these living room floor tiles offer similar effects and functions. You can even choose between unfinished and prefinished tiles for the living room.
Unfinished tiles are sanded and stained on site, allowing you to choose the finish you'd like. Whereas prefinished tiles are factory made and come with little room for personalisation. A point to note here is that prefinished tiles come with a more durable finish than unfinished tiles. As they are factory made, they ensure industry standard durability compared to on-site finishes.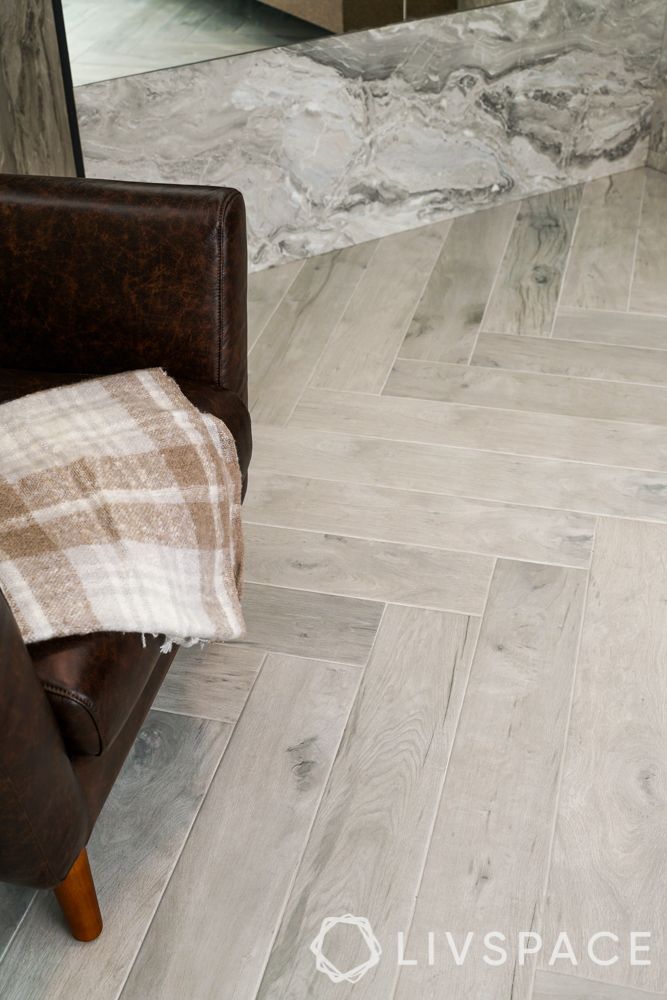 When it comes to tiles design for your living room, parquet tiles are a great way to decorate your space if your interiors are minimal. These living room floor tiles work best in open spaces, creating a more spacious effect to the room.
Pros
Increases the resale value of your home
Made from wood, it is an eco-friendly material
Comes in a variety of styles to choose from
Cons
Can warp with high exposure to moisture
Not as easy to refinish compared to other hardwood floor tiles
Not ideal for homes with pets or rooms with heavy traffic as it is not scratch-resistant
#4: Living Room Floor Tiles That Boost Property Value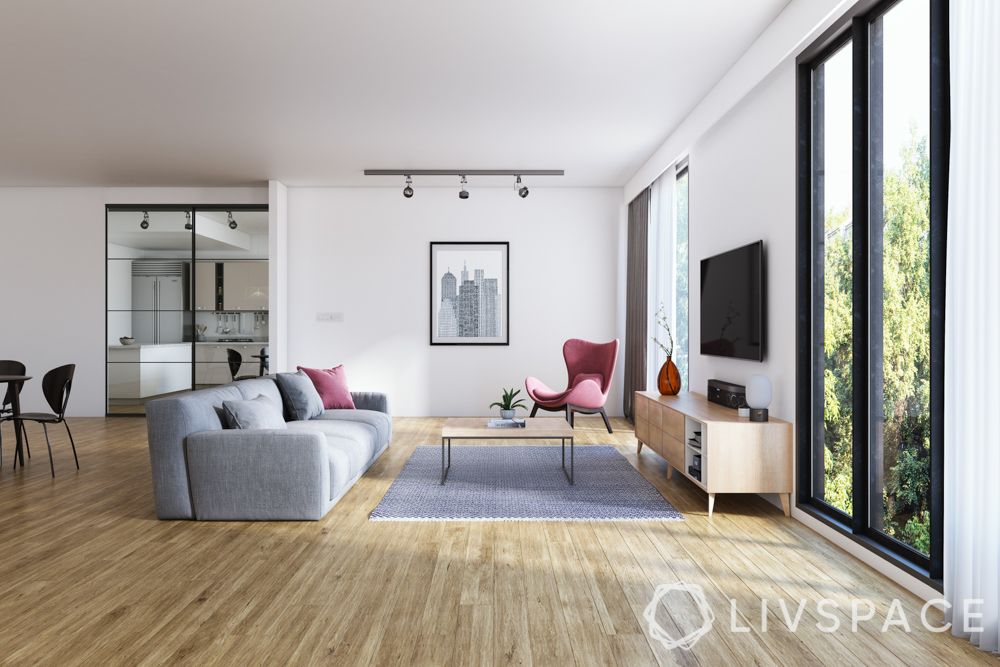 Probably known as one of the most popular types of flooring, wood is a great option for living room floor tiles. Despite its popularity, hardwood floors are also a fairly expensive investment due to the materials it uses. But with a higher price tag, come a range of features that can boost your property's value in the long run.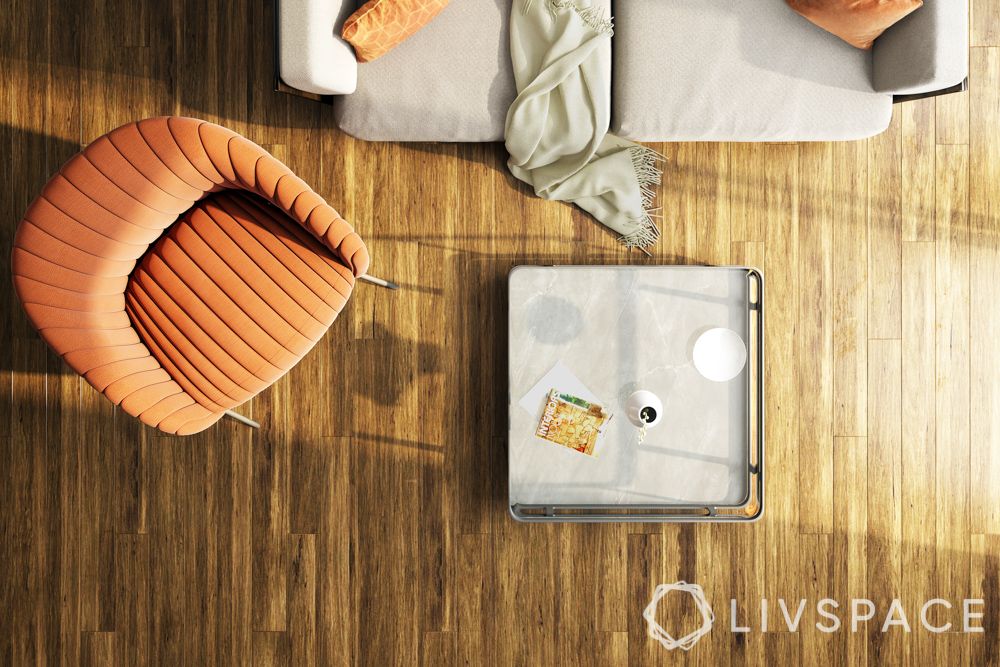 Unlike parquet tiles, you can easily refinish wooden floor tiles to ensure they stay long-lasting. However, since they are wooden, they also require frequent maintenance to prevent warping. In the case of hardwood floors, you will need to be seal and re-coat them annually as a best practice when it comes to maintenance. In humid places like Singapore, you will have to exercise special care to ensure the tiles don't receive excessive moisture.
Pros
Increases the value of your property
Wooden tiles are long-lasting
Wood works well in most interior design styles and is versatile
Cons
Is susceptible to water damage
Requires high maintenance for best results
Can be expensive to purchase and install
To know more about how to tackle humidity at home, you can check out our favourite tips.
#5: Floor Tile Options For Budget Homes
Here are a few great budget flooring options you can choose from, based on your requirements:
Vinyl Living Room Floor Tiles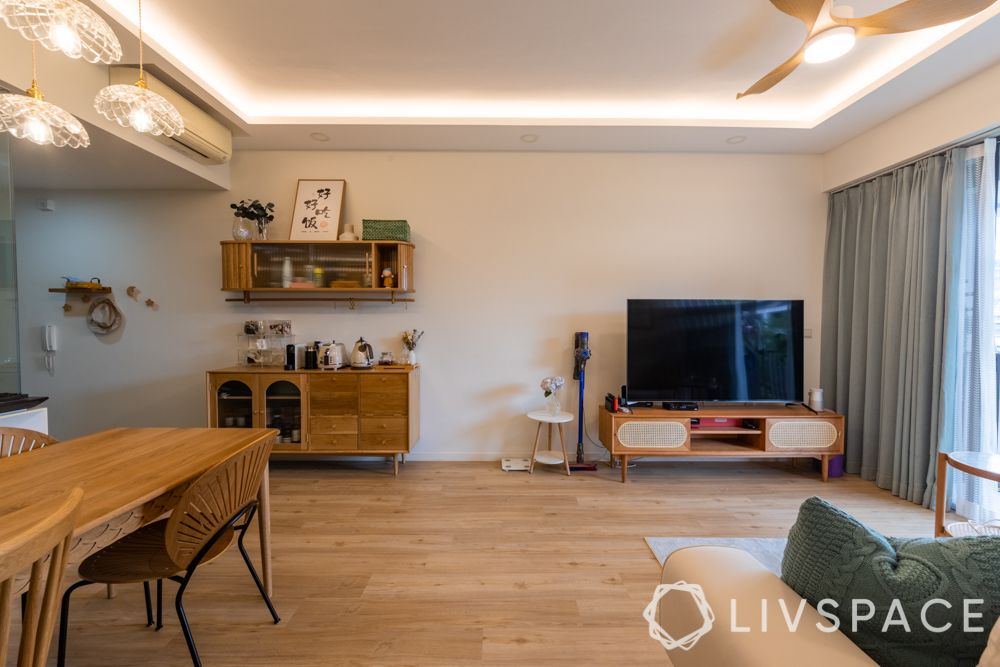 Similar to laminate floor tiles, vinyl is a great option for homes on a budget. Being low maintenance and slip proof, vinyl tiles work best in homes with kids and the elderly. What's more, is that they're a great option for renovations too! You can easily lay these living room floor tiles over your existing floors for a hassle-free makeover.
An important point to note here is that vinyl tiles will need a Green Label Certification before installation. Some vinyl tile materials can be hazardous, and can compromise the air quality in your environment. As this comes with a certain level of risk, it's best to research the materials you want to use before purchasing them.
Pros
Vinyl tiles are waterproof and cost effective
A great option for budget renovations
Cons
Being less durable and less scratch-resistant, it is not ideal for homes with pets
Some Vinyl tiles may contain hazardous materials that affect the air quality in your home
Engineered Wood Tiles for the Living Room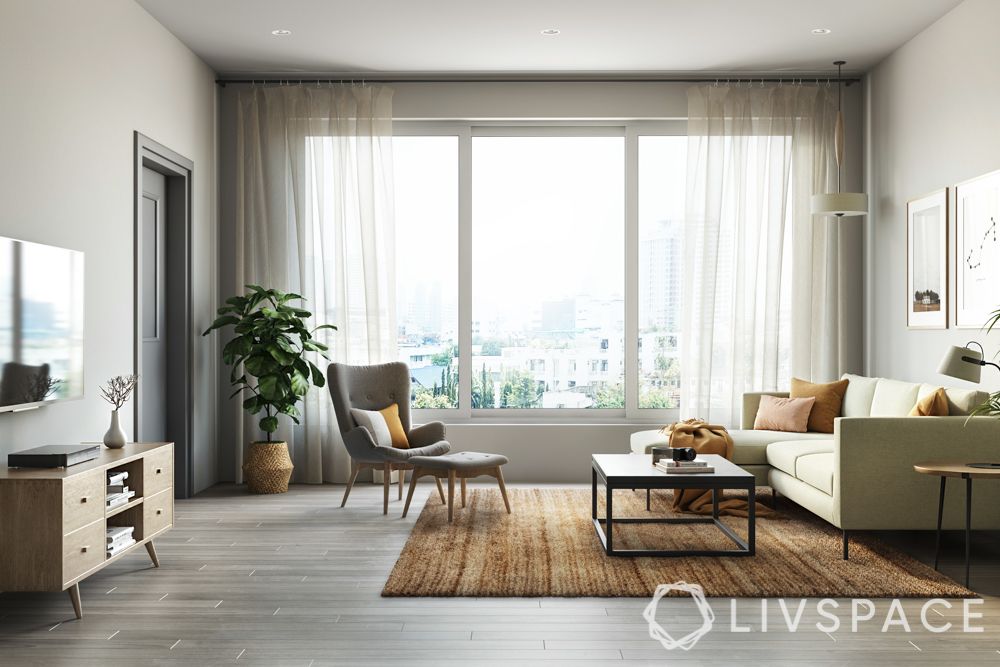 This type of flooring can be considered as a stronger and more cost-effective twin of wooden flooring. Like laminate tiles, these floors are made up of various layers topped with wood veneer. As these living room floor tiles are not wholly made of wood, the benefits they offer are plenty.
Much like hardwood, engineered wood tiles can also be refinished, proving to be a highly sustainable material. However, this also depends on the quality of the tiles you invest in. Cheaper engineered wood tiles might not be able to withstand refinishing compared to higher quality tiles.
Pros
Cost-effective and water-resistant, perfect for humid homes
Minimal risk of discolouration and warping
Wide variety of choices in design
Cons
Ability to refinish these tiles depends on the quality of the material
Higher quality veneer layers can be more expensive based on the thickness of it
Ceramic Tiles Design for Living Room
Singapore is known for its hot and humid climate, making cool floors a great option for most homes. Here's where ceramic can help keep your living room floor tiles cool amid heat waves. What's more, ceramic tiles can even help you achieve an allergen-free home! These tiles have a hard surface which prevents pollen and other allergens from sticking to it, making it extremely easy to wipe down.
Pros
If glazed, ceramic tiles can be highly water resistant
Durable and hardy, requiring less maintenance over time
Helps keep your home allergen free, especially useful for homeowners with respiratory concerns
Cons
Can be difficult to install without professional help
Ceramic tiles can be uncomfortable to stand on for long periods of time
Now that you know what living room floor tiles to go for, you can also check out Living Room Design Ideas to Help You Design Your Space.
How Can Livspace Help You?
We hope you found our ideas useful! If you want your home to be just as beautiful, then look no further. Book an online consultation with Livspace today. Delivering safe home interiors has been our No. 1 priority. Click here to find out how interiors are being delivered following all safety protocols.