When you live alone, you have the freedom to explore different styles and concepts for your personal space. However, concerns of security are also sure to come up. For Vyonne Yeo, this was no different. As a single homeowner with a background in interior design, Yvonne was clear that she wanted her bachelorette pad decor to be a direct reflection of who she is as a person. Moreover, she also wanted a home that could offer her a sense of belonging and security. This was the main motivation behind her beautiful bachelorette pad design brought to life by Livspace designer Wanting Liu.
If you're a single homeowner looking for ways to create your own personal bachelorette pad, this video tour is for you! Here are five bachelorette pad interior design ideas to borrow from this home. Check out the video tour to know how to create an empowering space to live in:
#1: Don't Be Afraid to Personalise Your Home Office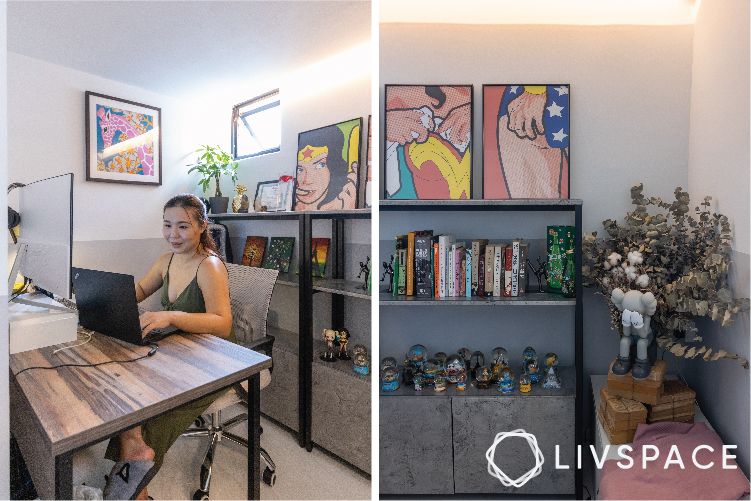 We often talk about the need to design your home office in a way that's devoid of flashy distractions to promote better focus. However, this is highly subjective as every homeowner comes with their own unique personality. The same way, Yvonne was keen on adding her own personal touch to the home office for her bachelorette pad decor.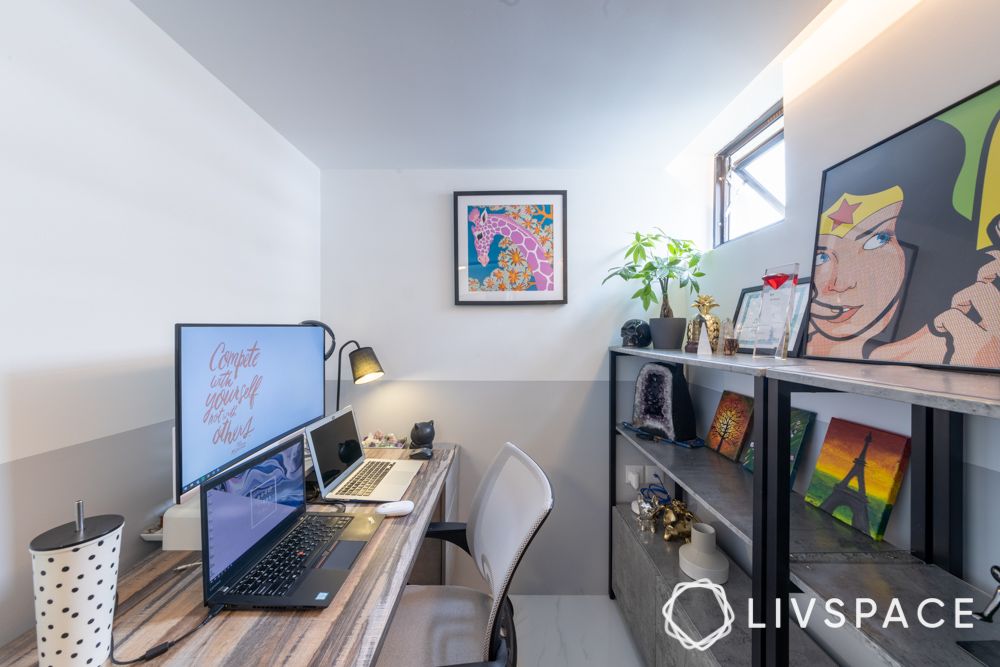 The artwork here further adds to the empowering theme of these bachelorette pad interior design ideas in the most befitting way. If you love art and pops of colour as much as Yvonne does, consider adding some to your bachelorette pad decor. Another clever point to note here is how all of the colourful elements in the room are placed against the wall that's on the opposite side of the workstation.
This helps keep the work area free and focused while the rest of the space still has a touch of personalisation to it. In fact, the storage cabinet behind the workspace also doubles as a display case for figurines. We love multifunctional bachelorette apartment design, don't you?
#2: Use Available Wall Space to Carve Out a Vanity Area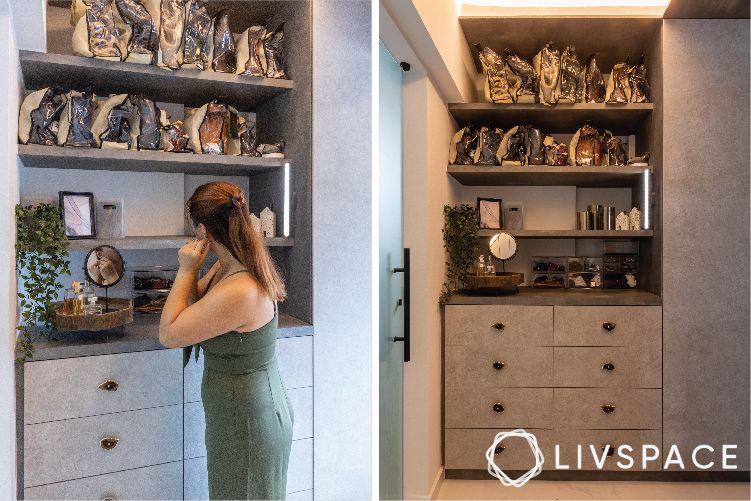 For many of us, a dream home is incomplete without a catered wardrobe space for us to pamper ourselves in. Yvonne's bachelorette pad design, though beautiful, does lack a bit of space when it comes to having a designated walk-in wardrobe. To make do, we used the existing wall niche between the bathroom and bedroom as the walk-in wardrobe.
With the addition of drawers and a few shelves, we're able to fully optimise an otherwise empty space. So, if you're in a fix about how to incorporate a walk-in into your compact bachelorette pad decor, this is an idea to consider stealing.
Also Read: This Resale HDB Flaunts Fifty Shades of Grey and HOW!?
#3: Embrace the Studio Apartment Style of Design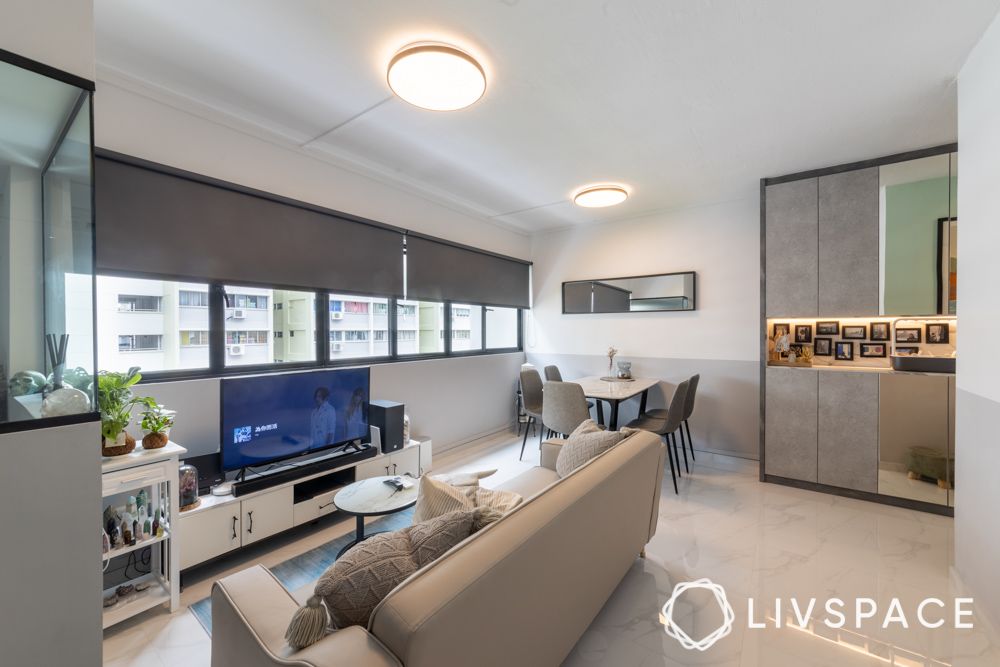 Though a studio apartment might not be your first choice as a homeowner, there are endless bachelorette pad ideas to explore. After all, the approach can make even the most compact of layouts flexible and space-saving. Try to feature and highlight as many of your personal decor items as possible.
While doing so, also be sure to make use of the right organisational systems to ensure there's a designated space for everything. For Yvonne's home, she chose to go with smart hidden storage solutions. This offers an added layer of storage to her bachelorette pad decor while keeping the space seamless.
#4: Double Up on Comfort for One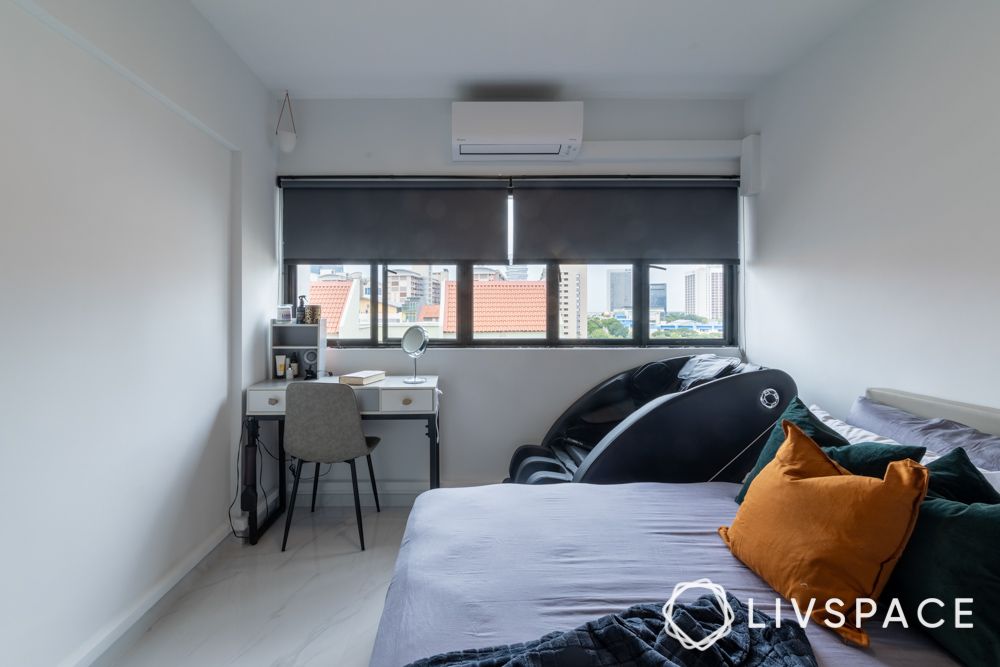 One of the most rewarding things about living alone is undoubtedly being able to design your bedroom as you see fit. When you don't have to consider someone else's style and preferences, you have more bachelorette pad ideas to explore. This is especially true when you're working on personalised bachelorette pad decor for yourself.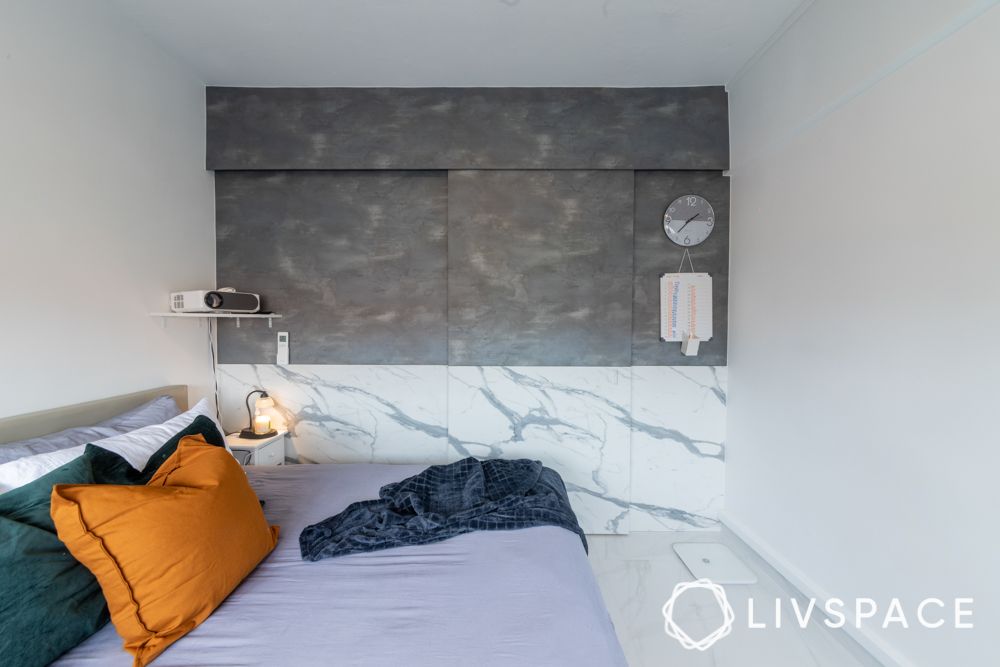 The bedroom uses marble-effect finishes and textures to highlight the minimal luxe theme across the bachelorette pad decor. Since most of the bedroom takes on a clean white palette, the dual colour sliding door wall by the entrance of the bedroom further adds interest to the space.
Some bachelorette apartment decorating ideas to steal from this room include:
Use a blank wall as a screen to create a makeshift home theatre if you have a projector.
Segment the space into functional zones for sleeping, relaxing, and getting ready. Here you'll notice the bed area is for sleeping, the massage chair is for relaxing, and the vanity is for getting ready.
Also Read: Queen Size Bed Dimensions & Layout Ideas for a Small Bedroom
#5: Decorate Common Areas With Unique Accessories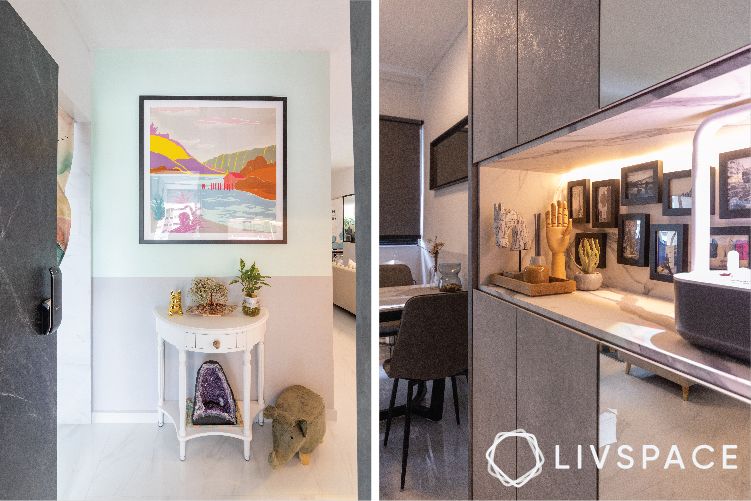 There's no better way to put your personal stamp on your bachelorette pad decor than by using unique collectibles and accessories. These decorative items can act as subtle highlights for every area of your home. If you have a bare foyer, consider using art, gemstones, plants and other tabletop accessories to accentuate the space.
How Can Livspace Help You?
We hope you found these bachelorette apartment decorating ideas useful! If you want your home to be just as beautiful, then look no further. Book an online consultation with Livspace today. Have some comments and suggestions you'd like to share with us? We're all ears! Feel free to write to us at editor.sg@livspace.com.