For many of us, the term "luxury" conjures the imagery of a lofty bill or an unattainable lifestyle. After all, it costs money to chase and maintain the lush life. But what if we told you that you can actually embrace luxury and comfort for as low as S$40,000? Don't believe us? Tour this luxe interior design with marble textures.
With scenic waterfront views surrounding it, this 4-room BTO at Edgefield Plains needed its interiors to match the lush views. The homeowners also wanted their home to embrace a sense of comfortable luxury that's hard to find in today's world. Curious to know how we made it happen? Let's give you a quick look.
---
Who Livs here: Nishant and his family
Location: Edgefield Plains, Punggol
Size of home: 4-room resale HDB spanning 92 sqm
Design team: Interior Designer and Project Manager Stephanie and Business Manager Ritu
Livspace service: Partial home design and renovation
Budget: $$
---
IN A NUTSHELL


Design Brief

To create a chic, modern space that's high on functionality and comfort

What We Loved

The interplay of stone textures with golden accessories

Look Out for

— The mural accent wall in the living room
— Chic light fixtures with gold accents
— Marble and stone textures for the wall and the wardrobe panels


Comfort and Modern Luxury Intertwine in This Living Room
The design brief was pretty straightforward for this modern home. The family wanted to balance modern chic design with all the comfort and functionality a home has to offer. This formed the base of designer Stephanie's vision for this sleek flat. But how do you strike the right balance between form and function? Stephanie details it out for us in this cosy living room.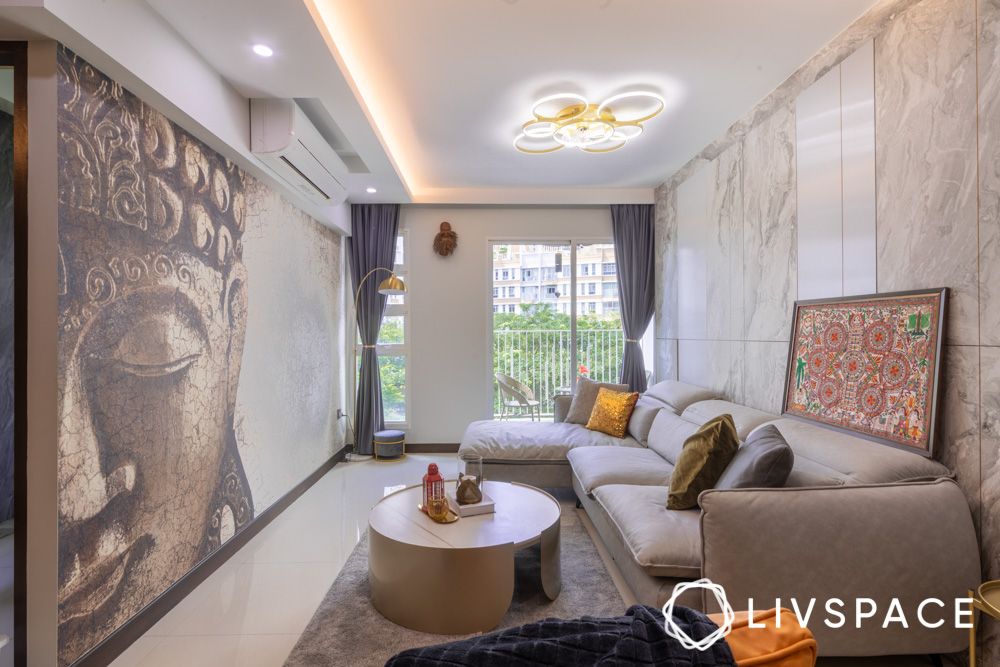 As you enter this home, one thing becomes evident. This interior design with marble textures has certainly pulled out all the stops! For the living room, Stephanie used marble textured laminate walls to give the space that "luxe" look. Thanks to the neutral panels, she was able to break up the possible monotony of these marble textures and reduce visual clutter.
Another interesting thing to note is the massive accent wall in the living room. But did you notice there's no TV unit that sits in this space? This was intentionally done as the homeowners value spending time together. To ensure this, their communal areas are typically devoid of distractions and are great for family time.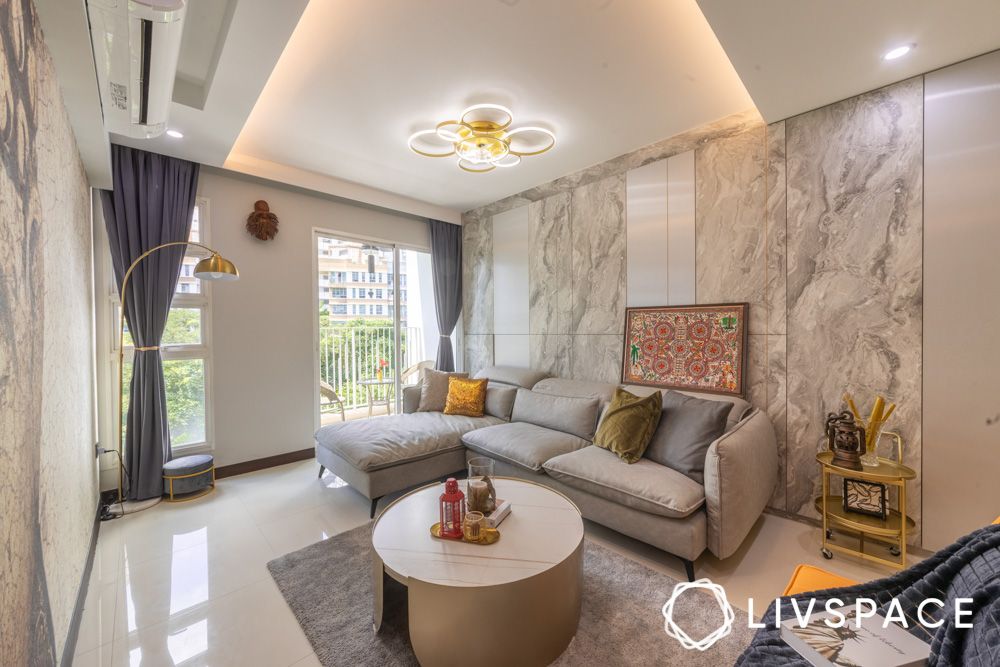 Stephanie's creativity doesn't just end there. If you take a closer look, you'll notice that the marble wall panels can actually be opened. The panels act as seamless cabinet fronts that conceal wall storage behind them. If you've ever wanted a secret place to stow away your things, this is it!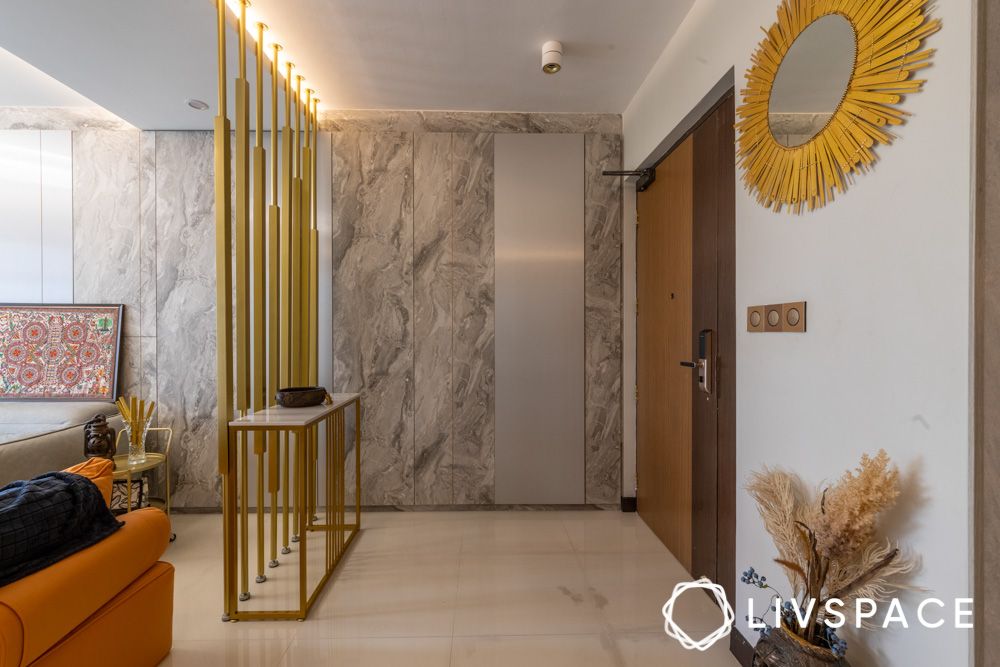 What's more, this home also incorporates a bit of Feng Shui. According to Feng Shui, your entrance and balcony door shouldn't align, as it can be bad luck. To prevent this, a gold breeze wall takes stand by the entrance as it forms a barrier between the entrance and balcony door.
Let's Stroll Through the Open Kitchen Where Form Meets Function
Just as easily as conversation flows from one room to the other, the kitchen and the living area flow into each other. Since the open layout in this home was meant to guide conversations and family time, the interiors follow suit.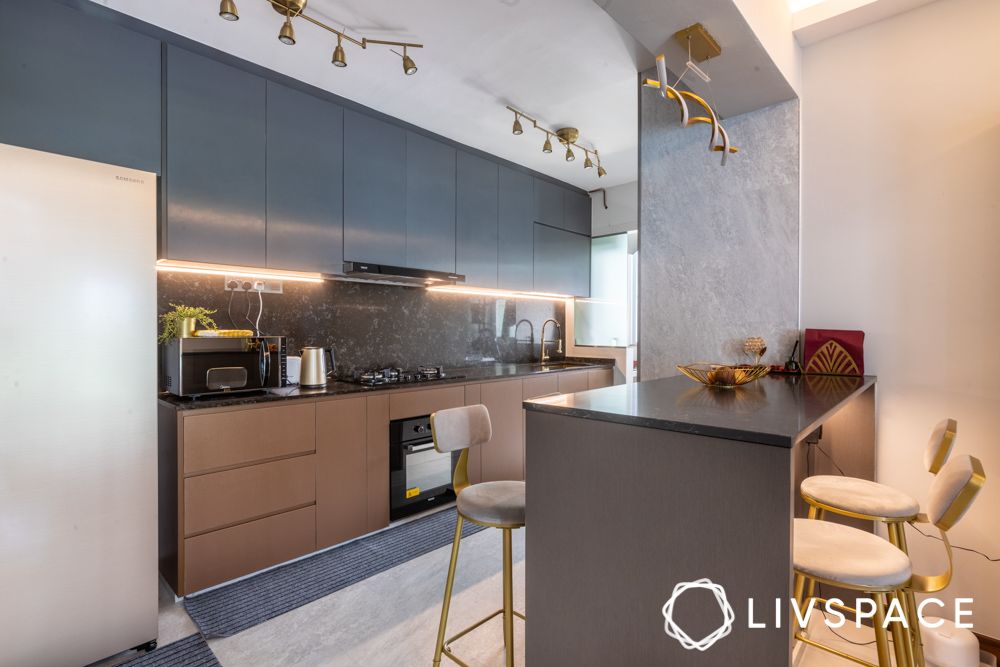 The open kitchen allows for seamless interaction between the living room and the kitchen, especially while hosting guests. To detail the walls and the floors, Stephanie picked out matching vinyl finishes to help create a seamless look between the living and the kitchen areas.
Similarly, to give the kitchen its own distinct space, a handy breakfast counter sits between the living room and the kitchen. In fact, the breakfast counter's functionality doesn't just end there. Beneath it rests extra storage space that's otherwise concealed by the counter's design.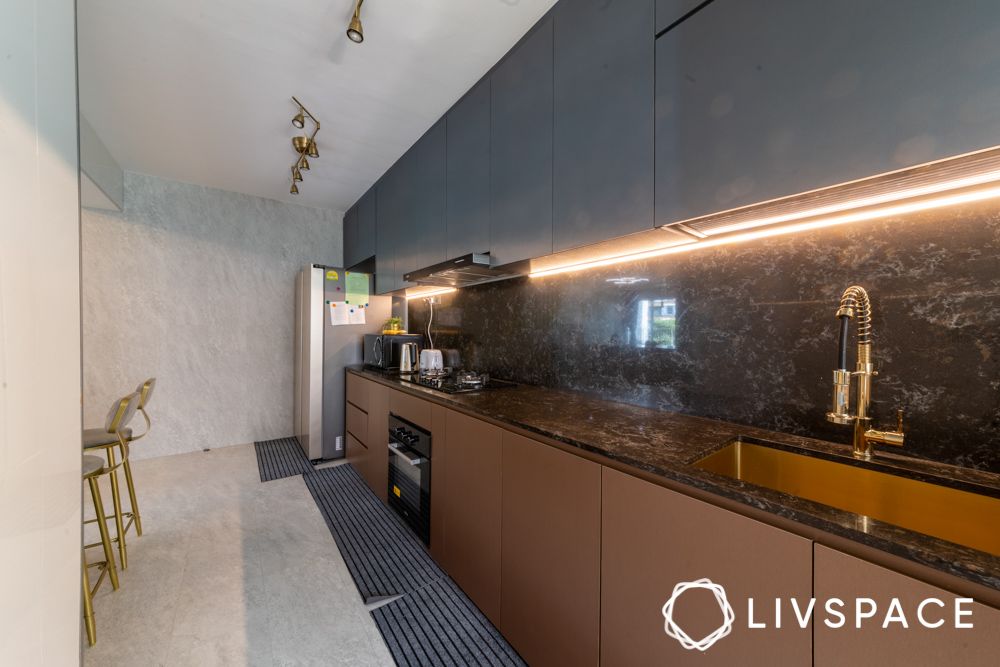 In line with creating storage space, the overhead cabinets in this kitchen are perfect for storing kitchenware. The family often travels and enjoys collecting different types of kitchenware. So, it's only natural that their cabinets accommodate this hobby!
Take a closer look at the cabinets, you'll notice that they have a slight textured finish. This is to ensure they complement the rest of the interior design with marble textures. Chic, isn't it?
Also Read: Need Stunning Home Interior Design in Singapore? Livspace and IKEA Can Help
The Walk-in Closet Is This Bedroom's Pièce De Résistance
We all have that one design addition at home that we absolutely love. For some of us, it may be a nifty kitchen accessory and for others, perhaps a home gym.
Whatever it is, it's the focal point of your home and something you enjoy looking at or using. In this master bedroom's interior design with marble textures, the walk-in closet is just that!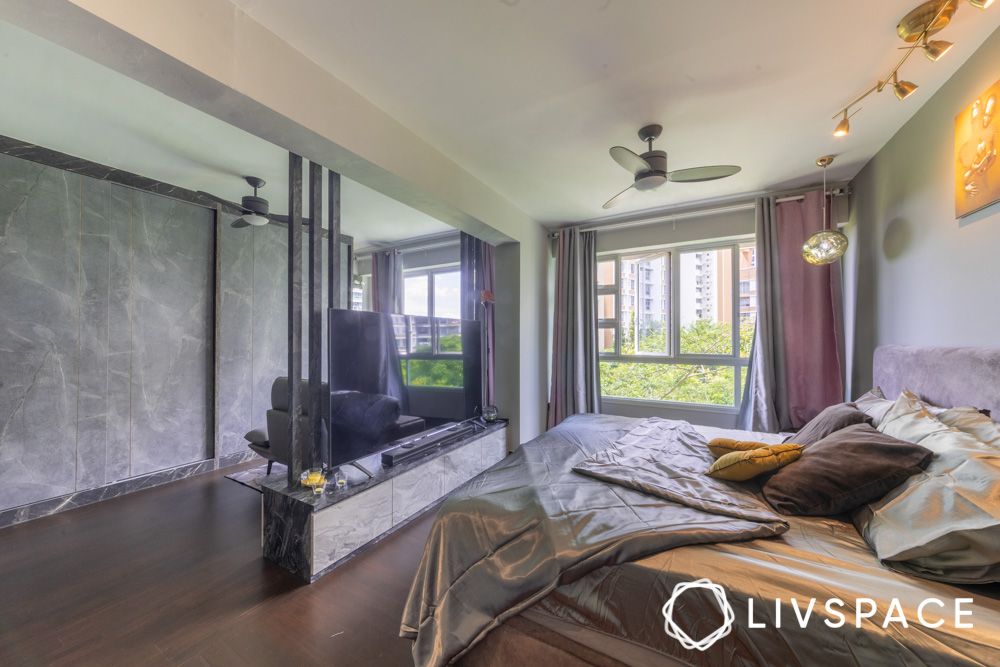 To create this functional space, the master bedroom was expanded by partially removing one of the walls that connected it to the second bedroom.
With this alteration, we were able to create a spacious walk-in closet with its own view for the wife to unwind after a busy day.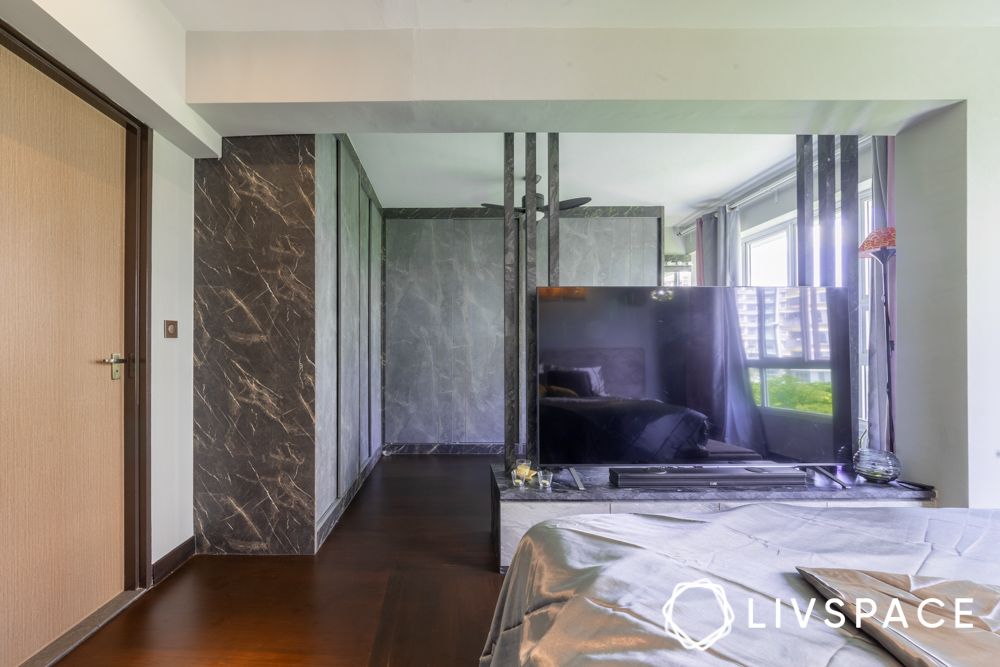 You'll also notice some design similarities between this room and the rest of the home. It's none other than the sleek marble textures that were used for the walls and the floors in the common areas.
To maintain continuity in design, Stephanie finished the wardrobes in the same marble texture. This helps create the atmosphere of a luxury suite that are typical of high-end hotels.
What's more, Stephanie personally coordinated the colours of these marble textures to ensure each room was given its own striking personality.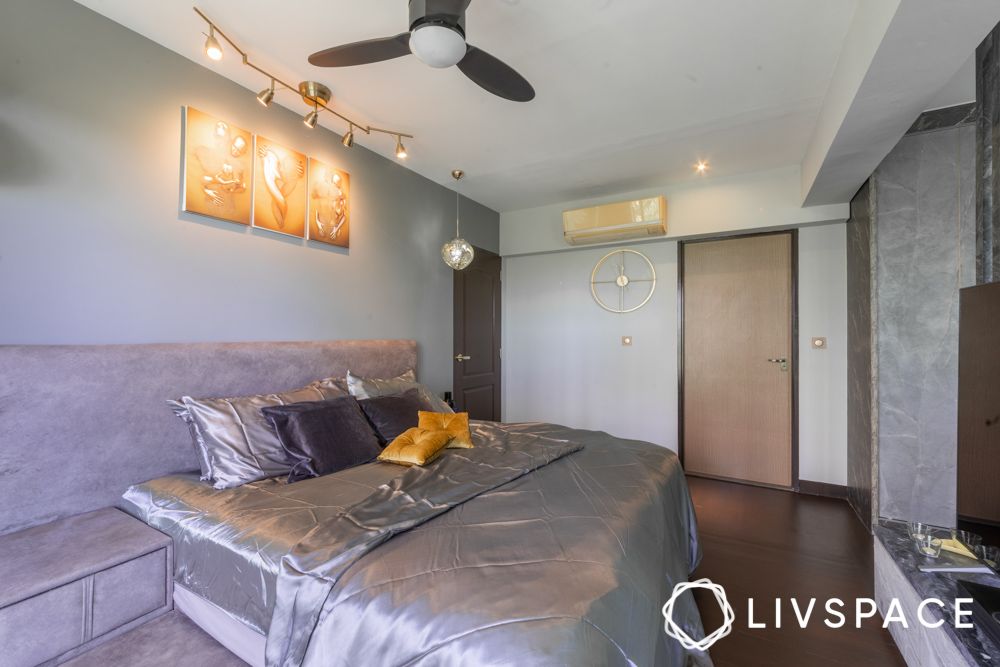 Apart from this, Stephanie uses cool neutral coloured walls to complement the marble textures and brighten the space. She also adds some subtle gold trims across the wardrobes to bring in a dash of elegance.
Gold tone light switched with gilded accent lights further accentuate the space, tying together the chic look the homeowners wanted. These accents were hand-picked by the homeowners and bring the entire space to life.
Also Read: How to Create a Walk-In Wardrobe in Your Bedroom to Impress Your Guests?
Marble Textures Extend As Far As the Bathroom and the Secondary Bedroom
If you thought that this interior design with marble textures was only limited to the master bedroom and the home's common areas, you might want to take a look around.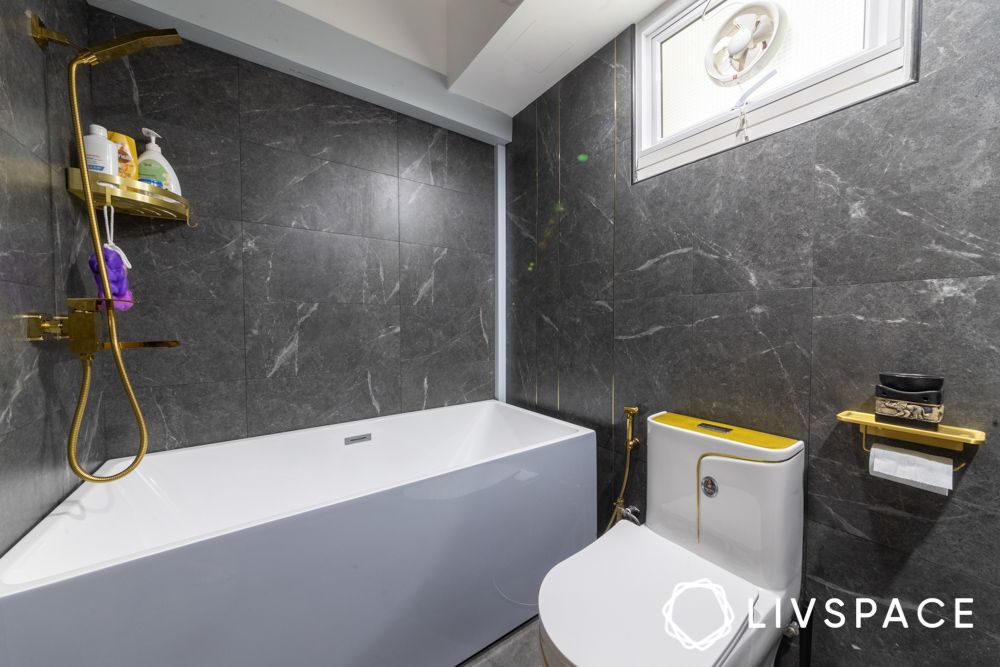 The homeowner's vision for the entire home was to have a chic, sultry look with grey stone and gold. So, it's only fair to incorporate this design across the home.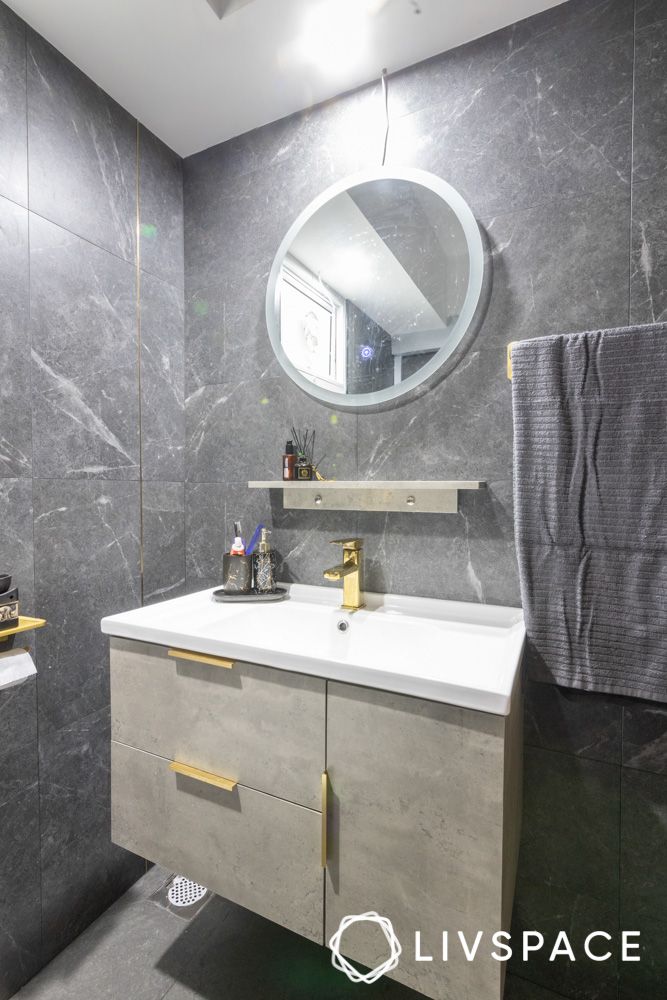 The marble textures and gilded accents even go so far as to extend into the bathrooms in addition to give the secondary bedroom a chic update!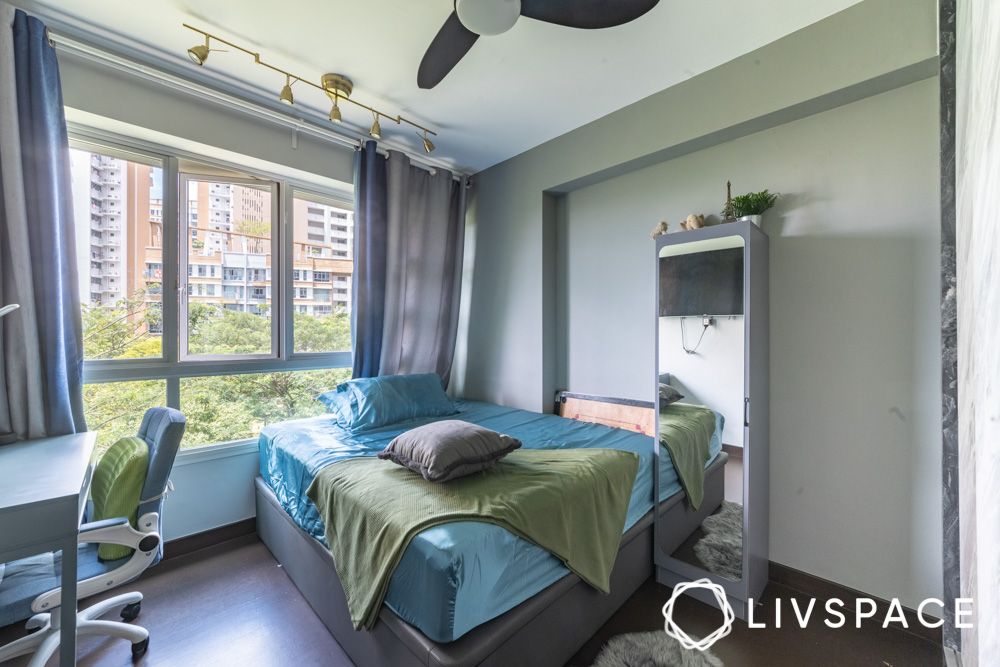 How Can Livspace Help You?
We hope you enjoyed the tour of this Edgefield Plains BTO at Punggol! If you want your home to be just as beautiful, then look no further. Book an online consultation with Livspace today.
Have some comments or suggestions you'd like to share with us? We're all ears! Feel free to write to us at editor.sg@livspace.com.
Disclaimer: All contents of the story are specific to the time of publication. Mentions of costs, budget, materials, and finishes can vary with reference to current rates. Talk to our designer for more details on pricing and availability.