We all dream of owning a luxury walk-in closet where we can store our entire collection of clothes, shoes, bags and what not.So what's stopping us? Space – or the lack of it – is the biggest obstacle when it comes to planning simple yet luxurious walk-in closet designs. But ask yourself this: do you really need a completely demarcated area or room to turn into a walk-in wardrobe? Maybe not. We share 6 amazing walk-in wardrobe designs inside the bedroom itself – no walls or extra room required! Check them out.
6 Ways to Set Up A Walk-In Wardrobe in Your Bedroom
#1: Create a Walk-In Wardrobe Segment With A Lattice Divider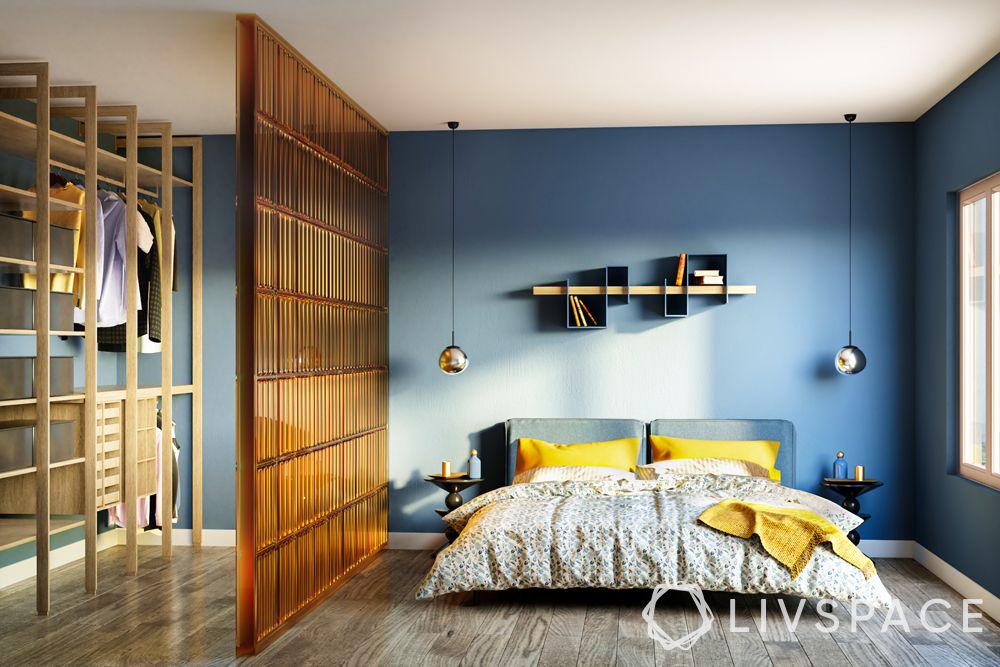 So you have your heart set on a wardrobe system that you want to place inside your bedroom. Why not turn it into an open walk-in wardrobe zone? All you need to do is place the open wardrobe against the wall and separate it from the bed with a lattice divider. Our luxury walk-in closet design is ready to amaze people!
#2: How About U-Shaped Walk-In Wardrobe Designs?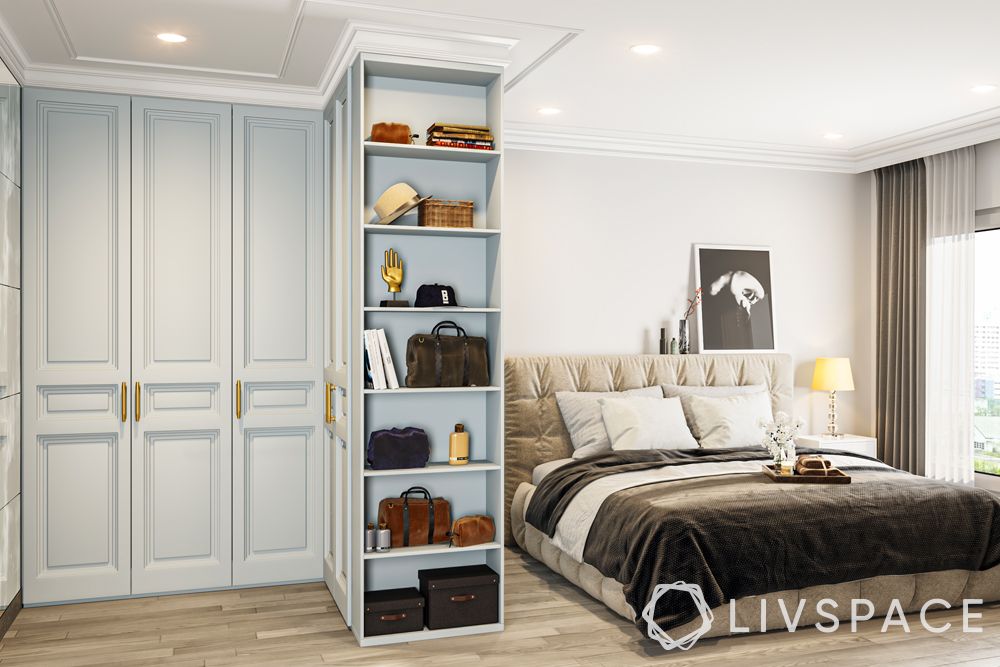 Instead of opting for an L-shaped wardrobe, which is the most common choice for bedrooms, you can go for a U-shaped wardrobe. This will create the illusion of having a walk-in wardrobe. The extra column of storage cabinets will act as the divider and you can easily get dressed behind it. Isn't this a clever idea?
Also read: 4 Basic Types of Wardrobe Designs You Need To Know About Before Buying One
#3: A Small Walk-In Wardrobe Inside the Bedroom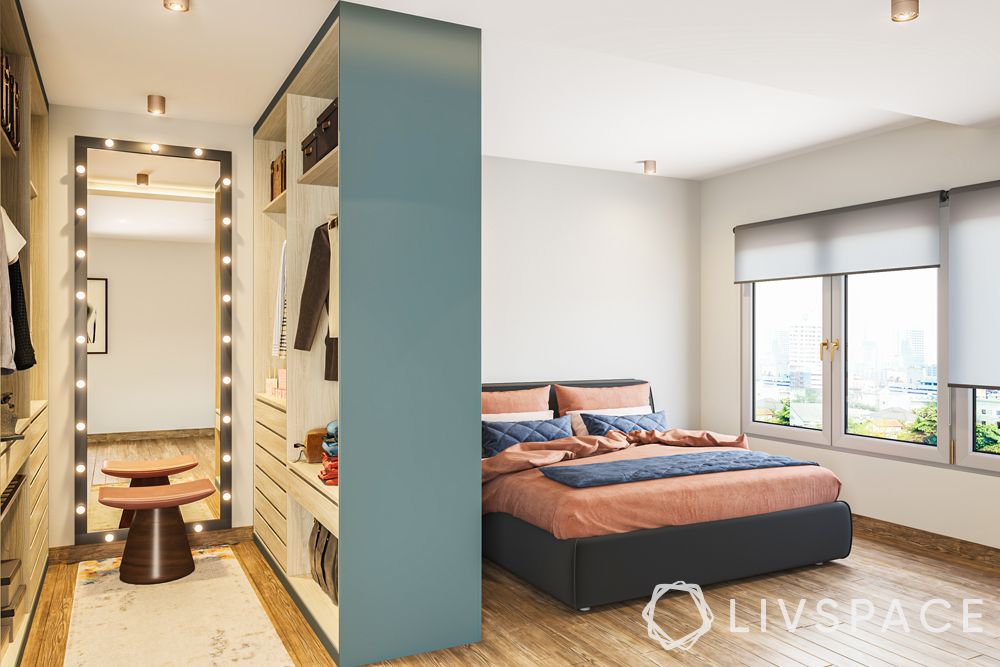 Even if your bedroom space is limited, you can still make room for a walk-in wardrobe with smart space planning. Look at this pretty and small walk-in wardrobe complete with the Hollywood-style, full-length mirror and a cosy rug in front of it. Open wardrobes/storage cabinets are placed facing each other to make a galley sort of area.
#4: Walk-In Wardrobe Designs With Sliding Doors to the Rescue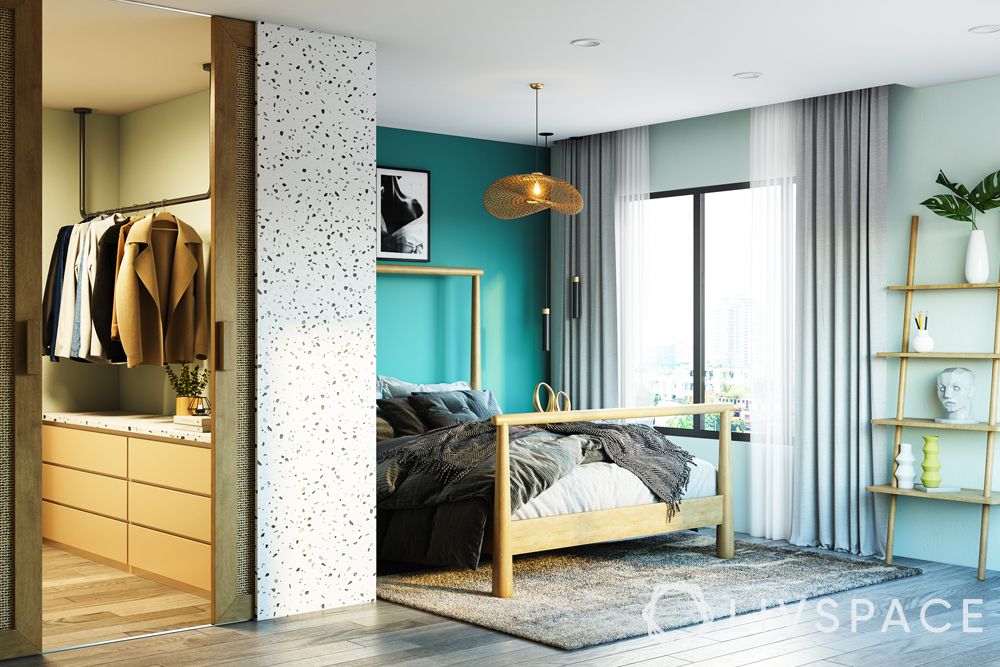 So you're not someone who likes to keep things in the open. Or you just prefer a room for your closet but do not have a spare one. We hear you. All you need to do is create a small room inside your bedroom with the help of partition panels and a sliding door. Your walk-in wardrobe is now available right next to you and you did not have to empty a room to do so. Make sure to add interesting design details, like the terrazzo pattern we have added here on the panels.
#5: Frosted Glass Closets to Impart a Classy Look to the Bedroom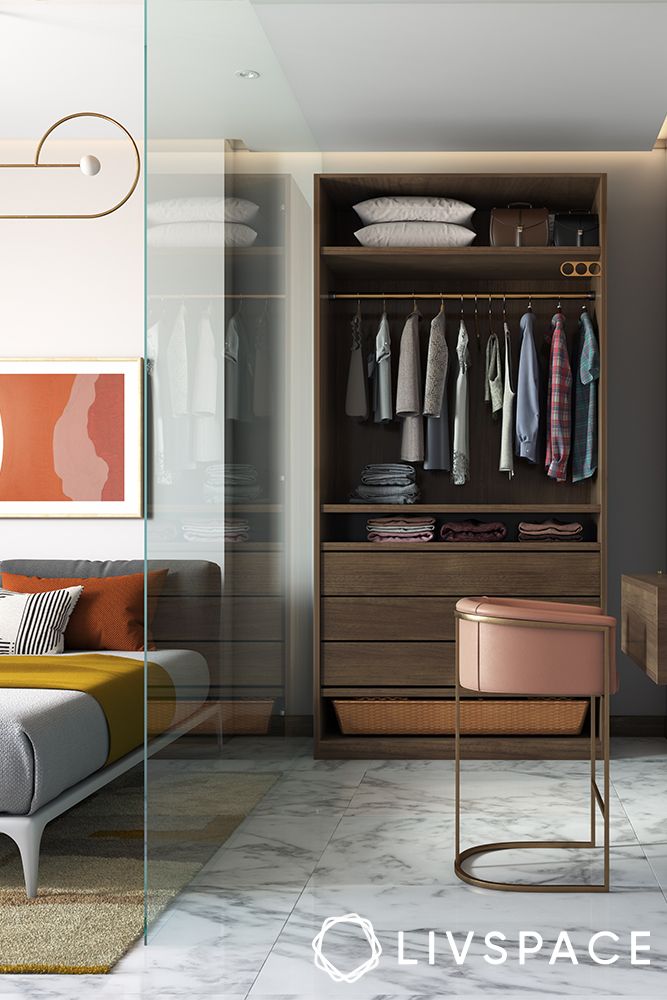 You can see what's inside your closet without having to open the doors thanks to transparent wardrobe designs that contribute to a spacious and open atmosphere. Additionally, it helps improve closet lighting and also improves aesthetics giving the impression of a larger room. However, you must maintain order and cleanliness in your wardrobe to prevent your space from looking cluttered.
#6. Mirrored Wardrobe Doors for Your Closet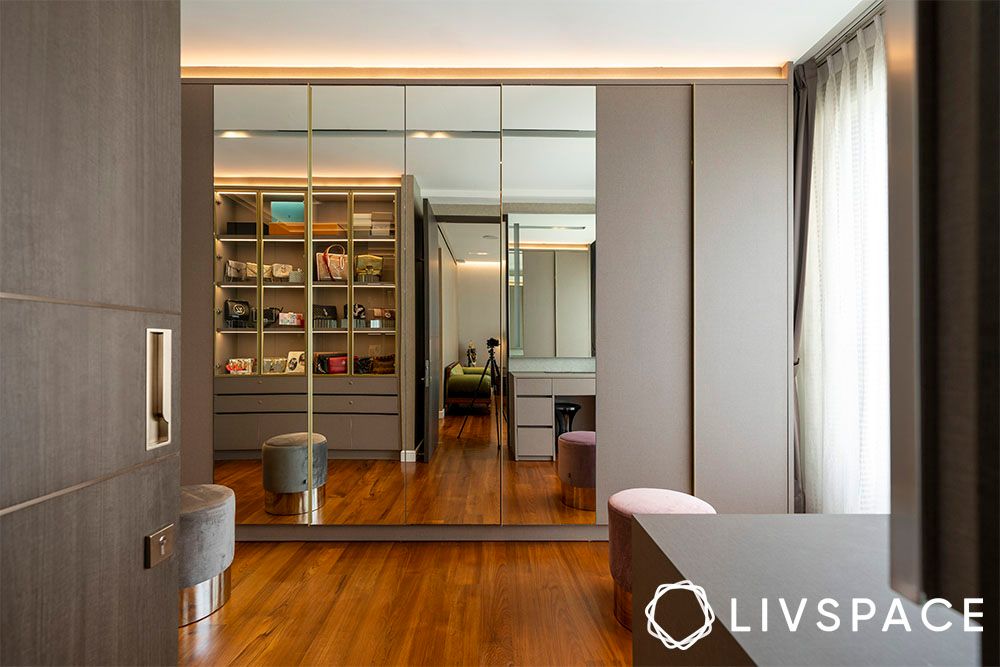 Even with a space divided off as a walk-in wardrobe, you may still make your room appear bigger and brighter by building a mirror barrier or installing mirrored sliding doors. Now that there are enormous full-length mirrors in situ, getting ready will be simpler and easier too.
Also read: How to Solve Every Storage Problem With the Right Wardrobe
5 Walk-In Wardrobe Design Ideas That Will Complete the Look
#1. Set up a Vanity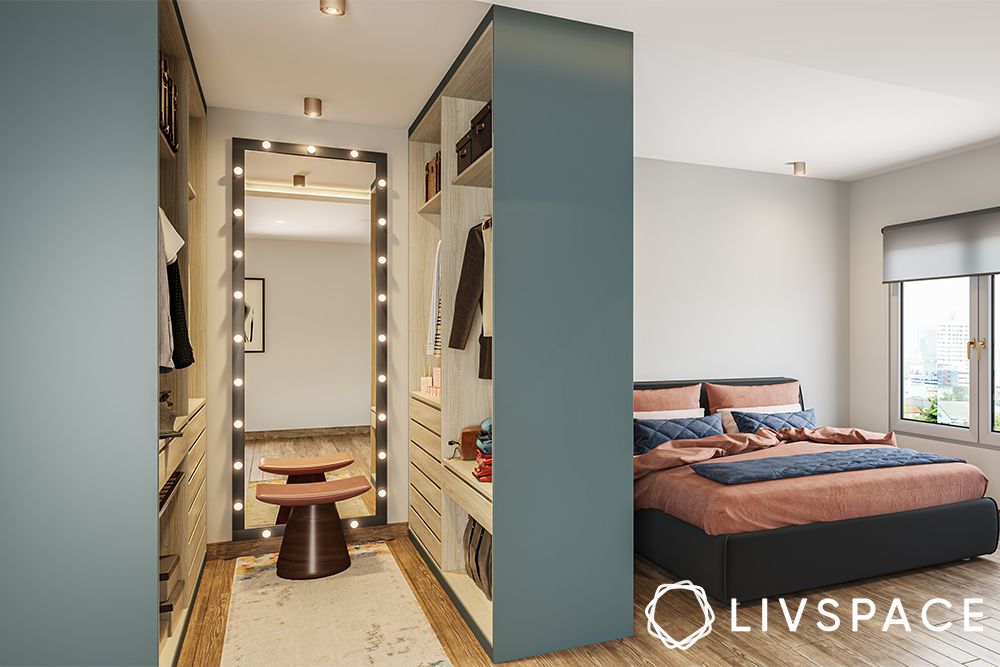 A walk-in closet with a built-in makeup vanity has grown in popularity. The closet vanity is opulent and useful, and you can get it just by placing a mirror over the table or wall and sufficient lighting. Add cabinets and drawers with dividers to organise makeup in your closet vanity.
#2. Make It Modern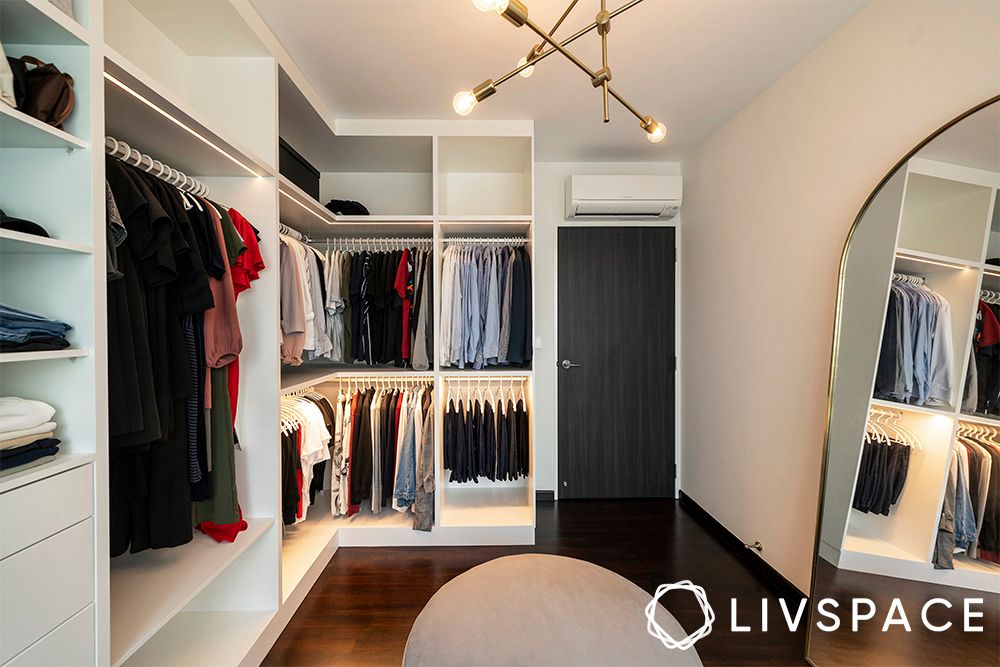 Have you seen celebrity walk-in wardrobes on TV? There are a few elements which you can copy from there to get a similar look. Hanging racks, shelves, shoe racks, and a few mirrors are typical components of a modern walk-in closet where you may try on clothes and determine what fits you best.
#3: Install Proper Lighting to Create an Elevation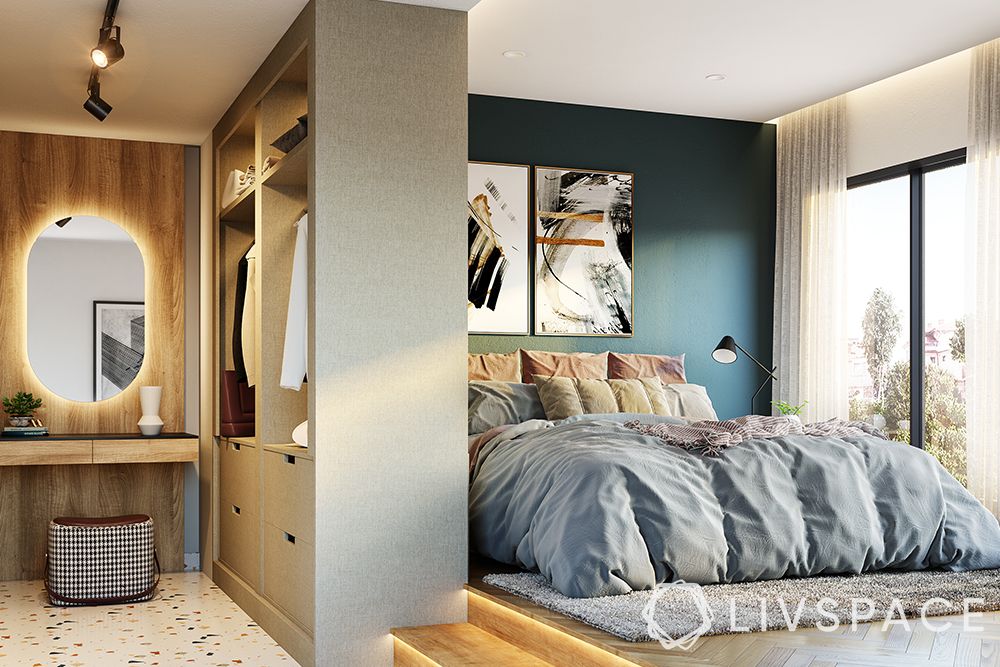 Dividing your bedroom into two halves is a great way to make space for a dressing- area-cum-wardrobe. You can achieve this look by creating an elevated space for the bed with the help of steps. Wooden flooring is the ideal choice to get the look right. The other half will be your walk-in closet designated area, with storage space on either side and a dressing unit right in the middle.
#4. Stay Organised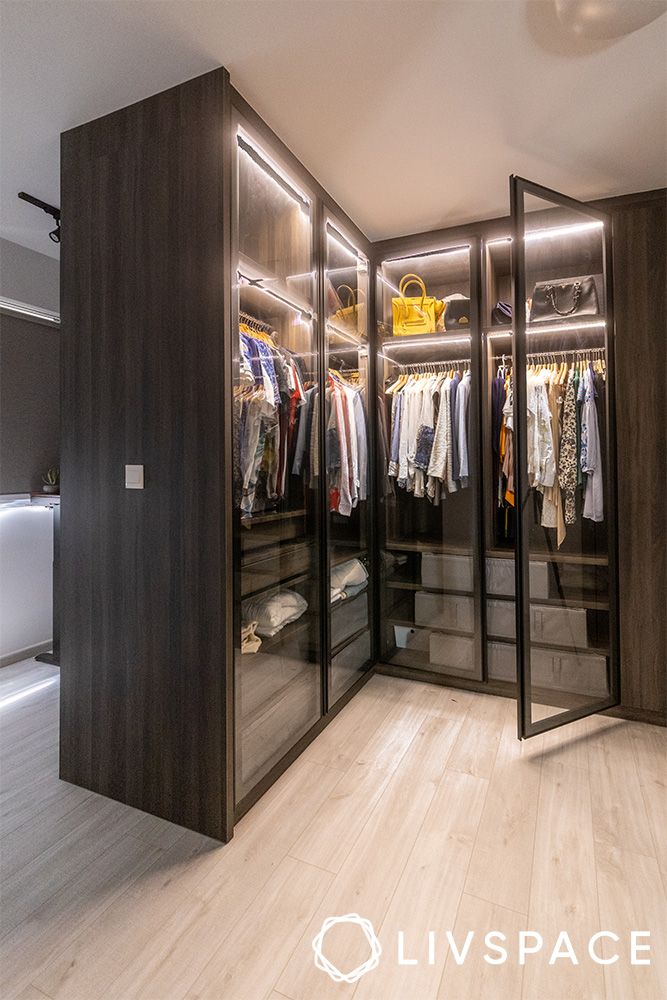 Making a walk-in wardrobe and then leaving it cluttered is not the way. Since these wardrobes are mostly open-shelved, it is important to keep them organised. Install as many shelves as needed to keep things organised. You can use the upper shelves for accessories, middle ones for clothes and the lower ones for storing shoes.
#5. Display Cabinets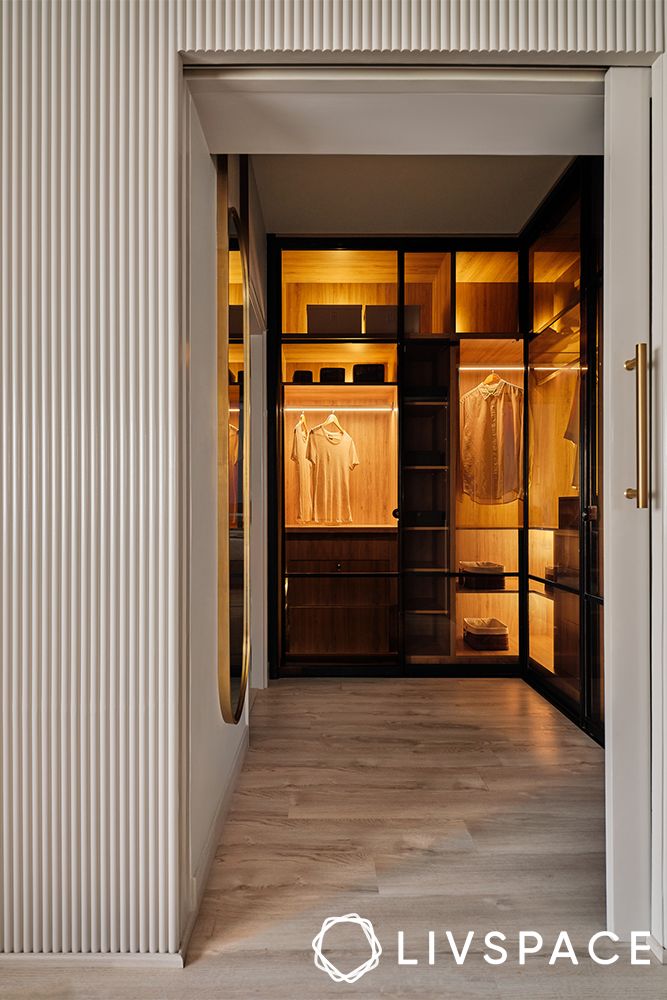 Installing a lavish wardrobe and not displaying it well shouldn't be the case. Prefer transparent doors or no doors at all for your walk-in wardrobe. Make sure to install proper light fixtures to illuminate them.
We hope these ideas helped you plan a luxury walk-in closet inside your own bedroom! You should also check out: We Got Inspired by IKEA to Give you 8 Bedroom Decor Ideas you Will Love
How Can Livspace Help You?
If you are thinking of redesigning your home, then consider Livspace. Book an online consultation with our designers now to turn your dream home into a reality. We are all about quality and safe interiors.
Tell us your favourite idea from the list. Send us your queries and suggestions to editor.sg@livspace.com
FAQs
1. How Much Does it Cost to Install a Walk-In Wardrobe?
A walk-in wardrobe in Singapore costs between SGD 1400–SGD 6700. It covers the price of the structure, drawers, and shelves. The price varies depending on the material used.
2. How Do I Turn my Room into a Walk-In Wardrobe?
You can either repurpose a spare room into a walk-in wardrobe or buy a ready-to-install walk-in wardrobe and place it in any room you have spare space in.
3. What Is the Difference Between a Walk-In Wardrobe and Dressing Room?
A walk-in closet, unlike a dressing room, is a smaller or box-shaped room/structure next to the bedroom or a partitioned section of the bedroom.
4. How Do you Style a Walk-In Wardrobe?
You can use full-length mirrors on walk-in wardrobes to give your room an illusion of space. You can put some wallpaper behind the shelves to add some personality. Choose vibrant patterns to stand out and add dressers and shoe racks to your walk-in wardrobe.