Wardrobes are an essential part of any room and choosing the right wardrobe design becomes essential when you have to combine form and function. Selecting a wardrobe is not as easy as walking into a store and buying groceries. You need to put good thought into the space that's available, your storage needs, your personality and a lot more. Designers can help you pick an appropriate fit for your room, but we are here to tell you what your options are. Read on to find out the different types of wardrobe designs that you can consider.
Types of Wardrobe Design #1: Walk-in wardrobes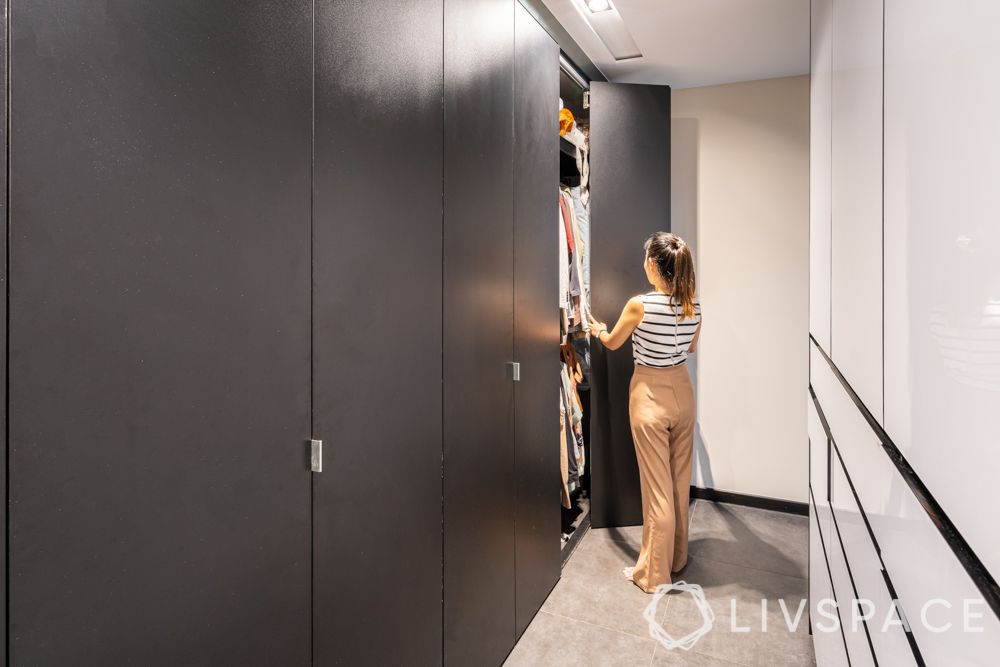 A walk-in wardrobe is either an entire room converted into a closet or a sectioned-off space in a room where everything is stored in a wardrobe with ample walking space. If you have an entire room to spare, then walk-in wardrobes can make you feel like a celebrity and double-up as a dressing room. But even if you have a section of your room that you want to turn into a walk-in, you will have the privacy of a mini-dressing room. So if you have the kind of space, own it!
Pros:
Keeps clutter out of sight from the bedroom
Let's you enjoy a trendy, boutique-style feeling
Offers an option of saving on shutter cost since you do not necessarily need them
Increases the value of your home
Cons:
Works only when you have the luxury of space
Requires professional intervention and lots of structural changes
Turns out to be a little expensive
Types of Wardrobe Design #2: L-shaped Wardrobe Design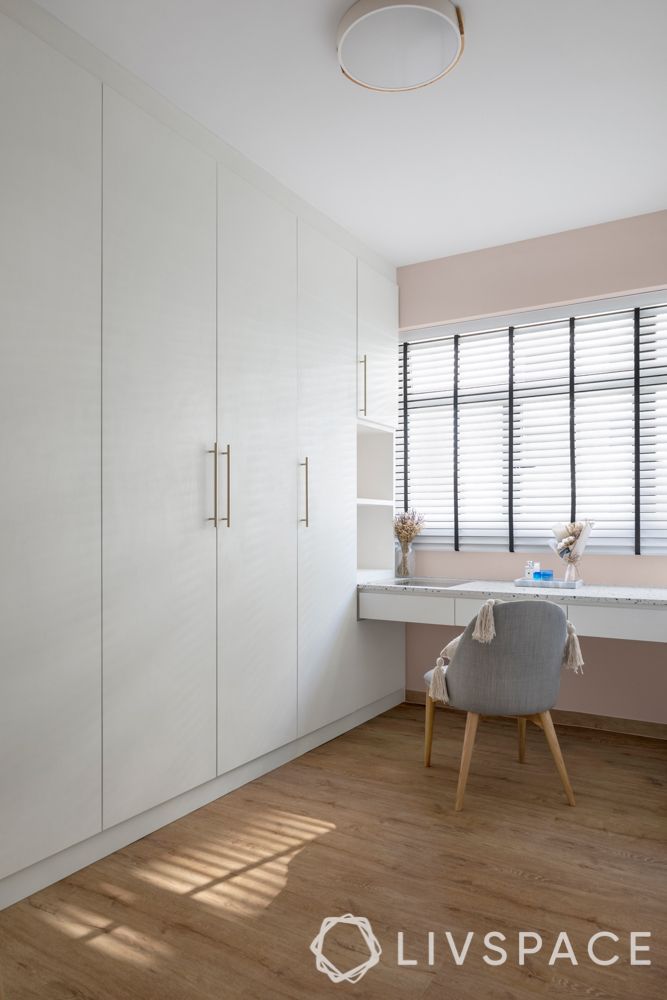 If you are someone who loves a sleek, minimal look at home, then your best choice is a built-in wardrobe. Fitted perfectly from floor to ceiling, these wardrobes are perfect for compact rooms. You can also enjoy maximum storage within the limited space with built-in or fitted wardrobes. Utilise corners with L-shaped wardrobe designs and prioritise the built-in ones.
Pros:
L-shaped wardrobe designs allow maximum utilisation of space
The size is made to measure and can be fitted in the tiniest of spaces
You can tailor your wardrobe interior and exterior according to your needs and preferences
Cons:
Can turn out to be a little expensive if you want to customise it
It is a permanent fixture and cannot be removed once installed
Types of Wardrobe Design #3: Capsule wardrobes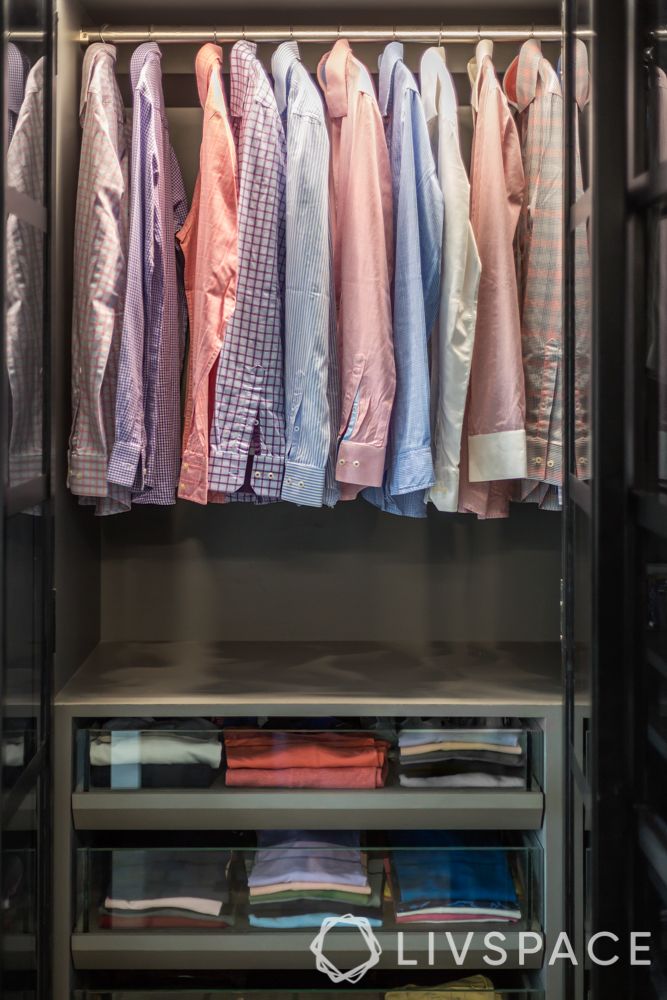 Derived from the literal meaning of the word, a capsule wardrobe is a highly compact and need-based wardrobe. It can be placed right in between a room as a divider. It is usually open and if you do not have any room to spare, then a capsule wardrobe design is a good option. All you need in a shelf-like structure and you are good to go.
Pros:
A temporary storage solution for rented homes
Does not turn out to be very expensive
Can double-up as a room divider
Cons:
Does not look very aesthetically pleasing
Displays everything in plain sight and can make the room look cluttered
Types of Wardrobe Design #4: Freestanding wardrobes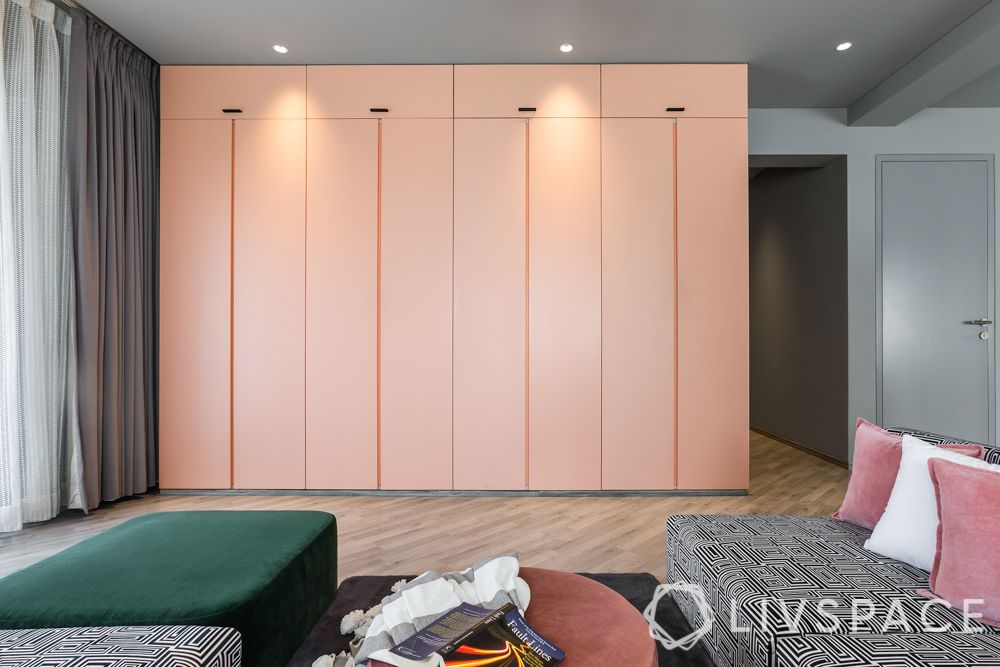 A freestanding wardrobe is ideal for people who are living on a lease or in rented homes. These wardrobes can be carried around and you can take it with you to your next home. Also, if you are someone who gets bored and loves changing your wardrobe every few years, then designers will probably suggest you go ahead with a freestanding wardrobe design. You do not need a lot of space to place these wardrobes unless they are bulky.
Pros:
Can be picked up straight from a shop
Available in a lot of designs and options
Cons:
You might not find the perfect fit for your room
Cannot really customise them, hence you will have design restrictions
Let's Look at 3 Popular Materials for Different Types of Wardrobe Options:
Now that you know the different types of wardrobe options, let us tell you which material should you go for.
#1: Laminate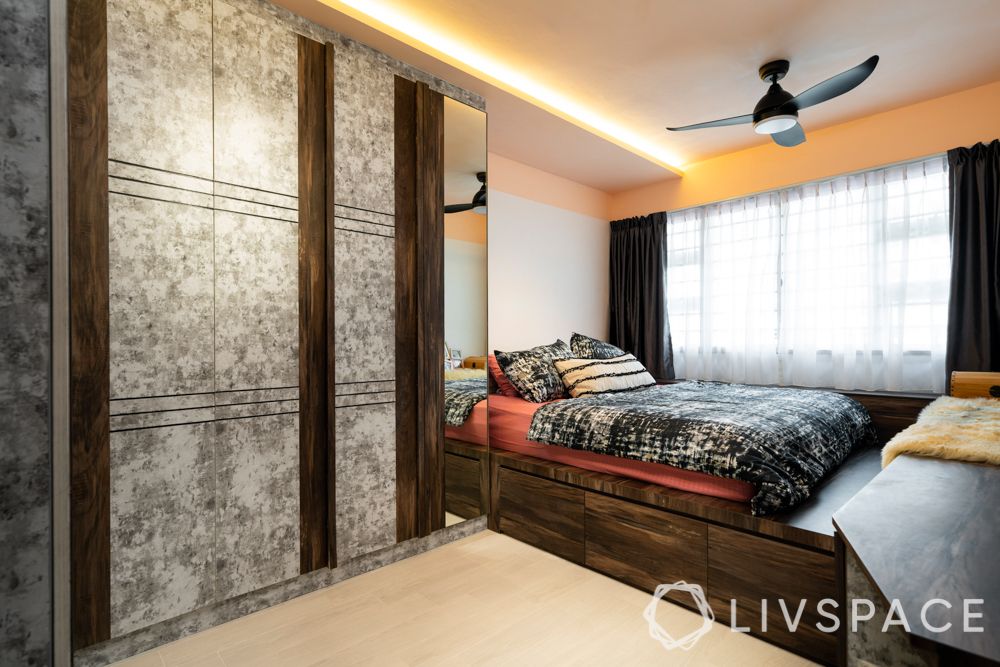 The most sought-after material for wardrobes in Singapore is definitely laminate. It is durable, low maintenance and cost-effective option. Most SIngaporens opt for laminate since they can experiment with the design and customise it, without worrying about the cost.
#2: Mirror panel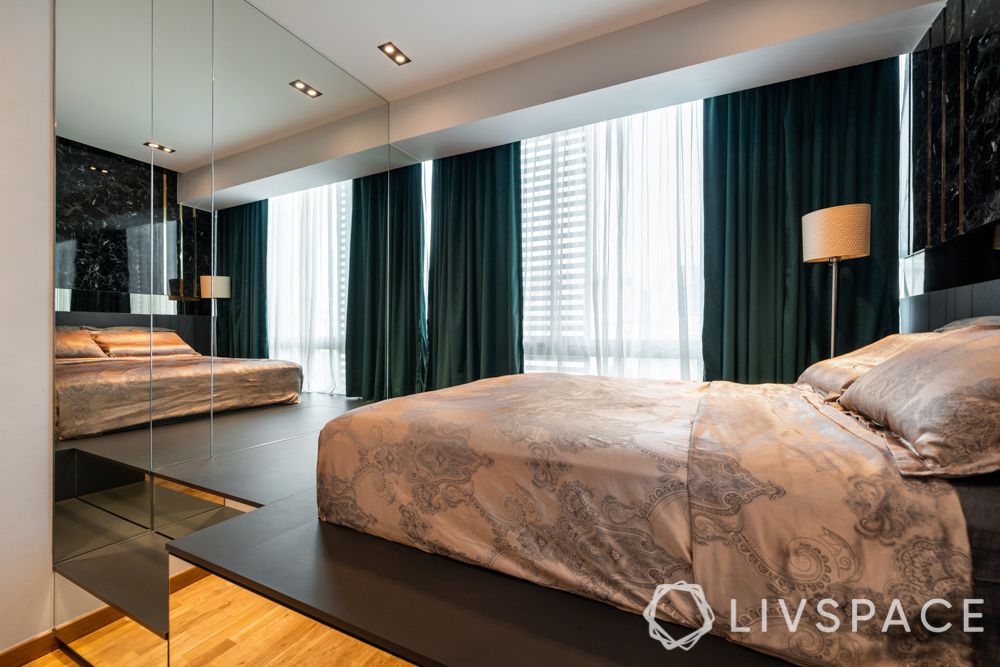 Another great option for compact homes is a wardrobe with mirror panels. It instantly opens up the room and gives an illusion of a larger space. A lot of modern-style homes with an inclination towards glossy and sleek materials flaunt mirrored-wardrobes.
#3: Glass doors
If you like a clear view of your clothes and accessories and love adoring them, then choose a glass wardrobe design. Rooms with glass wardrobes appear less cluttered and more sophisticated. With precise customisation, you can organise your wardrobe well and keep it looking fresh and clean.
That's all about different types of wardrobe options and now that you have a better idea of what each means and how it can help you, please make an informed decision. Here are 5 Things You Need for a Comfortable Bedroom.
If you want experts doing the job for you, then look no further. Book an online consultation with Livspace today! Send in your comments and suggestions to editor.sg@livspace.com.