One might think that how much space can clothes take-up, but when you actually start storing things, you realise that it wouldn't hurt to have some extra space. If you dream about spectacular wardrobe designs for your bedroom, we've got some ideas for you!. With a little space assessment and creativity, you can carve out wardrobes that will change the face of your room. From luxurious walk-in wardrobes to trendy wardrobe stands, there's one style for everyone. Identify your persona and read on to know which wardrobe you should get.
#1: A room converted into walk-in wardrobe with a dressing area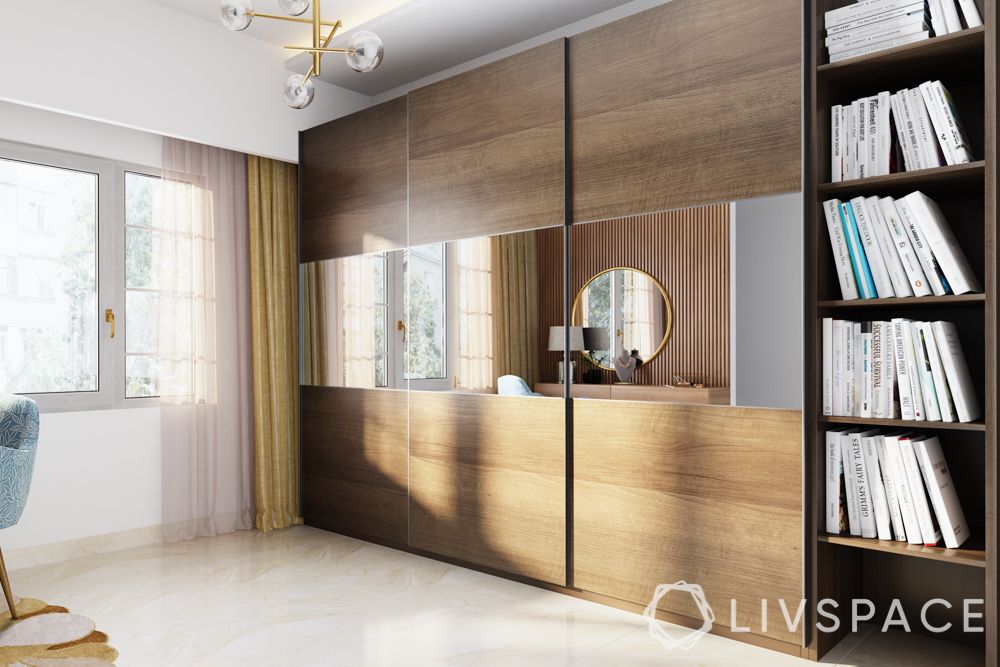 If you happen to have the luxury of extra rooms at home, then we have the best idea for you. You can turn the extra room into your walk-in wardrobe-cum-dressing area. You can add a recessed dressing table with a comfy, cushioned chair for company. A wood-finish wardrobe with sliding doors and mirrors panels running in the centre stand tall and allow maximum utilisation of space. Add appropriate lighting like the metallic bubble chandelier and drapes to maintain privacy.
Ideal for: Landed properties with extra bedrooms or HDBs and condos that have rooms that can be turned into a walk-in wardrobe area.
#2: Compact sliding wardrobe in the master bedroom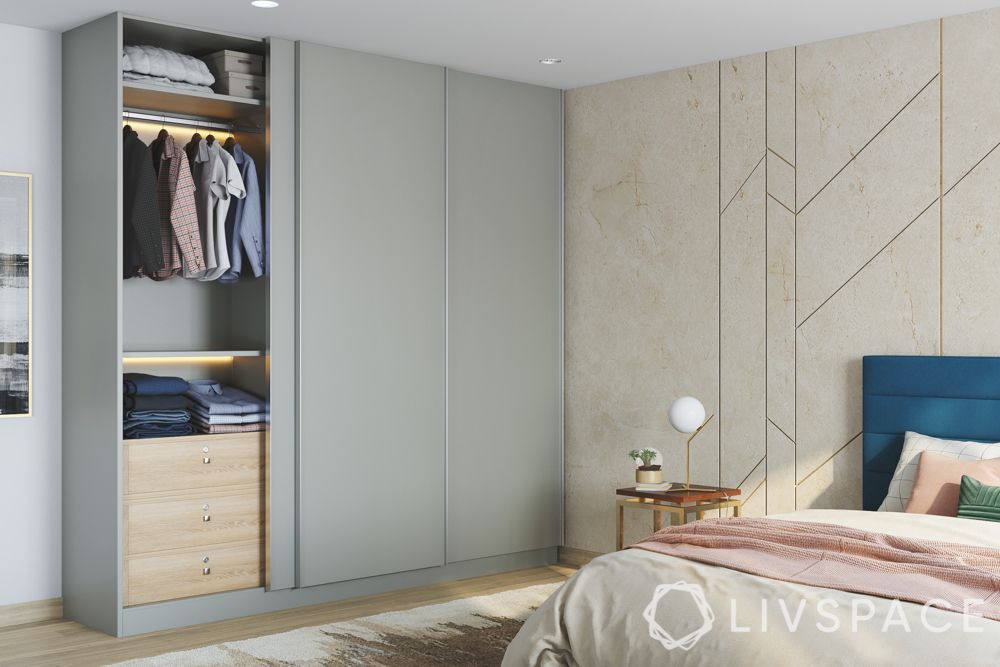 Want something that's not bulky? You can dedicate one half or quarter of a wall to your wardrobe and cover it up with sliding shutters. We suggest a mild colour like light grey and or very light blue to make the corner look extremely light on the eye. Install lights inside the wardrobe so that you do not need harsh lights in the room to see what's inside.
Ideal for: People with light baggage and a minimal taste in interiors. Also, anyone who does not want to waste extra space, per se.
#3: 5-door corner wardrobe with glass shutters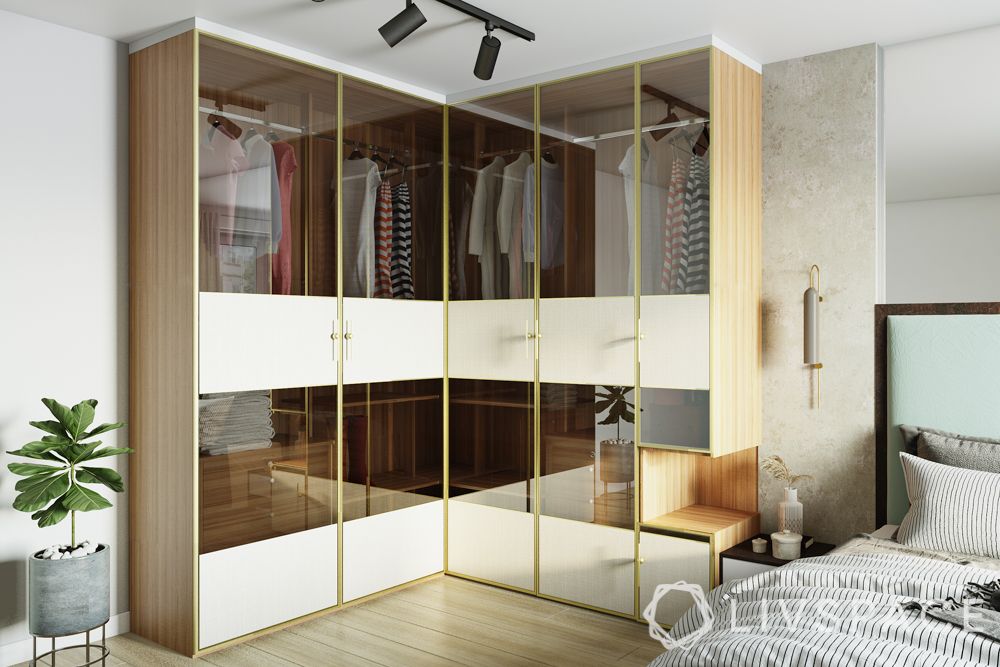 Glass wardrobes are a super chic idea for someone who loves flaunting their collection. Also, glass shutters make the room look very light and breezy. You can consider installing track lights on the ceiling so that you can find what you need, with ease. To go that extra mile with wardrobe designs for bedroom, get strips of a solid colour in the centre and at the bottom so that some items can still hide out of sight.
Ideal for: Compact bedrooms that start looking very heavy with solid shutters.
#4: Built-in wardrobe around the headboard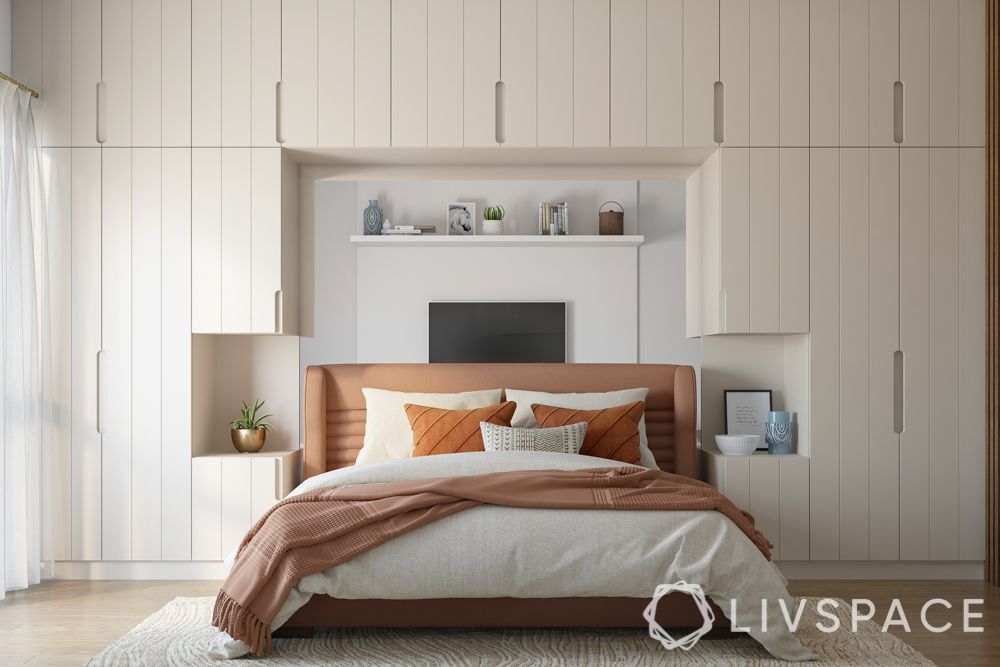 Using the area above your bed and around the headboard is a sure-shot way of getting extra storage without having to compromise valuable floor space. Therefore, we advice you to use the wall behind your bed to build your wardrobe. White is your best bet for a built-in wardrobe like this one so that you don't feel like it's heavy-on-the-eyes. Go full out with lofts to make full use of the wall.
Ideal for: People who want to use vertical space and utilise extra floor space for other furniture or activities.
#5: Minimal wardrobe frame with internal accessories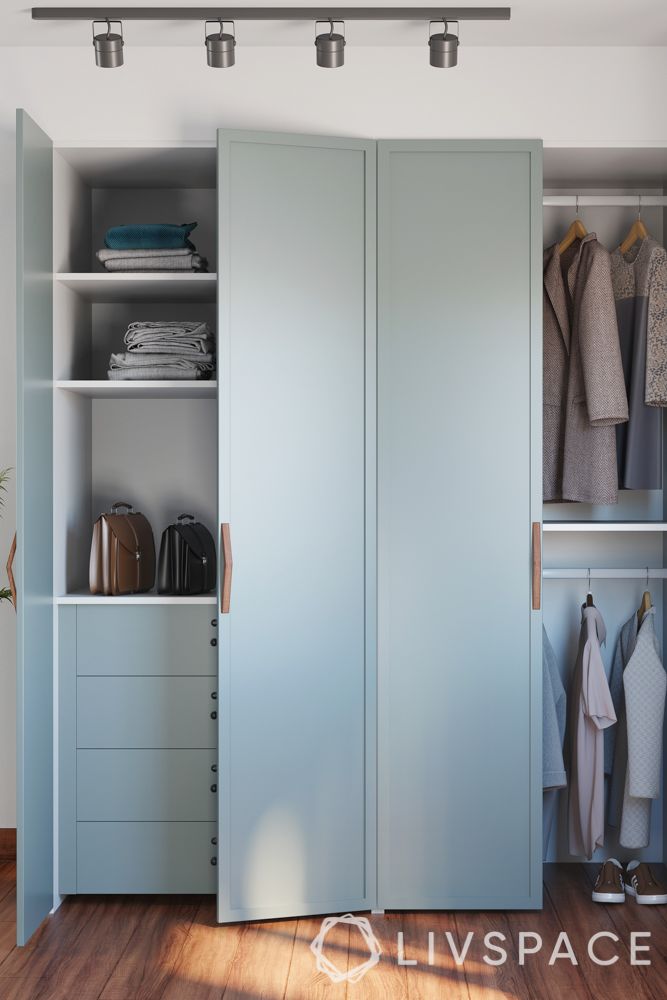 You might not have or might not want to keep your wardrobe in your bedroom. Especially if you live independently, you can choose to keep your clothes elsewhere at home. If you are keeping your wardrobe in the hallway or your living room, this simple frame without a base is perfect. Make sure you have ample internal accessories for every kind of item you want to store and one of your best wardrobe designs for your bedroom is ready.
Ideal for: Narrow spaces or corners since it does not require a lot of space.
#6: A voguish wardrobe stand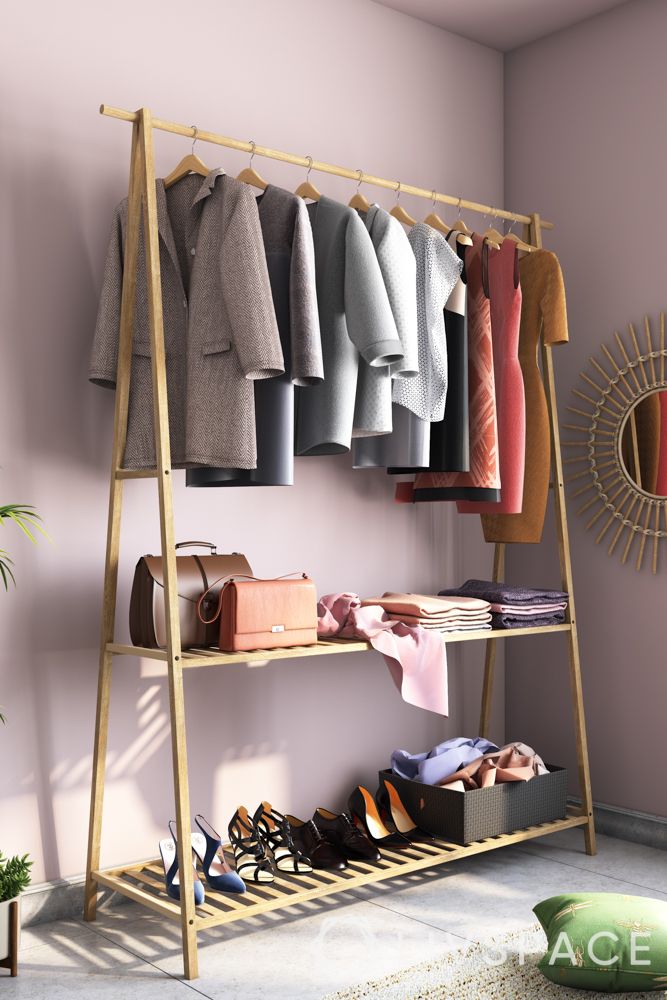 So you are not the conventional kind and hate the idea of having a regular wardrobe for yourself? Moreover, you have all the trendy clothes and accessories that you want to put on full display. Well, you are in for a surprise. Get a sturdy wardrobe stand with shelves attached to it and a hanger rod. That's all you need. And of course, add a mirror next to it for a makeshift dresser.
Ideal for: Fashionistas who love unconventional styles and want to put up their favourite clothes on display.
#7: Wardrobe-cum-dresser separated by a glass partition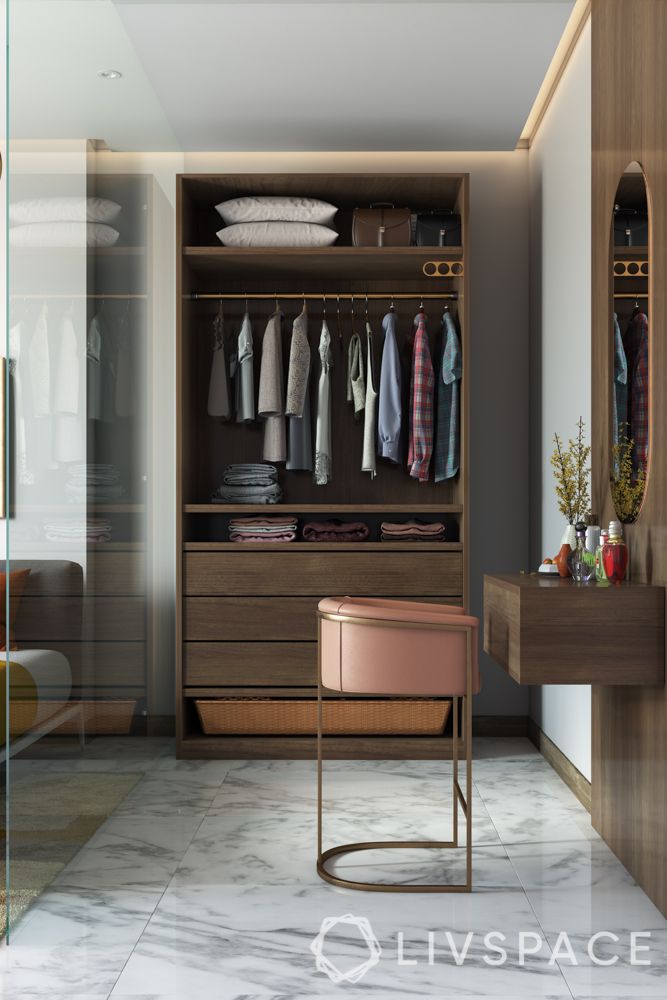 Let all your dainty dreams come true with this chic idea. Section off the wardrobe and dresser in your bedroom with a clear glass partition. You can either place a closed wardrobe or an open one, since the section is already separated from the rest of the room. We also suggest adding a vanity with seating for those dinner date nights.
Ideal for: People who like to keep their wardrobe area away from their sleeping zone but do not like solid partitions.
Want more? Read this to know How to Pick the Right Wardrobe for Your Room.
Send in your comments and suggestions to editor.sg@livspace.com.