With HDB kitchens being as small as they are, you're probably already familiar with the struggle of dealing with limited counter space. Here's where it's important to strike balance and create separate functional spaces for different types of activities in the kitchen. You can easily achieve this with the right wet and dry kitchen design.
We've listed out the many ways you can design a wet and dry kitchen in your HDB, as well as the advantages they have to offer. Read on for more details!
1. What Are Wet and Dry Zones in a Kitchen?
A wet and dry kitchen design focuses on creating two distinct zones in a kitchen. These zones are created based on two functions: cooking and meal preparation. A wet kitchen design supports intensive cooking with the use of a stovetop and sink, while the dry kitchen is largely meant for simple meal preparation or smaller tasks.
In a home with a separate wet and dry kitchen design, you'd typically see these two zones placed away from each other. So let's take a look at some wet and dry kitchen design ideas that you can save for your next HDB reno.
2. Wet and Dry Kitchen Designs You Can Explore
1. Give Each Zone Its Own Space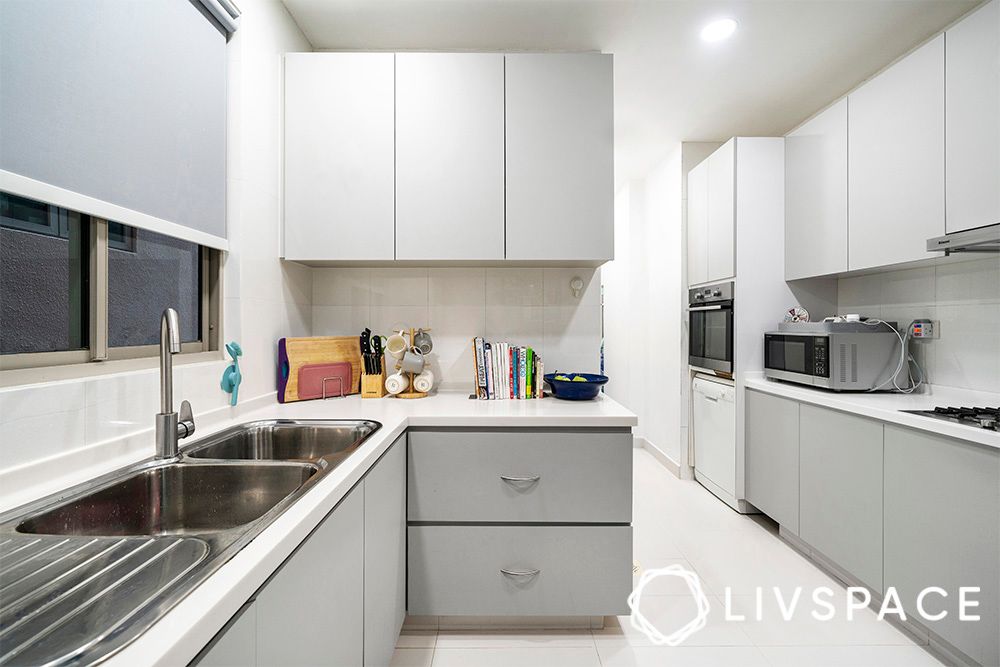 It's not necessary that you keep both wet and dry zones separate, but it helps make your kitchen more functional. While renovating your home, consider planning your kitchen design around where you'd like to cook and where you'd like to have a counter for other activities such as plating.
You can separate them by using a galley kitchen design. One kitchen countertop can work for intensive cooking, while the opposite side can be for storage or appliances.
2. Use a Divider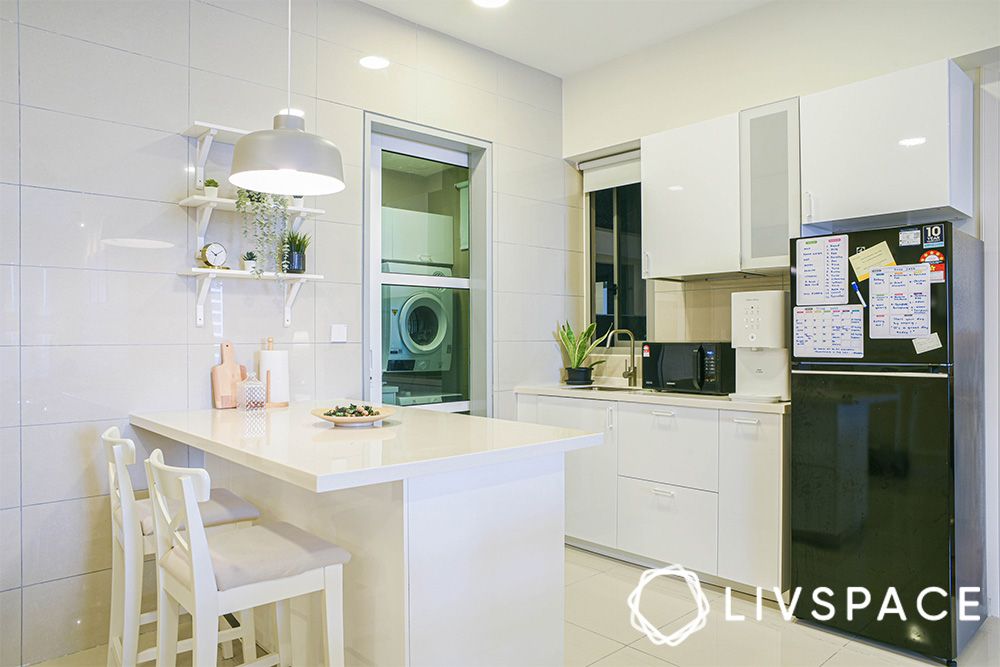 If space is a concern, a simple way to overcome it is to use a divider in your kitchen. Glass can be a great option here, as it can maintain a feeling of openness without crowding the space.
Alternatively, you can also section off your wet kitchen with the help of a glass door. This is a good option if you want to club your wet kitchen with your service area and pair the dry kitchen with your dining room. By doing so, you can limit the smoke and fumes to the wet kitchen and make it easier to clean.
3. Bring in a Kitchen Island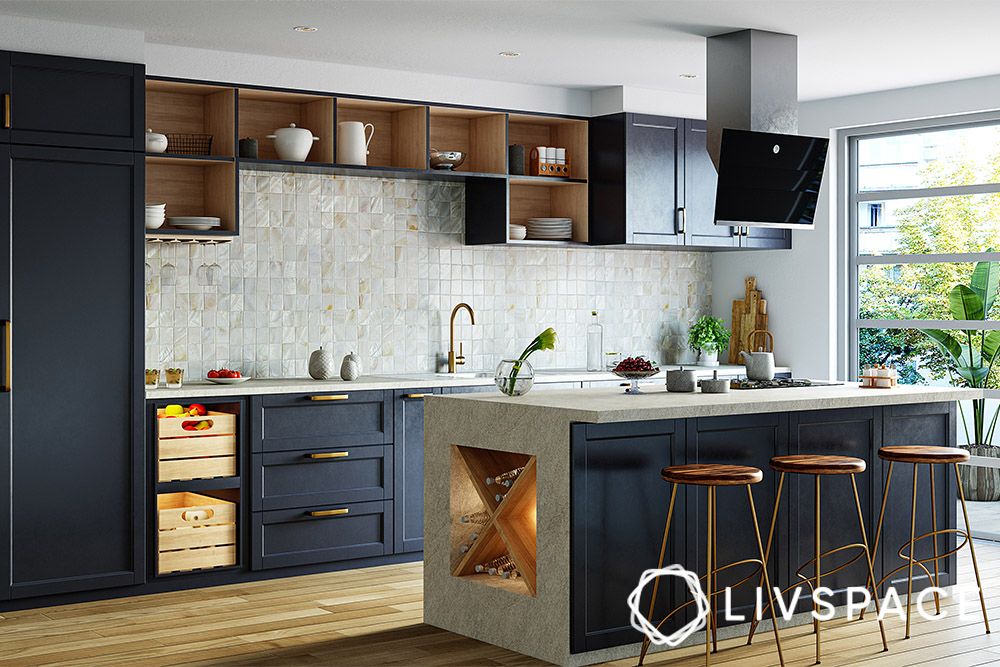 A kitchen island can serve many purposes, especially in a cramped HDB kitchen. It helps add extra counter space to your kitchen without the need to extend your existing countertop.
You can opt to have your stovetop and sink fitted into your island, or you can reserve the space solely as a dry zone. Alternatively, you can also treat it as a dining space or breakfast nook by adding a few barstools.
4. A Pantry Can Add Extra Space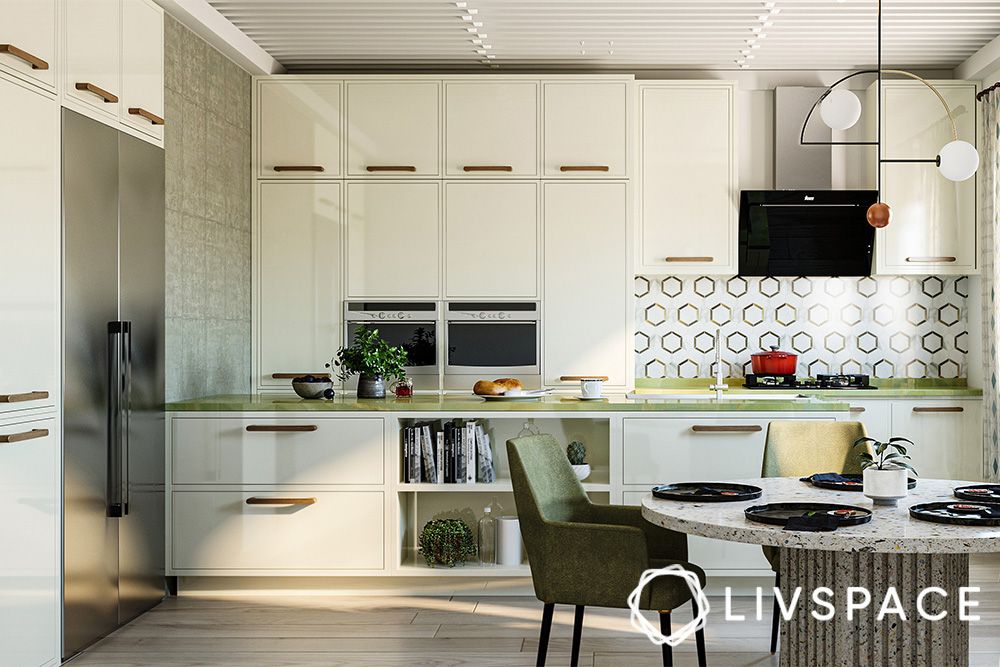 You can use a pantry unit in the same way that you can use an island for a separate wet and dry kitchen design. A floor-to-ceiling pantry or a peninsula can be excellent additions to your kitchen. The latter is more helpful to have in an open kitchen layout, as it preserves the openness of the space.
It would function the same way as an island, but the only difference here being that it doesn't occupy the centre of the kitchen. The outer area of the peninsula can act as the dry kitchen zone, while the inner area can be your wet kitchen.
Also Read: 6 Stunning BTO Kitchen Designs That Every Homeowner Needs to Know About
5. Consider Using Two Cooktops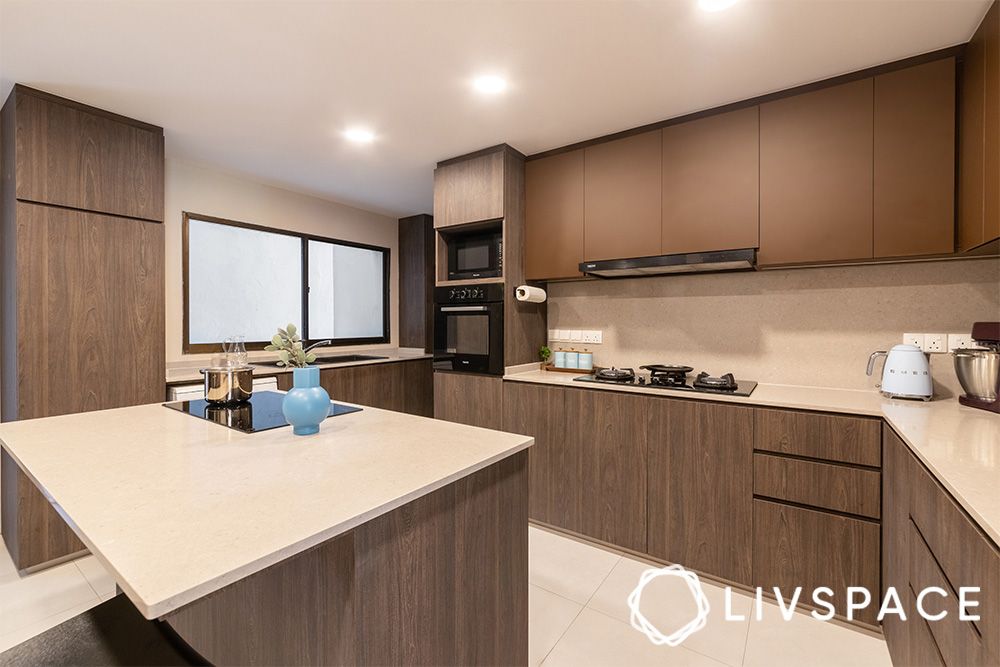 Stoves are typically used for heavy-duty cooking, but in some cases, you might just want to simply heat up food. While a microwave can be a good option for this, you can also rely on an induction cooktop as a secondary stove.
If you have a kitchen island, you can use its counter space to add a built-in induction stove. With this addition, you now have a secondary cooktop in your dry area for heating up meals without walking to the primary stove.
6. Carve Out Functional Zones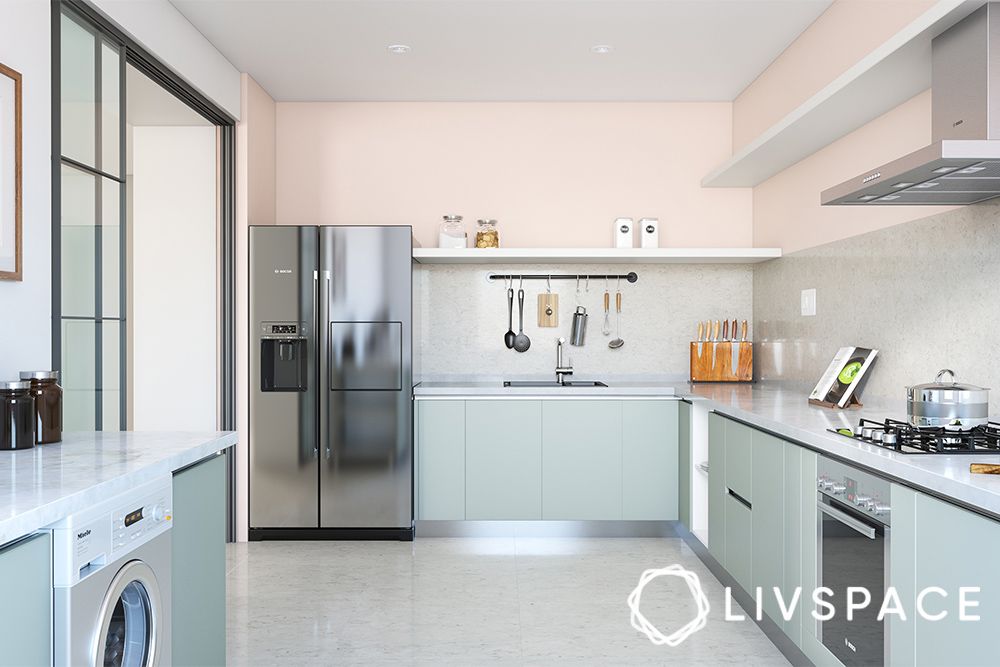 Planning a wet and dry kitchen design is all about making the space more functional. While you might want to use one area of the kitchen solely for cooking, you might not want all your appliances in the same section. Instead, it helps to divide your kitchen into various functional zones based on the need.
For example, your wet kitchen can be where your hob and sink sits and your dry kitchen can be in your pantry area. However, you can also create a third zone for appliances like an espresso machine or a rice cooker. This can act as an extension of your dry kitchen design.
7. Leverage an Open Layout for a Modern Dry Kitchen Design
Depending on the amount of space you have, you might want to devote most of the available space to the wet kitchen. After all, this is where a major chunk of kitchen work happens. However, if you're blessed with a large kitchen, you might be able to do more with your space.
You can use an open layout to create each zone on opposite ends along the width of the room. On one side, you can have an expansive dry kitchen clubbed with storage, a breakfast nook, and a meal preparation station. And on the other side, you can curate a wet kitchen fitted with a hob, sink, and other items.
Also Read: 8 Amazing HDB Reno Makeovers in 2022 That Took Our Breath Away
8. An L-Shaped Layout May Suit Compact Kitchens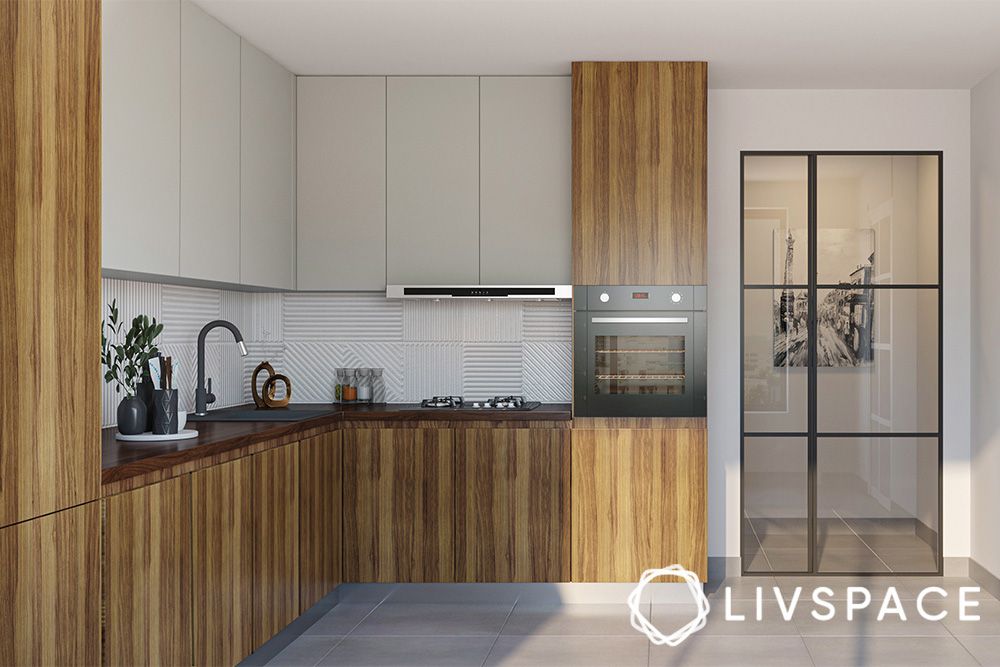 If you're redoing your kitchen, consider going for an L-shaped layout if you have a compact kitchen. It's a great kitchen format to consider for smaller spaces, especially in an open concept home.
Why? Because it hugs the outline of your walls and opens up the floor space the same way as a one-wall kitchen. Moreover, L-shaped kitchens can offer a bit more storage space than a one-wall layout, making them ideal for a wet and dry kitchen design.
So, how do you incorporate these zones into an L-shaped layout? The answer is simple—just use different parts of the 'L' for each zone. You can use the longer section for your wet kitchen and the shorter section as your dry kitchen.
3. What Are the Advantages of Having a Wet and Dry Kitchen?
Having a distinct space for different tasks makes it easier to organise your kitchen
You can easily share the kitchen space with multiple family members at the same time as it wouldn't disrupt each other's work
If you use a room divider between your wet and dry areas, you can contain oily fumes, smoke, and smells to the wet area while cooking
With a separate wet kitchen area, you can contain the mess that unfolds during cooking to one area only. This leaves the dry kitchen zone free for assembling the food or serving and reduces your overall maintenance work
It's easier to plan, organise, and execute tasks in a kitchen that has devoted zones for different activities
How Can Livspace Help You?
With automation from design to installation, we provide quality home interior solutions with zero errors. Moreover, our product range comes with a 5-year warranty (for all Livspace products) owing to our best in class DuraBuild™ cabinets.
Book an online consultation with Livspace today, and we'll help you design and customise your dream kitchen with top-notch German manufacturing standards and innovative designs.
Disclaimer: All contents of the story are specific to the time of publication. Mentions of costs, budget, materials, and finishes can vary with reference to current rates. Talk to our designer for more details on pricing and availability.