If you're in the process of designing your HDB, you might already know how tricky detailing nooks and niches can be. This is especially true for older HDB flats; they might come with unexpected corners and recessed walls that are awkward to work around. We're here to tell you that your HDB recess area holds a lot of untapped potential!
Come along as we go through some fun and functional renovation ideas for your HDB recess area that are perfect for modern Singapore homes. But first, let's answer a common burning question.
What Is an HDB Recess Area?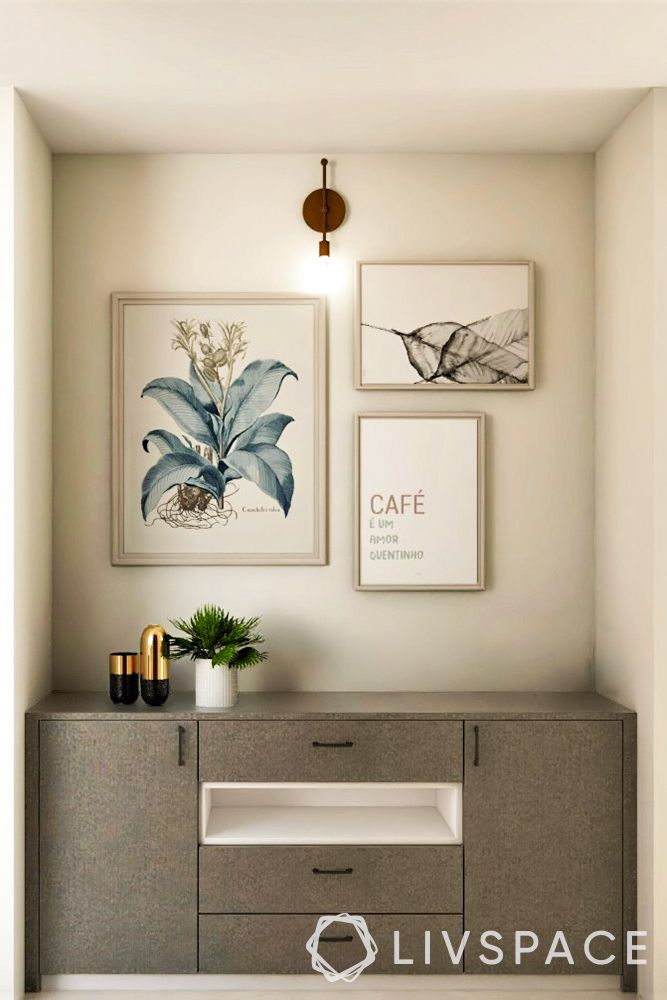 Have you ever noticed the wall niches or alcoves in your HDB? These are none other than your HDB recess areas. Apart from these niches and nooks, the corridor outside your HDB is also considered as a recess area. However, you'll have to buy the external corridor space if you'd like to legally use it.
In this list, we'll take you through the many ways you can use these spaces, either internally or externally. Be sure to take note of your favourite recess area design, so you can consult a Livspace designer and get one for your own home too!
How Can You Leverage Your HDB Recess Area Design?
1. Use a Wall Treatment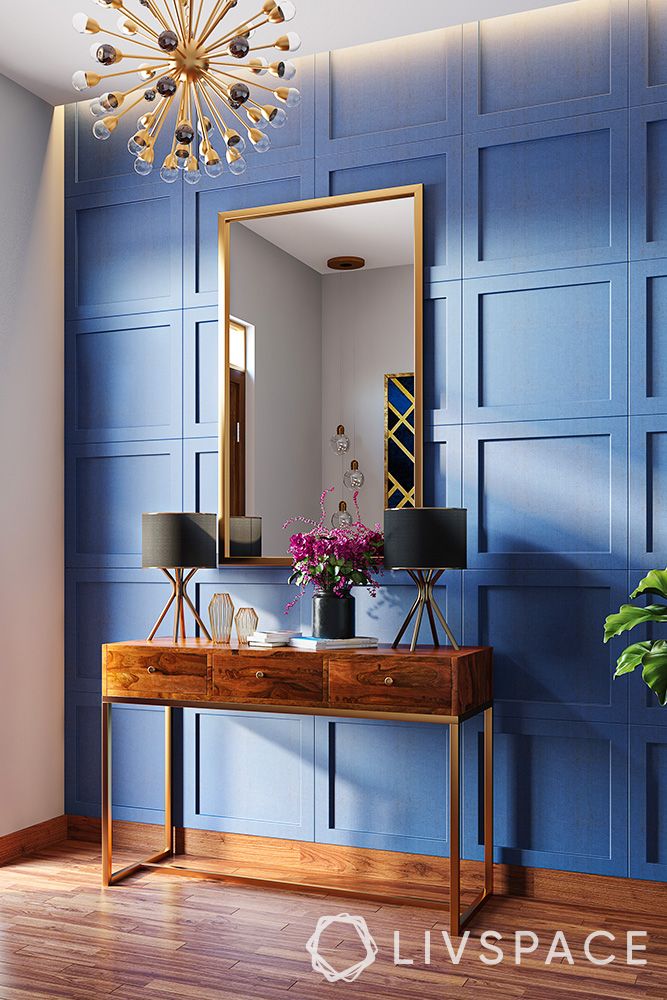 Panelling, bricks, and trims are just a few of the many ways you can add interest to your walls. For your HDB recess area design, consider using a wall treatment that complements the rest of your interiors. If your HDB's theme is industrial, go for exposed brick walls.
Or, if your space leans toward the art deco movement, play around with some board and batten wall panels in rich colours like navy blue. You can further detail your HDB recess area with gilded light fixtures.
2. Throw in a Splash of Paint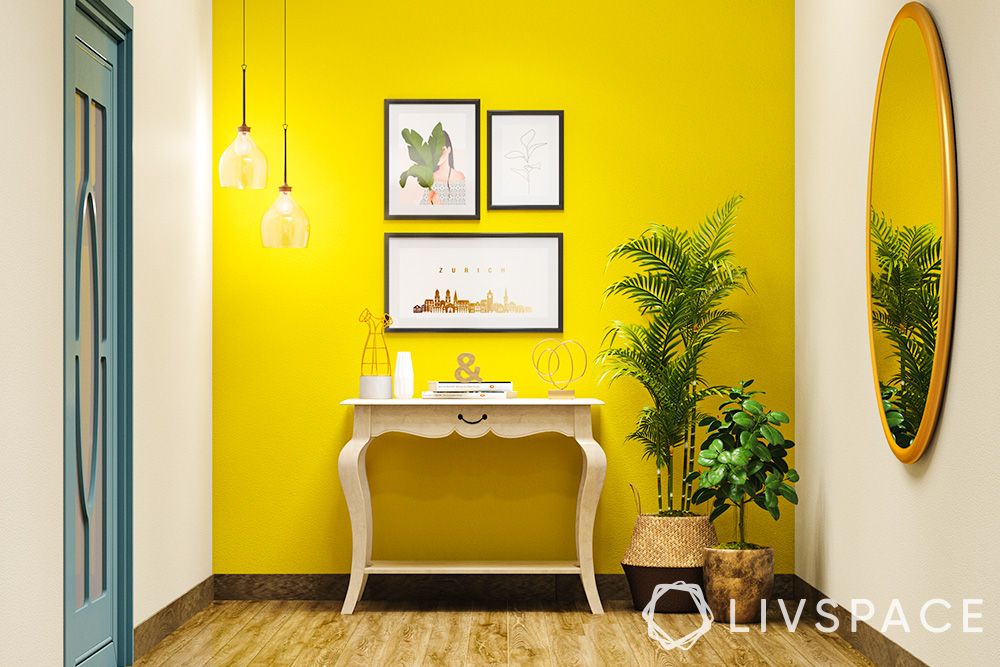 A little colour never hurt anybody. In fact, it can be just what your HDB recess area needs to liven things up. Consider using a bit of paint in a contrasting shade to create an accent wall. With this, you're able to highlight your niche and turn it into a statement piece.
3. Turn It Into a Storage Space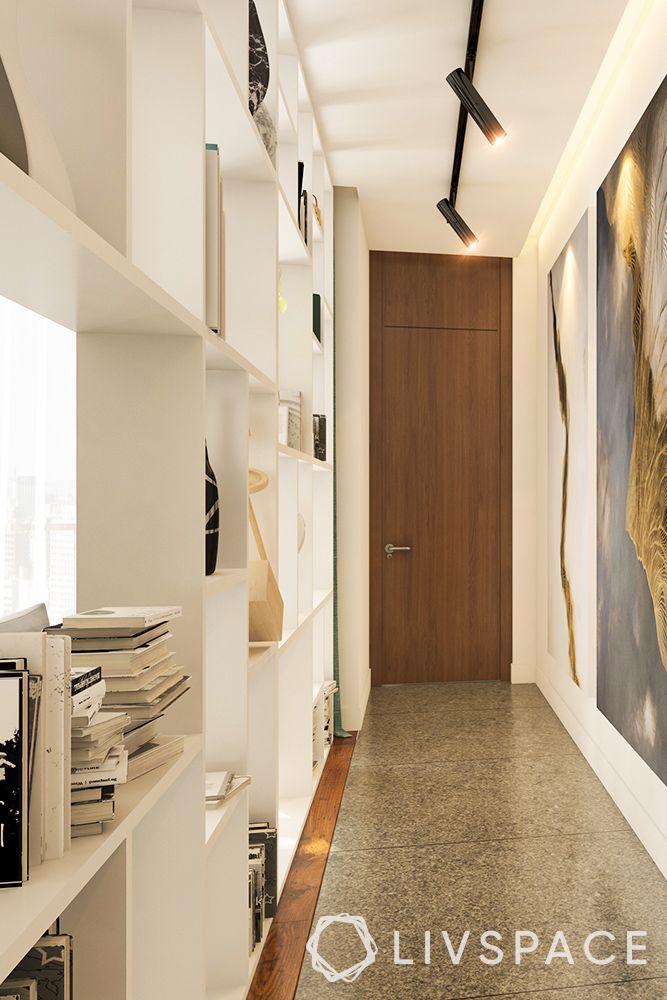 With HDBs as small as they are, storage is always on our minds. So how about converting your recess area into a storage space altogether? All you need to do is line your walls with seamless cabinets for extra storage.
If cabinets are too bulky, you can also consider using in-built wall shelves that function as a display unit.
4. Consider Renovating Your HDB Corridor Recess Area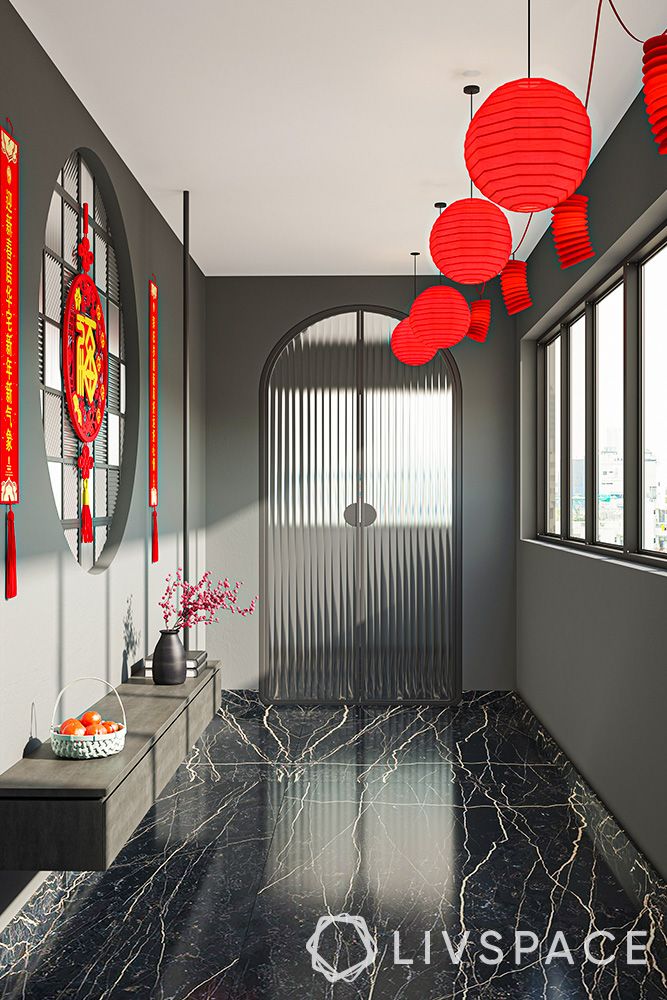 If you've purchased your outdoor recess area, chances are you have a lot more space to work with. And of course, since this area forms the approach to your home, you'd want to make sure it looks as good as it can. So, bring this into the scope of your HDB renovation while doing up your interiors.
You can consider changing the floor tiles or adding some cabinetry outside your HDB for added functionality. Additionally, if you love to decorate, this area can easily be done up for festivals like Chinese New Year as and when the situation calls for it.
5. Accessorise With Wall Trims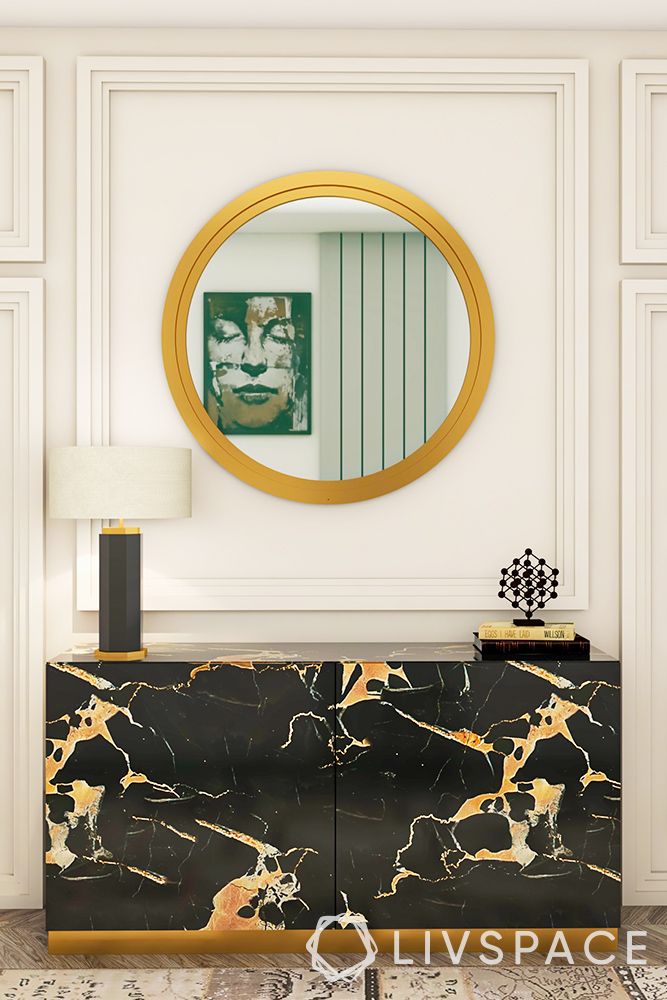 If you've seen some of our contemporary style homes, you might notice something most of them have in common. Figured what it is? It's wall trims! These framed trims are often characteristic of contemporary style homes and can be used in an abundance of ways.
For your HDB recess area, you can do the entire wall up in trims and place some artwork inside each frame. This can be a fun take on wall design for the uninitiated as well.
Also Read: 6 Problems, 6 Solutions: Practical HDB Design Ideas From Our Best Homes
6. Add Architectural Elements Like Arches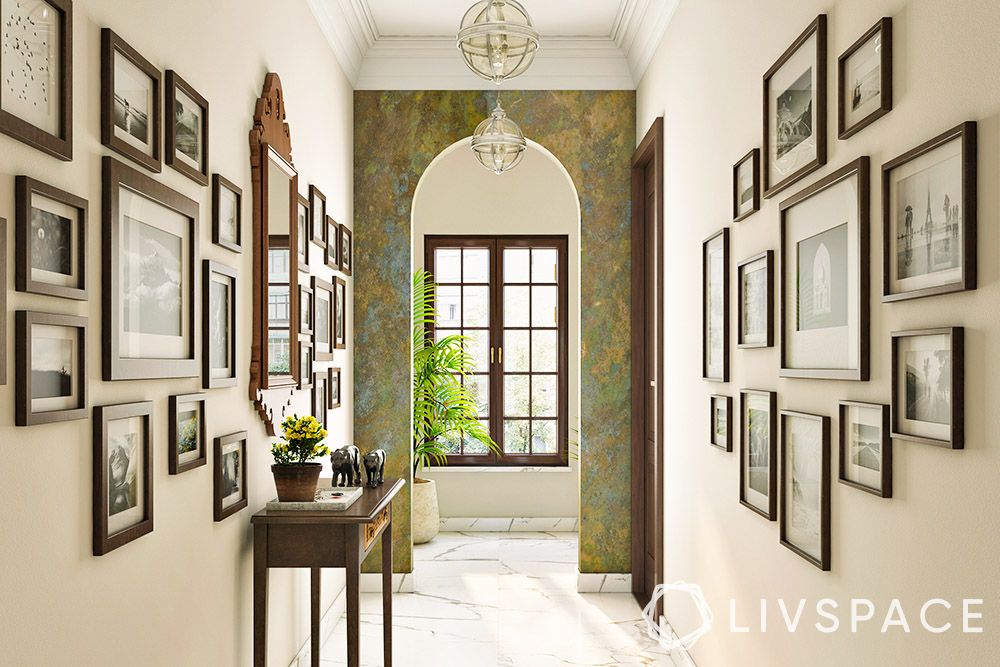 It's no surprise that arches are all the rage these days. Whether they're used as wall niches or in passageways, they surely add a chic touch to your interiors. So, if you're dealing with an indoor HDB recess area, you can use this element to define the space, creating a decorative element.
7. Put Some Abstract or Quirky Prints on Display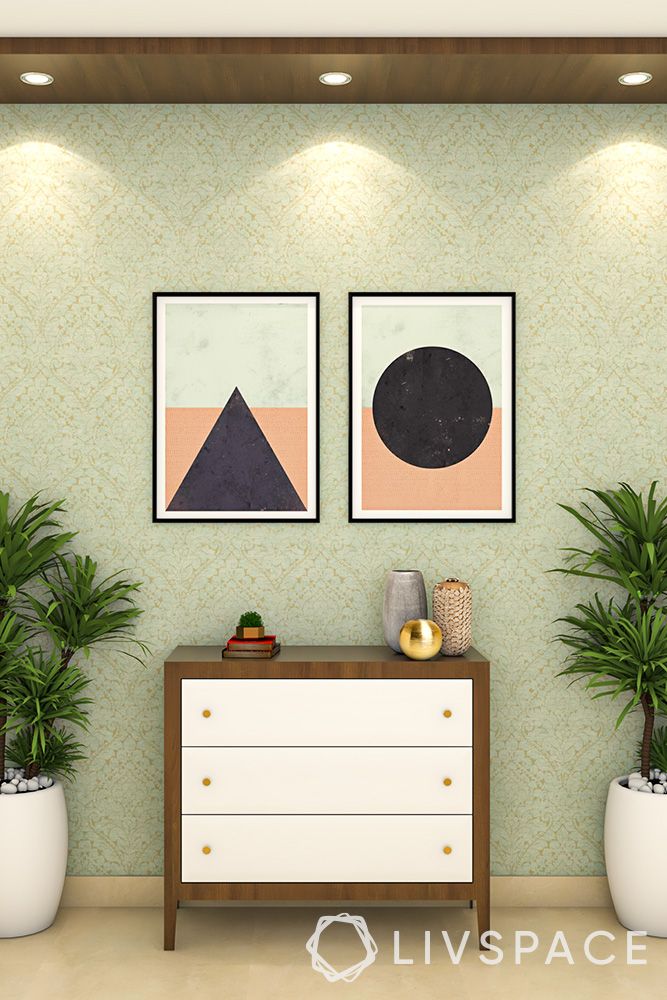 Using artwork is the simplest and most cost-effective way to decorate a space. This is because you don't necessarily need expensive pieces to showcase. All you need is a picture you like and a nice frame to match it. With a couple of illustrations or graphic designs, you can accessorise your HDB recess area to match your interests.
8. Conceal It With a Wall Design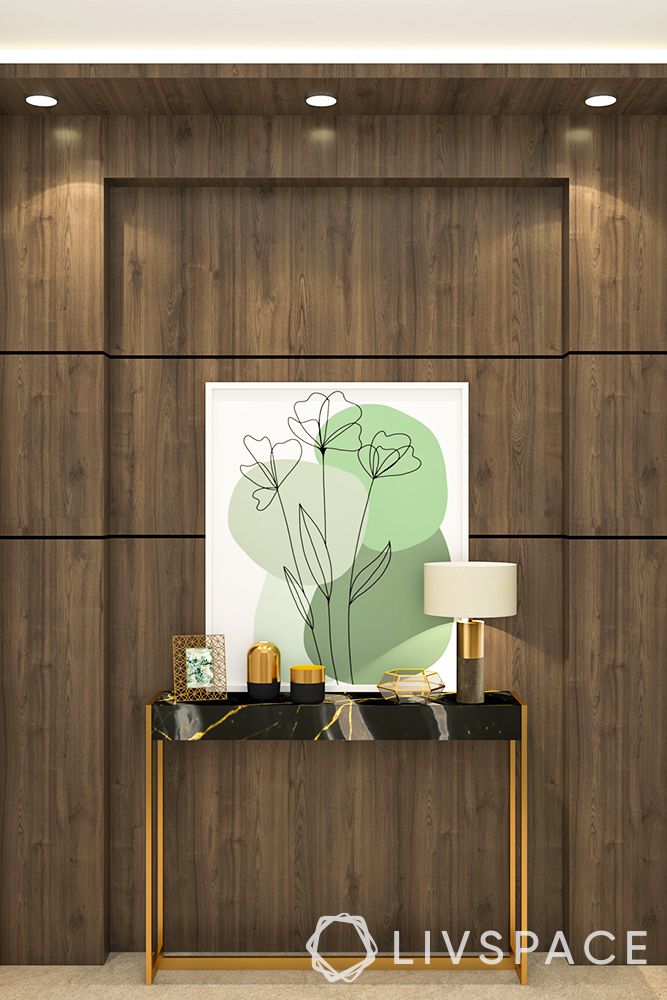 If you feel like these recess areas just aren't for you, you can always conceal them with a bit of design magic. You can build a facade over it with different textural elements or accessible panelling for added storage.
9. Create an Illusion With Different Materials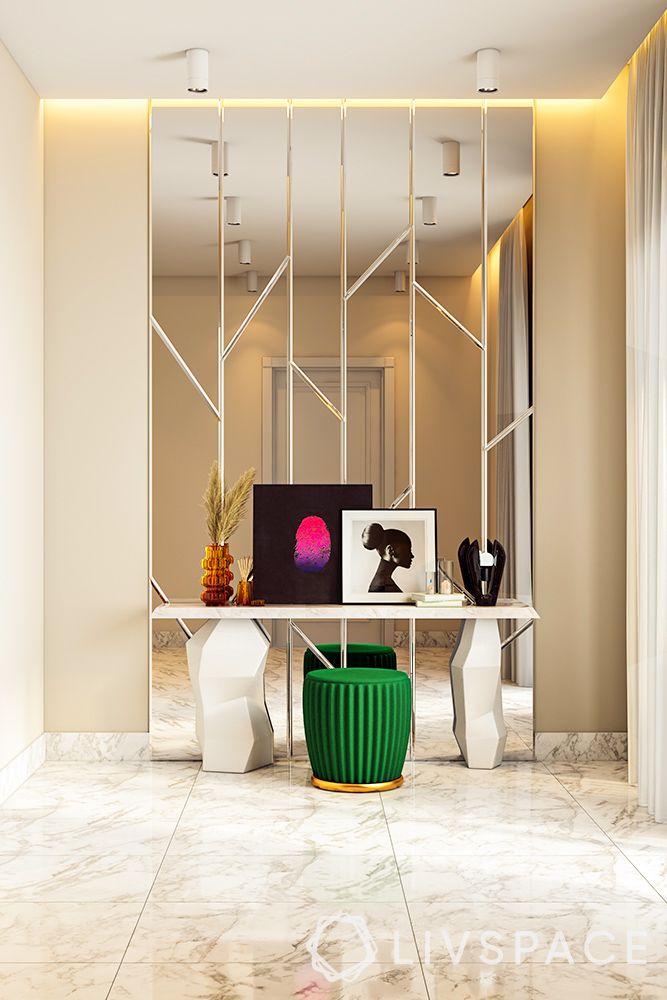 If your HDB is on the compact side, there's a neat trick you can pull to visually elongate the space. Throw some mirror panelling onto your HDB recess areas and watch as it instantly adds depth to the room. This works because mirrors are space-optimising design elements and are great for opening up a small space.
10. Carve Out a Seating Area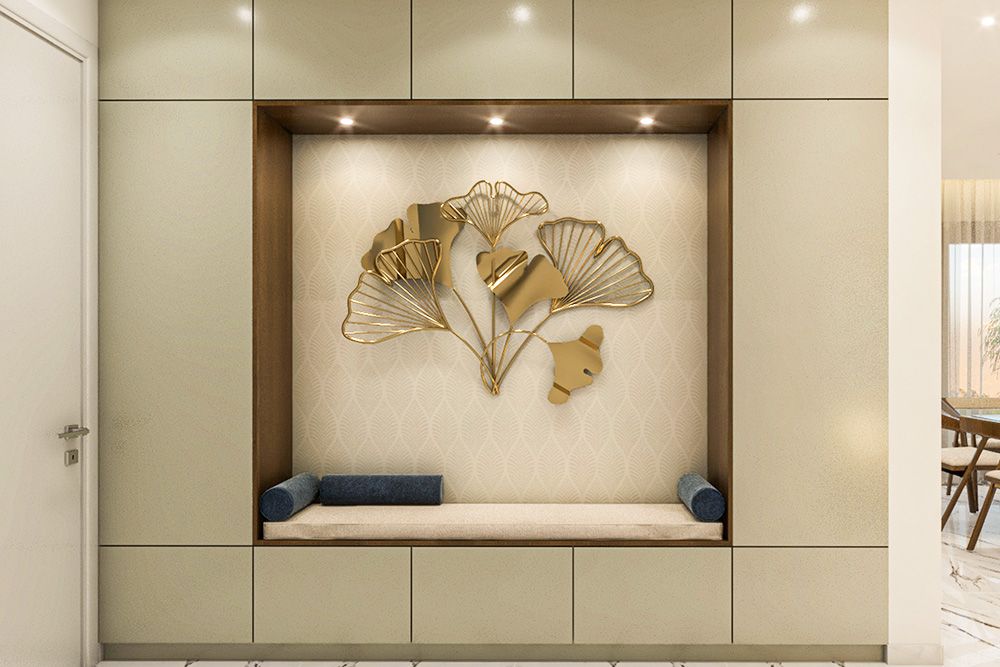 What better way to add some function to your HDB recess area than with some seating? Besides making this space all about storage, you can also carve out a seating niche where you can curl up with a good book.
However, do note that such niches can run the risk of looking dark or dull. So, be sure to illuminate the space with appropriate lighting fixtures such as LEDs or profile lights.
Also Read: How to Set Up a Foyer in 7 Easy Steps? Trending Foyer Designs Included
11. Decorate It With Plants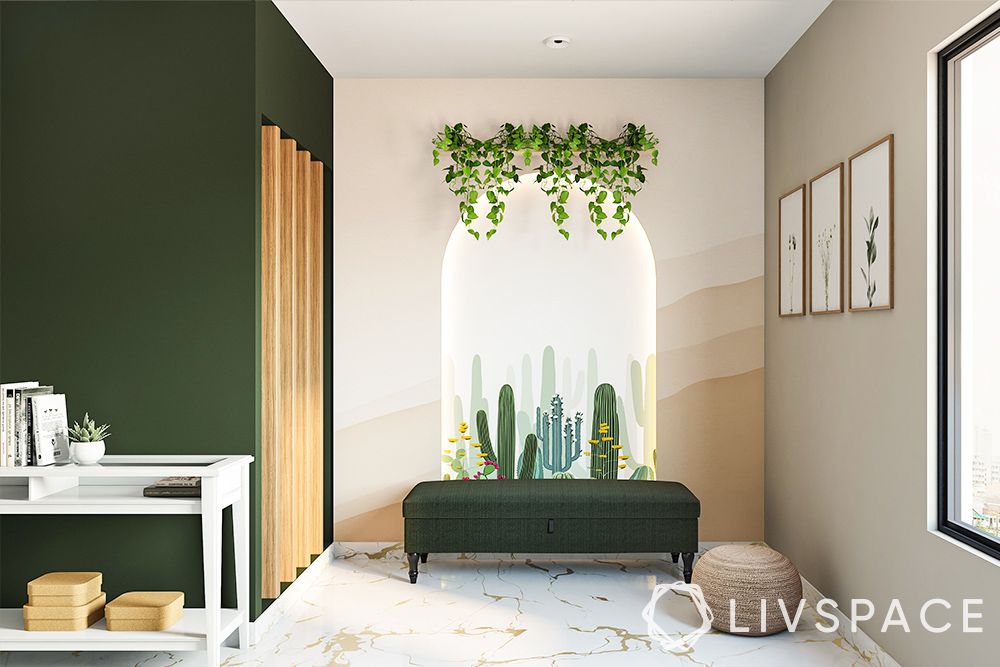 Think about it: there's no interior design style that won't be improved with a bit of added greenery. Creating the perfect escape from our concrete jungles, plants are a sure fire way to spruce up your HDB recess area. Consider detailing this space with hanging planters or potted plants. If you'd like to take it a step further, you can even consider adding a vertical garden to it.
For our low-maintenance design fans, you can also settle for a wall mural of plants to bring in some greenery. That is, of course, if growing plants is not your cup of tea.
12. Embrace Cultural Design With Peranakan Tiles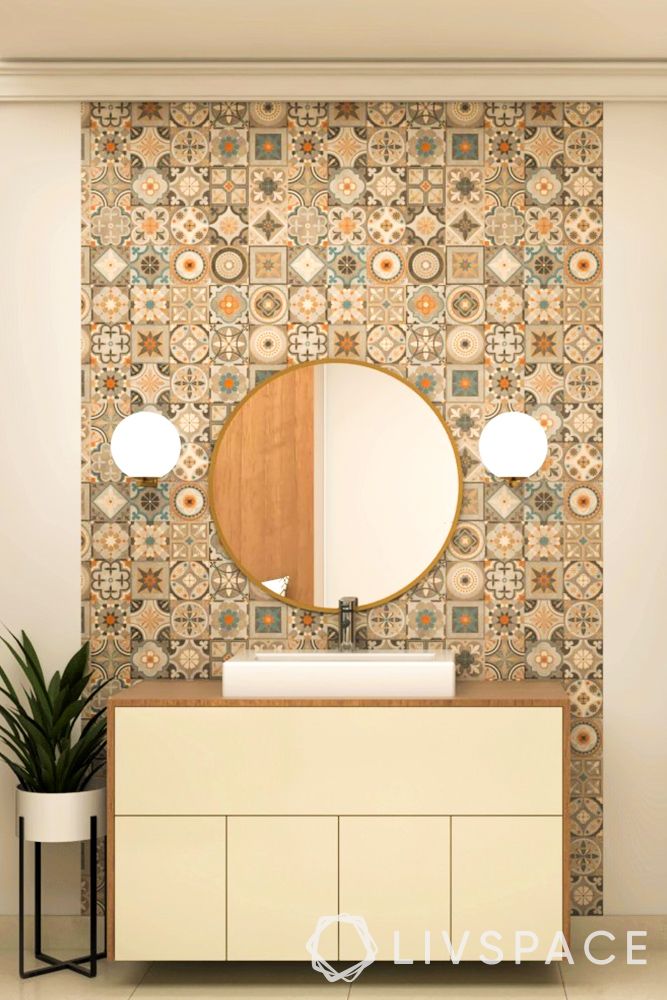 Nothing says Singapore like the rich history of peranakan tiles that we hold near and dear. If cultural appreciation is your thing, you can use it to decorate your space. Use some peranakan tiles on the floors or walls of your HDB recess area, and you have a new statement piece at home!
13. Make It Functional With Shoe Storage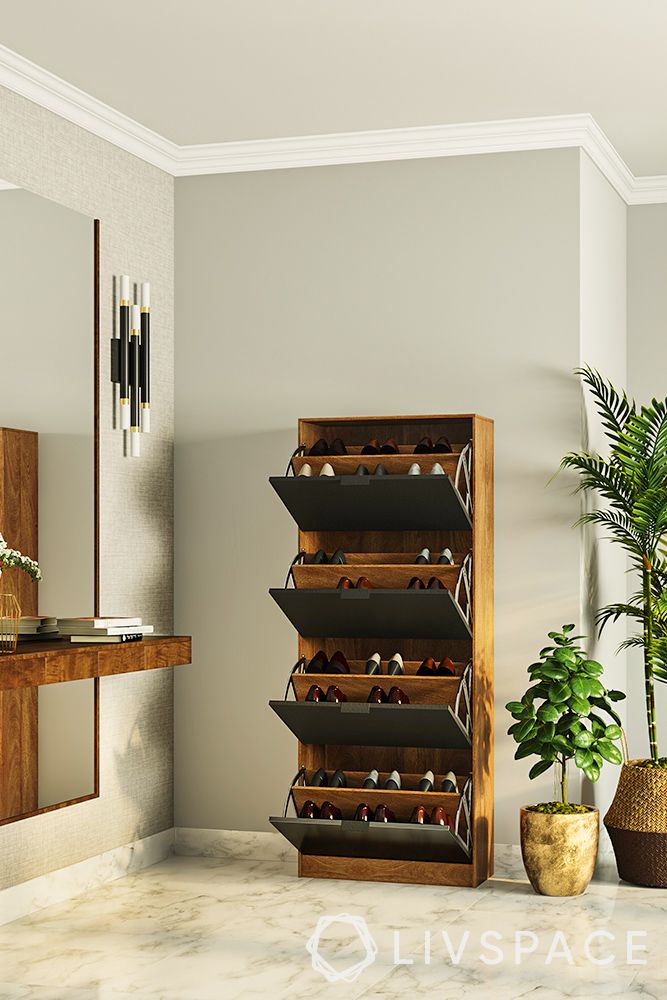 Among the many storage units you can add to this space, shoe cabinets are an easy contender. Opt for a seamless cabinet without handles, so it can tie into the rest of your interiors without drawing too much attention. This also helps keep your space clean and free from clutter.
14. Accentuate the Space With Lighting Fixtures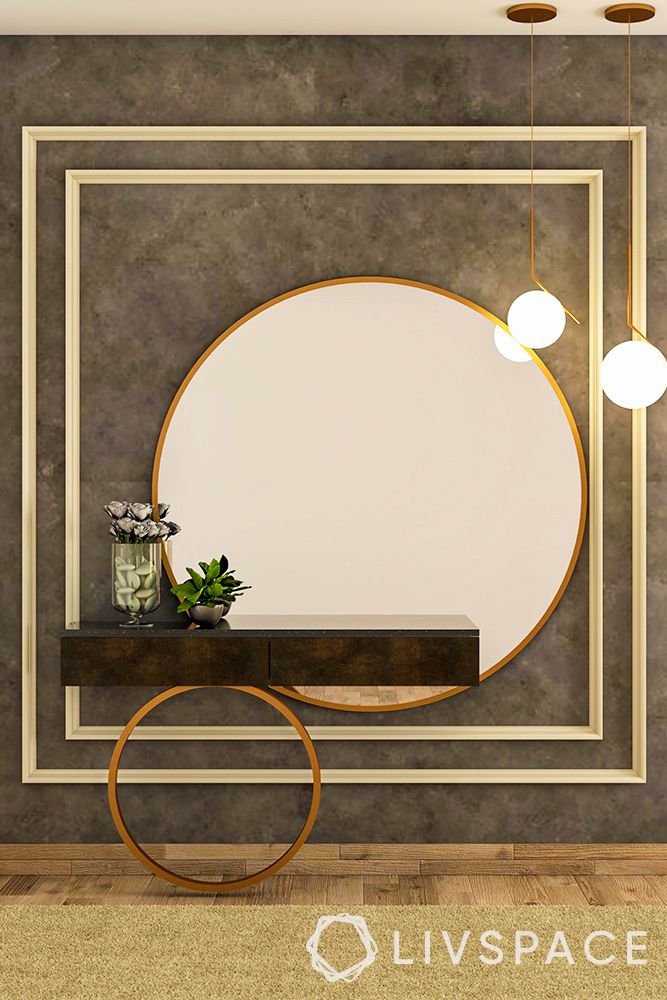 No design list is complete without talking about the importance of lighting! Even your HDB recess area can benefit from the use of different lighting options. Besides going for the usual pairing of recessed lights and task lights, also consider pendant lights or sconce lights to accentuate the space.
How Can Livspace Help You?
We hope you found these HDB recess area designs useful! If you want your home to be just as beautiful, then look no further. Book an online consultation with Livspace today.
Have some comments or suggestions you'd like to share with us? We're all ears! Feel free to write to us at editor.sg@livspace.com.
Disclaimer: All contents of the story are specific to the time of publication. Mentions of costs, budget, materials, and finishes can vary with reference to current rates. Talk to our designer for more details on pricing and availability.