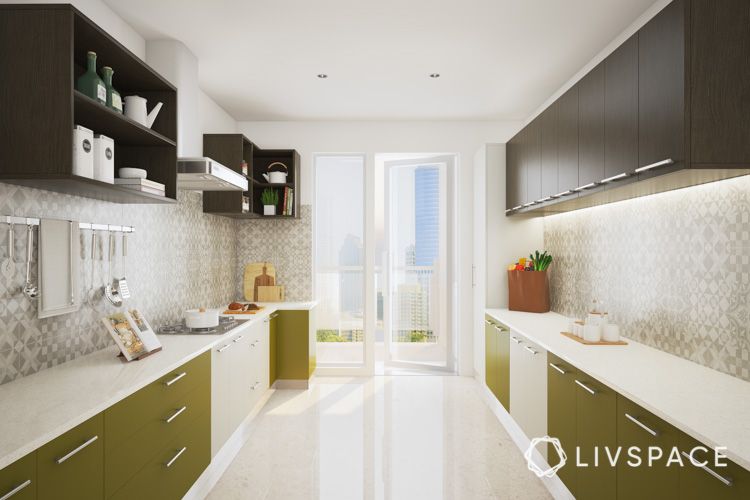 Do you want to get a new kitchen on a budget? Well, you'd do well to learn how and where to save or splurge. Designers might advise that if you want your kitchen to look good and last for a good number of years, you must spend a sizeable amount on it. We do not dispute that kitchens are a long-term investment. However, there are ways to get fast affordable kitchens if you plan well. All you need to know is where to spend and where to save in your kitchen interiors.
Here are a few design hacks that you can use to get a new kitchen on a budget that does not burn a hole in your pocket.
Splurge #1: Good Quality Countertop Material
Your countertop material is the most functional space in your kitchen; it basically comprises your work station. Moreover, a fine countertop can single-handedly up the glamour quotient of your kitchen. So don't make any compromises when it comes to countertop material. Pick a material that is both sturdy and appeals to your aesthetics. Your choices to get a new kitchen on a budget include quartz, kalinga stone, Corean stone and high-grade granite.
Save #1: Innovative Backsplash Materials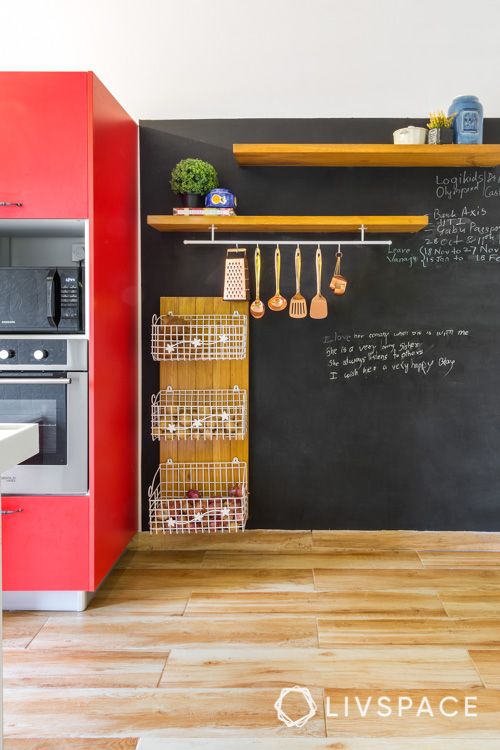 While the countertop is where you work, backsplashes are mostly for cosmetic purposes. Hence, you can get creative with your choice and also save some bucks! Our suggestion would be to try blackboards for backsplashes. Not only does it help you make shopping lists and plan menus, it is also exceedingly affordable. Apart from that, back painted glass for backsplash is a novel way to get a new kitchen on a budget.
Splurge #2: Hardware, Handles & Handles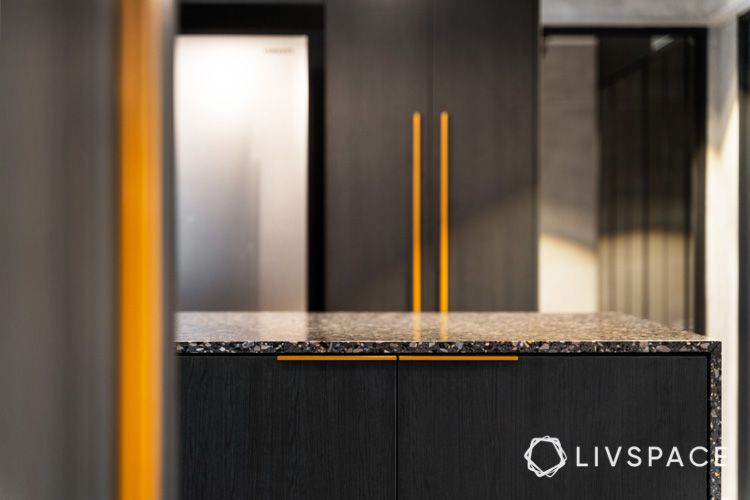 If you have the experience of using a kitchen for a few years, you would know that the first things to give way are the handles of cabinets and drawers. As handles are essential for using a modular kitchen, invest in them. The other things that are used just as much as handles are hinges and other hardware holding your kitchen modules together. Such hardware form the skeleton of your kitchen, making them worth their cost for fast affordable kitchens and premium ones alike.
Save #2: Sink & Faucets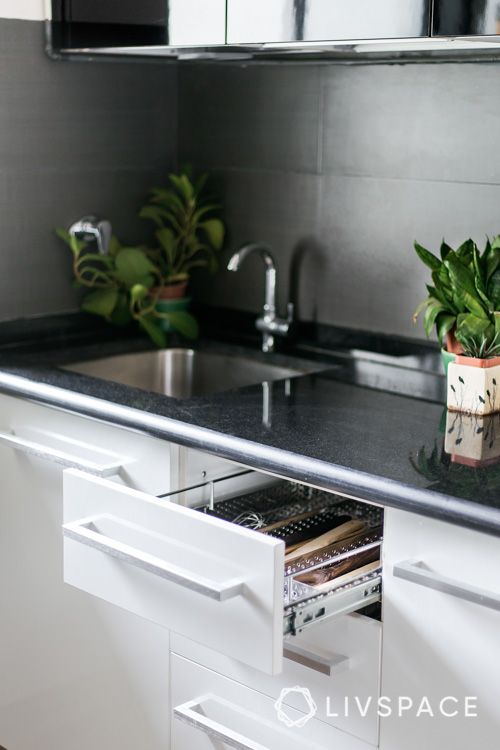 Let us tell you a well kept design secret. If you have a kitchen that whiffs of refinement with a classy countertop, you can easily install a budget sink in it. No one will really notice! Sinks and faucets are standard fittings for a kitchen that have a charted shelf life. But you don't have to strain your budget for these because they are easy to replace.
Splurge #3: Drawers Instead of Cabinets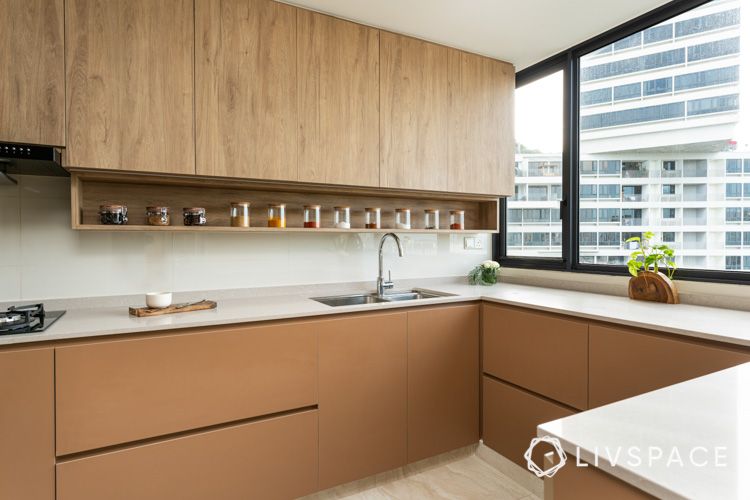 Did you have any idea that drawers are much easier to use than cabinets in a kitchen? However, they do shoot up the cost of your kitchen interiors. Elderly people genuinely benefit from having drawers instead of base cabinets as they do not have to bend as much. But, you might as well go with drawers because none of us are getting any younger!
Save #3: Open Shelves for Pantry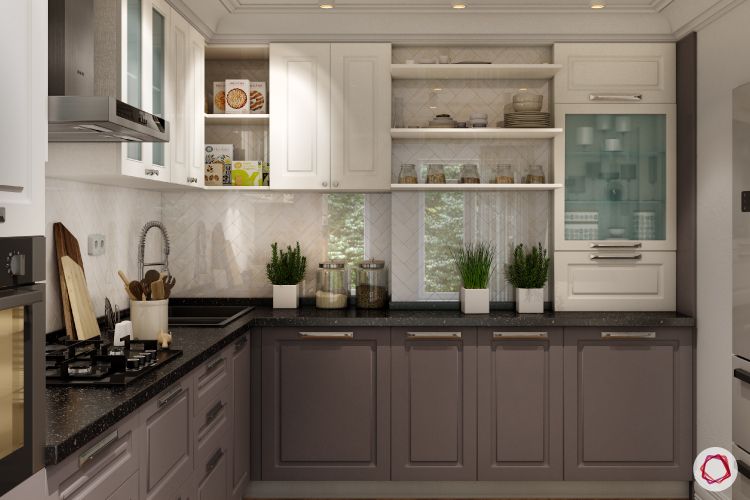 If you are a stocker (we mean the kind that hoards groceries for a rainy day), then having a pantry is essential to keep your provisions organised. However, tall units with pantry pull-outs cost a fortune! So the desi jugaad for a pantry pull-out is open shelves to get a new kitchen on a budget. This works perfectly is you have a niche in your kitchen that is not being used for anything else.
Splurge #4: Sturdy Carcass Cabinets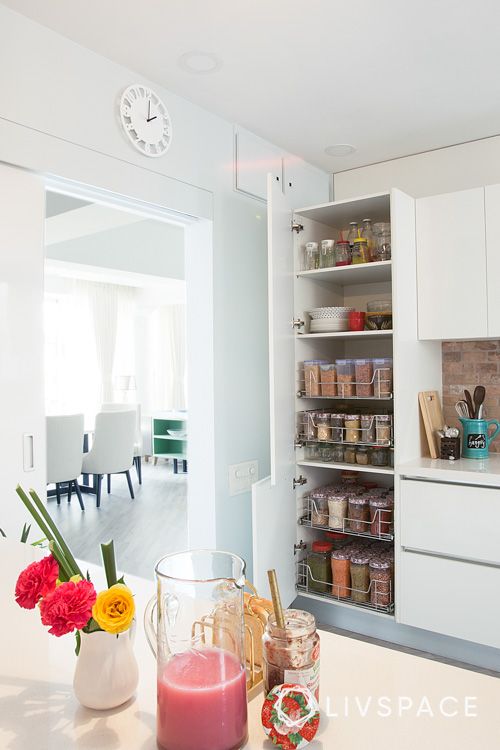 Usually, we are too enamoured with the finish of kitchen cabinet shutters to care about what lies inside. But if your kitchen must bear the test of time, you need to opt for long-lasting carcass cabinet materials. If you must cut corners, opt for cheaper shutters because they can be easily replaced. But the carcass cabinets need to be your biggest investment even if you are getting a new kitchen on a budget. Simple tricks like using BWR (Boiling Water Resistant) ply instead of normal plywood in the wet areas of the kitchen, have far reaching effects on your kitchen's longevity.
Save #4: Glass Shutters & Shelves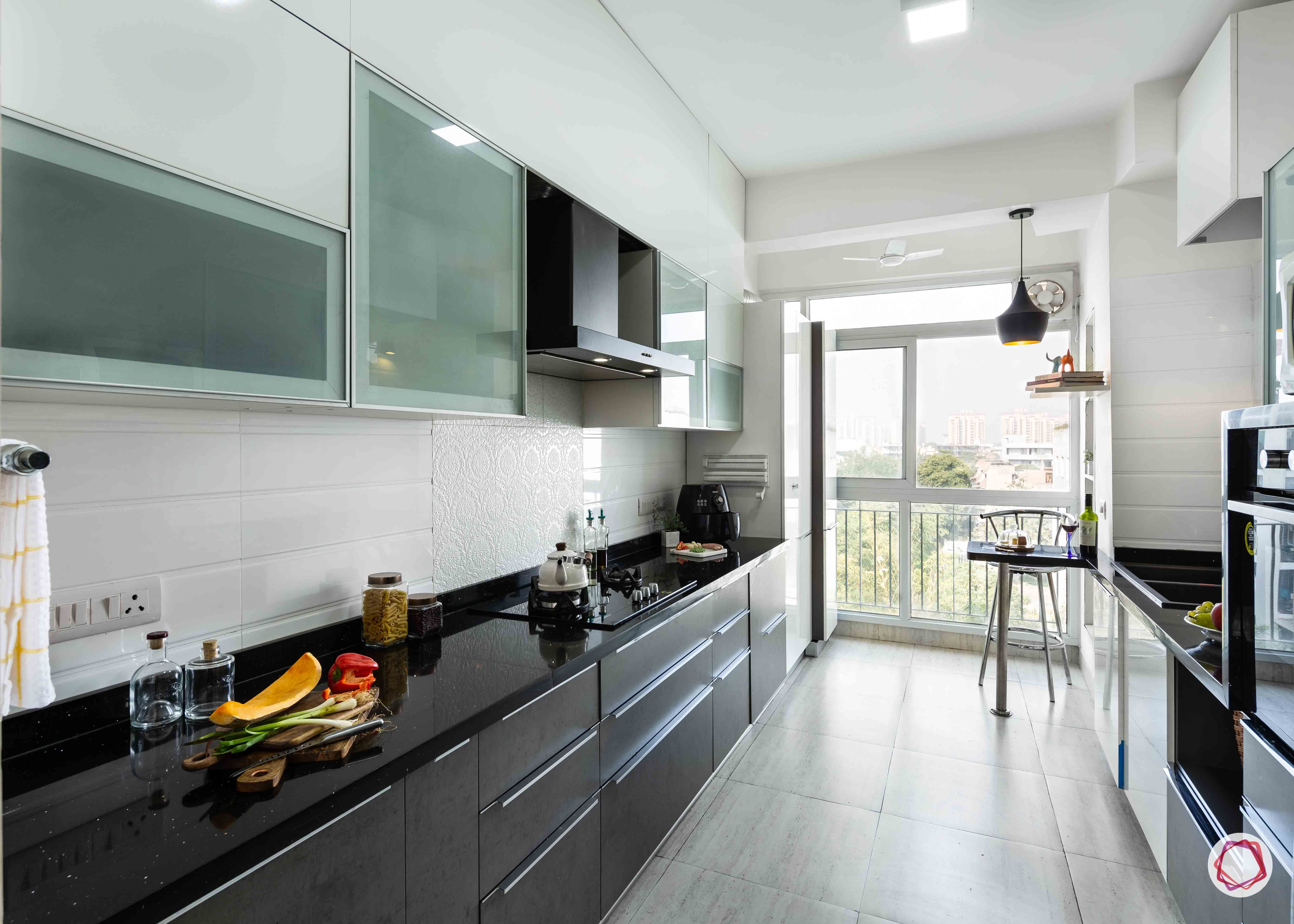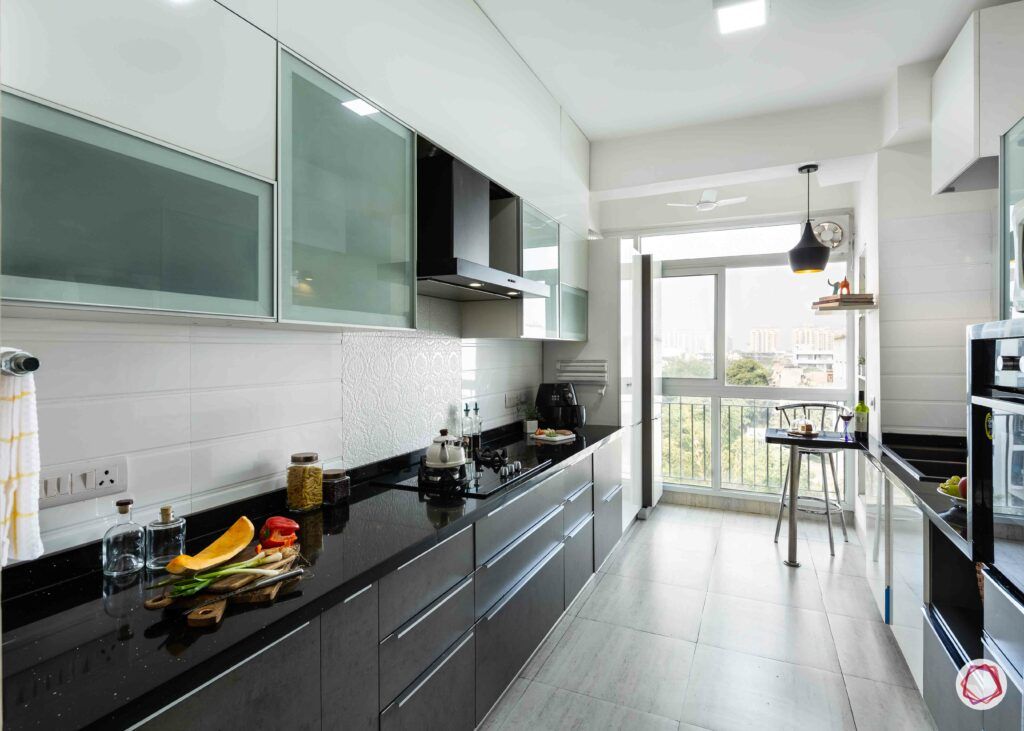 Glass as a material costs less than plywood so naturally having a few glass shutters in the kitchen is a good idea. Apart from being cheap, it also adds depth and variety to your kitchen. The same logic applies to shelves. Glass shelves are great for display, easy to clean and suffice to hold spice containers or other lighter objects. Having glass shelves within cabinets is the best way to get fast affordable kitchens.
Splurge #5: Energy-efficient Appliances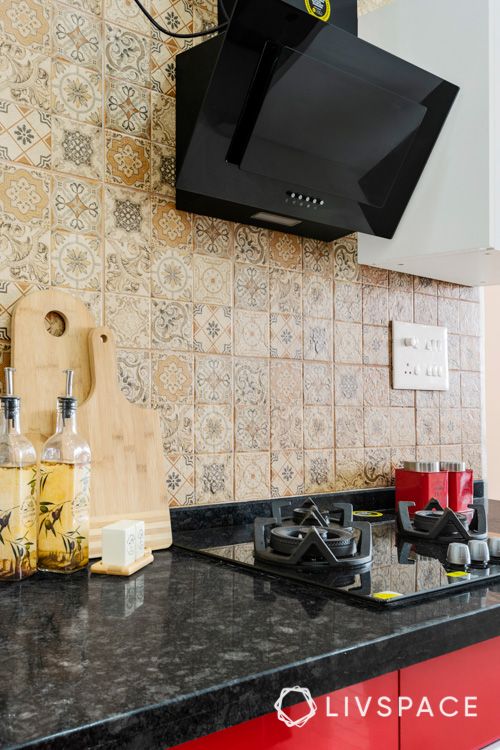 Sustainability is the need of the hour, and thus, energy-efficient appliances will help you do your bit for the environment. However, there is a totally selfish reason to buy efficient appliances; they cut down your electricity will every month! So these appliances, though expensive, are a one-time investment that gives you returns month-on-month. So smart appliances better be on your checklist for designing a new kitchen on a budget.
Save #5: Wall-mounted Open Units for Appliances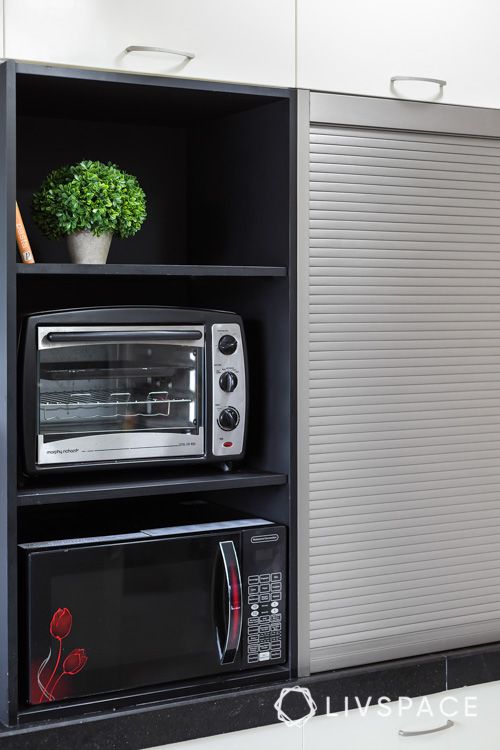 While you need to invest in the appliances themselves, storing them is a matter of less urgent attention. If the tall cabinets for inbuilt appliances pinch your pocket, opt for wall-mounted open units. These modules cost less than inbuilt units but serve the same purpose of maximising counter space.
Tour this 3-room resale HDB:
If you've found this piece about affordable kitchens informative, also read How to Make the Most of Your Compact Kitchen where you'd find more clever, easy solutions for your kitchen design and layout.
Send in your comments and suggestions.