They're bright, they're clean and they're classic. Wondering what we're talking about? We're talking about white kitchens! If you hate having to choose between colours, make your life a little easier and opt for a white kitchen! And if you thought white kitchens look boring, then these ideas are going to change the game. Check out how you can add that one striking feature in your white kitchen to make it grab everyone's attention.
#1: Get a pop colour ceiling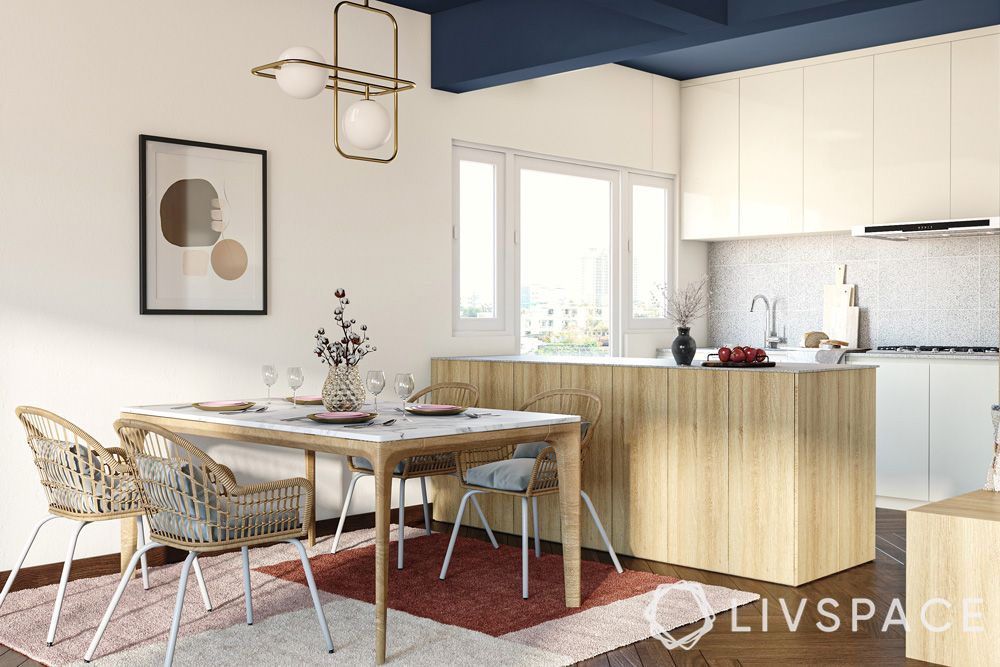 If you are not too ambitious and do not want to "spoil" your all-white kitchen look with a colour, we suggest you focus on the ceiling. Consider adding a pop of colour to your ceiling just to break the monotony. Also, if you don't have free walls in your white kitchen but still want one feature wall, then this is your answer. Colourful ceilings look stylish and a lick of paint will not cost you a lot. What's more, you can change the colour when you please!
#2: Treat the backsplash like a canvas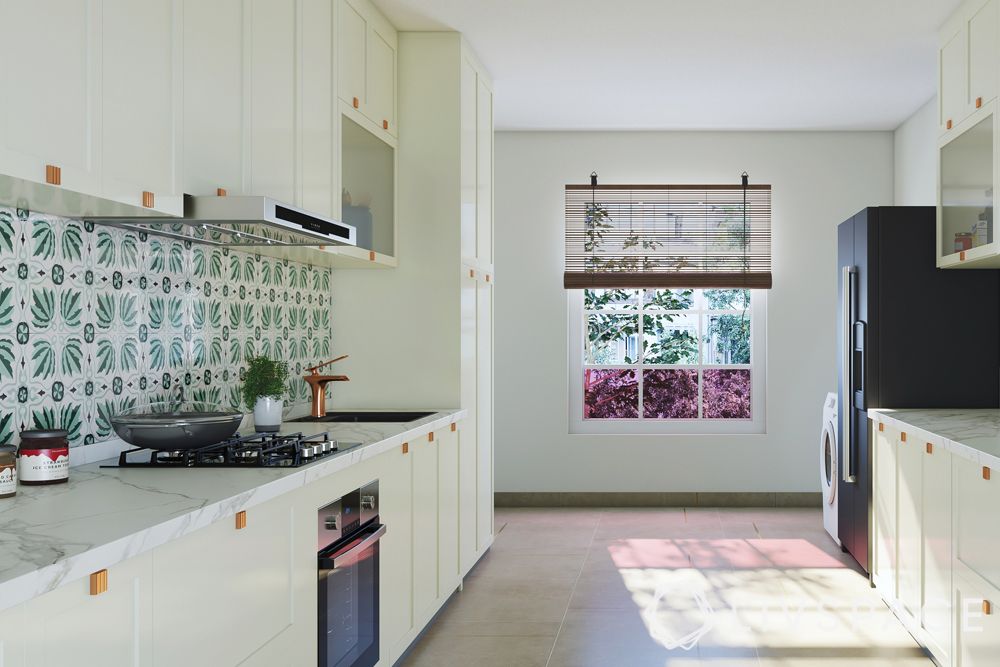 Tiles for the backsplash are a given in most kitchens these days but when it comes to white kitchens, there's so much room to play with options! You can opt for a rugged look with an exposed brick wall or keep it classy with marble. But if you are looking for simple tiles to add to your backsplash, we suggest you go choose printed ones like this leafy print. An all-white kitchen with pretty printed tiles can turn your kitchen into a work of art.
#3: Balance it with black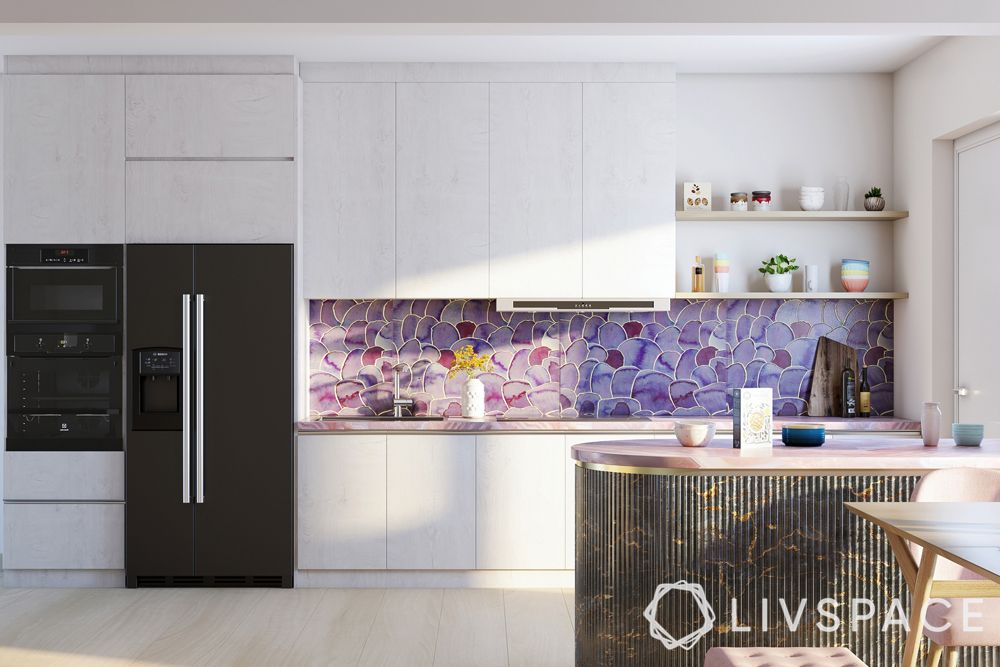 The yin-yang of kitchen design! You can still bring in an element of the dark into your white kitchens. Our favourite trick is to add black appliances. They look ultra-chic and will satiate your need to break the monotony. Alternatively, you can add one set of black cabinets to your largely white kitchen for that perfect contrast.
#4: Add a cosy breakfast table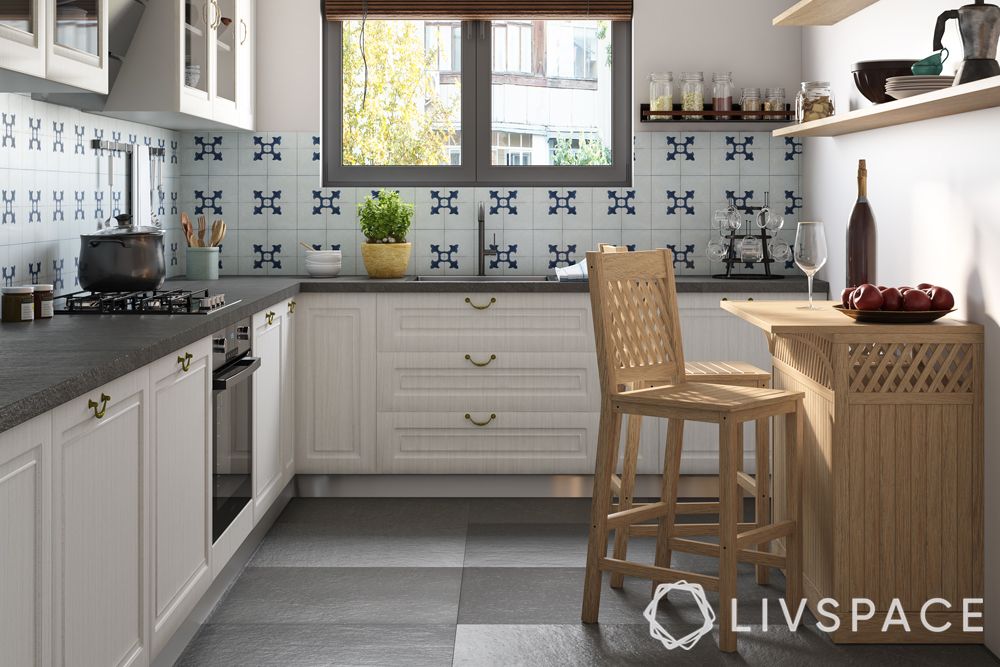 One of the cutest ideas to decorate a white kitchen is to add a compact breakfast counter in one corner. We are crushing on this wooden table for two with a lattice pattern on it along with the chairs. You can also consider adding wall shelves for extra storage space. This is a much-needed warm addition to a stark white kitchen and a perfect way to nail that country-style look.
#5: Get some fun lights and add planters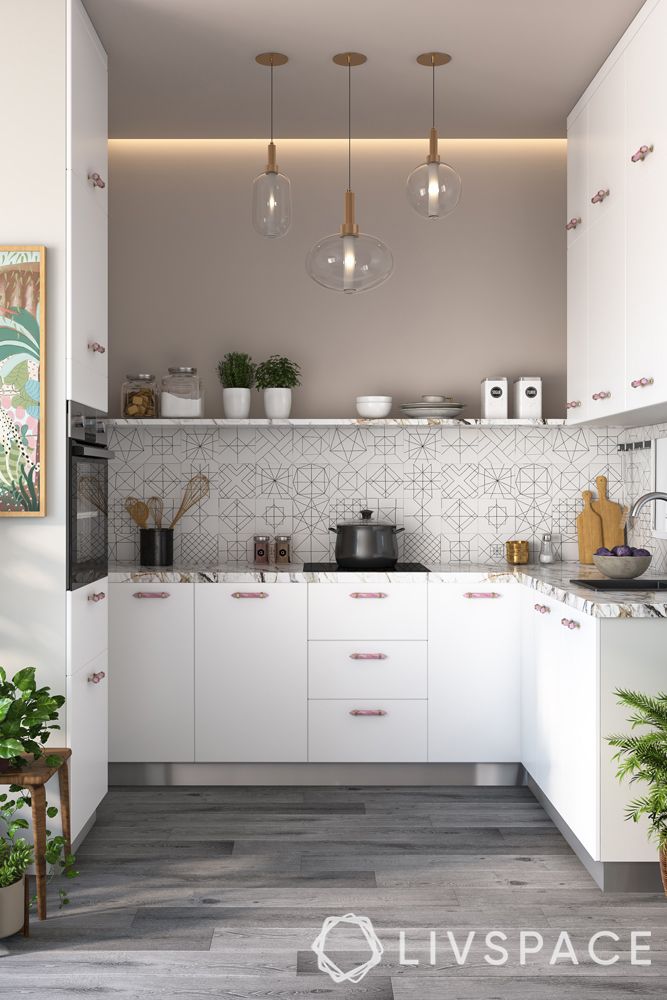 If there's one thing that can change the look of any room, it has to be the lights that we add to it. In this brilliant white kitchen here, the bubble glass pendant lights add that fun element. They do not disturb the clean look of this kitchen, while also pairing beautifully with the cabinet handles. Tiny pots of plants and framed greenery can add the right amount of liveliness to a compact kitchen like this one.
#6: Keep it classic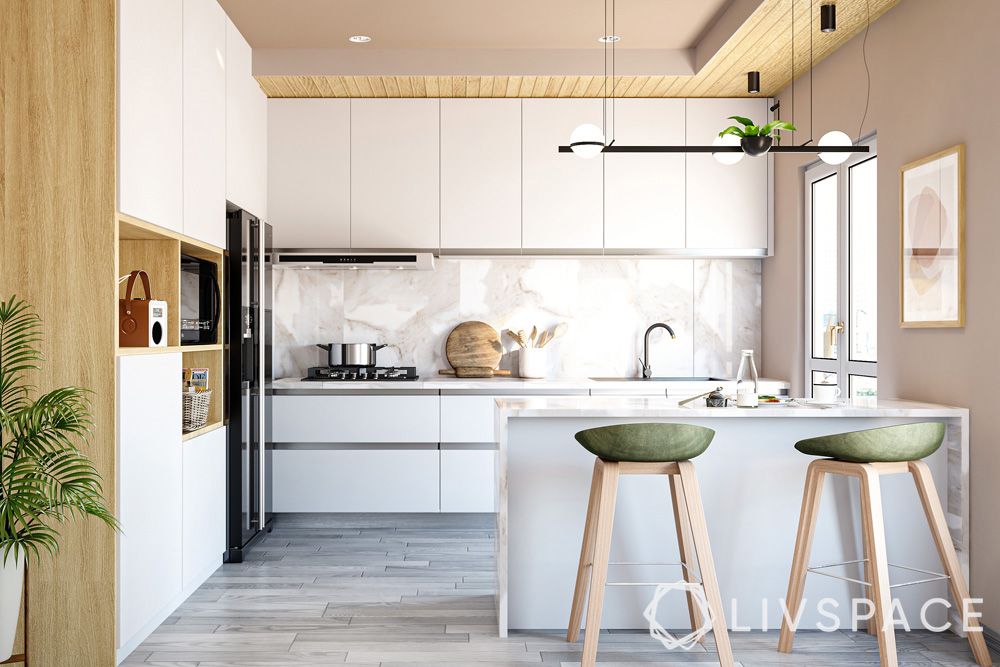 There's nothing like a classic white kitchen. And when you've decided to go for this look, then why not go all out? Yes, you will have to maintain it well, but you also will feel so energised and lively while working in a white kitchen. While keeping the whole look consistent, you can still add bits of decor like plants, quirky lighting and wooden barstools to shake things up a bit. And remember one golden rule—light wood and white pair like a dream.
Check out this black, white and grey resale HDB:
For inspirational backsplash designs, you can check out How to Get a Good-looking Backsplash on a Low Budget.
Send in your comments & suggestions to editor.sg@livspace.com.