Although we don't need a specific day to celebrate the women we love and respect, it sure is a good reason to do something special for them. This women's day, we wanted to curate a list of closet designs to inspire those of you looking to do something special for the women you care about. After all, what's a better gift than a beautiful closet she can use while getting ready to take the world by storm.
However, we'd also like to state that these designs are by no means reserved only for those who identify as women. Functionality and style is meant for everyone. So if you like some of these options, nothing's stopping you from having it as your next closet design!
So let's look at some stunning closet and wardrobe designs to inspire your women's day themed build:
#1: Like Displaying Your Clothes? Go for Glass Wardrobe Doors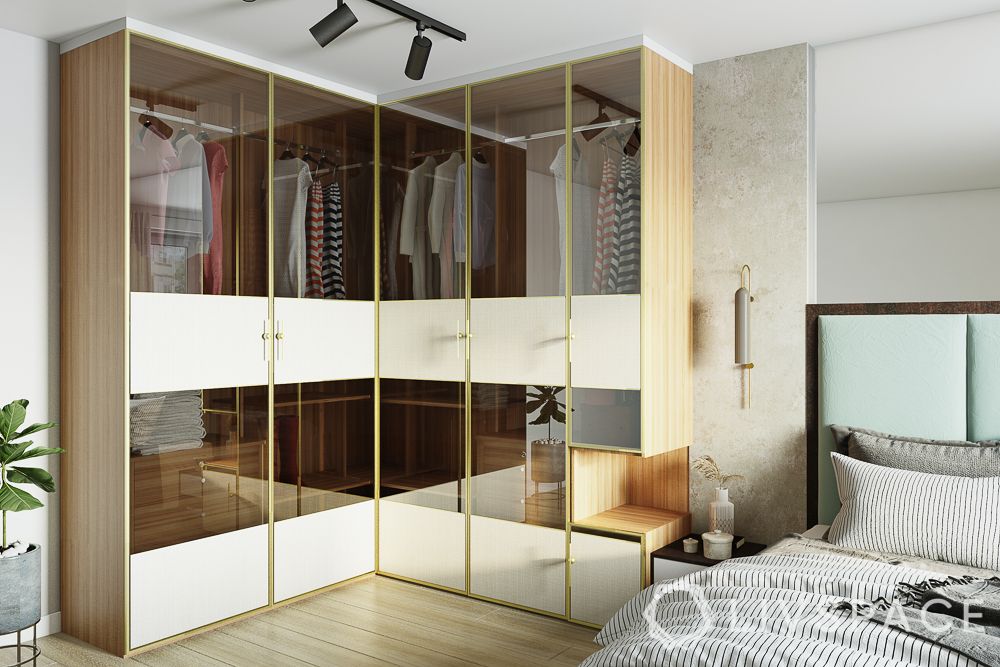 Sometimes, we might like the idea of having our clothes in our line of sight so that it's easier to find things in a rush. Or we might just enjoy being able to see them neatly folded or organised. Whatever your preference is, an open wardrobe is a great way to go about it.
However, you also need to store these items behind closed doors to protect them from dust or humidity. If you want a wardrobe that you can peer into while still being able to carefully store items behind a set of doors, you should consider a glass door wardrobe. So if you're in the market for a new wardrobe design, women's day is the perfect time to splurge a little!
#2: Sliding Wardrobe Doors For Those Who Like to Keep Things Private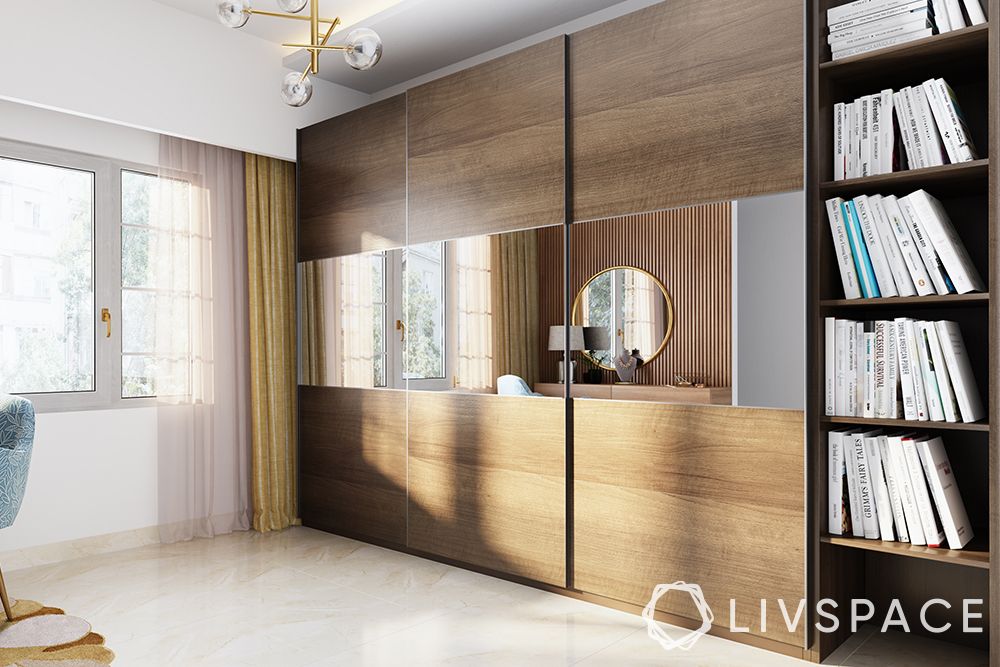 If you live in a home with pets or kids, things can get messy if they get into your closet area, which is also probably the last thing you'd want as a surprise on women's day. So in such cases, having an open wardrobe design might not be ideal. Instead, you can consider using sliding wardrobe doors to conceal your closet area and keep it out of reach from others. If you add a mirror to these doors, you can also bring some depth into your room.
#3: The One With the Makeshift Home Office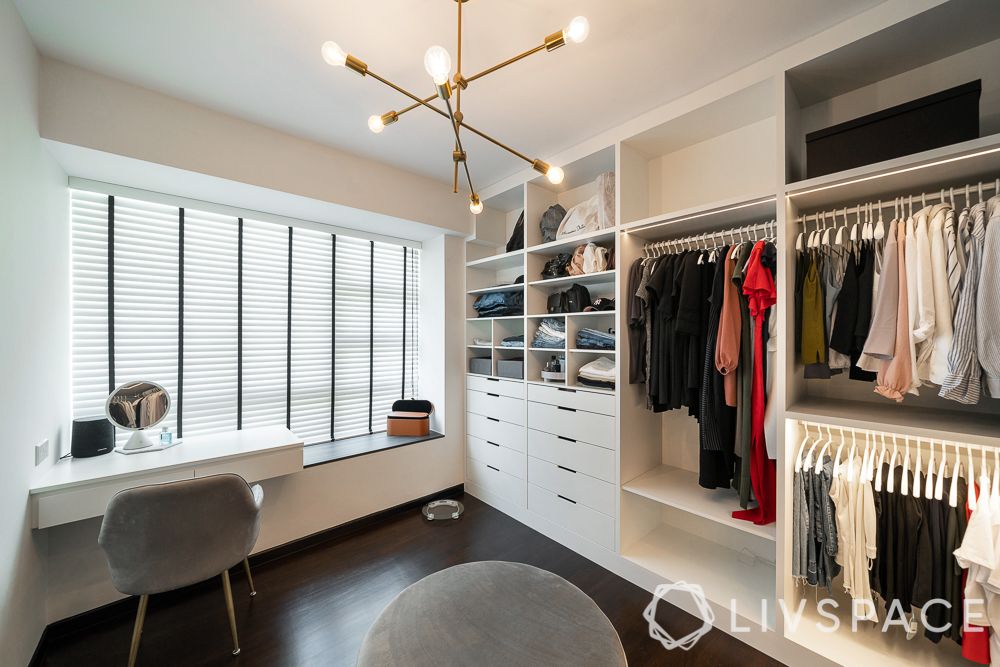 Combo deals are always a good find but sometimes you can make your own, depending on how creative you are. For those of you who are in a committed relationship with work and style, why not combine the two? If you already have a walk-in closet at home, throw in a little vanity area that you can use as a home office. Since women's day is all about feeling empowered, this would be a great way to get the best of both worlds.
#4: Make Your Clothes a Part of Your Room Design With an Open Modular Wardrobe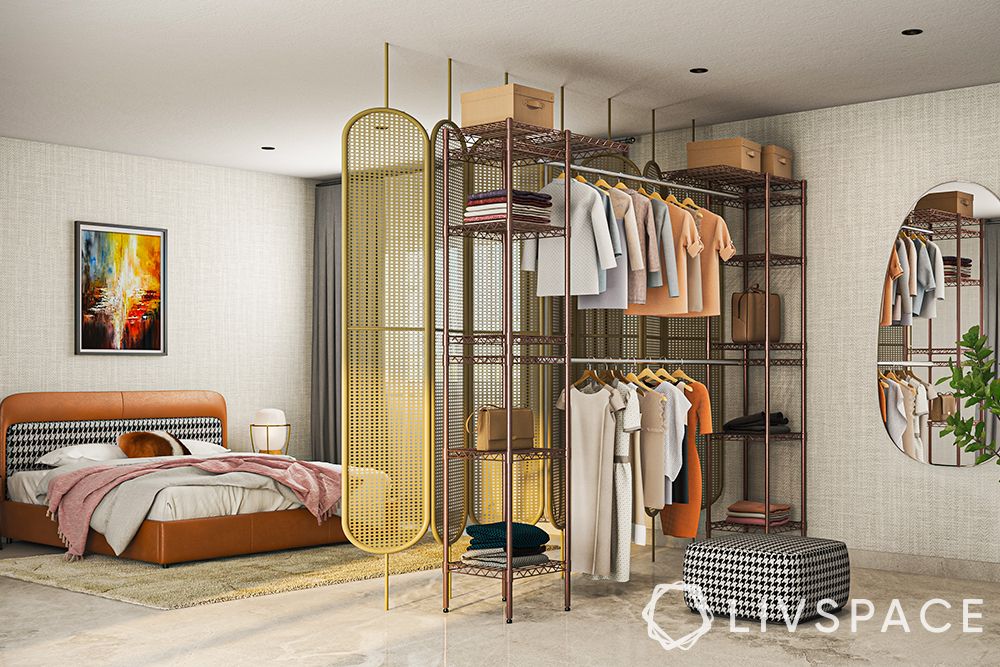 If you love the look of a built-in wardrobe design but aren't able to invest in one, it can feel a bit disappointing. But luckily there are easy ways to work around this. For a more creative option, you can opt for an open modular wardrobe instead. Better yet, you can even customise this to suit your space. Based on your storage needs, you can either choose a simple rack design, or a full floor-to-ceiling length unit for added storage.
What's more, this can also act as a partition wall in your bedroom depending on how you place it. So if you haven't tried this before, let this women's day be the inspiration you need to experiment!
#5: Devote One Wall of Your Bedroom to Make an Open Walk-in Wardrobe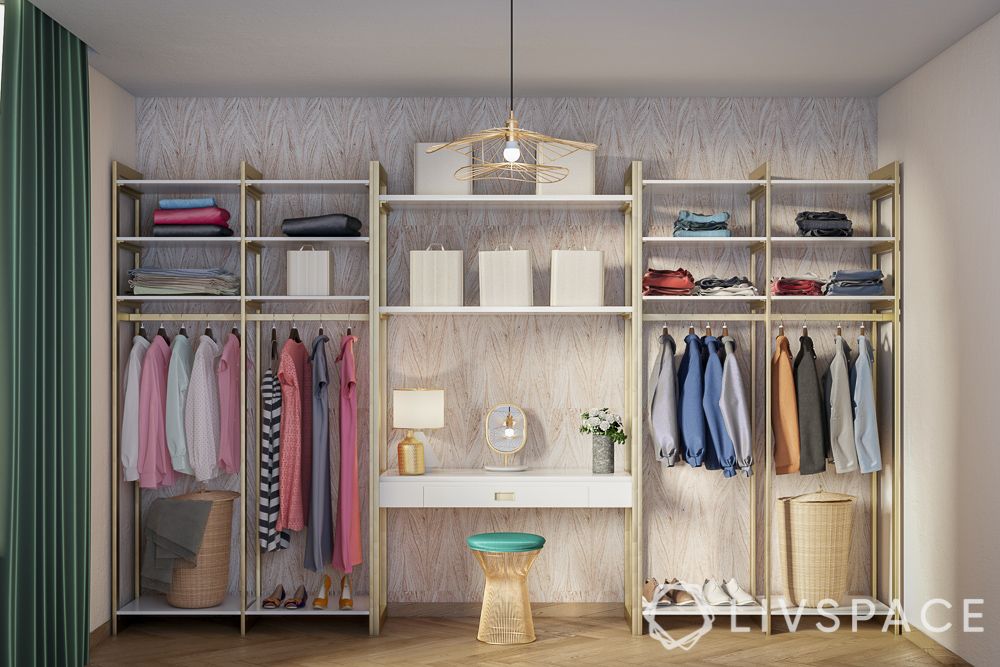 Do you have a lot of empty vertical space in your bedroom that you don't know how to utilise? If so, let us show you how. If you're looking for gifting ideas on women's day, adding a built-in wardrobe or closet to your home might not be feasible as it takes time to build. However, you can still use a portion of your wall to house a few open wardrobe racks.
You can either choose one with just shelves to store folded clothes, or you can opt for one with clothing rails to hang coats/dresses. Similarly, you can add a vanity area to complete the look of a walk-in closet and bring in more character. Whichever you choose, it's sure to be a welcome surprise and a great way to use up empty wall space.
Also read: 10 Bedroom Wardrobe Designs That We all Love in Singaporean Homes
#6: Make Use of Corners with a Chic L-Shaped Wardrobe Design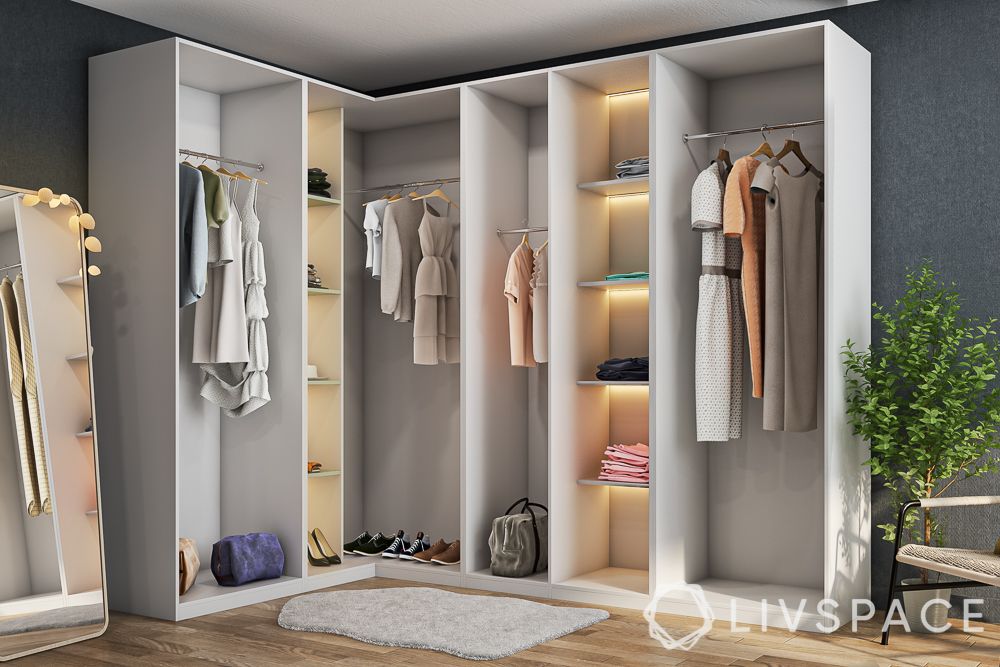 If you have empty corners but don't want to make them look cluttered, consider going for an L-shaped wardrobe. Also consider opting for a mix of clothing rails and shelves in your wardrobe design as the shelves can be used as display units for accessories. And if you already have a similar style wardrobe at home, you can always kick things up a notch by accessorising it.
Install simple task lights for each shelf so it's easier to see what's on them. This can also give an older wardrobe some chic-flair as a quick and easy women's day present. For more ideas, also check out How to Pick the Right Wardrobe for Your Room?
#7: Use a Partition Wall to Segment Your Master Bedroom into a Partial Walk-in Closet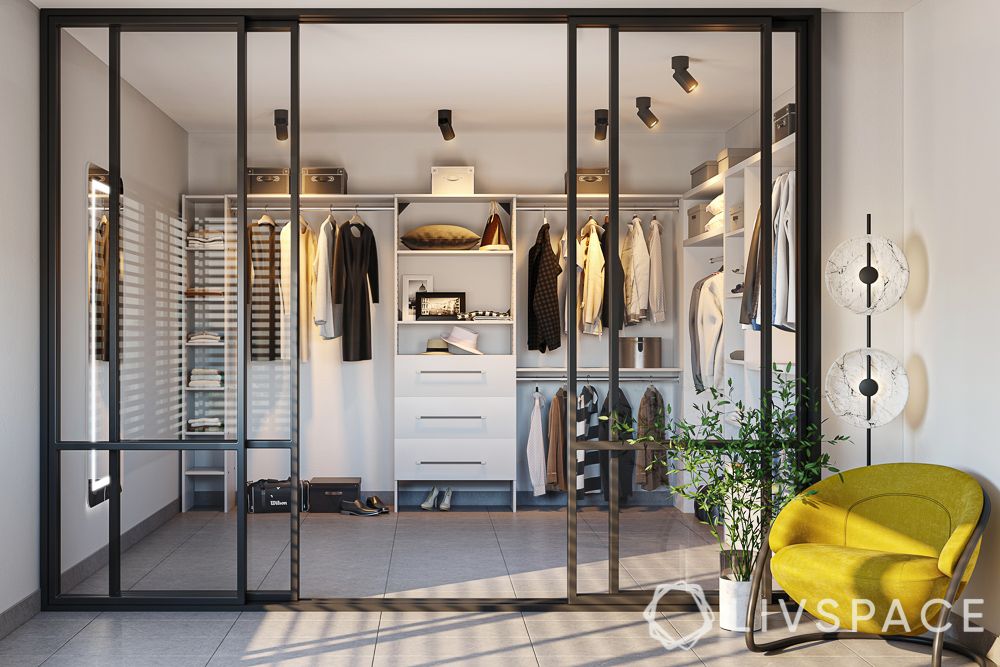 Spacious bedrooms are always bursting with possibilities when it comes to design. There's so much you can do with extra bedroom space, so why not try a walk-in closet design this women's day? The reason this is a great way to jazz up your space is because it doesn't involve an intensive build. All you need is a simple partition wall to segment your room into a bedroom area and closet area to make this happen.
#8: A Clutter-Free and Minimal Style Closet That's Entirely Concealed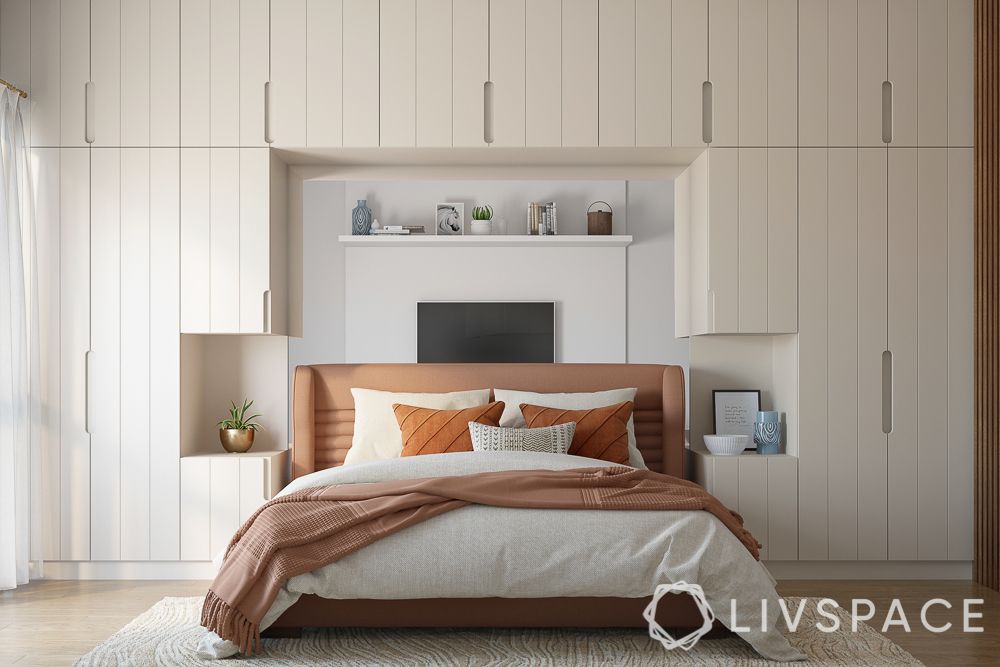 A simple minimal-style design is always a great way to go about your interiors. And now, you can embrace the same concept when it comes to your closet or wardrobe design too. You might look at this image and wonder where the wardrobe even is. But if you look closely, you might notice the little inverted handle-shaped grooves along the wall. These are basically door handle grooves of a concealed built-in wardrobe.
But this might not be something you can implement for women's day as it would require a long renovation process to incorporate. Before you go in for a built-in wardrobe, be sure to read our 5 Important FAQs About Built-in Wardrobes We've Answered For You. And of course, you could always save this idea for a new home design or your next reno too!
#9: Who Said Blue is Only for Boys?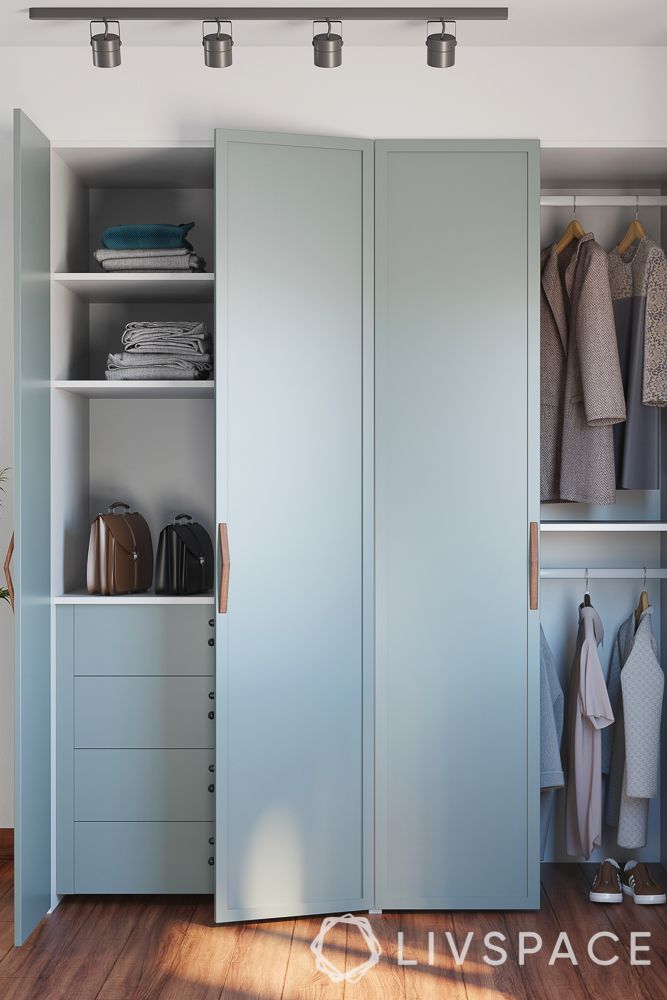 Gone are the days when certains colours were reserved for specific genders. Now, you can embrace any colour you prefer without the stereotypes that come with it. So this women's day, let's change the narrative around gendered colours and bring out the beautiful baby blues.
Also, if you have a lot of coats or clothes that cannot be folded, go for a double sectioned unit. This gives you added space to hang clothes as well as a section for shelves and drawers to store accessories.
#10: For Those of You Who are Always on the Run, an Open-Unit Would be Ideal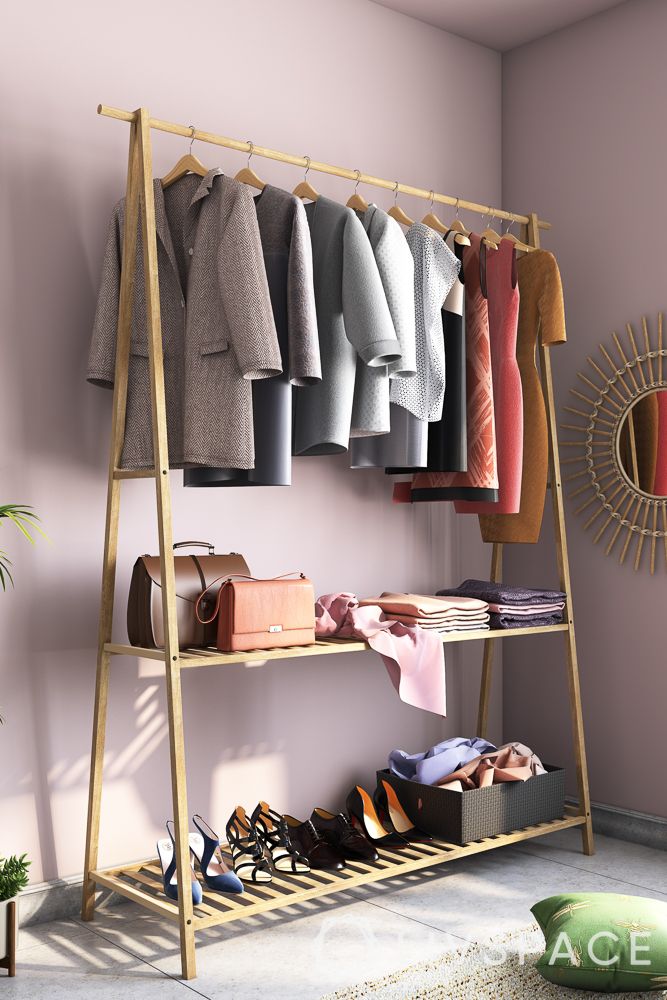 Are you the kind of person who is always on the go and doesn't have time to fish out certain items from storage? If a no-fuss wardrobe design is what you seek, a simple open unit clothes rack will do the trick.
This design is perfect for storing easy-to-access clothes and accessories since it's out in the open and easily visible. It can help you save precious time while getting ready for work or a fun afternoon brunch.
#11: If You Have the Space, Go for an Open Walk-in Closet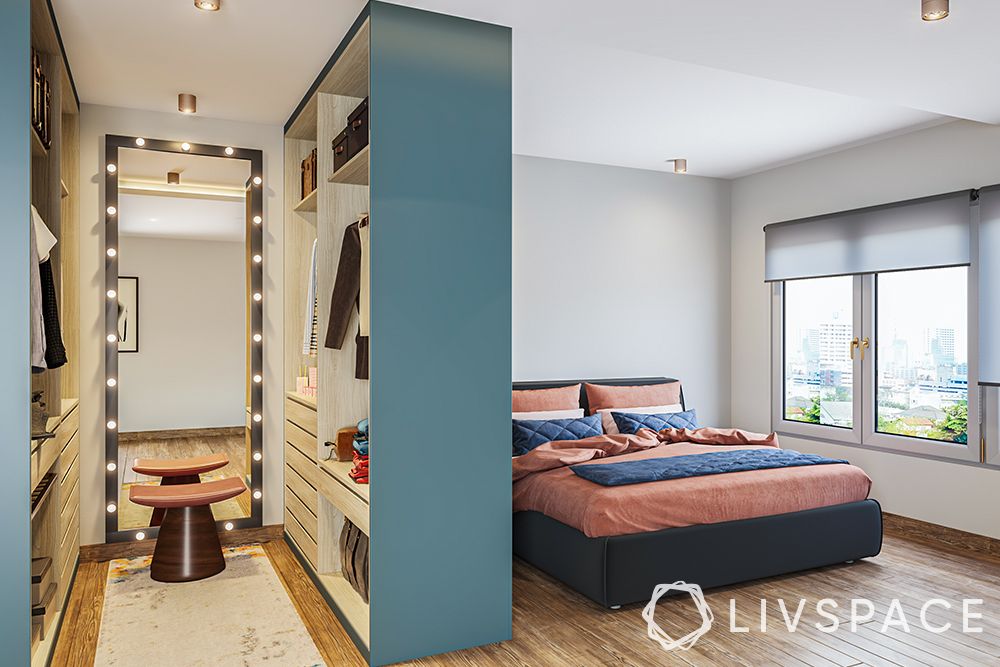 You've seen the designs you can consider for a walk-in closet with doors, but how about going for an open one instead? An open walk-in closet is a great way to keep your room feeling airy and free since you can see the entire layout. This is also a helpful way to keep your interiors minimal while staying storage-intensive.
Depending on the amount of space you allow for this walk-in area, you can account for that much added storage to your closet. So if you go shopping on women's day, you have more room for your new clothing haul!
#12: Add a Vanity Unit Next to Your Wardrobe for Design Continuity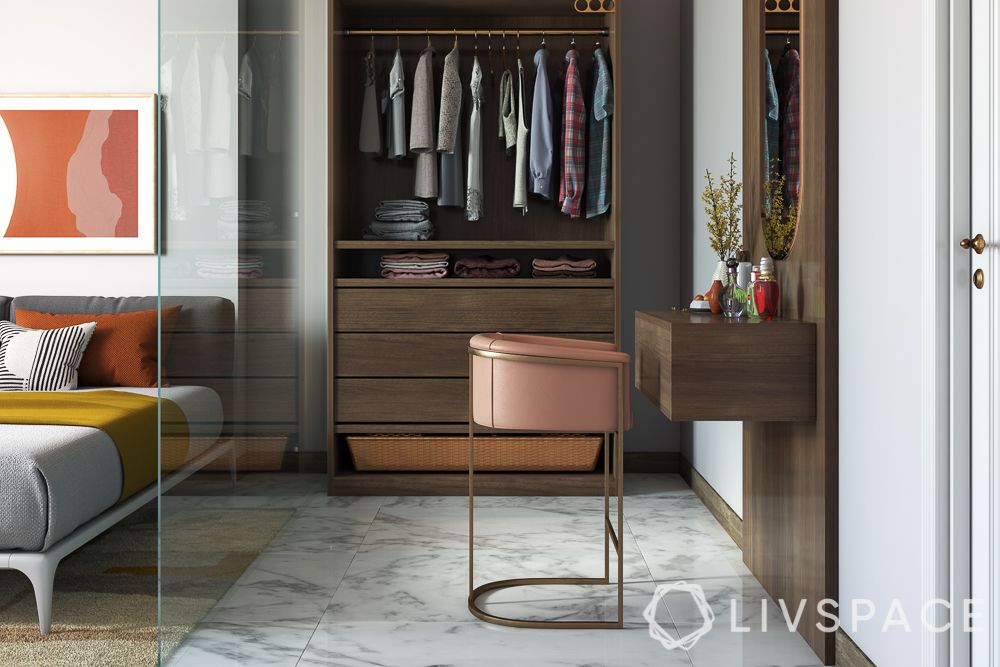 Looking for a quick way to spruce up your wardrobe area for women's day? We have a simple solution for you! If you already have a wardrobe unit in your room, all you need to do is make a few small additions to give it its own space. You can do this by moving your wardrobe to a corner of the room while adding a small vanity unit next to it. Better yet, make sure the vanity unit matches the wardrobe in terms of colours and accents. This can help build a design continuity which will give this area a uniform look of its own.
While there are so many other ways you can celebrate the women you care about, getting them the closet design of their dreams could be one of them. So if you are someone who loves closets and designs as much as we do, use these designs as women's day inspiration for your next build.
Also read: How to Solve Every Storage Problem With the Right Wardrobe
How Can Livspace Help You?
We hope you found our ideas useful! If you want your home to be just as beautiful, then look no further. Book an online consultation with Livspace today. Delivering safe home interiors has been our No. 1 priority. Click here to find out how interiors are being delivered following all safety protocols.