While kitchens are the hub of activity in almost every household, there are few characteristics that can make or break a kitchen's appearance. Whether you have a closed or open kitchen layout, your backsplash is something that everyone will notice right away. You've got it correct if it's eye-catching! However, if you are planning a kitchen renovation and want to know how to acquire kitchen backsplashes on a budget, you've come to the right place.
We've put together a few budget-friendly but attractive methods to dress up your plain kitchen backsplash with low-cost materials. Here are some terrific kitchen backsplash ideas on a budget to consider:
#1: Peel-and-Stick Sheets as Kitchen Backsplashes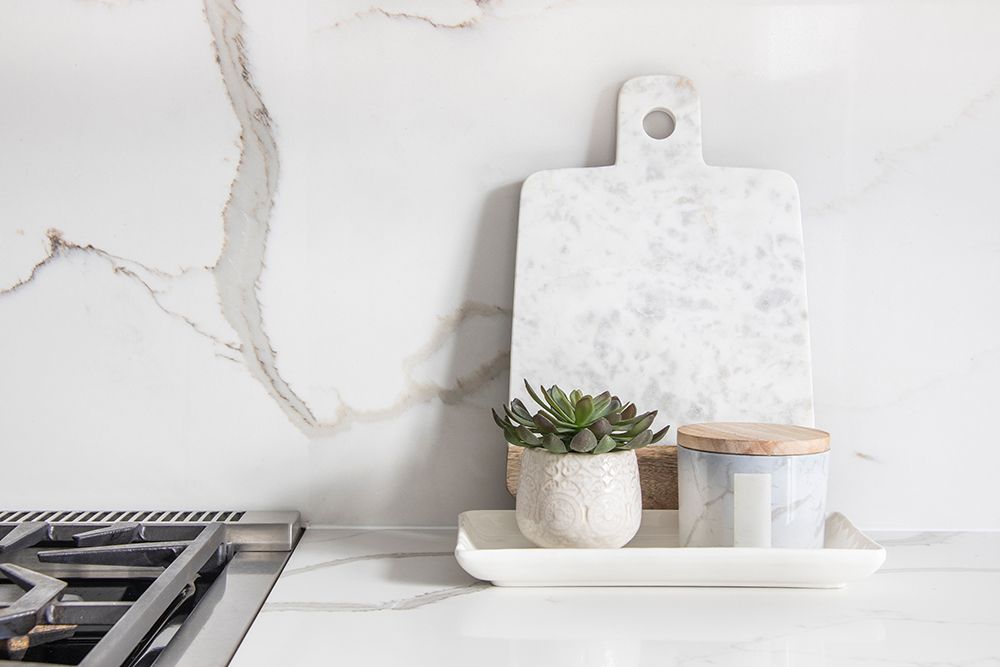 Getting a self-adhesive peel-and-stick sheet for your kitchen is our first and favourite DIY suggestion for cheap kitchen backsplashes on a budget. You may acquire them in a variety of colours, patterns and finishes. Purchase them online to get a decent deal.
All you have to do now is peel the paper away from the backing and glue it to your backsplash. This marble-like gloss film vinyl sheet is one of our favourite Malaysian kitchen backsplashes. It will be impossible to tell if it is real marble or not from afar. This is a great affordable kitchen backsplash option for renters.
#2: DIY Wallpapers as Kitchen Backsplashes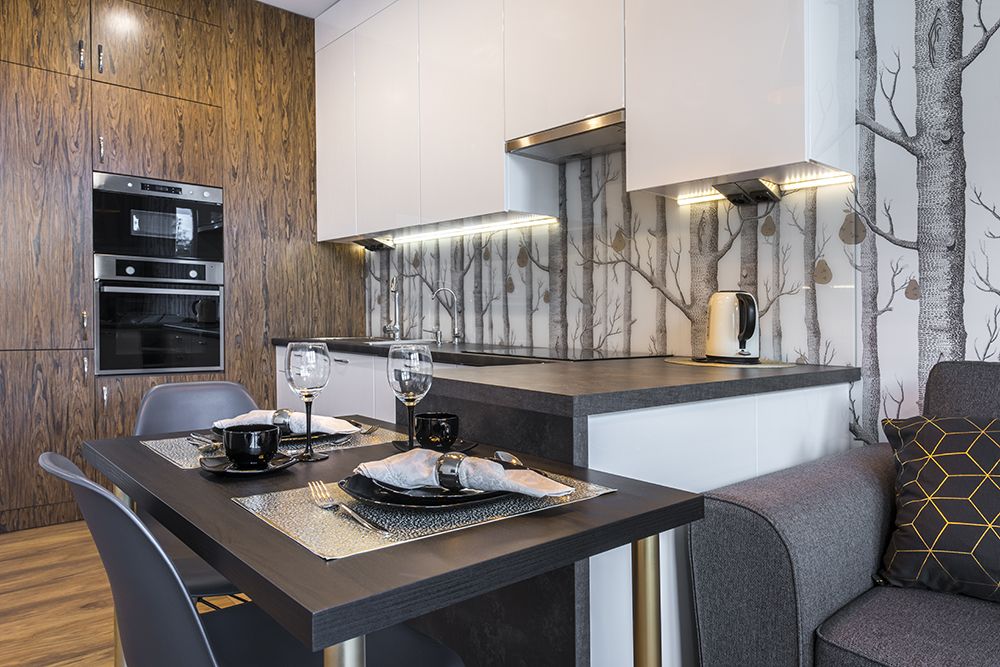 Wallpapers are usually a smart option, whether you're a homeowner or a renter; they are especially a good idea for individuals who cannot commit to a specific material or design. So, if you are looking for kitchen backsplash ideas on a budget, go for a wallpaper. It will allow you to keep exploring the kind of look you want without having to spend a lot of money each time.
Choose from wallpapers with a glossy or matte texture in romantic florals or a gritty cement effect. To save even more money, try installing the kitchen backsplashes (wallpaper and peel offs) yourself and having some DIY fun in the kitchen.
Also read: 6 Popular Kitchen Tile Designs You Can Experiment With at Home
#3: Tiles Designs as an Affordable kitchen Backsplash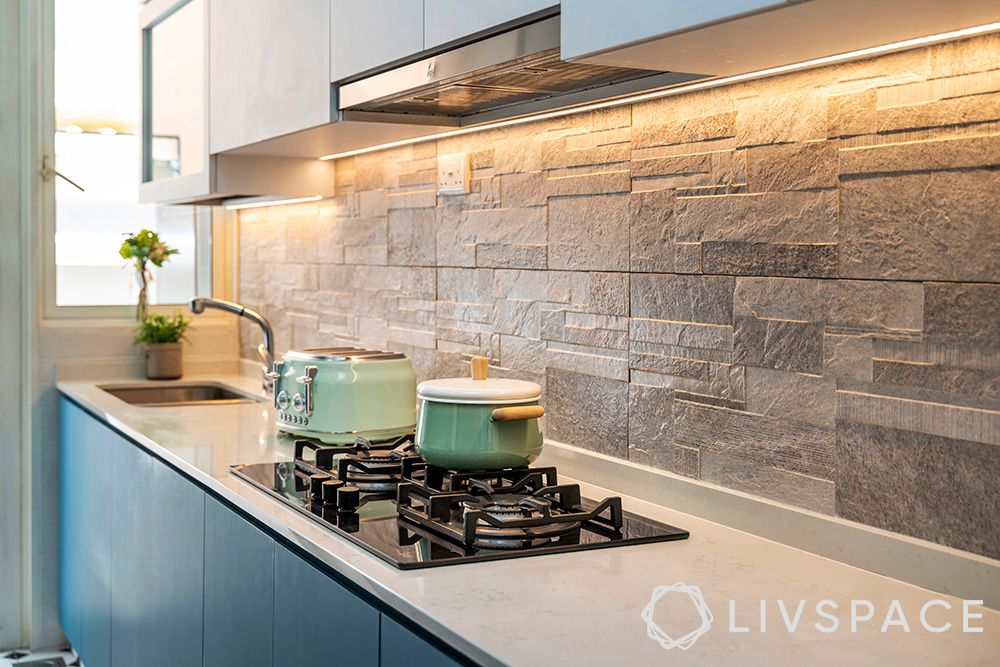 Tiles are one of the most popular materials for kitchen backsplashes, and they are also one of the most cost-effective. Also, if you are on a budget and want a low-maintenance kitchen backsplash, tiles are your best option.
You can choose from a variety of patterns and colours to suit your preferences. Tiles come in a wide range of materials and patterns, from ceramic to mosaic.
#4: Laminate Kitchen Backsplashes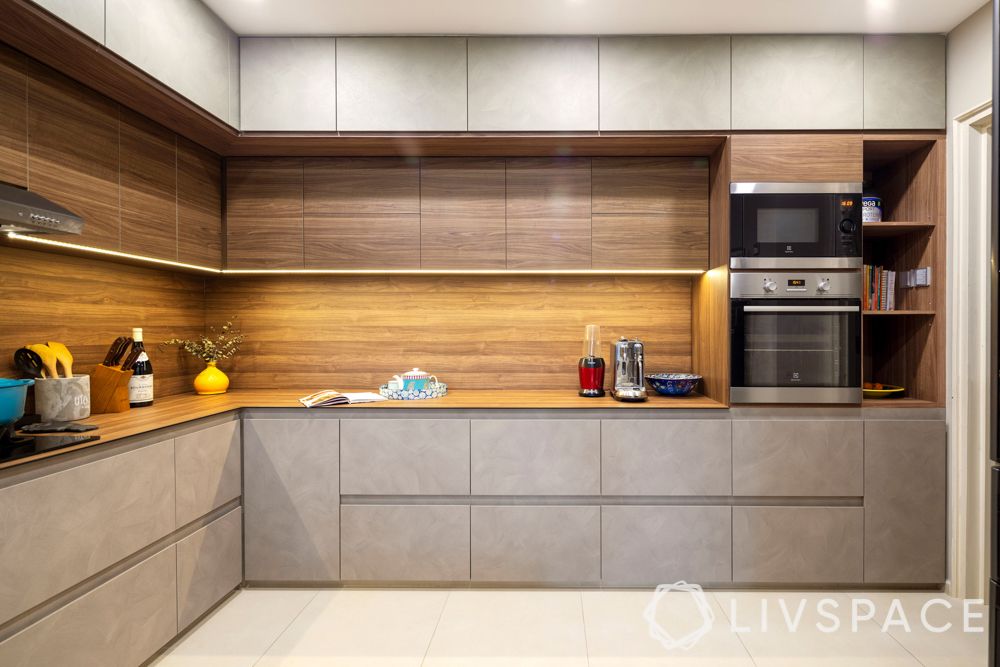 Laminate sheets, which are designed to seem like real wood, can be used as inexpensive kitchen backsplash panels. Laminate backsplashes are widely available in Malaysia, making it a popular kitchen backsplash on a budget option. They are inexpensive, non-porous, easy to clean and water-resistant to a degree.
Depending on your desire, you can go with a glossy or matte finish. Laminate sheets come in a number of colours as well. The only thing to keep an eye on is the temperature in your kitchen. We don't recommend using laminate behind your stove because it isn't heat-resistant.
#5: KompacPlus as Affordable Kitchen Backsplash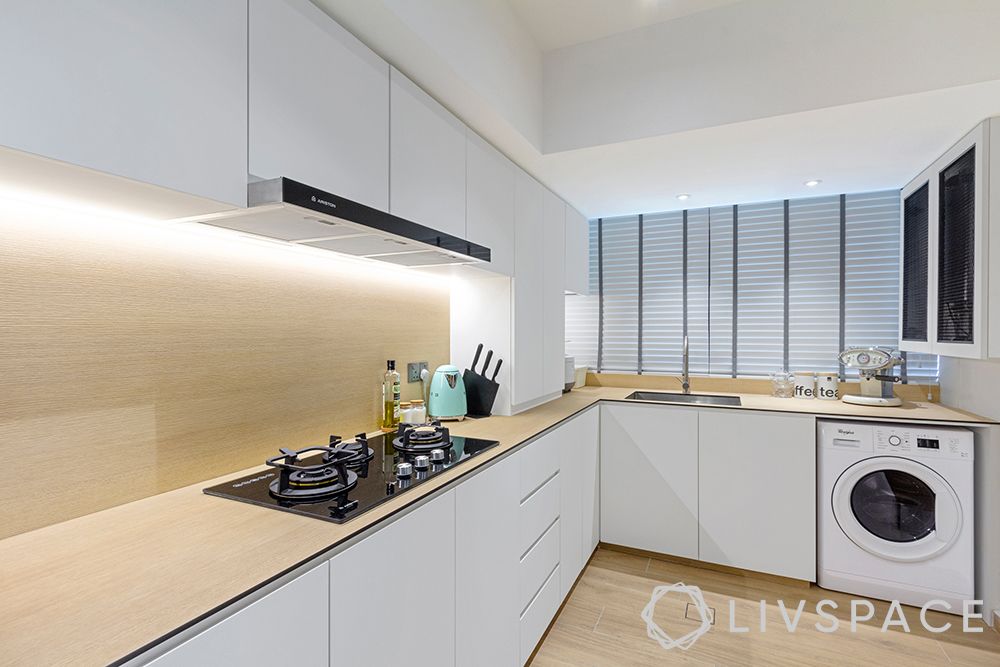 KompacPlus is another cheap kitchen backsplash option that looks like wood or laminate. KompacPlus backsplashes come in a variety of colours and designs that seem just like genuine wood and do not require any cleaning or maintenance on the part of the homeowner.
This is a great go-to for a kitchen backsplash on a budget because you won't have to hack your kitchen wall down. It is also easy to install over your current tiles. Scratch-resistant, waterproof and non-porous, this material is one of the ideal cheap backsplash ideas.
#6: Stainless Steel as Kitchen Backsplash on a Budget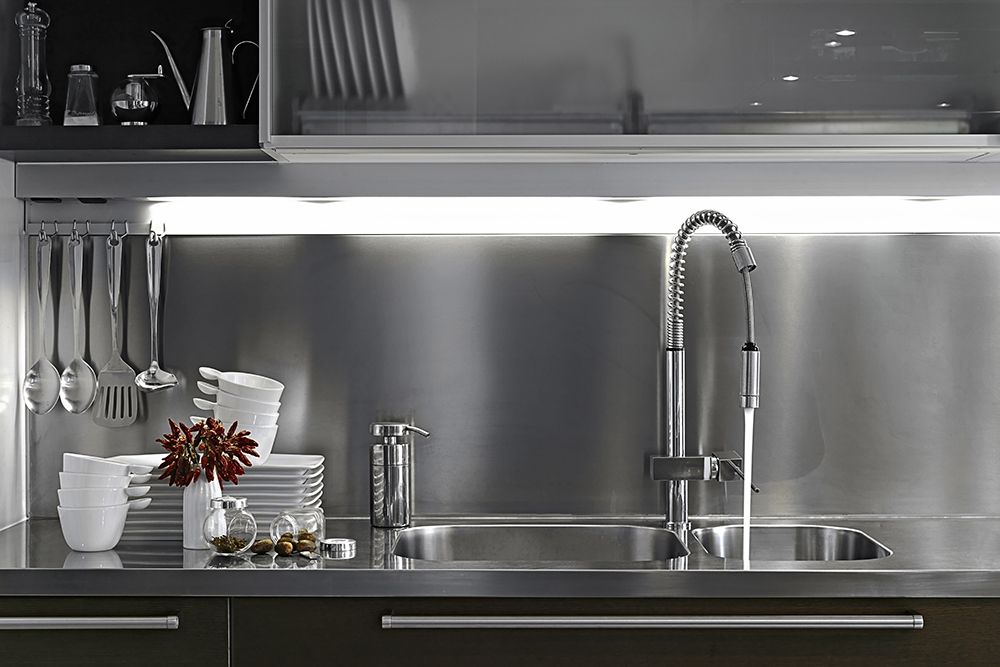 Finally, there's that one unusual backsplash idea that's very easy to maintain and won't break the bank. If you want to go for a non-tile aesthetic, stainless steel is a terrific option. It can be glued or screwed directly to your wall. And if you have an industrial motif going on in your home, stainless steel backsplashes will help to complete the look.
Wondering how to organise your kitchen in a limited kitchen space, read How to keep your kitchen organised with built-ins.
#7: Fun Posters or Stickers as Cheap Kitchen Backsplash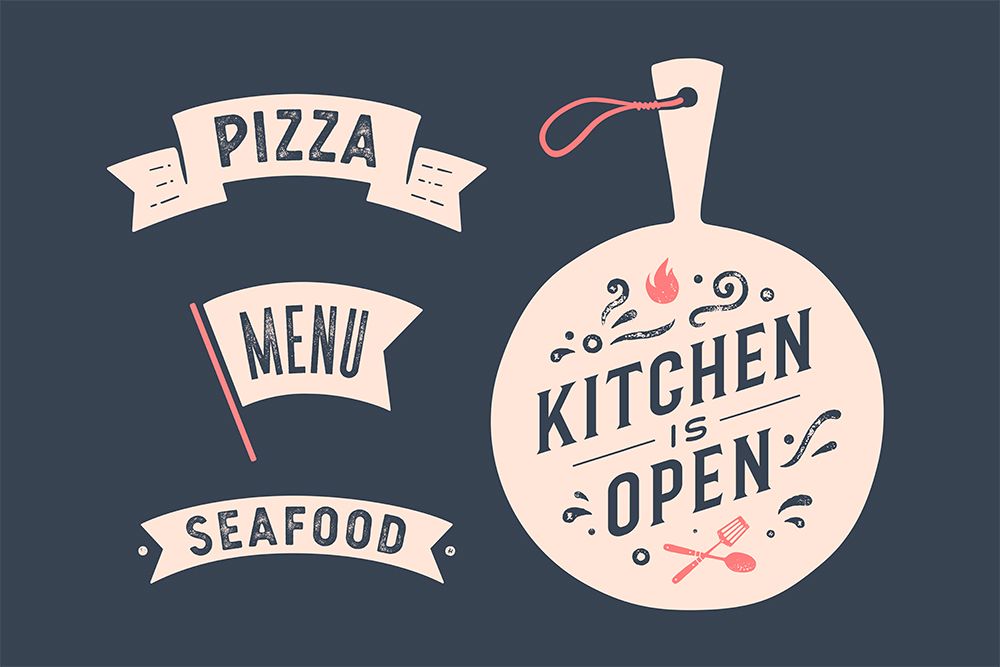 We've got just the thing for those of you who don't want to install a new backsplash or take on a large DIY project. Don't worry, you can still spruce up your kitchen backsplash on a shoestring price!
You may construct your own DIY cheap backsplash ideas with just some stickers and a plain backsplash. You may also buy posters and hang them in the corners to draw attention away from any boring backsplashes.
A Few Things You Should Keep in Mind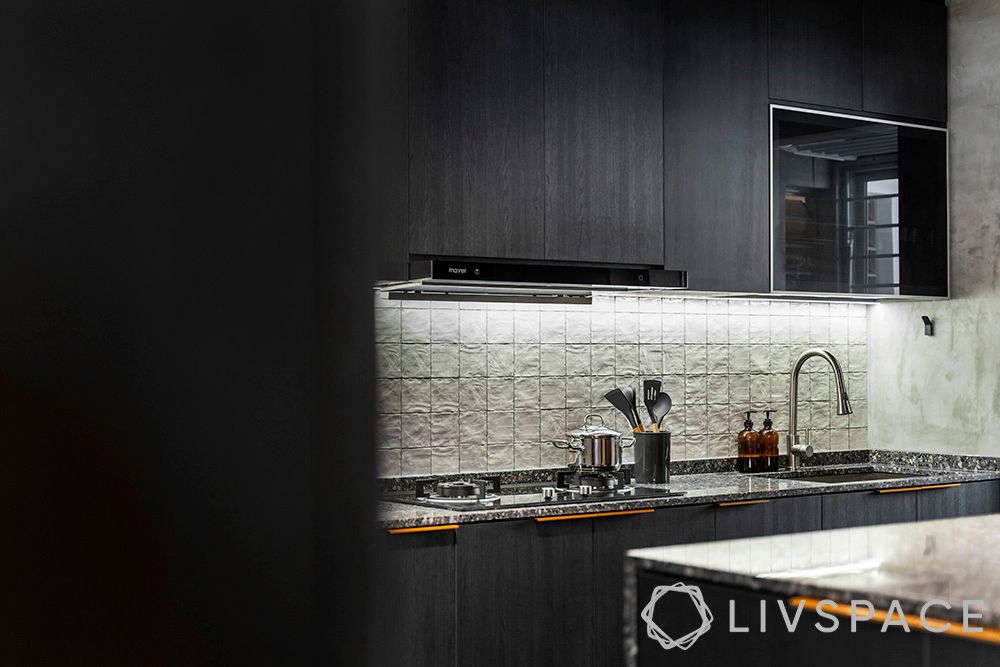 Here's a quick checklist of items to remember before cutting your old kitchen backsplash and installing a new one:
Determine how much backsplash your kitchen requires.
The more area you wish to cover, the more money you'll have to spend.
Consider covering the areas of the countertop that are slightly above the surface to save money.
Depending on the complexity of the job, you can do it yourself or hire someone to do it for you.
DIY projects are a terrific way to save money when installing a kitchen backsplash.
Also read: 7 Popular Finishes and Materials for Kitchen Cabinets You Need to Know About
How Can Livspace Help You?
Want stunning interiors? Livspace can help you! All you have to do is book an online consultation. If you prefer meeting in person, you can also find Livspace designers at the IKEA Damansara store. Hurry up and get quality home interiors from the best in the industry!