Renovating a new HDB BTO (built-to-order) flat can be stressful, especially with all the shopping and searching it takes. Additionally, with the increasing cost of materials, shorter supply of labour and numerous other problems – it's no doubt that new HDB owners have a lot on their plates. However, you can make the process of finding the perfect HDB BTO package simpler and straightforward with the help of the right interior designer.
By leveraging their experience, you can create a bespoke package that's not only aligned to your vision of a dream home, but also tailored to your needs and design preferences. However, when it comes to interior design, one of the biggest concerns homeowners tend to have is its perceived high cost. In this article, we cover the cost of a 3, 4 and 5-room HDB BTO renovation, including factors that affect the cost and tips on how to reduce it.
What's an HDB BTO?
A type of public housing unit, HDB BTO flats are apartments that are built to order by the Housing and Development Board (HDB) in Singapore. These flats are newly constructed and are typically sold at subsidised prices to eligible Singaporean citizens and permanent residents.
How to Buy an HDB BTO Flat
Every year, the Housing and Development Board (HDB) announces the availability of new BTO flats in February, May, August, and November across Singapore.
As an eligible Singapore citizen, you can ballot for these BTO flats according to your preferred location and flat type. Once successful, you are required to pay a booking fee and then wait out the construction period. After that, you will receive the keys to your new HDB flat.
What's the Cost of an HDB BTO Package for 3, 4 and 5-room Flats?
The three most common sizes HDB BTO flats are available in, include: 3-room BTO, 4-room BTO and 5-room BTO. Now, all BTO flats already come furnished with basic amenities like flooring and doors. However, that doesn't mean that you can't install flooring or doors of your choice. In fact, most homeowners like to give their BTO homes their own personal touch.
Keeping that in mind, we have shared the costs of a 3, 4 and 5-room BTO flat with new flooring and doors and without. Take a look at the HDB BTO renovation costs below:
| | | |
| --- | --- | --- |
| HDB BTO Type | with new flooring and door (S$)* | with existing flooring and door (S$)* |
| 3 Room | 30,000 – 40,000 | 20,000 – 30,000 |
| 4 Room | 40,000 – 50,000 | 30,000 – 40,000 |
| 5 Room | 45,000 – 60,000 | 40,000 – 50,000 |
Our first HDB BTO package is perfect for homeowners who want to opt for a complete HDB BTO renovation and install doors and flooring of their choice. Conversely, our second HDB BTO package suits homeowners who don't want to alter the flooring or doors the BTO comes with.
*These costs are for reference purposes only. Exact costs may differ according to location, size of home, nature of requirements, material/finishes chosen, scope of work and availability. Please talk to us to get a free quote today!
What's Included In a 4-room BTO Renovation?
Take a look at some different rooms Livspace has designed, to see what is included in a 4-room BTO renovation package in Singapore.
Kitchen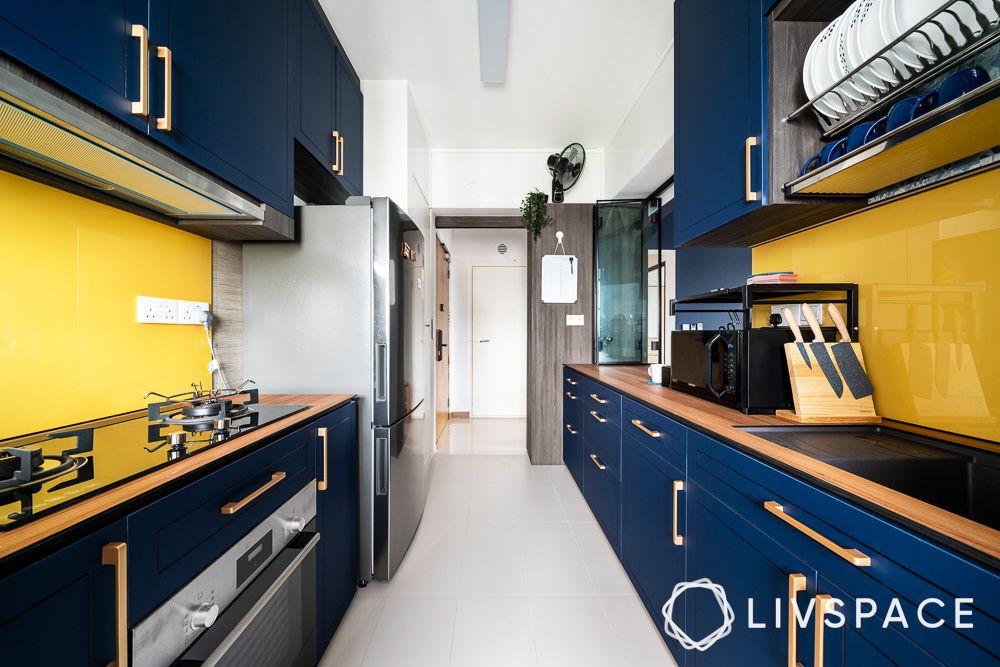 The kitchen that comes as part of the 4-room renovation package can be best described as contemporary chic. Our kitchen designs include integrated cooking and baking appliances, as well as tall and concealed cabinets to ensure sufficient storage and working space.
The kitchen cabinets are finished in EDL's Fenix laminate which has nanotechnology that is fingerprint resistant and antibacterial.
Living and Dining Room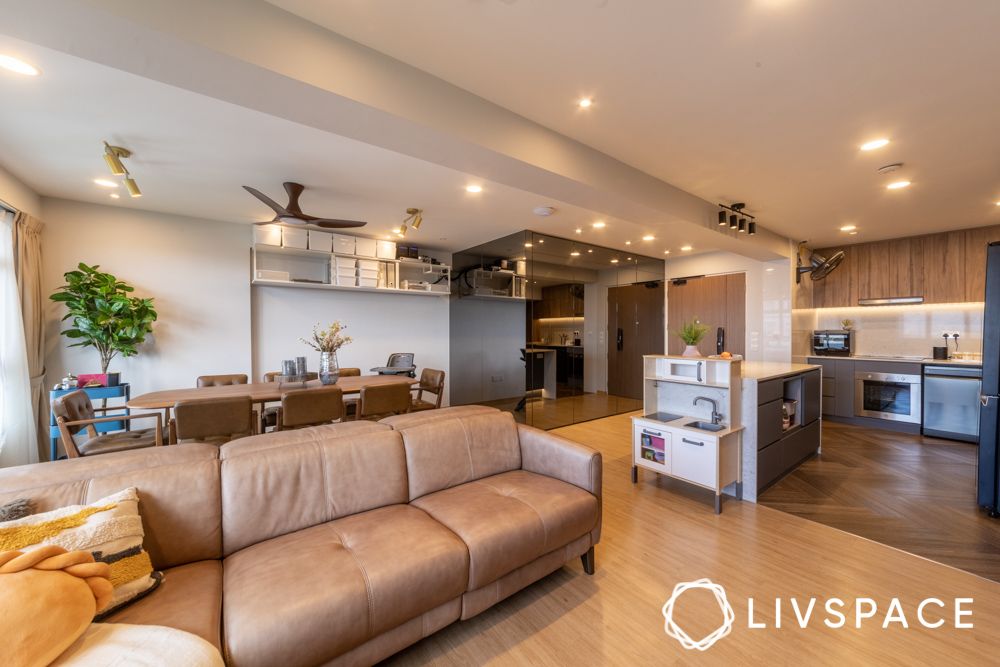 As part of the 4-room Tampines renovation package, Livspace designer Kayle created a serene open-concept living and dining space with a neutral colour palette that is easy on the eyes. In fact, the taupe L-shaped sofa serves as the focal point, and the wooden flooring enhances the luxuriousness of the living room design.
The most intriguing aspect of this 4-room Tampines Street design in Singapore is the integration of smart devices, including lights, sound bar, and thermostat, into the interior design.
Also, the dining room in this 4-room BTO design with its wooden eight-seater dining table and chairs is ideal for hosting a large family with kids.
Master Bedroom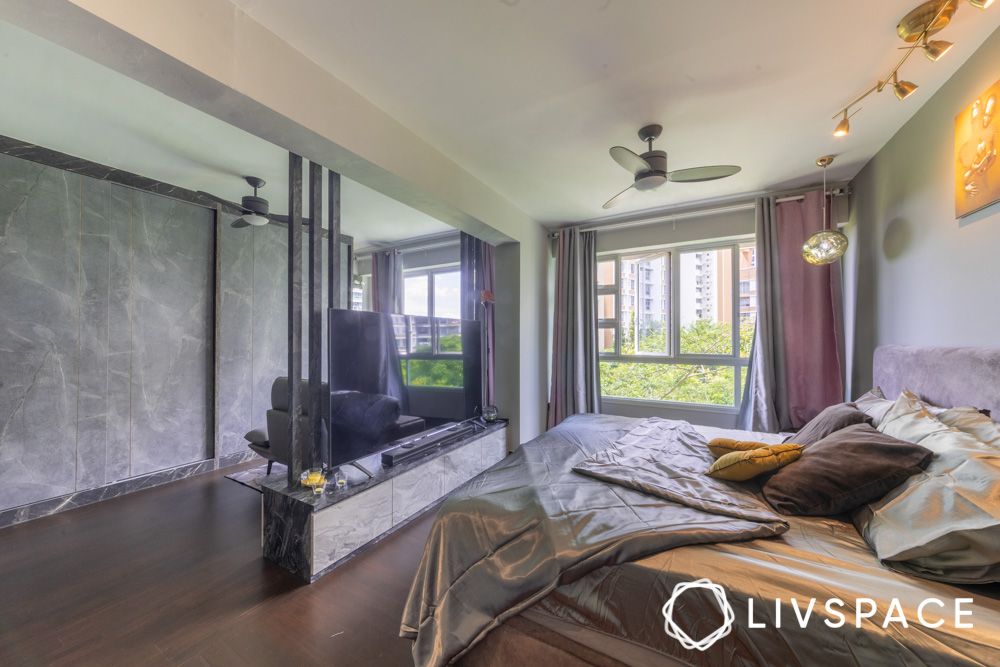 Following a monochromatic design with pops of gold metallic glints, this master bedroom shows the way for a chic and stylish living space.
Second Bedroom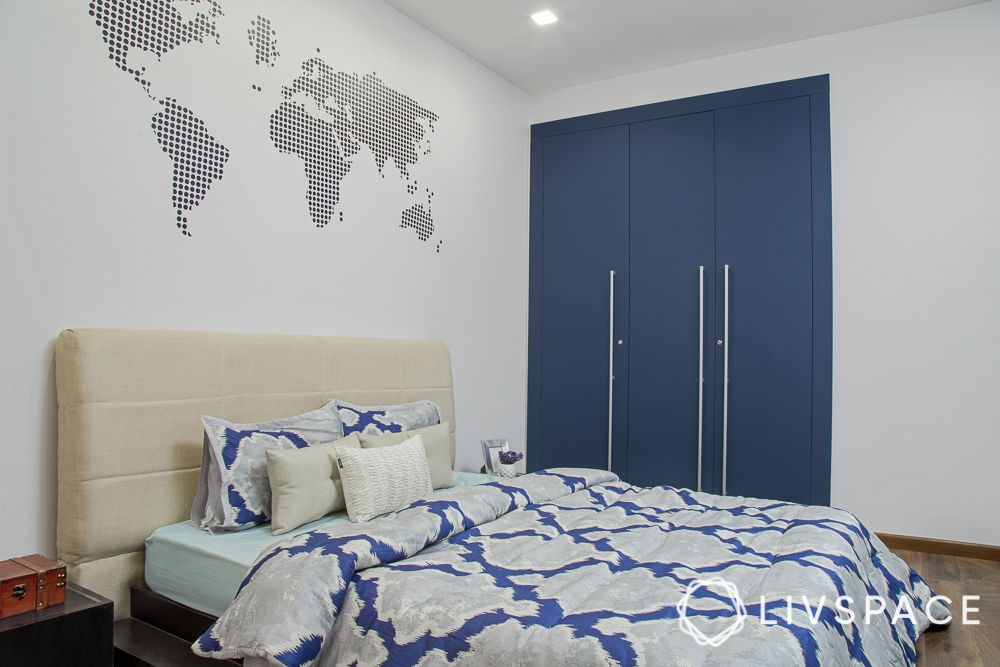 While the focal point of this second bedroom might be the world map accent wall, the compact wardrobe in blue adds a polished contemporary touch.
Third Bedroom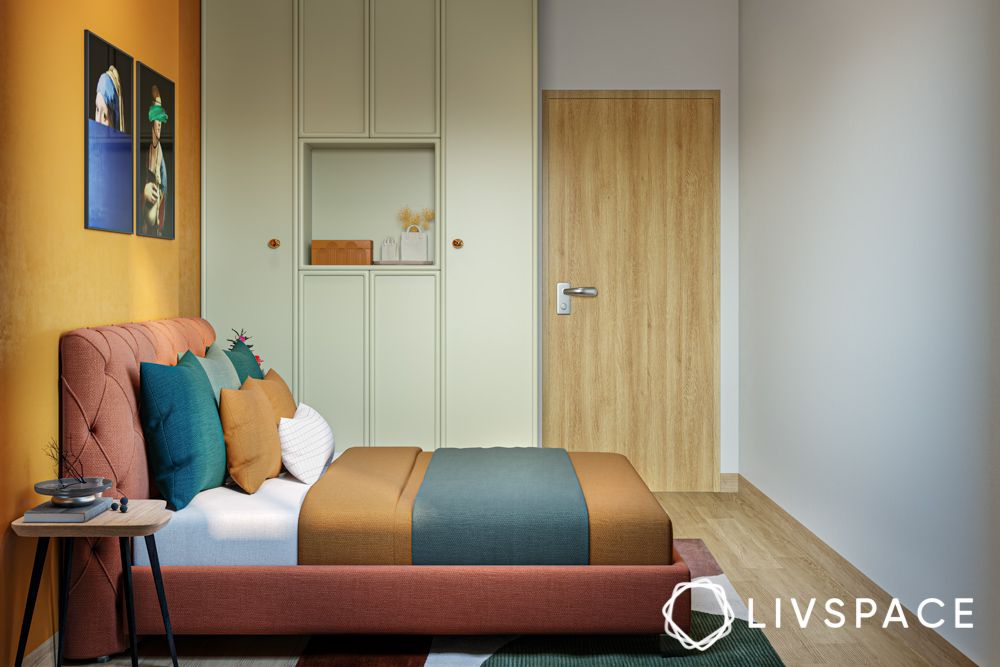 Small yet stylish, this third bedroom is perfect with its colourful furnishings and wooden flooring. You can also add a work desk or a reading niche to the third bedroom to have some personal time!
What Are the Factors Affecting New HDB/BTO Renovation Costs?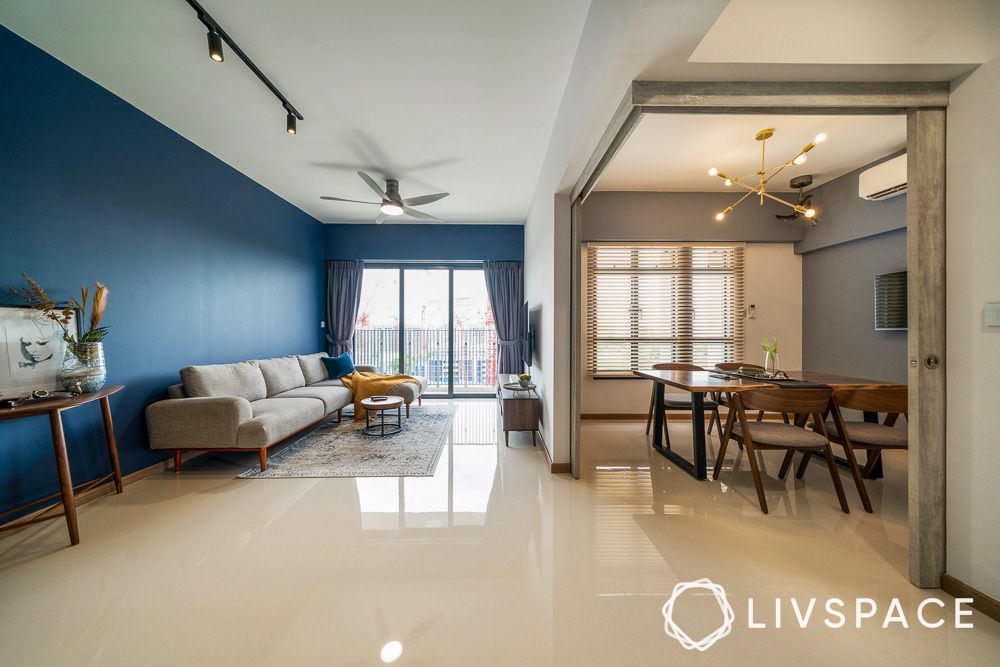 1. Size and Type (BTO/Resale) of HDB
A home renovation package for resale flats can cost higher than a new HDB BTO renovation package due to the scope of work involved. Resale flats can also need more fittings, hacking work, and rewiring because of outdated features.
2. Scope of Work
You will need to budget higher if more work needs to be done. Your home may need renovations in certain places but not others. It also depends on the work that the previous owner of your resale flat did.
3. Condition of the House
BTOs are blank slates, which makes it easier for IDs to work their magic on them. Contrarily, in the case of resale flats, the previous owners might have made renovations to the property that you don't like. Taking those down can increase your expenses.
4. Quality of Materials Used
Expect to pay extra for high-end materials like marble countertops or porcelain tiles, which have more elaborate finishes than basic materials. If you want a bit of luxury, we recommend you budget higher.
Quick Tips for Your HDB BTO Renovation
Homeowners must request HDB approval in advance and submit their unit's floor plan if their redesign involves any hacking or demolition
You might want to embellish bomb shelter designs to your taste. However, there are still a few rules you must abide by such as not plastering any internal faces, not removing or covering the affixed door notification, removing the door, etc.
Do not tamper with the window grill designs
The newly built flats have a three-year restriction prohibiting any modifications to the toilet tiles, floors, and walls
How Can Livspace Help You?
Livspace is Asia's fastest growing home renovation company
Enjoy a 5-year warranty on kitchens and wardrobes designed by us
We partner with 80+ brands and 500+ contractors to design choices you love living with
All contents of the story are specific to the time of publication. Mentions of costs, budget, materials, and finishes can vary with reference to current rates. Additionally, the designs showcased within the story are subject to availability and will vary based on the year the homes were designed in. Consult our designers for more details on the latest designs, pricing, and availability.