We love designing new homes where the homeowners give us freehand to add our own experimental twist. This 4-room BTO design has tons of examples showcasing what happens when form and function meet.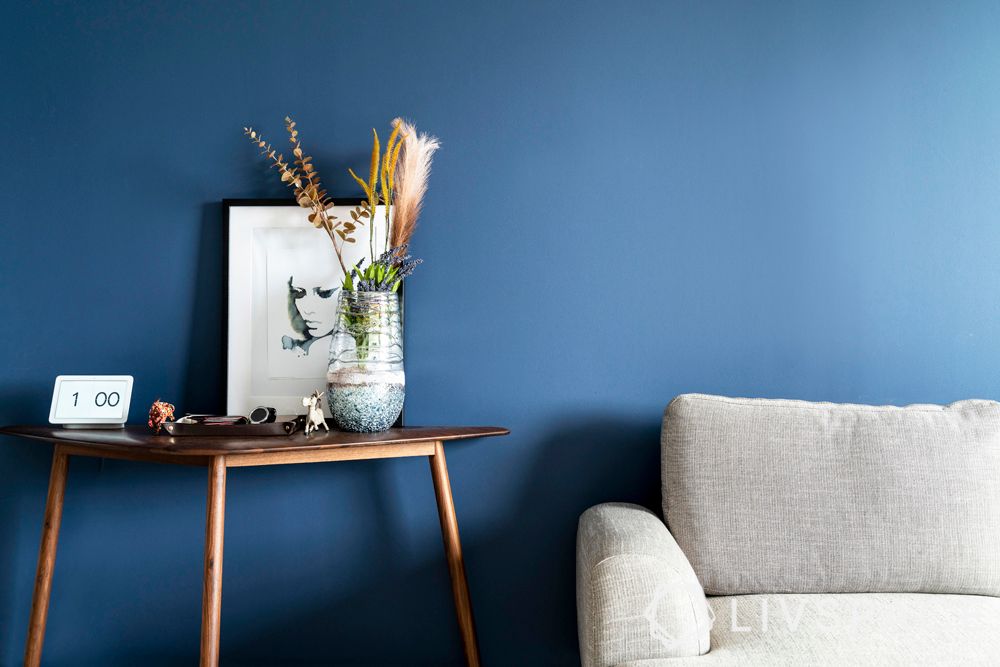 ---
Who livs here: Shankie and his wife Debbie
Location: 102A Bidadri Park Drive
Type of home: 4-room HDB BTO
Livspace team: Interior Designer Johan Ng and Project Manager Jamal Ali
Livspace service: Design, demolition, masonry, carpentry, electrical, plumbing, glass, painting
Budget: $$$$$
---
Any new homeowner's guilty pleasure is saving photos of aesthetic homes on Pinterest. That is exactly why Shankie and Debbie had tons of requests for their home's design when they met Livspace designer John Ng. John took them into his careful consideration and decided to give this BTO 4-room design an eclectic touch.
Let's check out what features this 4-room BTO offers!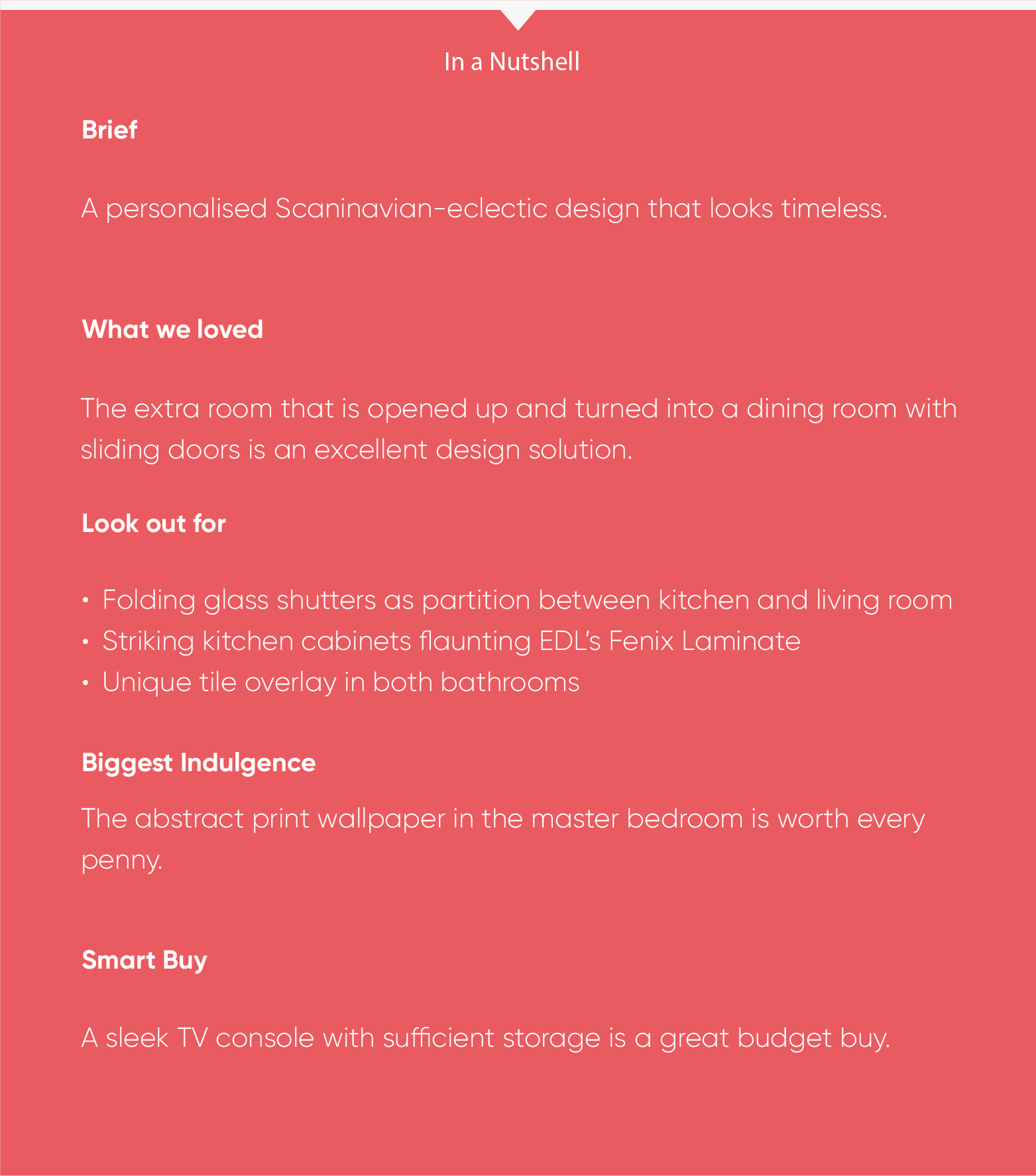 #1: Steal the Statement Colour Scheme of This 4-Room BTO Design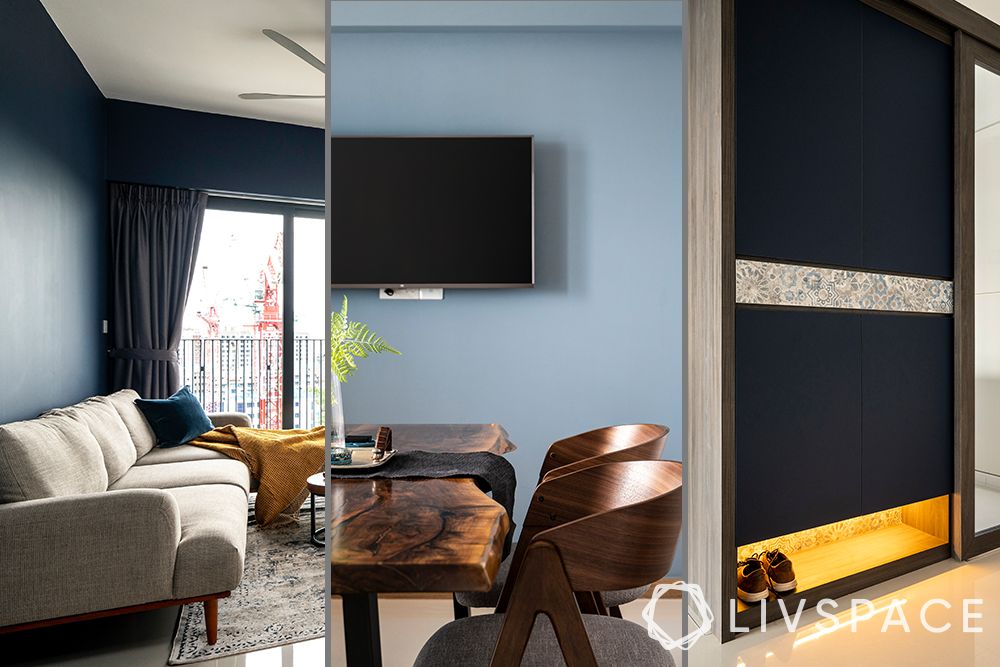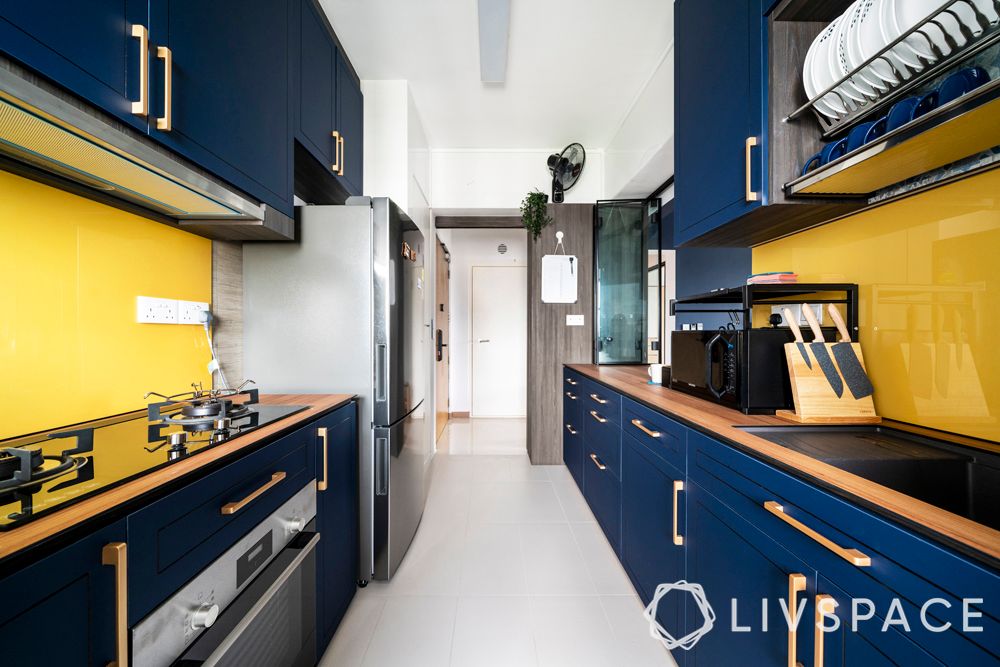 The first thing to admire in this 4-room BTO flat design layout is it's striking colour scheme. John picked dark navys to adorn the 4-room BTO design. The foyer wall and the kitchen cabinet are painted in deep blues while the yellow contrasts it beautifully. We love how this fits the eclectic theme of this couple's 4-room BTO ideas.
The dining room has a lighter blue wash to it. This helps it to fit in as a transitional shade and is a great way to create a soothing environment in this 4-room BTO. On that note, the couple had not noticed the kitchen backsplash until the last day and it took them by surprise. It was, of course, love at first sight!
#2: This 4-Room BTO Floor Plan has a Quirky Surprise!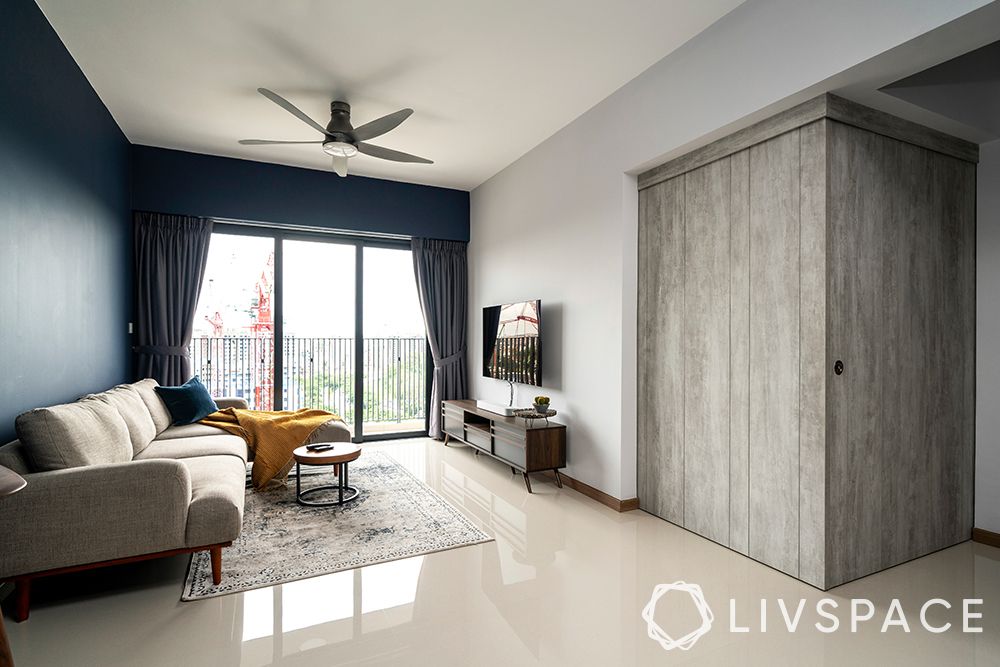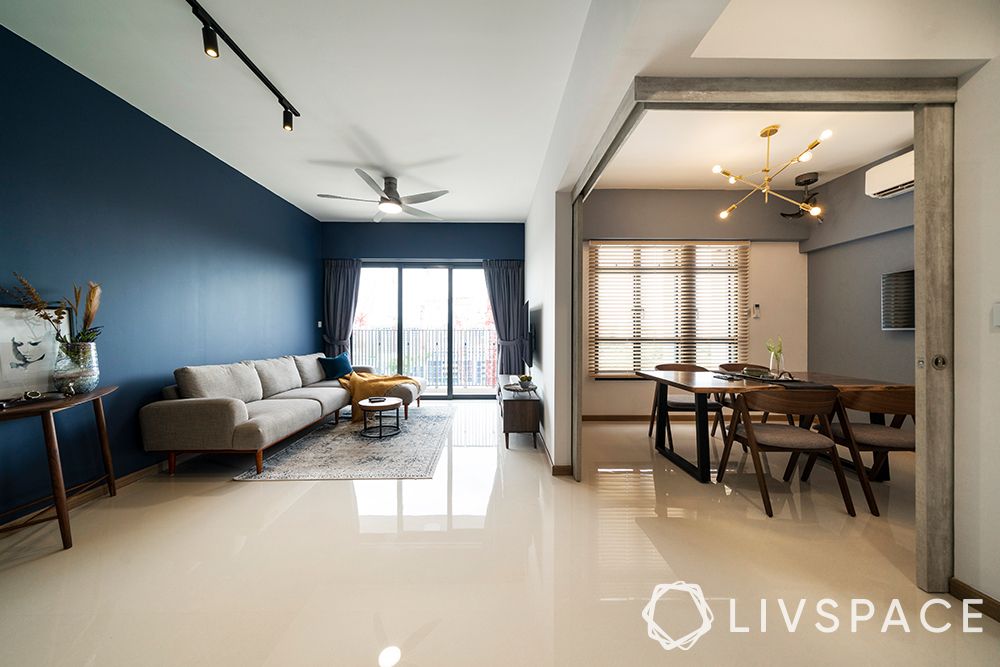 Here is a little secret for you. John actually changed the 4-room BTO design layout of this flat to accommodate that unique dining table. The dining area, behind the sliding wooden panels you see, to be a bedroom before. This 4-room BTO floor plan is now where we see this beautiful blue-washed dining table there in an open layout.
In the words of the couple
"In terms of envisioning our design and executing it, I would say it is almost 10/10. We were impressed with Johan's experience & professionalism in our house designs. He was also able to optimize our space for storage & also provide ideas on our furniture, fixtures & accessory selection to match our eclectic theme. Livspace's carpentry carries quality and good workmanship, all rectifications were also done swiftly with limited hassle."

Shankie & Debbie

Livspace Homeowners
#3: Get a Semi-open Kitchen Like This 4-Room BTO Design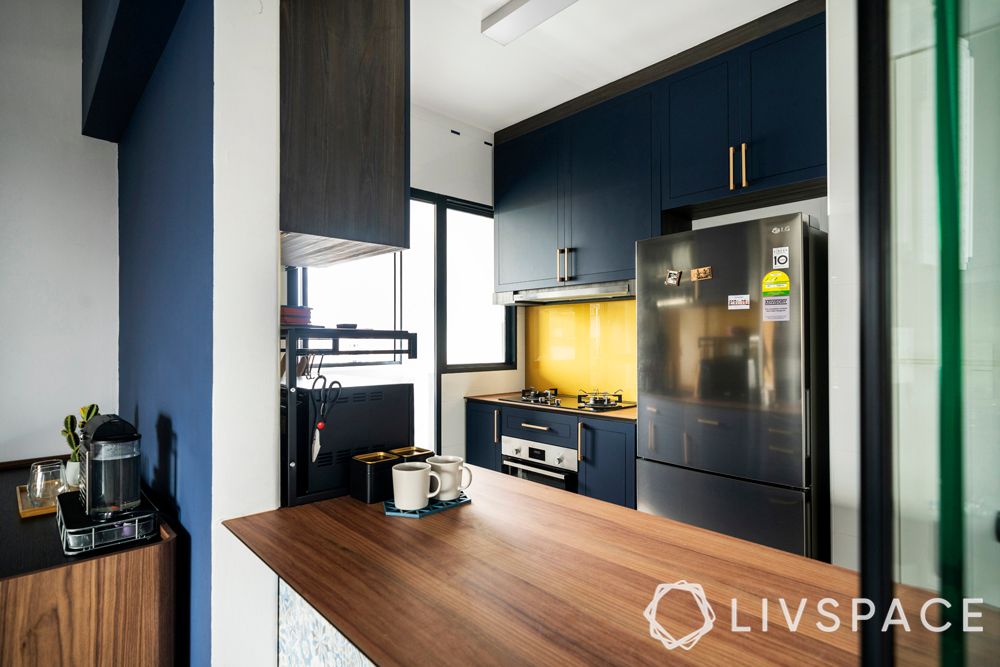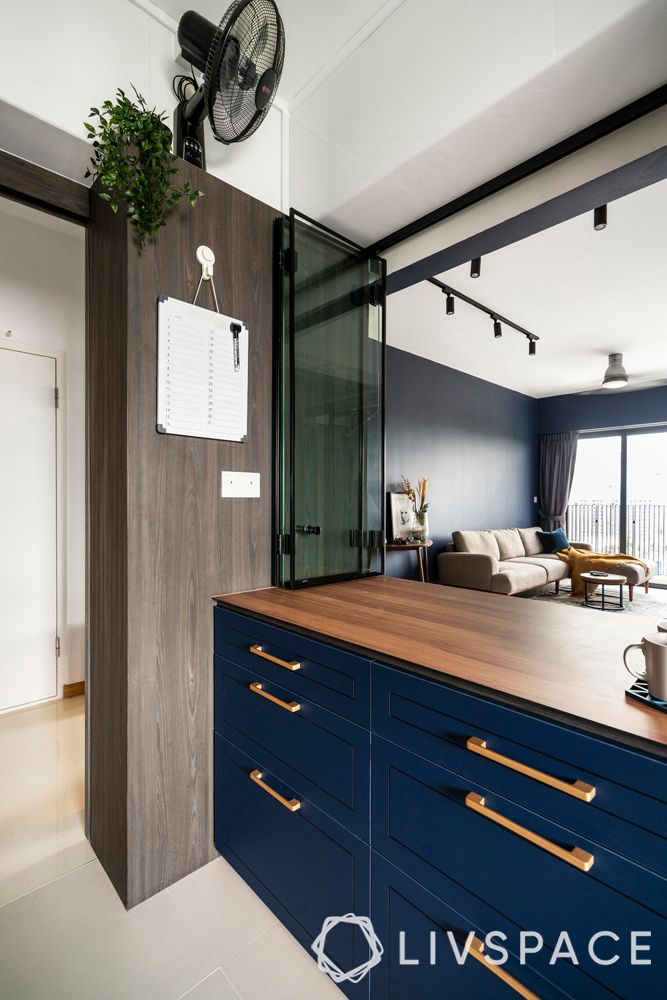 Both Debbie and Shankie are passionate about cooking.. They wanted an open kitchen but were afraid that it would become harder to maintain. John craftily added collapsible glass windows to the kitchen, effectively making it a semi-open space that can be enclosed when necessary. The kitchen also has two countertops, which means that homeowners can have access to the kitchen without feeling cramped.
#4: Ode to This 4-Room BTO Design's Stylish Master Bedroom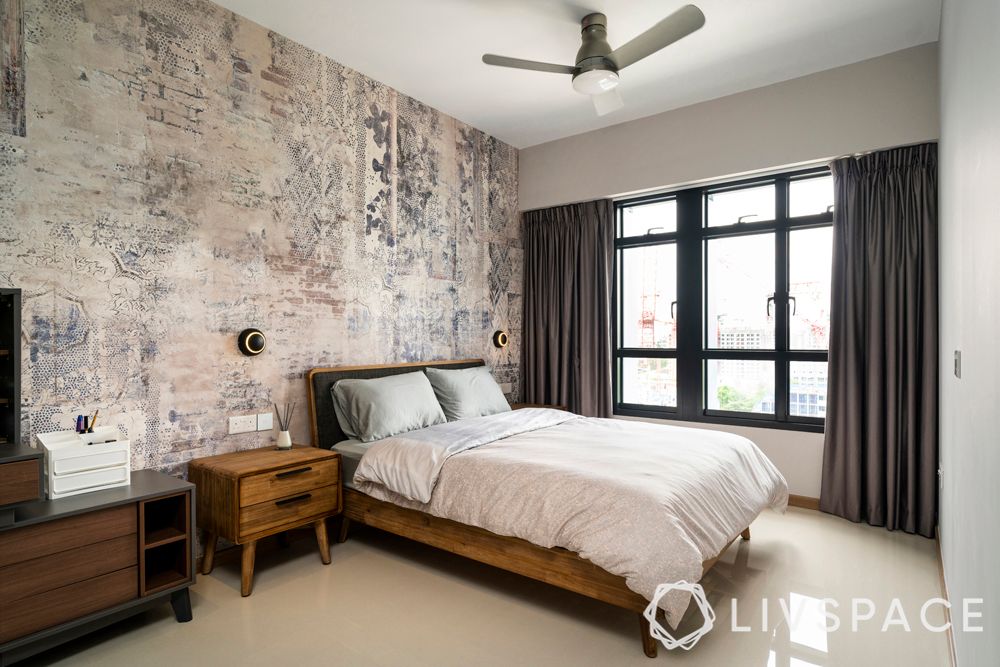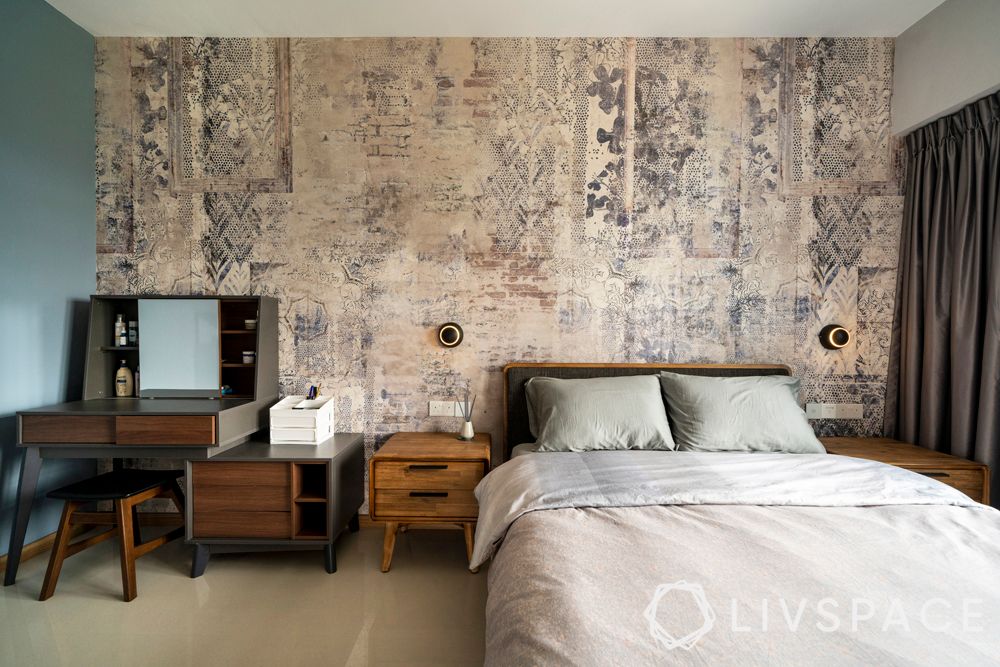 One of the 4-room BTO ideas, suggested by the designer, was to have a fuss-free bedroom and John delivered just that. Since the couple was open for experimentation, he added a quirky wallpaper to give this soothing bedroom a focal point. The nightstands on either side of the bed have oodles of storage while a dresser stands on the same wall.
#5: Get Inspired By Walk-in Wardrobe In This 4-Room BTO Design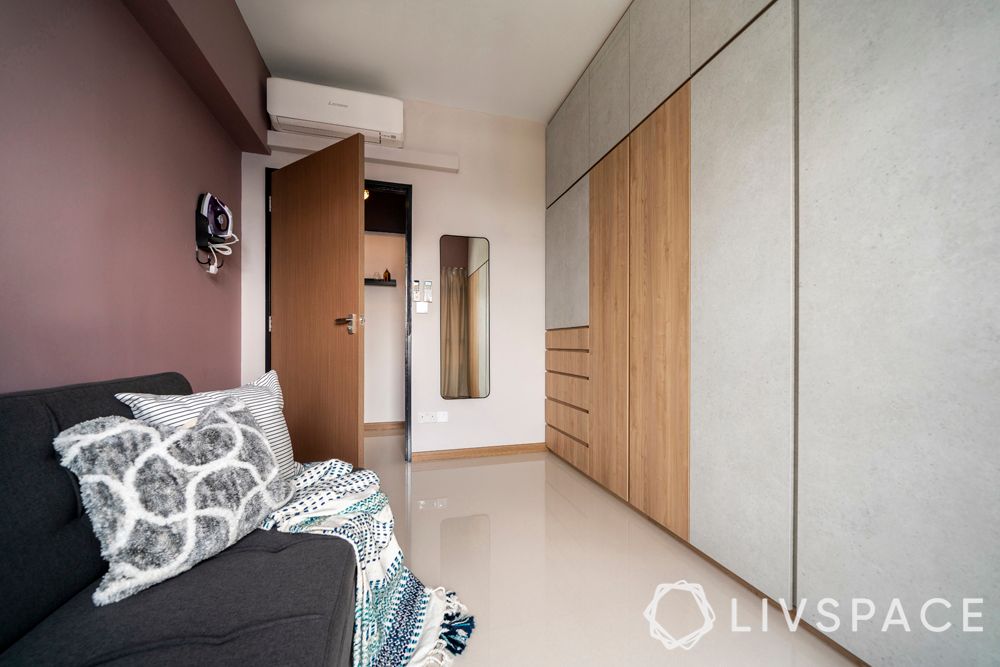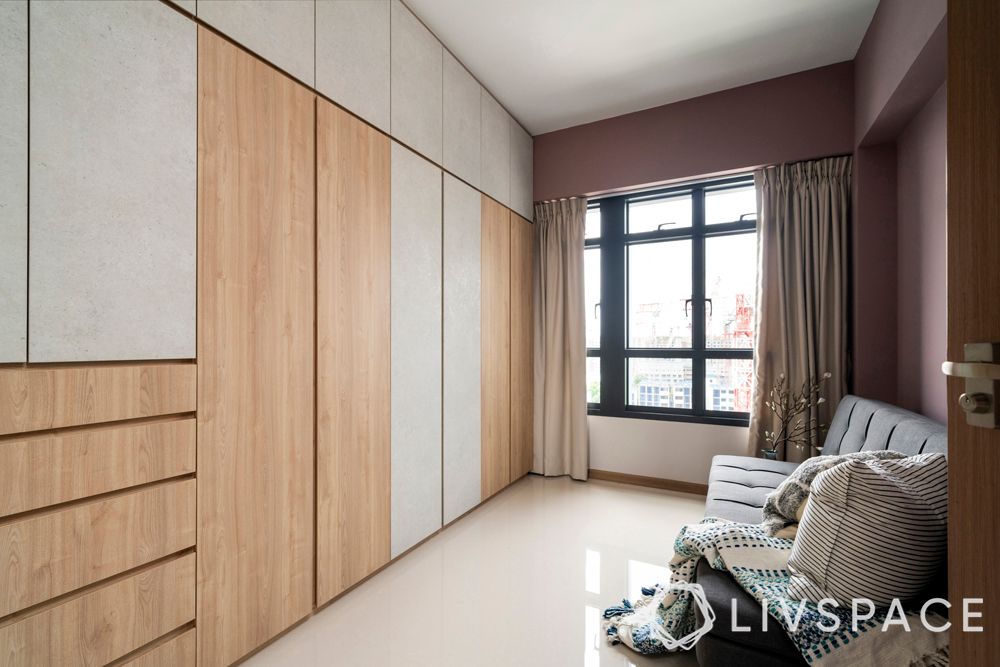 This BTO interior design has gone through some heavy transformations. This walk-in wardrobe is an addition that we all admire. This 4-room BTO design's second room was converted into a walk-in wardrobe. With floor-to-ceiling dimensions and several accessories, this walk-in wardrobe can house storage like no other room. Save this one in your 4-room BTO design ideas inspiration.
#6: Here are 4-Room BTO Ideas to Perfect That Bathroom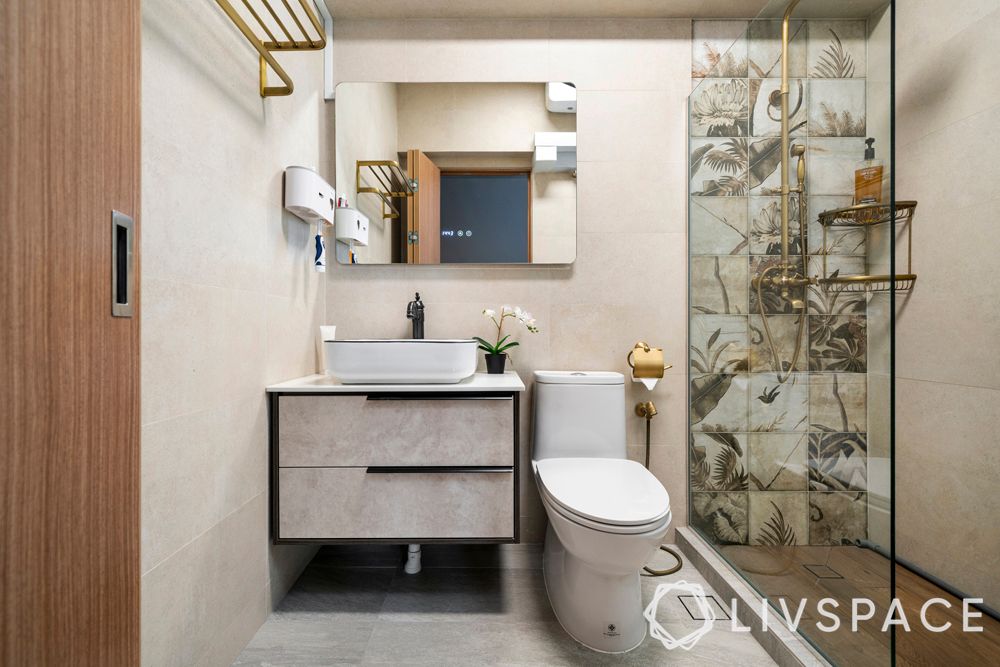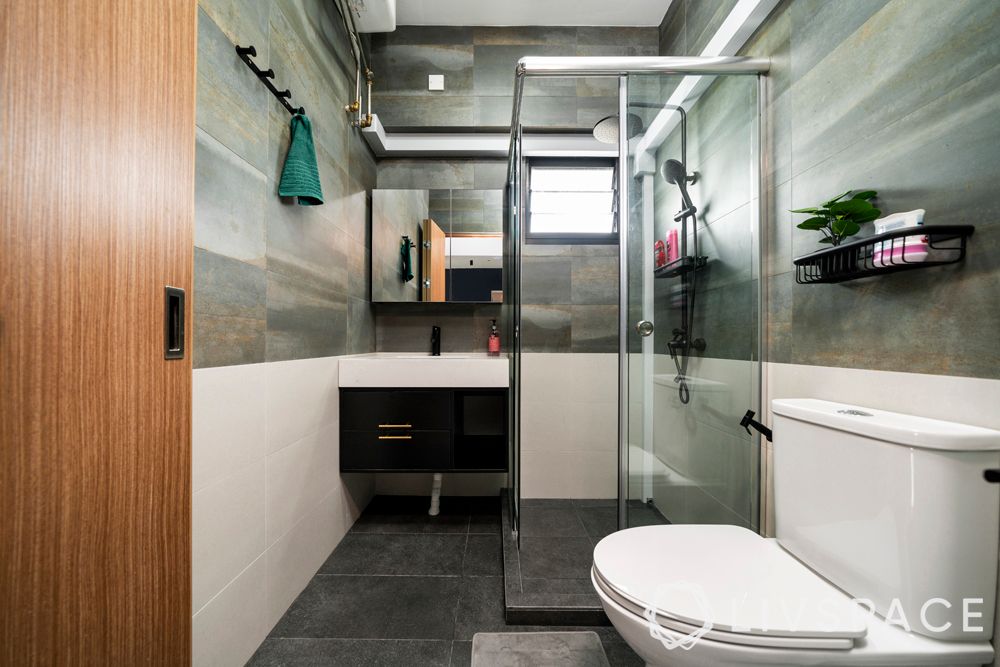 One of the other hits of this 4-room BTO design is the master bathroom. The overlay of tiles creates a tropical vibe, instantly making this a soothing space. We also notice how the space is cleverly used with a lot of hanging shelves for storage. The shower is separated with glass partitions which makes it super low maintenance. In the words of Shankie and Debbie, "The master bathroom is so "us", reflecting our style perfectly."
"Being a designer for so many years, this has been one of the most memorable projects since it happened during Covid-19, which resulted in unexpected situations. But luckily the couple was very understanding throughout the renovation journey. They also pushed my boundaries as a designer which allowed me to explore certain approaches that I normally wouldn't have proposed."

Johan Ng

Interior Designer, Livspace
If you loved reading the journey of this couple, check out another young couple's renovation journey with us: What is the Best Way to Design a 4-room HDB for a Young Couple.
Tour this Scandi BTO design:
Send in your thoughts and suggestions to editor.sg@livspace.com.
How Can Livspace Help You?
We hope you found our ideas useful! If you want your home to be just as beautiful, then look no further. Book an online consultation with Livspace today. Delivering safe home interiors has been our No. 1 priority. Click here to find out how interiors are being delivered following all safety protocols.