It is always exciting to design new homes and this 4 room BTO gave us the opportunity to experiment and play around with design styles and solutions.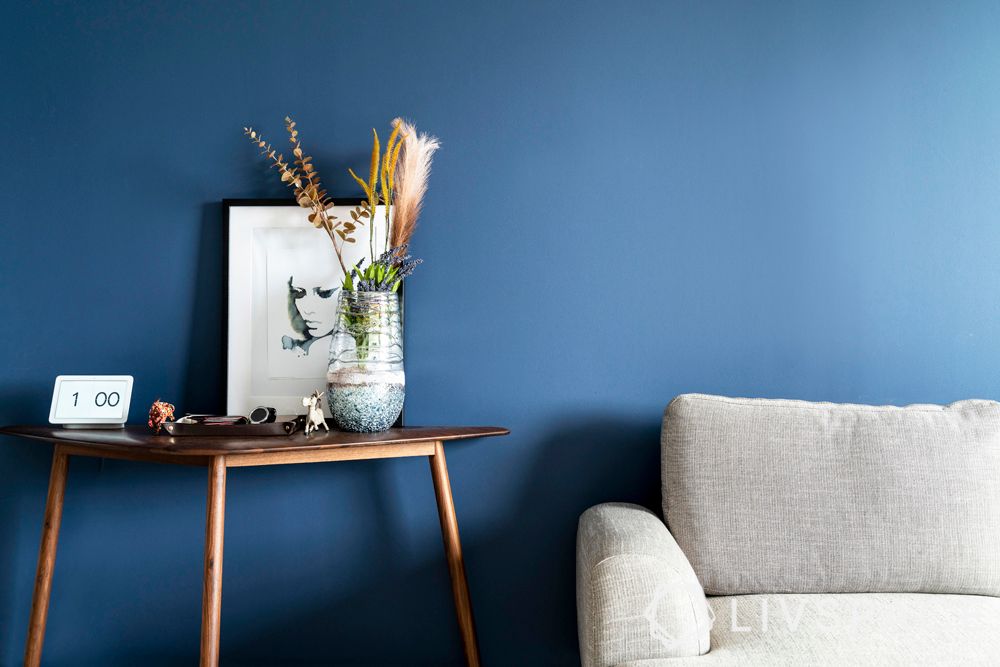 ---
Who livs here: Shankie and his wife Debbie
Location: 102A Bidadri Park Drive
Type of home: 4-room HDB BTO
Livspace team: Interior Designer Johan Ng and Project Manager Jamal Ali
Livspace service: Design, demolition, masonry, carpentry, electrical, plumbing, glass, painting
Budget: $$$$$
---
Home to a young, newly wedded couple, this BTO flat has an eclectic mix of designs. It all started off as a dream to design a homely yet quirky home, when the couple engaged with us. Like all of us, Shankie and Debbie also love pinning their favourite images on Pinterest. That's where Johan Ng, their designer got most of his inspiration from. After all, our Pins are usually a reflection of who we are.
Let's check out what this BTO has in store for us!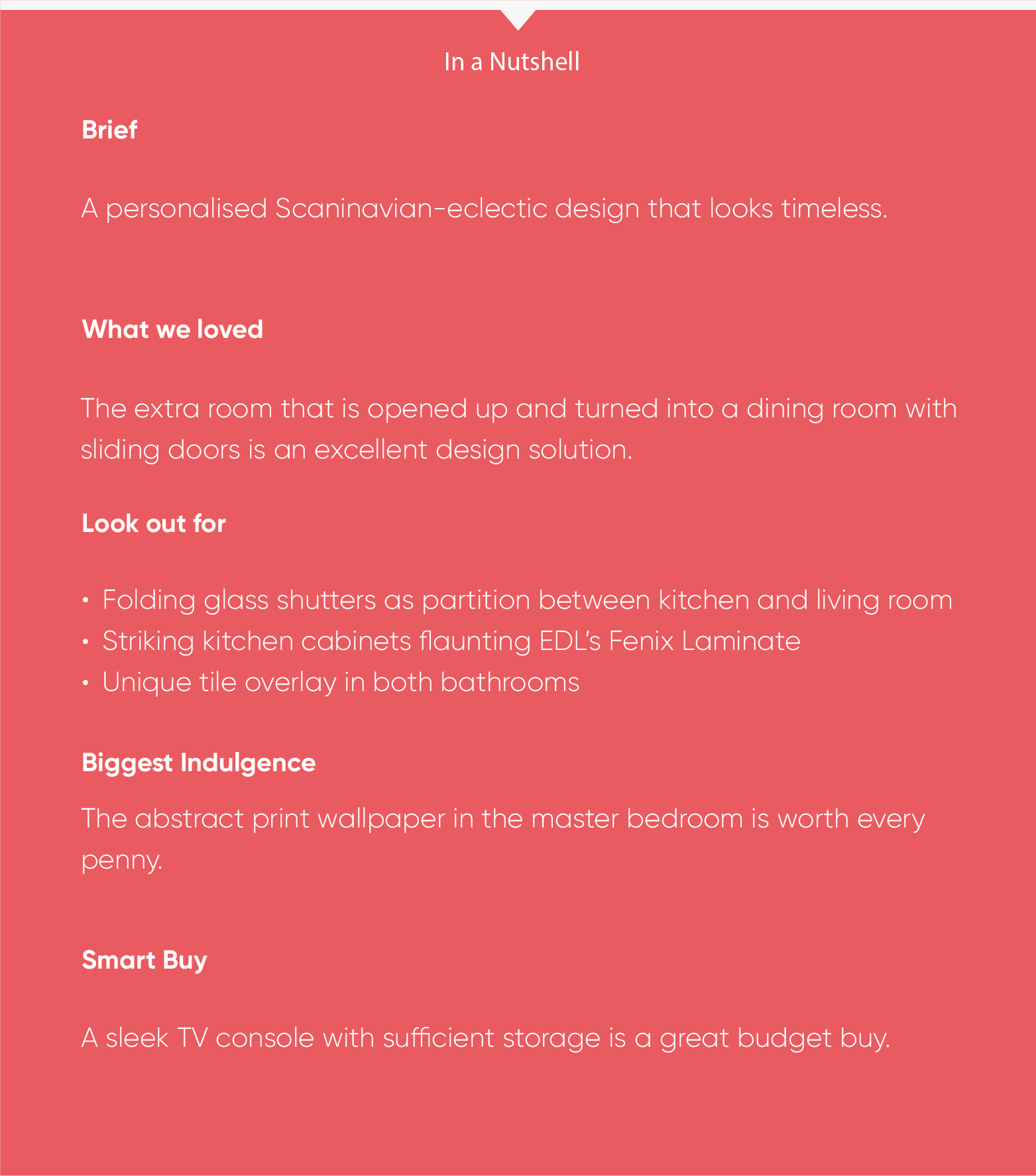 About the colour scheme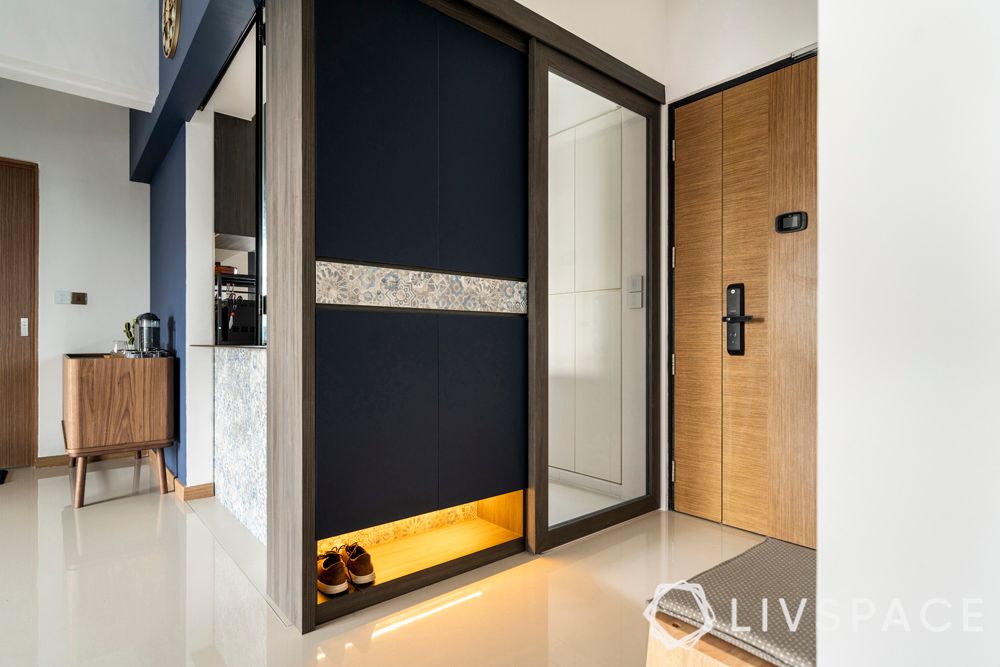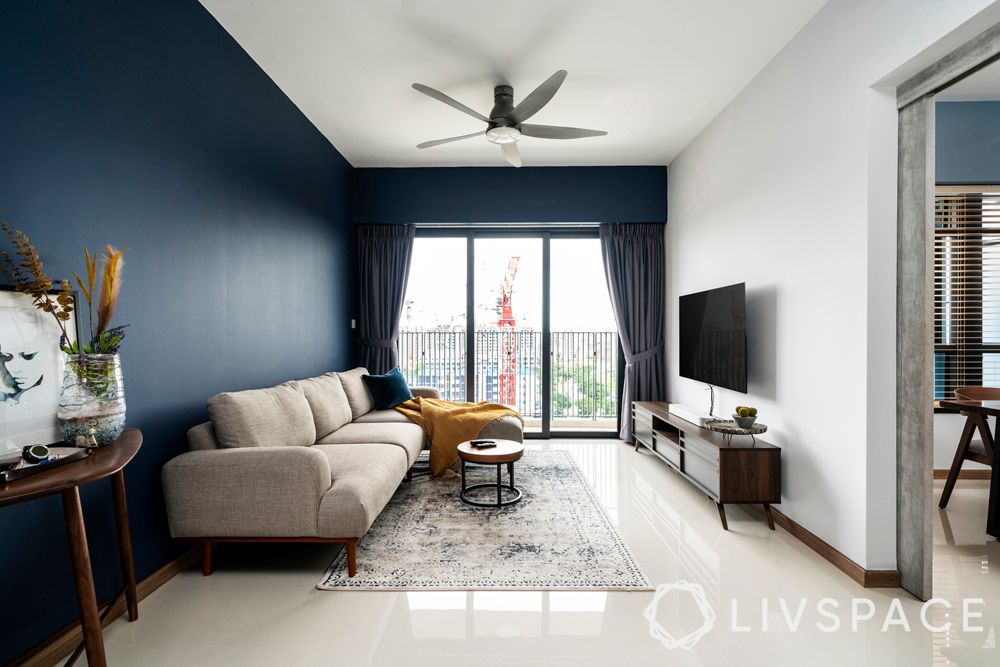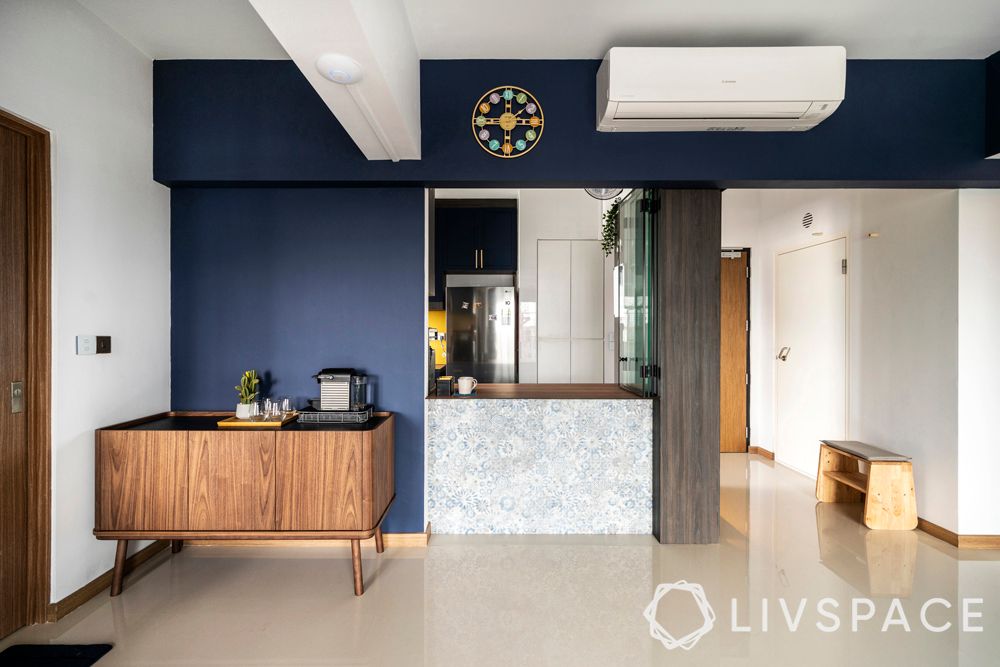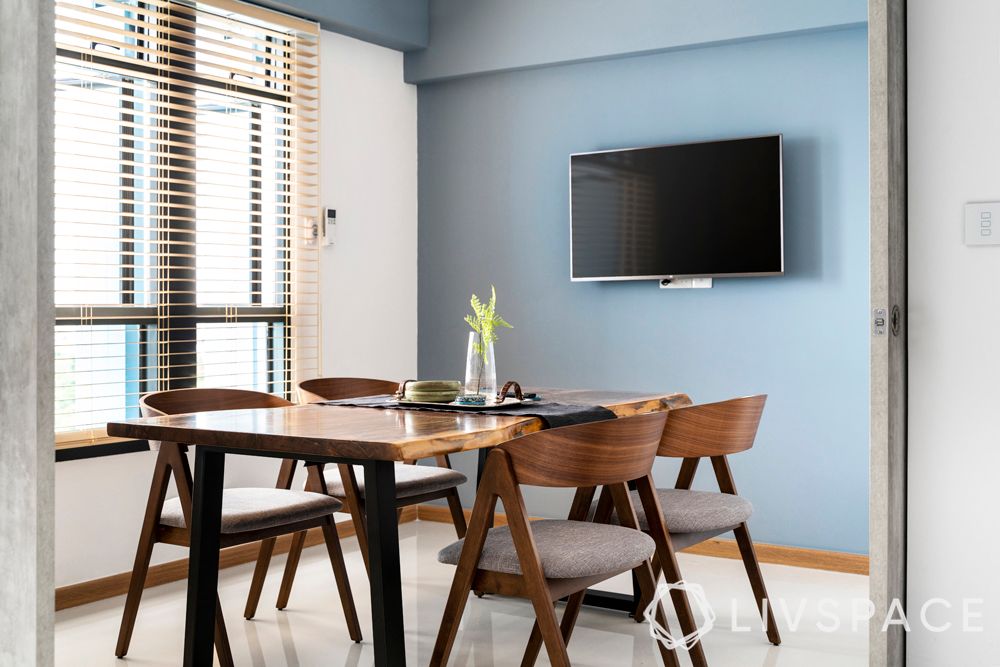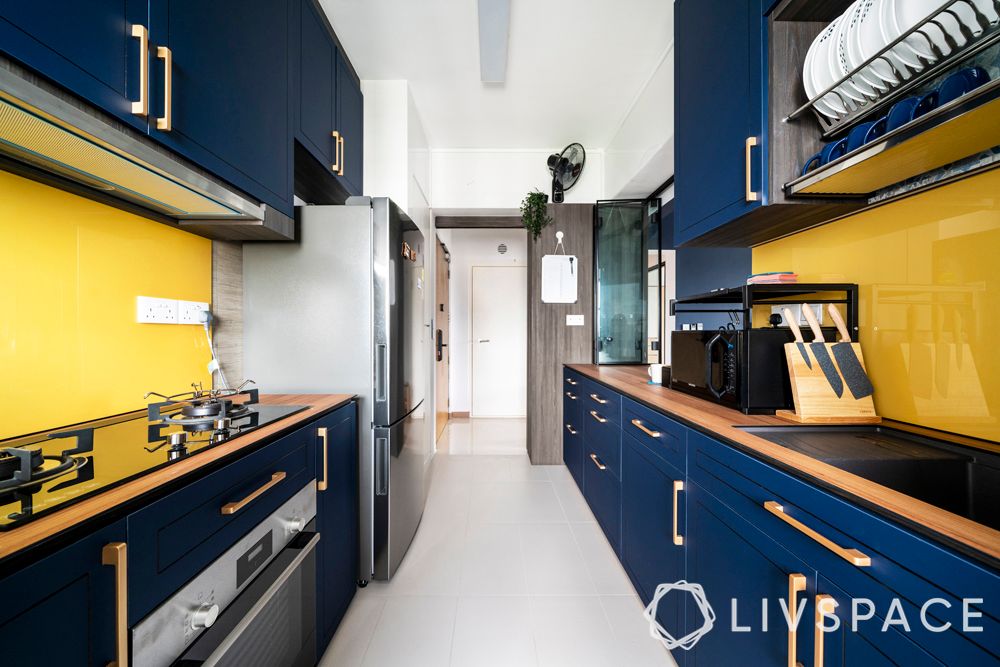 The very starting point of this 4 room BTO design was the colour—dark navy blue. Johan has used this colour and similar tones, extensively in different parts of the flat. Starting from the foyer and living room, where he has painted entire walls in this classic dark hue. Since this flat is occupied by a young couple, we think this colour is just right!
The dining area flaunts a lighter tone of blue on the wall. Since this space is slightly compact, he thought it would be ideal to go for a lighter shade. And we agree!
Moving on to the kitchen, Johan has used dark navy blue in the kitchen cabinets. On a lighter note, Johan shared that the couple had not noticed that he changed the colour of their kitchen backsplash. They were taken by complete surprise on the day it was getting installed and they instantly fell in love with it!
One of the smartest corners in this 4 room BTO
And here's the surprise you've all been waiting for. The dining room right here was actually a bedroom earlier. Johan hacked the walls and created an open dining area. To conceal this corner, he used sliding wooden doors that close on two sides. This way, the open layout does not come in the way of private spaces. A very intelligent design solution, we must say!
In the words of the couple
"In terms of envisioning our design and executing it, I would say it is almost 10/10. We were impressed with Johan's experience & professionalism in our house designs. He was also able to optimize our space for storage & also provide ideas on our furniture, fixtures & accessory selection to match our eclectic theme. Livspace's carpentry carries quality and good workmanship, all rectifications were also done swiftly with limited hassle."

Shankie & Debbie

Livspace Homeowners
A window inside the flat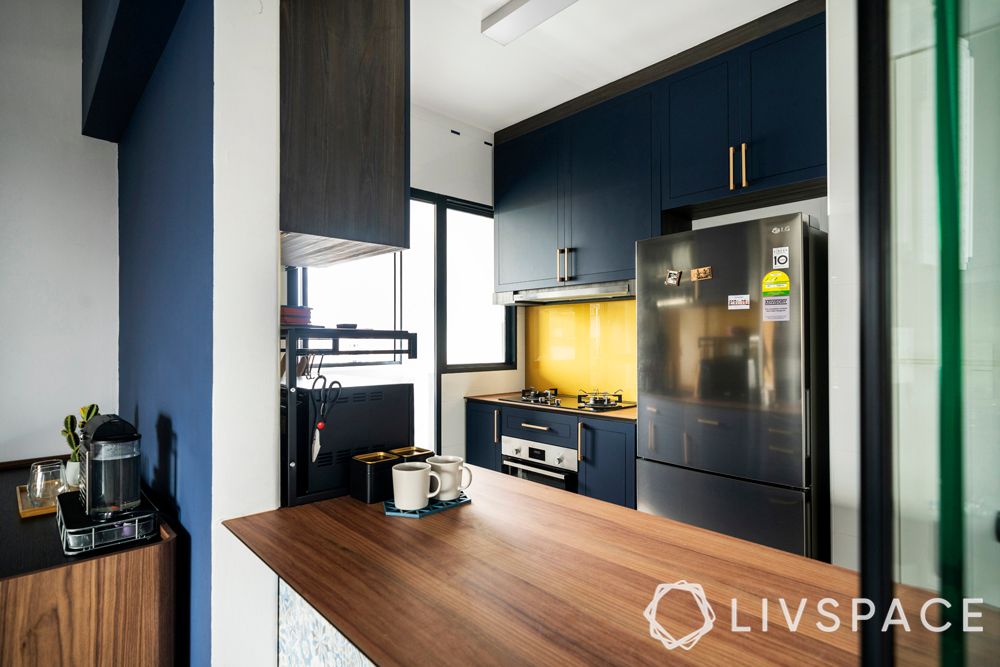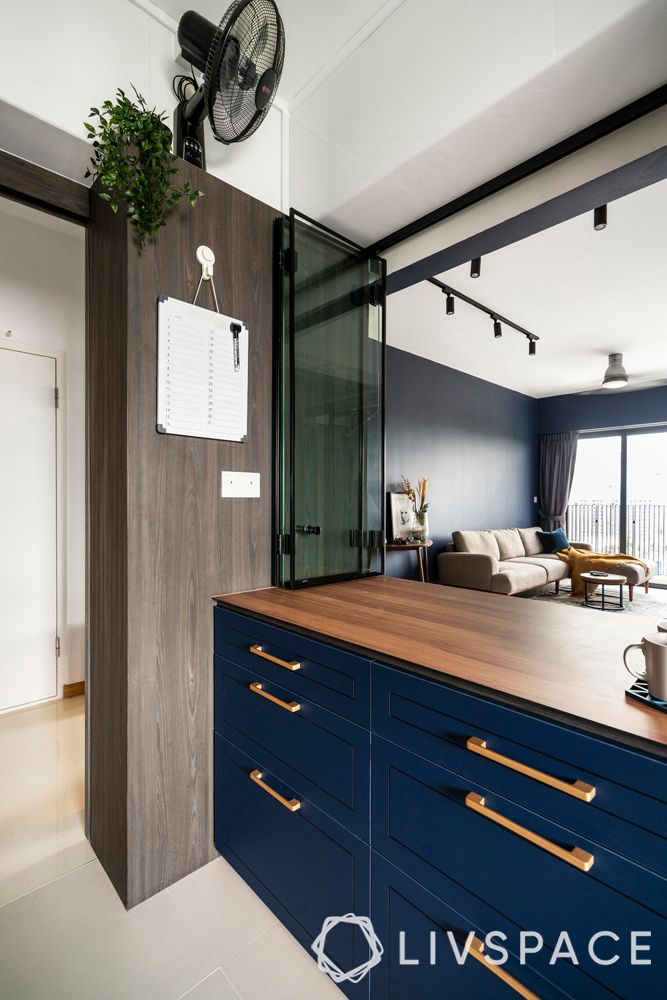 We usually have windows that overlook the scenery outside, but in this 4 room BTO you will see a window right inside. Shankie and Debbie are passionate cooks and they fancied an open kitchen, but also wanted a solution to close it if they needed to. So Johan came up with this idea of having a kitchen window with folding glass shutters.
Of stylish walls and functional furniture pieces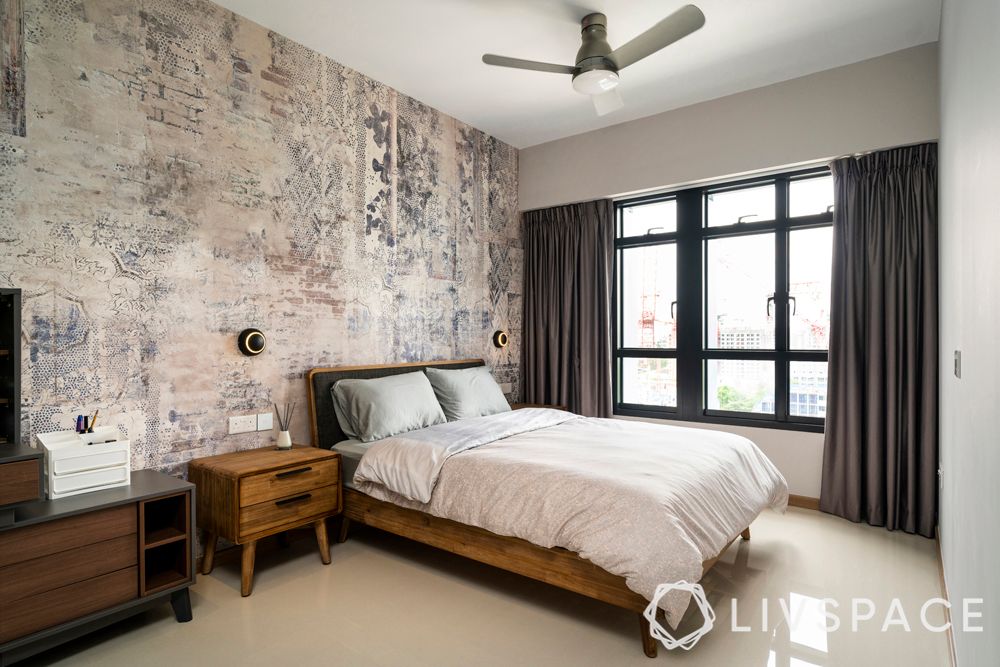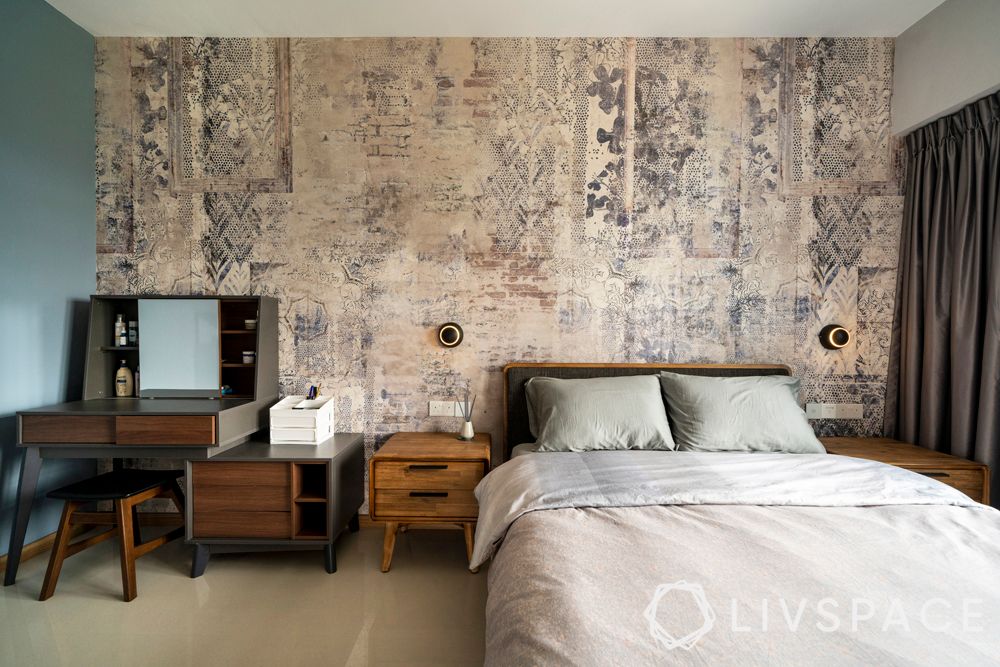 The master bedroom at this 4 room BTO is a simple and practical space. The couple was up for experiments and allowed Johan to try bold patterns while conceptualising the design. That's how this abstract wallpaper came into being in their bedroom. In one corner you can spot a dresser and on either side of the bed are these wooden side tables. This is what we call a fuss-free design.
A bedroom turned into a walk-in wardrobe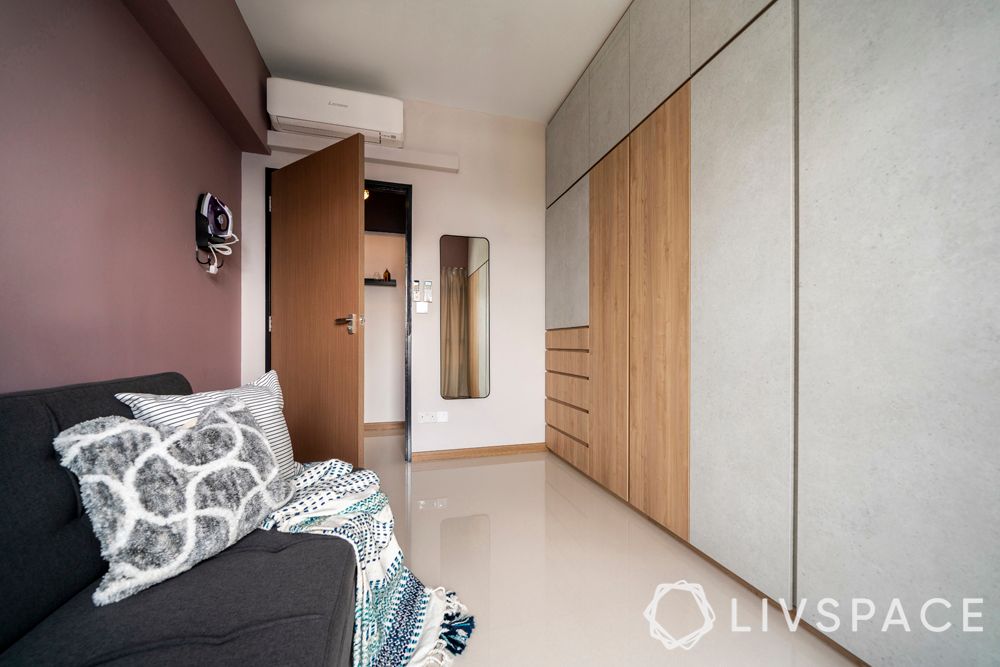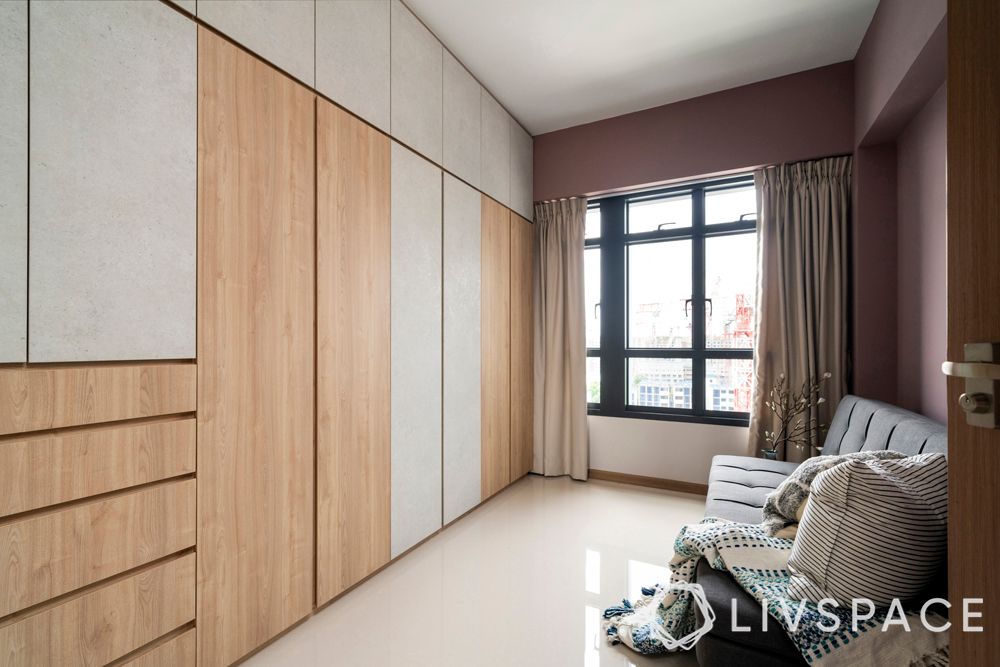 The second bedroom in this flat has been utilised for the sole purpose of storage. The couple uses this room as a walk-in wardrobe. Wall-to-wall wardrobes in wood and laminate are full of storage, complete with drawers and lofts.
Bathrooms that are designed to perfection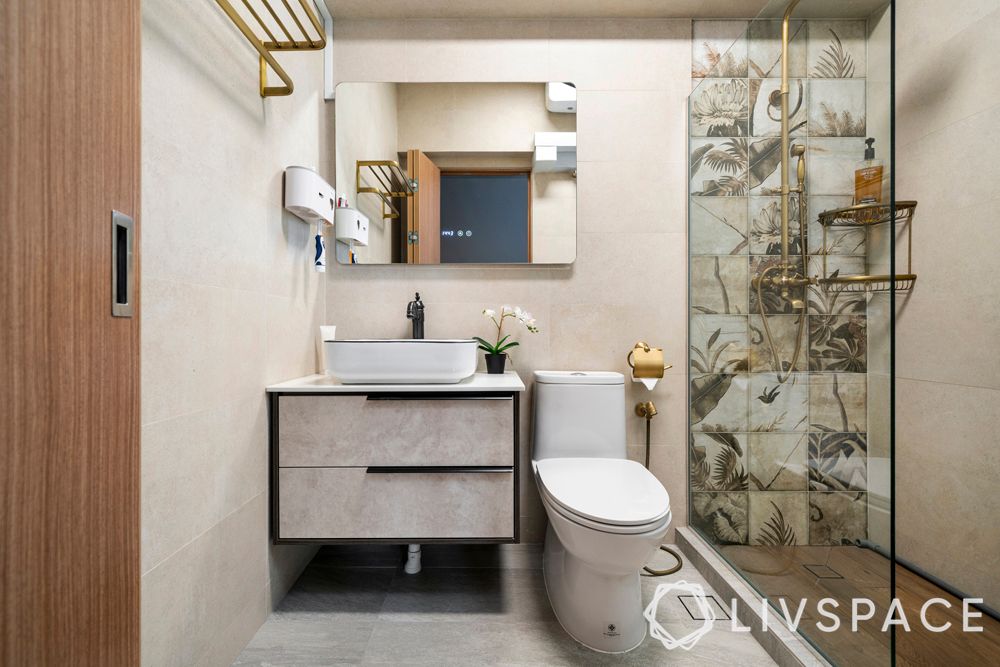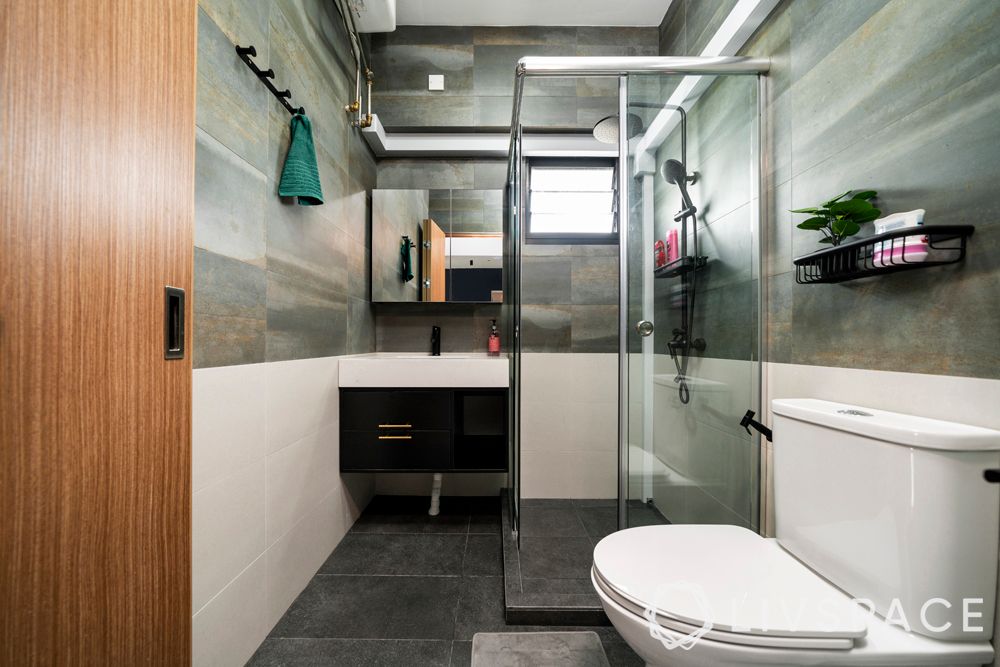 Interestingly, one of the favourite spots of the couple is the master bathroom that has lovely tile overlay on the walls and flooring. Outfitted with glass partitions, these compact bathrooms have demarcated wet and dry zones. With floating vanity units and metal shelves, storage is also taken care of. In the words of Shankie and Debbie, "The master toilet is so "us", reflecting our style perfectly."
"Being a designer for so many years, this has been one of the most memorable projects since it happened during Covid-19, which resulted in unexpected situations. But luckily the couple was very understanding throughout the renovation journey. They also pushed my boundaries as a designer which allowed me to explore certain approaches that I normally wouldn't have proposed."

Johan Ng

Interior Designer, Livspace
If you loved reading the journey of this couple, check out another young couple's renovation journey with us: What is the Best Way to Design a 4-room HDB for a Young Couple.
Send in your thoughts and suggestions to editor.sg@livspace.com.