Are you moving into your upcoming Plantation Grange BTO flat? If yes, you're probably looking to design your interiors in a way that can keep up with your growing family. Even if you aren't looking to expand your family, it still helps to know what ideas to explore in terms of interior designs for your HDB flat at Plantation Grange in Singapore. You want your new home to be functional and practical, and just as importantly, it needs to look good and be on-trend. Here's how our designers at Livspace can transform an empty BTO flat into a beautiful home.
In this interior design for Plantation Grange in Singapore, we've created a sample home that's perfect for a young family with kids. In fact, the same design can even work wonders in a multigenerational home too! Let's take a look at what we did in this BTO flat, and how it can apply to your new home.
What Are Some Interior Design Ideas for Plantation Grange That Livspace Can Help You With?
Whether you're a new family looking to expand or a multigenerational family, we've got design solutions to suit every need. If you're looking for a functional interior design for Plantation Grange in Singapore, you're at the right place. The sky is the limit when it comes to our BTO interior renovation ideas! So be sure to take note of what you like, from simple renovation work to more detailed carpentry.
Use our Plantation Grange interior design ideas from his flat as a baseline for your own home's inspiration. If you like what you see, don't forget to get in touch with us to help you realise this vision too!
1. Say Goodbye to Boring Foyers As We Create a Custom Design for You
Your entryway is the first space you'd step into as you open the doors to your new flat. Given the visual importance it holds, you'd surely want a foyer design that creates an impression. But don't fret if you can't think of anything besides a basic shoe cabinet and leave the creativity behind your interior design for Plantation Grange to us!
What Can Livspace Do Differently for Your Foyer?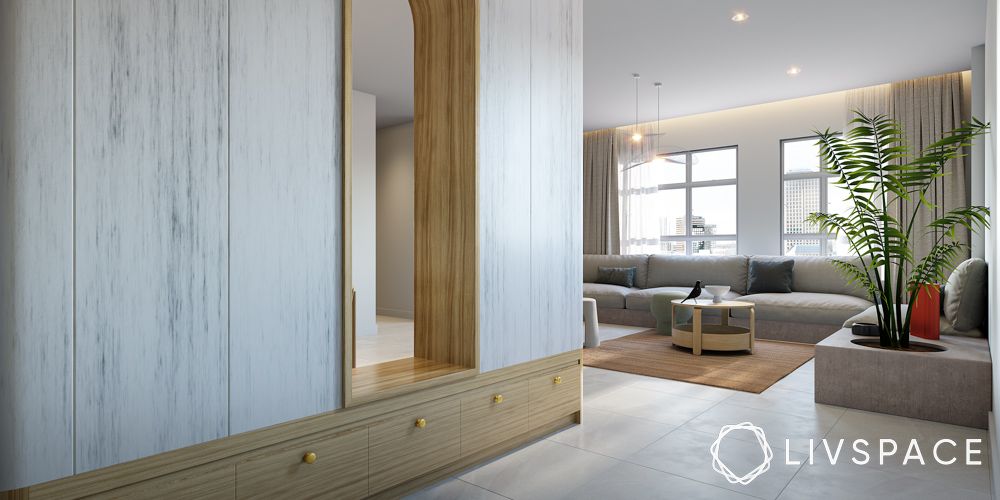 Take a good look at how we've designed the foyer of this home. You might think the archway in the cabinet holds a mirror. But if you look closer, it's actually a see-through window that peeps into the dining area behind it! Here's how we went about the foyer interior design for this Plantation Grange flat:
To ensure the space offers some element of storage, we used a full length cabinet to store shoes and other items.
Since this area runs the risk of looking plain, we added an archway between the cabinets to create a multifunctional space.
The archway can be used as a focal point, seating area, and even a temporary shelf to rest your bag/jacket as you put on your shoes.
As the foyer area forms the first impression in this interior design for Plantation Grange, it needs to be well lit. Positioned in a niche, this space may appear dark or dim without the presence of natural light. To prevent this, the arch acts as a passageway for light to flow in from surrounding rooms. Additionally, it also adds depth to the space, making it look more spacious.
To make this interior design in Plantation Grange child-friendly, we opted for smooth and rounded edges for the cabinet. We also designed the shoe compartment with rounded brass knobs to help kids at home easily and independently access their shoes and other items.
2. Walk Into a Magazine Cover Page With Our Trendy Living Room Design Ideas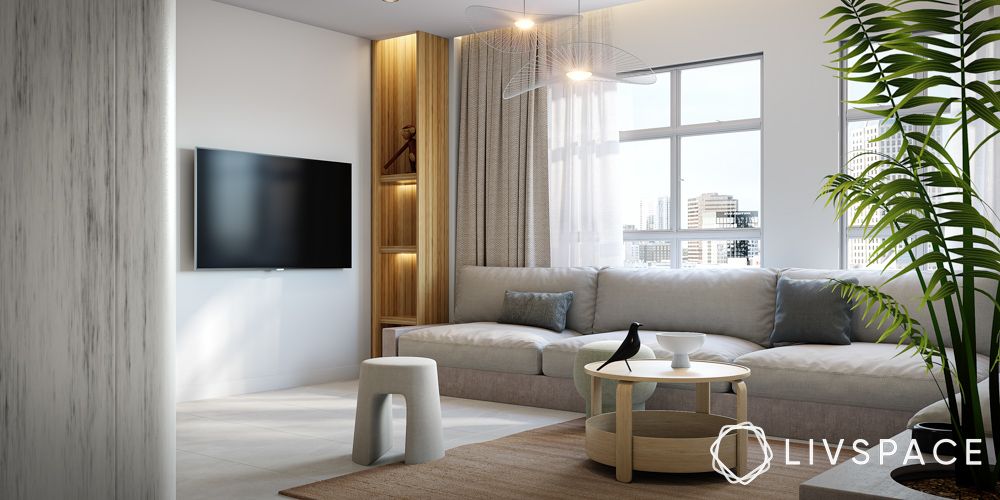 With our interior design for the BTO flat in Plantation Grange, you're bound to feel like you're living in the pages of a magazine. You can now save yourself the trouble of creating a vision board for your dream reno, because what you see is what you can get. If you're still unsure of what style to settle on for your living room, take note of our Plantation Grange BTO interior ideas for inspiration.
How Can Livspace Plan Your Interior Design for Your Living Room in a Plantation Grange BTO?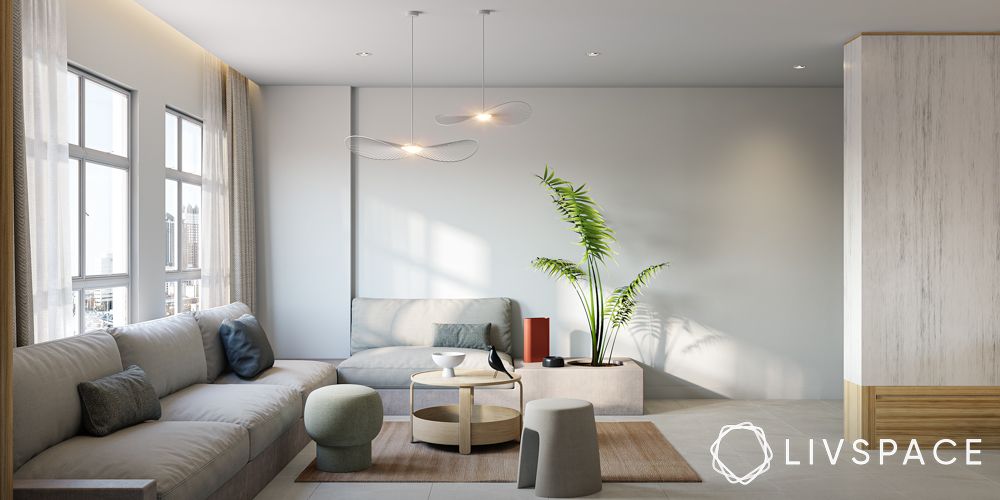 One thing you'll notice across this interior design for Plantation Grange is the use of rounded edges on all furniture. This is because we designed the space keeping in mind the family's toddler. For living room furniture, we used stools and tables that have soft edges to prevent accidental bumps while playing.
Given our focus on child safety, we tried to avoid keeping any loose decor elements that can tip over. We stored the plant inside the bay window settee to secure it and minimise the risk of accidents.
If you're looking for Plantation Grange BTO interior ideas that are great for homes with kids and pets, this tip is for you. We chose a settee that's enclosed from the bottom to prevent kids and pets from crawling under it. This also helps prevent toys and dust from accumulating under your furniture.
We use shelf lights on each level of the wall cabinet to keep it illuminated and bright. Also, notice how we haven't stored any decor items on the lower shelves of the wall unit? This is to keep hazards out of the reach of pets and children.
For the TV unit, we mounted it directly onto the wall without a console table so that kids and pets can't climb atop it and risk injury. Similarly, we kept the space wireless for a clean yet safe take on this interior design for Plantation Grange in Singapore.
Also Read: Waiting to Move Into Your Tampines GreenVines BTO? Here's How Livspace Can Design Your New Home
3. Hello From the Other Side (of Your Foyer): Your Dining Room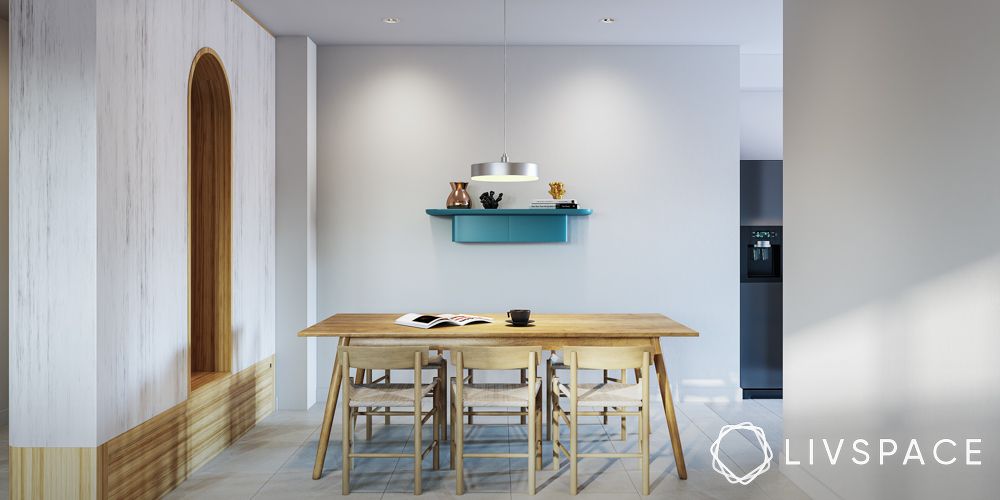 You might remember the foyer archway from the previous points in this interior design for Plantation Grange. We gave you an idea of what purpose it offers, but now it's time to look at what lies on the other side of it. Here's how we designed this functional dining room space.
How Can Livspace Leverage Your Dining Room Design?
You might have already guessed by now, but the main theme of this BTO interior design for Plantation Grange is Scandinavian. And in line with this design style, we chose natural materials wherever possible to further build the look.
To further add to this Scandi-inspired renovation, we used furniture with exposed legs to tie into the look.
With the addition of the archway, we're able to keep the entire space open and airy, while also adding an element of interest to the dining room.
Since the dining area is relatively simple compared to the rest of this interior design for Plantation Grange, we introduced a pop of colour with the wall shelf. We chose a colour like blue that complements the light wooden furniture and is also reminiscent of natural elements like water.
In terms of lighting, we use a pendant light to directly highlight the table in an open layout.
4. Don't Know What to Do With Your Galley Kitchen? We Can Help Put a Spin on It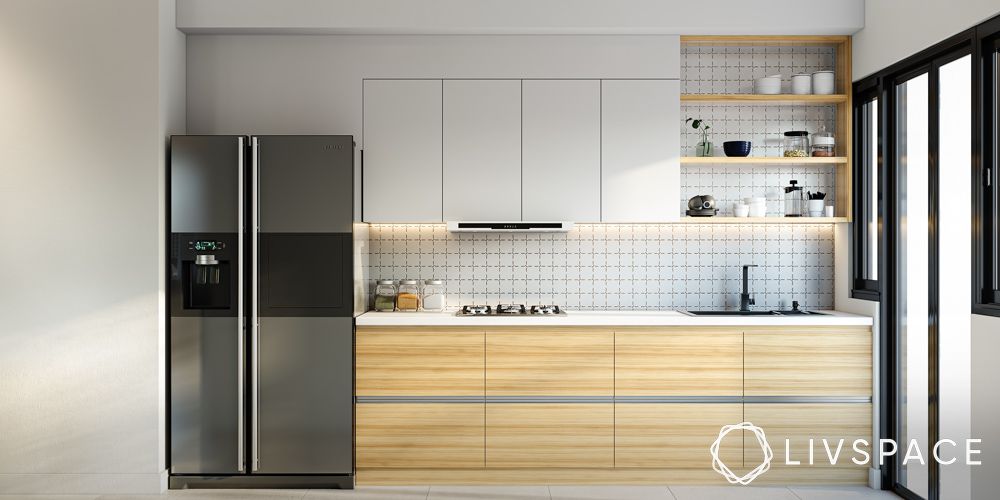 Sometimes, galley kitchens run the risk of looking plain or old school. While it's still a functional layout for your kitchen, you may be weary about embracing it for this reason. So, let's show you how to renovate a galley in a way that's both trendy and functional.
How Can Livspace Help Renovate Your HDB BTO's Galley Kitchen?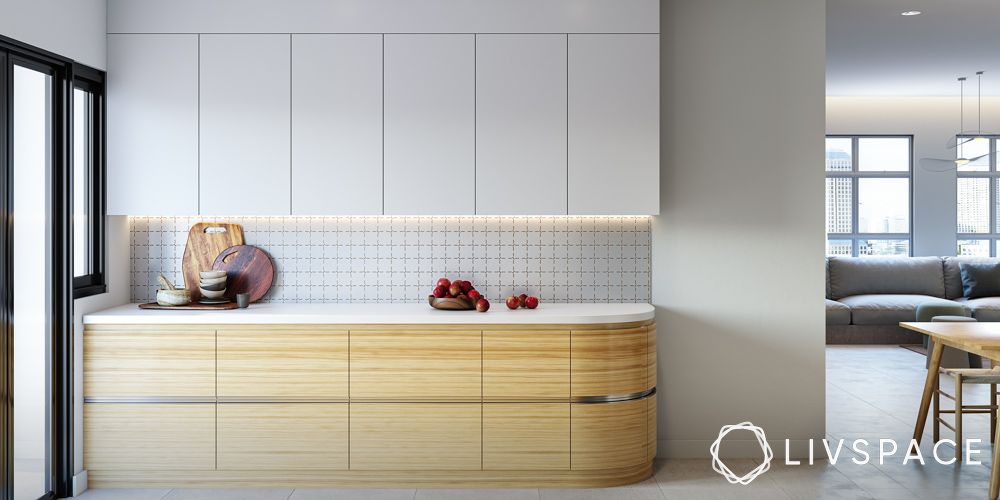 In this kitchen's interior design for Plantation Grange, we wanted to balance both modern and Scandi themes. We went seamless with the cabinets to keep the space looking modern.
For the Scandi-inspired touch, we opted for laminates that have a wood grain finish to mimic the look of natural wood.
Owing to the child-friendly approach to the home, the seamless cabinets also help keep the space safe for kids. Since there are no cabinet handles to pull on, kids and pets cannot access any hazardous items from the cabinets.
We used white for the upper cabinets and backsplash to create a space-enhancing impression. Paired with the natural light flooding in from the service yard window, the entire space looks bright and neat.
We also line task lights under the upper cabinets to focus ambient light on the worktops during meal preparation.
In terms of layout, we kept the wet and dry areas separate, on either side of the kitchen, to focus on the golden triangle rule. Under the rule, we place the main work areas at the three points of a triangle. This makes it a lot easier for you to prepare food seamlessly.
5. We Can Help You Master the Art of Designing Your Master Bedroom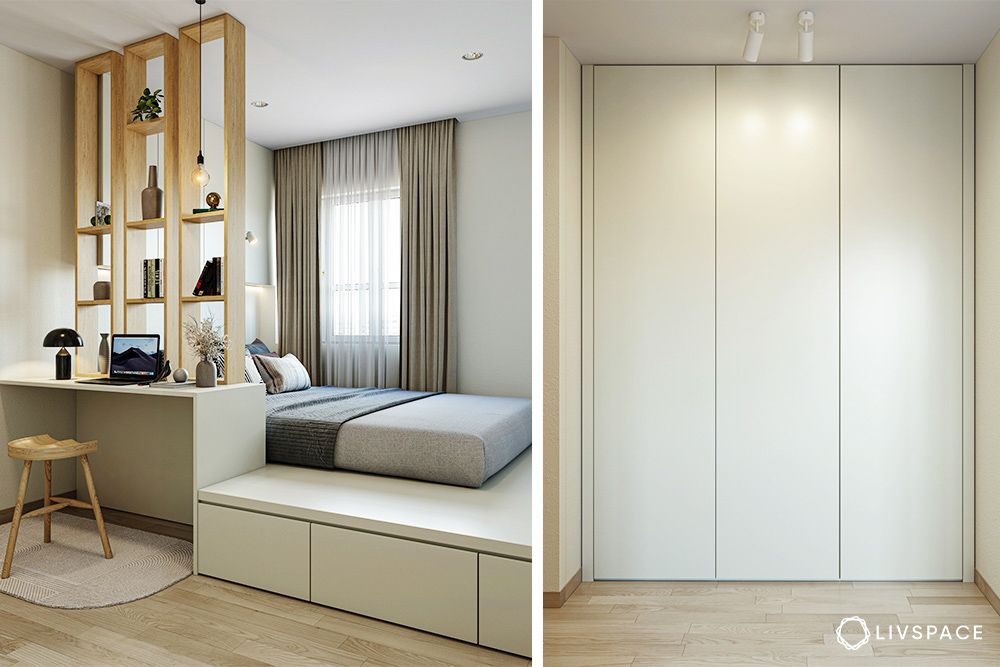 Do all the Pinterest boards on bedroom design have you confused? If so, we can help straighten things out. While mood boards can be a great source of inspiration, sometimes functional design is all you really need. Check out how we merged the two for this bedroom interior design in Plantation Grange HDB BTO.
How Can Livspace Help Make Your Bedroom More Functional?
We kept the approach to design simple by using a platform bed and limiting the amount of furniture. To create separate zones, we kept the study area on the other side of the room divider.
Instead of using bulky storage units, we went with a platform bed that offers concealed storage beneath it. If you're looking for clever Plantation Grange interior design ideas for storage, this is it!
Notice the integrated shelving unit that doubles up as wall storage and a room divider? We wanted to make the best use of the space available, so we opted for multipurpose elements that can add more utility to the space.
Since this interior design for Plantation Grange Room is all about the Scandinavian aesthetic, we wanted to extend the airy look to the bedrooms too. Our choice of room divider helps add a natural element to the space, where its open design doesn't look visually overpowering either.
For the wardrobe, we placed it right by the entrance to expand the bedroom's interiors. Much like the kitchen, we stuck to seamless wardrobe fronts that matching the other storage units in the room.
As we've introduced another storage cabinet above the bed, we used under-cabinet lighting for ambience. This keeps the bed illuminated, offers reading light at night, and gives the space a warm look.
Also Read: How to Design a Master Bedroom Efficiently
PS: We Can Do the Same for Your Master Bathroom Too!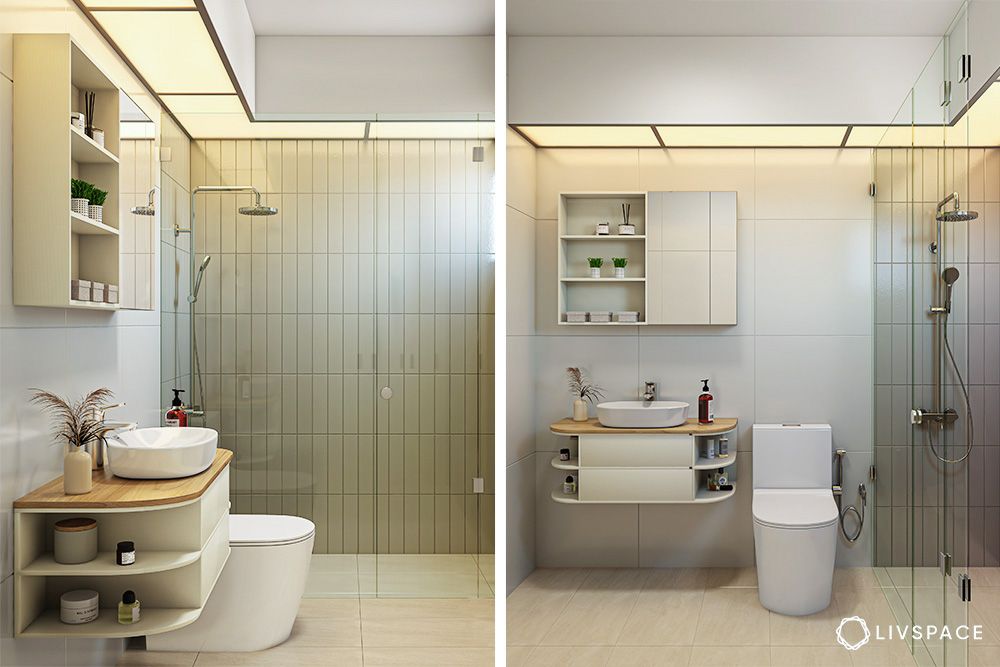 Remember how we mentioned that all the furniture in the home has soft, rounded edges? This extends to the bathroom too! For the vanity, we used cabinets with soft edges to tie into the child-friendly design.
To get that spa-like ambience, we used warm LED light panels in the ceiling.
We also used tiles in a slightly darker colour to add depth to the shower area, balancing the white palette. This is an especially useful tip to note if you have a small bathroom.
6. Let Us Create a Space Your Kids Would Love to Grow Up In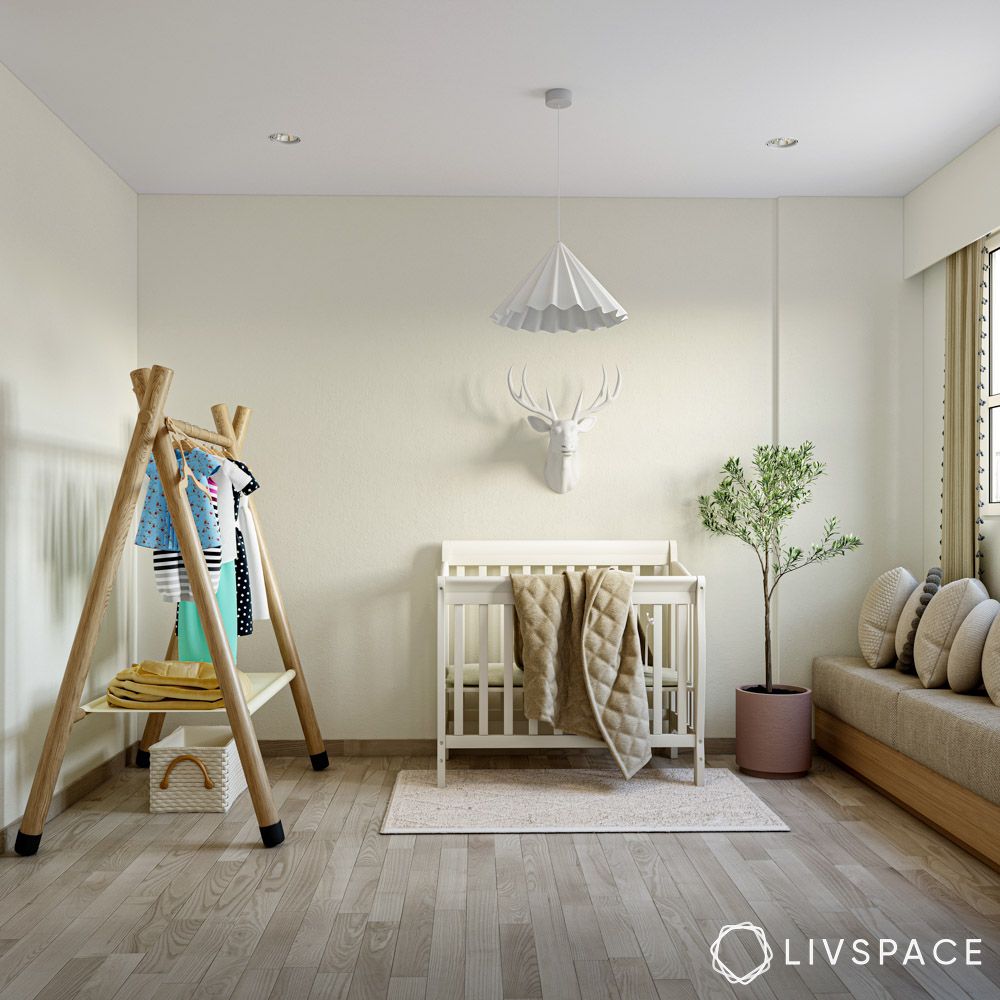 Throughout this tour, we've explained how we've planned this interior design for Plantation Grange to be child-friendly. And now, it's finally time to come to the kid's bedroom design! Since most of the design decisions were based around the family's toddler, let's take a look at what the start of the show's room looks like!
How Can Livspace Help Design Your Child's Bedroom?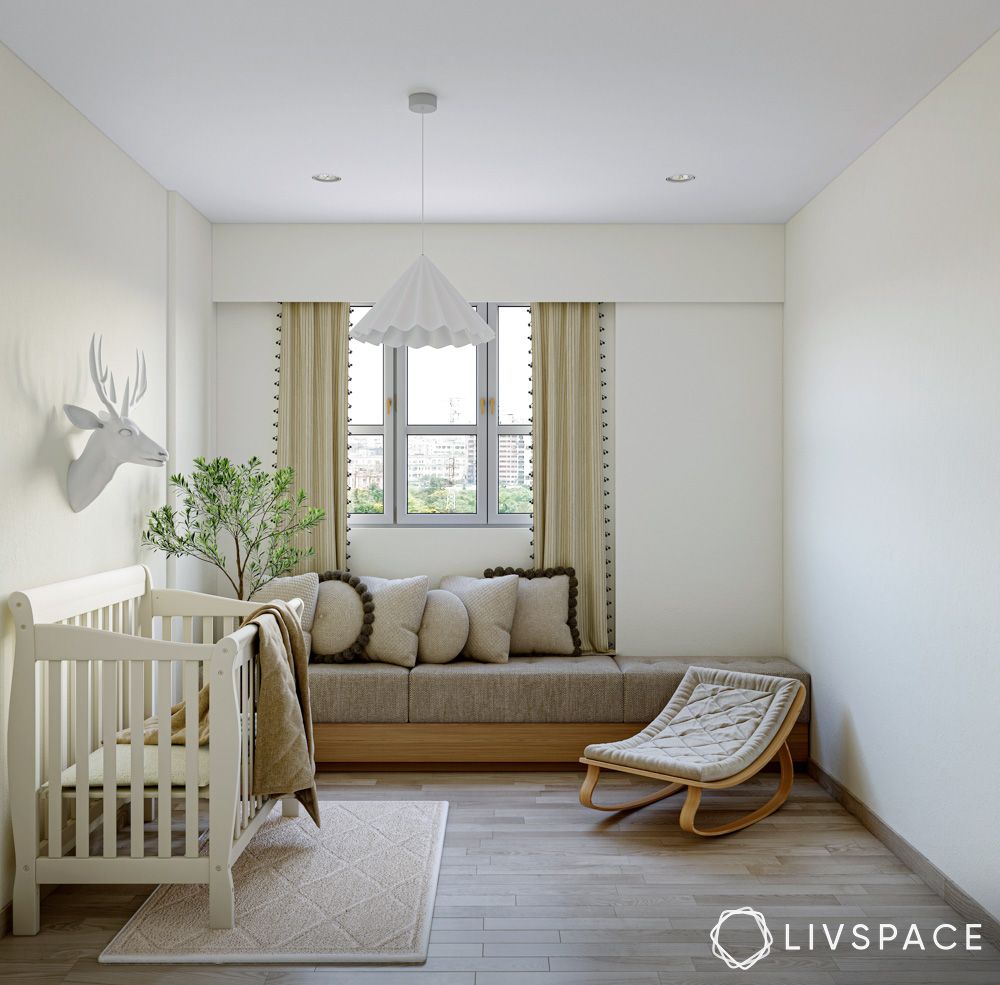 Since toddlers can still be too small for their own bed, it helps to use a crib for the time being. And when you design accordingly, you can keep the rest of the room free for playtime.
In this interior design for Plantation Grange, we've kept the toddler's room as minimal as the rest of the home. In place of a bed, we use a crib, but pair it with a window bench for extra seating space.
As the child is still small, we kept the wardrobe area simple, with just a clothes rack instead of cabinets. When the child is older, the family can choose new furniture and storage options for the room, since no permanent fixtures have been used. This is also helpful since children may have their own preferences as they age.
7. We Know Just How Important Space Is for a Growing Family, and It Reflects in Our Design Too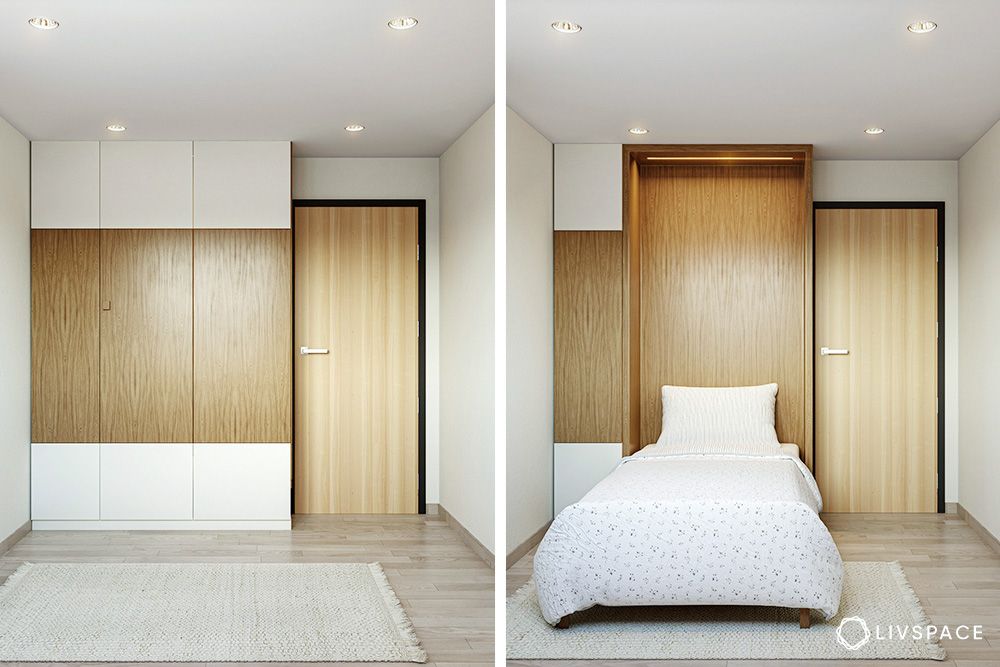 If you plan on expanding your family, or simply like having the room to do more, you know how important extra space can be. Here's where it's essential for your ID or contractor to be on the same page as you while renovating. Space-saving techniques are something we've embraced across this interior design for Plantation Grange.
How Can Livspace Help You Use Your Extra Space?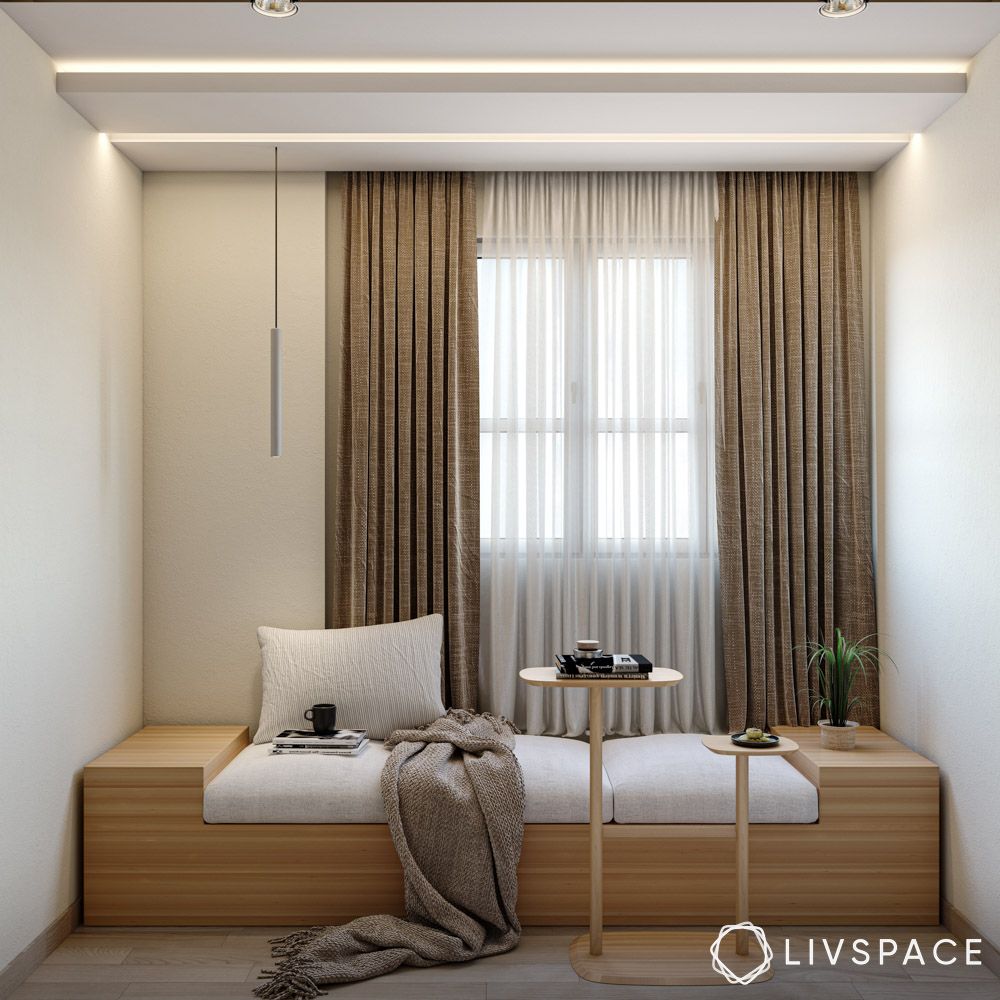 Have an extra bedroom? We can turn it into a recreational space that can be used by anyone in your family, depending on the need.
In this interior design for Plantation Grange, we used a pull-down bed to give the guest bedroom multipurpose utility. When not in use, the room can be used as a play area or storage space.
Much like the living and kid's rooms, we added a window seating area in the guest room as well. You can even customise this space to add storage beneath the seats, as per your requirements.
Since the pull-down bed saves space, the family can use the extra room as a makeshift home gym as well.
8. Don't Worry, We Didn't Forget About Your Common Bathroom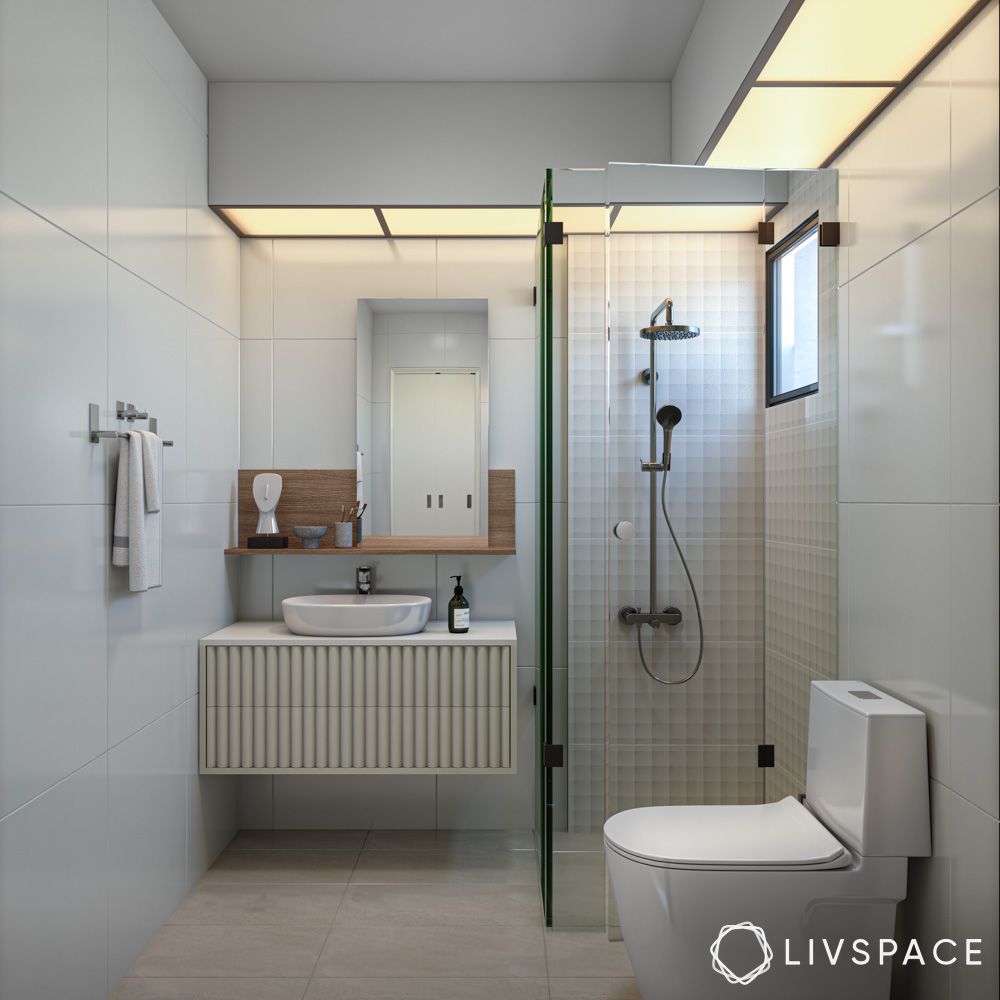 If you'd like to maintain a similar theme across your bathrooms, here's how we can do it for you:
We can match the colour palettes in both bathrooms to maintain continuity in design.
Since this interior design for Plantation Grange uses natural elements and materials, we can mimic the look with bamboo detailing. Take a closer look at the vanity cabinet, the grooves are similar to bamboo stalks. We can help you select furniture or create cabinetry that can carry a similar vibe.
The vanity cabinet and shelves are kept away from the reach of children, making it child-safe. We can also tile the shower area differently to segment the space from the rest of the room.
Property Overview of Plantation Grange HDB BTO
| | |
| --- | --- |
| Name of the Project | Plantation Grange |
| Sales Launch | 2019 |
| Type of Project | BTO |
| Total Number of Units Available | 1,140 |
| Number of Blocks and Floors | 10 blocks; 15 floors |
| Length of Tenure | 99 years |
The Plantation Grange HDB BTO offers a variety of housing options to choose from. Depending on the size of your family, you can choose between 2- (flexi), 3-, 4-, 5-room and 3 generational flats. What's more, this property is situated in proximity of an upcoming MRT, making commutes and connectivity easier.
If you love being a part of the outdoors, Plantation Grange can offer you just that. Bounded by greenery with a plantation-themed facade, there's a lot of green appeal going on for this property.
How Can Livspace Help You?
We hope you found our Plantation Grange interior design ideas useful! If you want your home to be just as beautiful, then look no further. Book an online consultation with Livspace today.
Have some comments or suggestions you'd like to share with us? We're all ears! Feel free to write to us at editor.sg@livspace.com.
Disclaimer: All contents of the story are specific to the time of publication. Mentions of costs, budget, materials, and finishes can vary with reference to current rates. Talk to our designer for more details on pricing and availability.