This young and energetic couple was super elated about their 4 room HDB design. We're sure you will find a lot of interesting features in here!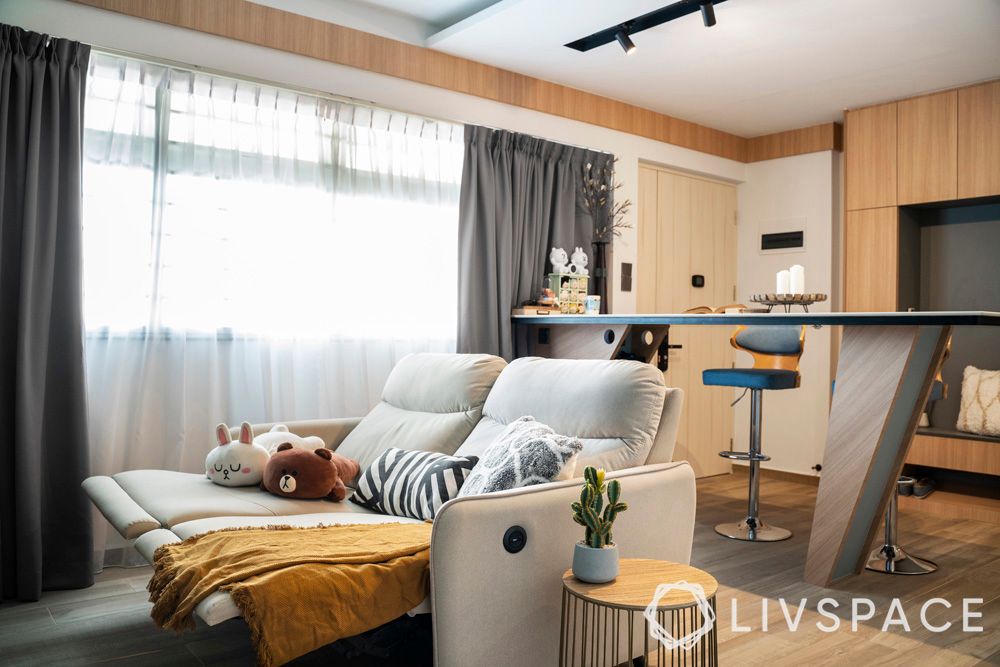 ---
Who livs here: Wei Li & Monica Loh
Location: Jalan Membina
Type of home: 4-room HDB
Livspace team: Interior Designer Shalom Hong and Project Manager Jared Tng
Livspace service: Living, Dining, Kitchen, Master Bedroom, Common Bathroom
Budget: $$$$$
---
Lovers of minimal interior design, Wei Li and Monica Loh set their hearts on giving their 4 room HDB a renovation that would look evergreen for a long time to come. You are bound to fall in love with the warm undertones of this home, coupled with some excellent functional corners. With hints of luxury in place, this home is a celebration of design and sensible choices.
"We went to at least 10 other interior designers before zeroing in on Livspace," said Wei, and we had to make it sure they got exactly what they wished for.
Check out this full-of-life home where we turned the brief of their home requirements into a reality!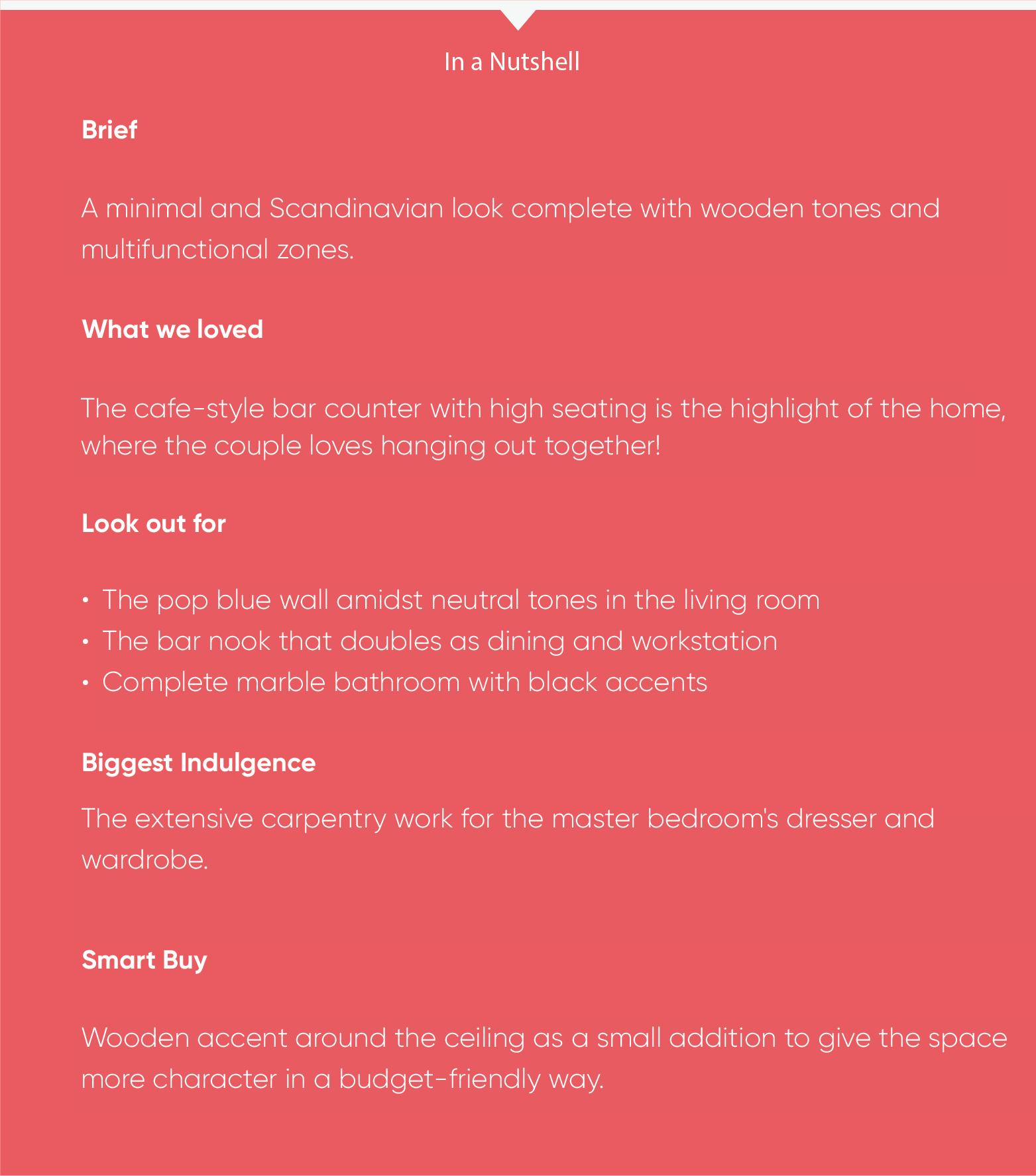 Let's begin with the compact yet functional foyer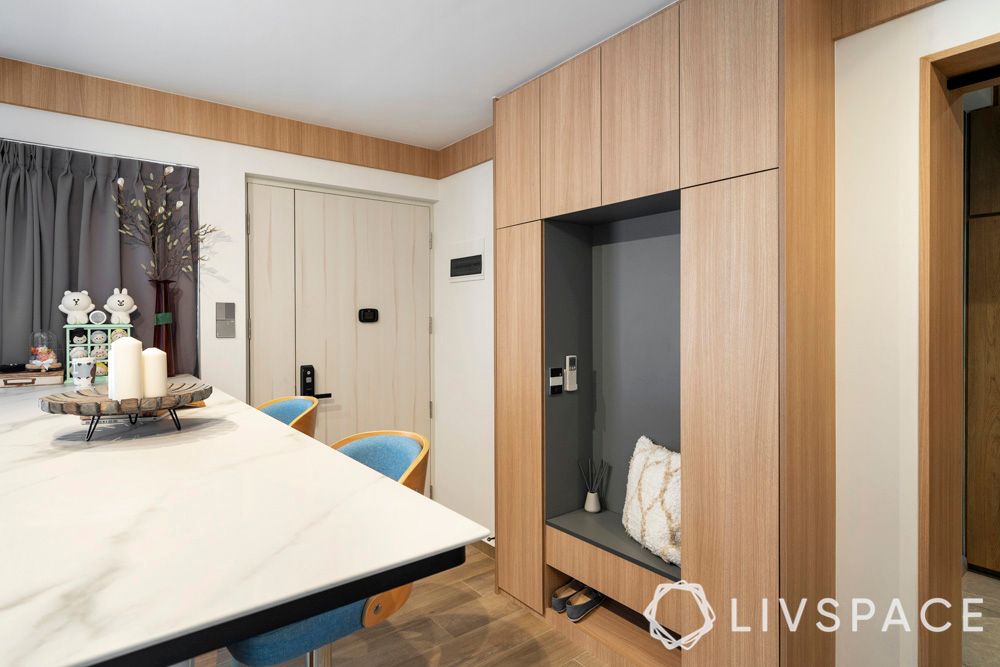 The moment you step into this stylish 4 room HDB, you will be welcomed by a cosy foyer of sorts. It is actually a wall that works as a foyer for the couple. We gave them a storage unit with lofts, because storage was one of their main concerns. So why leave any opportunity?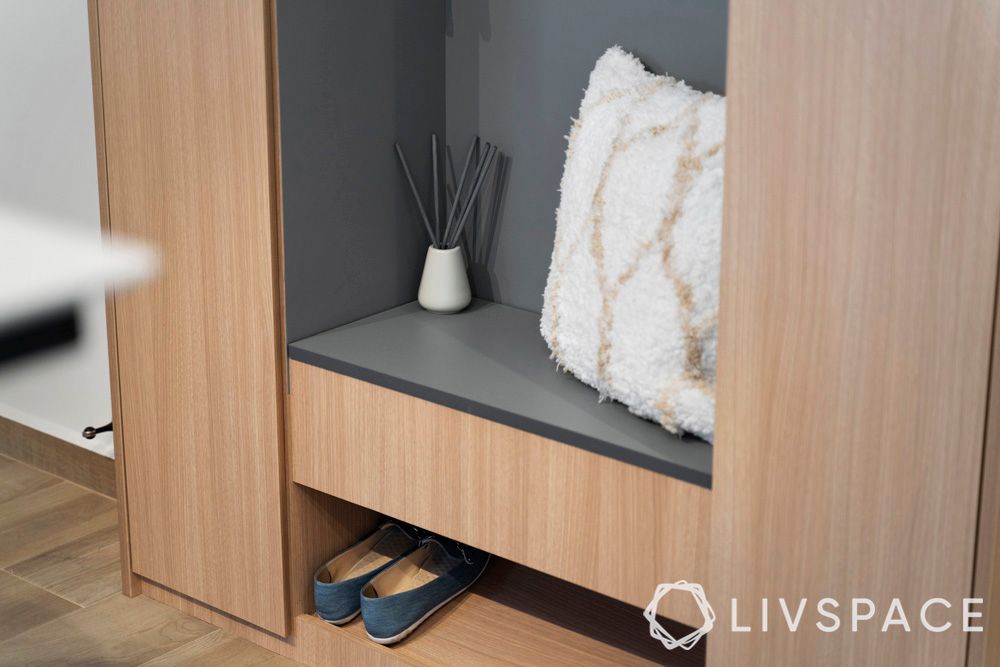 Shalom has also managed to carve out a tiny seating space with a cavity at the bottom, for keeping shoes.
Our favourite part of the house!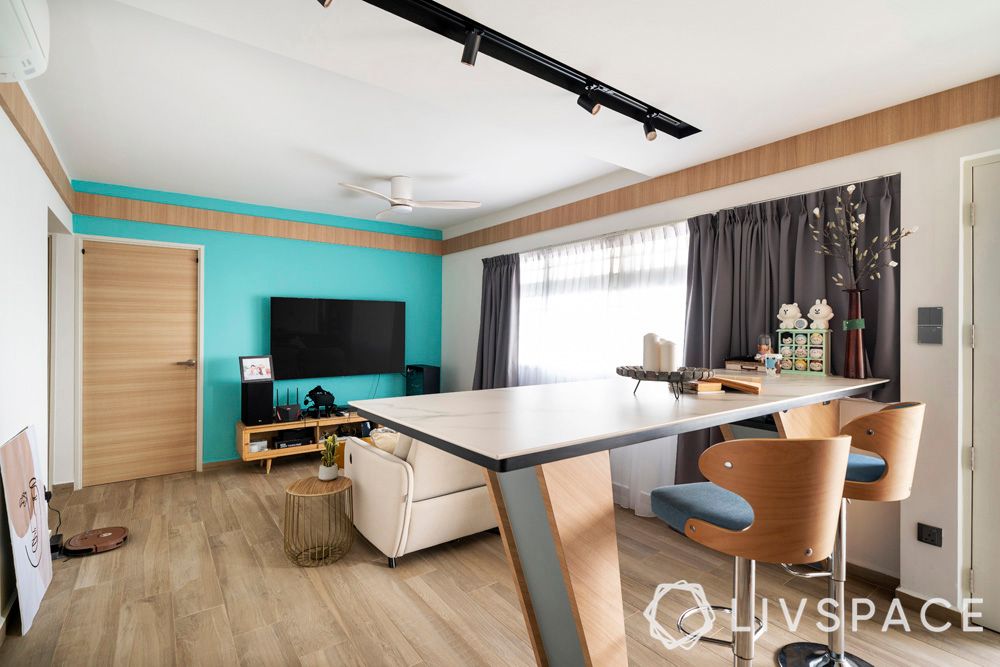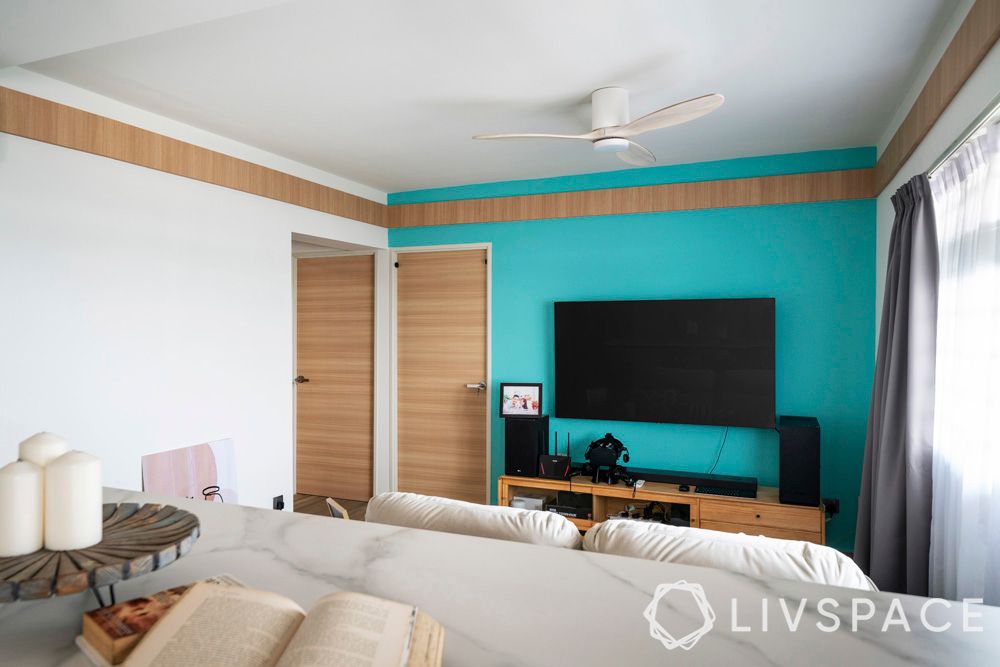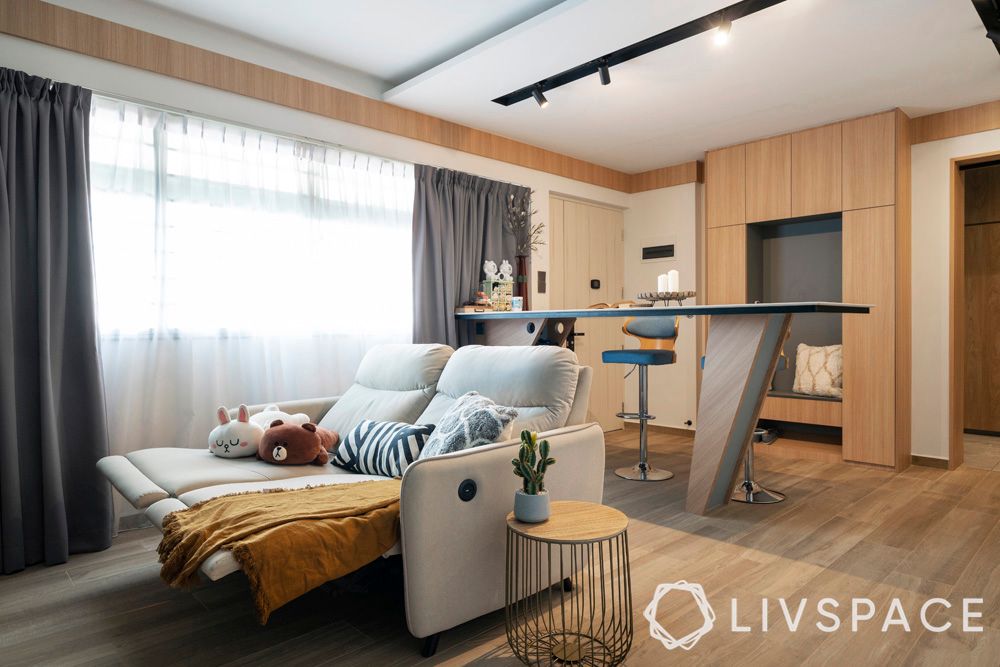 Apart from outfitting their apartment with wooden tones, the couple also wanted a space where they could relax and unwind together. In steps Shalom, with his expertise. He suggested they go for a reclining sofa in the living room, which both Wei and Monica love! Ideal for two, this sofa helps them sit back (literally) and enjoy watching their favourite series together.
Another noteworthy feature in this area is the bar counter that also doubles as a dining table and a workstation for the couple. Shalom has topped off this plywood with laminate finish table with a Vulcan countertop with marble grain finishing. This cafe-style corner has high chairs that face the television, for an uninterrupted view of the television!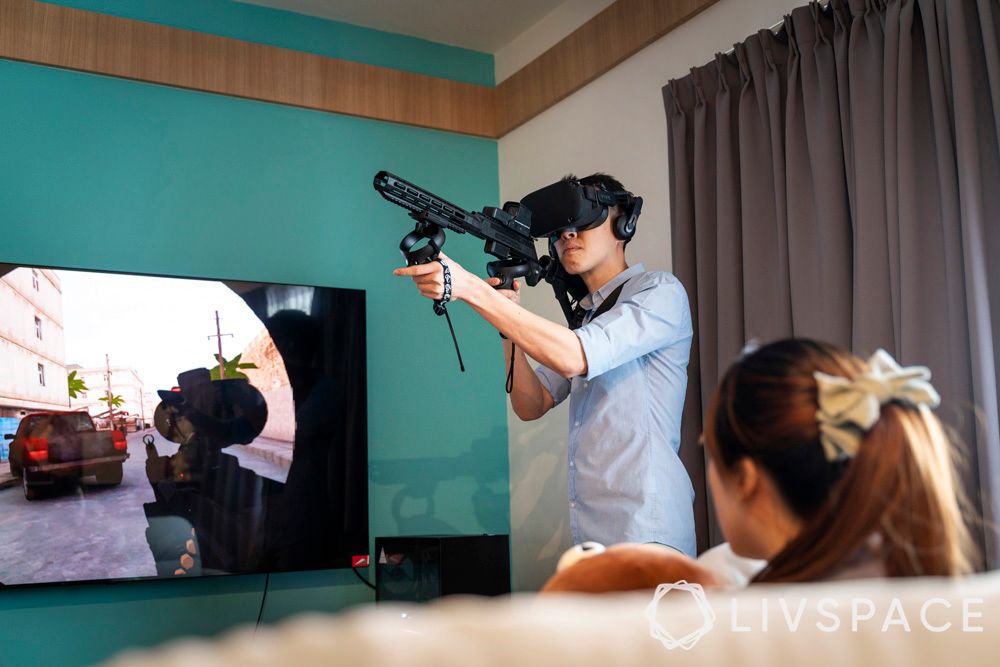 Looks like a movie shooting scene? Nope! That's Wei enjoying Call of Duty in his living room, with a pop of blue in the background.
Welcome to the space where the couple has splurged the most—the kitchen!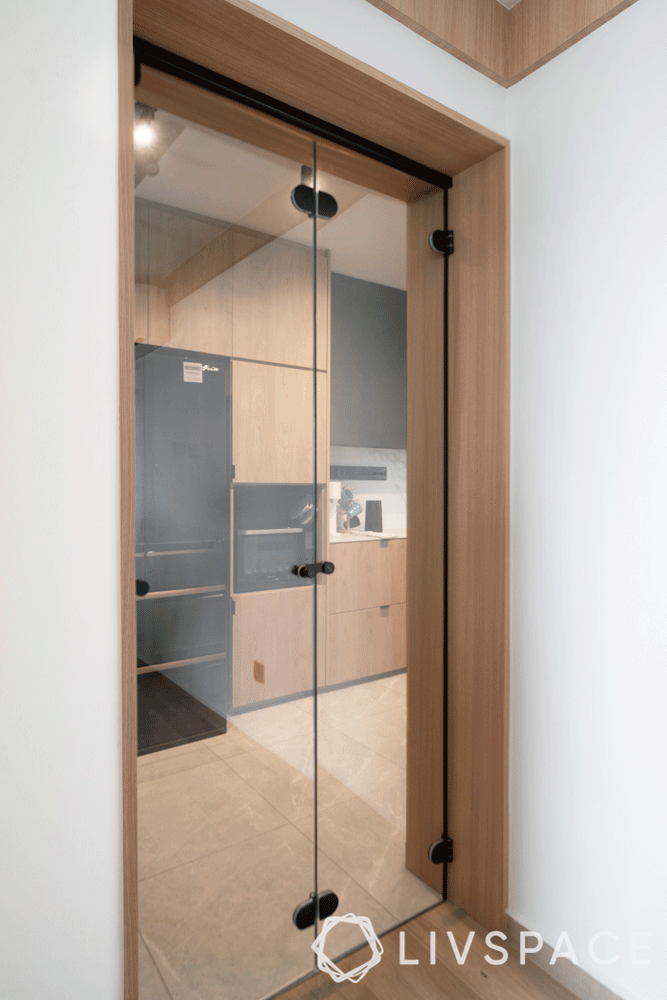 What do you do when you have an open layout, want something minimal and also want to create demarcations between spaces? You install a bifolding glass door, just like this!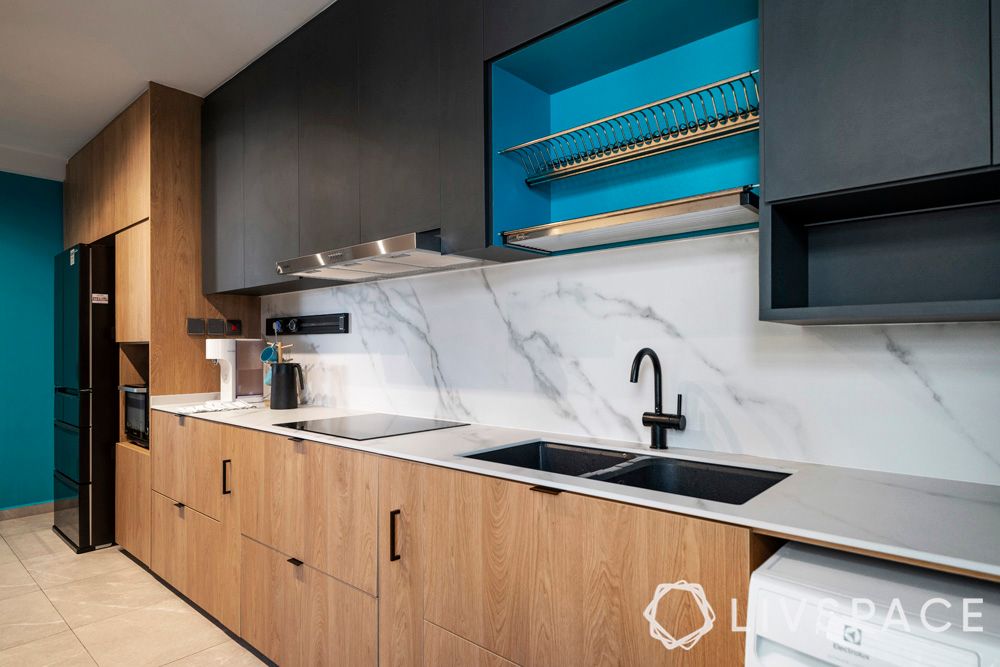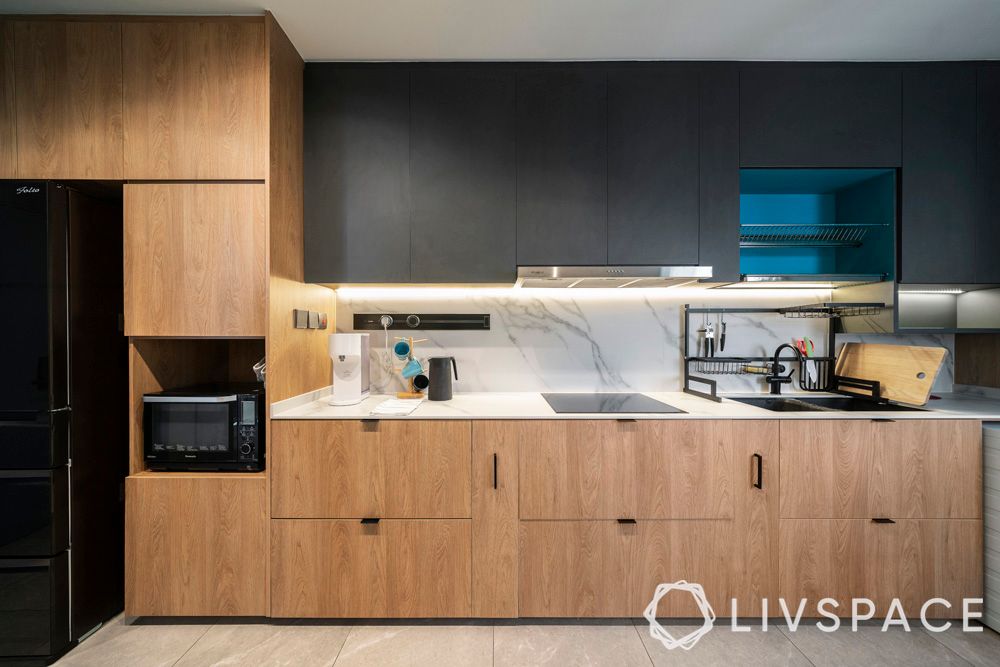 Our most favourite element in this kitchen is the marble countertop that extends up to the backsplash, to give it uniformity in design. Doesn't it give the kitchen a sleek look? The couple wanted to combine aesthetics with functionality, hence Shalom suggested they go in for a lot of drawer storage. Also, the colour combination is very unique, with black, white and wood coming together. This kitchen is also equipped with the latest electrical appliances that fit into their designated spaces seamlessly!
"Shalom is a good designer. He understands the pain point of the customers and is able to give practical pointers which eventually helped us save money. He displays love for his work and goes the distance for his customers. The workmanship, carpentry and painting job was also flawless!"

Wei Li & Monica Loh

Livspace Homeowners
Coming to the couple's favourite room—the master bedroom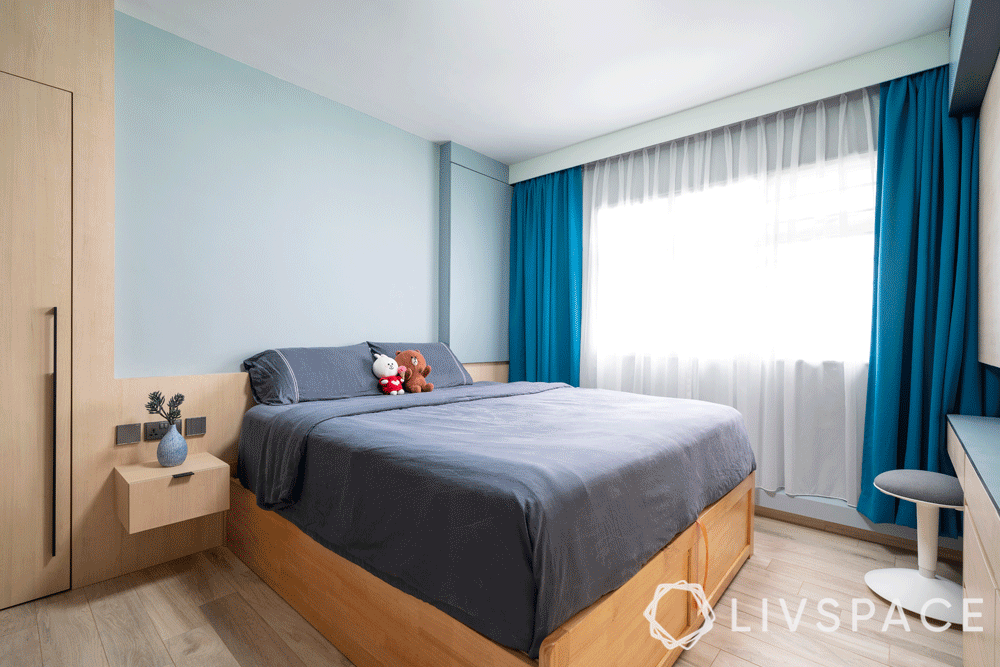 And then there was light! It is so important to add the right lights in a bedroom to create an ambience. Shalom strikes the right chords here.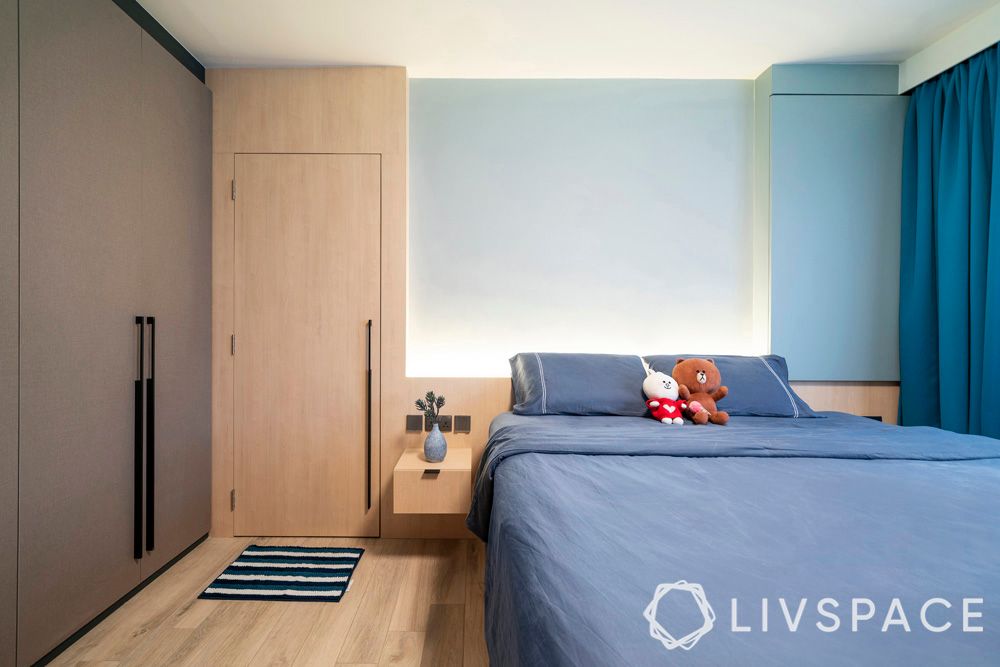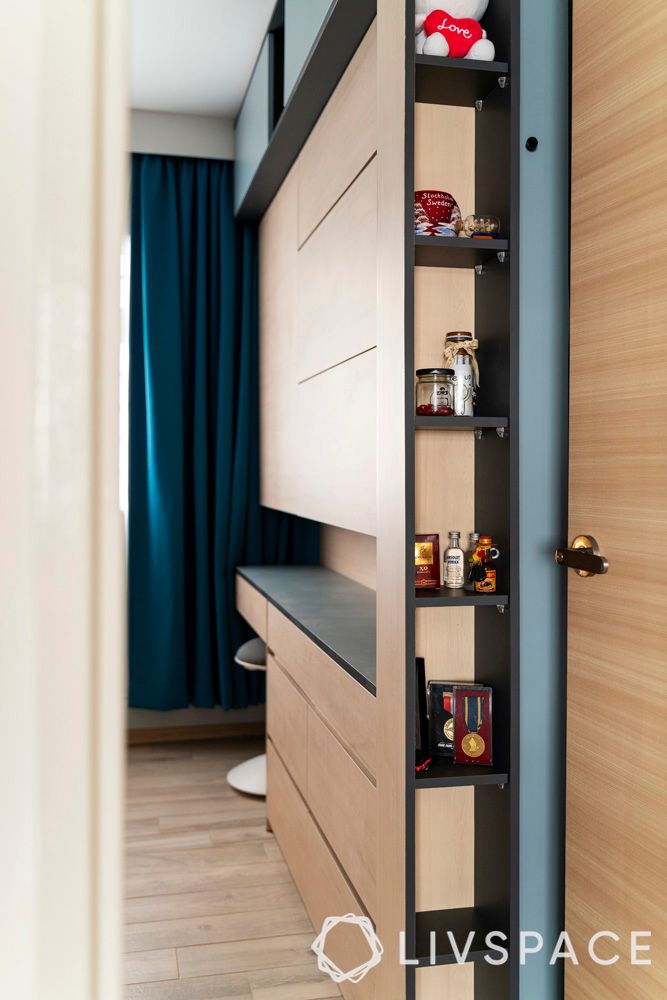 You will be surprised at the amount of storage Shalom has managed to fit into this bedroom. Since the couple was particular about storage space, we had to make sure that every inch is utilised. So on one side you see this huge, wall-to-wall wardrobe in a steel grey colour with complementing black handles. And on the other side, you will see this complete storage unit in front of the bed. It has a concealed vanity and big drawers for ample storage. The couple also happens to have a lot of trinkets and cute little things that find their place in the open shelves.
A luxurious look for the bathroom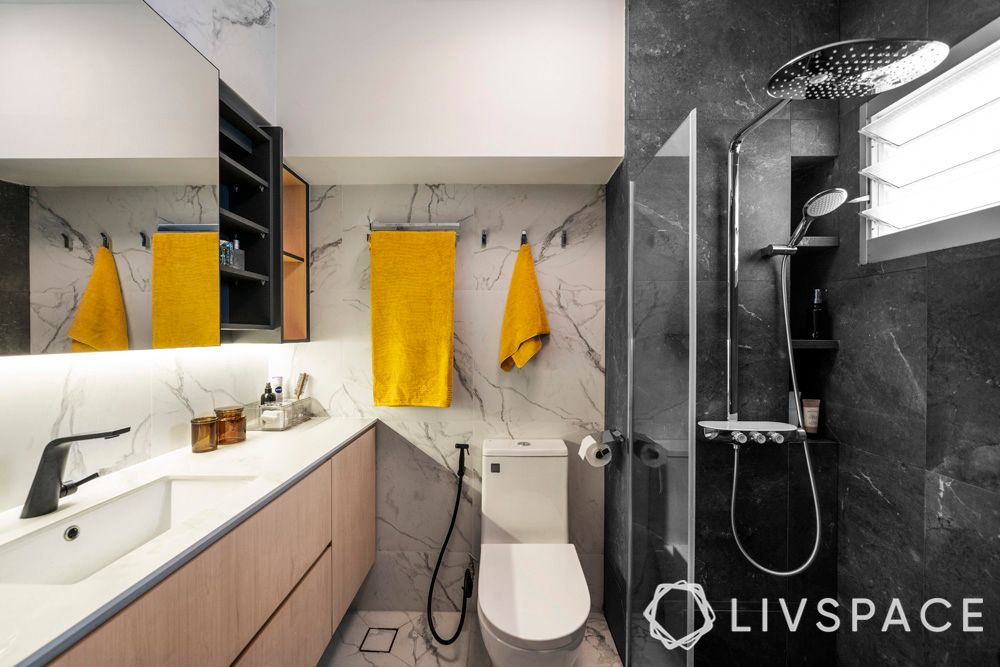 The bathroom is another space in this 4 room HDB that the couple adores. And we agree! It is completely made out of marble from top to bottom. With the shower area separated by a glass partition and a huge vanity unit, this bathroom is ergonomically designed as well. We give full marks to Shalom for this one!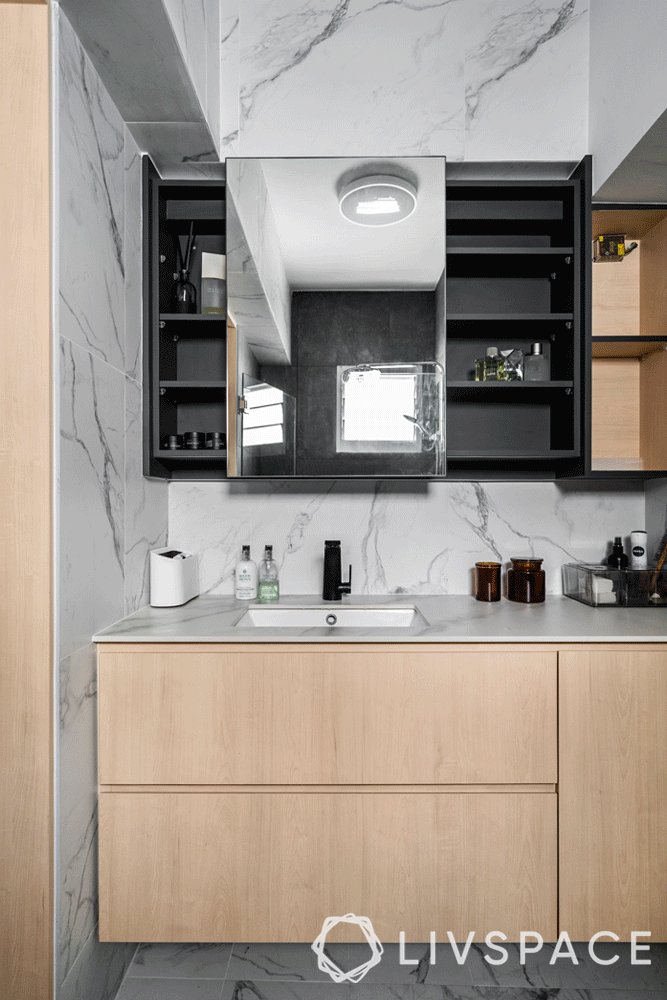 LED strip lights are installed under the cabinets in the vanity, that act like perfect task lights at night.
"It did take a few sessions to align with our thoughts and finalise designs. However, that helped us flesh it all out so well. They gave me a good challenge and I had to think out-of-the-box to be able to come up with these solutions. Being a young couple, they were conscious about spending and were looking for something worthwhile. At the end, expectations were met and I am happy with the result!"

Shalom Hong

Interior Designer, Livspace
We know you cannot get enough of this amazing 4 room HDB. Here's more inspiration: Top 5 HDB Renovation Ideas From the Best #LivspaceHomes.
Send in your comments & suggestions to editor.sg@livspace.com.