If you're already planning on renovating your new home in Clementi Peaks (or if you just want some ideas), we've got some great interior design offerings for you. From the general design to the furniture arrangement, Livspace is here to assist you with every area of design for your new home. While the room photos are provided below to give you a sense of how your rooms may appear, we decided to take it a step further. We've created a mock modern interior design for Clementi Peaks BTO to help you visualise your future house.
Planning to take a home in Yishun Glen BTO, and not Clementi Peaks? We've got you covered. Click here to get some amazing modern interior design ideas for your home.
P.s., this BTO has been designed keeping a mother-daughter duo Cecilia (58) and Fiona (31), living with their three pets, in mind.
A Convenient Mother's Bedroom with a Platform Storage Bed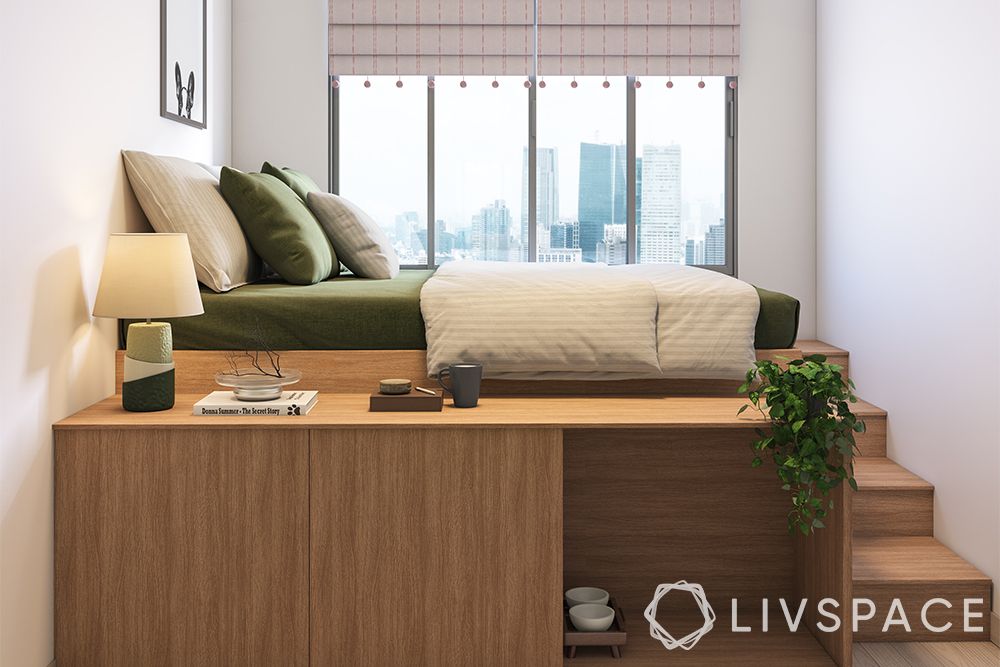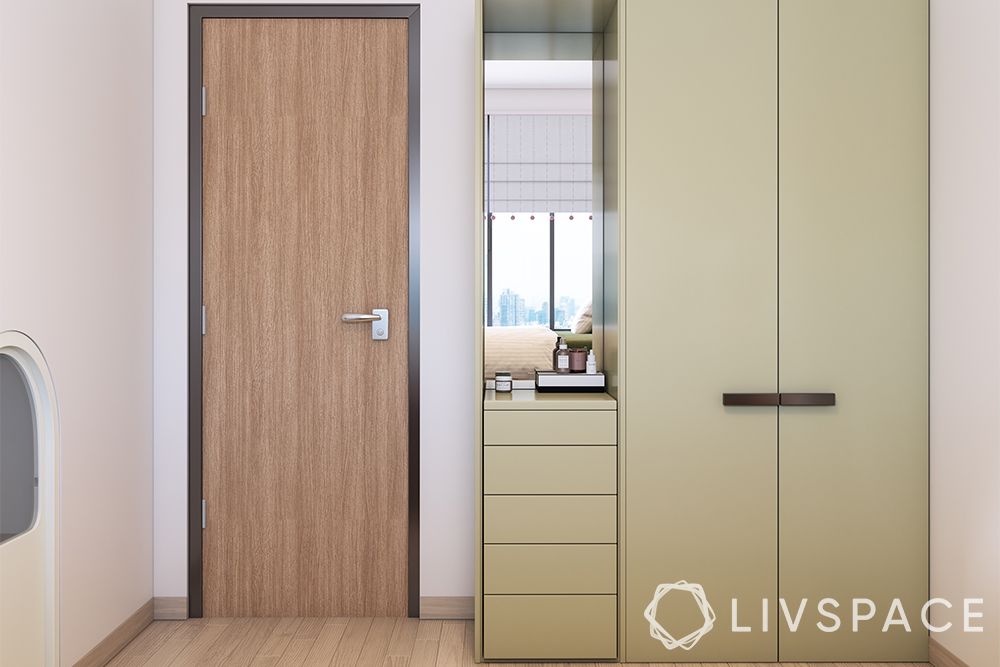 The mother's bedroom is designed keeping a 58-year-old lady in mind and hence, our designers used a more cosy and minimalist style for this room. The focal point of this master bedroom is the platform bed which is storage intensive as well. The master bedroom also boasts a wide bay window that lets in lots of natural light, keeping with the minimalist motif. Just opposite the platform bed is a double-door wardrobe with mirror and drawers, and laminate finish.
Design Takeaway:
If you're also looking for a minimalist Clementi Peaks BTO interior design, stick with neutral colours as they are quite versatile and can greatly complement your personal style. Since the bedroom areas are small in Clementi Peaks BTO, you can consider the idea of a platform bed, just like this home, next to the bay window. The platform is quite high and hence, the designers have used wooden stairs to make it suit the convenience of the mother. The bedside lamp and plants can offer a spectacular aspect to the appearance of your room.
A Subtle and Simple Master Bedroom for the Daughter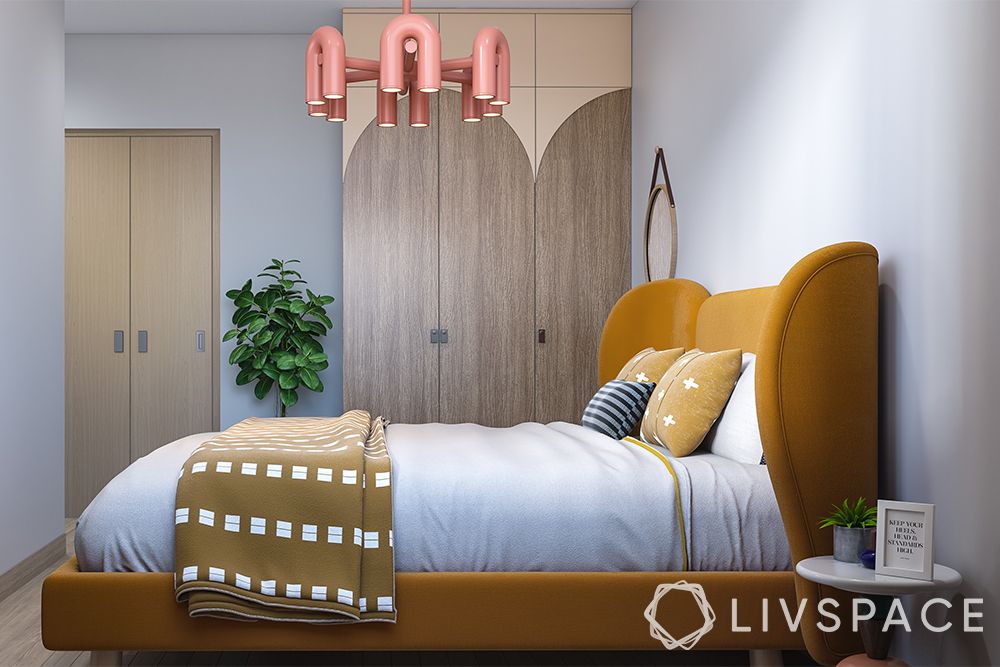 This master bedroom is designed for the 38-year-old daughter. The design of this bedroom has been kept simple, but with striking details.
Design Takeaway:
If you are getting a BTO in Clementi Peaks, here are some Livspace mock design suggestions for you. Paint the walls in an off-white colour to give a spacious look to the room. The wooden wardrobe addresses the storage requirements of the small family and the ceiling lights add to the look. Refinish wooden floors to give it a fresh, clean look.
If you have a multi-generational family, then curved headboards are a good choice for you. They not only increase the style quotient of the room but also make them all-generational-friendly with no pointed edges.
For more modern bedroom interior designs for your Clementi Peaks BTO, click here!
Who wouldn't Love this Pet-friendly Interior Design for the Dogs' Playroom?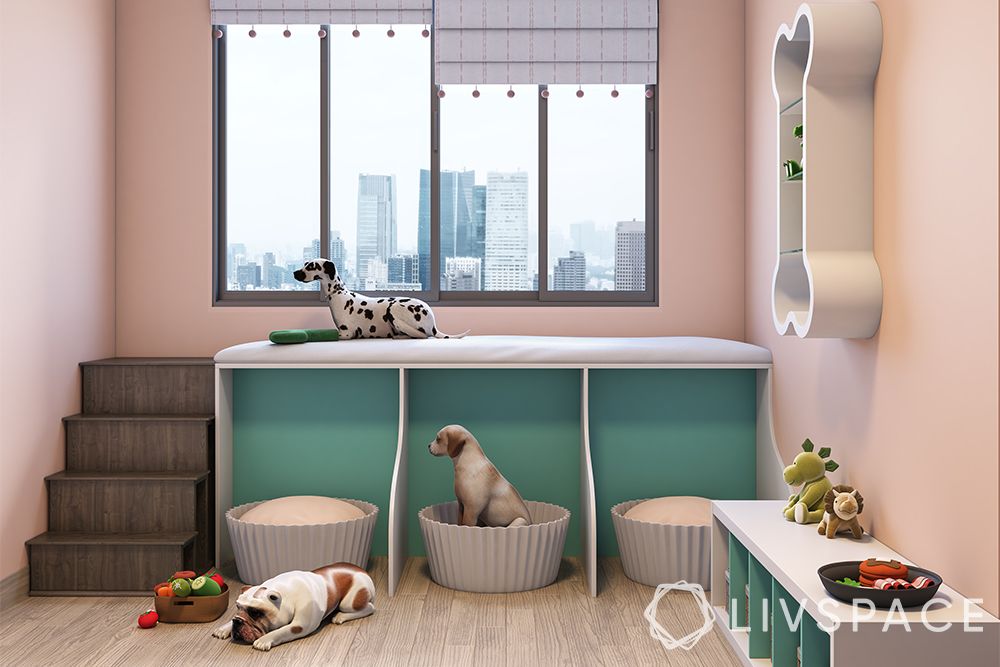 Planning to move to the Clementi Peaks BTO with your pets? The pet-friendly interior design for this home will give you ideas for designing your own pet's playroom. As we mentioned earlier, this home has been designed for a mother-daughter duo who has three dogs.
Design Takeaway:
Give your dogs a viewing platform where they can sit for some time and enjoy the view out the window. The mini door and windows will help your pet play around the room without getting bored. The green and white pops of colour will definitely attract your pet's attention.
And the shelves! The shelves of this room are designed in the shape of bones and the dogs' beds in the shape of cupcakes. Aren't they adorable? Accommodate shapes of food in the pet room designs to make them attractive for your dogs.
A Sleek and Elegant Master Bathroom for your Clementi Peaks BTO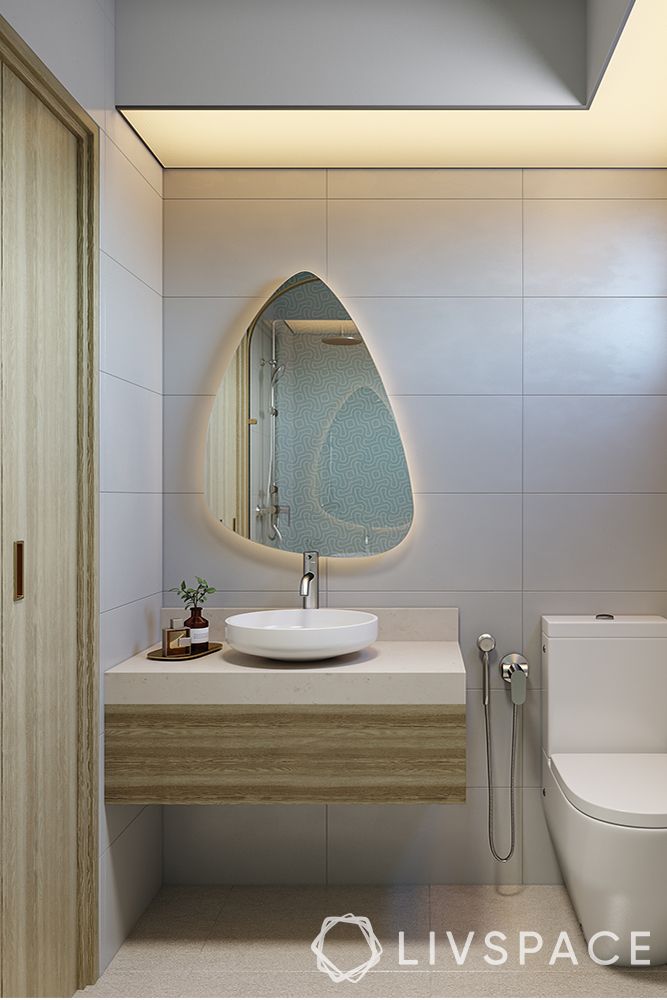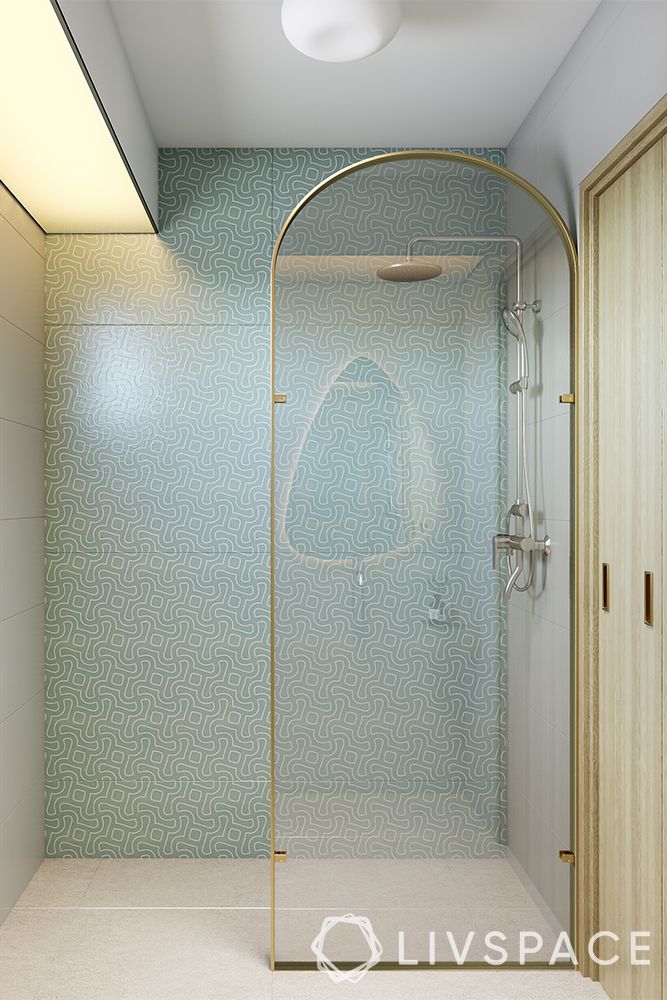 The bathrooms were also designed to reflect the home's minimalist style and simplicity. With a fresh overlay of floor and wall tiles that match the colour palettes throughout the property, our designers gave this space a makeover.
Design Takeaway:
When designing a new home or renovating an existing one, always keep an eye out for potential space-saving options in the bathrooms as well. Since the bathrooms are compact in Clementi peaks BTO, they need to be storage-intensive. The light colours used here are as significant in small spaces as they prevent the room from looking too dark. You can add trendy and fancy equipment like water drop-shaped mirror, marble and wooden vanity cabinet and blue shower wall to add to the aesthetics of this bathroom.
A Compact Yet Storage-Intensive Common Bathroom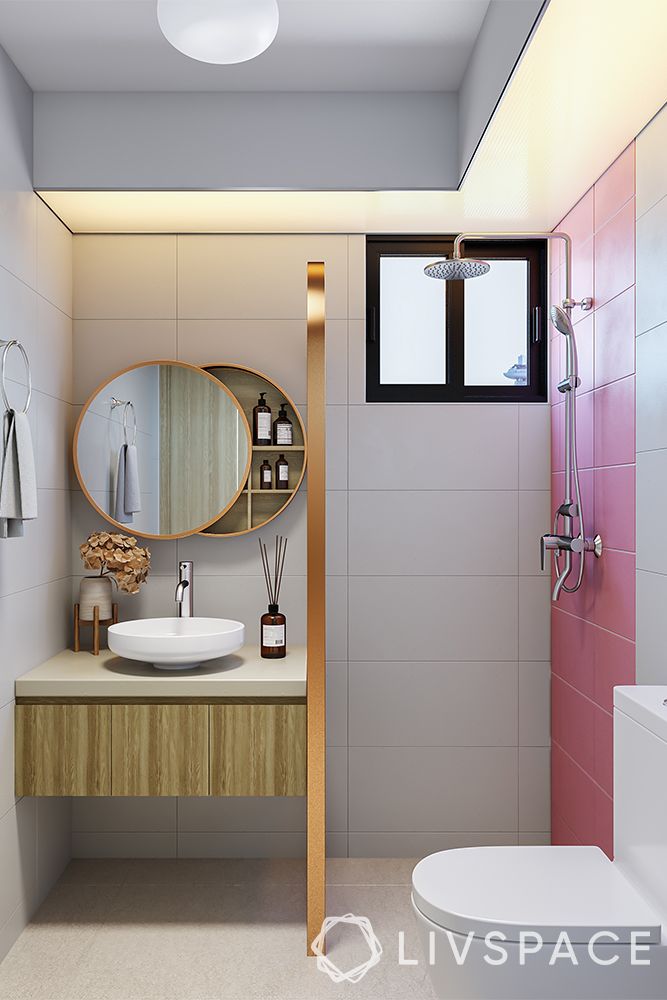 This is the common bathroom of this home, smaller in area than the master bathroom but quite similar in design highlights.
Design takeaway:
The concealed storage in compact bathrooms holds really high significance. The hidden storage space behind the round mirror can be really important. The vanity cabinet with laminate finish is not just visually appealing but functionally efficient too. Separate the vanity area from the shower area by a wooden partition to save space.
Also read: Need More Ideas for 4-Room HDB BTO Design in Clementi Peaks? This Beautiful Home is Sure to Inspire You.
Clementi Peaks BTO – Property Overview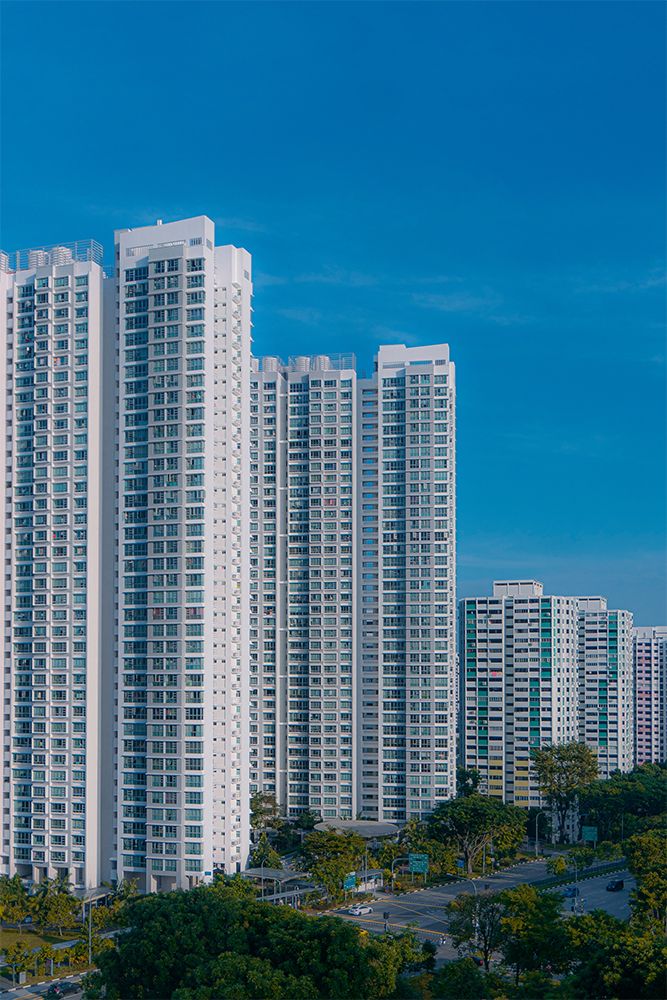 This BTO project consists of 424 units of 3-, 4-, and 5-room flats divided into two blocks, with the remaining two blocks reserved for residents under the Selective En bloc Redevelopment Scheme. This location doesn't hold back in terms of accessibility as well. Clementi MRT Station is about a 9-minute (700 metres) walk away from Clementi Peaks BTOs.
OVERVIEW
Name of the Project
Clementi Peaks
Sales Launch
February 2017
Type of Project
Built-To-Order (BTO)
Total number of Units
424
Types of Houses
3-, 4-, and 5-room flats
Estimated TOP Date
June, 2022 (Delayed)
Length of Tenure
99 years
How Can Livspace Help You?
We hope you enjoyed this modern interior design for Clementi Peaks BTO! If you want your upcoming HDB BTO Design in Clementi Peaks to be just as beautiful, then look no further. Book an online consultation with Livspace today.