The HDB BTO flats at Yishun Glen are to be lunched in May 2022, and we're sure that those who want to apply for them must be quite excited! The Yishun launch is a double-project bonanza. Grove Spring at Yishun and Yishun Boardwalk, both are about to be released for the HDB BTO Yishun launch in May 2022, and they both are almost side by side. It's also the first BTO launch in Yishun in nearly four years (the previous launches were in August and November 2018).
What Interior Design Ideas Does Livspace Hold for Your Yishun Glen Flat?
So, if you are balloting a home in Yishun Glen (or not), we have some brilliant ideas for you to adopt from. Livspace is here to help you with every aspect of design for your new home, from the overall design to the arrangement of furniture. While the room-images are there to give you an idea of how your rooms might look, we decided to go a step further. To help you visualise your future home, we've produced a dummy modern interior design for Yishun Glen BTO.
Join us on a visual tour of the house as we walk you through each room and discuss some ideas you may use for your actual home. Let's get started!
We Can Give You a Glam Living Room Design With Two-Tone Colour Walls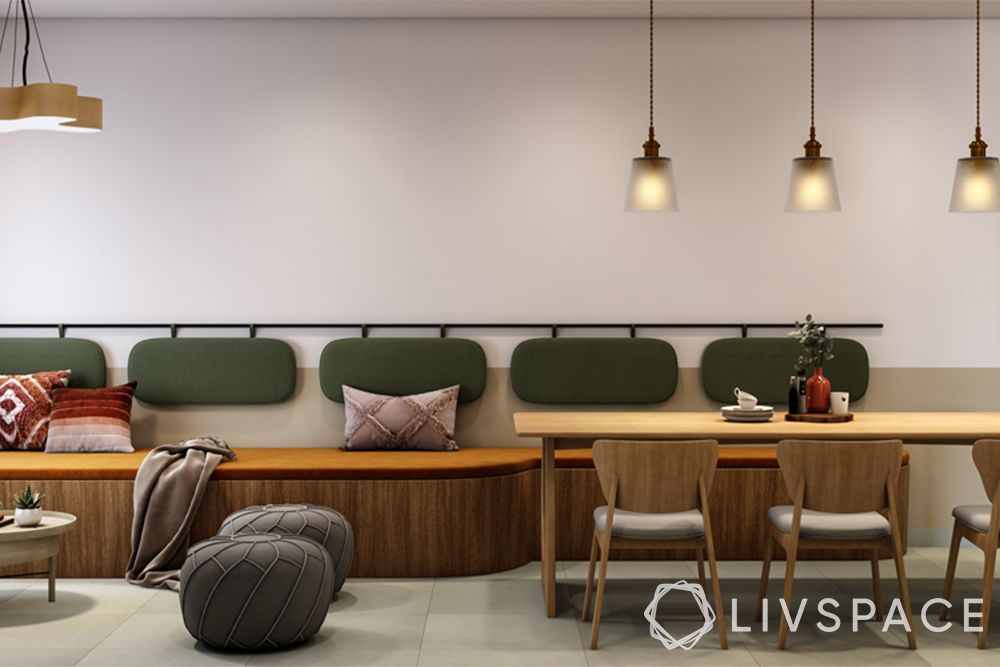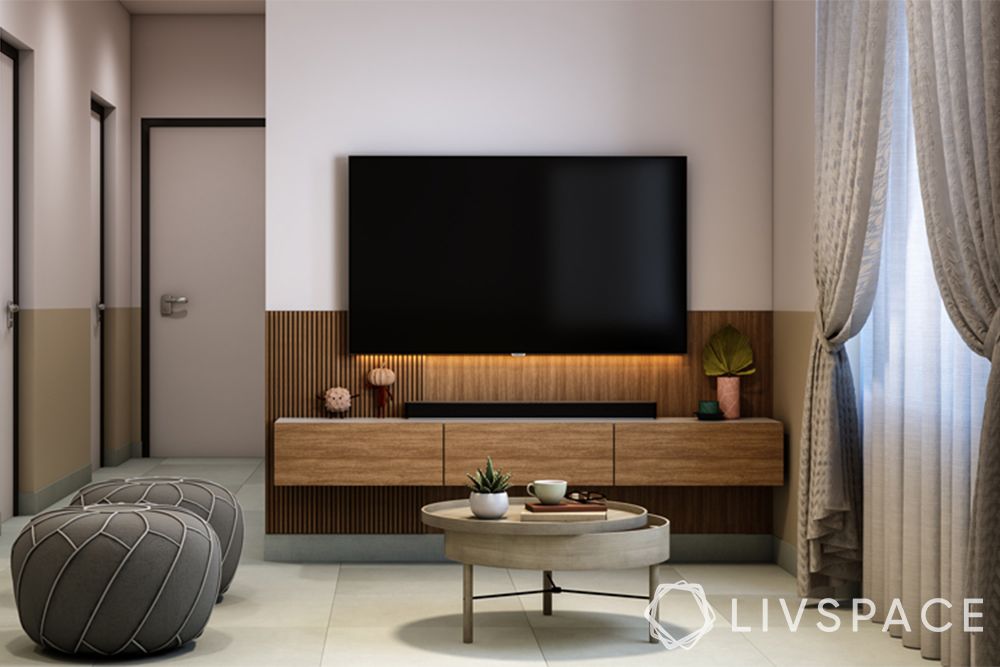 This room has been designed keeping in mind a family of three: the – parents and a kid. This HDB BTO design in Yishun Glen follows an open-layout which maximises the floor plan. Here are a few Livspace design ideas to help you make the most of the available space and add a glam quotient to it.
Here's How Livspace Can Design Your Living Room:
The focal point of this living room design is the two-tone colour walls with shades of beige and light green. The living area is decorated with a variety of features like cement-tiled floors, earthy colours and ceiling lights that give it a lovely minimalist and industrial look. A wooden TV console helps give the living room a rustic vibe and adds a few additional wooden accents to the design. The wooden bench in place of the sofa, which also extends to form the dining area, offers the living room its own demarcated zone.
Also read: Designing a Compact Home? Look at This Smart 55 sq. m. Home Design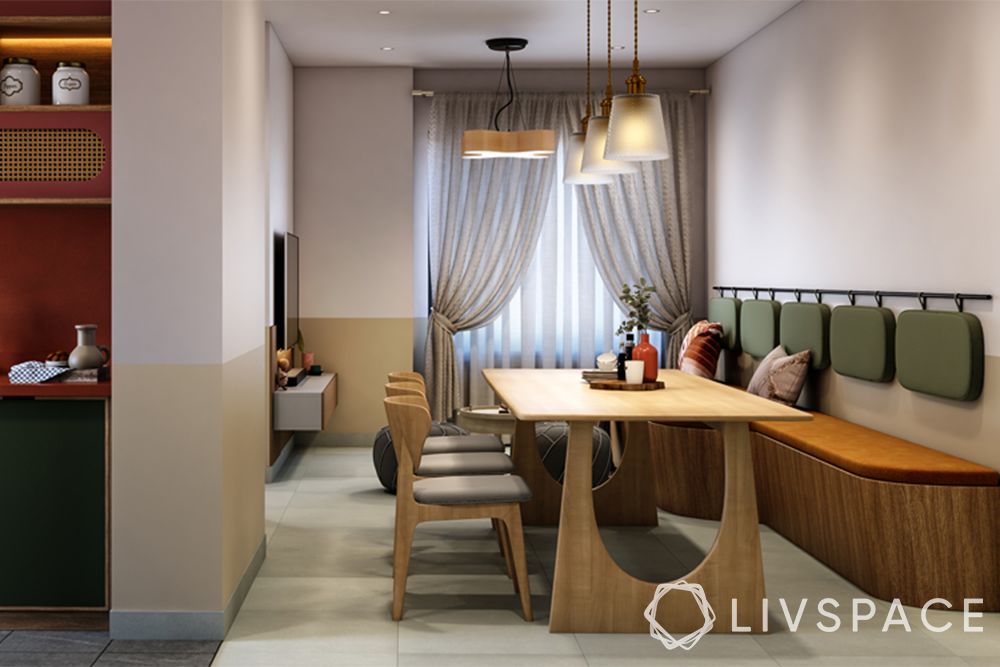 Do you recall the wooden bench that was placed in the living room? It extends to form the dining area to seat six people in this open-concept layout home in Yishun Glen. We can incorporate more such ideas to make the most of the available space in your BTO flat.
Here's How Livspace Can Design Your Living Room:
The dining room, like the living room, has a blend of industrial and minimal concepts that give it a fresh appearance. Our designers constructed a wall-partition that divides the dining area from the kitchen to effectively compartmentalise the eating space. The dining-cum-living area can also be used as additional seating for visitors or large families.
Light fixtures such as the pendant lights might help anchor the area in your dining room. Furthermore, they can be employed as a focal point in minimalist-yet-industrialist-style environments.
We Designed an Artsy Kitchen With Dual-Colour Combinations and Cabinet Designs with Asian Elements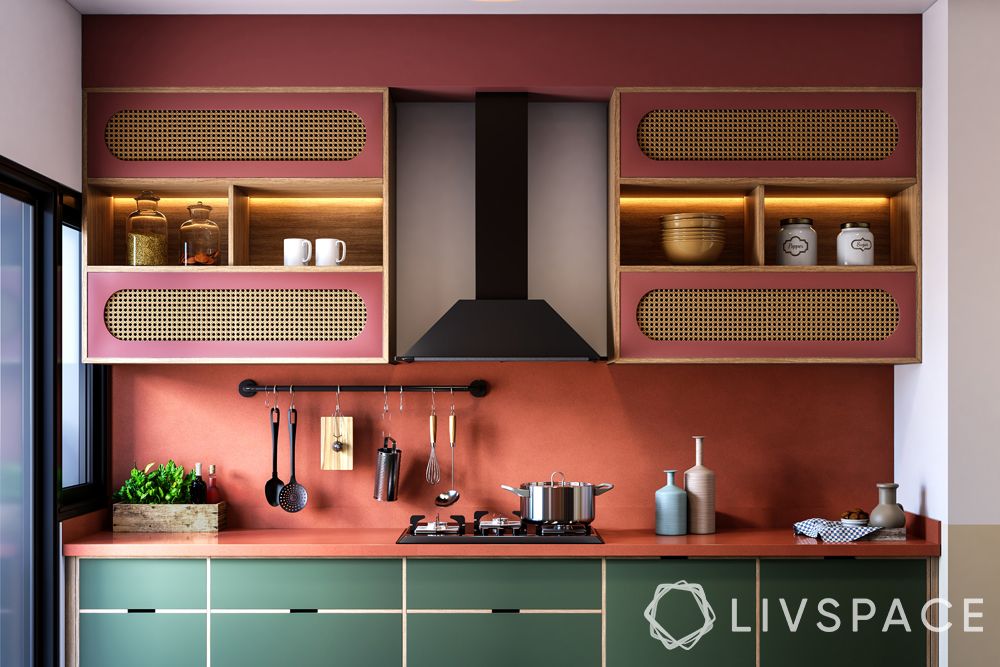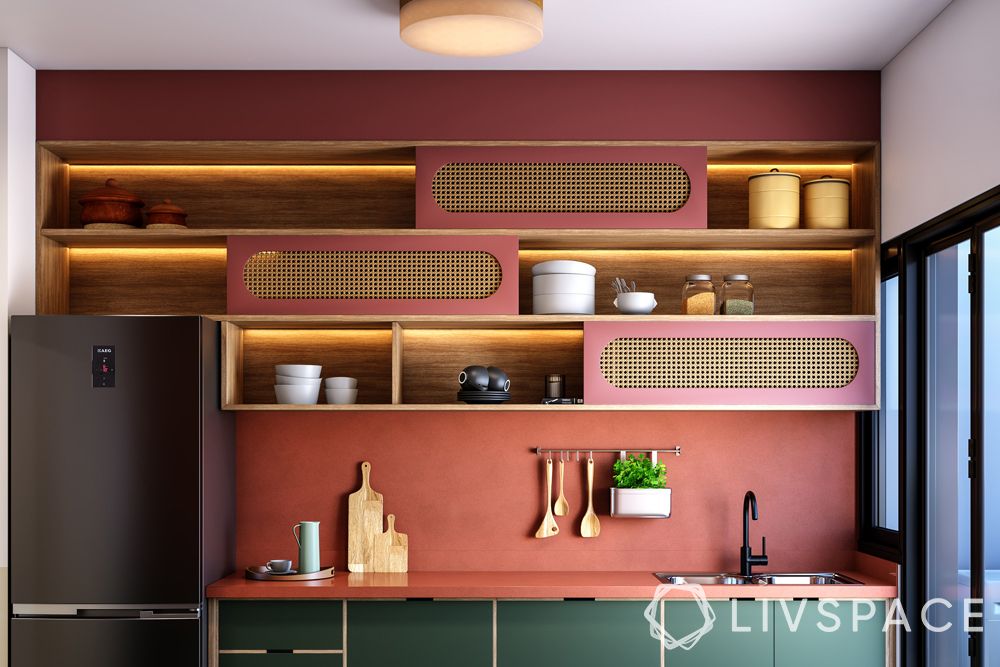 Look at the beautiful colour combination this kitchen has! Pink walls and green cabinet designs can be the perfect colour combinations for any kitchen design, including your kitchen too. This modern interior design for Yishun Glen kitchen has elements of Asian art on its vertical wall cabinets with the rattan-waved fronts.
Here's How Livspace Can Design A Functional Kitchen for you:
Now that we established that we can give your kitchen artsy interiors, it's time to add the functional elements to it. As you can see, each cabinet has installed-lights so that it is not difficult for you to find ingredients even in the dark. The seamless jade green bottom cabinets without handles add to the beauty of the kitchen and offer the perfect contrast for the pink walls.
The kitchen also has separate dry and wet areas for a better workflow like many other kitchens now-a-days but the difference is that both the areas are opposite and parallel to each other. By creating separate wet and dry areas this way, you have ample space to get more done without the problem of clutter. In the same way, our designers separated this kitchen into a storage-intensive dry area and a well-lit wet area to improve workflow.
The two-tone wall colour combinations and the cabinet designs with rattan waves are the trendiest takeaways from this kitchen. Make your HDB BTO design Yishun Glen look classy, sassy and luxy with these kitchen design ideas.
For more kitchen design inspirations, give How The Kitchen in This 3 Room HDB Got A Beautiful Makeover a good read.
We Used Rounded Wall Corners to Create a Spatial Flow in This Master Bedroom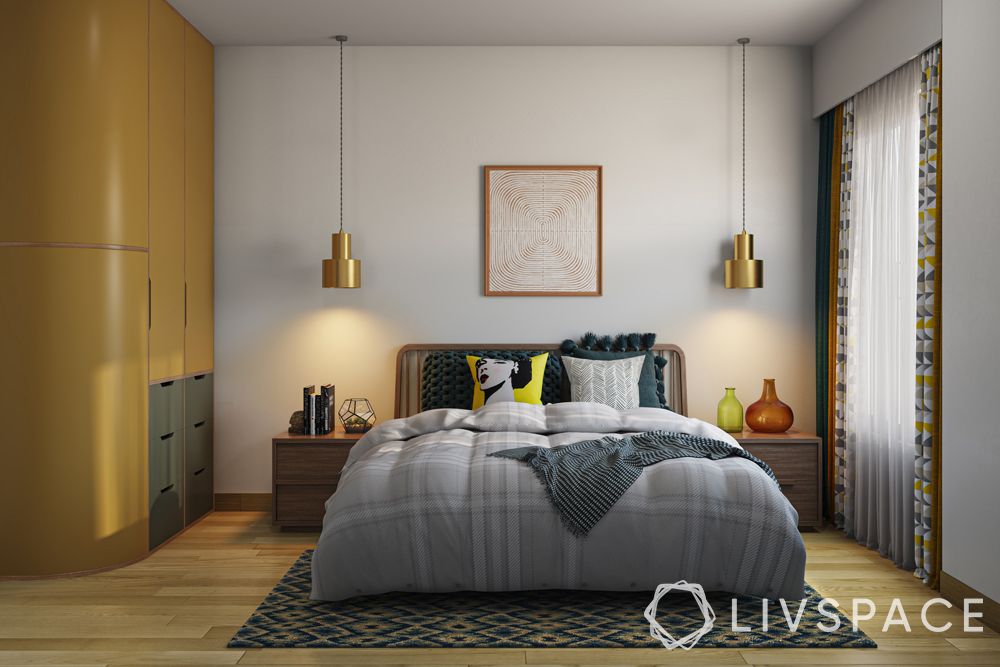 Neutrals are a popular colour scheme in minimalist Yishun Glen BTO interior design. And with good reason: these colours are quite flexible and can greatly enhance your personal style.
Here's How Livspace Can Design Your Master Bedroom:
Our designers adopted a more pleasant minimalist style in the master bedroom. And, in line with the minimalist theme, the master bedroom has large French windows that let in plenty of natural light. The main attraction of this master bedroom design is the rounded wall corners which maintain the spatial flow in the BTO. The top edge full length wooden wardrobe maintains this round-corner theme. The bedside pendant lights and bedside styling add the wow factor to this room's design.
We Designed This Kid's Bedroom With Maximum Play Space and Custom-Built Loft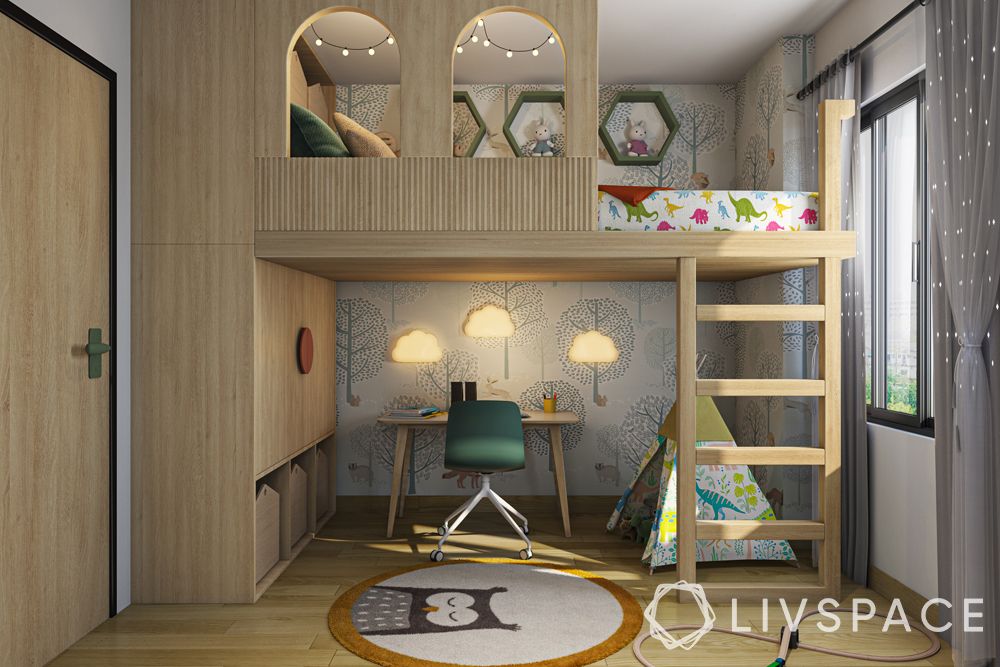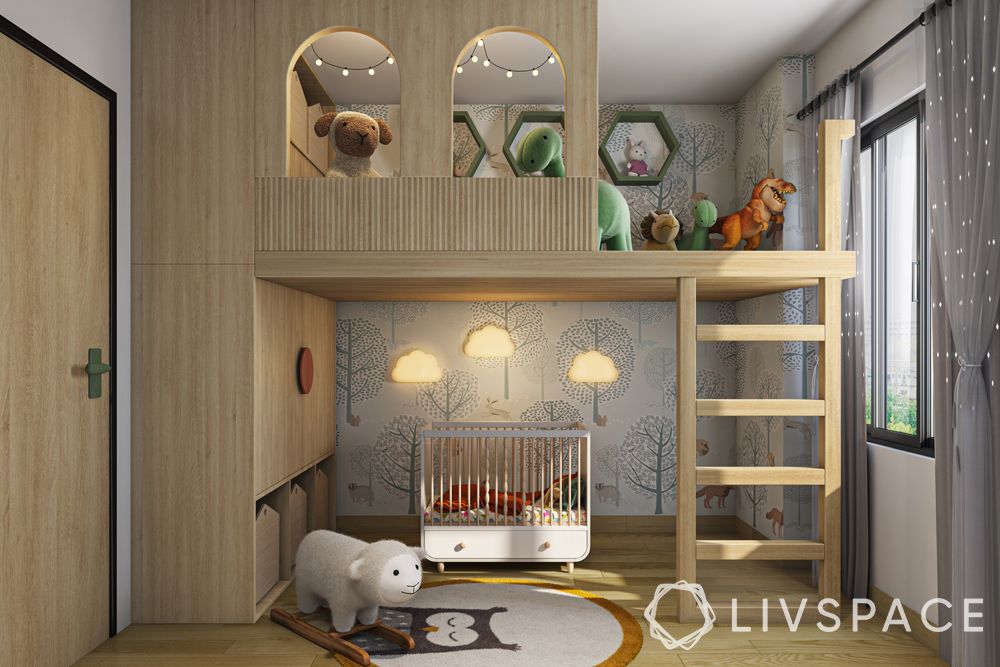 A kid's bedroom is the most difficult place to design as it needs to keep up with the growth of the child. There needs to be enough free space in a kid's bedroom where he can play around and be creative. Apart from this, it needs to be made sure that it is safe for your kid to walk around in it.
Here's How Livspace Can Design Your Kid's Bedroom:
When in doubt, go for custom-built lofts! This custom-built loft has been carved out of wood and has wardrobes, cabinets and wall shelves for your kid. If your kid is between 5-10 years, this loft will give him enough space to keep his belongings and sleep well. A big window on the side allows sufficient natural light to enter into the room.
Here, we have shared two design ideas for your kid's bedroom. The area below the loft can be used as the study area for your kid. Another design recommendation is to use the area below the loft to place the baby cot, if you have an infant at home. You can place the baby cot there and keep some soft toys for your baby.
We Can Use Extra-Space to Design a Cosy Common Room for Your Family and Friends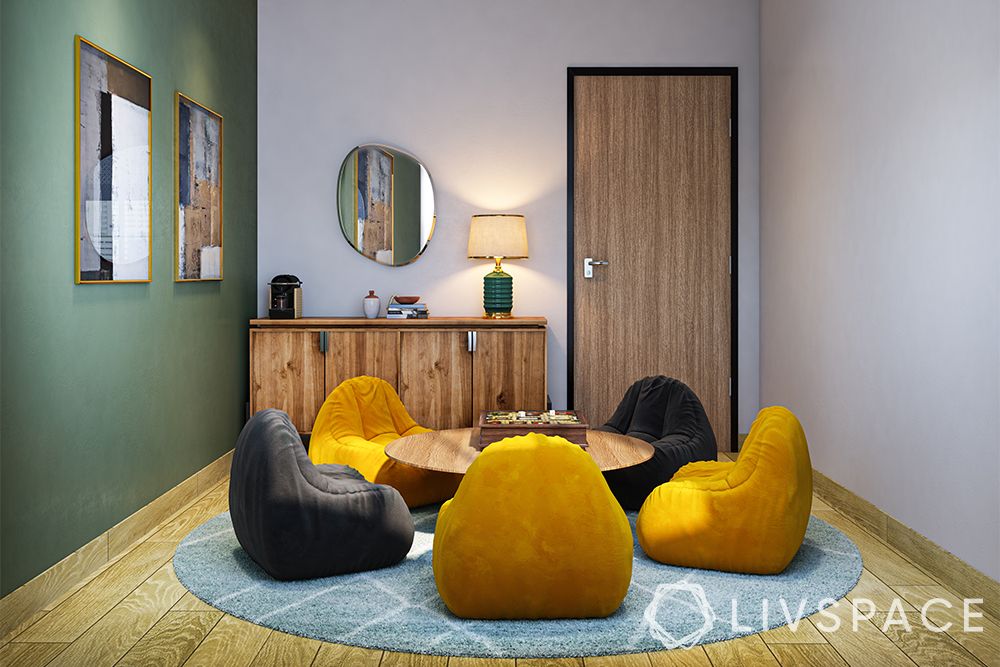 This is the best element of this HDB BTO design Yishun Glen. If you are a young couple, no wonder you'll have family and friends at your home quite often. This is the area which they will enrich with their giggles and jokes.
Here Are Some Livspace Ideas for Your Common Room:
This common room can accommodate 5-6 people easily and is adorned with five bean bags and a coffee table. The coffee table has a board game on it which will help you entertain your guests. Instead of chairs or a couch, it is better to keep bean bags at your home. It gives the place a cosy look and helps your friends and family to chill better.
We Play Around With Mirrors, Accessories and Tiles to Make Your Simple Compact Bathroom Envious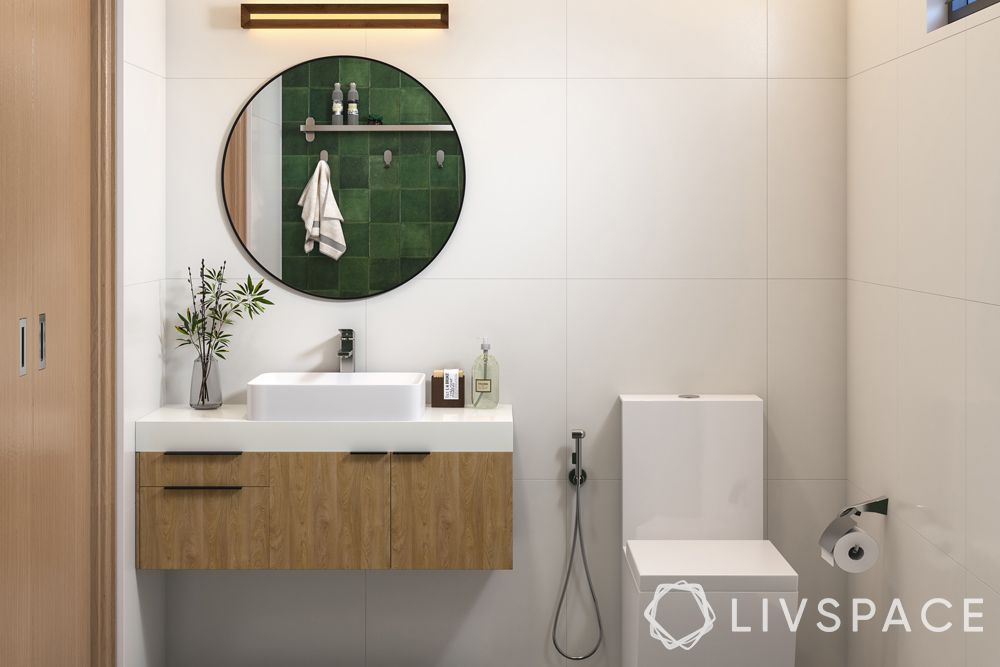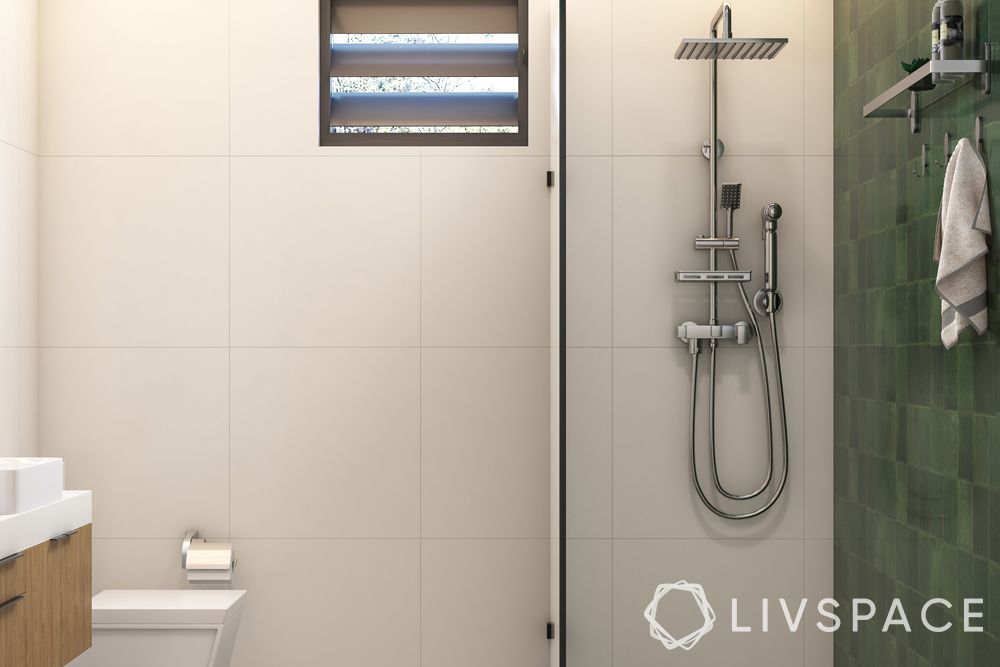 Without the appropriate furnishings, bathrooms that are used by more than one person may quickly run out of storage space. That's why we understand how compact bathrooms need to be full of storage.
Here's How Livspace Can Design Your Bathrooms:
Our designers built this storage-intensive bathroom with enough space to effectively include both dry and wet areas. The two areas are separated by a glass partition. The larger bathroom wall tiles have fewer grout joints and hence, they can help give the feeling of spaciousness.
Check out this 4-room BTO:
Also read: How This Stunning 20+ Year Old Resale Condo Got a Minimalist Makeover
How Can Livspace Help You?
We hope you enjoyed this modern interior design for Yishun Glen BTO! If you want your upcoming home to be just as beautiful, then look no further. Book an online consultation with Livspace today.