Cafe lover takes new studio condo home design seriously!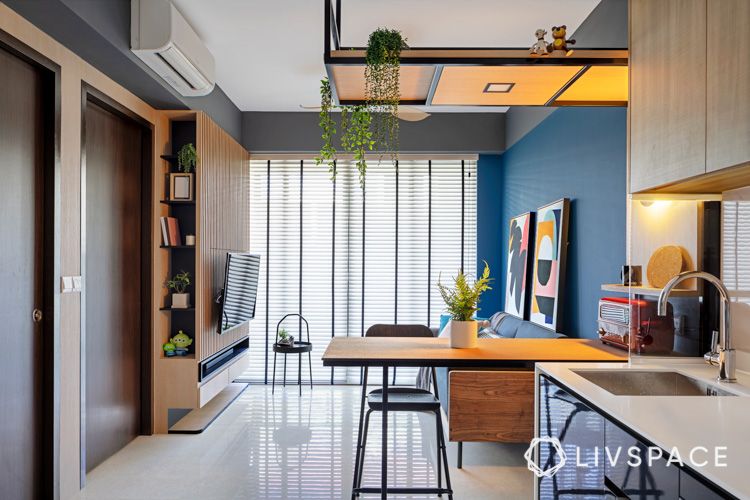 Who livs here: Ms Desiree Ng
Location: Botanique at Bartley, Upper Paya Lebar Road, Singapore
Size of home: 46 sqm
Design team: Interior Designer Shalom Hong and Project Manager Syed
Livspace service: Full home design including wall finishing, electrical and lighting, painting, carpentry, consultation and shopping for furniture and fixtures, feature walls
Budget: $$$$$
A professional air traffic controller who works long shifts, Desiree Ng, goes cafe hunting in her spare time. But, for reasons that don't involve coffee or the company! She actually loves the design and decor of cafes – the woody feel, comfortable seating and decorative details like the displays of knick-knacks. So when the time came to her new studio condo home design, she wanted a cafe-inspired look.
Livspace designer Shalom Hong delivered that – a complete interiors tailor-made to her lifestyle. Now, let's take a look at this modern home we're crushing on.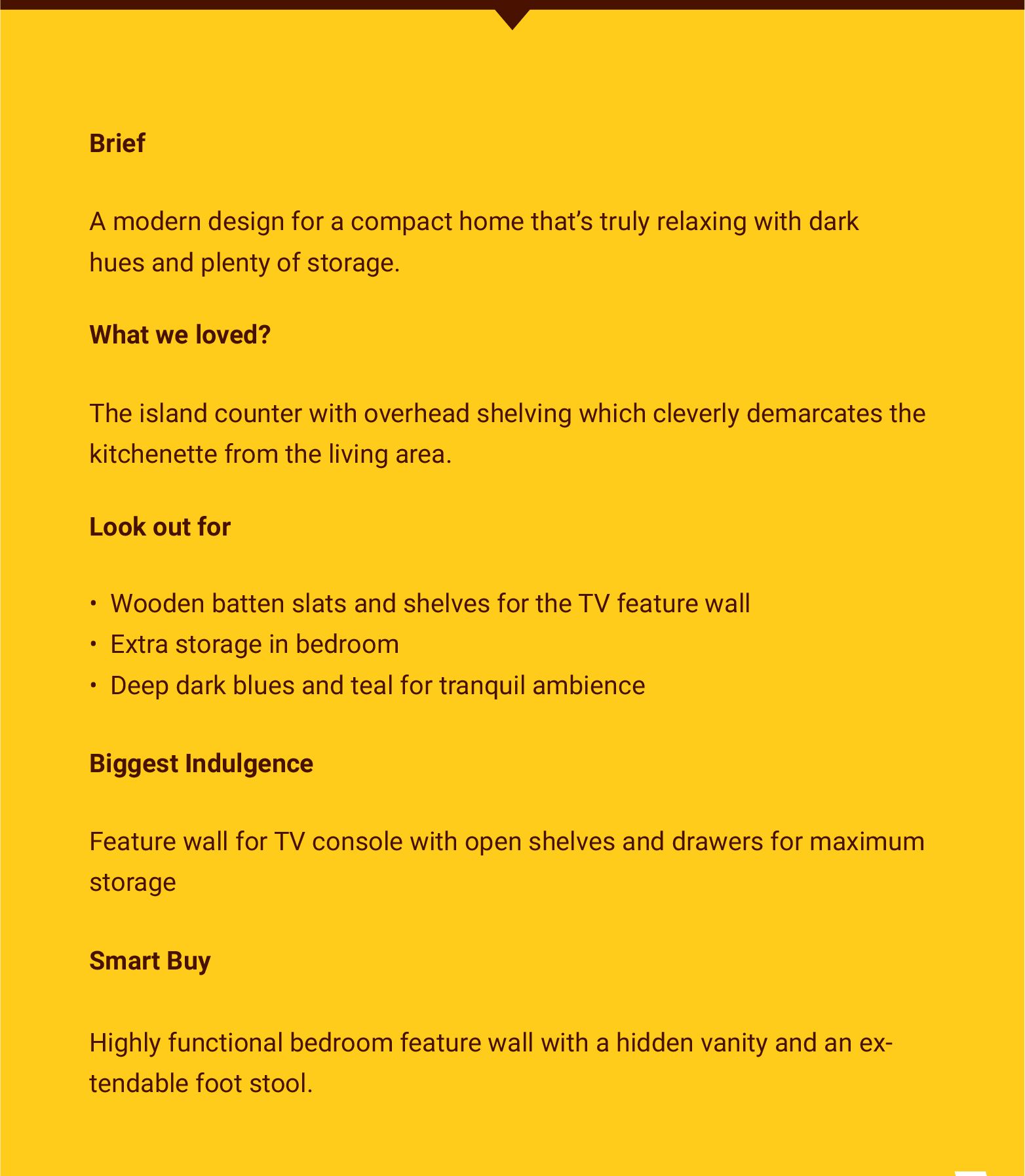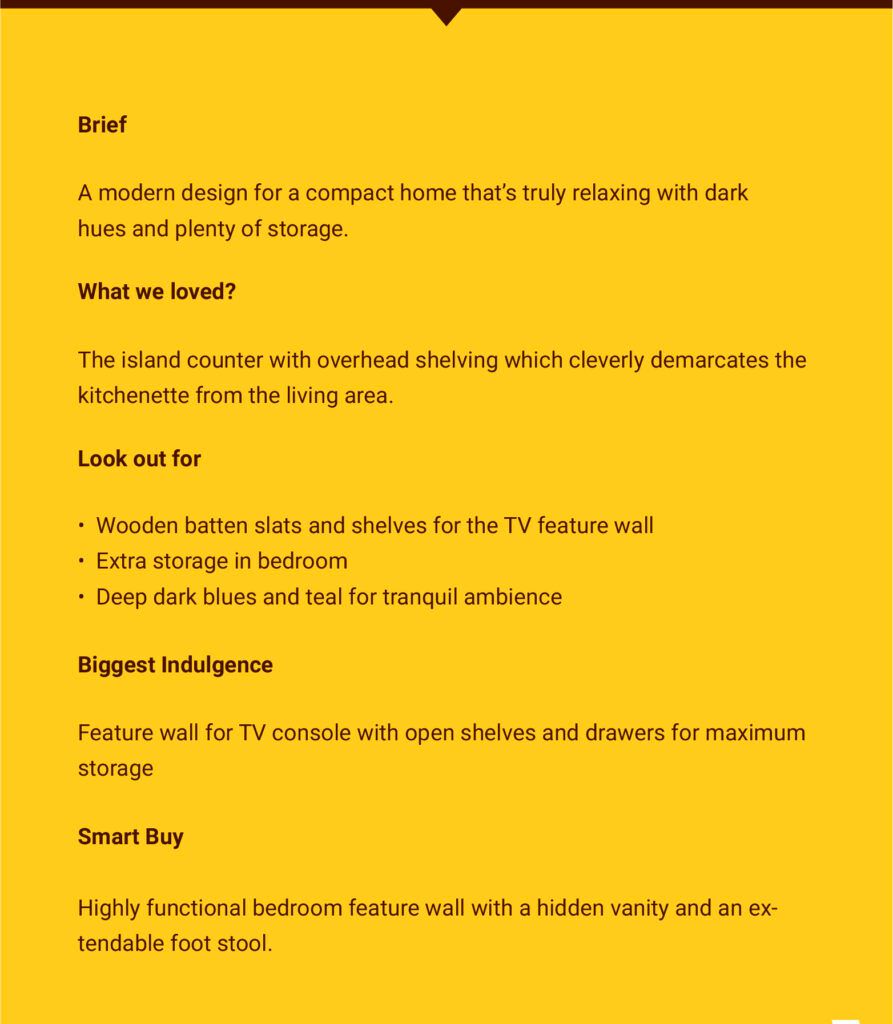 Cafe-inspired studio condo apartment for a relaxing lifestyle
First-time homeowner, Desiree Ng, had shared her design brief with a few ID firms. Finally, she decided to engage Livspace's Shalom as her ID as she felt he could picture the relaxed living space she had longed for. For Desiree, this was a leap of faith as Livspace was then a new brand in Singapore.
From the homeowner
Dark hues against light timber for a home with plenty of natural light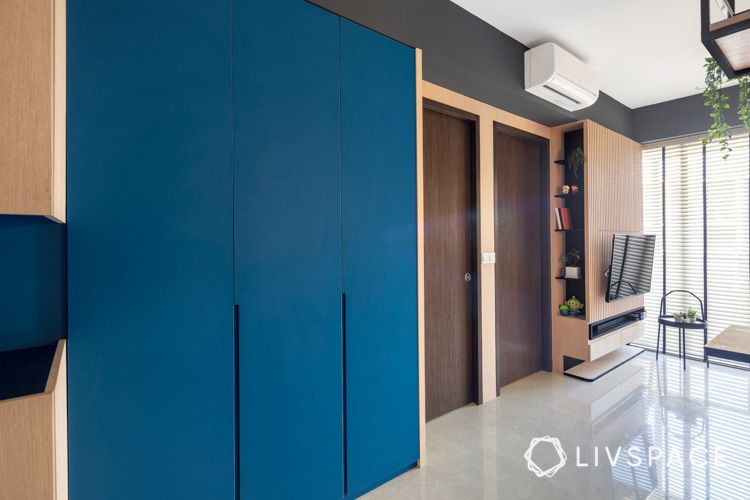 Staying true to the vibes of a cafe, Shalom crafted a space with dark greens and a rich teal against the backdrop of lighter coloured woods. The combination makes for an ambience that's modern yet relaxing.
Shades of grey in this studio apartment decor is central yet subtle. The monotone brings together furniture and fixtures of different colours. This unique colour palette works well since this studio apartment enjoys plenty of sunlight from its balcony.
Full height cabinets in calming teal and dark birch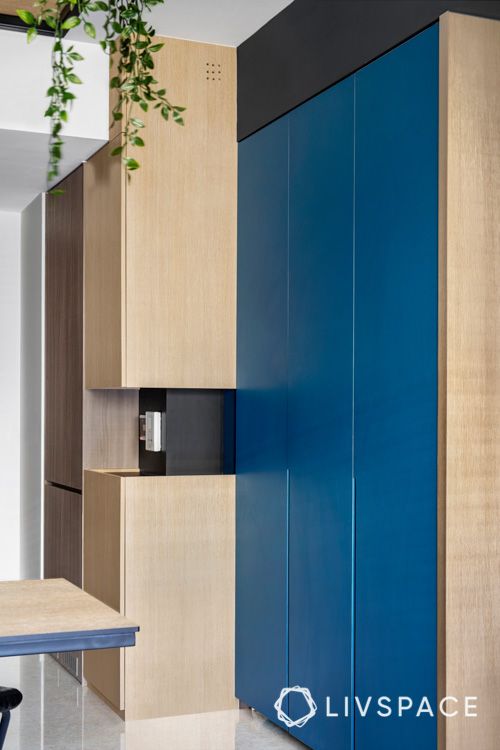 The foyer area is lined with full height cabinets for storage that hide unsightly electrical conduits and other wiring.
Timber battens in feature wall for a dash of Scandi decor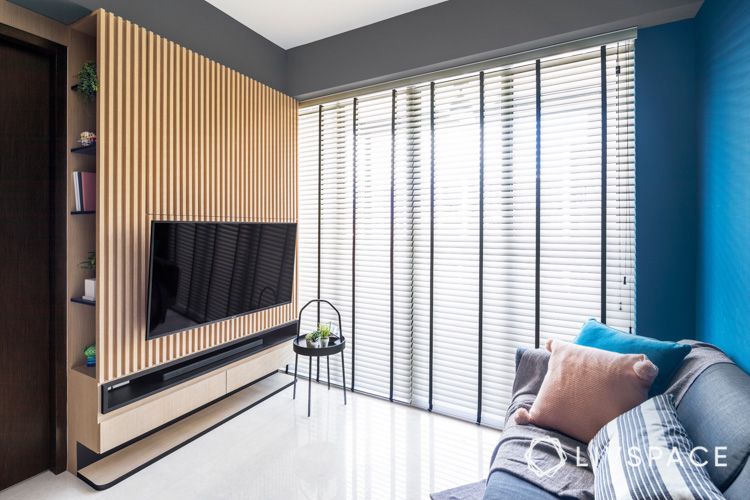 This TV feature wall is the perfect answer for Desiree who likes to read and keep her knick-knacks because its been designed with drawers and niche display shelves. The timber slats were custom-cut and laid out to add some Scandi flair to the living room. A warm grey across the tops of the walls is the perfect foil against the light-coloured feature wall and the bold, dark teal found in the living room.
A sleek kitchenette design with a multi-purpose island counter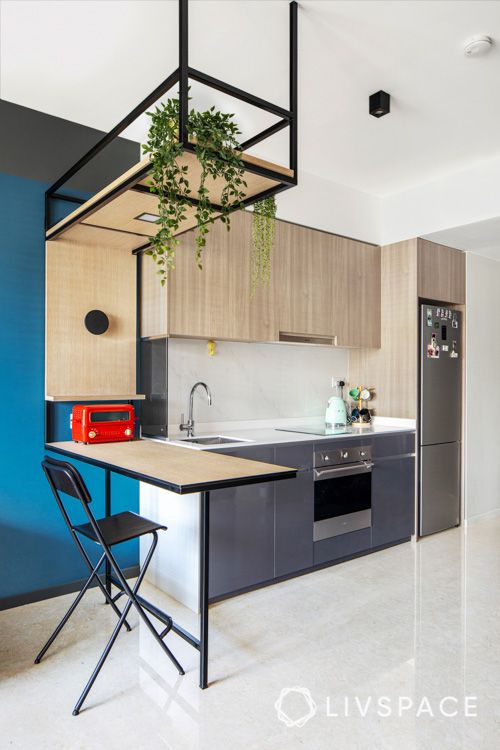 Strategically placed lights for functional aesthetics
Lack of space is a given for studio apartments. One design challenge that presented itself was the need for a dining area and a space for study. Undeterred, our designer added a metal-framed island counter with a single-legged base.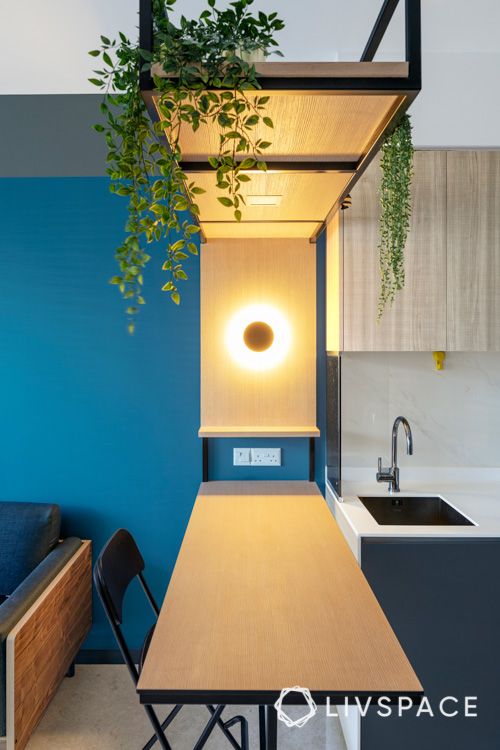 With its birch laminate, the island counter is a total match with the kitchen cabinets that came with the apartment. It also integrated the dining and kitchen areas in the least obtrusive way and makes full use of the limited space. Overall, the metal frame is minimalistic, creating a highly seamless visual.
So how does a designer add interesting elements to what might have been a plain looking counter? A round shaped light in black and hanging shelf atop for adding colour from plants and decorative pieces is the answer!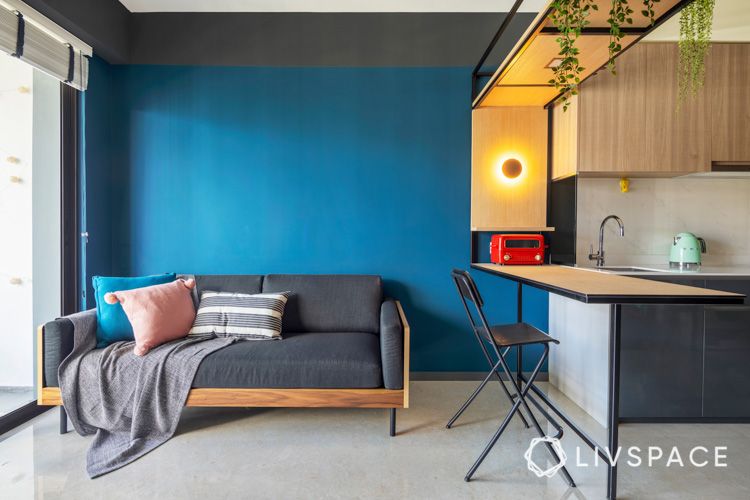 Designer Shalom shared: "The client trusted my taste and design and gave me the opportunity to draw up a bold colour scheme for her home decor. This project also gave me the freedom of design expression, where I got the chance to use different materials, including metals."
An all-in-one design solution for the bedroom
In addition to her preference for darker colours, Desiree also set her sights set on this grey bed with storage for her boudoir.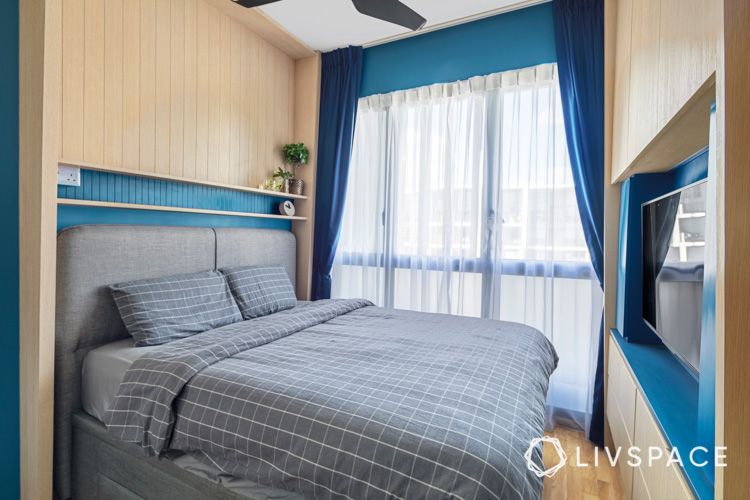 Shalom was entrusted with incorporating this bed into his design solution. Hence this became a design challenge as the bed would impact the look, as well as, spatial planning of the bedroom.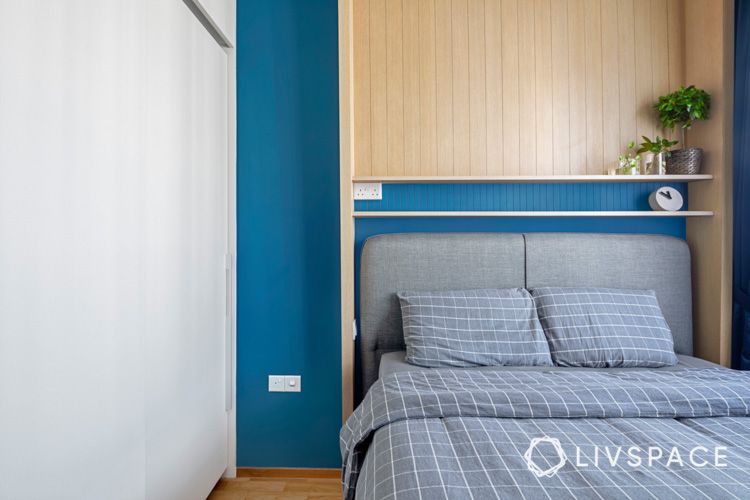 The final design solution indeed maximised the remaining area. What's visible are a TV console, a wardrobe, cabinets, drawers and shelves. What's hidden from the eye as a function of really clever design is a vanity top and extendable foot stool. Talk about smart design that maximises space!
The time for smart living and design is now
As Singapore builds more new housing projects and residences on a smaller scale compared to the past, we will face the challenges that come with compact living. Smart design solutions like those found in this cafe-inspired private studio apartment are definitely a must-have in any Singaporean HDB or condo. Wouldn't you agree?
Looking for more functional design tips? Read 10+ Space Saving Ideas for Compact Homes

Share your comments with us — editor.sg@praveenlivspace-com