Hey Singaporeans! Livspace wishes you a very Happy New Year! 2022 is here, which means it's time to look into the interior design trends that will be popular in the coming year. The new year is an excellent time to make a fresh start, whether it's by finally organising your closet and decluttering your kitchen, or by going a step further and revamping your home's aesthetics. Livspace has researched, discussed with their designers and compiled their forecasts for interior design trends, home décor, interior design, and living room trends for 2022.
Surprise! Surprise! We have also created some designs that are centred around this year's Pantone colour, Very Peri. This deliciously warm shade of blue is indicative of all the happy things to come into our homes in the coming year. On that happy note, let's dive straight in the interior design trends to watch out for in 2022.
#1: The Interior Design Trend That Stays All About Greens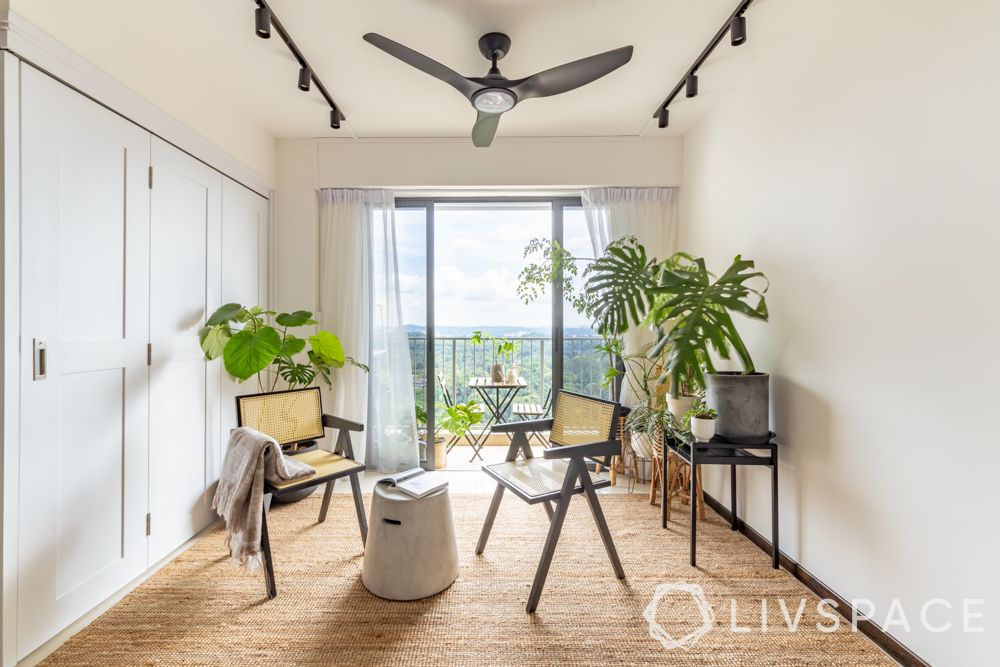 Even before the COVID-19 lockdowns caused people to spend more time indoors, studies indicated that keeping plants in your home can help you focus and relax, as well as improve the quality of your indoor air. According to our brand partners IKEA, people are naturally looking for methods to bring the outside into their homes now that we've settled into a work-from-home lifestyle, which appears to be here to stay.
What is biophilic design?
In recent years, biophilic home design ideas have gained in popularity, with a focus on creating relaxing, plant-filled surroundings that provide a visual connection with nature. It appears that our collective fondness for lush indoor surroundings will continue to grow in 2022.
#2: Use Sustainable Materials As Per New Interior Design Trends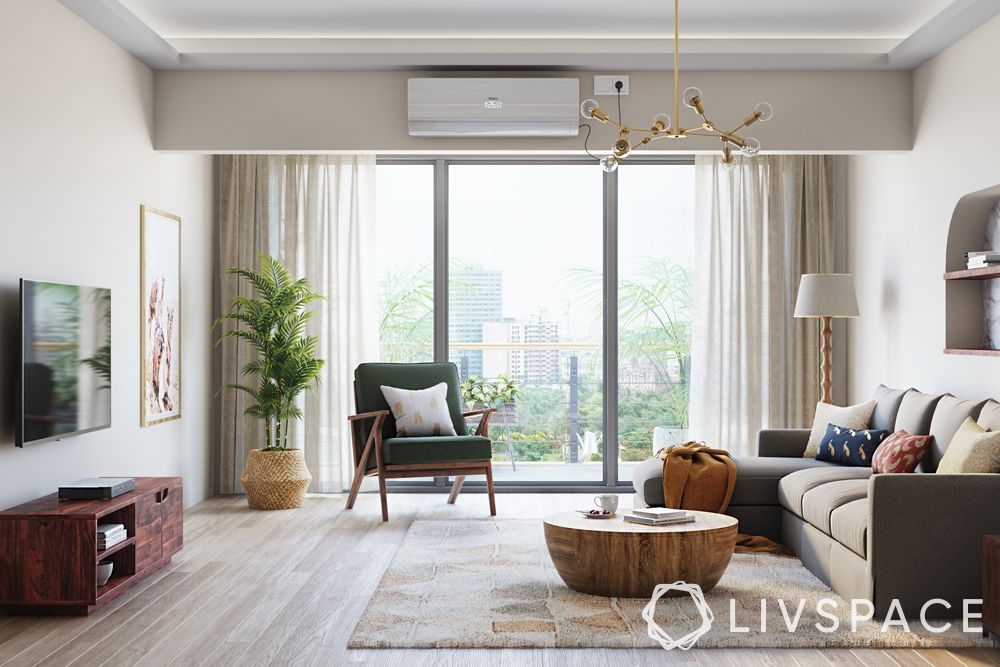 In the coming year, it appears that we'll be seeking for "greener" materials as well. Sustainable materials, according to our brand partner IKEA, will reign supreme in 2022. The growing tendency in repurposing old materials may also be seen in building approaches. Individuals are looking for a more environmentally conscious home design strategy that will allow their living spaces to "live longer" by including components that encapsulate their surroundings. One of the Livspace designers affirms this by adding, "More innovative applications of sustainable materials in the form of subtle details that give lovely character to any environment will be seen".
What are sustainable materials?
Sustainable interior design materials reduce your carbon impact while also giving your home a fresh feel. Here is a list of sustainable materials you can use for your home.
Bamboo
Natural stones
Cork
Reclaimed wood
Textiles like wool, linen, and hemp
Glass
Recycled Aluminium
Low or NO-VOC paint
ALSO READ: 5 Amazing Renovation Homes Created By Livspace in 2021
#3. Opt For More Vintage Interior Design Trends Than Ever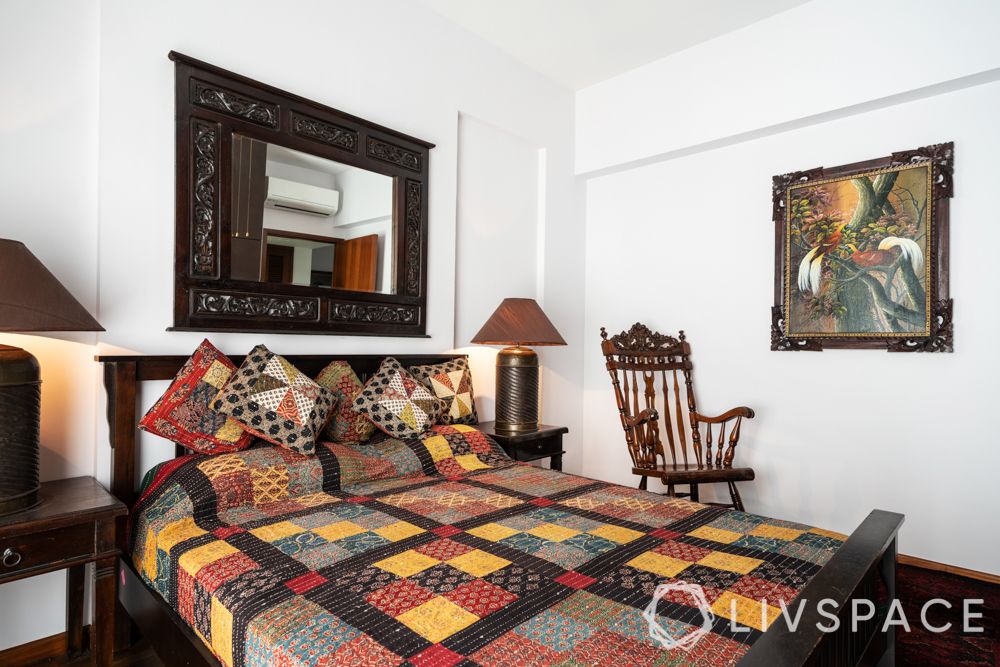 Many of our experts believe that more people are looking for vintage, antique, and handcrafted furniture and decor for their homes. There are numerous advantages to using vintage furniture. It's environmentally friendly because you're not utilising resources to produce a new piece of furniture. Also, it's a beautiful way to make your place feel ageless from an aesthetic standpoint.
It's impossible to date your room when you incorporate artefacts from several eras, and the design feels unexpected and fresh. How to get them? IKEA them. You can also approach searching sites like Facebook Marketplace, Next Door, or Offer Up to add them to your home. Many people also sell furniture from mid-tier and high-end merchants, both new and gently used. Or you can always inherit it from your grandparents/parents.
#4. Style Your Home in Pantone Colour of 2022 – Very Peri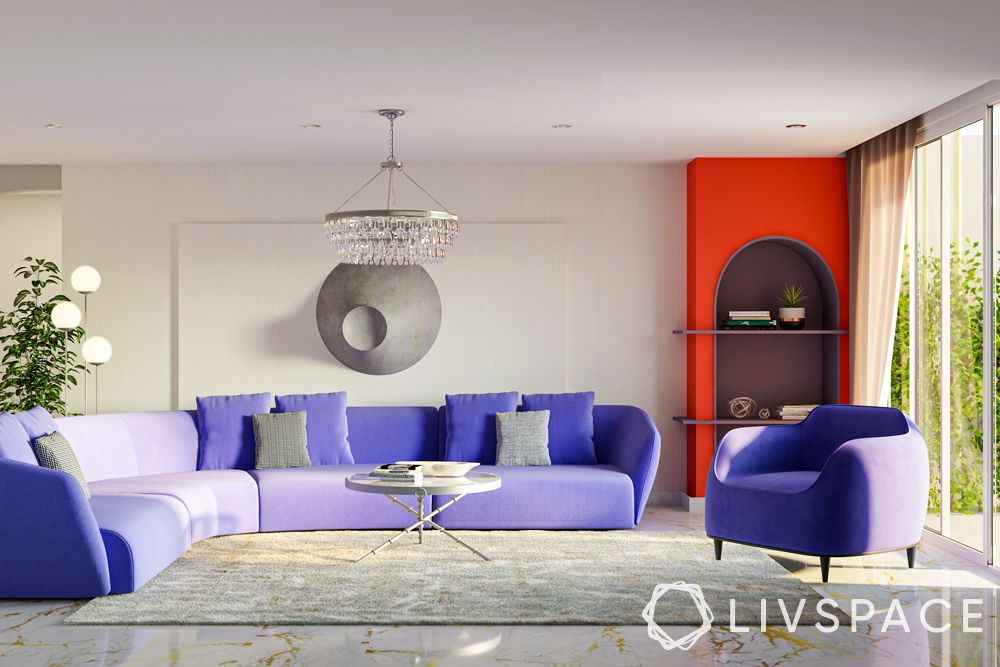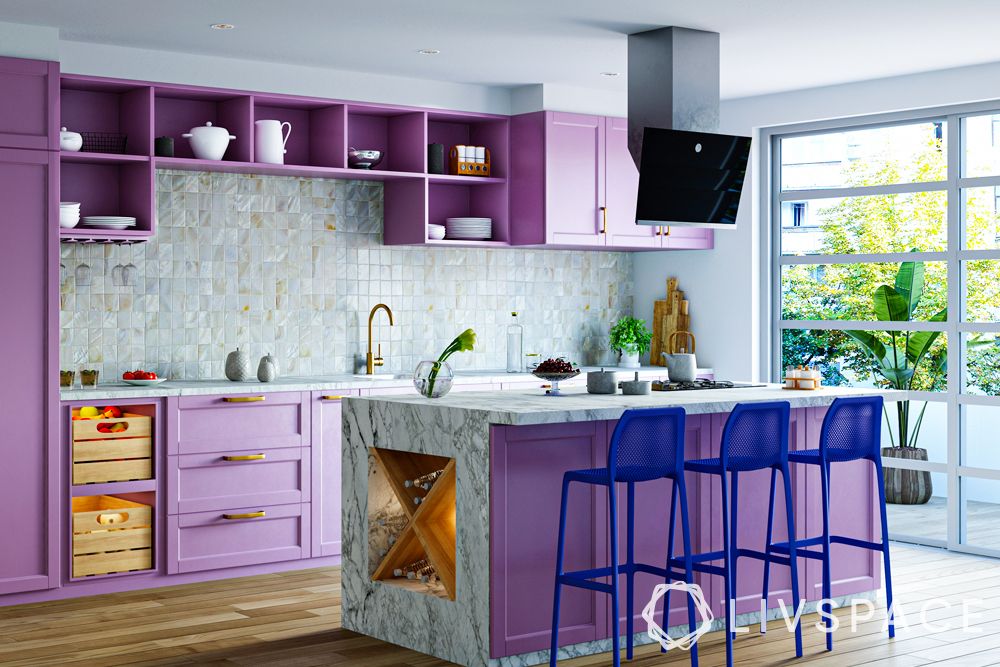 Nobody could have predicted that Pantone's Colour of the Year announcements, which began over 20 years ago, would become one of the most anxiously awaited events in the design industry each year. Pantone teamed with several brands to create the scent, sound, taste, and texture of Very Peri in order to create a holistic experience around the 2022 Colour of the Year presentation. It's a colour that fosters confidence, creativity, curiosity and energy.
How to use the Pantone Colour of 2022?
The challenge is, how do you use this Pantone colour into your interior design? Adding this happy and warm shade of blue to chairs, sofas, bean bags, bar stools, or other settee options to your home will offer a dramatic touch. This colour can also be used to paint the walls of your home. However, while we do not recommend painting your entire home in this colour, a single wall is a terrific way to incorporate it. Give your drab cabinets a new lease on life with the colour 2022. Very Peri sideboards, kitchen cabinets, and side tables will stick out and show your guests how on top of home interiors trends you are.
#5. Add Black Accents to Your Living Room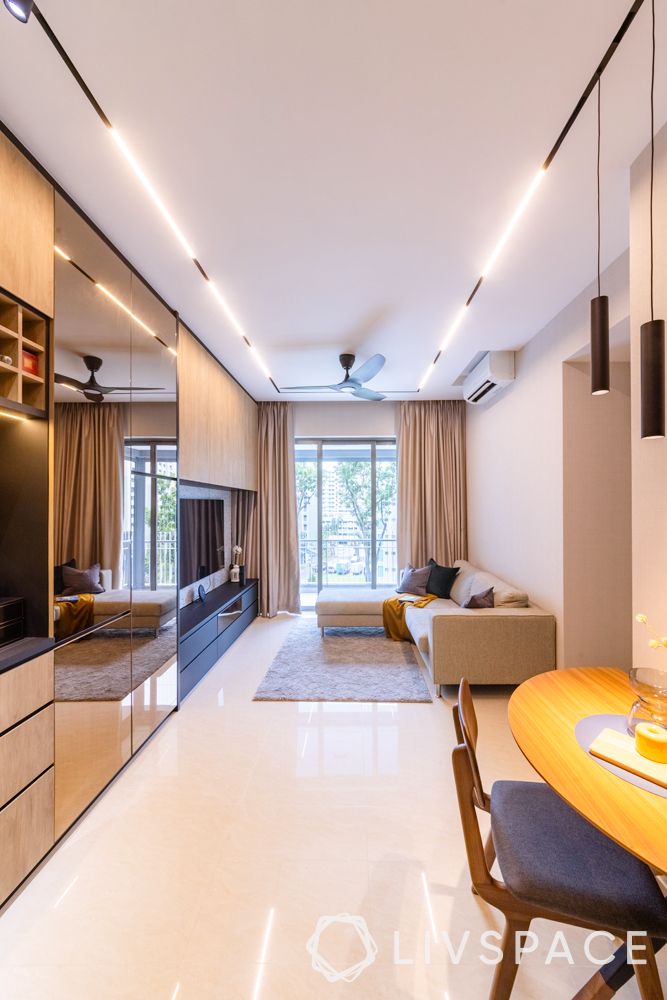 "Black accents and hardware will be a prominent interior design trend we'll see in 2022″

Kevin, interior designer for LivSpace Singapore
It's a terrific way to add some edge and dimension to more minimalistic spaces: Choose light, neutral hues for the primary pieces of your home, including paint colours and huge sofas, and insert black accessories for contrast.
"Black elements, such as lamps, will serve to accentuate and provide depth to a space", Kevin adds. Even replacing existing items like side tables or TV cabinets with black handles will offer a spark of contrast to a space.
#6. Say Yes To Textured Fabrics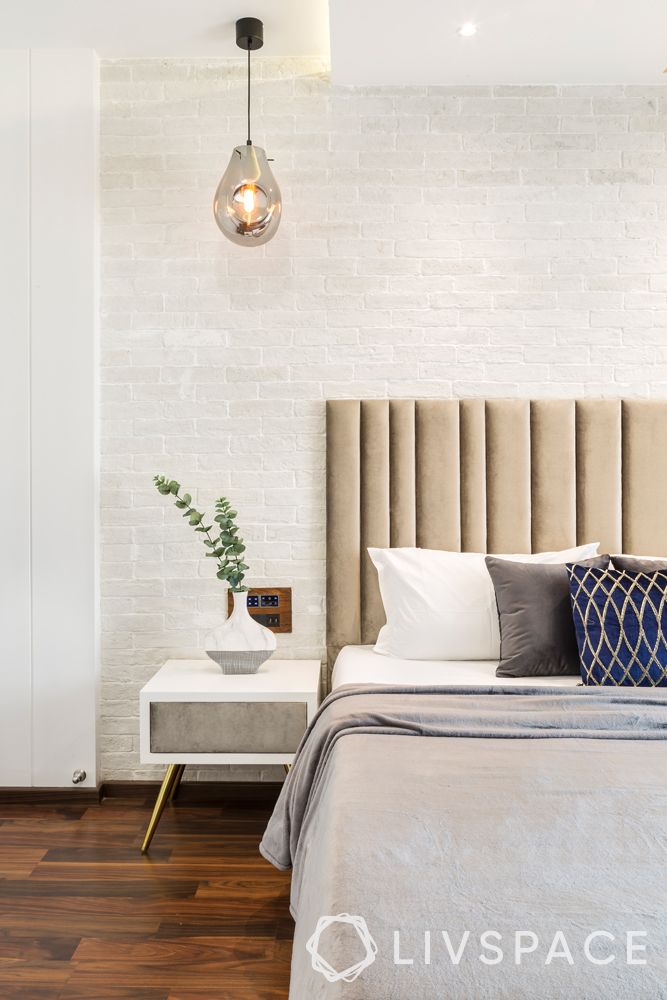 Bring on the textured fabrics! Velvets, sherpa, and boucles are the 'it' materials for 2022, whether it's a reaction to the year and a half-spent getting cozy at home, or a result of heightened attention to detail. And it's not without reason. Cozy textiles not only feel great, but they also look great. Fringe will also take centre stage on furniture next year, particularly for sofas and ottomans.
#7: Stay In Style With Woven and Rattan Furniture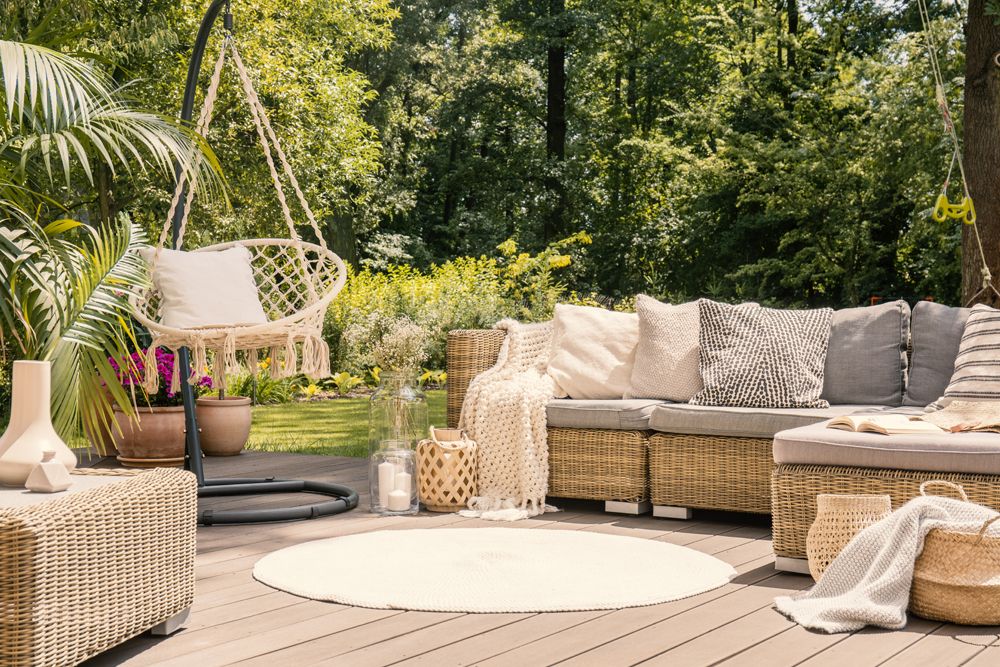 Although materials like cane and rattan have been trendy for several years, in 2022, these timeless designs will only grow in appeal. Rattan, wicker, and grass cloth will never go out of style. Natural materials, which give design a calm, warm, and casual feel, work in a variety of settings, from Singapore to the English countryside to the ocean.
#8: Murals as Wallpapers Are Emerging As Latest Interior Design Trends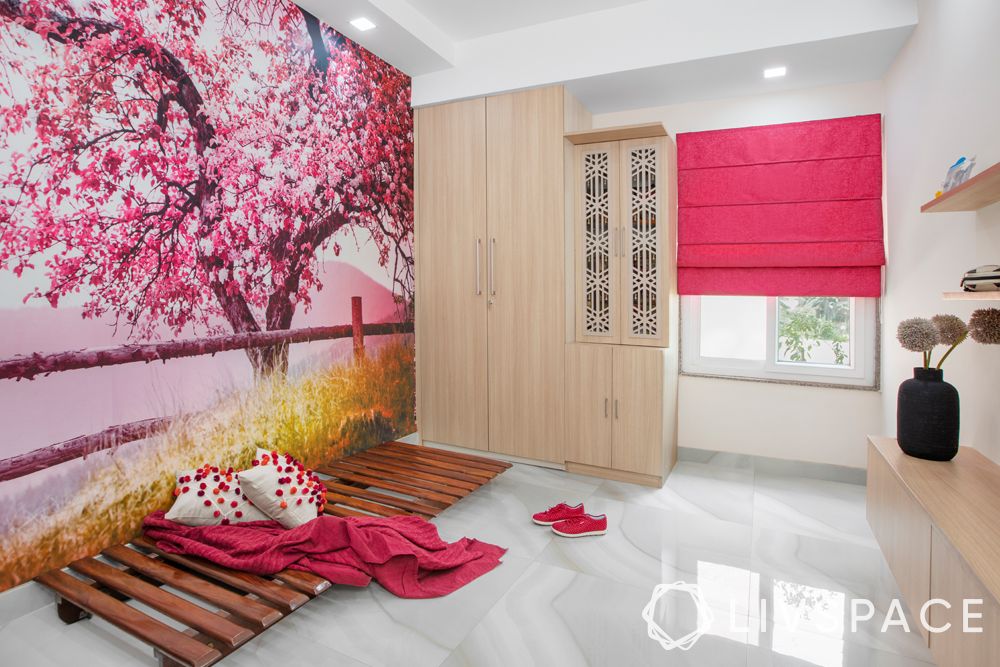 Murals have evolved into a daring method to elevate wallpaper to new heights. This trend is most popular in living rooms, study rooms, bedrooms or children rooms. We're seeing more murals in living rooms and dens as well. They're a terrific approach to use design to communicate a story.
It's also an excellent opportunity to personalise and distinguish your home. Books, found objects, flowers, and sculptures can all be used to create unique vignettes, and assembling these collections from your favourite items is incredibly rewarding! If you're planning to get a mural wallpaper for your home, we'll recommend typing the Pantone colour – Very peri this time.
#9: Compact Bars Can be a Cool New Addition to Your Living Room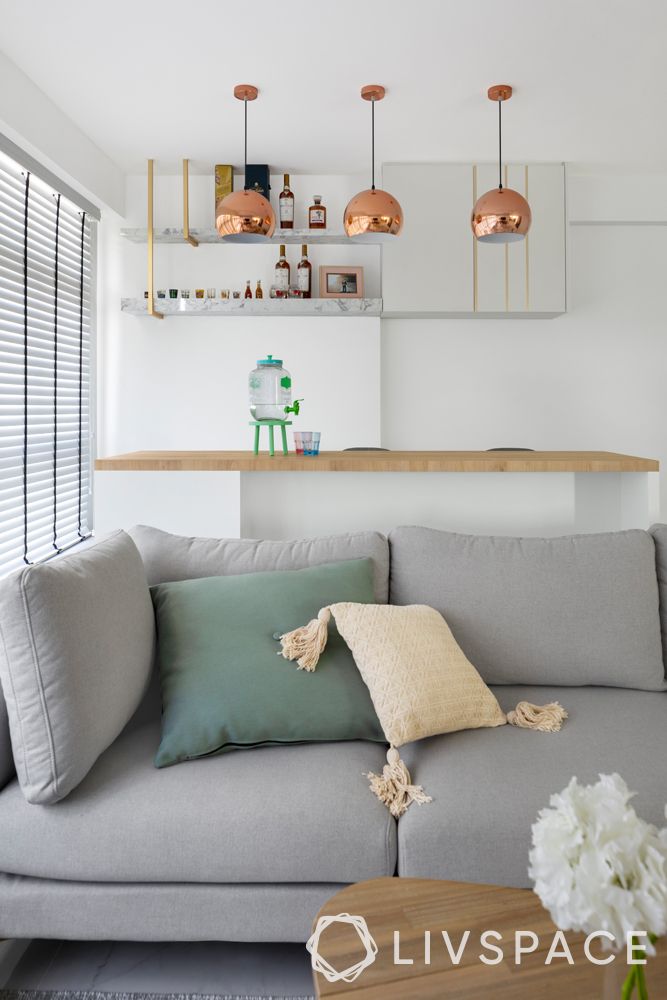 "Living room bars and drink trolleys, according to Livspace designers, will be huge in 2022"

Livspace Designer
This trend began during the lockdowns and has continued unabated as we've all grown accustomed to staying at home more. A bespoke bar created by our designers in this living area is surely the centre of attraction and adds glory to the room. This innovative use of space gives this adults-only entertainment area a real purpose. The neutral tones complement the lounge's neutral greys, and the antique hanging pendants.
#10: Go For Stylish Wavy Geometry In Furniture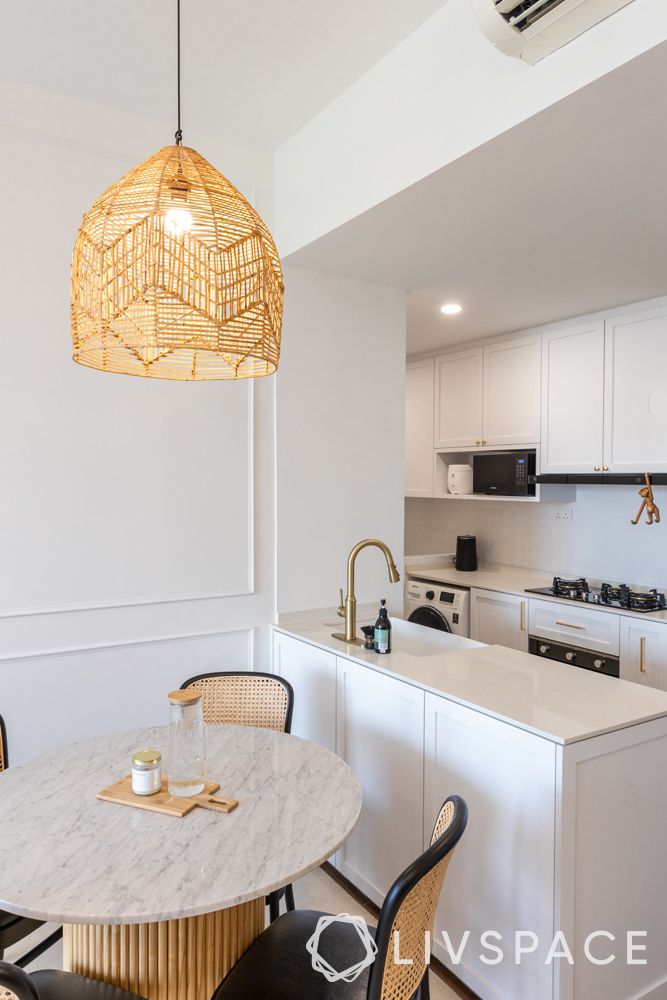 In 2022, rounded elements will continue to be popular, but the trend will spread to new sections of the home and take on new forms. Wavy undulations have been popular in furniture already, but our designers believe they will also be seen in millwork and stone backsplash detailing.
We should anticipate to see more curvilinear components in the home, in addition to sofas with rounded edges and arched windows or doorways. Incorporate circular structural aspects such as waterfall corners on consoles, countertops, workstations, and headboards to join the trend. Alternatively, choose less-permanent design such as drum tables and circular area rugs.
How can Livspace help you?
Did you find these small apartment designs inspiring? You can also get such beautiful interiors for your home with the help of Livspace. All you have to do is book an online consultation with our design experts to get safe and quality interiors. You can learn more about COVID-19 safety protocols here.
If you liked these interior design trends, then be sure to check out this one too: 5 Amazing Renovation Homes Created By Livspace in 2021
Send in your suggestions and comments to editor.sg@praveenlivspace-com