Working from home has been quite common not just in the world but in Singapore as well, thanks to the pandemic. And while the work from home concept certainly has quite a few perks, there are some disadvantages to it too. We tend to work more hours and it can get inconvenient if you don't have a dedicated home workspace. Therefore, even as we work from home, it has become critical to set out time to spruce up a certain area of your home to function as the home office and ensure maximum productivity. Many of us, though, are typing away at a makeshift 'home office' in our bedrooms, living rooms or dining rooms, which is okay but it could definitely use some kind of an upgrade. There needs to be a separate area for the home office which is a little isolated and gives the liberty to people to work in peace uninterrupted.
These five home office inspiration ideas can style up your home office area and inspire your next work from home session. They can be categorised into low-commitment designs for those of us eager to get back to work immediately, as well as imaginative refurbishment ideas if you're searching for a more permanent home workspace.
ALSO READ: The A-Z of Home Offices and How to Make it Comfortable
1. Easily Organised Home Office with Natural Lighting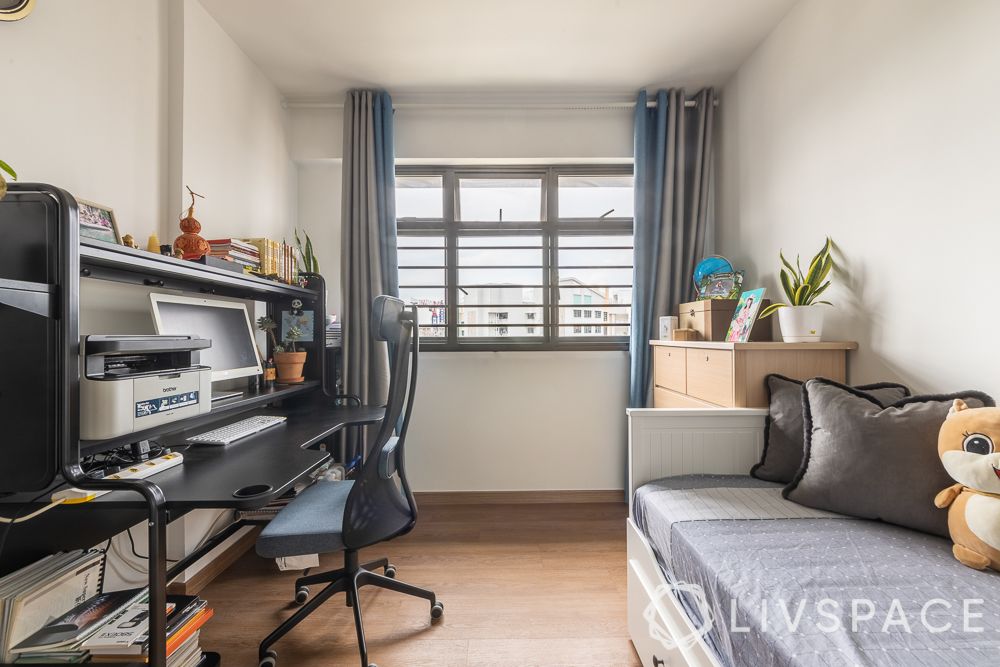 This 4 room HDB designed by Livspace interior designers for Yin Hang and Liu Huan has the perfect home office you need for your home. Yin chose to use the third bedroom in his 4 room HDB as his home office. This customised work desk is the most important and attractive part of this home workspace. Yin's office supplies are ingeniously organised and kept on the desk, which includes numerous racks and shelves. It lets him work from his chair without having to get up during the day, allowing him to maintain complete focus and attention. This modular workstation from IKEA for Yin's home office keeps the desk organised and spacious.
The big window in the office allows for natural ventilation and light and brings in a positive workplace environment. The couch or bed on the right side provides a time to relax for some time between work to recharge oneself. The muted pastel wall colours add to a soothing or conducive work atmosphere.
2. A Storeroom Transformed into a Cosy Home Workspace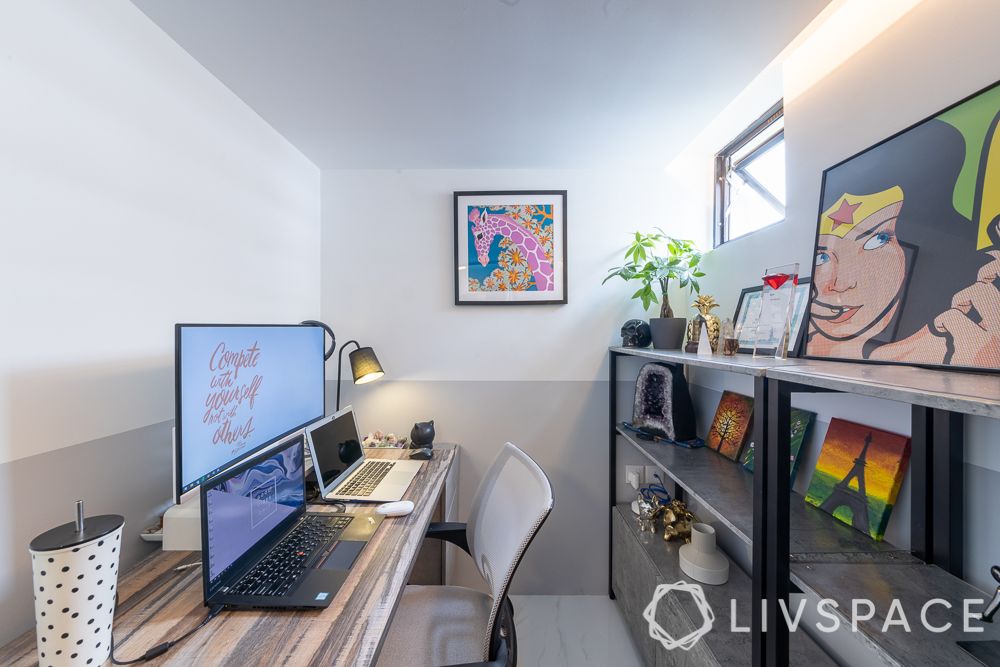 This home office is designed for Yvonne's 3 room resale flat at 637 Veerasamy Road. This home workspace is perfect for her as she is a hard worker who works late into the night. As a result, her home office had to be both comfortable and enjoyable. Our Livspace designer Wanting had to work around adjusting the arrangement of the store room to make this corner more comfortable for her since it was converted into a home office. She decided to take down half of the wall and replace it with a glass window. This ensured that her home office was bright and airy while also providing Yvonne with a view of her front door, giving her a sense of security.
Well, we give full credit to Yvonne as well for personalising this space and adding fun posters that can make a mundane Monday a little more chirpy!
3. An Isolated Home Office to Enhance Creativity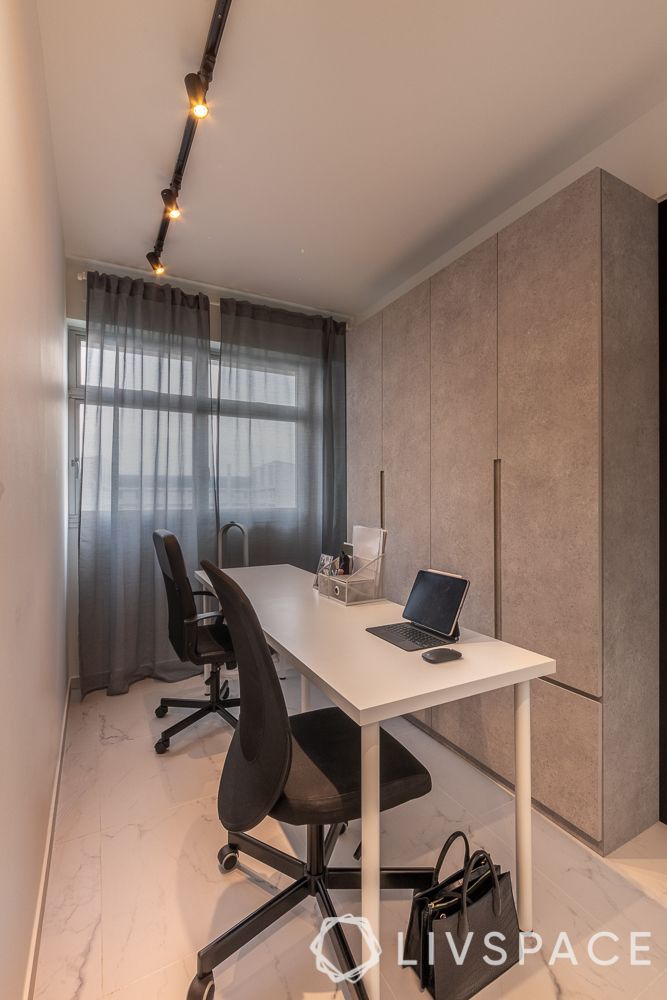 This home office has been created for a 4 room HDB at 890A, Tampines Ave 1 for James Goh and his wife Tim. Since they are a working couple, it was critical to design a space for them where they could work from home in peace. Livspace designer Weigen transformed the shared bedroom into an office with plenty of storage and natural light. It's a one-of-a-kind open-concept home workspace that's both functional and small.
Be sure to notice the lighting in this workplace. The designer created a mix of lighting in the home workplace and made sure that they had focal lighting to help them in being productive.
4. A Decluttered Minimal Home Office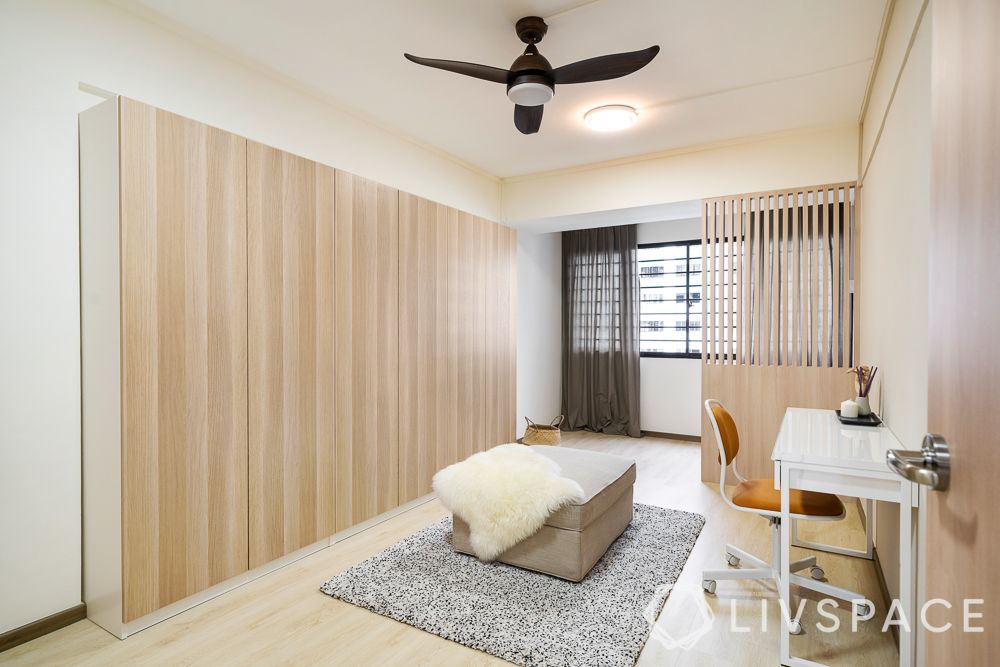 This home office has been designed for Sham and Rahman for their 4-room resale flat in Commonwealth Ave. They decided to renovate their third bedroom into an office or study room. We love how interior designer Ava Gui gave this home workspace a minimal and decluttered look. They choose a minimal decor, opted for storage packed furniture where they can easily store their office essentials or the books. The wall-to-wall laminate wardrobe with plenty of storage helps make this workspace efficient.
5. Home Office As a Multifunctional-Space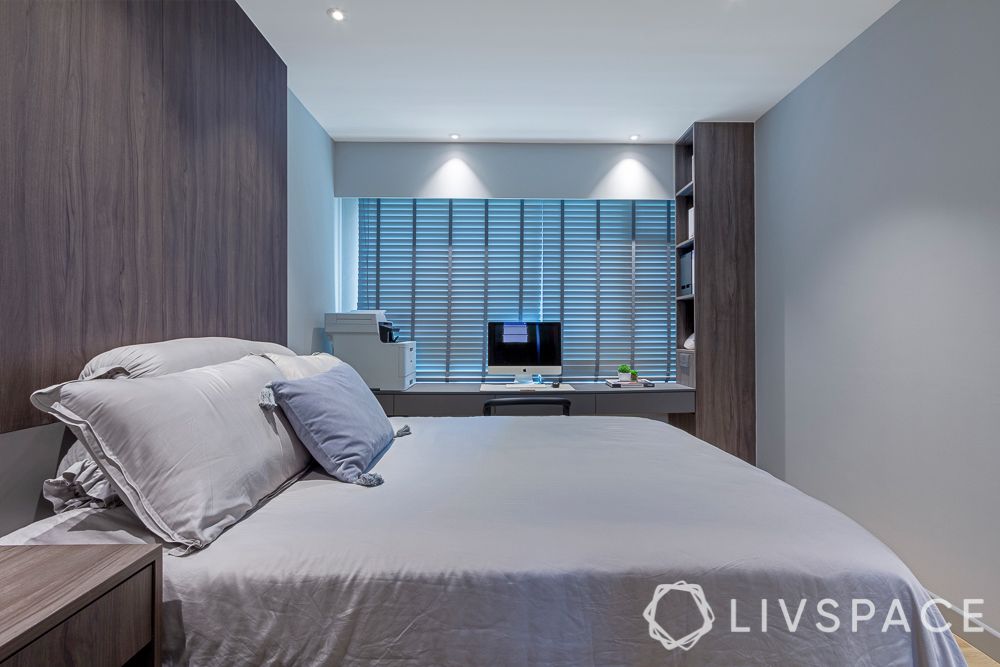 This home office in a bedroom has been designed for Ivan and HuiMin for their 3 Room HDB spanning 69 sqm. at 58 Havelock Road. You may not always have the luxury of having enough space to set up a separate office. In such instances, multifunctional spaces are the best solution. And that is just what Livspace designer William Choung did for this home. A work or study table, for example, can be placed in your bedroom. This plan will work well for you if you are an individual or a couple with your own space. By the window, a sleek ledge with a bookcase fills the far end of the space and works as an excellent option for storage space.
If you liked these home workspace setup ideas, then check How to Optimise Space for Your Study Rooms.
Send in your thoughts and suggestions to editor.sg@livspace.com.
How Can Livspace Help You?
We hope you found our ideas useful! If you want your home to be just as beautiful, then look
no further. Book an online consultation with Livspace today. Delivering safe home interiors
has been our No. 1 priority. Click here to find out how interiors are being delivered following
all safety protocols. Learn more about our COVID-19 safety practices here.