This 3 room resale flat at Veerasamy road will floor you with the smart design and intelligent use of space.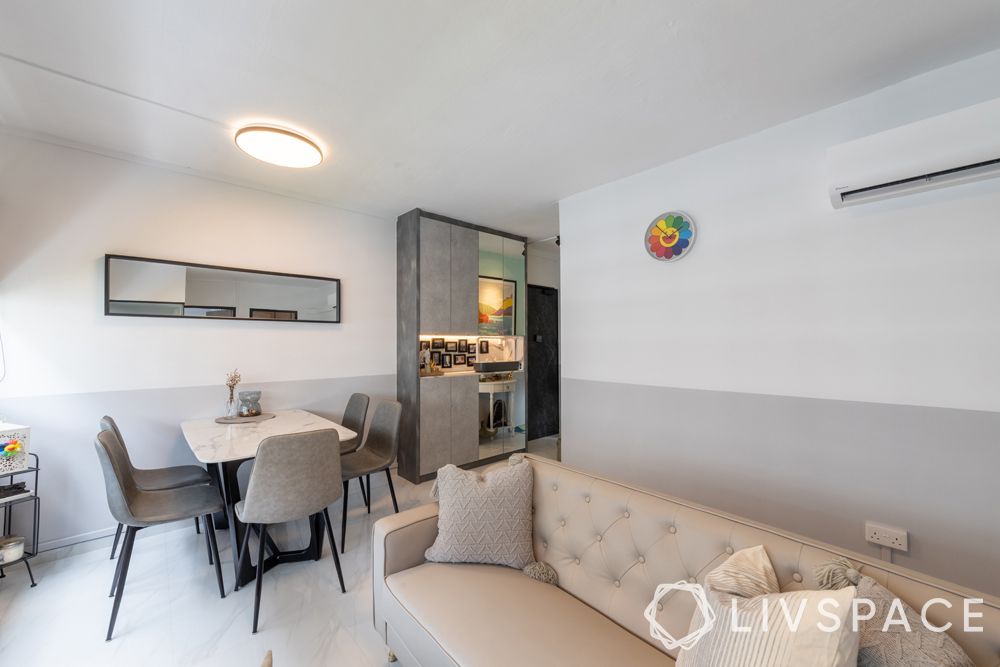 ---
Who livs here: Yvonne Yeo
Location: 637 Veerasamy Road
Type of home: 3-room resale HDB
Livspace team: Interior Designer Wanting Liu and Project Manager Kent Huang
Livspace service: Design, demolition, masonry, electrical, plumbing, ceiling, partition, painting,carpentry
Budget: $$$$$
---
For Yvonne Yeo, a home is where one can relax, entertain and work at ease and comfort. Coming from an interior design background, she knew the sort of details she needed to get into while renovating her own home. Also, she had to make sure that her house gives her a sense of security and calm since she lives by herself. We love the quirky corners in her HDB and we are sure you will love them too!
Check out how Wanting Liu helped her through the process of designing and gave her the home that she dreamt of!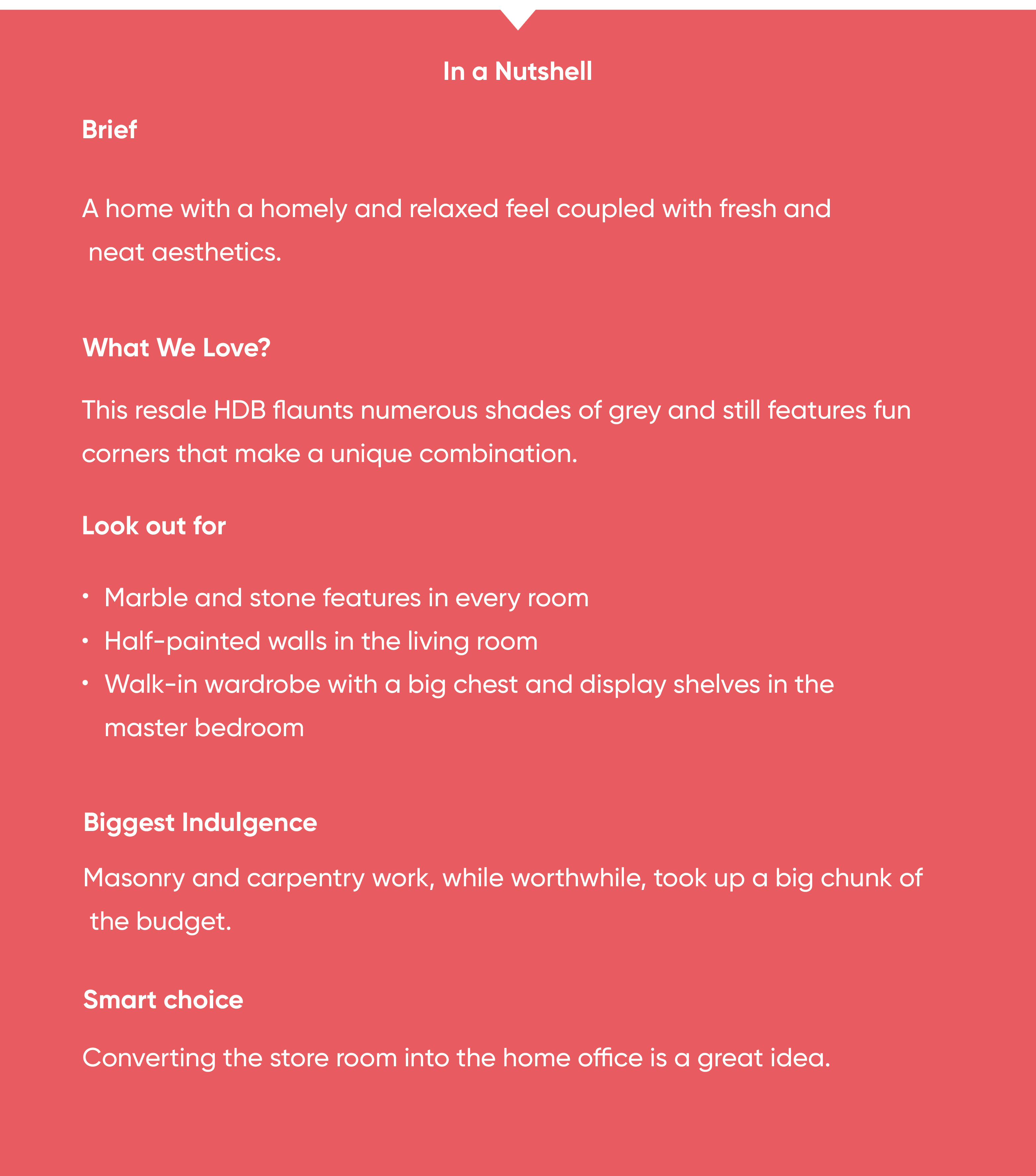 Mirrors lead you inside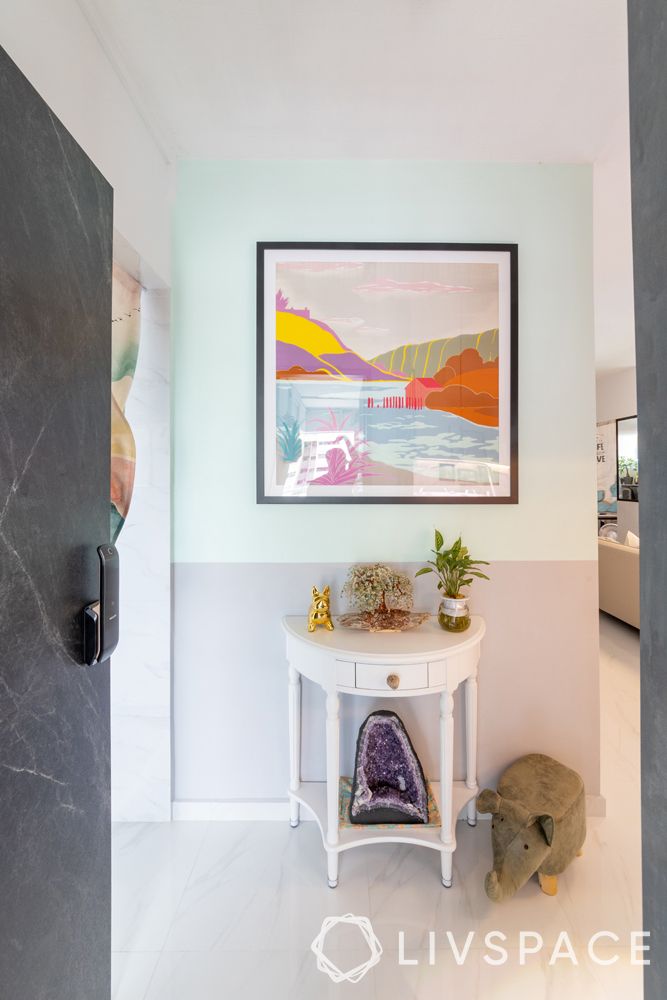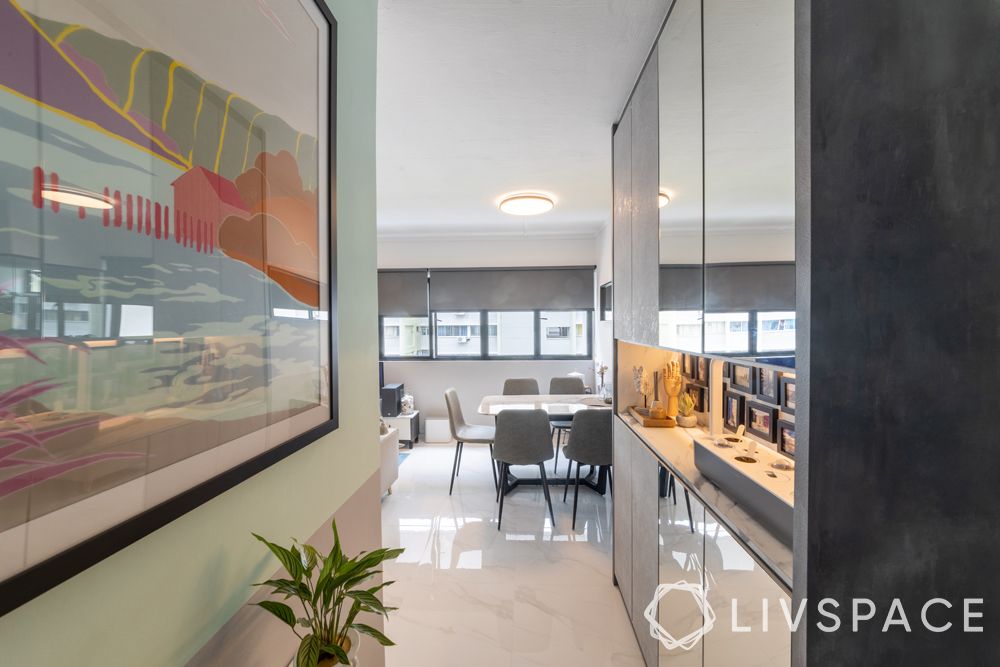 Once you enter into this 3 room resale flat, you are welcomed into a corridor which then leads you inside. Since this is a narrow space, Wanting suggested a mirrored panel here, so that it helps in making it look spacious. Therefore, the shoe cabinet-cum-display shelf is covered with mirror shutters. Also, do not miss the little Feng Shui additions on the tiny desk as you enter.
Yvonne's favourite spot at home is 'oh so simple' but perfect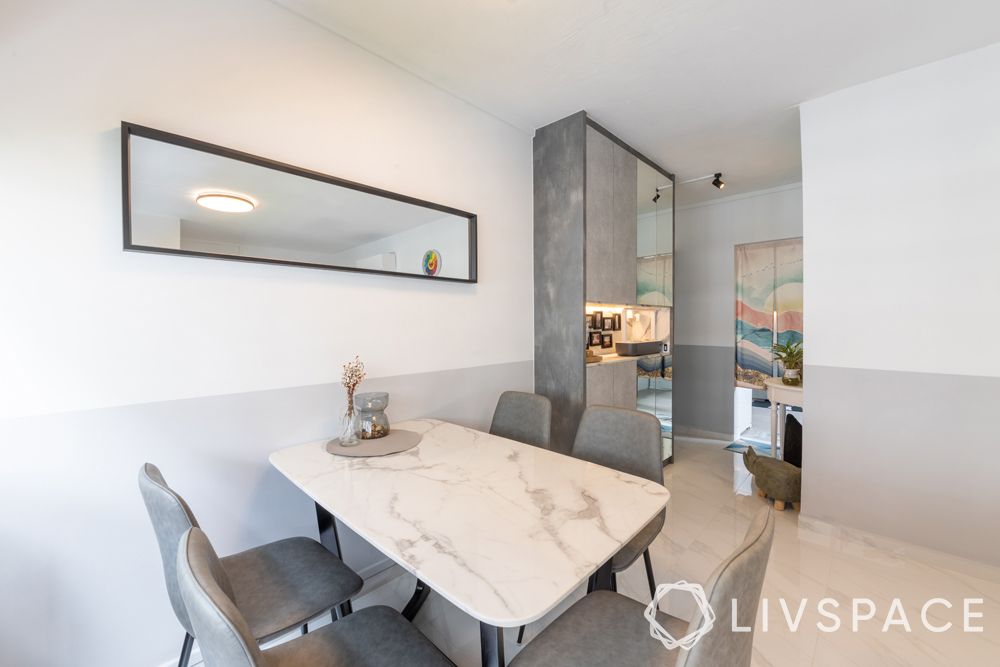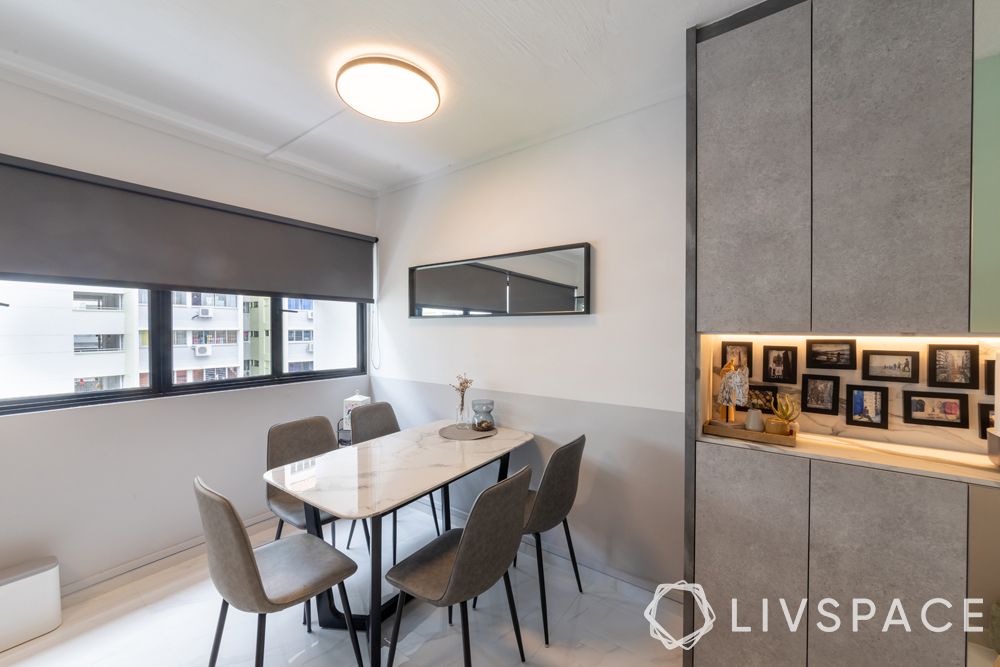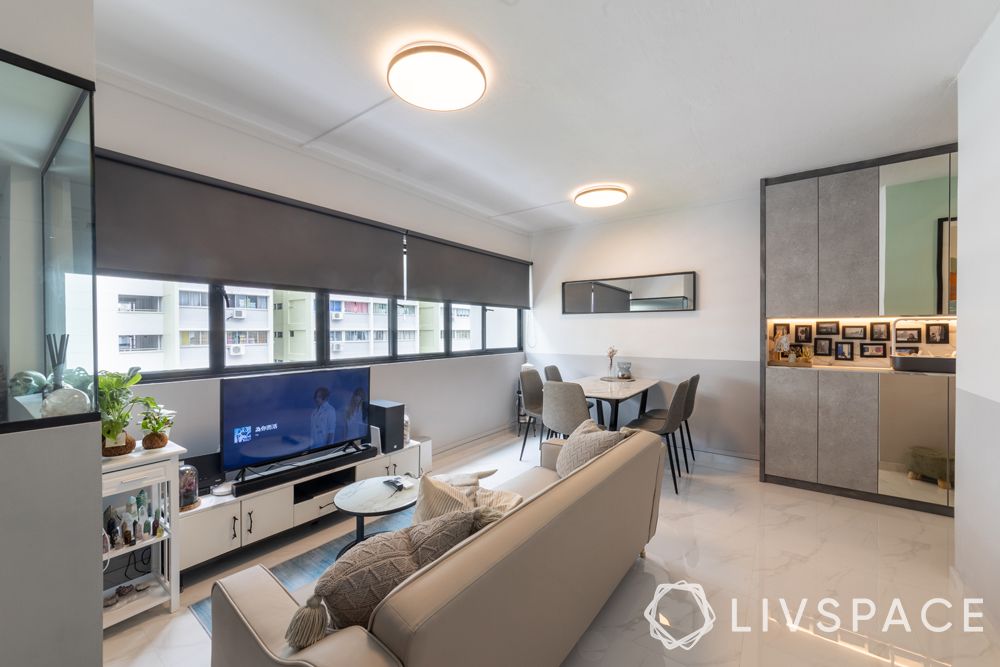 As you move further, you will first notice the dining area with a marble top table and grey chairs for company. Half-painted walls are a design feature that Wanting really wanted to add here. Yvonne shares that this is her favourite spot to chill at home, with friends and family.
In the living room you can spot a 3-seater sofa in front of the simple white TV unit. The windows are dressed with fuss-free grey blinds as opposed to curtains.
Specs of stone and marble in the kitchen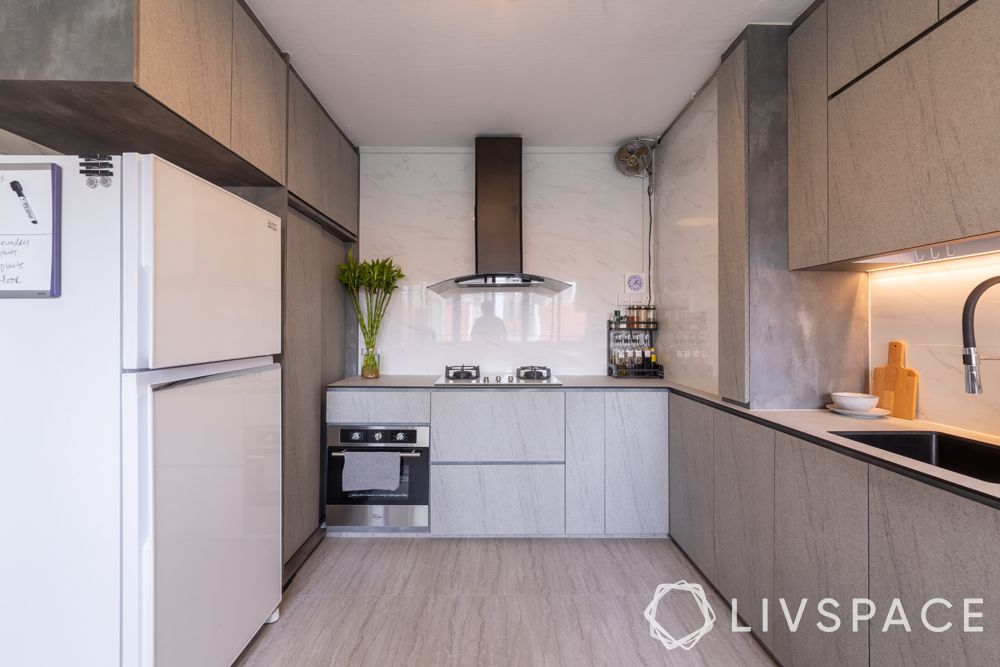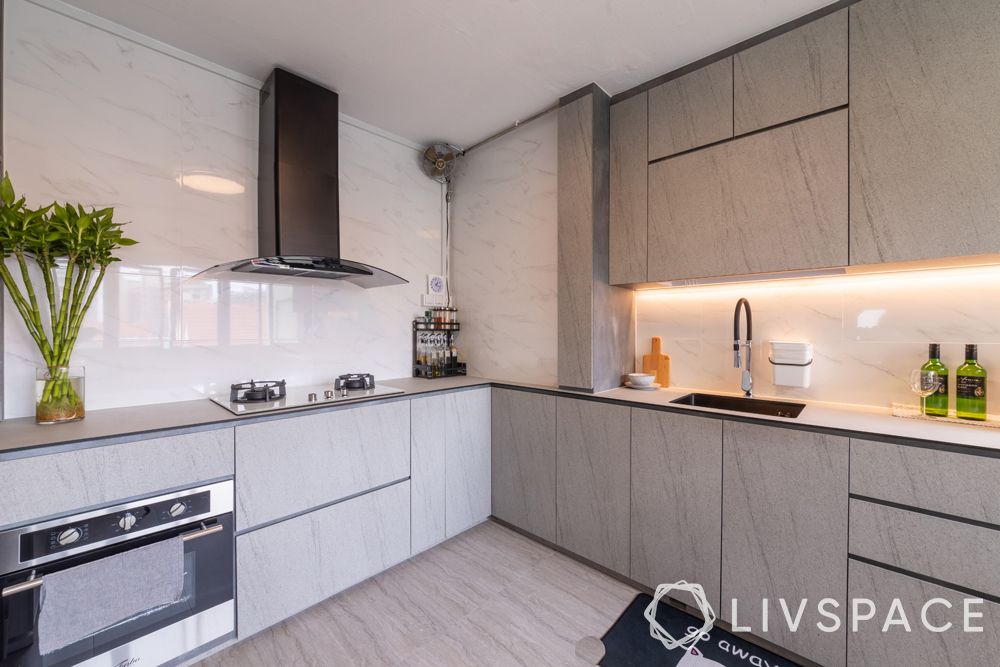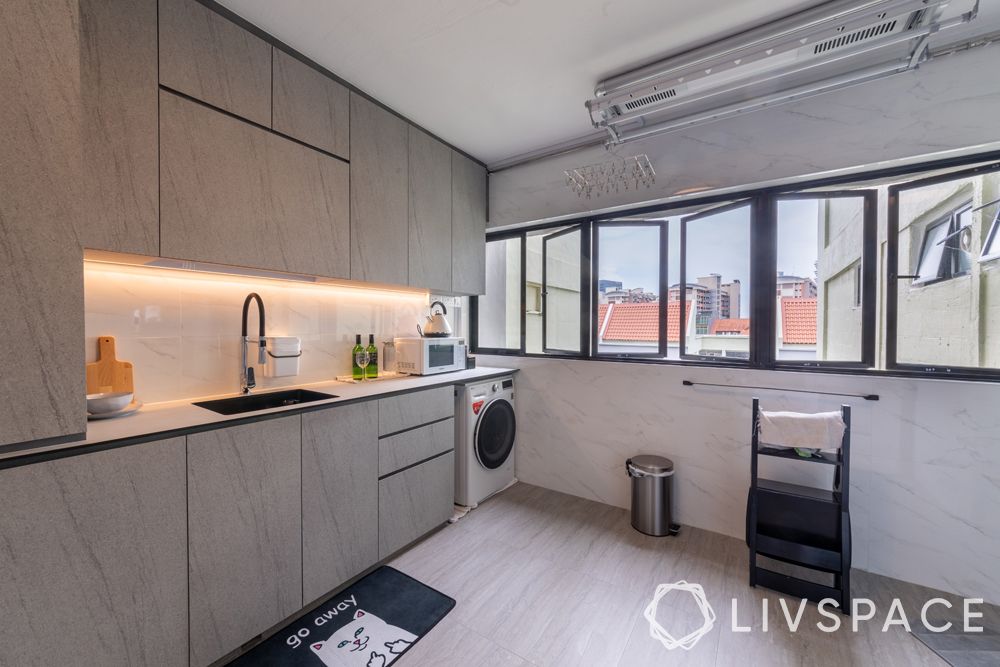 In a casual banter, Yvonne mentioned that she loves bright spaces, and therefore, you will spot a lot of windows in her 3 room resale flat. The kitchen is no exception to this. Finished in laminate and stone-like backsplash, this kitchen is big enough for her cooking expeditions. We love the seamless cabinetry and modern aesthetics of this space. Also, since the store room was utilised for another space, Wanting had to design a hidden store room within the kitchen, which you can spot next to the refrigerator.
A cosy bedroom perfect for a boss lady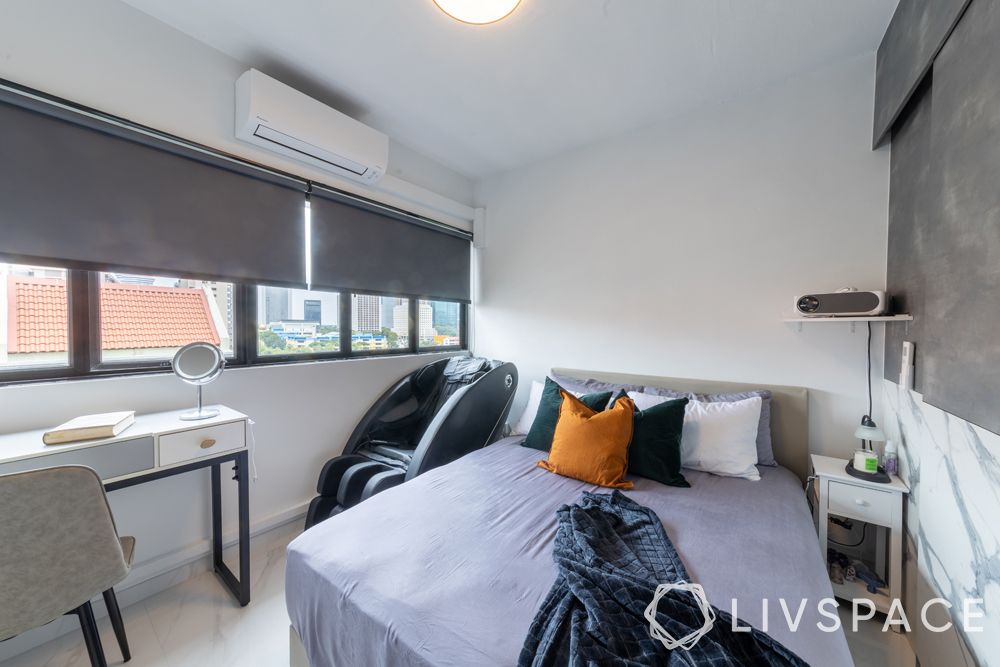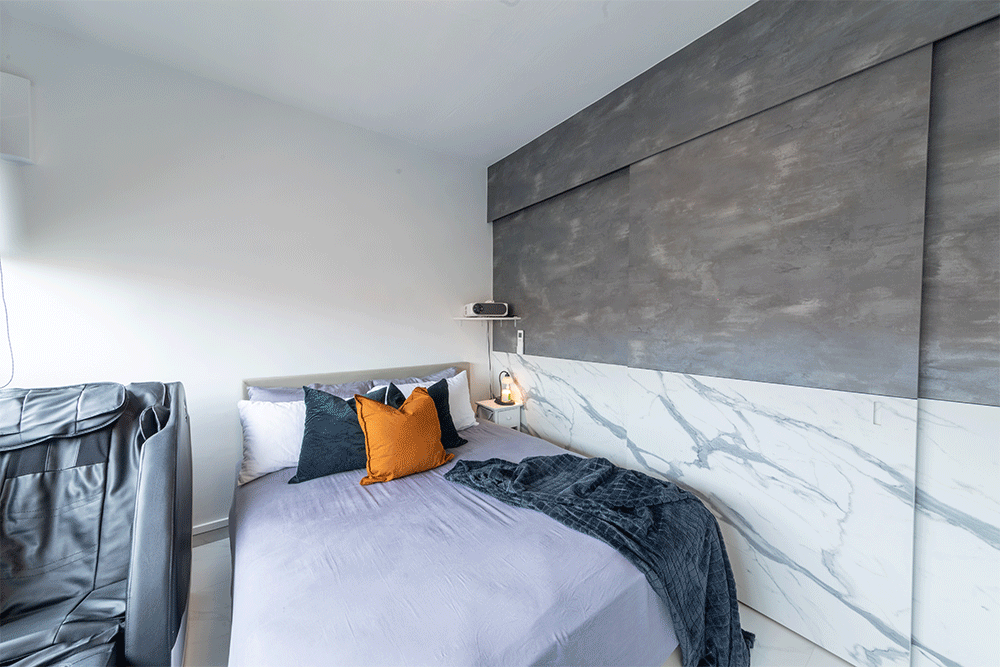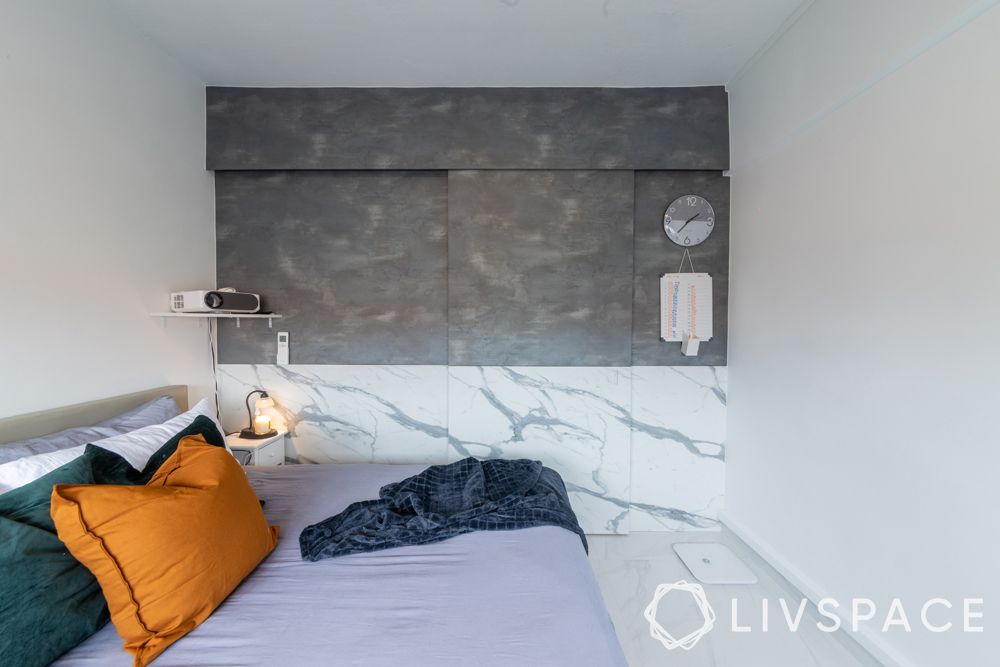 "My entire bedroom space is really just about rest and relaxation," says Yvonne. And we totally agree. Looking at this bedroom we believe that it is made for having a good night's sleep after a long day's work. You can spot a cosy Queen size bed and a massage chair right next to it. For those casual work days. Yvonne also has a compact study desk in her bedroom. One of the smartest additions to this space is the sliding door between the bedroom and the walk-in wardrobe. It acts like a divider and the subtle grey laminate makes for a designer finish.
Stepping into the walk-in wardrobe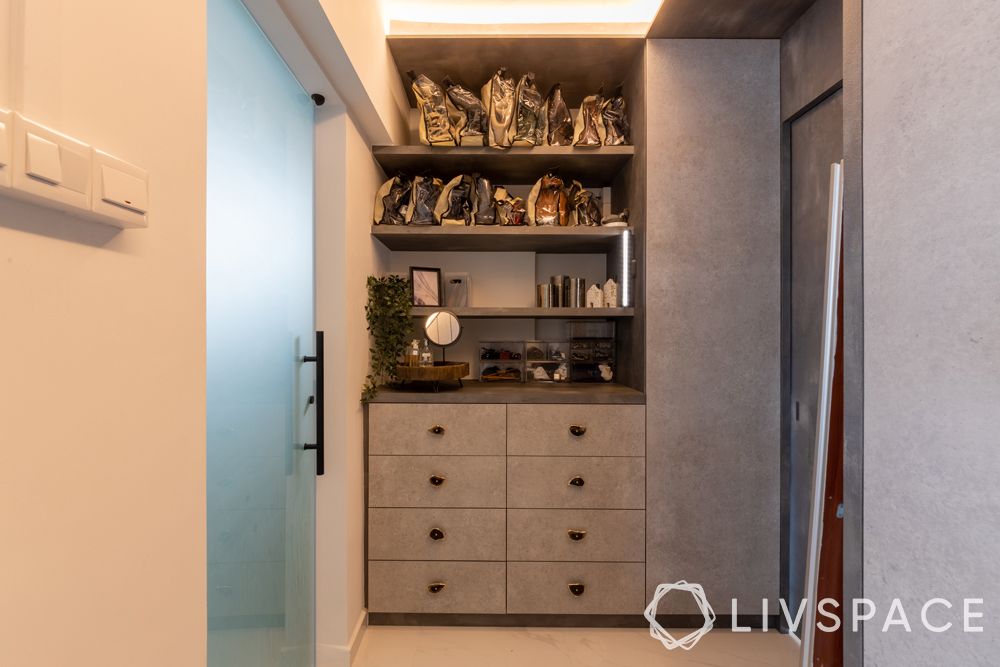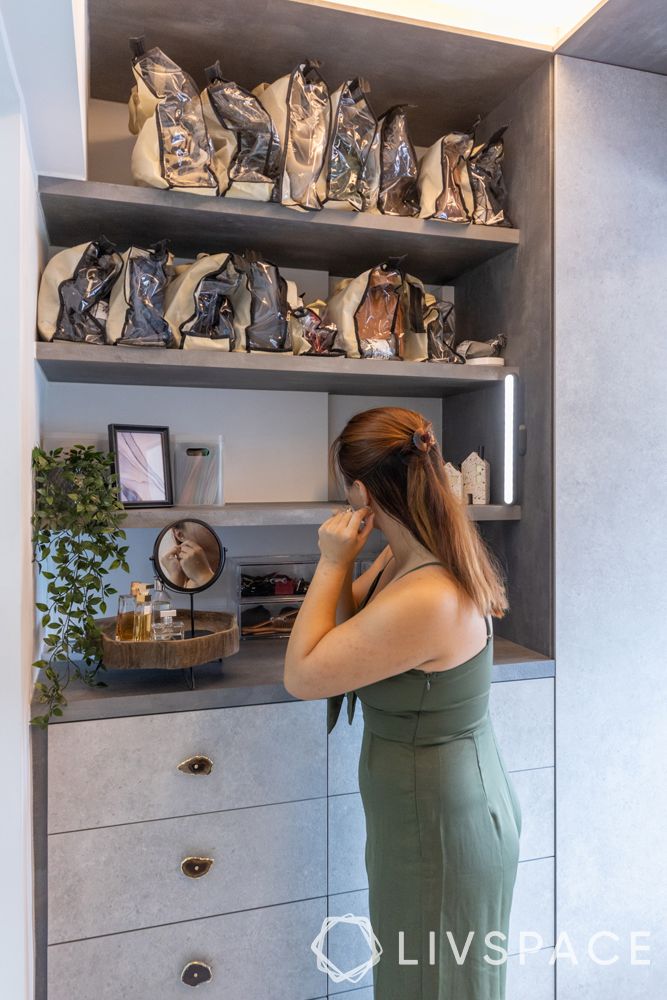 In between the sliding door and the bathroom lies this huge walk-in wardrobe where Yvonne spends time playing dress up. We love how organised this space is and the appropriate amount of storage space that Wanting has added here for her.
That's a home office we all envy!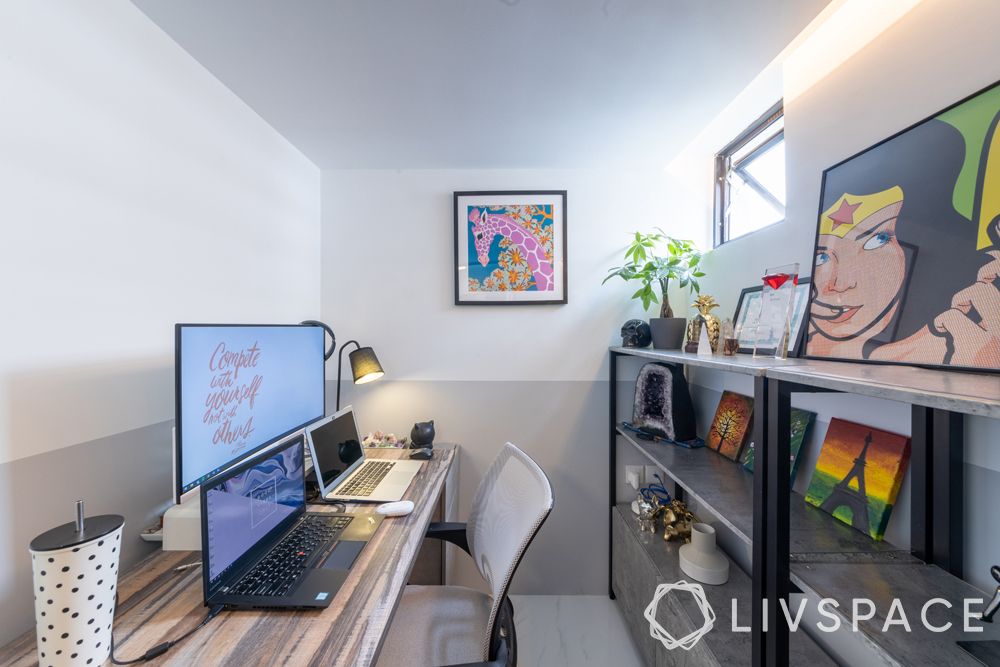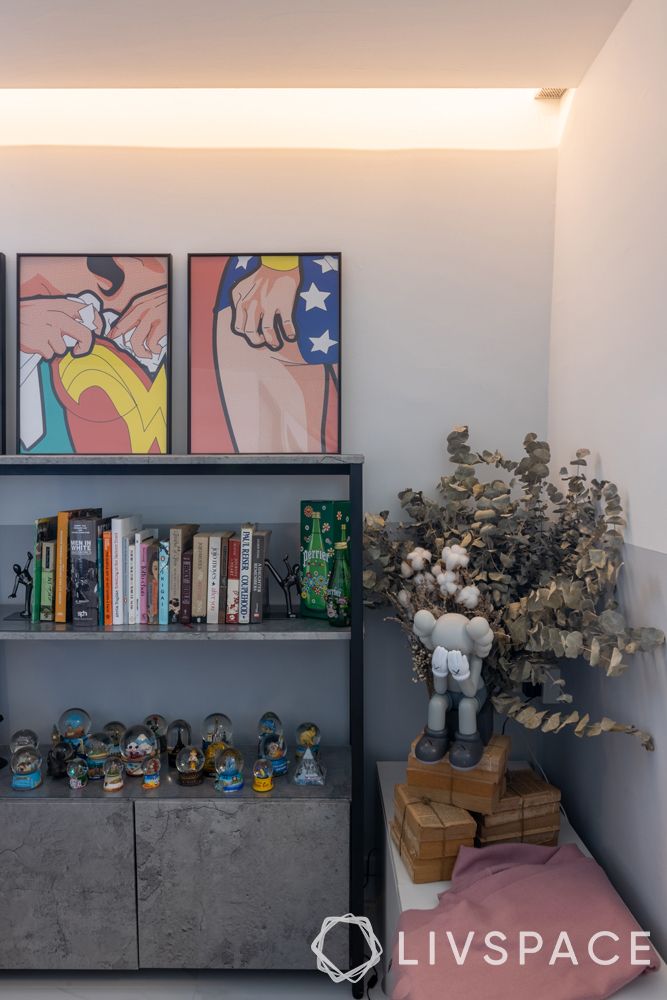 Fun fact: Yvonne is a hard worker and she works late at night. Therefore, her home office had to be really comfortable and fun at the same time. Since the store room is converted into this home office, Wanting had to work around changing the layout to make this corner more comfortable for her. She decided to hack down half the wall and add a glass window in here. What does it do? It brightens up the home office and also allows Yvonne a view of her entrance that gives her a sense of assurance.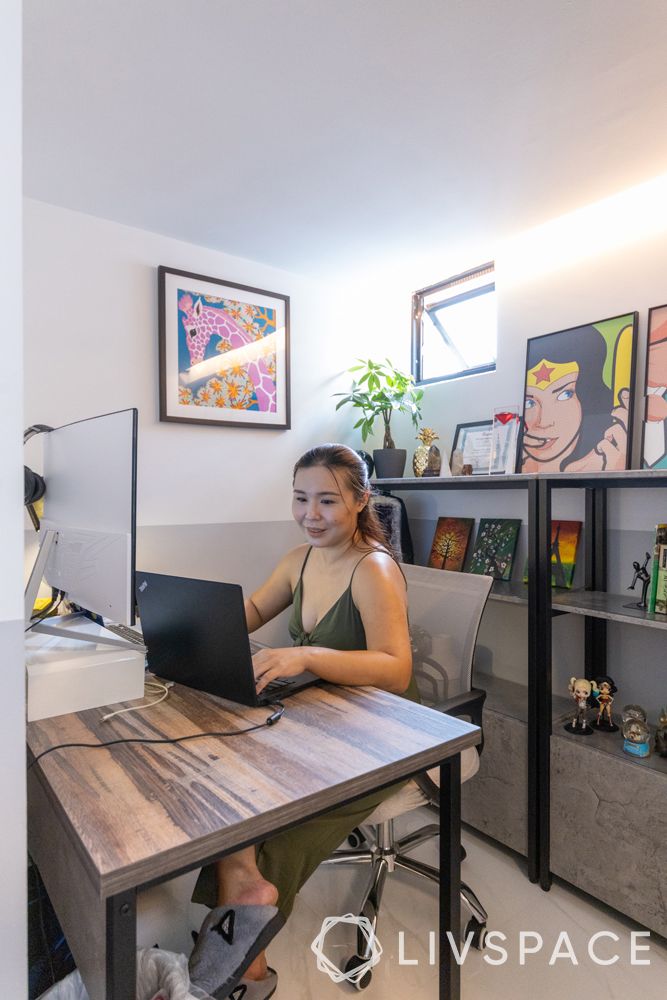 "With Livspace I did not have to worry about how my home would turn out to be. Wanting (Designer) was very detailed in her plans and proposals, with a lot of patience for my changes and deliberations. I really appreciated her timely updates, her constant revisions and adapting to my new choices of laminates. Kent (Project Manager) was also very patient with my requests. I'm glad I've found Livspace, and most importantly, Wanting as my designer."

Yvonne Yeo

Livspace Homeowner
Bathrooms renovated to perfection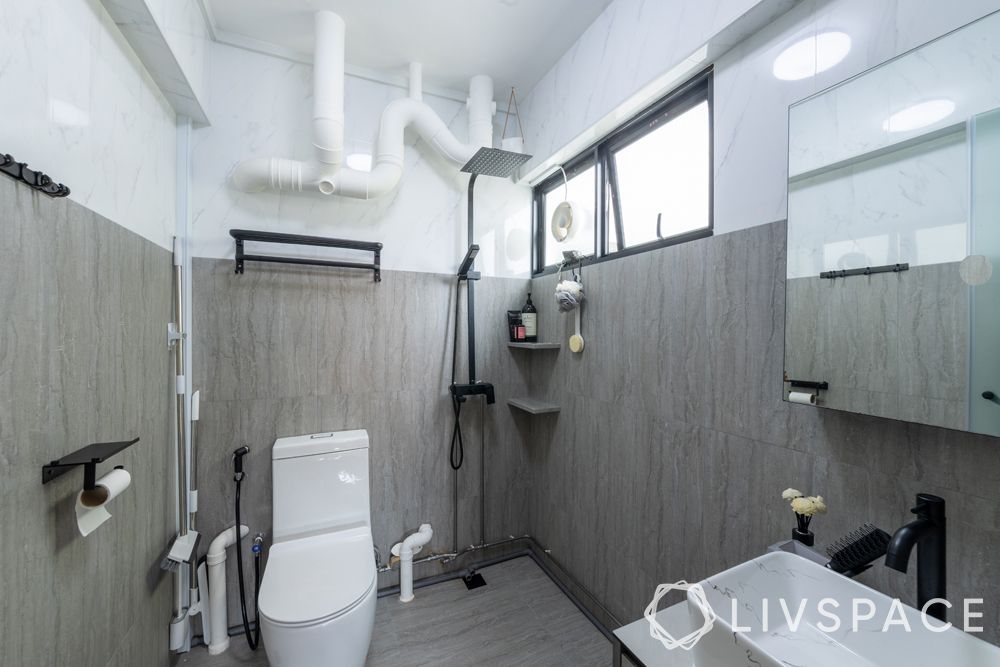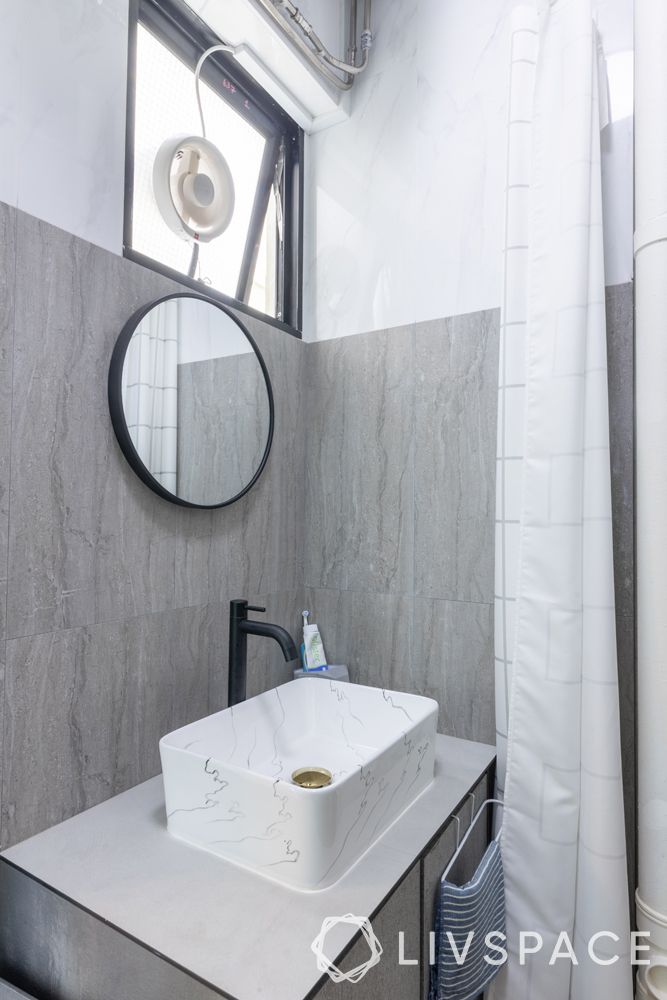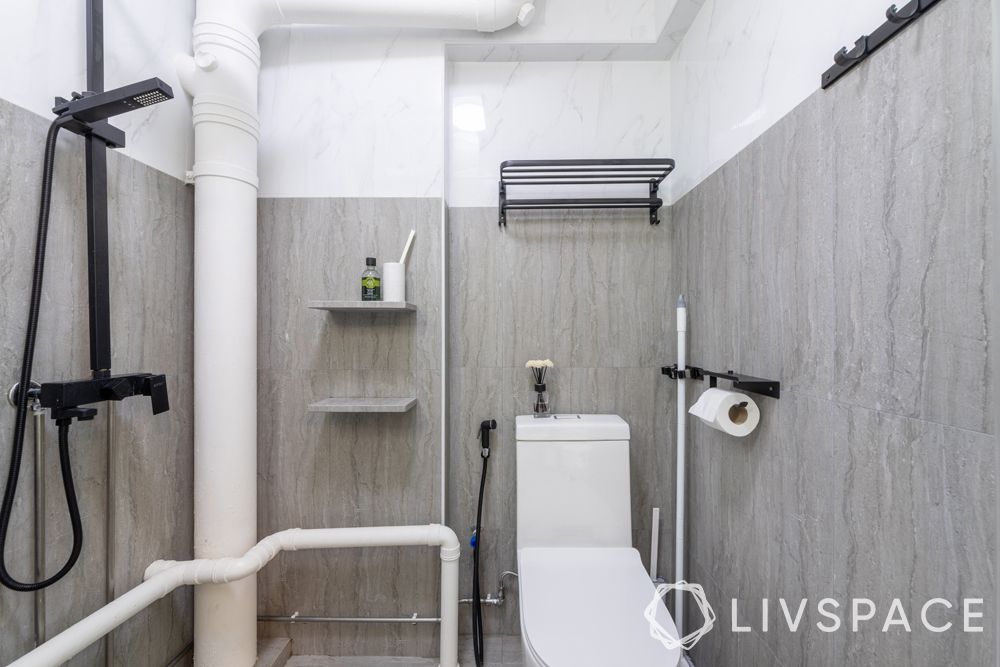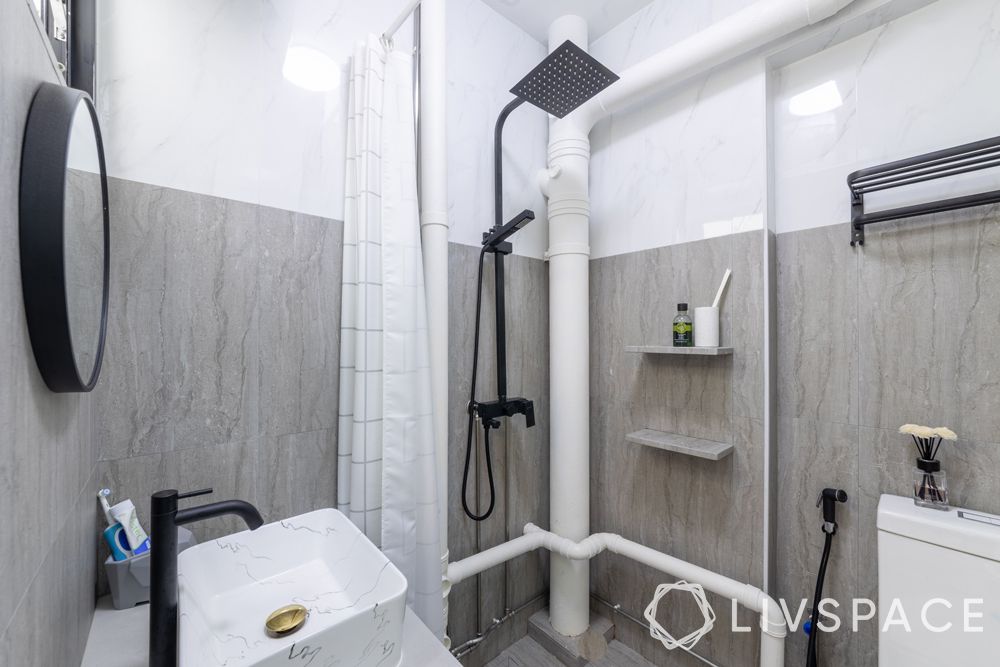 For both bathrooms at this 3 room resale flat, Wanting has used a similar design combining two colour tones for the wall tiles. It also follows the same half wall paint pattern seen in the living room. You can spot marble and stone finishes here as well, since Yvonne loves them.
"Since Yvonne is in the same industry she knew the specifications and detail that goes into designing a home. She was crystal clear with her requirements and I was able to give her ideas and suggestions that both of us agreed upon. This project has been very exciting and I really enjoyed designing the home office in particular. Using 50 shades of grey as the theme was unique and the result is stunning!"

Wanting Liu

Interior Designer, Livspace
Did this 3 room resale flat inspire you? Check out another HDB renovation project here: 30-Year-Old Jumbo Flat is Renovated to Suit This Lovely Family.
Send in your comments and suggestions to editor.sg@livspace.com.