Cover image source: amandalpaca
Every web savvy Singaporean should be familiar with news portal TheSmartLocal. You might even be a fan of its YouTube channel and its hosts, like the affable Amanda Feng! Besides sharing her journey as amandalpaca on IG, Amanda is also a first-time homeowner of her very own HDB flat. And we at Livspace were lucky enough to be the ones who helped her bring her dream home to life.
Join us as we dive into Amanda's experience while designing her first home with Livspace. Be sure to stick around to the end to see what her beautiful modern bohemian space looks like.
In Conversation With Amanda Feng, TheSmartLocal
We asked Amanda 9 questions about her new home, and what went into designing it. Here's what she had to say:
Q1) What Was the Main Inspiration Behind the Design of Your Home?
Amanda: We [Amanda and her husband] both enjoy warm lights and wooden tones mixed with a splash of green to mimic nature. The closest style would be modern bohemian/boho-chic; so we researched based on that look.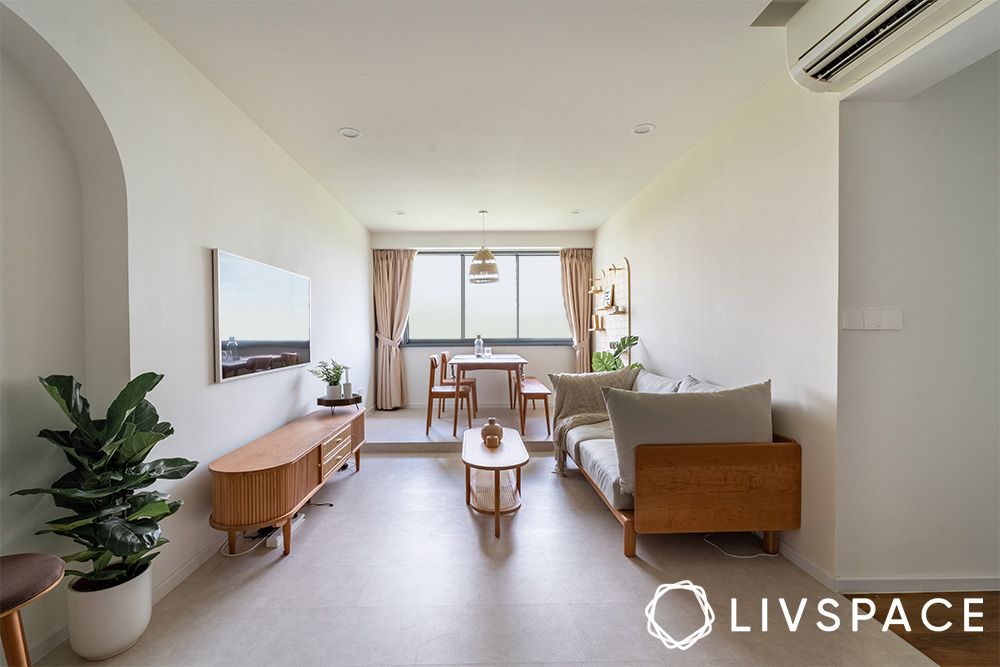 Q2) Were There Any Smart Features That Were Non-Negotiable for You While Designing Your Home?
Amanda: As we work long hours in creative industries, we wanted a home that brings us as much convenience as possible. We opted for things like a dishwasher, voice-activated smart lights that turn on as soon as we get home at night, and an automated clothes drying rack.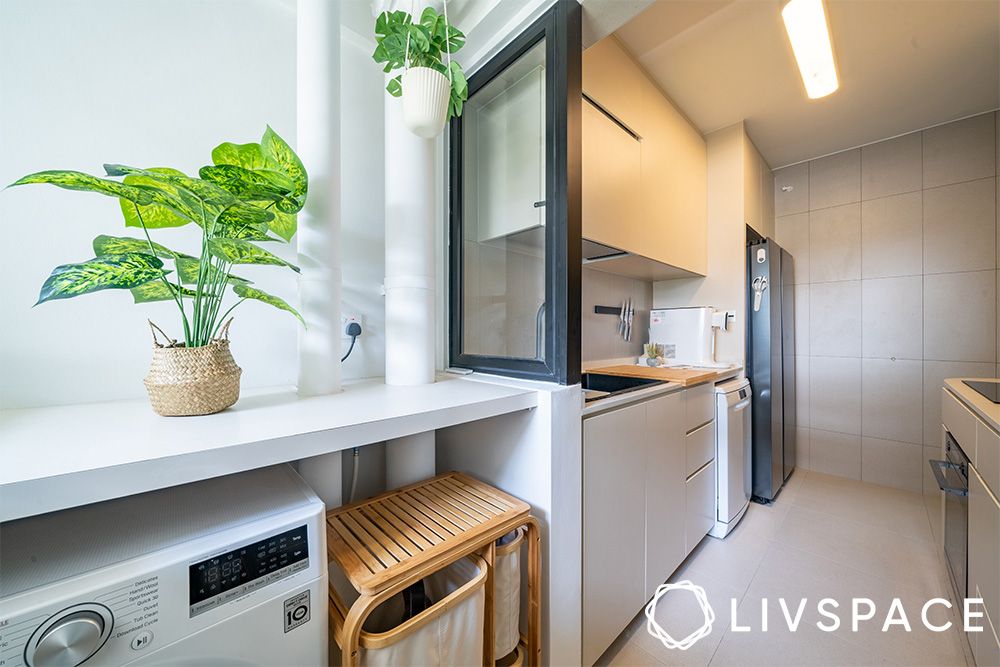 Q3) Do You Have Any Tips to Share When It Comes to Selecting Furniture for the Home?
Amanda: If you've got a uniform look that you want to go for with wooden furniture, try to get pieces from the same supplier or shop so that the shade of wood is similar.
Q4) What's More Important to You: Budget or Quality?
Amanda: Honestly, budget is more important to us as this is our first home and we're millennials in a creative industry… in this economy that's on the brink of collapsing. LOL.
Q5) What Is One of Your Favourite Installations in Your New Home, and How Did Livspace Deliver This to You?
Amanda: We really like the arch as a feature/statement piece in our living room. Instead of the usual patterned or painted feature wall, [the designer] suggested the arch for a more trendy look.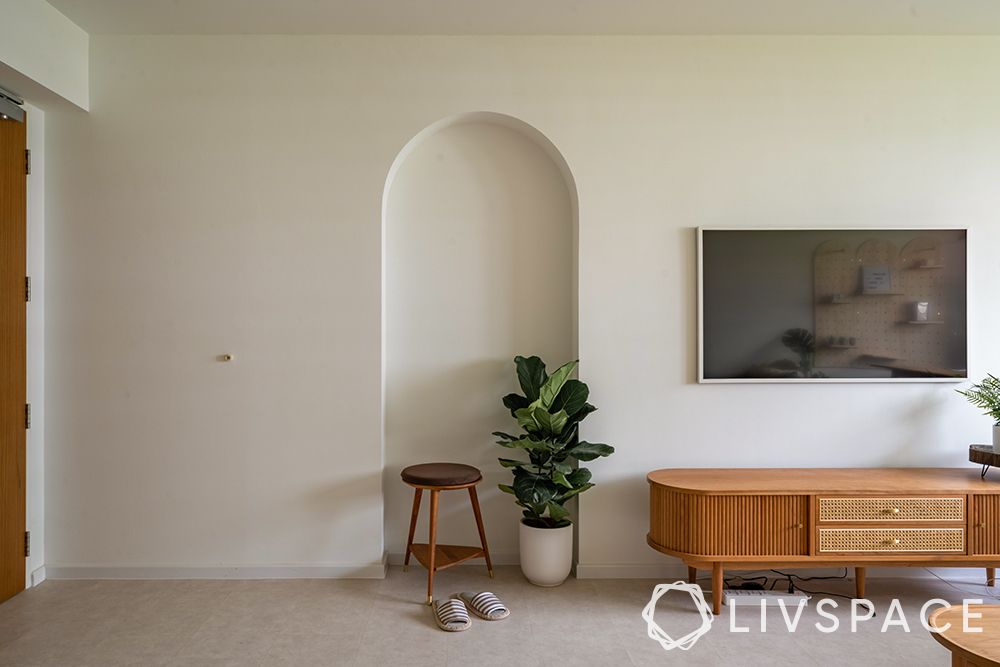 Q6) What Were Some of the Major Changes You Were Keen on Making in Your Home?
Amanda: We wanted to move the wardrobe to the master bedroom instead of the study room next to it – the previous owners had their wardrobe in the study room. Therefore, we hacked the wall connecting the study and master bedroom to make way for a full length wardrobe that could be accessed from the master bedroom. It's easier for us as well, as it's just a few steps away from the master bedroom's toilet.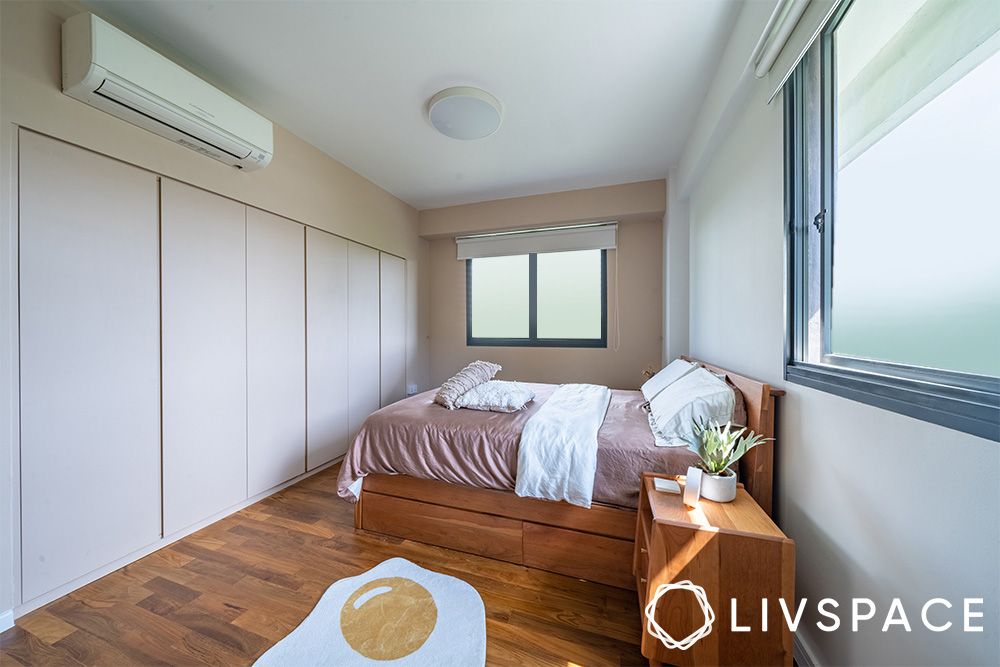 Q7) Having Stayed in the Home for Some Time, Which Areas Are You Most Grateful for?
Amanda: The amount of space for storage in the kitchen. The previous owners had little to no storage space, so we maxed out the number of cupboards in the kitchen. Wherever there was space for a cupboard or drawer, we got Livspace to add one. It's made our kitchen so much neater as we can hide our appliances and tools after using them.
Another thing we like are the wall mounted power sockets in the kitchen as it looks modern and seamless.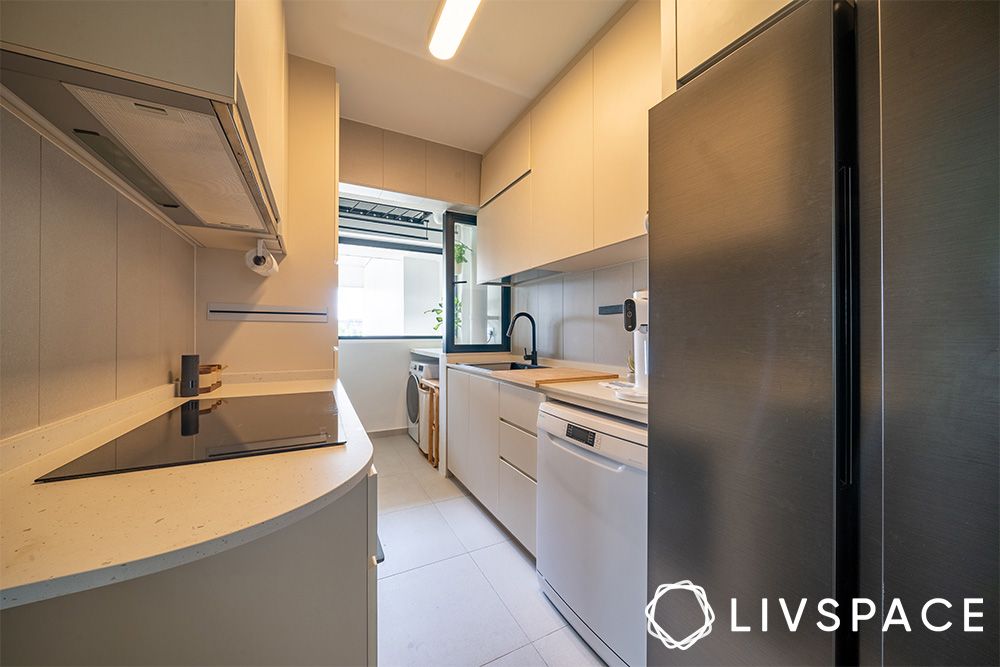 Q8) Do You Have Any Tips You'd Like to Share With New Homeowners Based on Your Personal Experience?
Amanda: With HDBs getting smaller and smaller, it's essential to have as much storage space as you can. We've converted any spare spaces (especially in the kitchen) into drawers, cupboards etc. This is also to keep your home as neat as possible. Oftentimes, many people have big dreams about how stylish their house should look, such as airy open concepts and open shelving. But they quickly realise after moving in, that it's difficult to maintain the look as belongings are strewn all over the place with not enough space to store them.
If you're mess-averse, I personally highly recommend having more closed door drawers and cupboards instead of open shelves. By hiding your mess behind closed doors, your house already looks neat. Additionally, open shelves collect dust extremely quickly. If you're not someone who dusts or does housework daily, your ornaments and shelves are going to get filthy really fast.
I also personally feel that open concept kitchens might not be the best for cooking enthusiasts or people who enjoy strong smelling foods. Over time, your furniture will degrade faster due to the smells and oils from the open kitchen.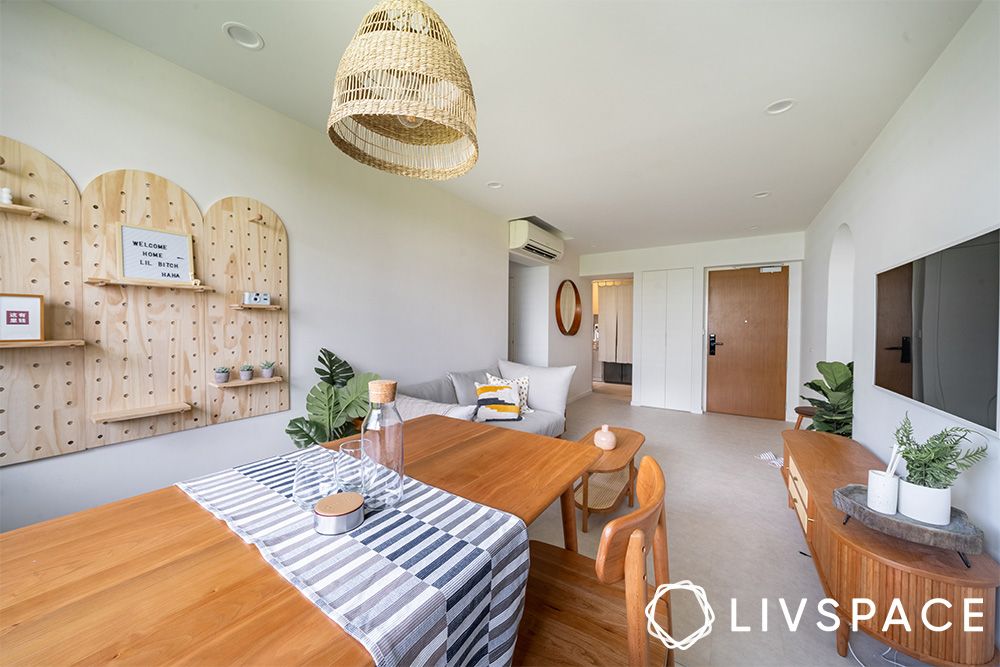 Q9) What's the Best Thing About Working With Livspace?
Amanda: Livspace's vision is modern, which aligns with our taste.
Take a Tour of Amanda's Modern Bohemian HDB: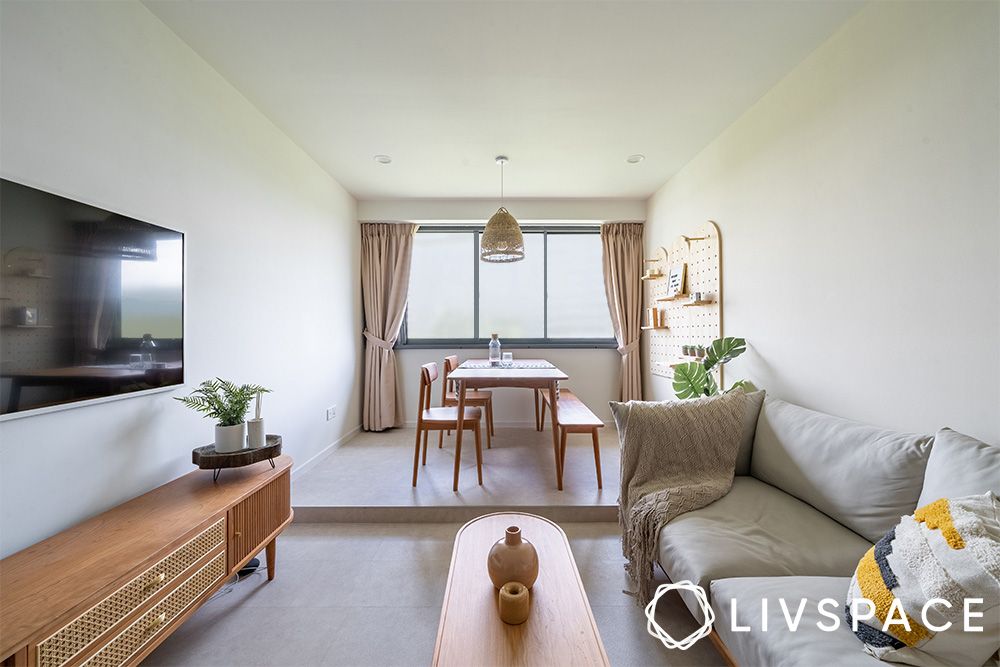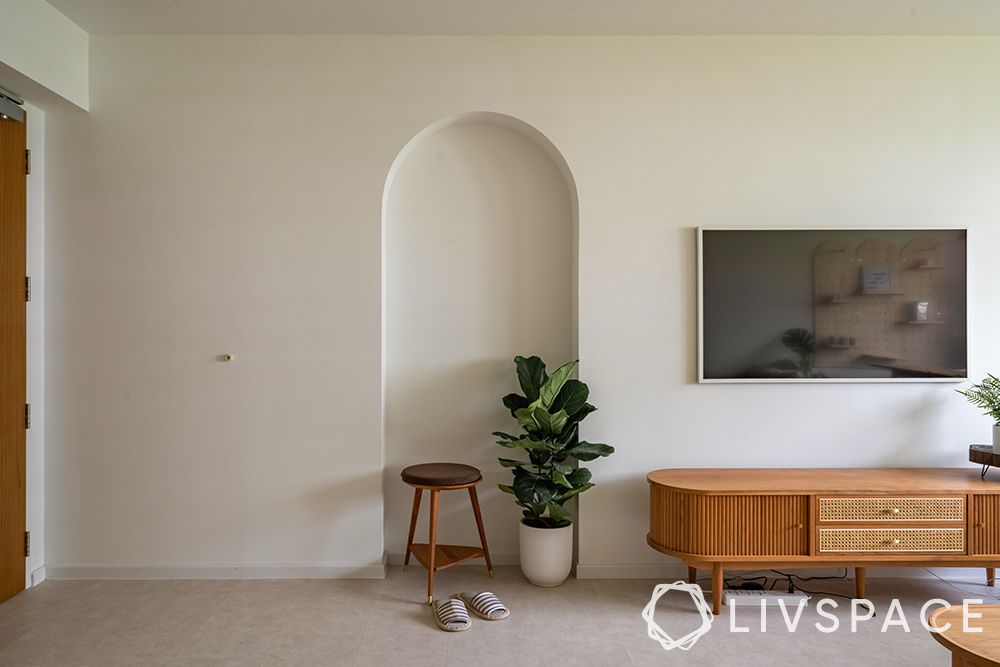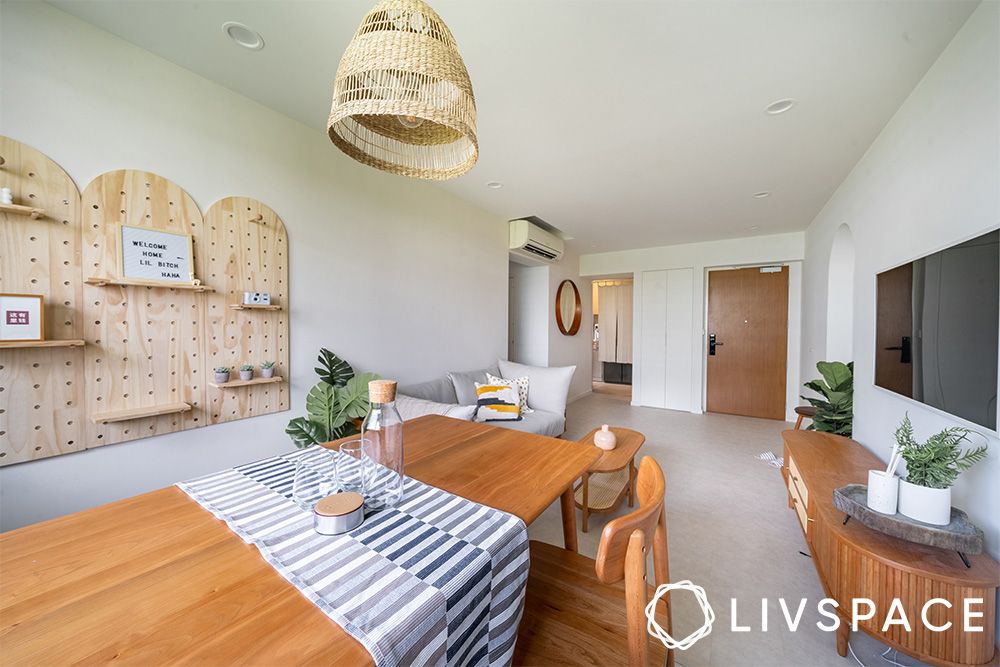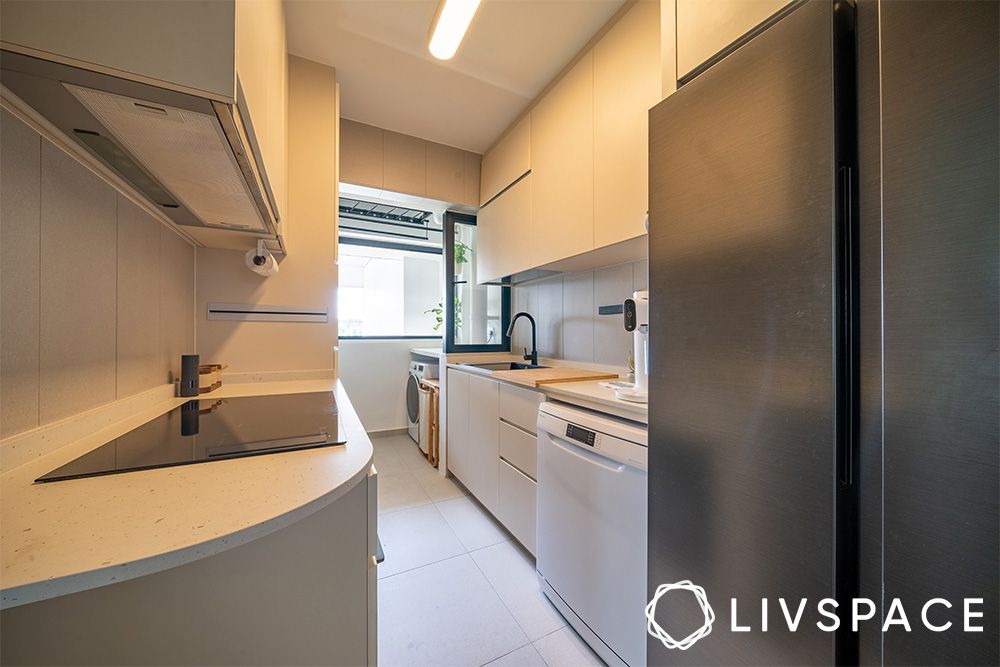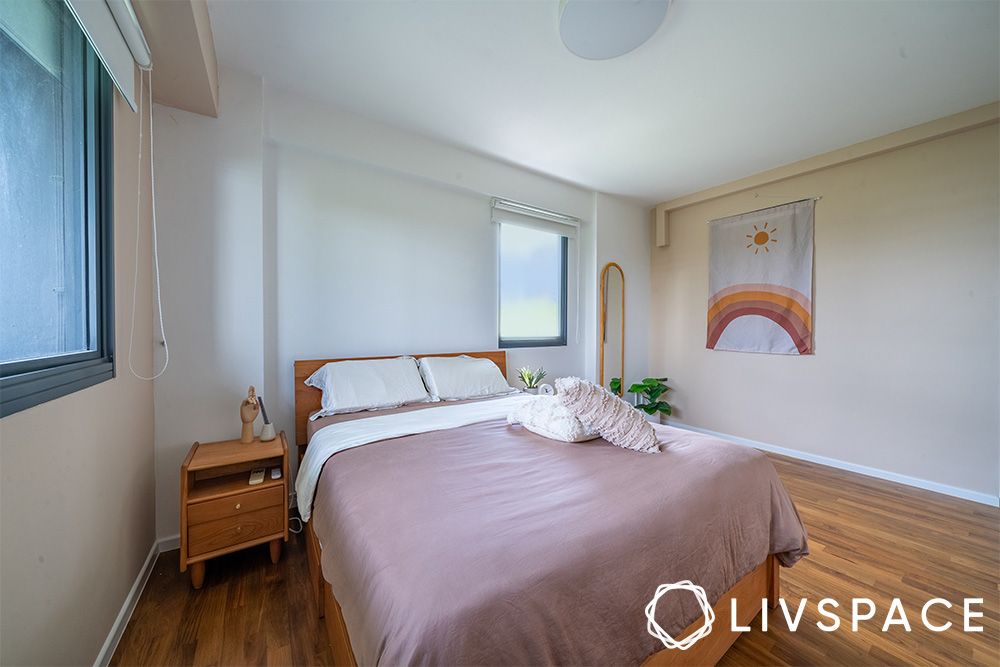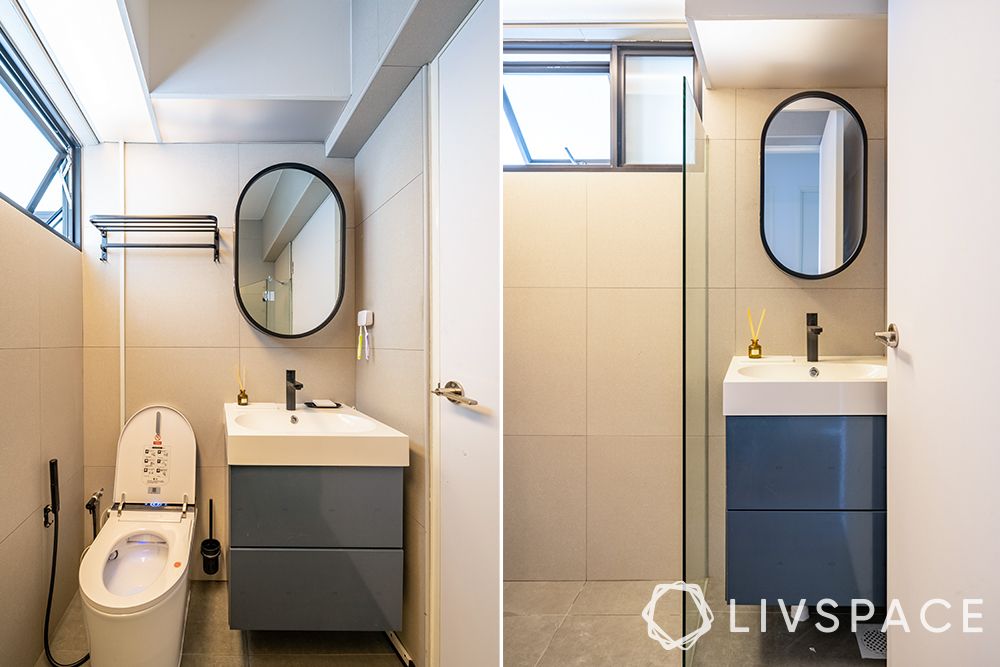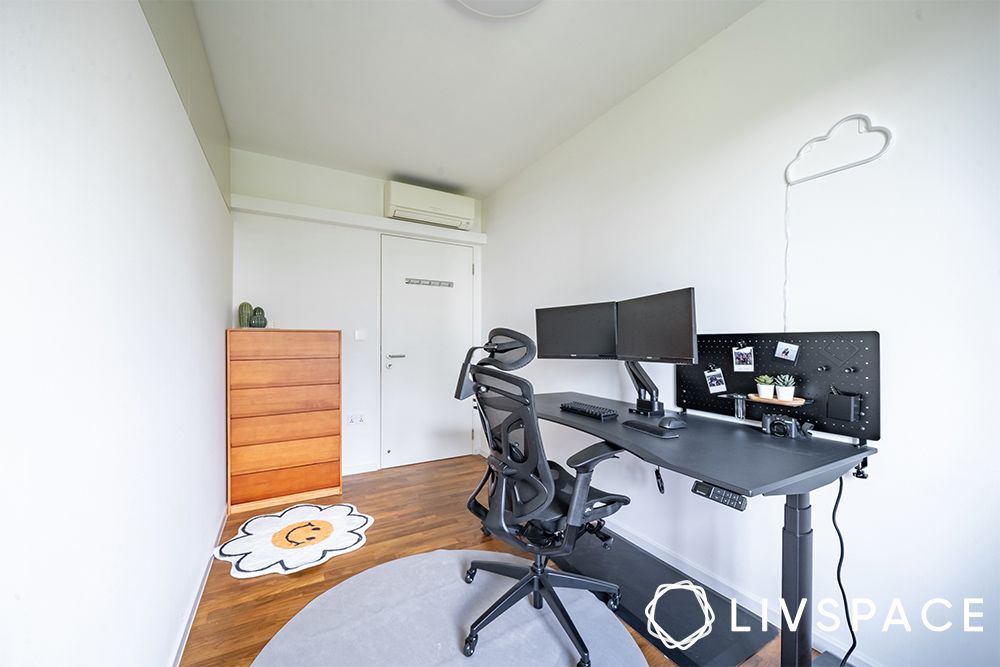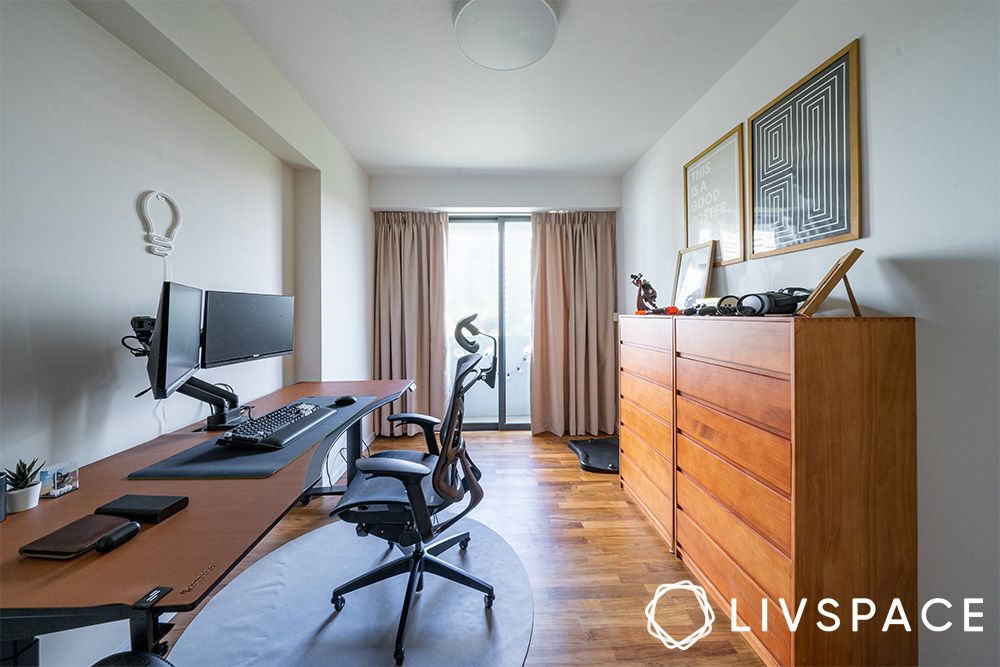 How Can Livspace Help You?
We hope you enjoyed the tour of Amanda's home! If you want your home to be just as beautiful, then look no further. Book an online consultation with Livspace today. Have some comments and suggestions you'd like to share with us? We're all ears! Feel free to write to us at editor.sg@livspace.com.