The intelligent use of light laminates and neutral colours has transformed this pied-à-terre, a.k.a HDB 4-room resale renovation, into a gem!
---
Who Livs here: Sham and Rahman with their two kids
Location: Commonwealth Ave
Type of home: 4-room resale flat
Livspace team: Interior Designer Ava Gui and Project Manager Daniel Ng
Livspace service: Full house renovation, including demolition, flooring, masonry, carpentry
Budget: $$$$$
---
We get so many questions about HDB resale renovation ideas revolving around renovation for resale flats. This HDB 4-room resale renovation came in just at the right time and it's going to show you exactly how to go about designing it. This 43-year-old flat was screaming for a makeover when a family of four decided to move in. Sham and Rahman, the couple living here, are lovers of minimal and Scandinavian design. That being said, they wanted to embrace a similar look during this 4-room resale flat renovation.
Now let's see how Ava Gui, their designer, has designed a practical and homely plan for this resale 4-room renovation, complete with the right materials and finishes. Do not miss the dining area that is incorporated in the kitchen space, yet enjoys a demarcation between the two. She has also added a lot of storage for the family in each room, so don't forget to check that out!
INFOBOX


Brief
Bright, warm and cosy HDB resale renovation that is practical and filled with storage

What we loved?
Every corner of this 43+ years old HDB got refurbished to give it a brand new look

Look out for
-Neutral vinyl flooring throughout the flat
-Frameless glass panel to separate the kitchen and the dining area
-Wooden frame to create a cinema screen in the living room

Biggest Indulgence
Redoing the kitchen and the dining area was definitely a splurge

Smart Choice
Laminate finishes used across the home


Here's a Peek Into the Wonderful Transformation of This HDB Resale Renovation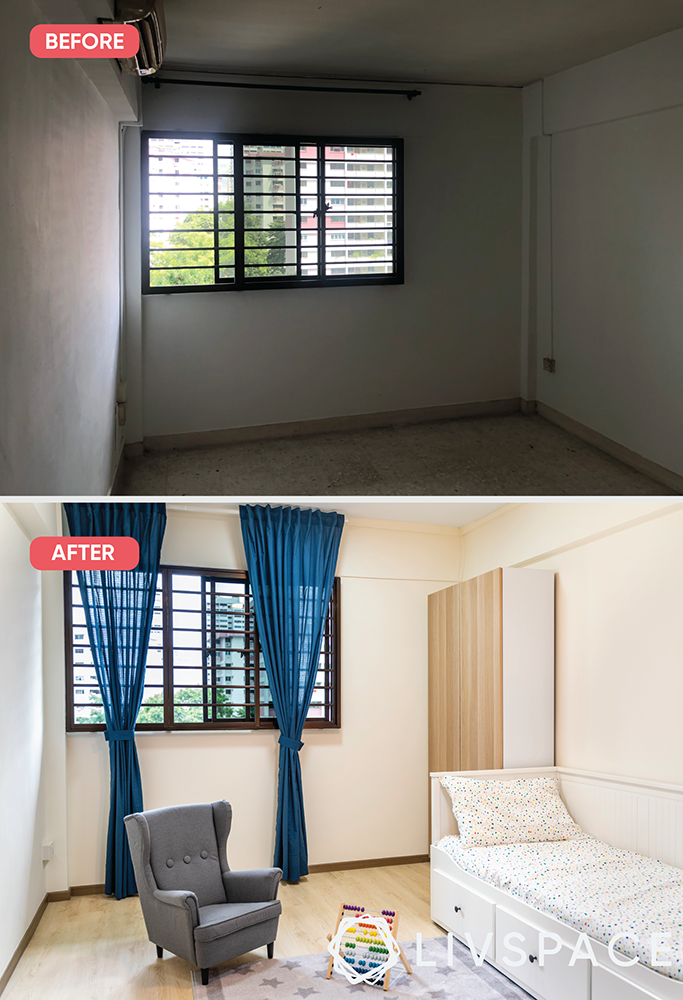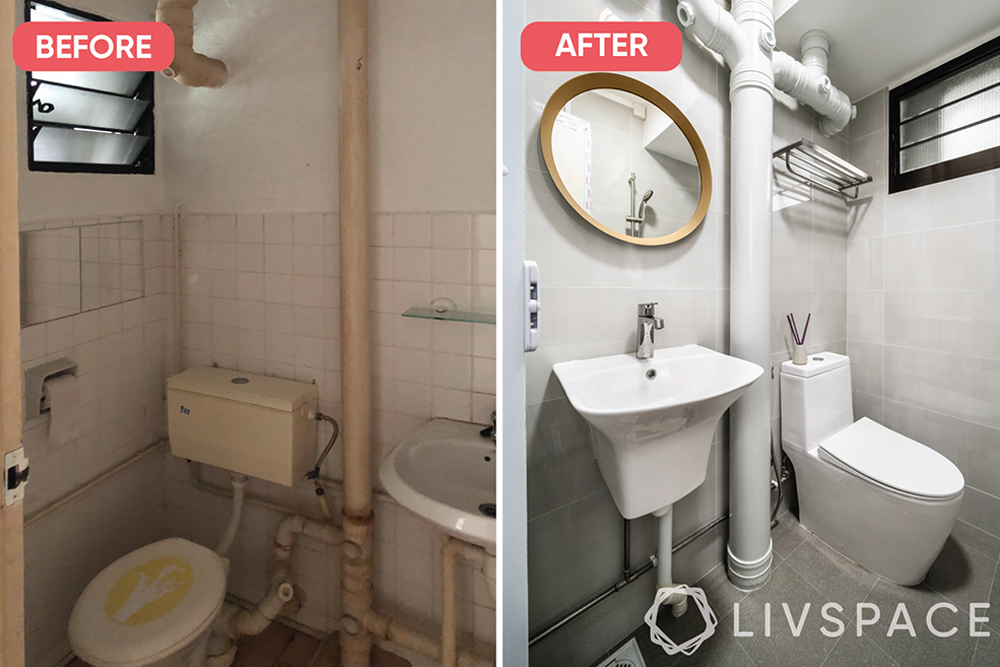 For a Family That Enjoys Watching Movies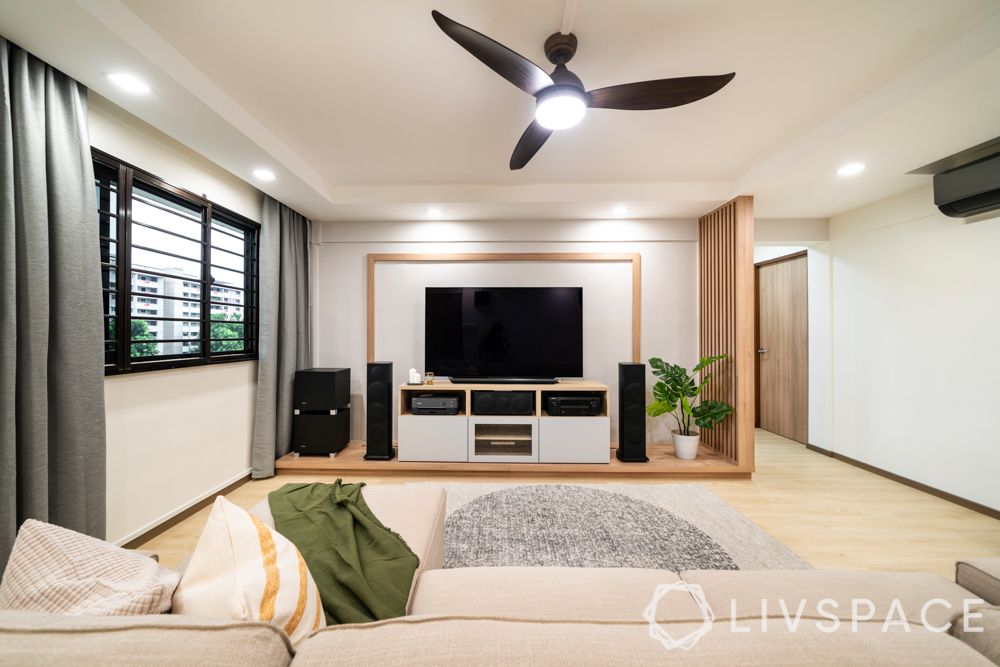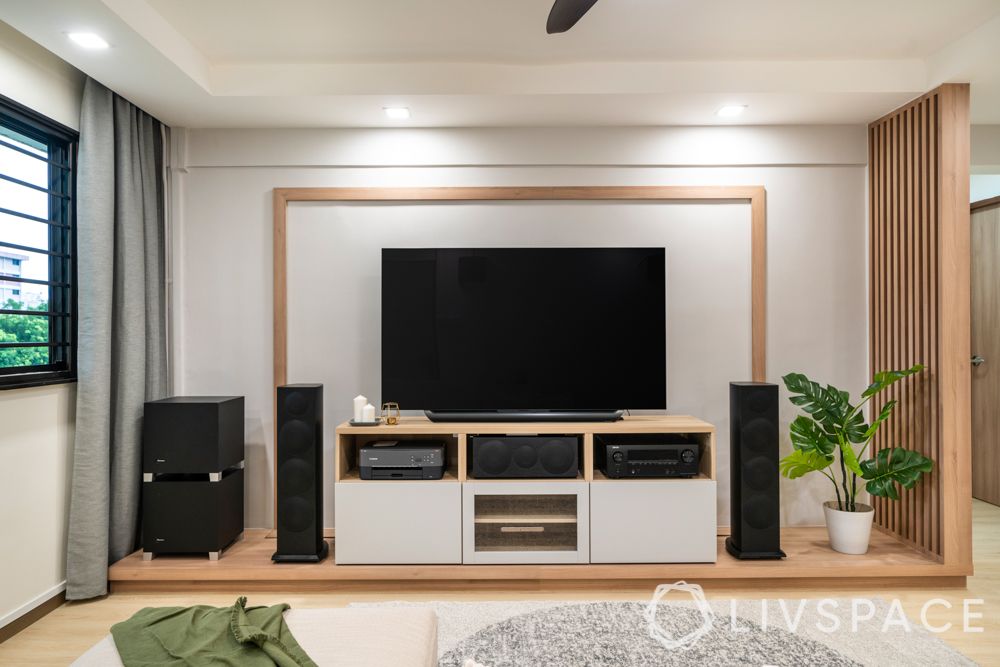 Ava has completely re-done every aspect of this home in this HDB 4-room resale renovation project. From floor to ceiling, she hacked the entire place and changed the layout during this HDB resale renovation. Since the family loves sitting and watching movies together, they wanted a proper entertainment setup in their living room.
Therefore, you can spot light laminates in the TV feature wall and similar flooring, that extends to the wooden rafter divider on one side. Also, the light grey wall paint makes for a soothing backdrop for the TV unit with plenty of storage options in this resale HDB renovation.
"The best part is that Livspace was able to match our budget and provide us with an attractive IKEA voucher. This was a key element in selecting Livspace as our renovation provider."

Sham & Rahman

Livspace homeowners
A Family That Cooks Together, Stays Together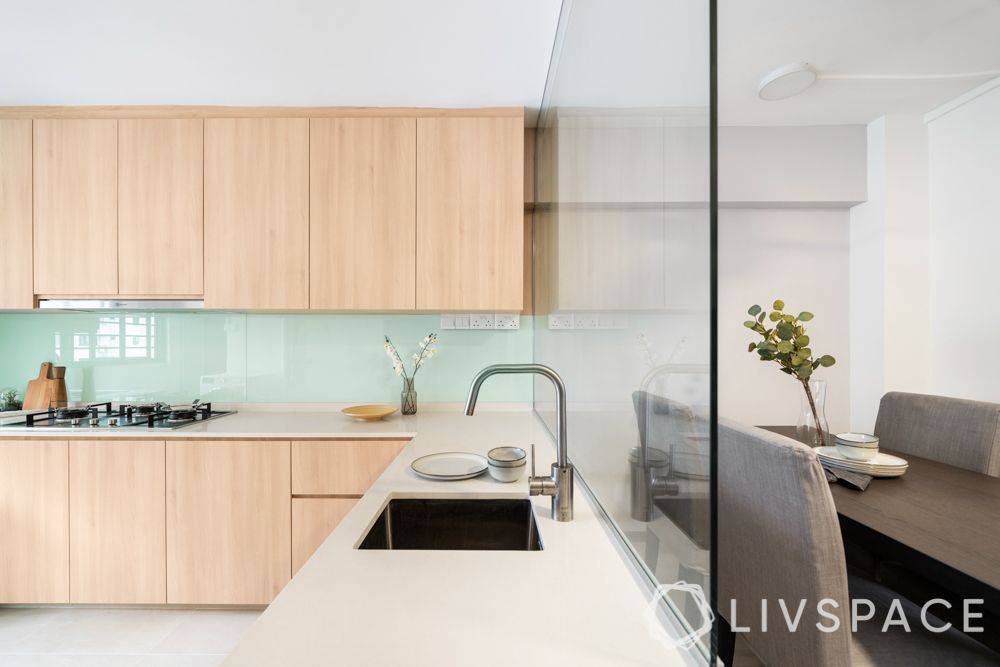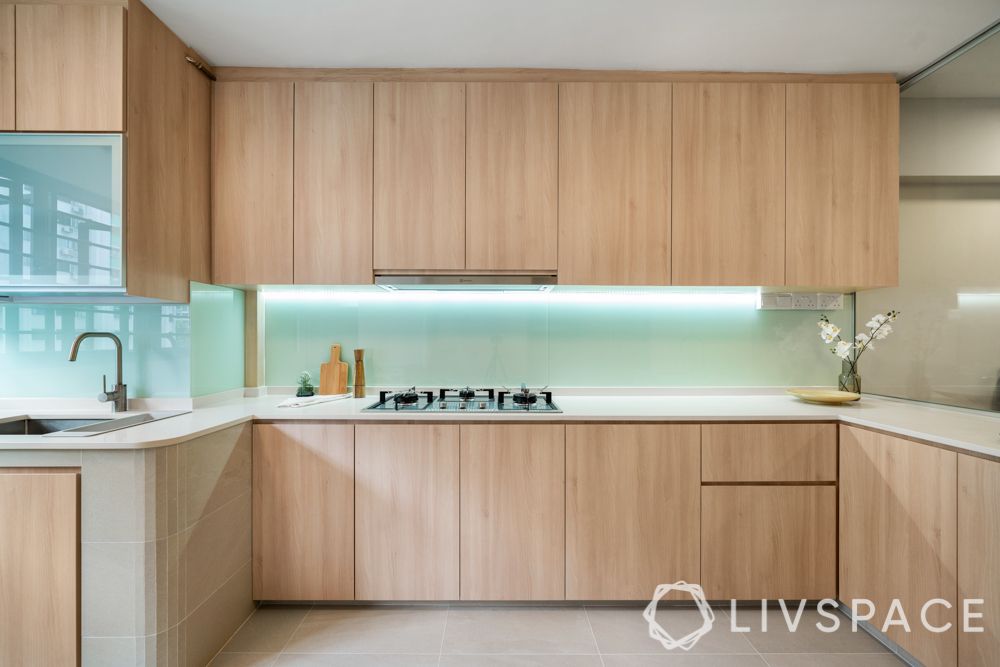 If you looked at the original kitchen design before this 4-room resale flat renovation, you will notice that while the layout is similar, the look is completely different. Ava has kept the space easy on the eye with light laminates and a white quartz countertop. Also, a lacquered glass backsplash in a light hue of blue is the only colour in this space. Moreover, since the couple wanted a lot of storage, she has added long wall cabinets during the 4-room resale flat renovation.
"Although the entire entire resale 4-room renovation was quite a challenge to renovate, the kitchen was the most exciting room to work with. We explored endless possibilities," says Ava.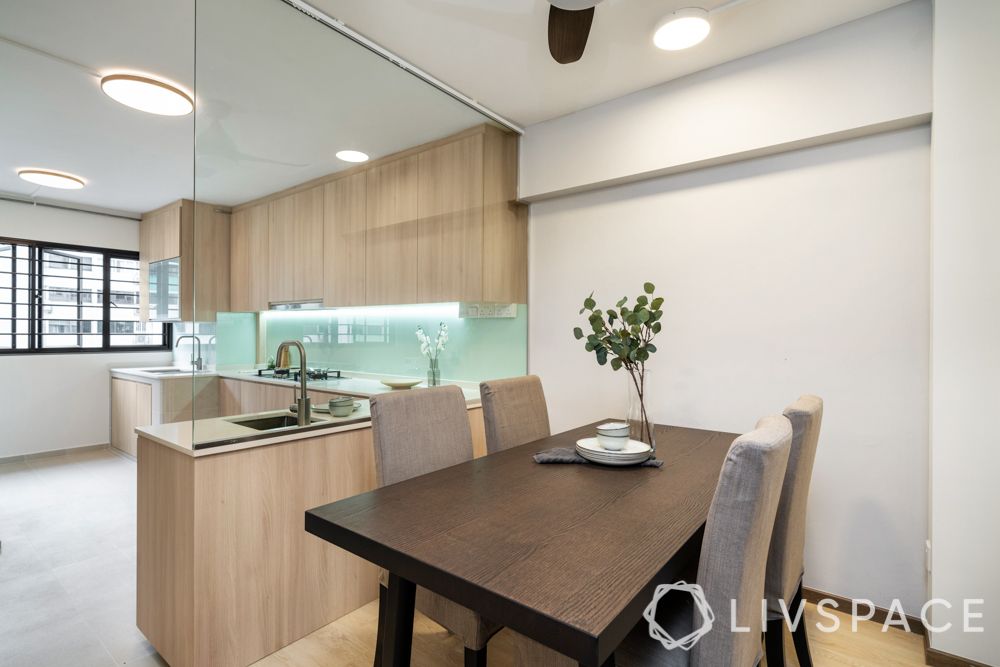 In this renovation for resale flat, the kitchen is separated from the dining area via a glass panel. This makes the space look like a single unit, yet demarcated. You will also notice flush mount lights that impart the right illumination to this corner. Moreover, the light grey paint colour on the wall creates a continuation from the living room.
A Bedroom Redesigned to Double the Available Space in This 4-Room Flat Renovation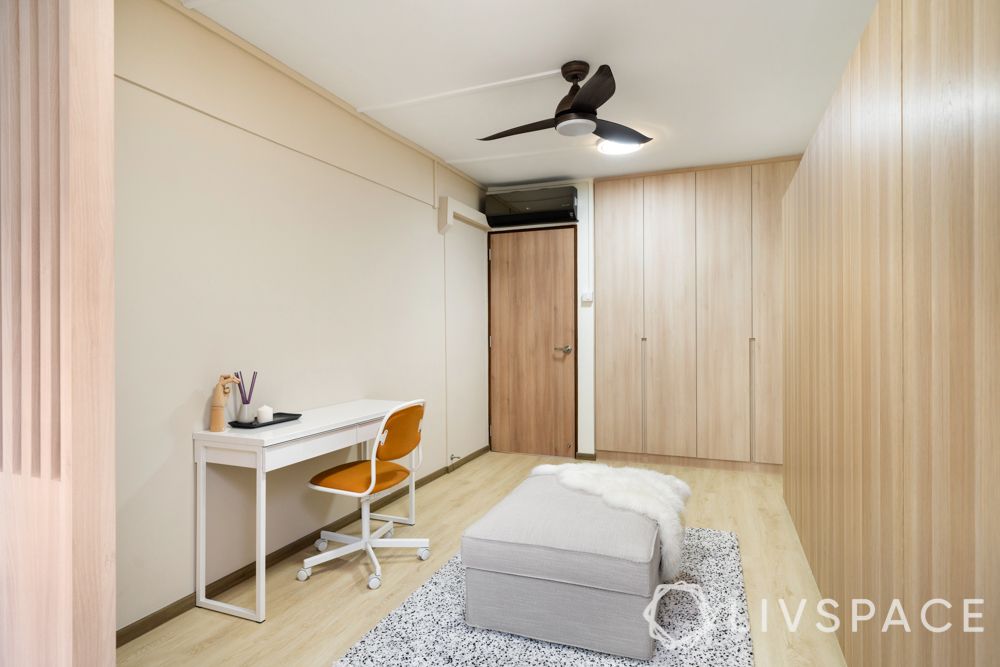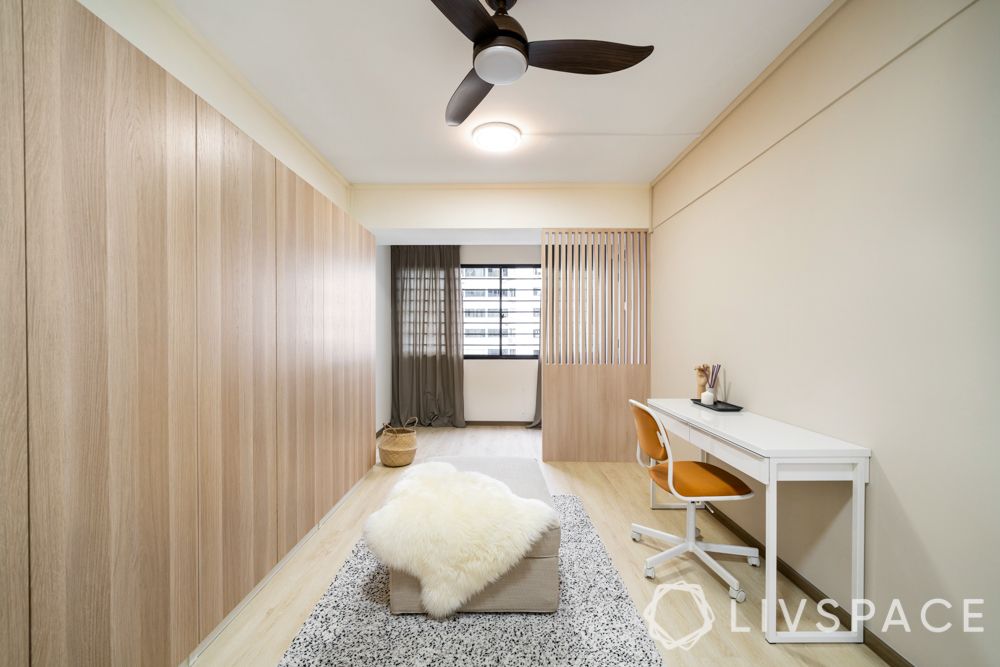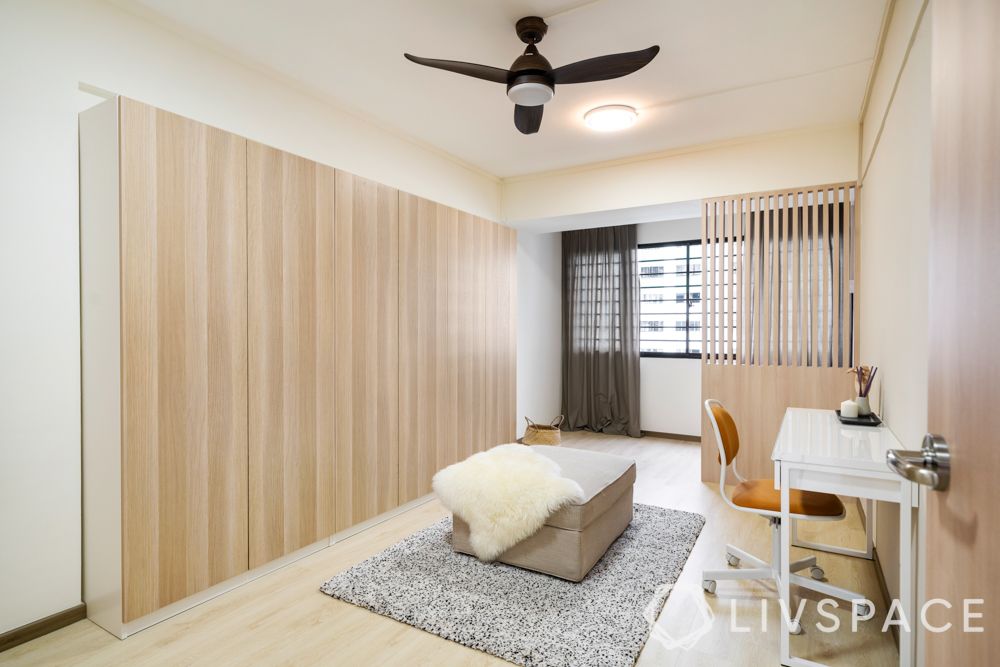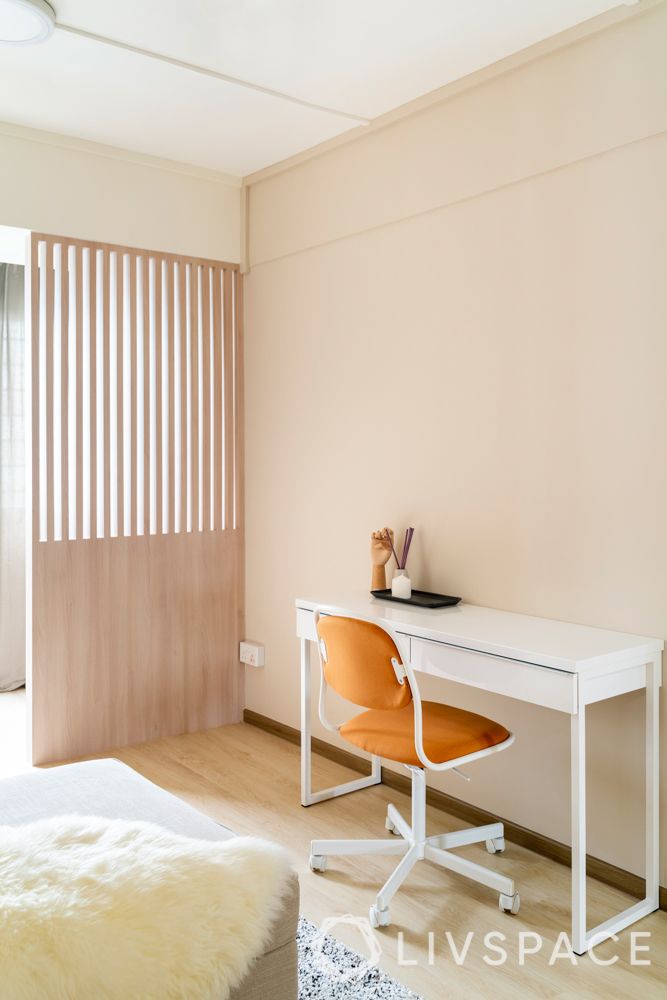 This bedroom has undergone a big-ticket renovation during this HDB 4-room resale renovation. The extra space you see behind the divider has been created by levelling the balcony floor with the room. You can also spot a wall-to-wall laminate wardrobe that offers a lot of storage. Ava has also added a study table and an ottoman in here. We love how simple and minimalistic this room looks, keeping in theme with the other areas of the 4-room resale flat renovation.
A Room Fit for Two Young Boys in This Renovation for Resale Flat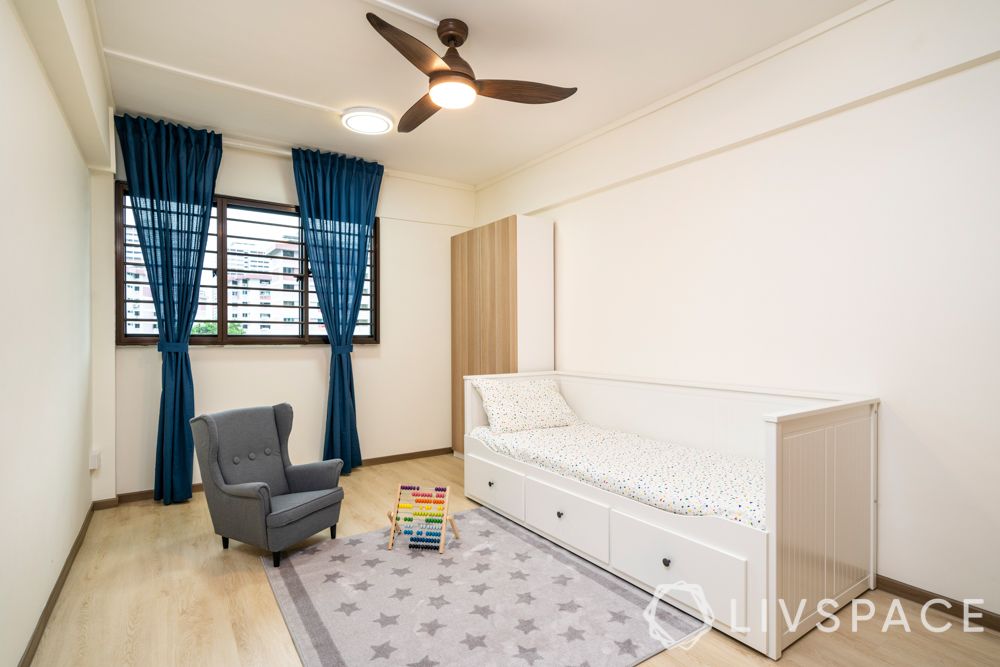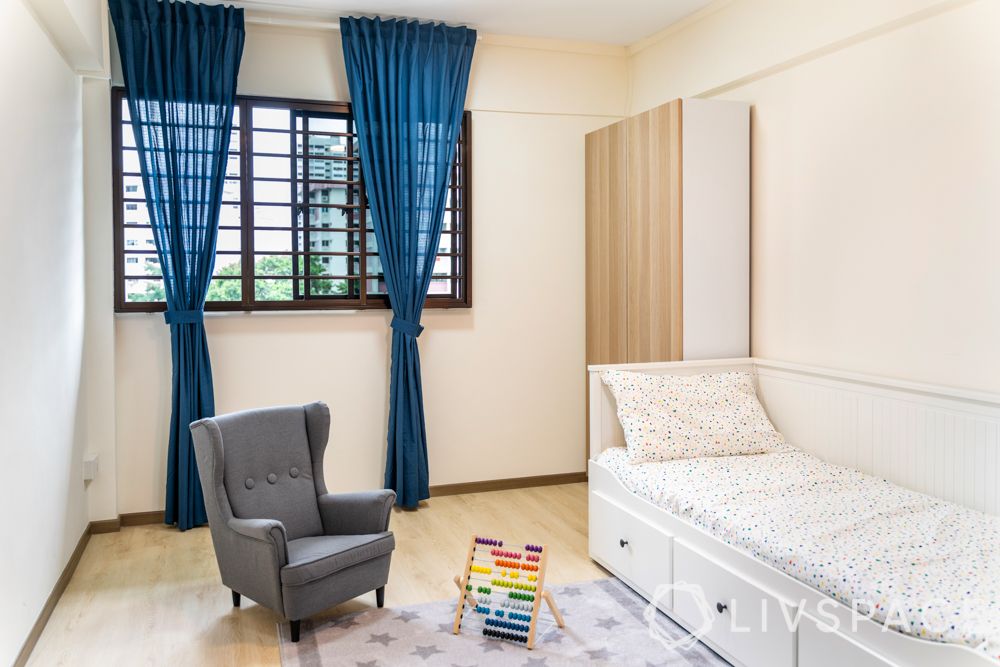 We cannot stop looking at the super cute tiny accent chair in this room dedicated to the two kids at home. A gem in this HDB 4-room resale renovation, this bedroom has a sleek single bed with drawer storage and wardrobes similar to the other bedroom. Also, something that you'll notice is that none of the rooms in this resale flat have any other lights except flush mounts. This makes for a uniform lighting experience throughout the house.
HDB 4's Resale Renovation Ideas: Remodelled Bathrooms for Every Need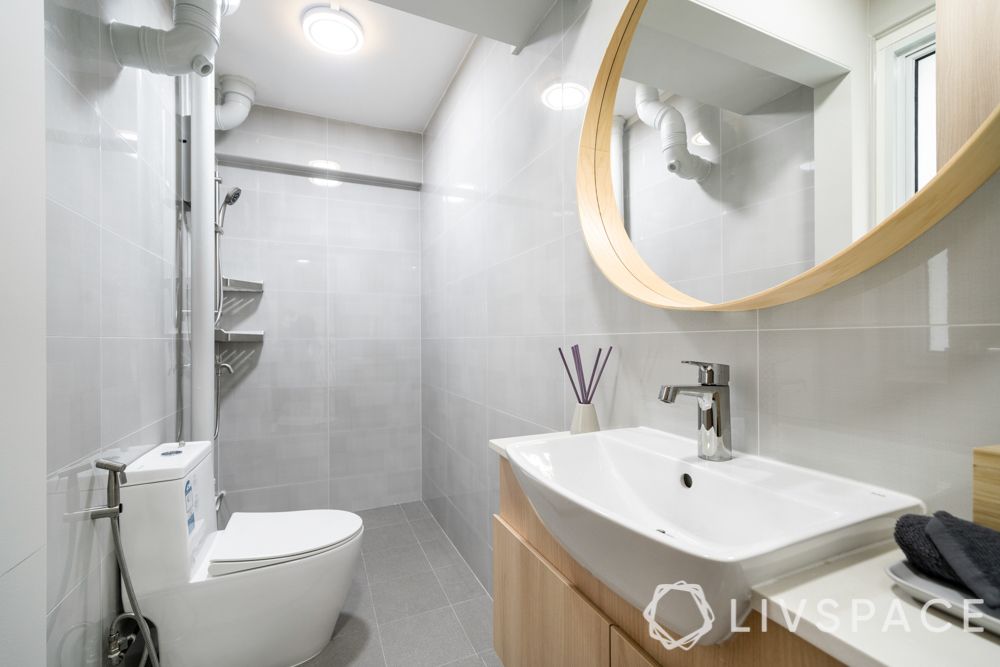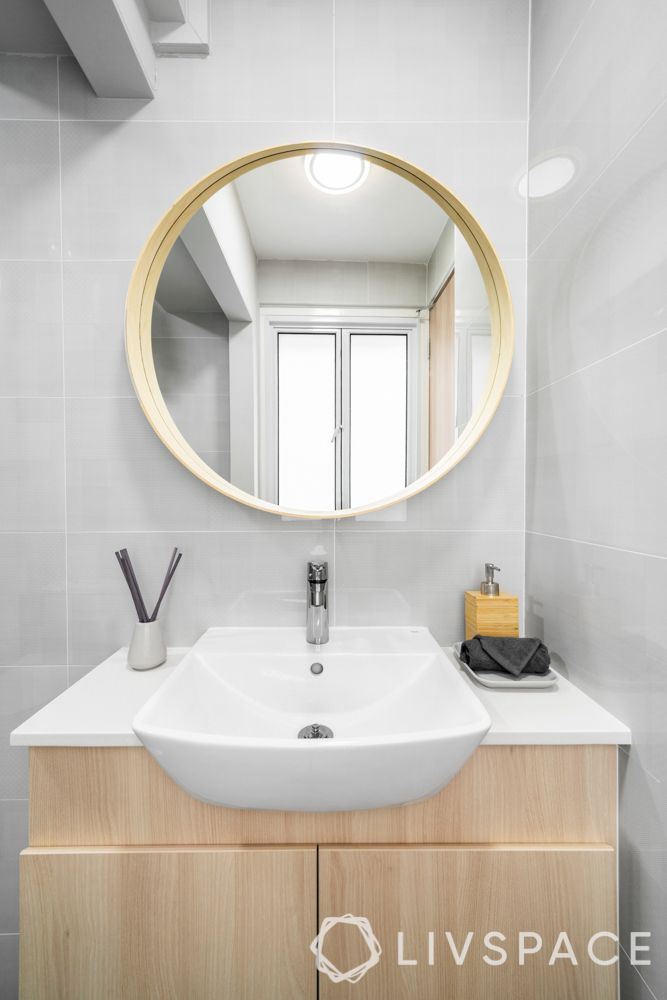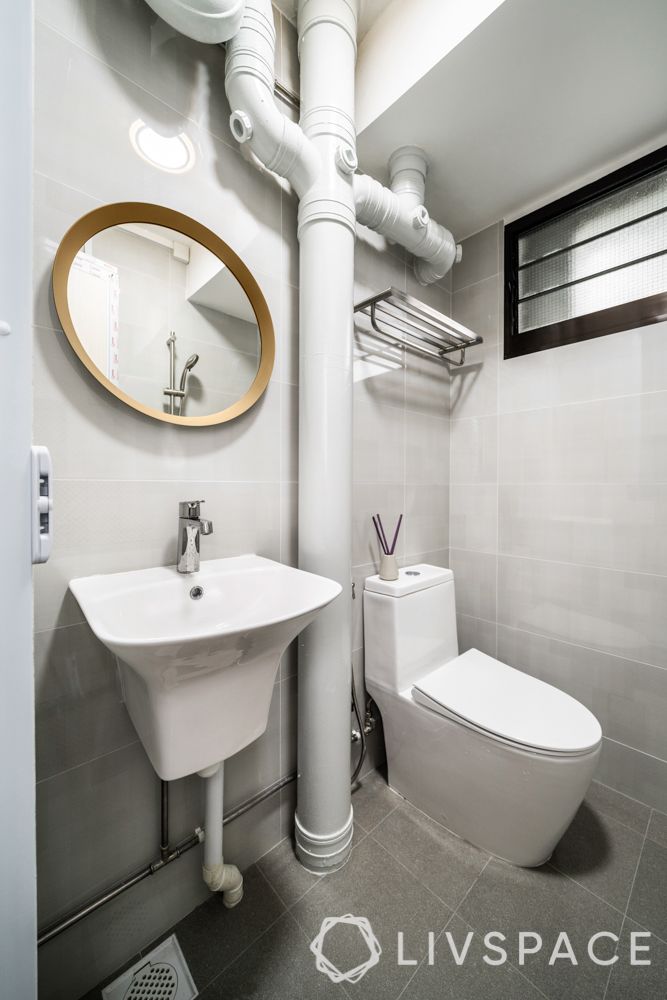 A major concern with most of us is the bathroom renovation in a resale flat. Since pipes cannot be concealed, designers have to work a way around cleverly hiding them. Ava refurbished the old bathrooms in this HDB 4-room resale renovation by adding compact accessories and giving them a modern look. The master bathroom also connects with the master bedroom and has a vanity that boasts of convenient storage.
"This HDB 4-room resale renovation is very different as it is almost building a brand new house with everything remodelled. I enjoyed bouncing off ideas, crazy possibilities with the client. Trying to play around with different layout possibilities was also great fun!"

Ava Gui, Interior Designer
Also read: This is How a 20-year-old HDB Should be Renovated
Send in your thoughts and suggestions to editor.sg@livspace.com.
How Can Livspace Help You?
We hope you found our HDB resale renovation ideas useful! If you want your home to be just as beautiful, then look no further. Book an online consultation with Livspace today. Delivering safe home interiors has been our No. 1 priority. Click here to find out how interiors are being delivered following all safety protocols.