Most owners nowadays prefer an open layout for their HDBs as it provides more flexibility and makes compact spaces appear larger. Homeowner Woo Liew Mei too wanted this for her space and approached Livspace to turn her dark and dingy 72 sq. m. resale 3-room HDB design into a bright and comfortable one.
After some civil changes, this 3-room HDB is now a trendy contemporary home packed with storage. And all the credit goes to Livspace designer Thomas Chng.
"I gave the designer a rough idea of what I would like to achieve. Thomas and his team were very helpful, and we felt assured to have him overlook the whole design and renovation. He conceptualised and delivered exactly what I wanted."

Woo Liew Mei, Livspace Homeowner
Without further ado, let's take a tour of this bright and beautiful resale 3-room HDB design.
---
Who livs here: Woo Liew Mei and family
Location: Blk 91 Lorong Toa Payoh
Type of home: 3-room HDB
Livspace team: Interior designer Thomas Chng
Livspace service: Furniture, decor, carpentry, electrical work
Budget: $$$$$
---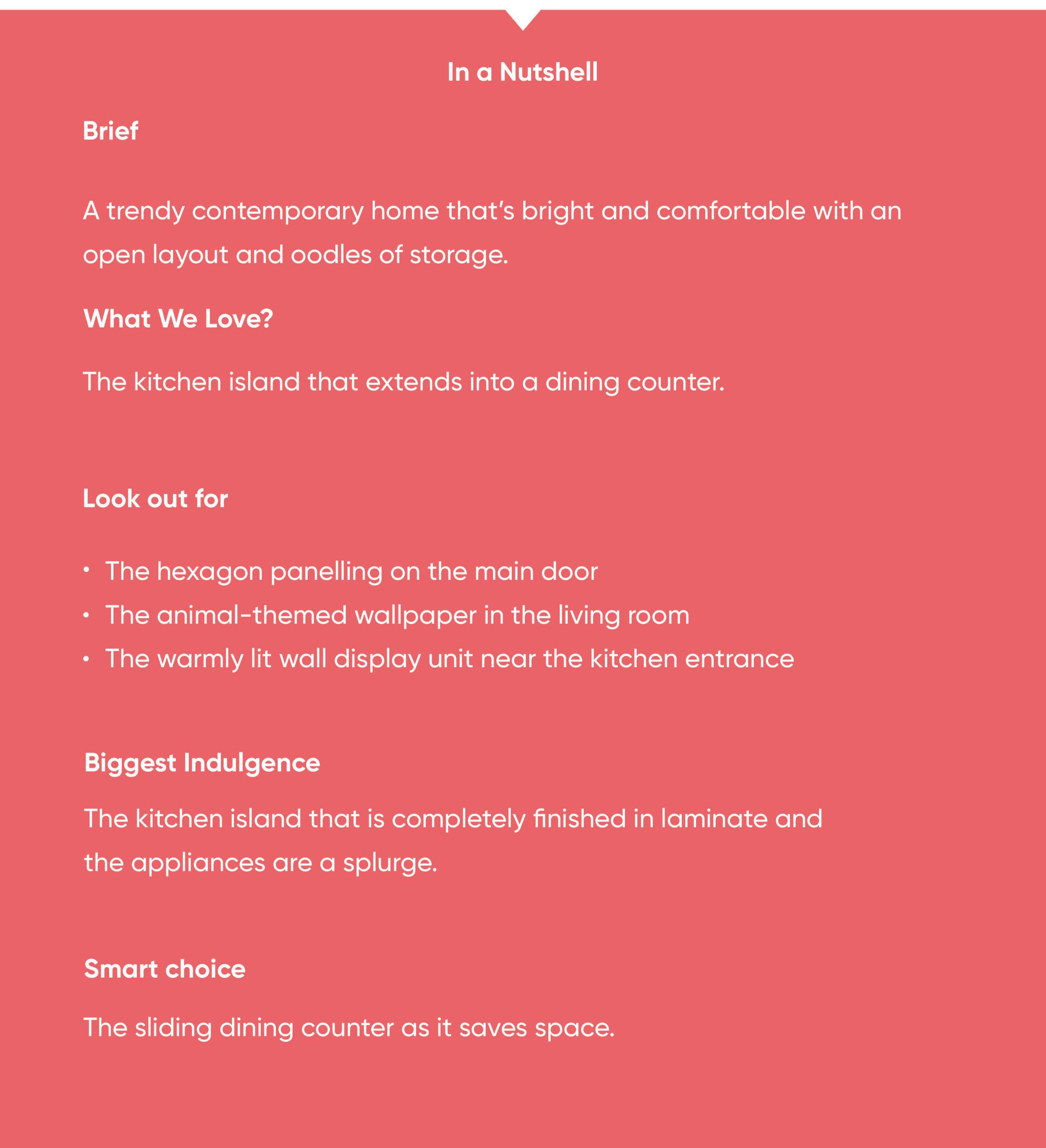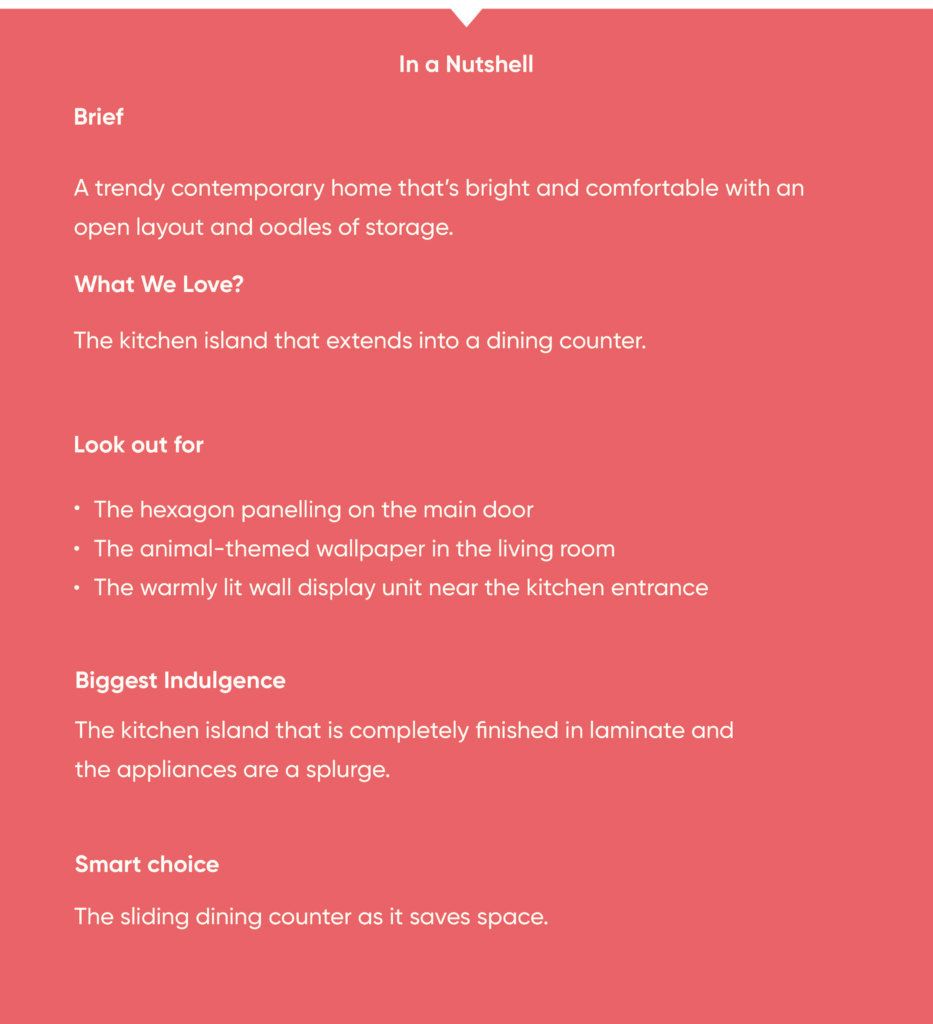 An Entrance Designed to Impress in This Resale 3-Room HDB Design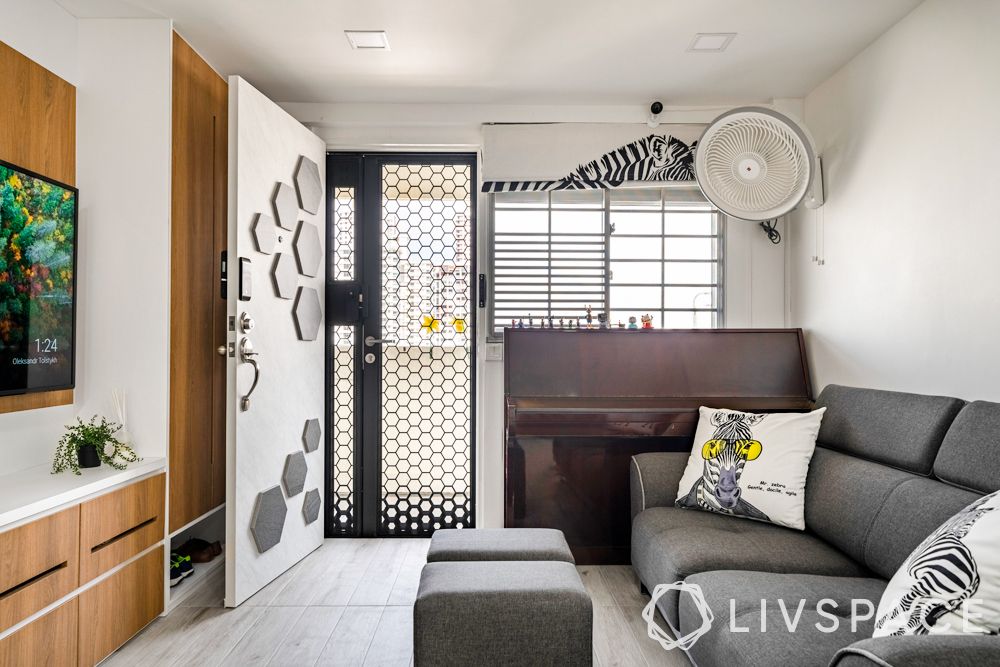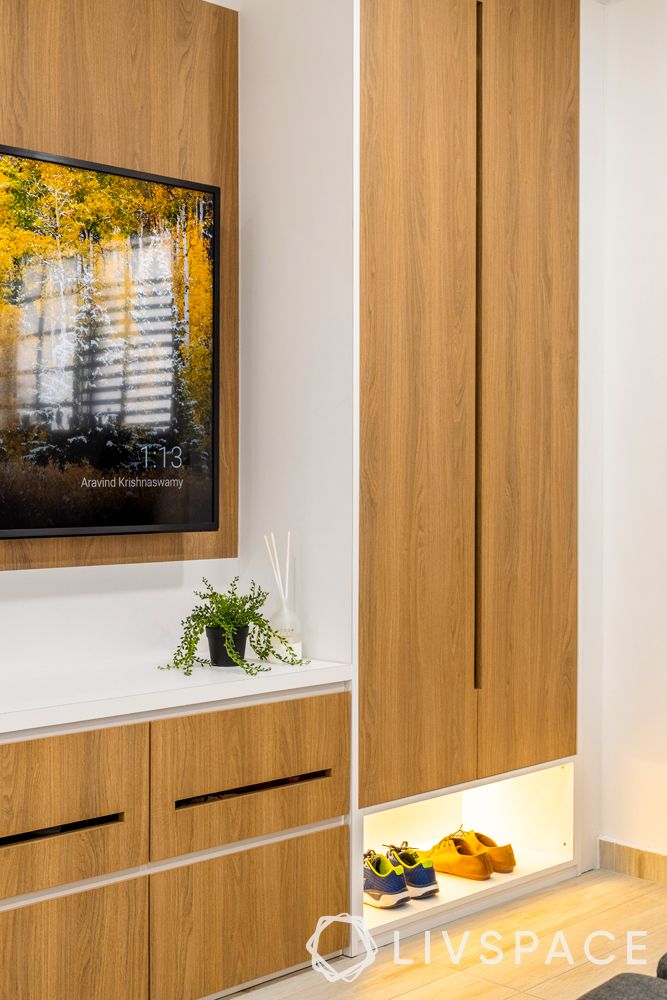 We love how this house is high on design elements right from the entrance. The main door, for instance, ensures instant visual appeal with a white marblesque finish and grey honeycomb panels.
This compact resale 3-room HDB design doesn't have a foyer but that didn't stop Thomas from optimising the entrance for storage. A tall cabinet finished in laminate occupies the space near the door to store shoes and other essentials.
A Basic Living Room With High Storage and Animal Print Accents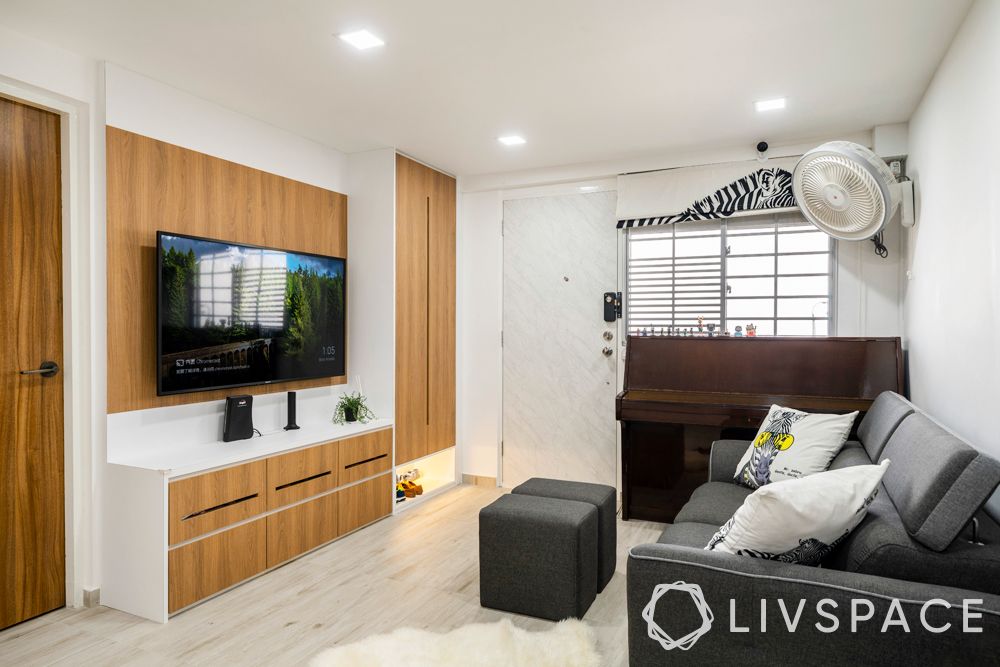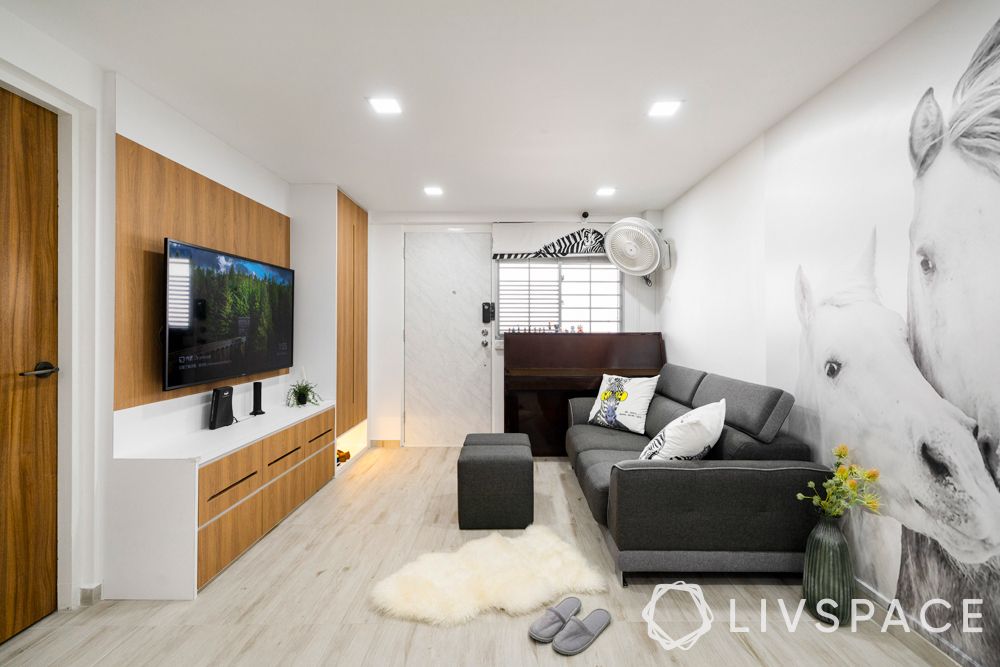 Seamlessness was essential to making the space look large. This was extended to the clever planning of the storage areas as well. Thomas ensured that the tall cabinet at the entrance was well integrated with the TV unit and had the same colours. This created a seamless and uniform look. The TV unit again has many closed cabinets so that there is more than enough storage.
The wooden flooring in the compact living room works well with the decor and furniture, which includes a two-seater sofa, ottomans and a piano. A wallpaper featuring horses behind the sofa adds a quirky character to the room. Another aspect hinting at Woo and her family's love for animals is the window blinds with a zebra print.
If you are an animal lover too and intend to add some interesting elements to your home, then these ideas from this resale 3- room HDB design are a great inspiration!
A Space-Optimising Kitchen-cum-Dining Area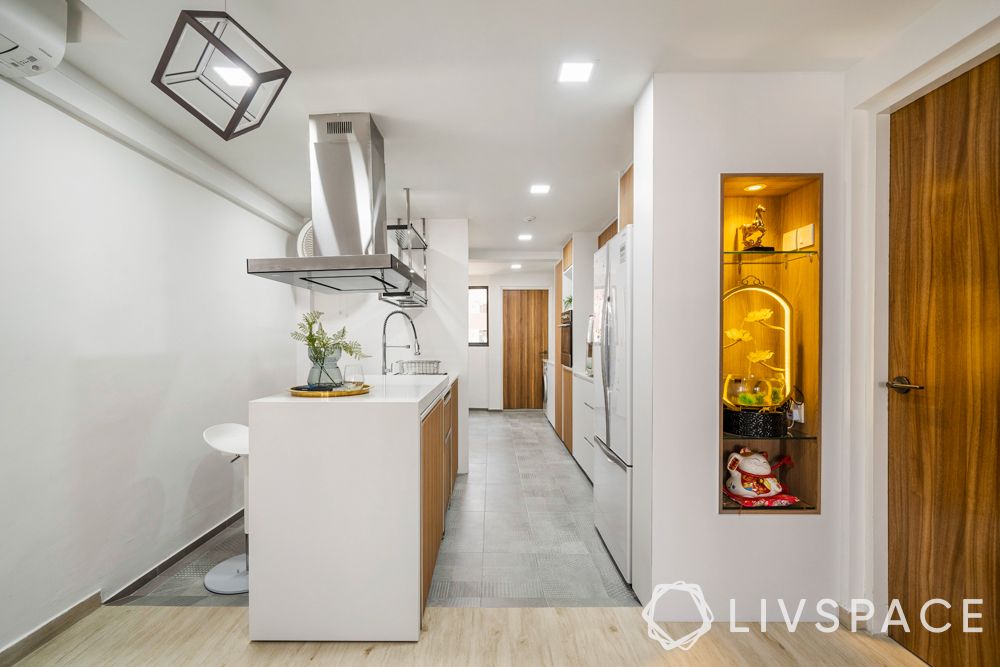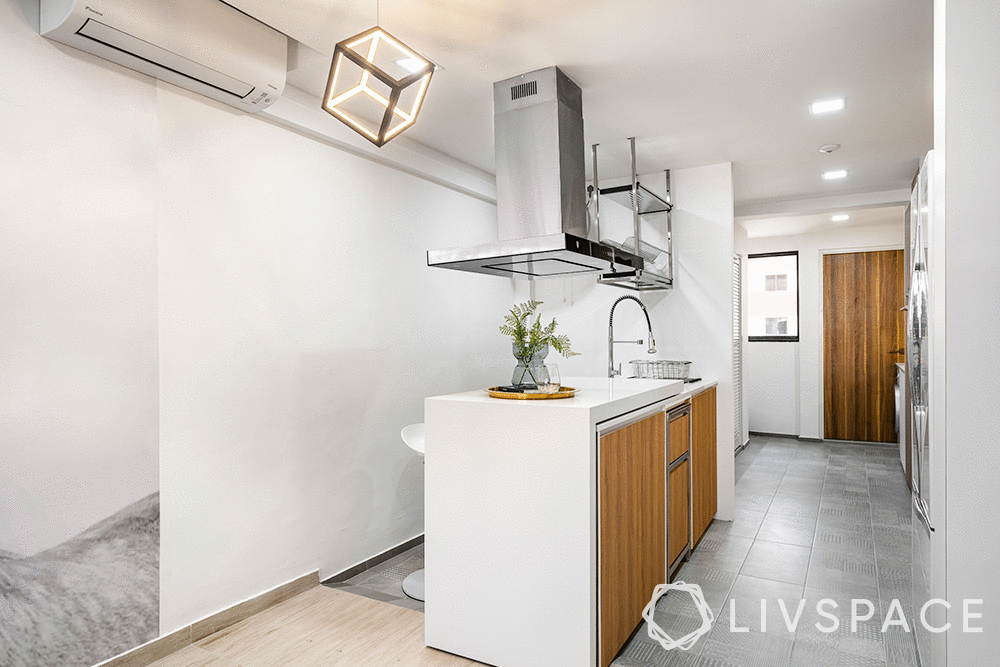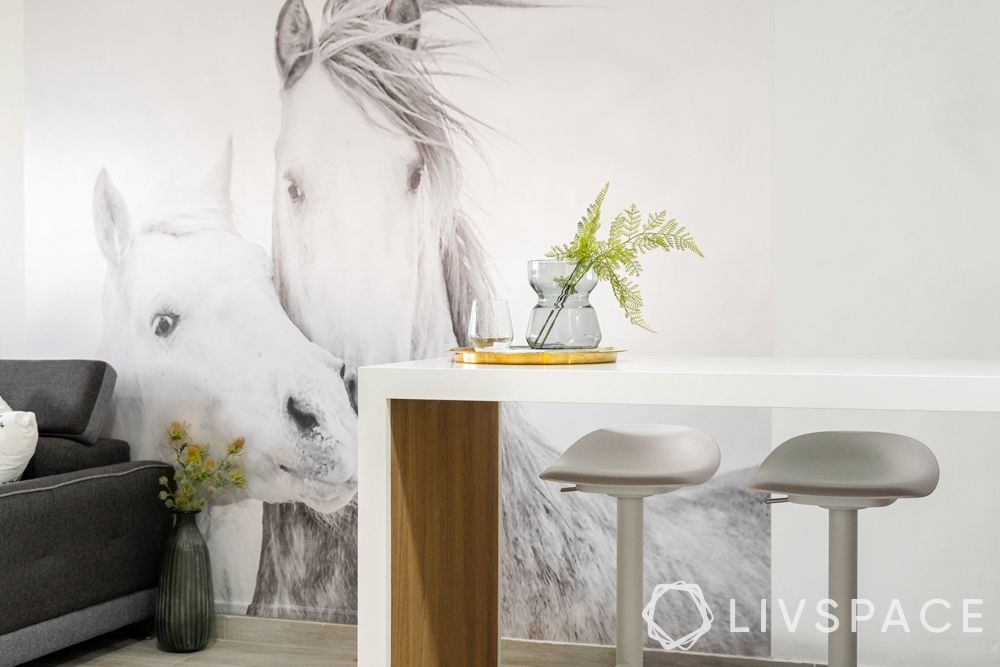 Following an open layout, the living room leads into a compact kitchen-cum-dining area, the hero of this resale 3-room HDB design. Thomas managed to fit an island kitchen in this small area.
The kitchen island doubles up as a dining counter. But that's not all. Whenever Woo is entertaining guests, all she has to do is slide out the counter for an extended dining space. Quite brilliant, isn't it? Remember, if done well, an island kitchen for compact spaces is not off-limits.
ALSO READ: Importance of a Kitchen With an Island and How to Make the Most of it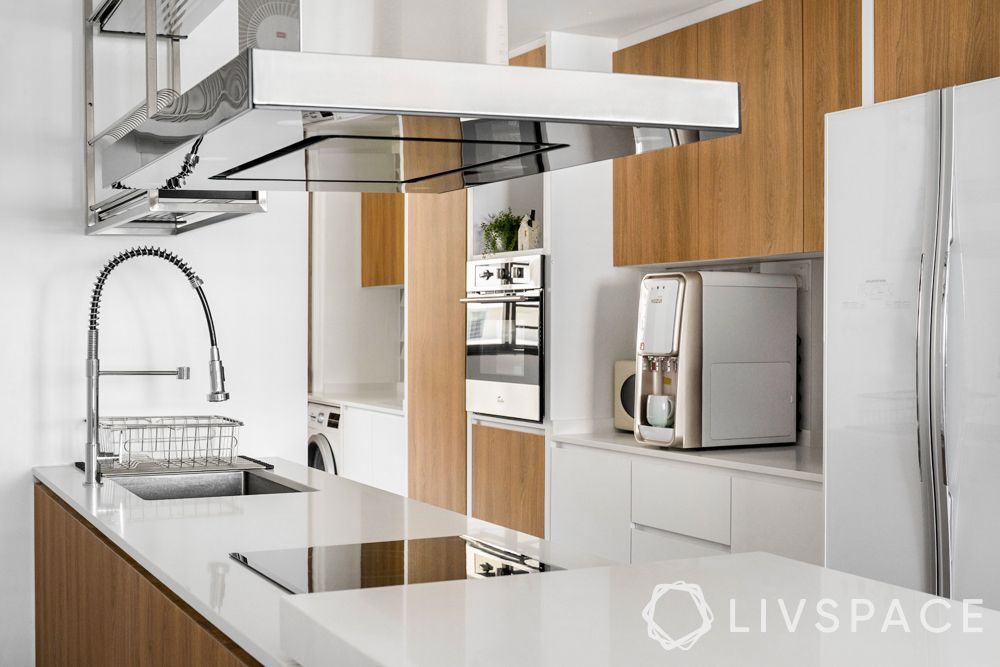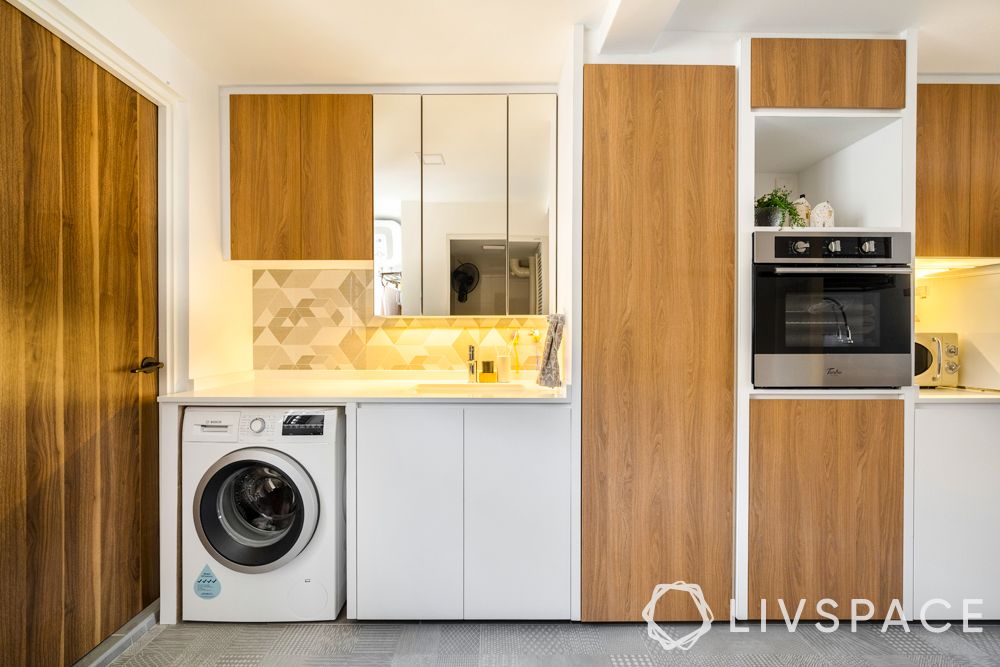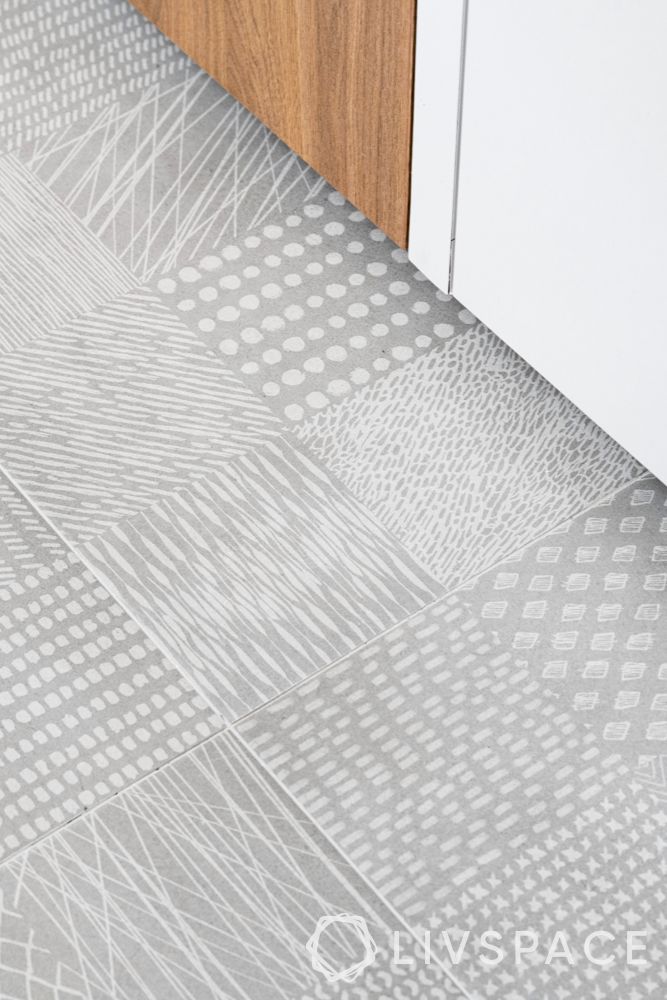 Grey-patterned tiled flooring segregates the well-equipped kitchen from the living room. The workstation is further divided into utility and cooking areas by two tall units in the centre. This ensures a proper workflow and provides enough storage space.
The cabinets and island are all finished in laminate. The overhead cabinets in the utility area have mirrored shutters that create an illusion of space.
A Compact Bedroom Featuring All the Essentials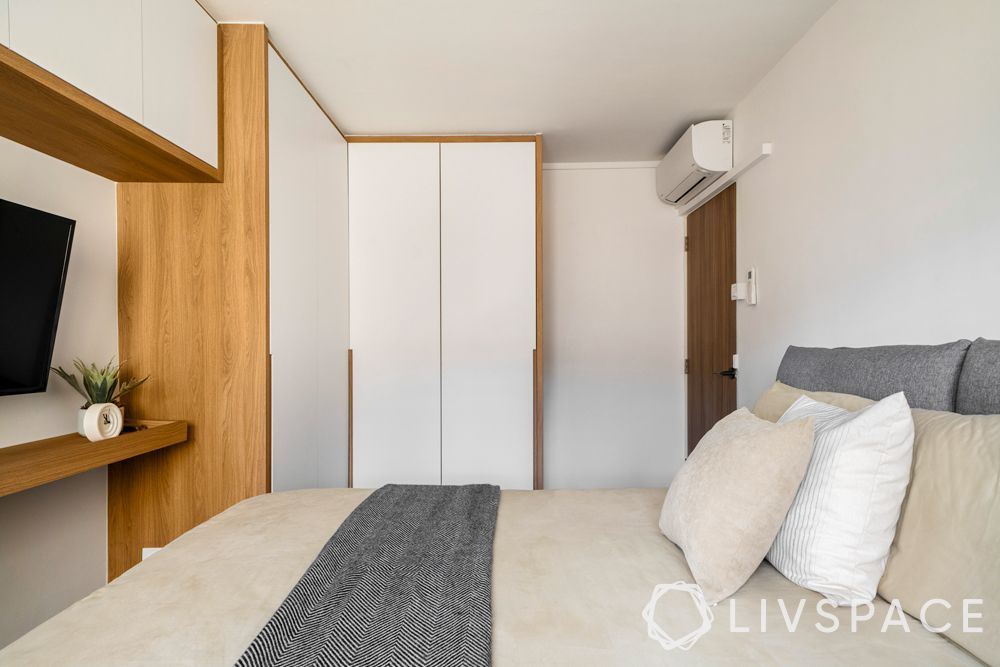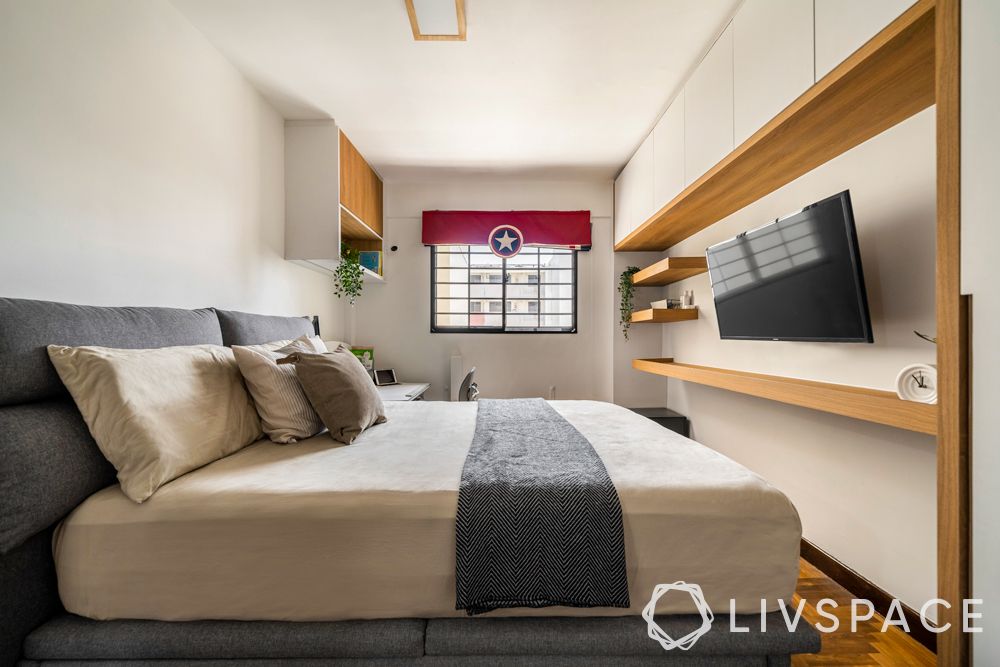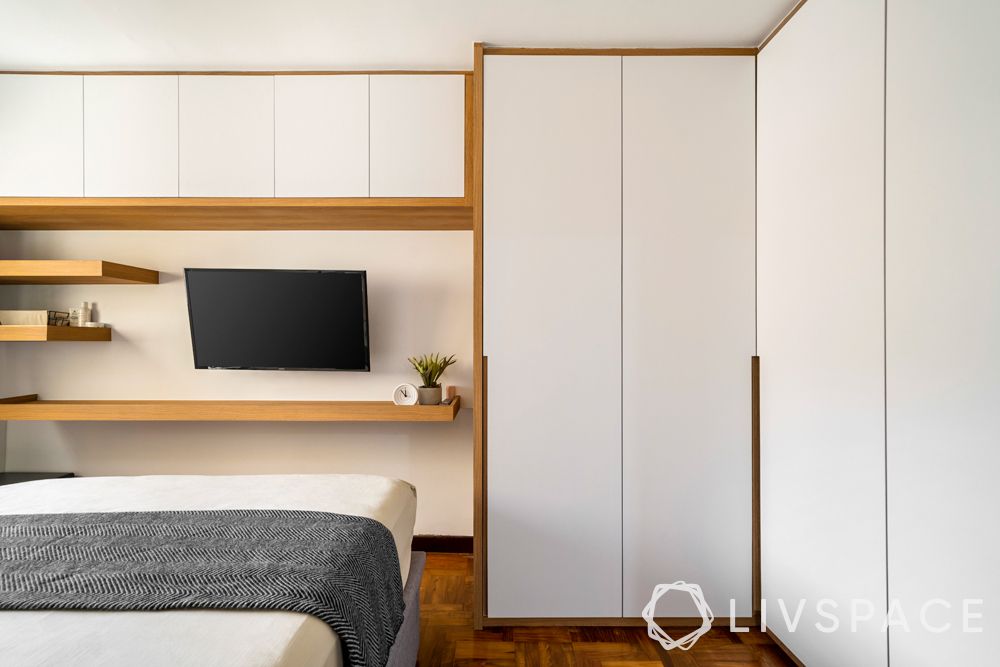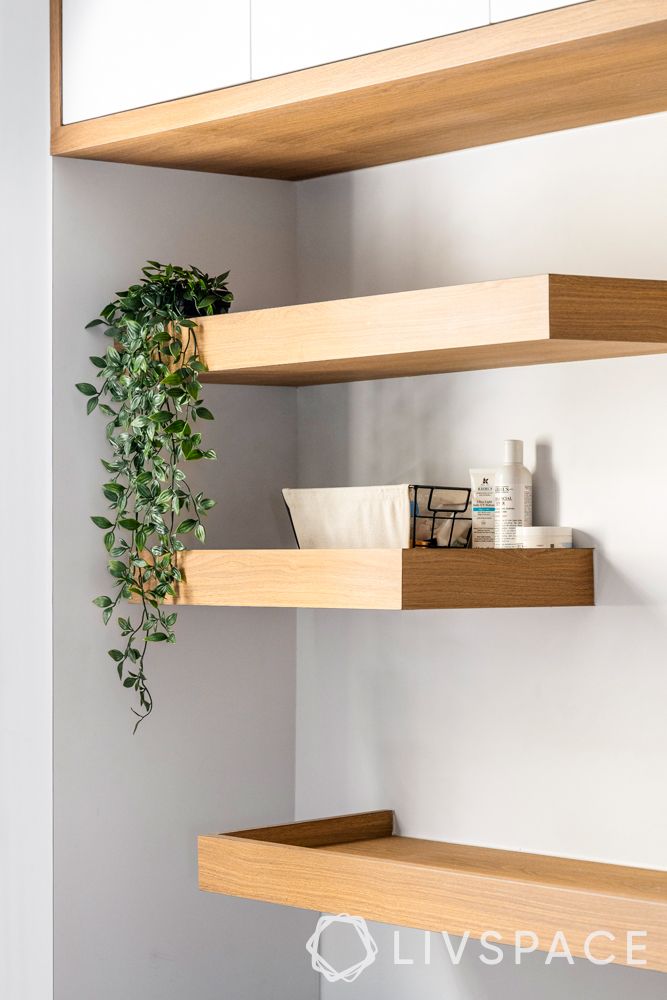 The bedroom too is optimised for storage. An L-shaped wardrobe occupies the corner opposite the entrance. A TV unit with overhead storage compartments is fixed next to the wardrobe.
There is also a small desk and storage cabinet in the corner near the window. The bed with grey upholstery complements the white-and-wooden theme of the room.
ALSO READ: Compact Bedroom 101: Do's and Don'ts of Designing a Small Bedroom
A Simple Grey and White Design for the Toilet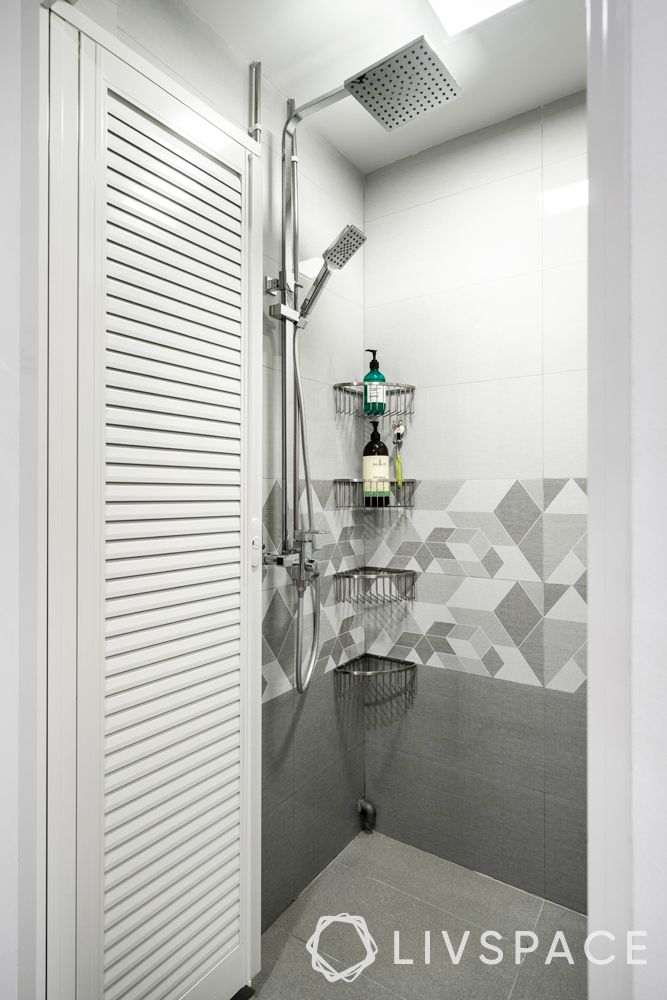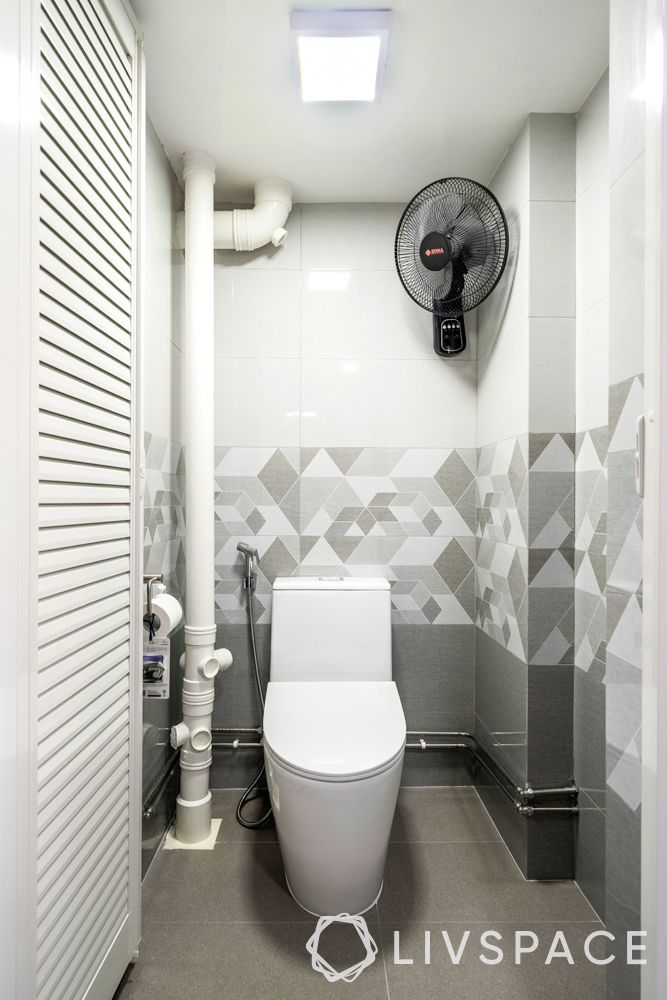 The toilet in this resale 3-room HDB design is small but perfectly created using only the bare essentials. It is not cluttered unnecessarily with accents like a vanity unit. Instead, metal shelves are fixed to keep the toiletries.
We also love the simple colours of this toilet. The grey flooring and wall tiles provide a continuous look as it leads up to the white ceiling.
At that, we have come to an end of the tour of this resale 3-room HDB design. Here's what Thomas says about working on the project.
"I had a wonderful time on this renovation project. The clients were understanding and easy-going. I am really happy with the result."

Thomas Chng, Livspace Designer
How can Livspace help you?
Did you enjoy the tour through Woo's resale 3-room HDB design? You can get equally contemporary interiors with Livspace's help. Book a consultation with our expert designers to get safe and quality interiors. Learn more about our COVID-19 safety protocols here.
Also, check out the 2021 Home Renovation Cost Guide for Every Type of Property.
We would love to hear from you! Write to us at editor.sg@livspace.com