If you've moved into or are planning on moving into a resale BTO, chances are you know the struggles of renovation. From managing timelines to ensuring that the end result is exactly what you envisioned, there's a lot of work that goes into crafting your dream home. This is more or less the story of how this young couple revamped their 7-year-old resale BTO at Yishun Street.
With an eye on cosy design and modern functionality, Livspace designer Stephanie Ng worked towards turning this 4-room BTO into a work of art. Without further ado, let's take a look at everything that went into conceptualising and executing this project.
---
Who Livs Here: A young couple
Location: Yishun Street
Type of Home: 4-room resale BTO
Design Team: Interior Designer and Project Manager Stephanie Ng and Business Manager Howie Tan
Livspace Service: Full home renovation
Budget: S$35,000 to S$40,000
---
The Vision

The Design Brief

✅ Cosy
✅ Calming
✅ Monochromatic palettes
✅ No loud colours or designs


Here's How We Did It
We used colour palettes that matched the family's vision of a simple design
For materials, we used laminates in plain, single-coloured tones to achieve a uniform look
We stuck to using a maximum of four to five colours across the home in different shades of brown to maintain design homogeneity
Since the family loves wood-tone colours, we made sure to use wooden accents for all the cabinetry in the living room, bedroom, kitchen, and bathrooms
Design Challenges
Design Problems
Our Design Solutions
The home previously had very strong
colour palettes that didn't suit the
family's tastes
We painted over the walls with a
monochromatic colour scheme
that is easy to style
A partial wall behind the dining table
made the kitchen entrance cramped
and narrow
We hacked the wall to open up the
kitchen entrance and make it more
spacious
The original kitchen layout was
dysfunctional, with the fridge placed
by the service yard blocking traffic
flow
Our designer changed the placement
of appliances in the kitchen to improve
overall functionality
Also Read: 15+ Best Space-Saving Ideas for Small Homes That Are Worth Trying
What's Unique?
As the home follows an open-concept layout, the intention behind styling the space was to keep it neutral and congruent between the living and dining areas. Despite the homogeneous take on design, there's one element that stands out—the altar cabinet.
The family initially wanted to use fluted panels for the design of the upper cabinet, as was done for the bottom cabinet. However, our designer Stephanie advised against it. Since the height of the cabinet was short, Stephanie suggested going for a different pattern and texture to give the cabinet a more unique look.
Decked in an effortlessly neutral shade, this modern altar design is the showstopper of the home.
Also Read: How to Set Up a Catholic Home Altar: Get Inspired by These 5 Designs
The Family's Reno Experience With Livspace
The Family's Favourite Space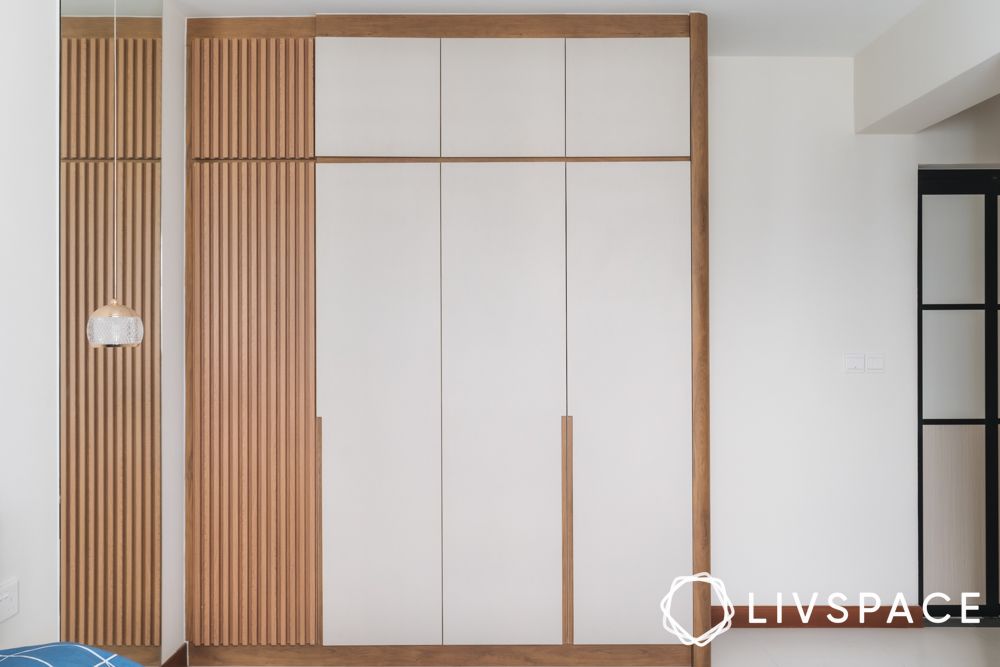 The family enjoys the living room and master bedroom the most because their time is largely divided between these two spaces. The bedroom wardrobe design uses a mix of textural elements (fluted panels and matte finishing) to give it the perfect blend of modern and contemporary design.
Also Read: 4 Basic Types of Wardrobe Designs You Need to Know About Before Buying One
Smart Buys vs Impulse Buys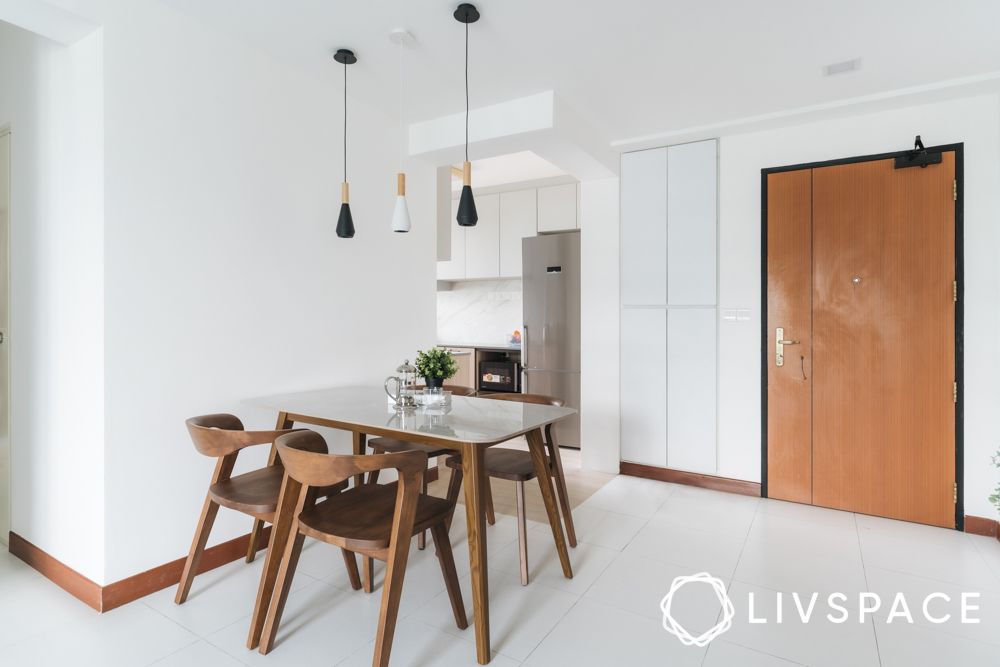 If you're wondering whether this practical family gave into temptation and splurged on any design elements, the answer is a flat no! So, how did they go about planning their interiors to stay within budget and yet create an elegant space? Here's what they had to say:
By doing so, the family was able to avoid over-spending on things they didn't necessarily need. Since their space was limited, they only opted for the essentials that tied into their exact vision for the space, leading to a neat and budget-friendly design.
Why Did the Family Choose Livspace?
After seeing multiple Livspace ads on Instagram, the family knew we were an option they had to try out. During their first meeting with us, their reno vision and Stephanie's ideas came together seamlessly, making it easier for them to trust they were in good hands.
Most importantly, the family was clear on not exceeding their initial budget, which we helped them stick to! Here's how the couple rated us on different parameters:
| | |
| --- | --- |
| Criteria | Rating on a Scale of 5 |
| Overall | 4 |
| Interior Designer Skill | 5 |
| Professionalism | 4 |
| Workmanship | 5 |
| Design | 5 |
| Project Management | 4 |
So, How Can Livspace Help You Renovate Your Home?
If you're looking for designers who can understand and cater to your varied design needs, you've come to the right place. We offer tailor-made design solutions with the help of best in class branded materials and 215 quality checks.
Be it interior design and renovation or home styling and furnishing, we have the right professionals and resources to get the job done. Book an online consultation with Livspace today, so you too can get started on your hassle-free renovation journey.
Disclaimer: All contents of the story are specific to the time of publication. Mentions of costs, budget, materials, and finishes can vary with reference to current rates. Additionally, the designs showcased within the story are subject to availability and will vary based on the year the homes were designed in. Consult our designers for more details on the latest designs, pricing, and availability.