Wardrobes are a one time investment for most homeowners. Given the fact that most Singaporeans prefer installing wardrobes in their bedrooms, it is important to define the wardrobe design beforehand. That shouldn't be done without researching all the available options. This guide will help you define your wardrobe needs by giving you a range of design options to choose from.
The most important aspect of your wardrobe should be the durability it offers to you. Yes, we want a good looking wardrobe but one that is durable too. Here are some of the important qualities every wardrobe should have. Make a list!
Essentials Bedroom Wardrobe Quality Checklist: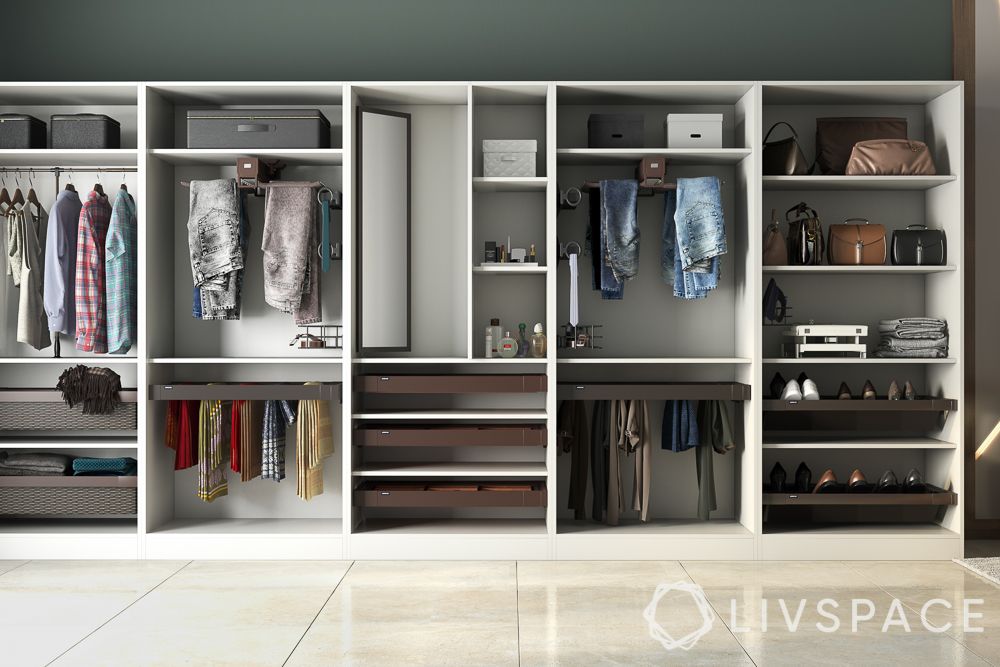 Quality of material:
The most popular materials used for the bedroom wardrobes are plywood, MDF, particle board, glass and wood. All of these are versatile options and are easy to maintain.
Drawers:
Drawers are classified as accessories for bedroom wardrobe designs but every designer will confirm that they're necessities. Pull out Drawers are ideal in your wardrobe to store small items such as undergarments, ties or even makeup.
Hanger rods:
Yet another accessory but a lifesaver when it comes to bedroom wardrobe designs. A hanger rod is your Monday morning friend that can help to save you from a crumpled up shirt massacre.
Ample storage:
The key to having ample storage is having an estimate of your storage needs. However, it is also always better to leave some extra space.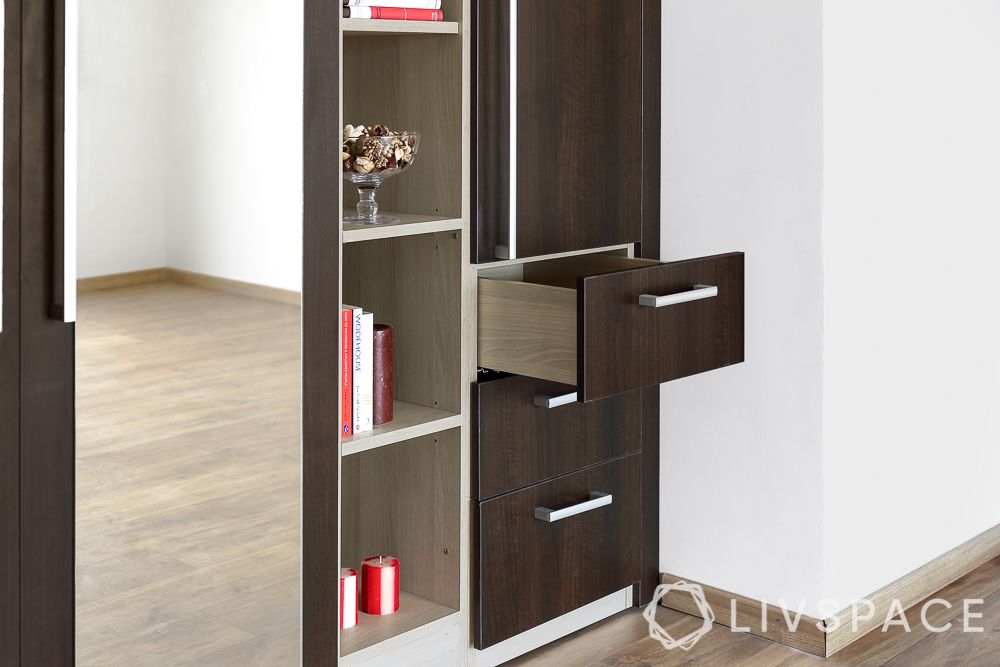 Types of Bedroom Wardrobe Designs Based on Choice:
Based on choice, there are two types of wardrobe designs to choose from:
#1: Choose Free-standing Wardrobes for Flexibility: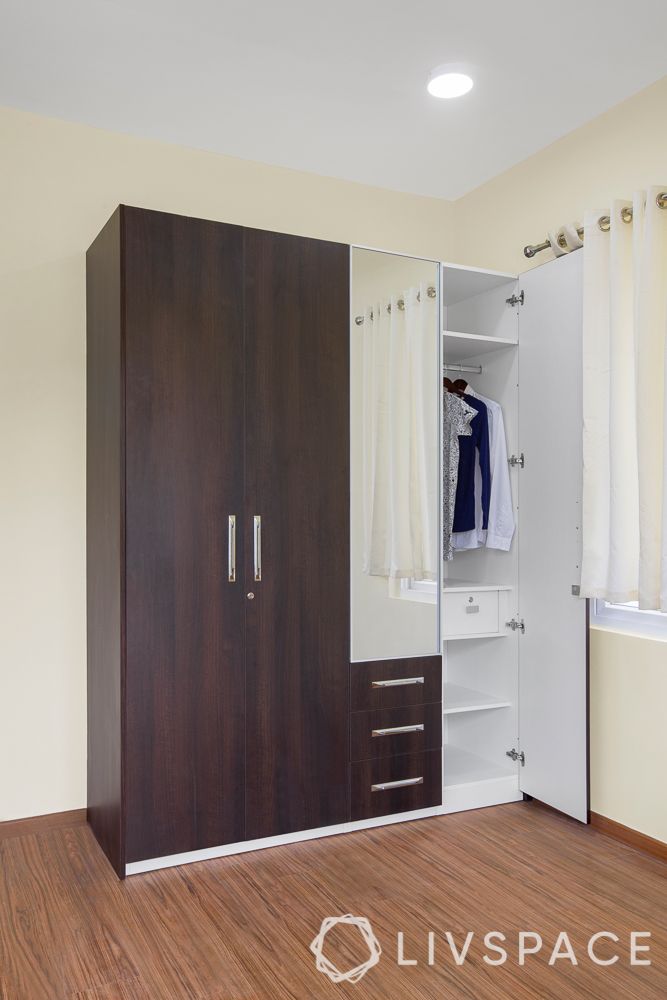 Freestanding bedroom wardrobe designs are ideal for renters or people who move constantly. They are available in a range of sizes, materials and cost. If measured carefully, they can be tucked well in a niche. They also come with fitted accessories such as drawers and rods.
#2: Custom-make Your Bedroom Wardrobe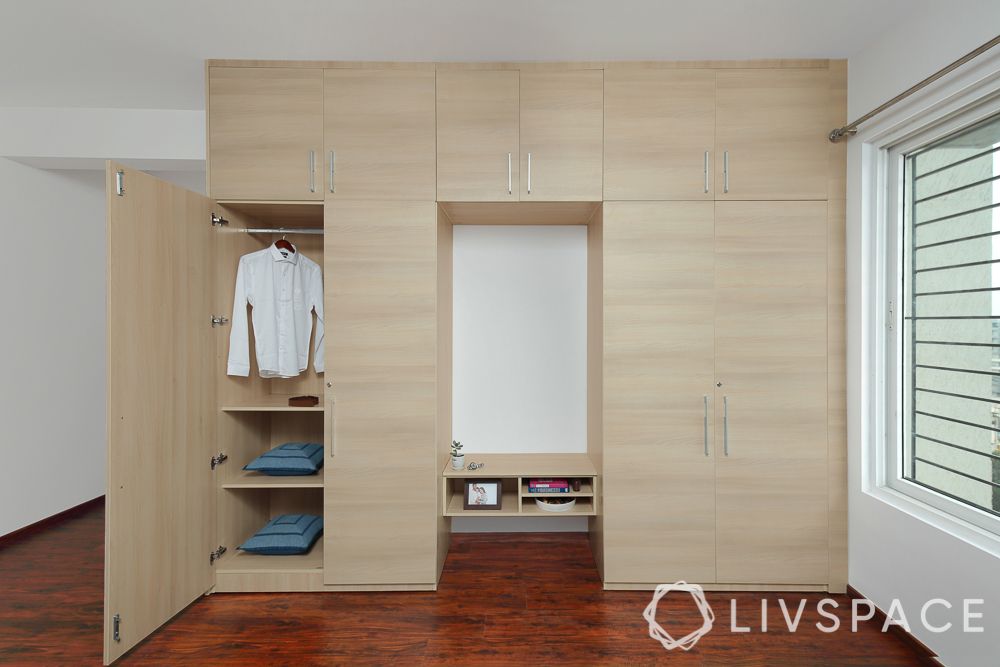 Customised bedroom wardrobe designs are usually encouraged by designers as they can be made to fit the demand of the homeowner. It is a one-time investment and cannot be moved. However, the customer has a complete say in its construction and these wardrobes have a record for being more effective in terms of both form and functionality.
Also Read: What are Built-in or Fitted Wardrobes and Why You Should Get Them
Wondering about Hinged vs. Sliding Door?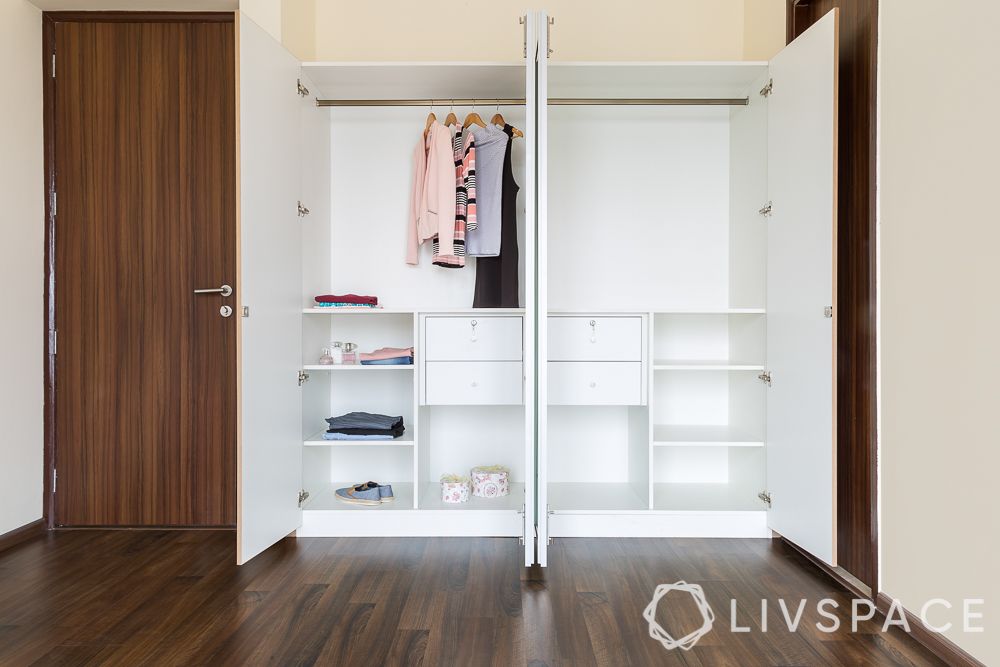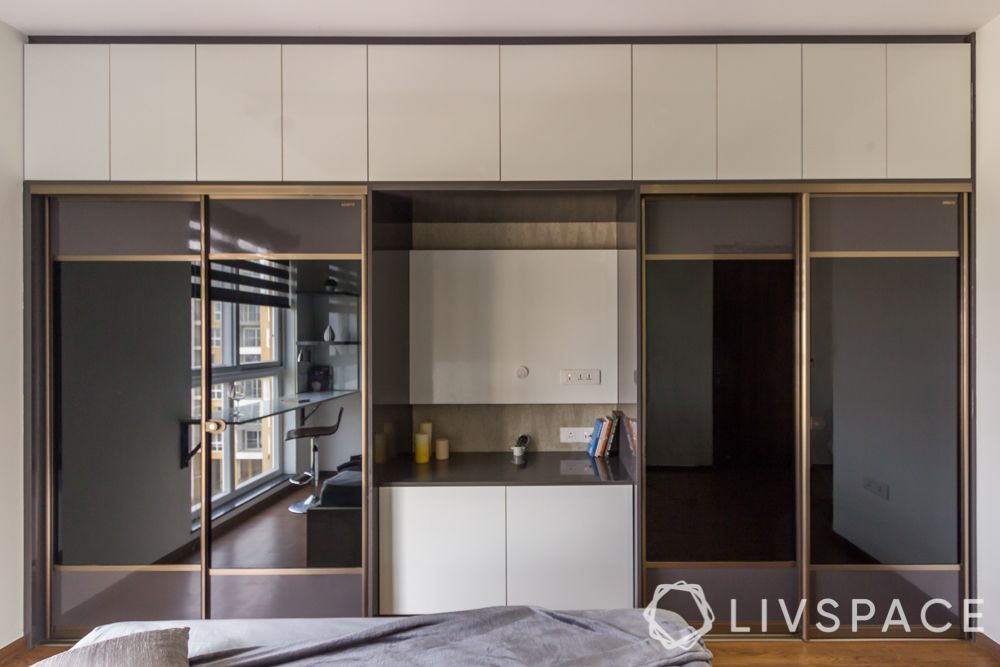 Hinged bedroom wardrobe designs have doors that open in the room. Sliding wardrobe designs have sliding doors, fitted in the carcass of the wardrobe, giving the room a more seamless look. If you have a smaller space, pick sliding wardrobe designs.
Types of Bedroom Wardrobe Designs Based on Room-size:
#1: Accommodate Your Bed with Built-in Wardrobe Designs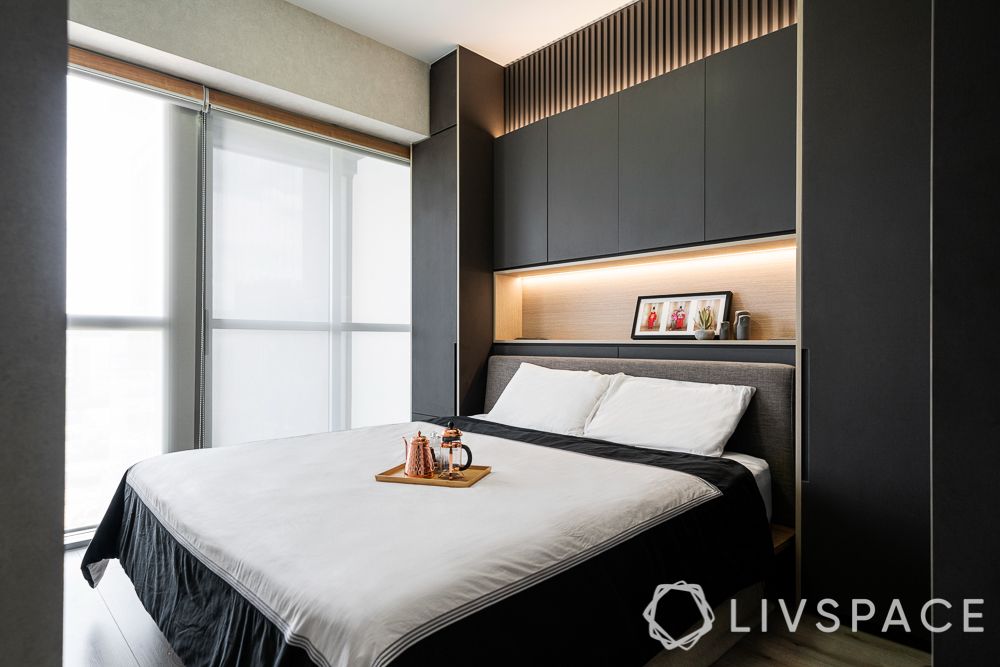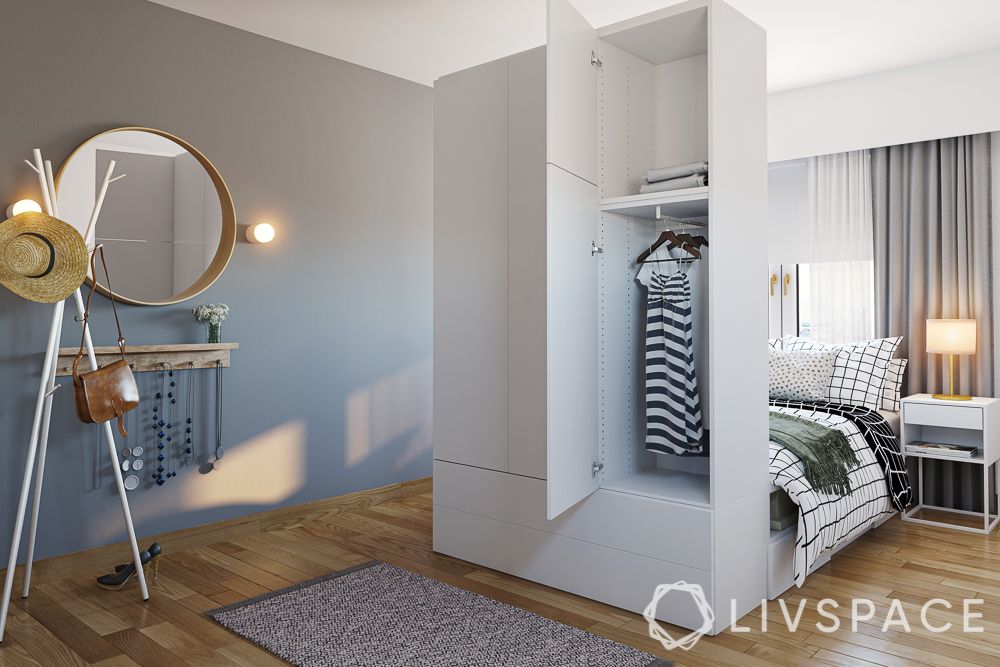 Built-in wardrobe designs are customised to fit-in every object in the bedroom and help make it decluttered. This design, for example, is built around the bed to accommodate its shape and it also serves as a partition between bedroom and living space.
#2: Amp Your Bedroom with a Walk-in Wardrobe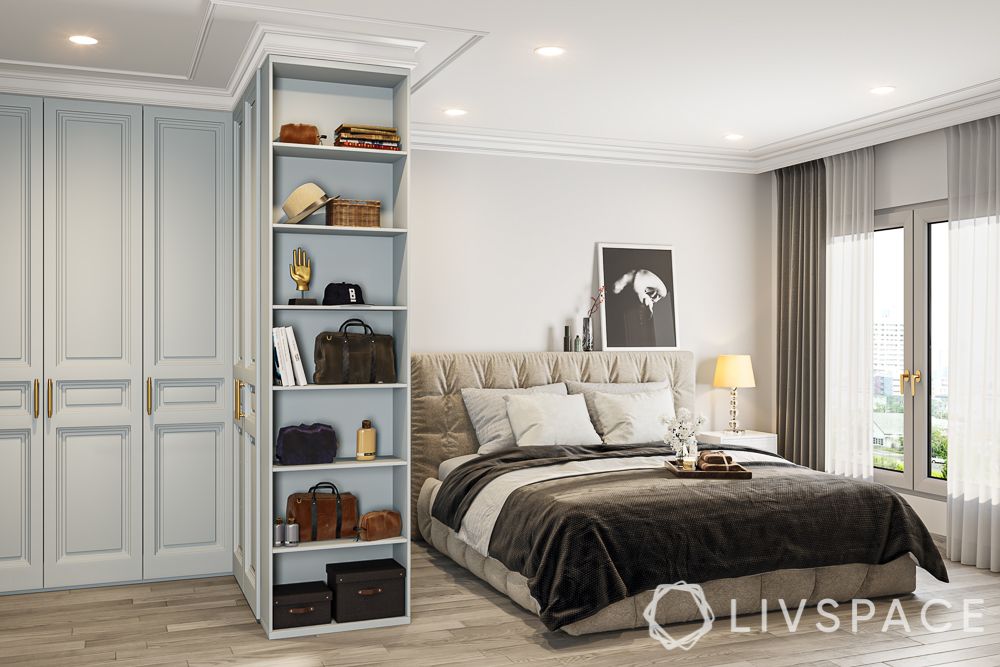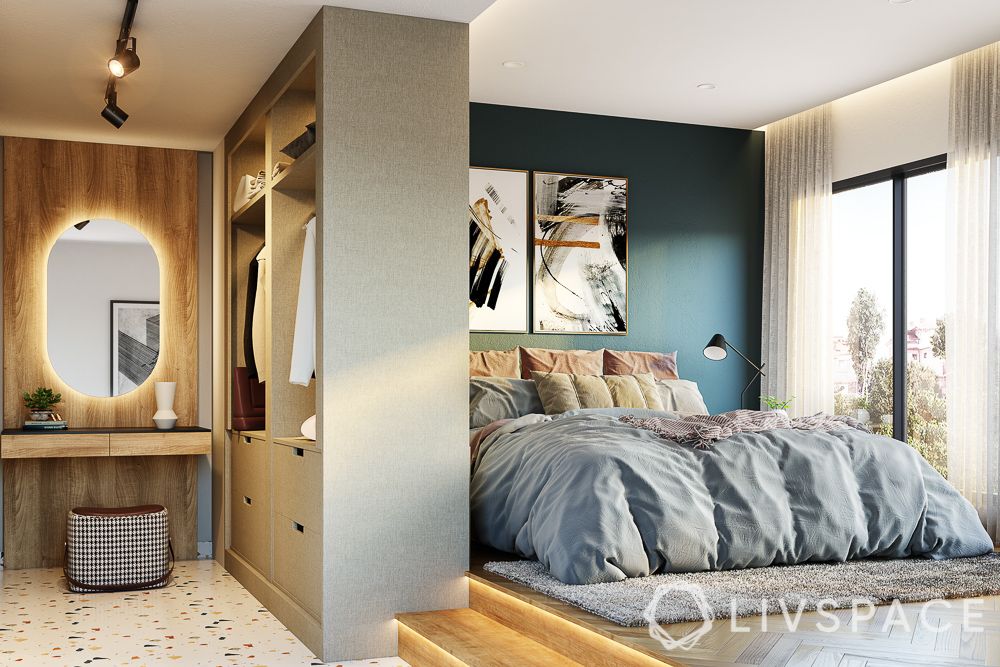 If you have ample space in your bedroom, create a niche and get a walk-in wardrobe designed for a luxe experience. If the space allows, a dresser can fit in as well. Here are 5 Perfect Ways to Make Space for a Walk-In Wardrobe in the Bedroom.
#3: Partition His-and-Hers Wardrobe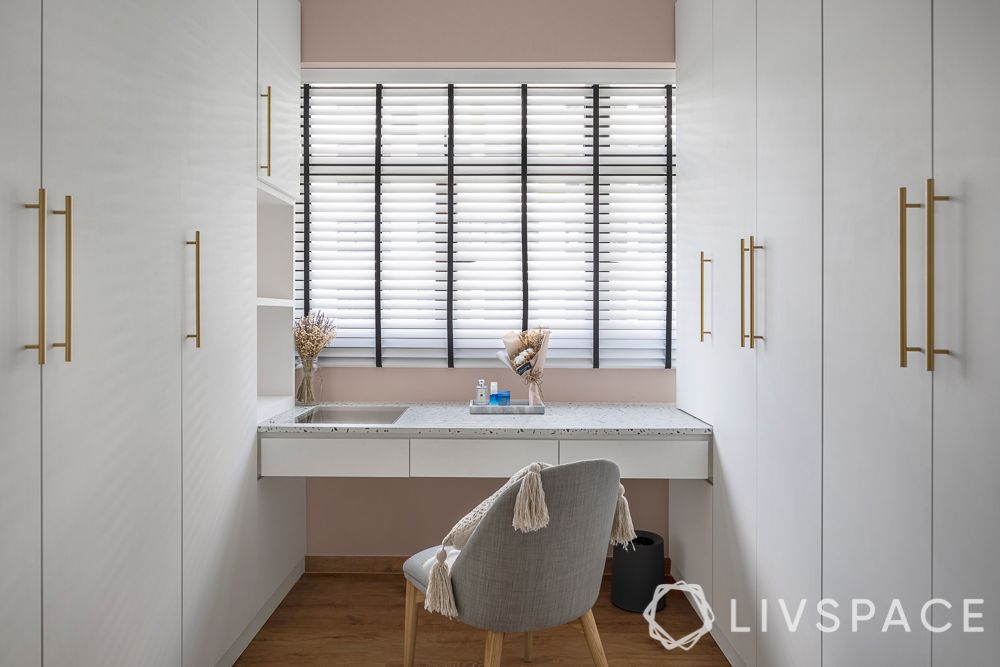 A U-shaped layout is ideal for couples as they can efficiently separate their storage. This helps the couple have custom storage for their individual needs.
#4: Contain Existing Bedroom Designs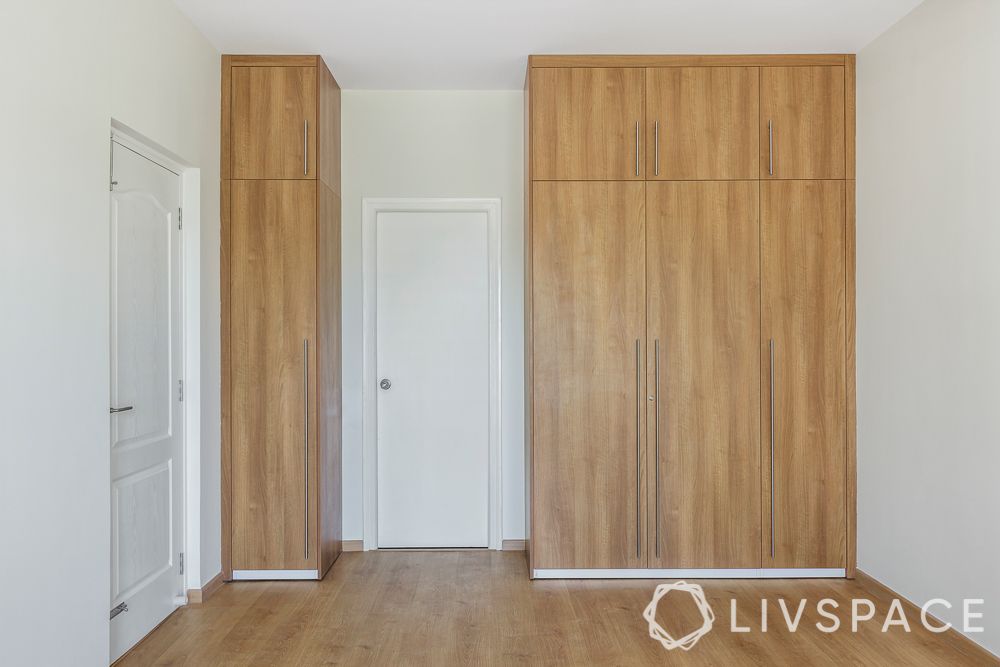 The top benefit of having a custom wardrobe design is that it can accommodate any existing room designs or accessories while maximising on storage. This above wardrobe design is an apt example of this.
#5: Edge for Corner Bedroom Wardrobe Designs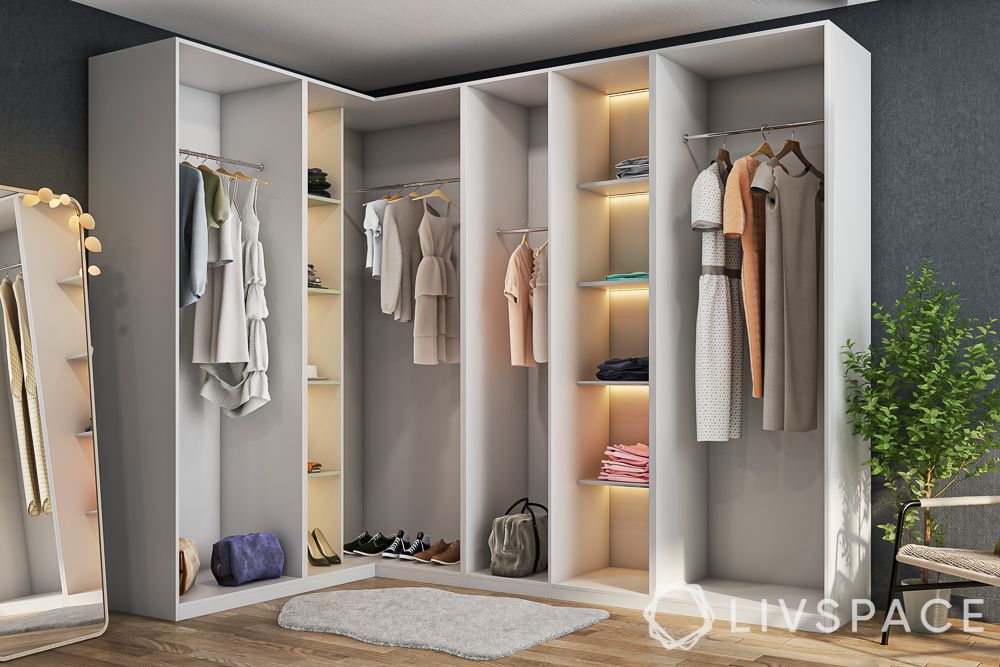 Corner bedroom wardrobe designs use up dead spaces. If you do not have ample wall space, corner wardrobes can work like a charm.
#6: Built-in Wardrobe Designs with Open Shelves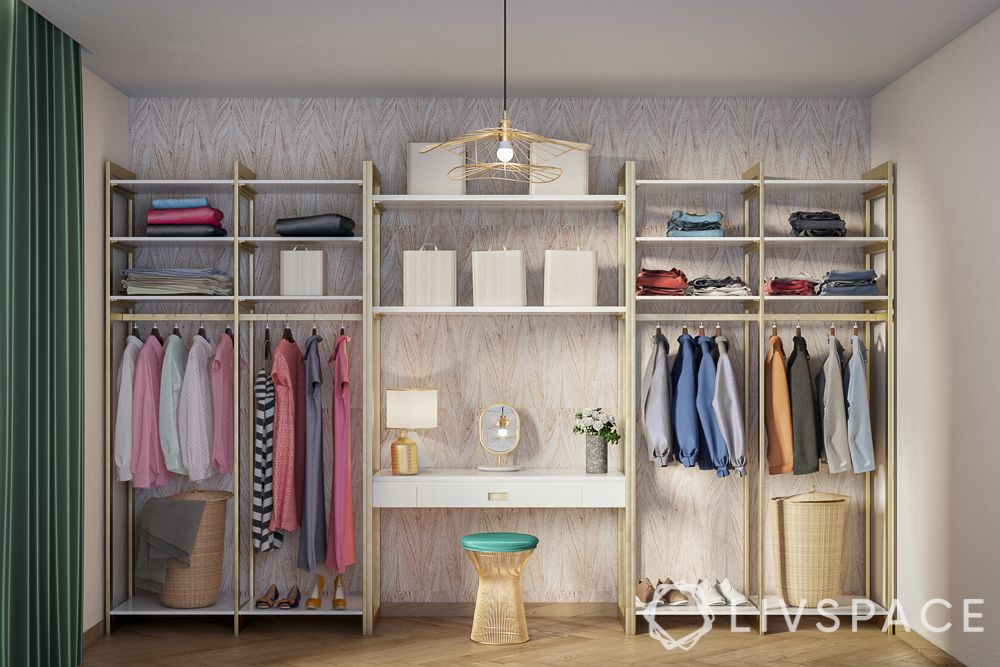 Open-shelved bedroom wardrobe designs work the best for small spaces as they tend to open up the space. However, you may need to organise them often as they can easily look messy.
#7: Opt for Glass Doors for Your Wardrobe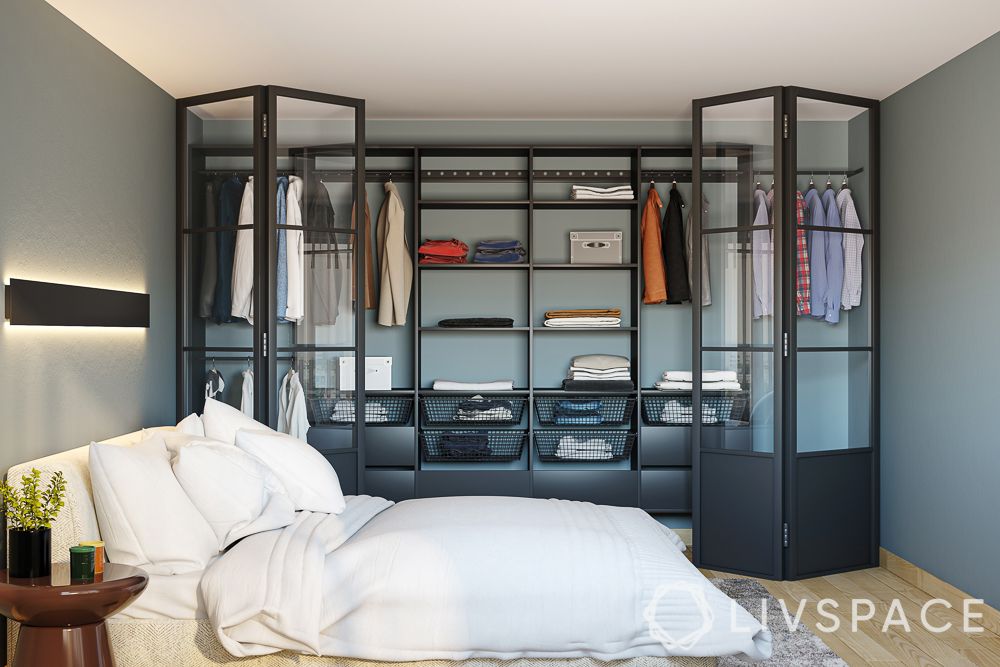 Glass wardrobe doors are a good way to give your wardrobe an open look. They also stop dust from settling down on your things. They're more suited to people who are neat and organised since everything will be on display.
#8: Protect Your Privacy with Opaque-Shutters on Your Bedroom Wardrobe Designs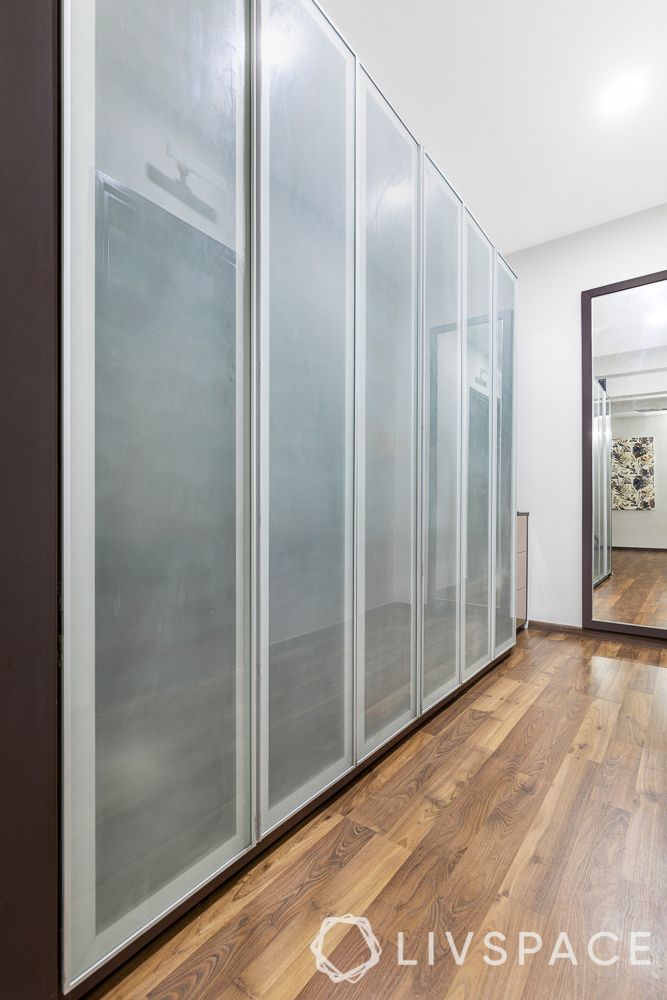 Opaque doors fill in aptly for glass, retaining the airy look while maintaining your privacy. They also make the space appear less cluttered.
#9: Illusion of Space with Mirror Bedroom Wardrobe Designs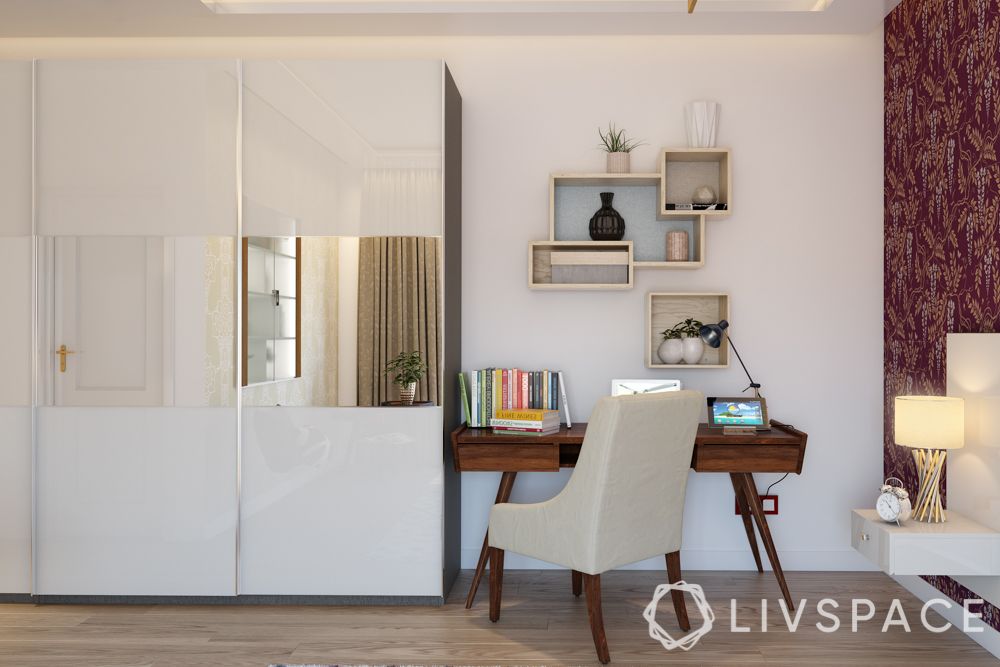 Mirrored wardrobes are all about making the space airy with its reflective quality. They can also act as makeshift dressers.
Also Read: Looking for Mirrored Wardrobes? Check Out 10+ Best Designs by Livspace
#10: Get Wall-to-Wall Custom Bedroom Wardrobe Designs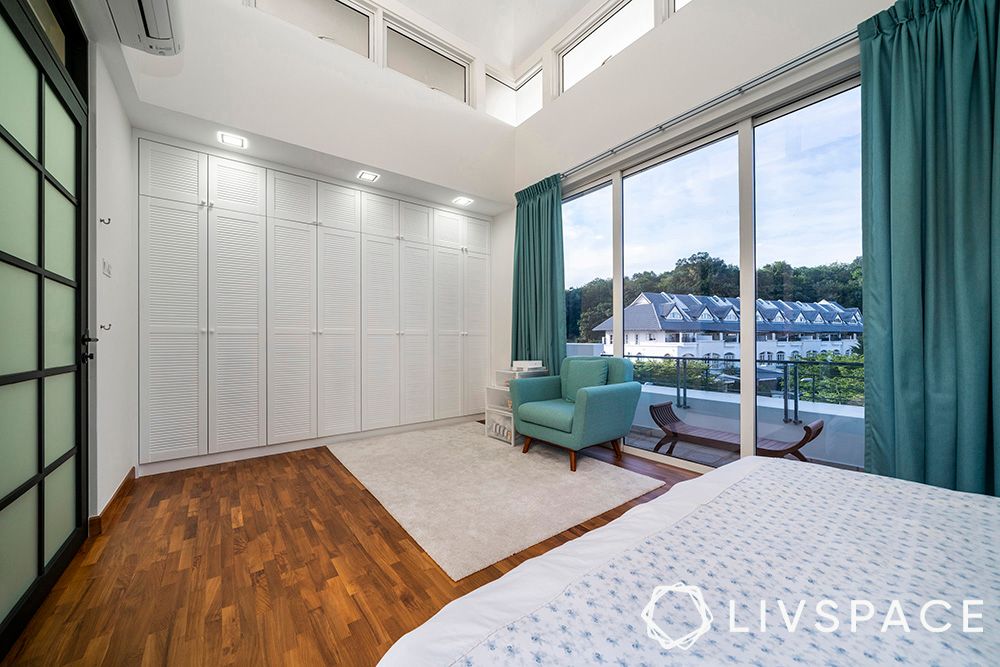 Wall-to-wall built-in wardrobe designs are custom made to optimise the space completely. You can also add a running loft for the same. However, it may cost you extra.
As you can see, here are a range of options for your every need. Still confused? Read How to Pick the Right Wardrobe for Your Room?
How Can Livspace Help You?
We hope you found our ideas useful! If you want your home to be just as beautiful, then look no further. Book an online consultation with Livspace today. Delivering safe home interiors has been our No. 1 priority. Click here to find out how interiors are being delivered following all safety protocols.