As you embark upon the journey of building or buying a new home, do you find yourself dwelling over whether a small house design would give you enough room for everything? Given that the internet is currently abuzz with the tiny house phenomenon, we are here to tell you exactly where a small house design differs from a tiny one. After reading this, you will be surprised to discover that there is a lot more to small houses than you know. And we are sure what you find out will change your mind! Read on.
So, what is a small house?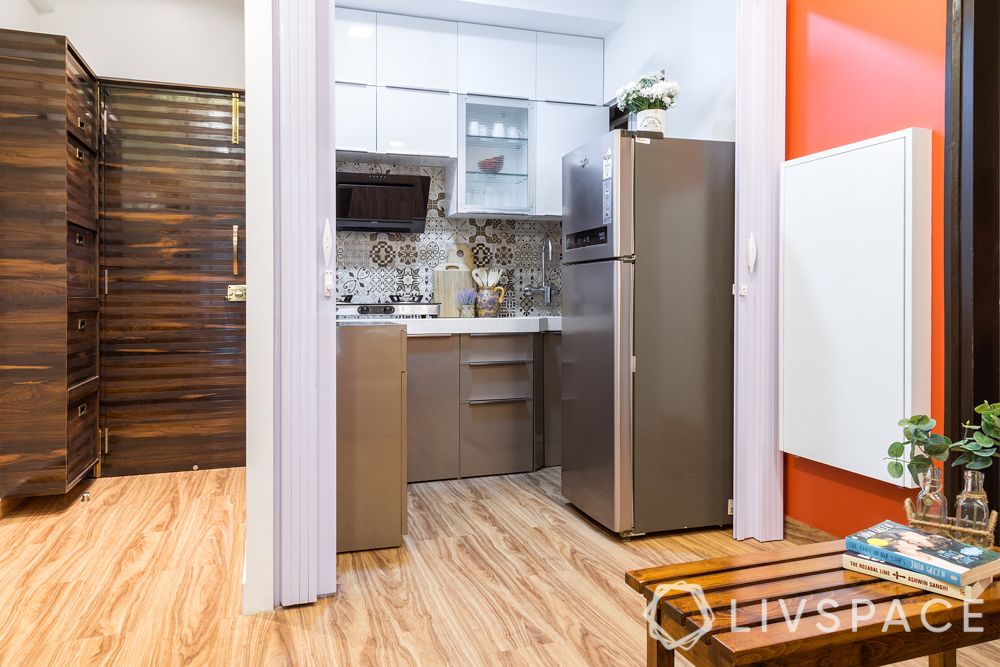 If a small house conjures up images of a residence smaller than an apartment, then you would be wrong. A small house plan has the layout of a regular flat but with limited square footage. What is the exact definition of a small house? It is not definitive and it depends on what the average home size in your area is. But unlike tiny houses — which are just the size of a garage or smaller — small houses have every basic feature that an HDB or condo should have.
Small houses versus tiny houses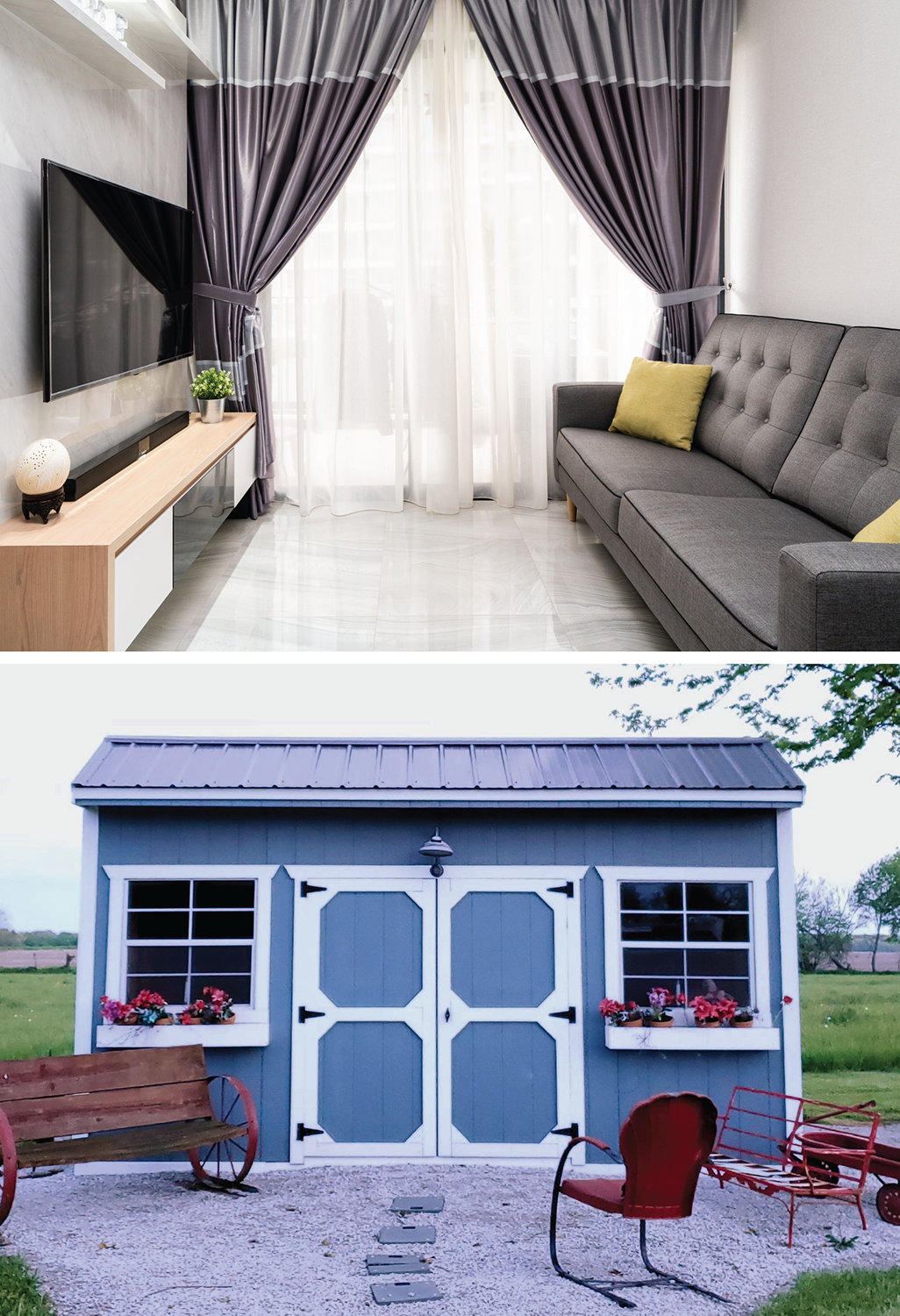 Here's how a small house differs from a tiny house. Before you decide on moving into or building a small house, consider the following:
How many people need to live here?
Do I want to entertain or host?
Large pieces of furniture or special needs to accommodate?
Do I need to run a business from my home?
| | | |
| --- | --- | --- |
| | Small house | Tiny house |
| Dimensions | 50–150 sqm | 30 sqm or smaller |
| Ideal for | Anyone looking for a compact space | Off-grid living, studio space or temporary/relief housing |
| Major benefit | Low-maintenance, minimal living | Cost-saving and highly customised |
What are the benefits of a small house?
So, have you decided to downsize? If not, we can still help you make a decision. While you might think that you cannot function normally in a small house, there are certain benefits of a small house design that will convince you to opt for it. If you're not ready to commit to the tiny house lifestyle, then you can start small.
Energy-efficient
Whether you want to cool your house down or warm it up, a small house design is always better. It requires less energy to temperature-control a small home. Hence, smaller houses means smaller energy bills. You will end up saving a lot of money. Therefore, if you are planning to save up, think small.
Easy to personalise
A small house is easier to customise, therefore you can easily furnish and decorate it just the way you like it. You can also explore your creative side and try some DIY decor ideas. Eventually, you'll have a magazine-worthy home that you'll be proud of for a fraction of the cost of a larger home!
Less maintenance
Cleaning 150 sqm is obviously less work than 500 sqm. Trust me, I have cleaned a 100 sqm house in 20 minutes. Living in a small house equals to less cleaning, and that's quite a benefit! A larger house, on the other hand, will force you to have more stuff and that will result in more maintenance.
How to make the most of a small house?
#1: Always choose platform beds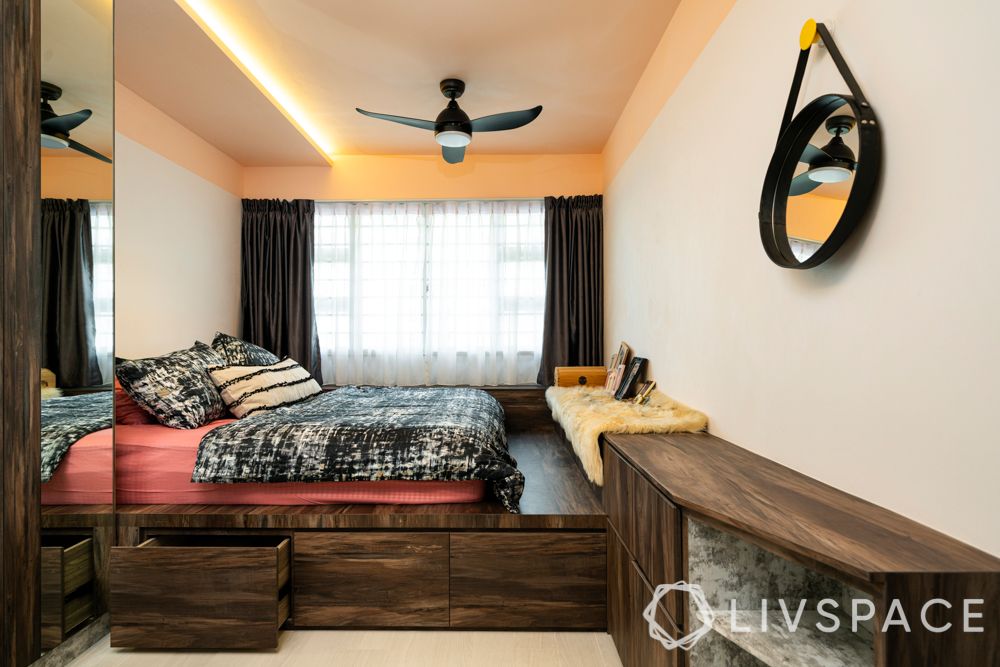 Platform beds are the best option for a tiny bedroom where a formal bed structure is not required. These beds usually come with storage underneath and you can even do without wardrobes if you love the minimal lifestyle.
#2: Headboard storage to use vertical space
Using vertical space is a clever way of utilising maximum space in a small house design. While everyone will tell you to get more wall storage or shelves, have you ever thought of using the headboard wall? In this 3-room condo, we turned the headboard wall into a full-fledged storage space. Your bed linen and extra pillows can go inside these sleek cabinets above the bedhead.
#3: Opt for multipurpose furniture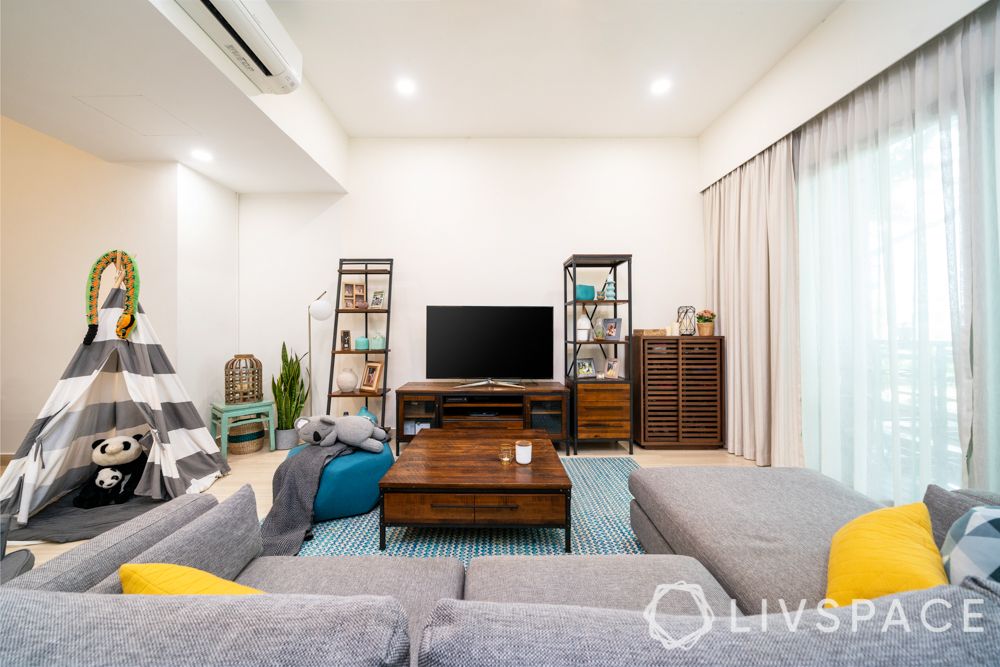 Another great way to maximise available space is by choosing multipurpose furniture. There is no need to skimp on furniture if you are dealing with a small house design. Think about coffee tables with storage or display units that also have drawers for storage. These will also act as extra storage spaces for you.
Here are the best features of the smallest house we've designed
There are very few small house designs that are as perfect as this one right here. Our designer has squeezed in maximum storage and created the most functional zones in this smart 55sqm home design. Check them out and see what you can implement in your small house design.
#1: An almost monochrome colour scheme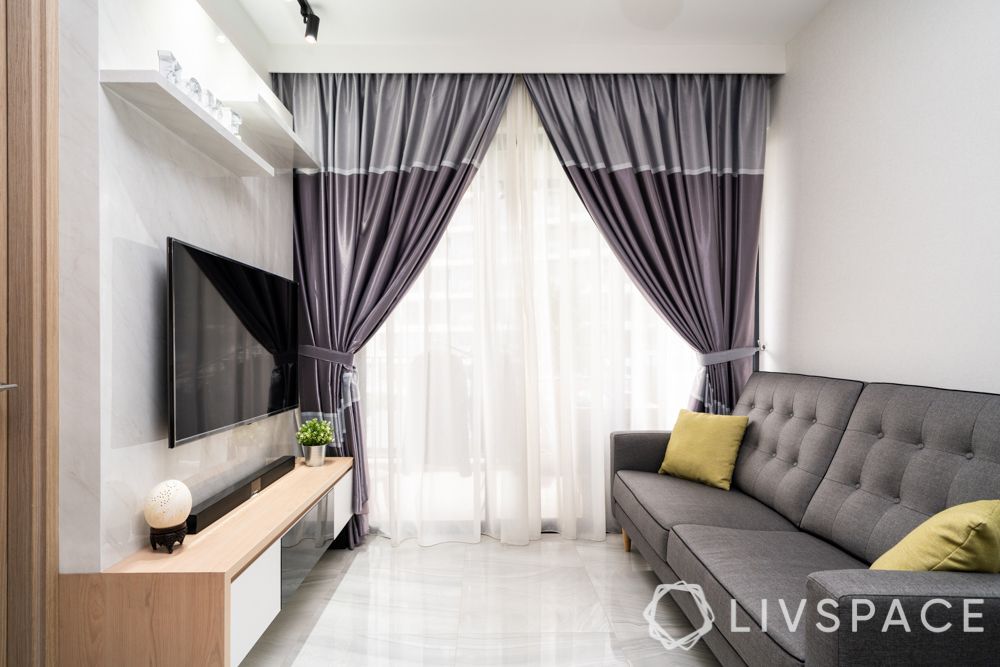 When working with small spaces, it is always advisable to choose a cool and neutral colour scheme. From upholstery to furnishings, it is always good to stick to lighter tones. For this home the designer chose grey curtains and sofa upholstery to keep it consistent. Even the materials selected are marble and wood that look good in a modern setting.
#2: Niche wardrobes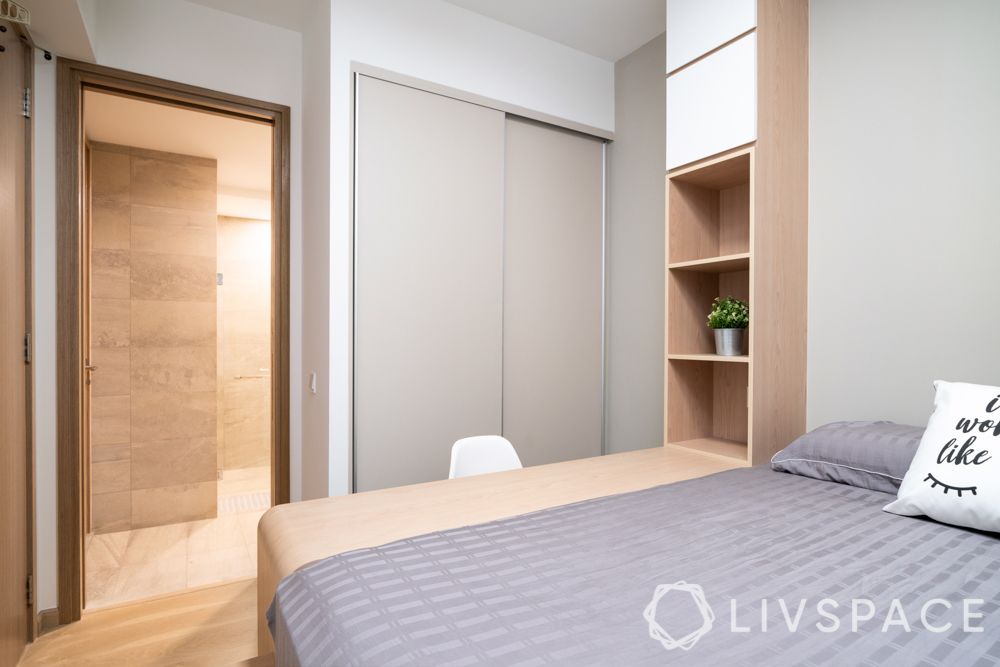 It was nearly impossible to accommodate a complete wardrobe in this tiny room — which is why our designer thought of utilising wall space. He created a niche in the wall and designed a built-in wardrobe so that no extra floor space is used up. Also, adding sliding doors is a must if you want to maximise the benefit of this idea.
#3: Vertical storage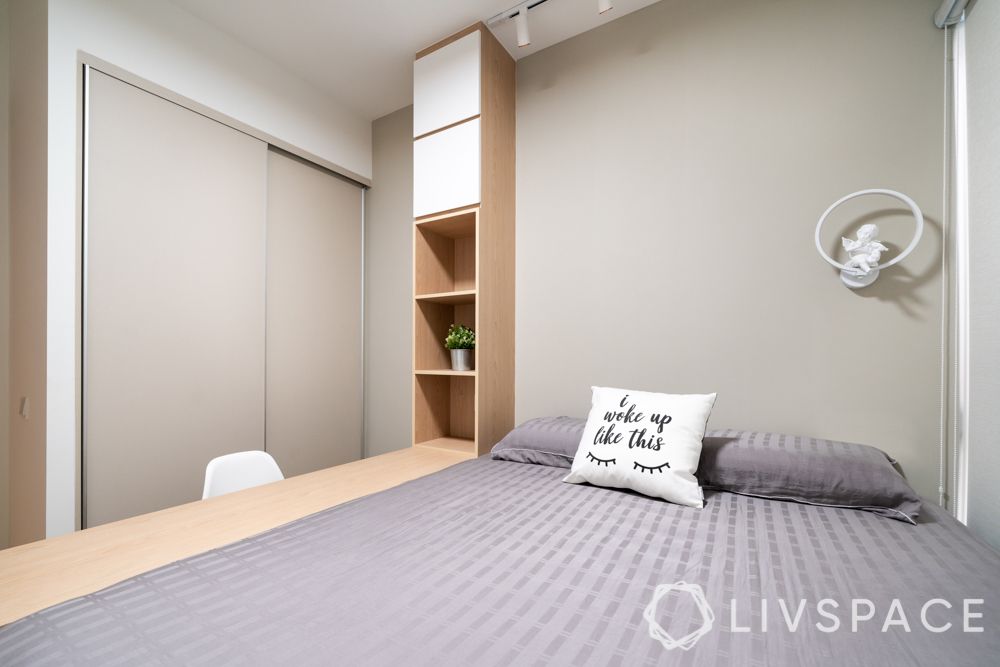 Spiralling back to our small house design, utilising vertical space is essential when you are working with a compact space. In this bedroom we added a storage-cabinet-cum-bookshelf to keep things organised. This also doubles up as a nightstand for the sisters living here. Such a clever idea, we say!
#4: Integrated furniture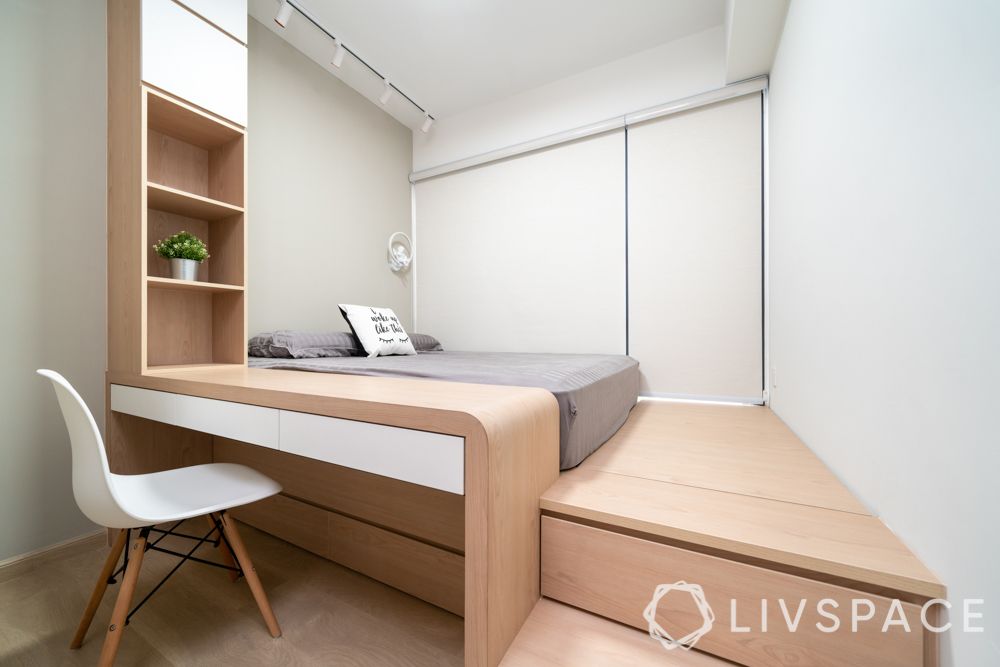 We cannot emphasise enough on the fact that integrated furniture is a saviour for small homes. And with the growing need for home office spaces, a study table attached to the platform bed is a neat idea. This minimal study table also has drawer storage for essentials.
#5: Staircase storage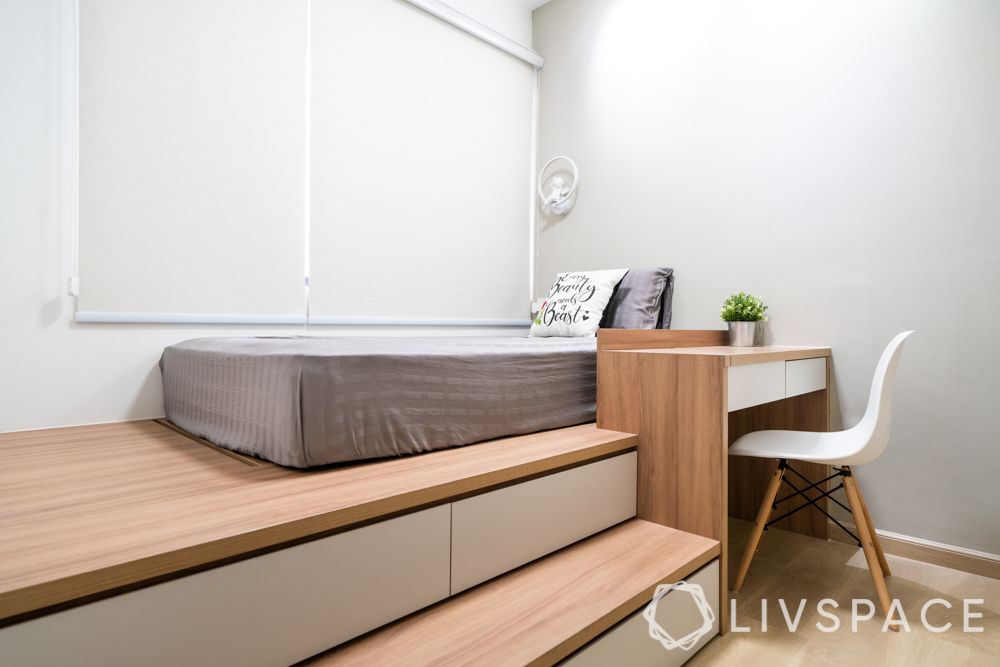 Another excellent idea for this compact bedroom — staircase storage. The elevated space created to place the platform bed has stairs leading up to it. So why waste that space, we say. Drawer storage under the steps is a great way to add concealed storage.
Now that you know the difference between a small house and a tiny one, which one would you choose? We would love to know!
Here are the Best Compact Space Design Ideas in Livspace Homes This Year!
Send in your comments and suggestions at editor.sg@livspace.com