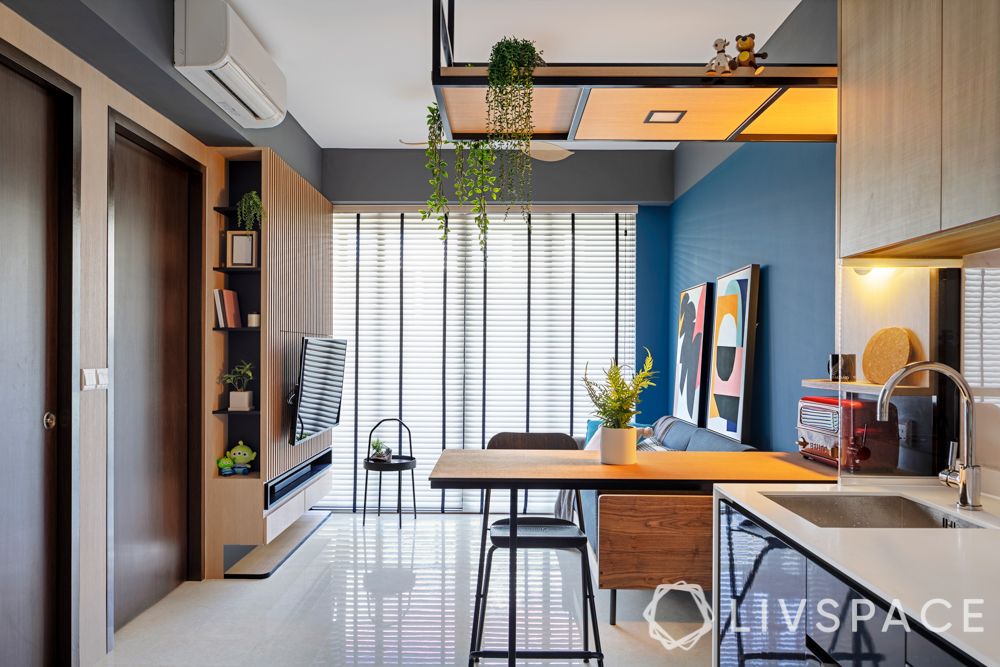 Buying your house in an expensive city like ours is nothing short of a dream come true. So when it does happen, most first-time homeowners find themselves flustered. After all, buying a house is not all; to make it a home for your family, you must also invest in renovation, that is the tricky part! But don't fret, Livspace has you covered with an one-stop guide that covers every question a new homeowner might have!
Step 1: What kind of home are you eligible to buy?
In Singapore, government-funded housing is heavily subsidised. However, buying one comes with a whole set of rules and regulations. So just make sure you meet the criteria before you buy a home for yourself.
Public housing
You need to be at least 21 years of age if you are buying a HDB house with your spouse, parents or siblings. But if you are single or divorced (without kids) and buying a house on your own, you need to be at least 35 years old. The rule applies to both new and resale HDBs alike.
Hybrid public-private housing
If you buy a house from an existing owner, you need to be at least 21 years old and have some family living with you like parents, spouse, siblings or children. If you buy the same house from the open market, you just need to be 21 years old and be able to afford the house on your own.
Private housing
Government regulations do not apply to private properties so you just have to be of legal age, which is 21 years old.
Also find out how much a renovation in Singapore costs.
Step 2: What sort of renovation do you need for your BTO or resale?
In Singapore, you can buy primarily two kinds of home: new and resale (applies to government funded and private apartments)
Resale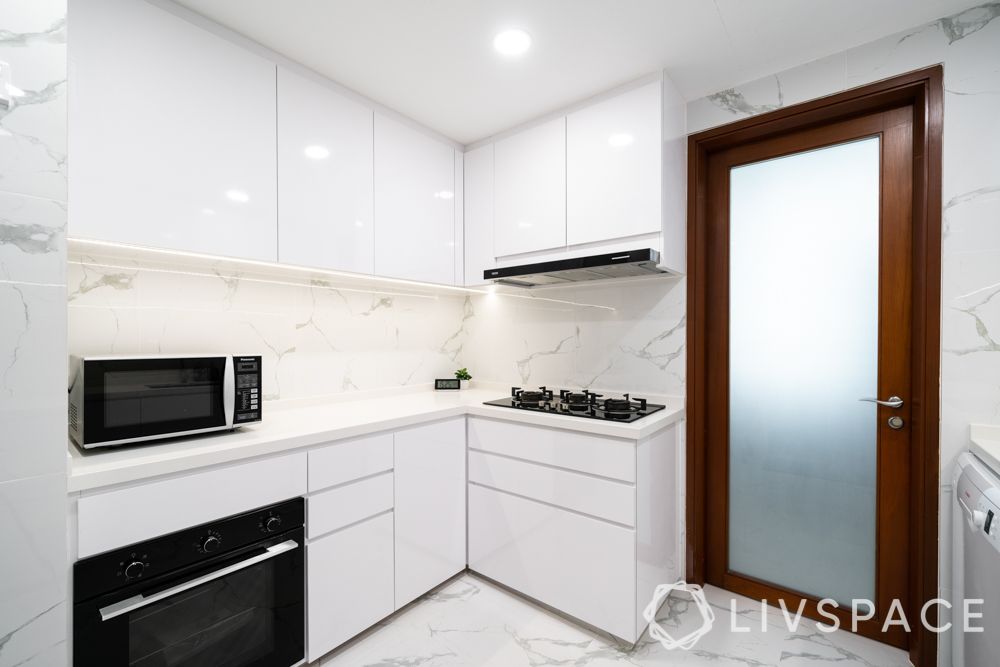 According to our interior designer Shivani, if you have brought a resale HDB or condo, you must invest in the following:
New plumbing in the kitchen and bathroom because leakages due to faulty plumbing are the first to appear in old properties.
High quality sanitary ware because what you have is probably outdated and won't last long.
Entirely new electrical wiring where the distribution board is changed to a new one as well. This is primarily for safety reasons.
This HDB or condo renovation should be viewed as a long-term investment, otherwise more problems are likely to arise in the near future incurring higher costs.
BTO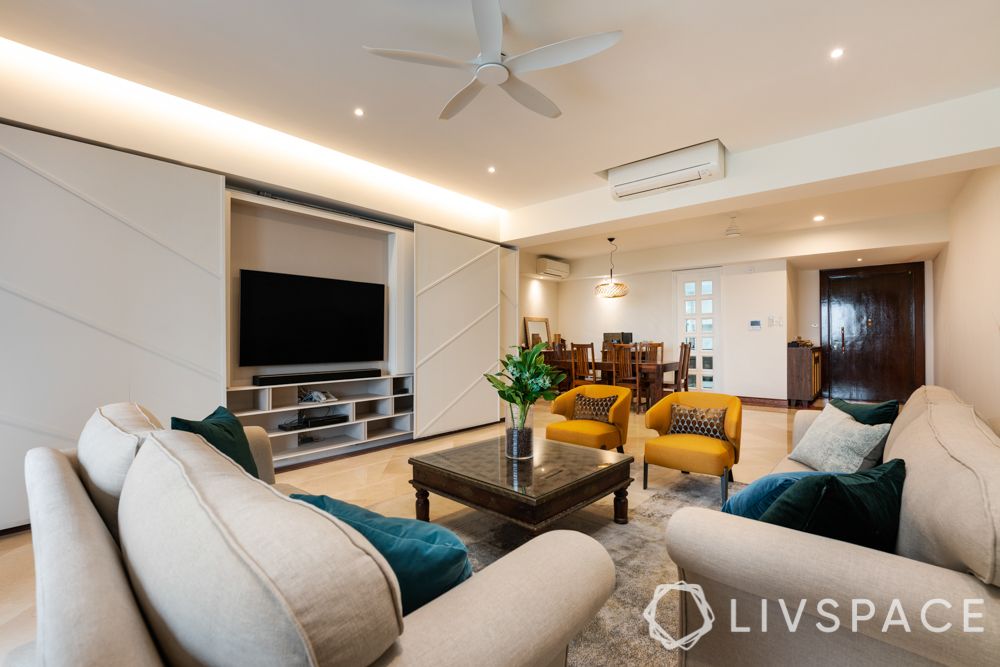 If you have brought a new condo or HDB BTO, your renovations will be more personal in nature. You can opt to add concealed storage or a hack a wall to create an open kitchen. It basically depends on your needs and aesthetics. Functional areas like kitchen and bathroom do not typically need renovation. In fact, bathrooms in new properties come with a warranty against leakages and waterproofing. Any renovation here will deem the warranty null and void.
Step 3: What is the size of your family and how does it impact renovation?
The size and nature of your family influences your condo or HDB renovation to a great extent because it has a determining effect on your lifestyle. For instance, if you have kids, you will need to childproof your home.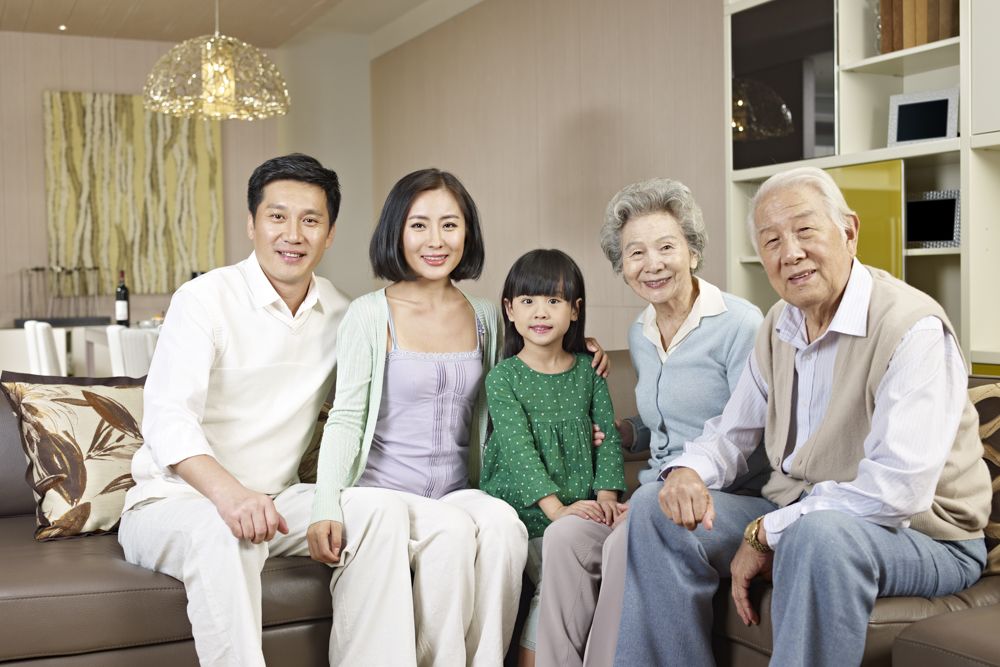 #1: Single
Mantra for interiors: Freedom to live exactly the way you want to. Your home needs to be personalised only as per your preferences.
Space planning tips:
You can turn spare bedrooms into hobby rooms
Instead of investing in a full-fledged kitchen, you could consider having a kitchenette or dry kitchen
Expert recommendation: Spend on what makes you happy; it could be a sound-proof screening room or a library.
#2: Couple
Mantra for interiors: Better together. Being a shared space, your home should blend in the tastes of both individuals.
Space planning tips:
Use of features like his and hers for wardrobe and bathroom design
Planning a family? Make provisions to accomodate a nursery or kid's room in the future
Expert recommendation: Decor-wise, you don't need to worry about keeping breakables out of reach just yet. So go ahead, seize the day, and experiment!
#3: New Parents With Growing Family
Mantra for interiors: An evolving space for a growing family
Space planning tips:
As busy new parents you are likely to have your hands full, so opt for easy-to-maintain interiors
Baby-proof the house with features like carpet tiles, latched doors, grilled balcony etc.
Leave empty spaces for the toddler(s) to move around. Later, as your child grows, these spaces can be used to install a study table and toy storage unit
Expert recommendation: Ensure that the kids' room has rounded edges, smooth handles, safety railings, soft close shutters and integrated/space-saving furniture that combines different functions like storage and display and can also be a desk and bed.
#4: Three-generation Family
Mantra for interiors: Storage, storage and more storage
Space planning tips:
Kitchens need to be designed to ensure that more than one person can cook at a time. Hence, U-shaped and island kitchen layouts are ideal. If space permits, attach a pantry to store groceries
A large living-and-dining room is required for family gatherings
Include safety provisions for elderly people like skid-proof flooring and handles in the bathroom
Expert recommendation: Choose darker colours and easy-to-maintain finishes.
#5: Happily Retired
Mantra for interiors: Comfort, Comfort and more comfort
Space planning tips:
Storage units like wardrobes and cabinets in kitchens need to be designed keep the age of the residents in mind; for instance, drawers should be preferred over base cabinets in the kitchen
Safety provisions for elderly people like skid-proof flooring and handle bars in the bathroom are essential
Wheelchair accessibility in the house—as well as the property—is an added advantage
Expert recommendation: If you already have good furniture, refurbish the pieces and work it into your home decor.
Step 4: Do you have a style in mind for the renovation?
In between spending a huge amount of money to buy a house and doing essential renovations, the style aspect of your home usually takes a backseat. But you are subscribing to some design style or the other even if you aren't aware of it! Might as well know what style you are using and how to do it right.
#1: Contemporary
The truth is contemporary is not a style but a movement; it includes everything, which could mean elements from different styles, that are in fashion right now. So what is contemporary will not be so in 10 years. As of now, contemporary is a style that is known by clean and straight lines as well as neutral colour palettes with occasional pops of fresh shades. Functionality is the key to contemporary interiors.
#2: Industrial
This style is categorised by rugged and raw finishes like cement screed and dark brooding colours. You will see naked bulbs in black metal frames very often in this style. Singaporean love this style because it is very affordable and gives an edge to their homes.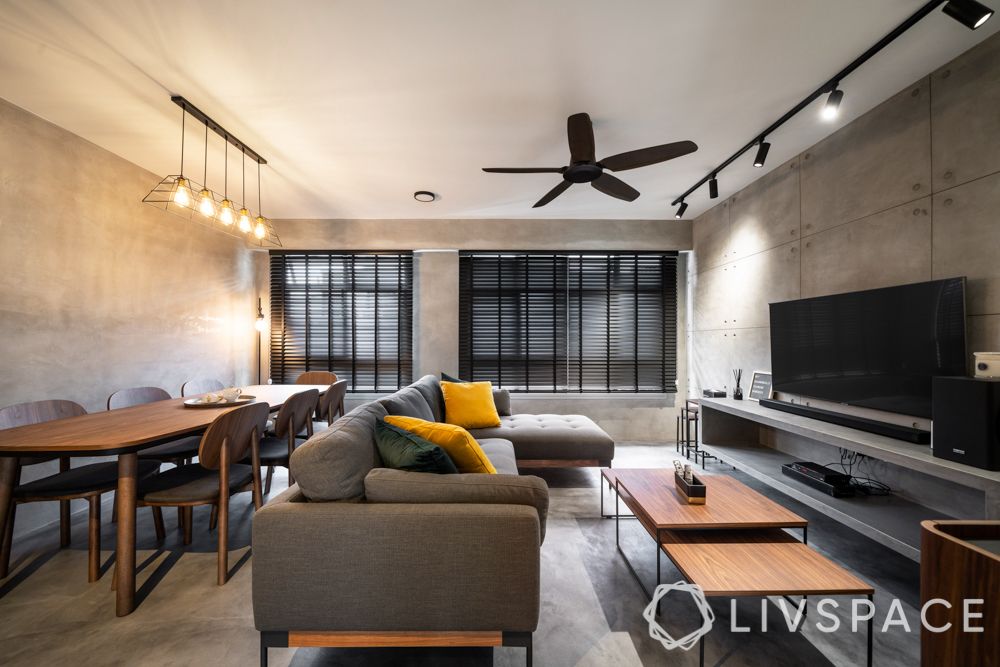 #3: Scandinavian
Its USPs include use of warm wooden finishes, natural fabrics, letting in as much natural light as possible and a thrust on textured or patterned accents. Singaporeans use this style in their own way with linens, wall-to-wall windows and laminate finishes.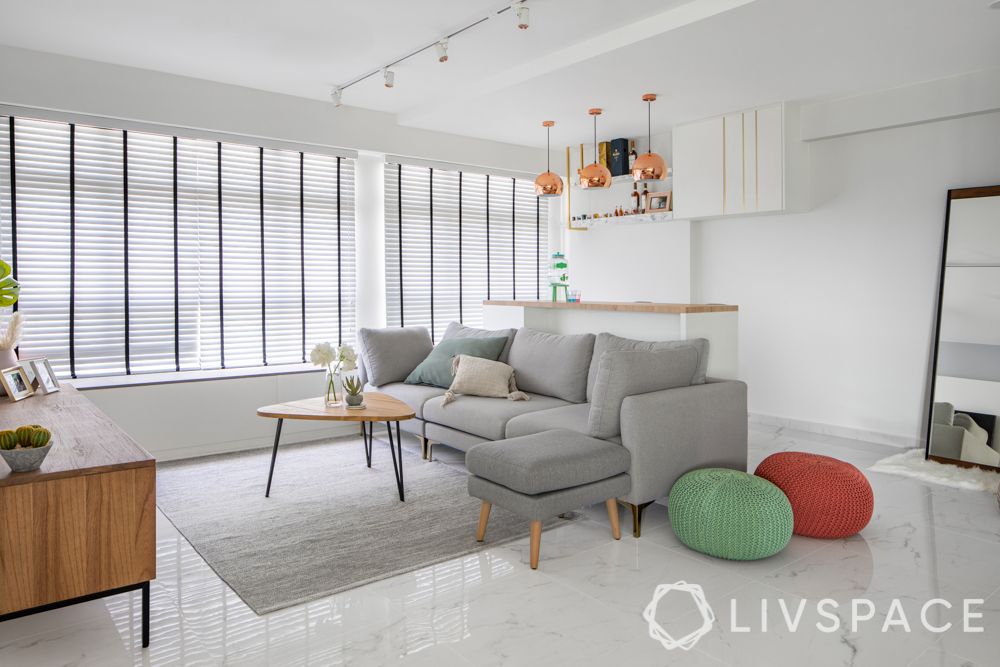 #4: Minimal
As the name suggests, this style is a reductive one that strips design down to the bare essentials. So basically, you buy or keep only those things that you need. Typically, this design style has slim furniture in neutral colours as well as clean layouts. There is a lot of emphasis on neatness and avoiding clutter, which makes this style easy to maintain.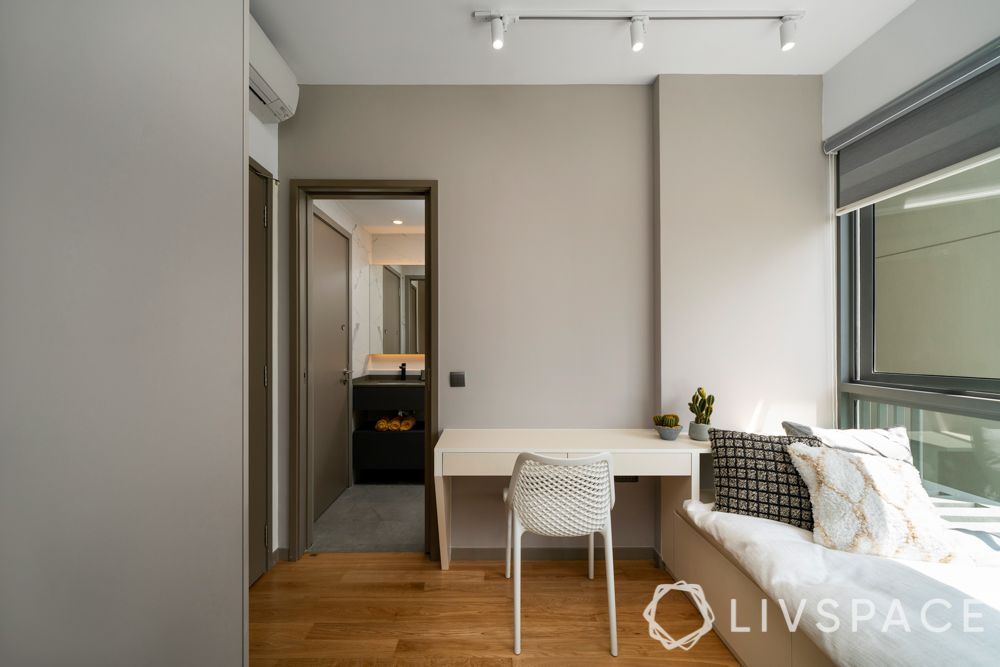 Eclectic
This style is essentially a mishmash of all other styles; it is a collection of elements from different styles that are deliberately mismatched together. If you have a lot of collectibles or curios from your travels, this is the style for you. Also, if you love antiques or have heirloom furniture or artefacts that you like to display, eclectic is the way to go. There are no rules in this style, making it easy to try on your own.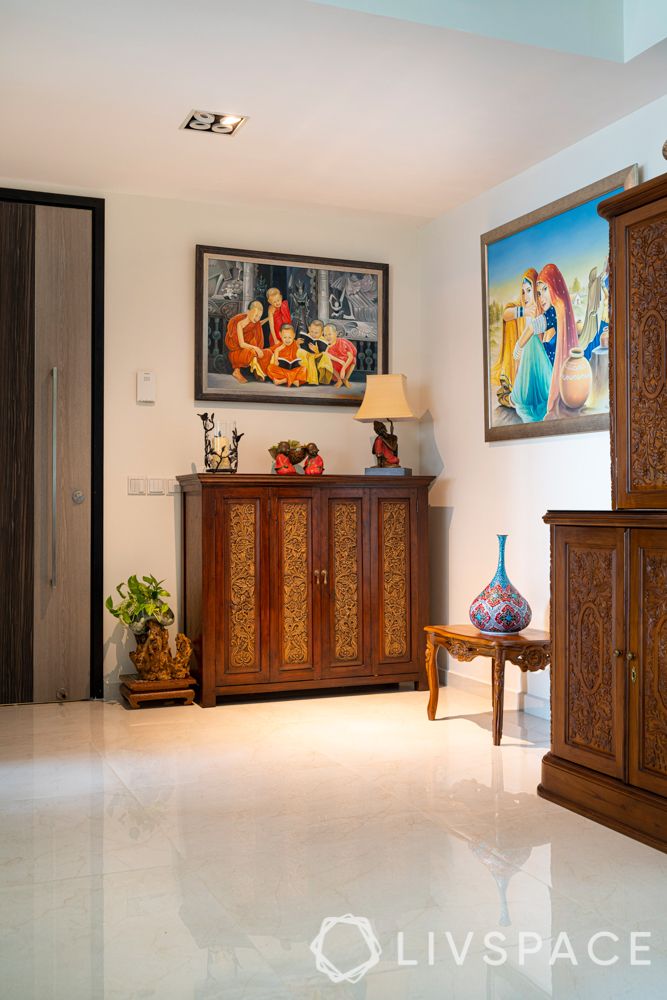 Let's give a practical lesson in design styles. See how we applied 5 different styles to the same living room.
Step 5: How should you design the functional areas of your home, namely kitchen and bathroom?
To get the best possible outcome from your kitchen and bathroom renovation, answer the following questions appropriately.
Kitchen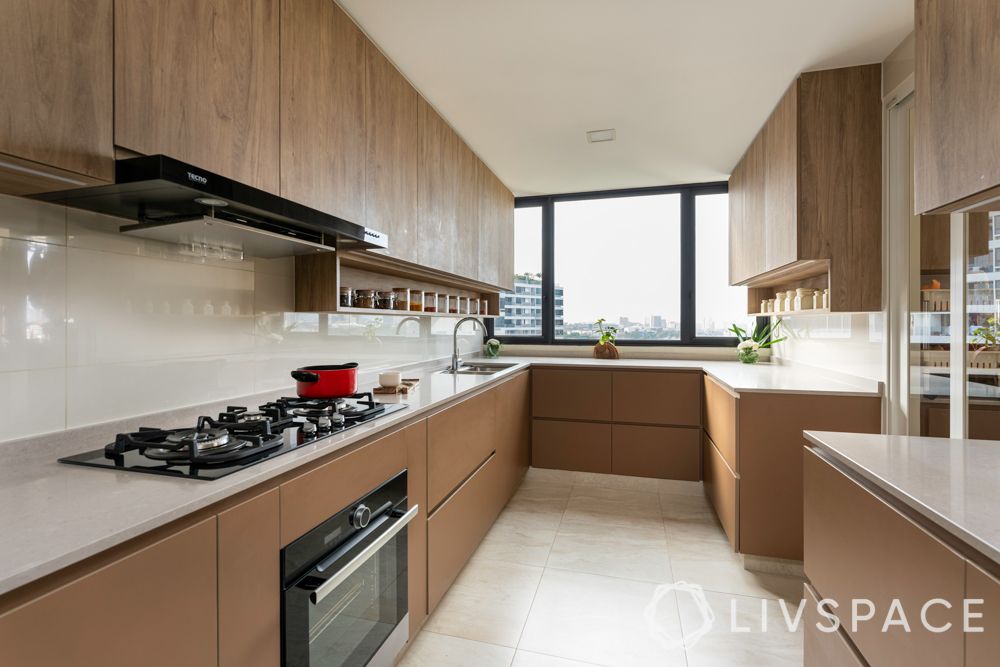 #1: Who is going to use the kitchen?
Option 1: I will use the kitchen
1. Convenience and easy accessibility of items should be your main priorities.
2. Opt for top-lift cabinets, slimline handles, a tambour unit and wicker baskets.
3. When deciding on the look and colour scheme, understand the maintenance required for each material and finish.
Option 2: I don't cook much
Opt for a kitchenette or dry kitchen.
#2: What are your storage requirements?
Option1: Basic Storage
You don't need tall units or lofts.
You might be able to make do with options such as 600mm (height) wall units and a limited number of drawers.
Option 2: Lots of Storage
You need to stock up on storage with 720mm (height) wall units, tall units, lots of drawers and loft cabinets.
#3: What's the age of those frequenting the kitchen?
Option 1: Young people
Unless you have a specific health concern, you don't need to be restricted in your choice of modular fittings.
Option 2: Elderly people
You need to minimise the need to bend or reach out for items frequently.
Opt for fewer top-lift cabinets and more drawers.
Place the oven at an appropriate height and add an extendable table to get more counter space.
You can explore more about kitchen cabinets here.
Bathroom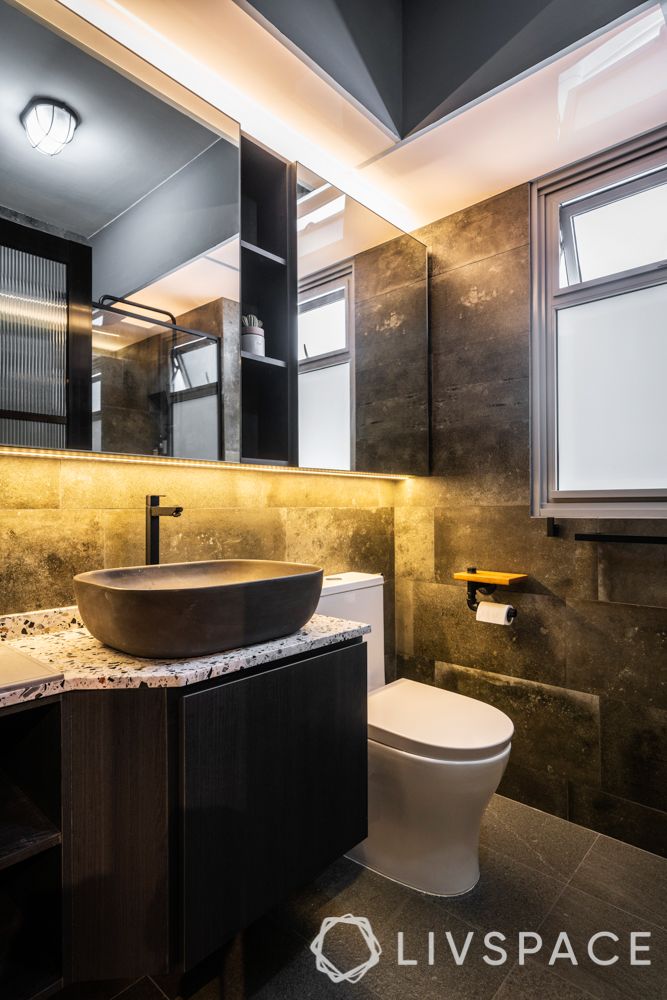 #1: I have a small bathroom. How can I make it look bigger?
Use only neutral colours to open up the space.
Ensure that every corner of the bathroom is well-lit.
Add mirrors to diffuse the light.
Install reflective tiles to create an illusion of space.
Use glass partitions to demarcate the wet and dry zones, this brings in a sense of transparency.
Opt for a floating vanity counter to give a visually lighter look to the space.
#2: How can I add storage in my bathroom?
If you have a compact bathroom, a vanity unit that contains a basin and cupboard and a wall-hung cabinet that has a mirrored front are probably all you can manage. Use water-resistant finishes such as PVC or acrylic for the cabinets.
If you have a large bathroom, you can probably even install a wardrobe in it.
All storage units in the bathroom must be floating ones so that their base doesn't absorb moisture.
Never place a storage unit, especially an open one, in the vicinity of the shower because the items stored in it will get wet.
Open ladder cabinets are the latest trend when it comes to bathroom storage.
Here's a complete guide to bathroom renovation.
Step 6: How to pick the right flooring for your home?
#1: Tell us about your family?
Option 1: We have kids
To reduce the chances of fall injuries, opt for laminate flooring.
You can also opt for rubber or PVC flooring.
Steer clear of stone or tiles.
Option 2: We have elderly people
Opt for carpet tiles for the house
Install anti-skid tiles for the high-moisture zones like bathroom and kitchen
Option 3: We have pets
You will need a durable flooring material, like vinyl, with superior wear-and-tear resistance.
#2: Where will your floor be installed?
Option 1: Kitchen, bathroom or balconies (high moisture areas)
You need to choose a waterproof option like PVC, linoleum or stone.
Wooden and laminate flooring are absolute no-nos
Option 2: Rest of the house
You are not restricted in your choice of flooring material.
#3: Do you want to demolish your existing flooring?
Option 1: Yes
You are not restricted in your choice of flooring material.
Option 2: No
Vinyl tiles
Carpet tiles
Stone composite polymers
Laminate
Explore all your flooring options here.
Step 7: How to get the lighting in your home right?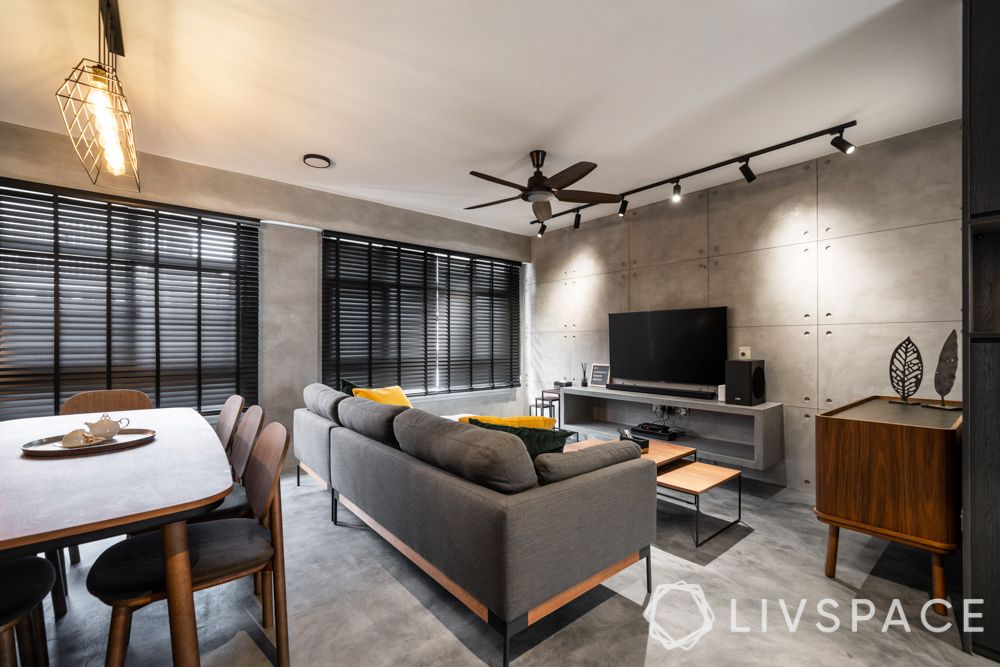 #1: Ambient
Ambient lighting, which is typically the main source of light in the room, softly illuminates the entire room without creating shadows.
#2: Task
This type of focussed and high-intensity lighting provides additional light to enhance visibility to carry out a specific job. It is typically required in functional spaces like the kitchen, bathroom and workstation
#3: Accent
The purpose of an accent light is to draw out your attention. So, as the name suggests, this type of lighting is employed to highlight decor elements like accessories and architectural details.
You can explore more in this ultimate guide to lighting.
Step 8: What are the different types of feature walls you can opt for?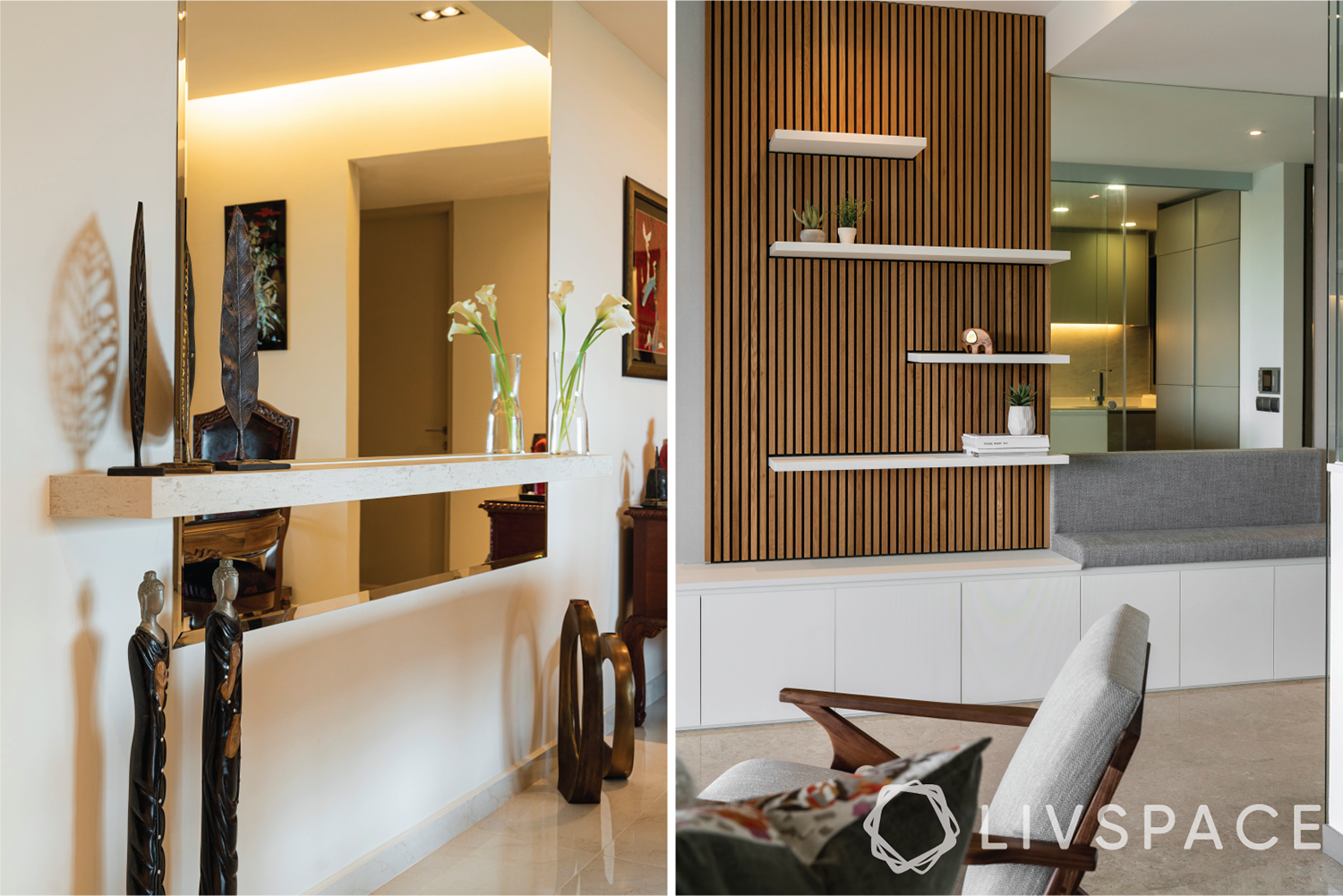 Fluted Wall: Fluted panels with all the texture help demarcate spaces while making a statement.
Cement Screed Wall: Typically, used in industrial decor, this raw finish is a great way to cover longer walls and areas.
Laminate with carpentry details: Laminate is affordable and has plenty of variety to create any kind of feature wall you wish for.
Mirror panels: If you have a compact space, mirror panels help to make it look larger and they also reflect light to make the room brighter.
Paint and texture: A feature wall covered in textured paint is the best way to add a pop of colour to your room.
Stone cladding: Like it elegant? Opt for smooth and seamless stone cladded walls.
Step 9: How to avoid common mistakes made by first-time homeowners?
Demarcating large areas or long walls for accents
Not investing enough in durable renovation
If you are not renovating plumbing for resale properties
Not opting for a professional designer
Check out this contemporary condo:
Learn about more design mistakes for renovation so that you can avoid them.
Send in your thoughts and suggestions at editor.sg@livspace.com.