Paint and wallpaper are two of the most commonly known wall decor elements when it comes to dressing our walls. While they work well in our bedrooms and living rooms, they might not offer as much function in other spaces. Bathrooms and kitchens especially, benefit from wall and floor coverings that lend both form and function. By using different types of tiles for your walls and floors, you can bring these spaces to the top of their game.
What's more, some types of tiles can even be used on the walls and floors in your bathrooms and kitchens. So, if you'd like to know what these different types of tiles and their prices are, along with what's trending, this handy guide is for you!
What Kinds of Tiles Do You Need in Kitchens and Bathrooms?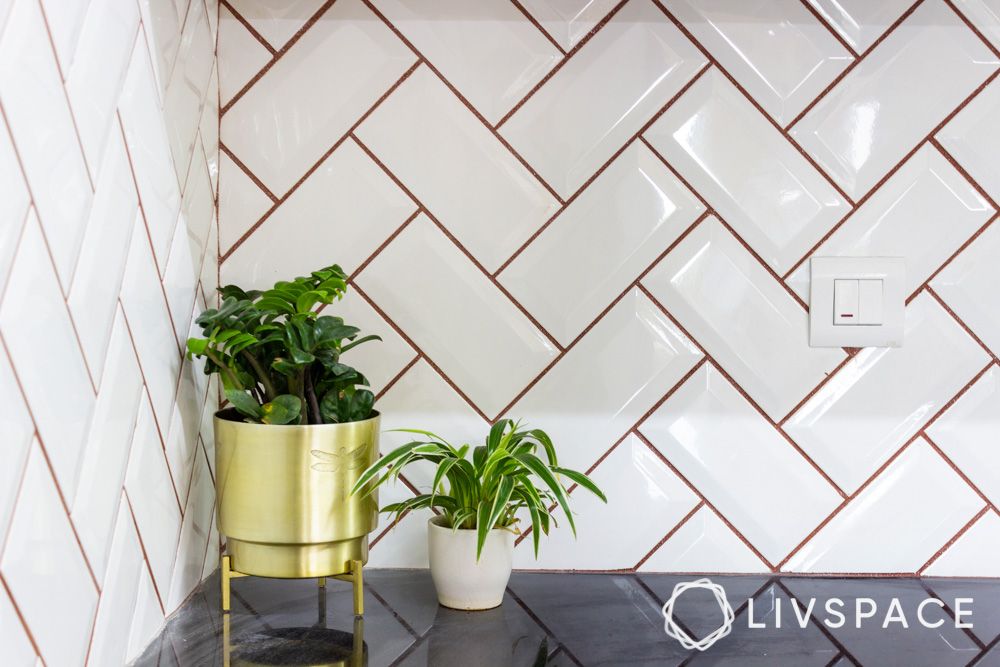 There are several kinds of tiles available in the market that can be used across your home. However, not all of them might be a great fit for every room. Areas like the bathroom and kitchen tend to witness a higher amount of use, while also being exposed to wet areas. In such cases, the types of tiles that can withstand water damage are ideal, as opposed to hardwood flooring.
Similarly, the types of tiles you use also need to be low-maintenance and durable since these areas observe a high level of traffic. Therefore, the kinds of tiles you need in your kitchens and bathrooms need to be sturdy, easy to clean, and water-resistant for best results. Some great examples of such tiles are homogenous, ceramic, and porcelain tiles.
Tile Designs and Formats That Are Trending:
Apart from the basic types of tiles you see in every home, how about looking at some stylistic options too? Here are a few types of tiles that are hot in the market:
1. Kitkat Tiles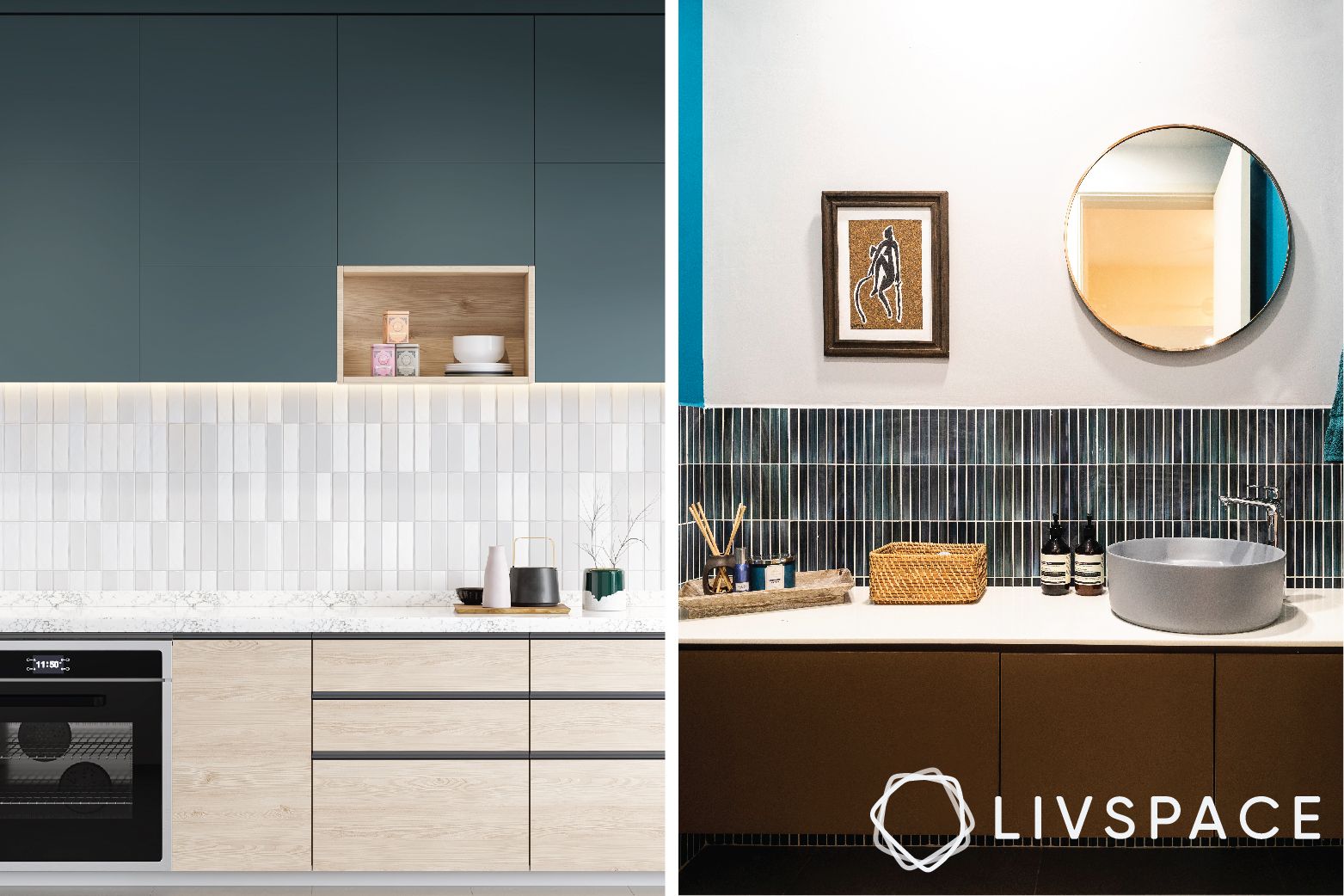 Much like the light, chocolate wafers, Kitkat tiles too carry the same visual appearance. They are long and wafer-shaped, almost like fingers. For the same reason, they are also known as finger tiles or finger mosaic tiles.
You can use these types of tiles in solid colours, contrasted by paint and furniture, or you can tile your entire wall in a single shade. No matter the method, it's sure to make a trendy statement in your home.
2. Subway Tiles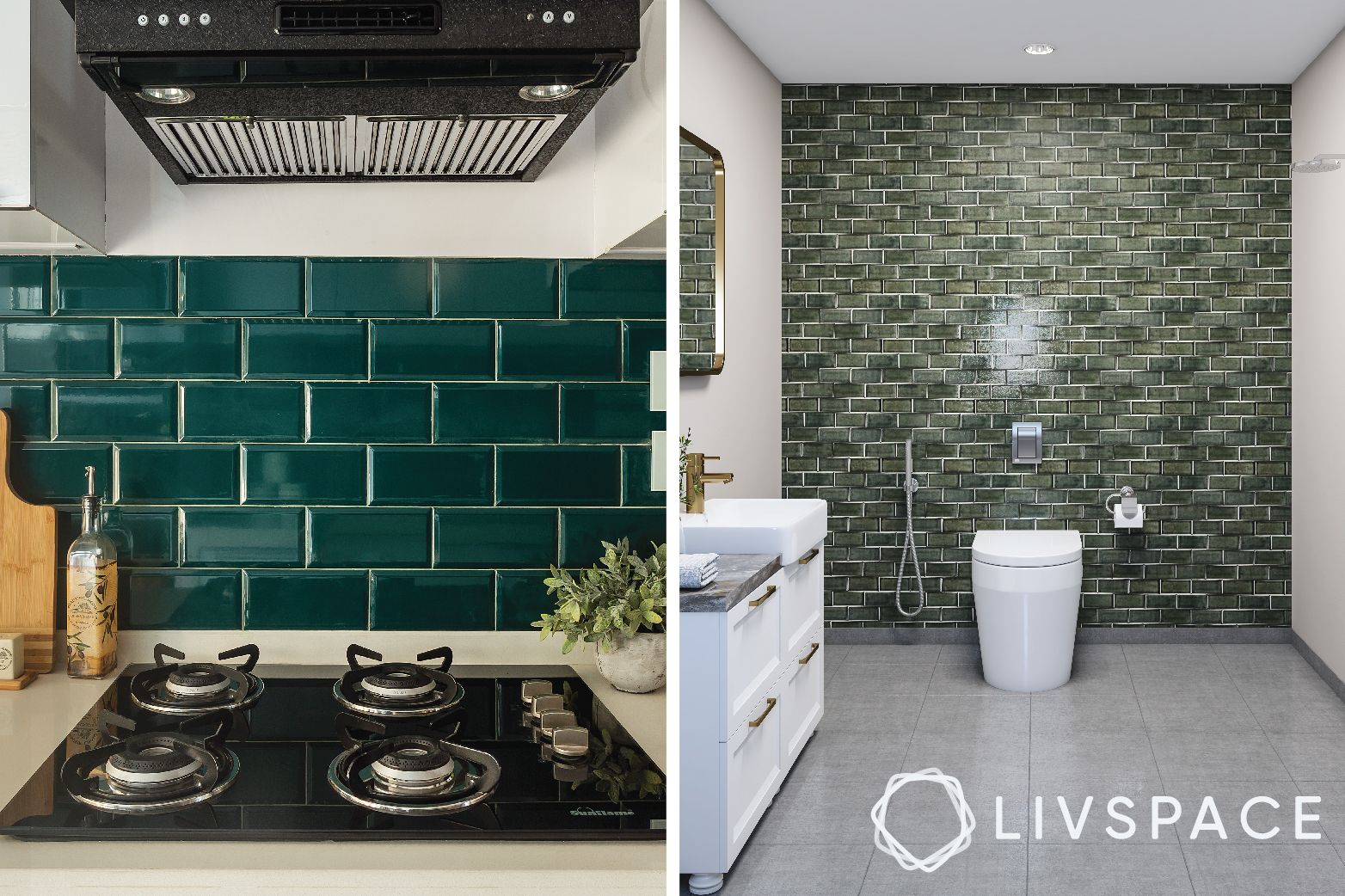 Subway tiles are probably one of the more well-known types of tiles in most Singaporean homes. Due to the fact that they are easy to maintain, subway tiles are often embraced as an option for backsplashes and bathroom walls. What's more, you can align them in a variety of patterns and shapes to create your preferred look.
3. Scallop/Mermaid Tiles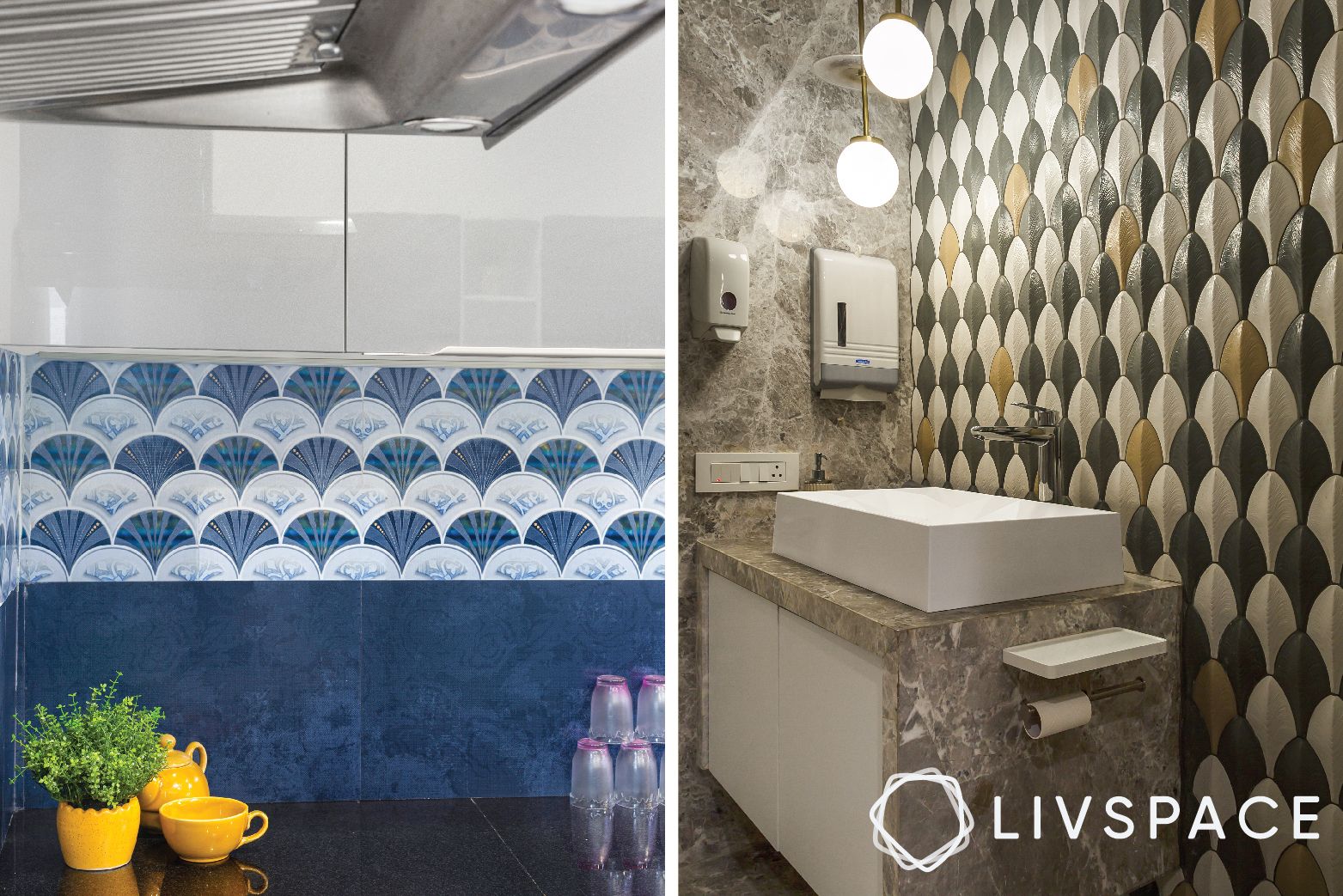 Add some 3D textures to your bathrooms and kitchens with the clever use of mermaid tiles. If you look closely, you'll notice that these types of tiles look similar to fish scales or mermaid tails. The scalloped design of the tiles can lend a scale-like texture to your walls, adding visual interest and depth.
4. Peranakan Tiles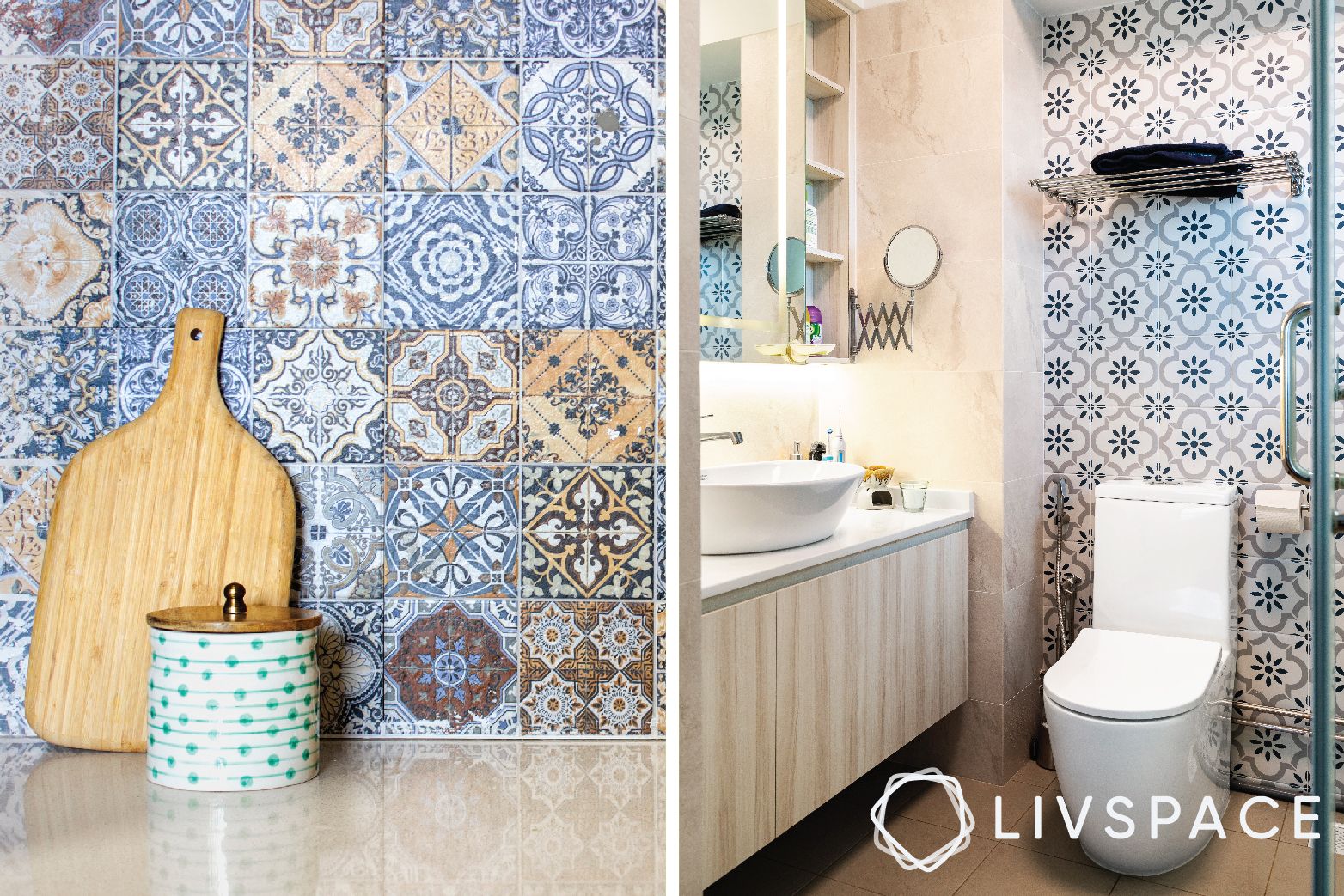 Specifically used as decorative elements, peranakan tiles are a sight for sore eyes. The rich cultural history of these tiles lend a feeling of nostalgia to your home. The mosaic-style look works especially well in kitchen backsplashes and bathroom feature walls. Moreover, you can also use these types of tiles in courtyards, walkways, and other areas in need of some decorative flair.
5. Terrazzo Tiles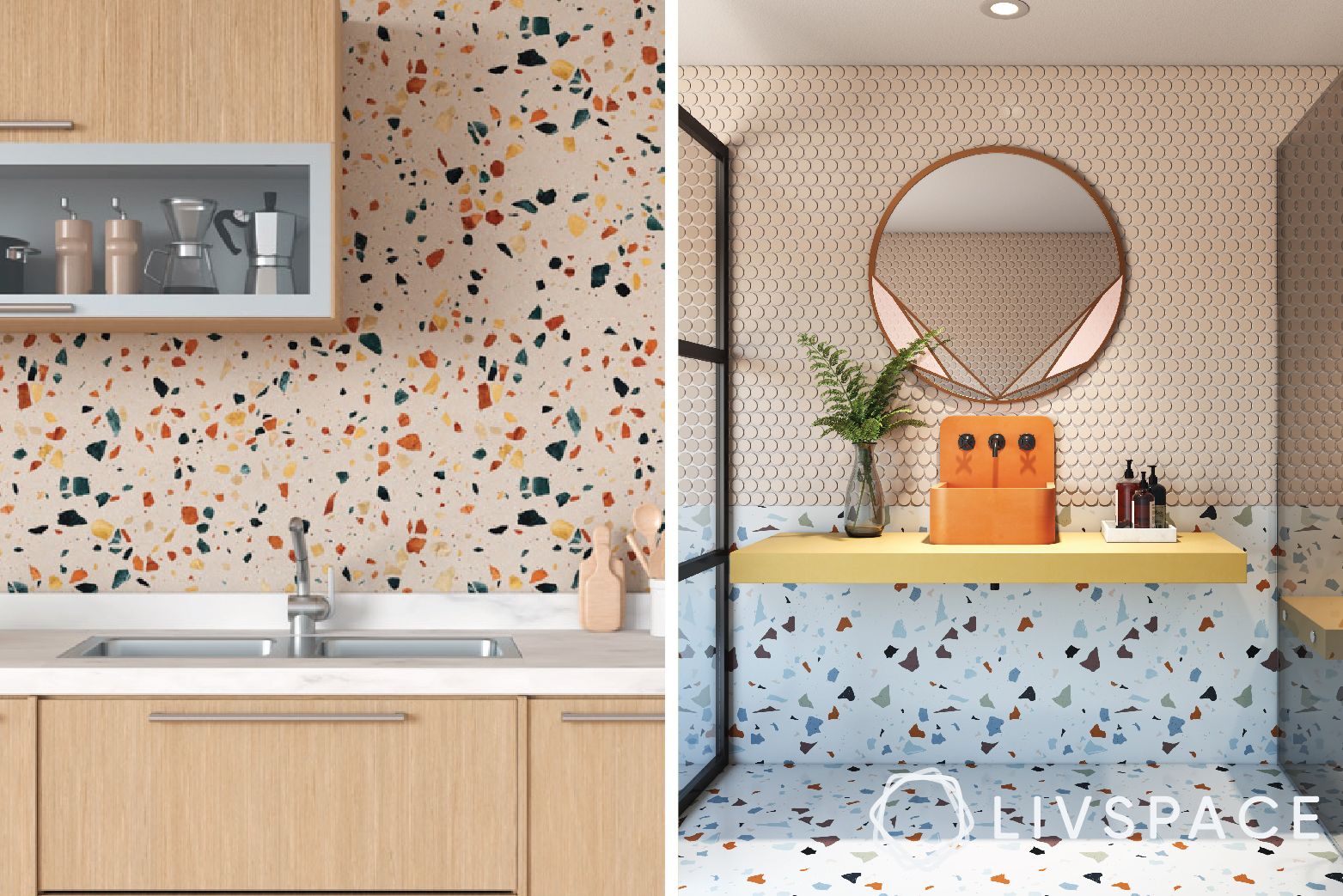 Whether you use it as flooring or in your backsplash and countertops, this fun tile adds a touch of vibrancy to your home. Like peranakan tiles, terrazzo tiles also stir up nostalgic memories since these types of tiles have had their fair share of the limelight. As most trends are cyclic, terrazzo too makes a comeback with its use in retro-themed homes.
Also Read: Attractive Wall and Floor Tiles Are All You Need for Your Bathroom Makeover
6. Picket Tiles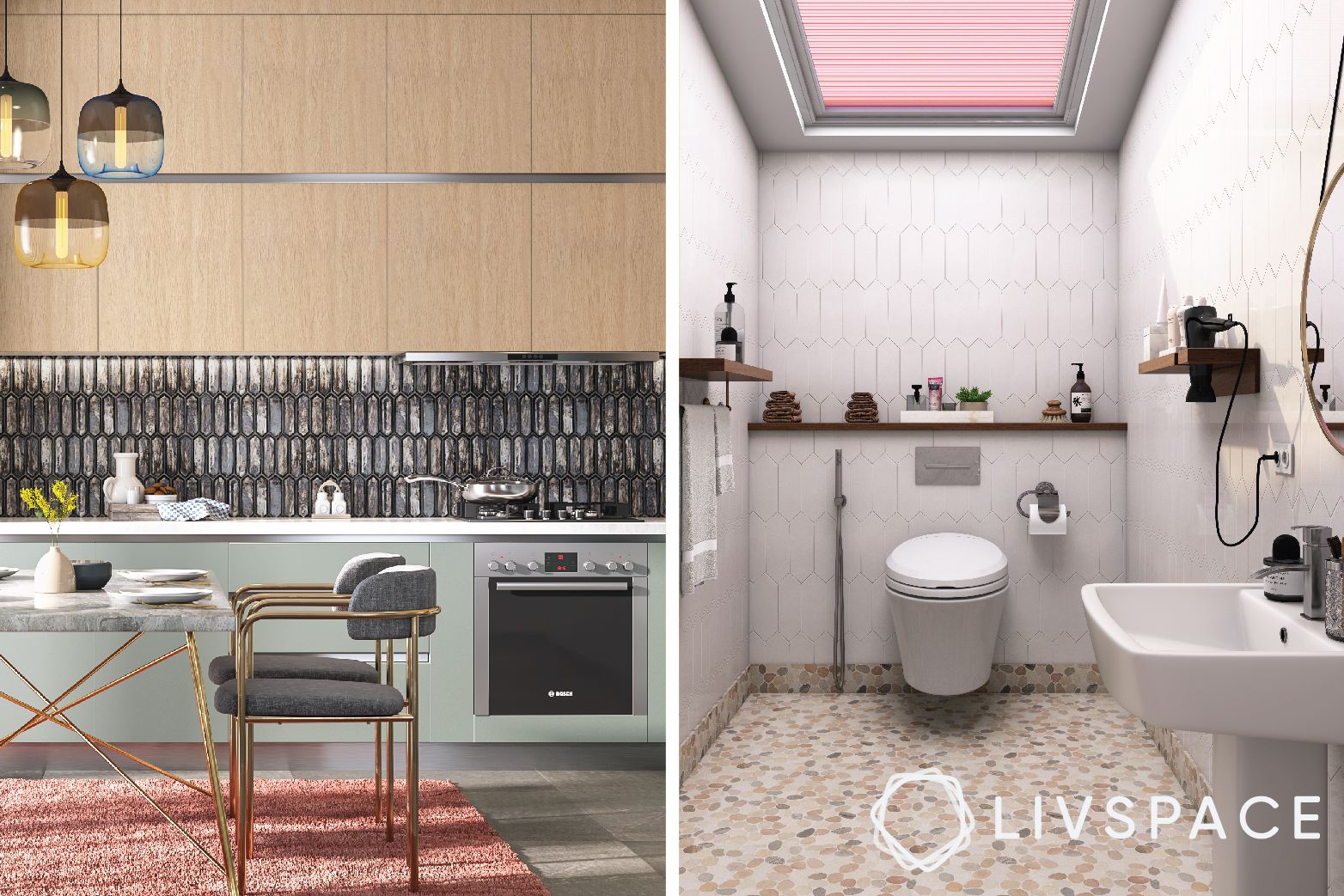 If you've ever dreamed about living in a white picket fence home in the suburbs, you'd already know it's near impossible to do so in the city. However, there are a few types of tiles that can recreate that feeling even in urban homes. Use picket tiles —named due to their resemblance to picket fences— in your kitchens and bathrooms to get the look.
7. Zellige Tiles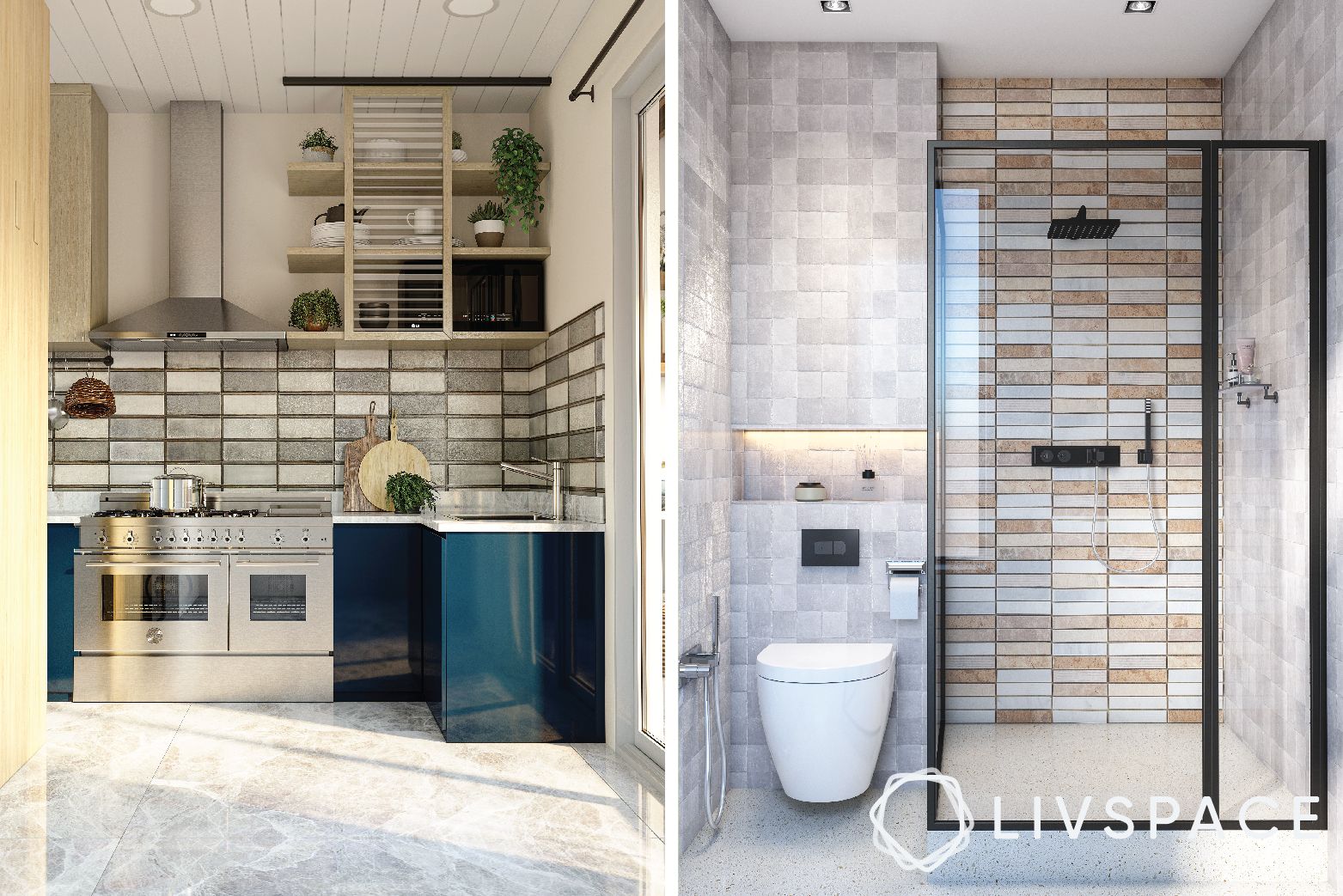 If you're big on cottagecore-style interiors, you don't want to miss out on these types of tiles. Zellige tiles are handcrafted, giving each tile a unique personality and style of its own. They are available in a mix of colours and patterns to create a cohesive look. However, they can be relatively expensive since they are handmade.
Different Types of Tiles and Their Prices
| | |
| --- | --- |
| Different Types of Tiles Design | Estimated Price Per Sq. Ft. |
| Homogeneous tiles | S$2 and above |
| Ceramic tiles | S$1 and above |
| Marble tiles | ~S$5 and above |
| Slate tiles | S$2 and above |
| Vinyl tiles/sheets | S$4 to S$5 and above |
| Wooden tiles (flooring) | S$30 and above |
Please note that these prices are estimates from the market and do not include installation fees, and they can vary as per thickness/size of the tiles
These are a few of the different types of tiles with price estimates that can be found in the market. Prices for other materials like glass, granite, quartz, and terrazzo vary based on the size, thickness, and design of the tiles. The average thickness of most of these tiles rests between 3 mm to 10 mm.
However, the same can vary for some types of tiles such as glass, mosaic, and marble to name a few. Consult a designer to know more about these different types of tiles with price estimates. Better yet, they can also give you a ballpark figure for labour costs and other tiling work.
What Types of Tiles Can Be Used at Home, and Where?
You're probably familiar with the various types of tiles that lay the foundation for most of our homes. However, did you know that they can also be used in multiple rooms at home? Here's a list of the different types of tiles design that can work well for both floors and walls.
1. Homogeneous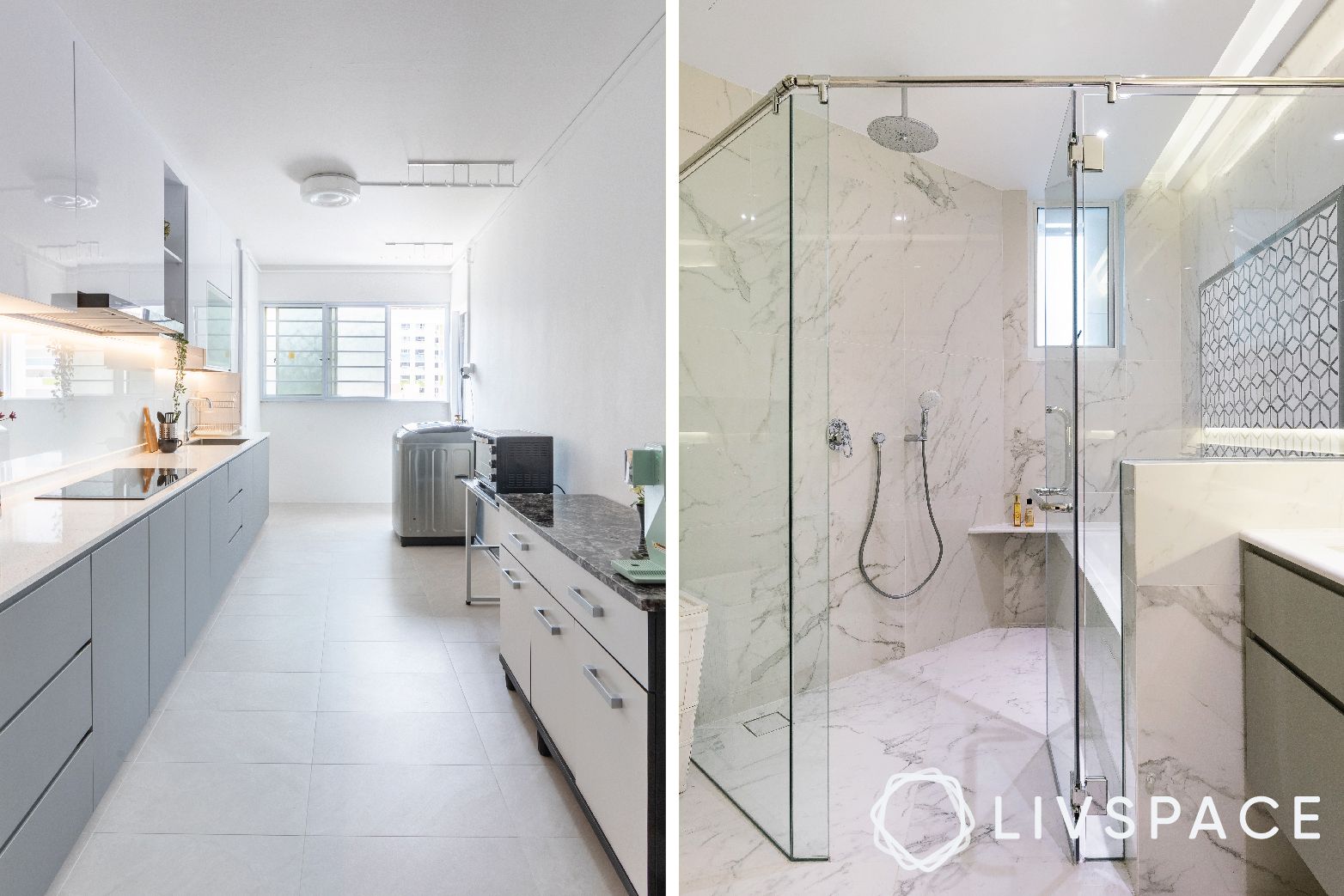 You might be wondering which types of bathroom tiles are the most durable. If the best type of tile for bathroom floors is what you seek, homogeneous tiles can be a godsend! Durable, water-resistant, and slip-resistant too, these types of tiles make their way into the must-have list for bathrooms.
What's more, these full-bodied tiles are available in a wide range of patterns and designs that can work in any style of interiors. For high traffic areas such as the kitchen and bathroom, these types of tiles will surely do you justice.
Where to Use Homogeneous Tiles
Bathroom and kitchen floors
High traffic areas
Outdoor flooring
Also Read: Homogeneous Tiles Vs Vinyl Flooring: 7 Things to Consider Before You Invest
2. Ceramic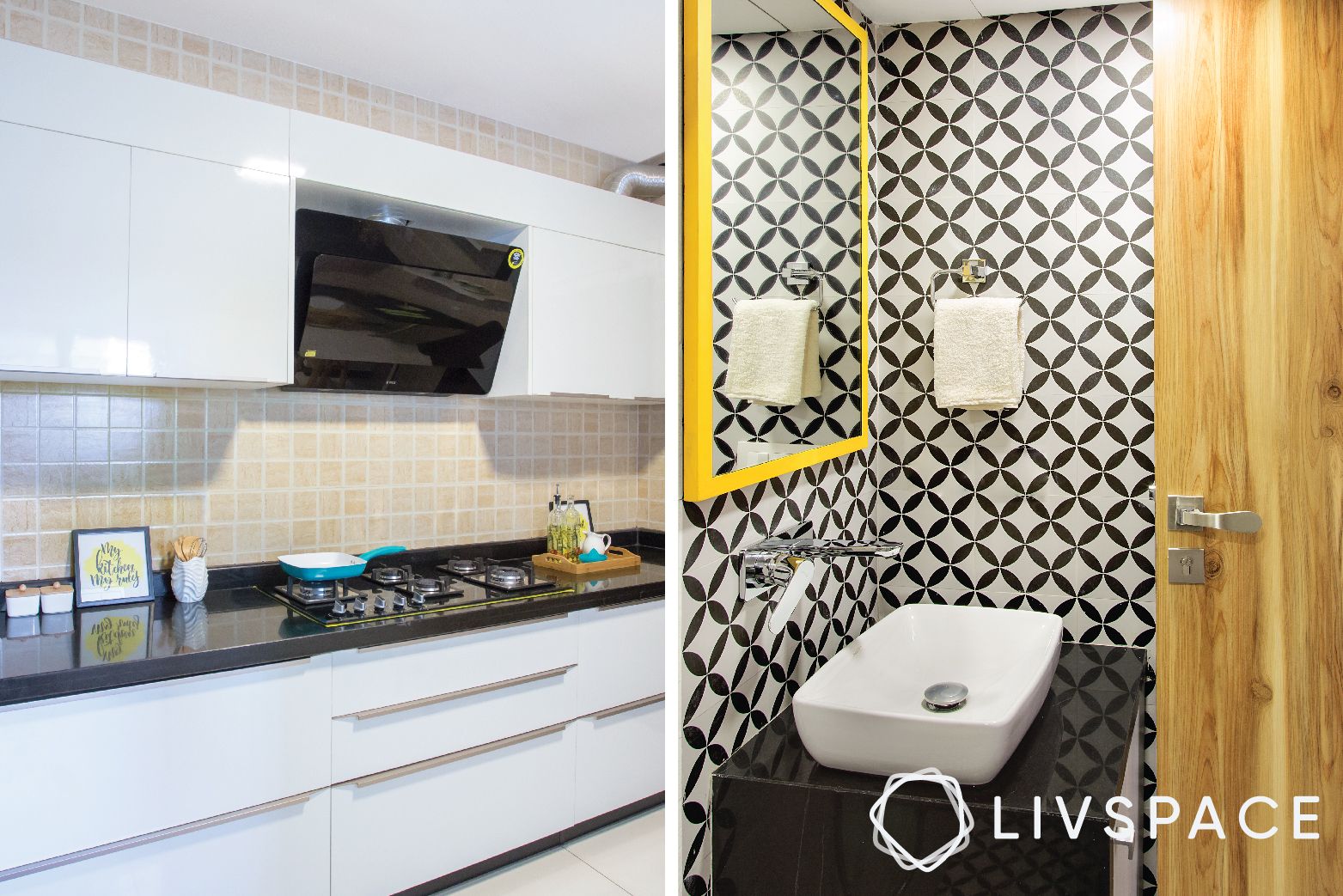 If you're looking for the types of kitchen tiles that offer hypoallergenic properties, ceramic is the option for you. Since these types of tiles are typically glazed, they are resistant to dust and allergens that settle on them. Ceramic tiles can easily be cleaned by wiping them down regularly.
One thing to note here is that the size of the tiles can lead to the presence of more grout joints. Smaller tiles might have more grout joints than larger tiles, increasing the possibility of dirt collecting in the joints.
Where to Use Ceramic Tiles
Floors and walls of kitchen and bathrooms
Worktops/backsplash
Balcony floors
Bedrooms
3. Glass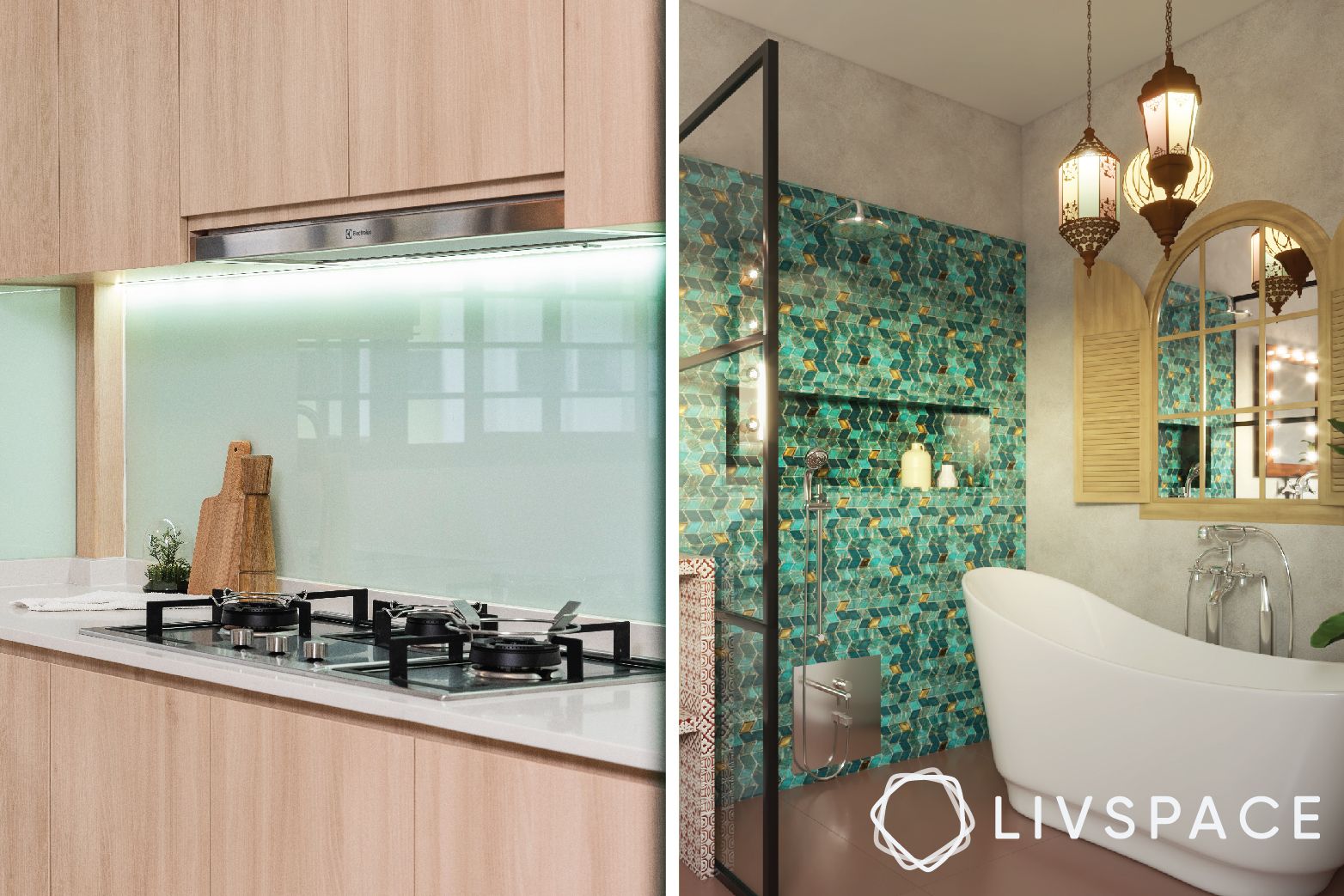 Do you love the look of jewel-toned interiors? If yes, glass tile work is something you don't want to skip out on. Though these types of tiles tend to be on the expensive side, they make up for it in terms of maintenance. Owing to their glassy surface, glass tiles and panels are easy to clean and care for.
However, these types of tiles can also be hard to replace in the event of damage. In fact, if you're looking for durable types of floor tile, glass is not recommended as flooring material. It can still be used in the shower area if the tile design offers non-slip properties.
Where to Use Glass Tiles
Kitchen backsplash
Bathroom shower area
Bathroom feature wall
4. Quartz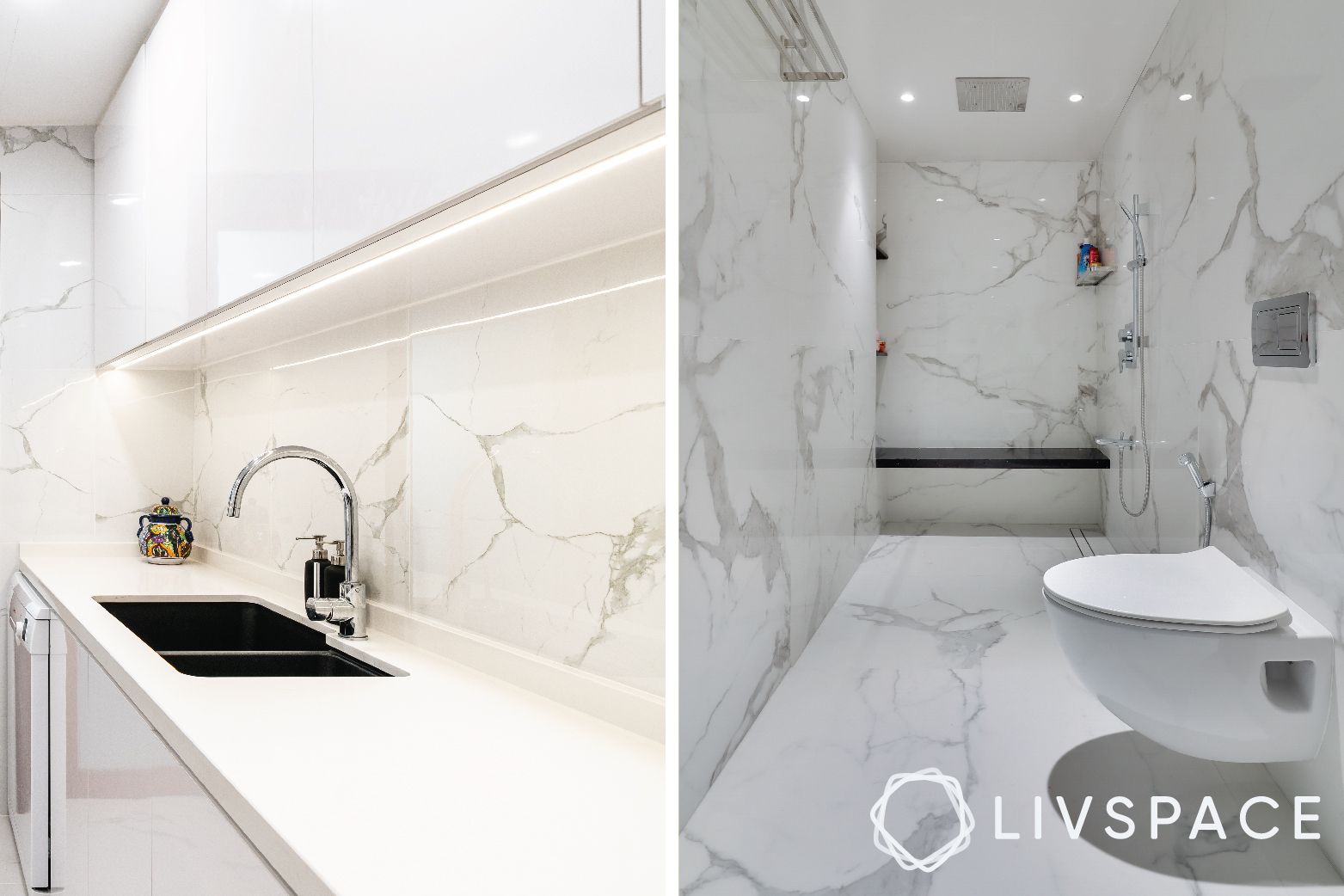 Among the types of floor tile designs, engineered quartz is probably the most used as a dupe for marble interiors. This is also largely due to the fact that quartz is priced lower than marble tiles, making it an attractive option. Types of tiles such as quartz can be used on your floors as well as your walls to strengthen the overall style quotient of your space.
If you're looking for durable types of wall tiles that can withstand wear and tear, consider using quartz for your backsplash and countertop. Moreover, it is also heat-resistant making it a great choice for kitchens.
Where to Use Quartz Tiles
Kitchen floor and backsplash
Countertop in kitchens and bathrooms
Bathroom floor and walls
5. Granite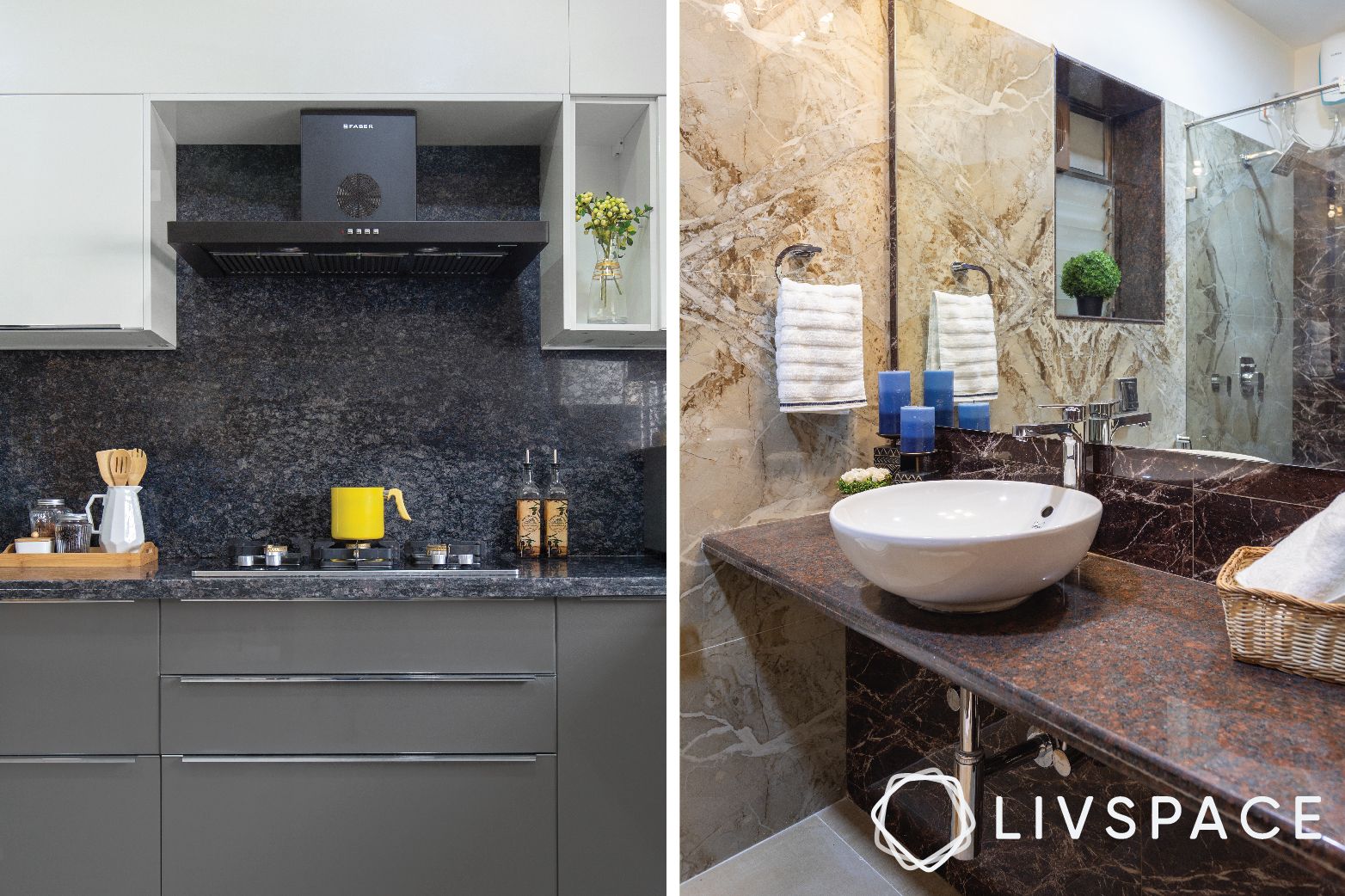 Granite is one of the types of kitchen tiles that are commonly used in most homes. They lend a sophisticated stone-look to the space without compromising functionality. Not only do they look great, they are also heat-, stain-, and water-resistant. The properties these types of tiles offer enhance the overall durability of your bathroom and kitchen.
Where to Use Granite Tiles
Kitchen and bathroom countertops
Flooring for kitchens and bathrooms
Walls/backsplash
6. Wood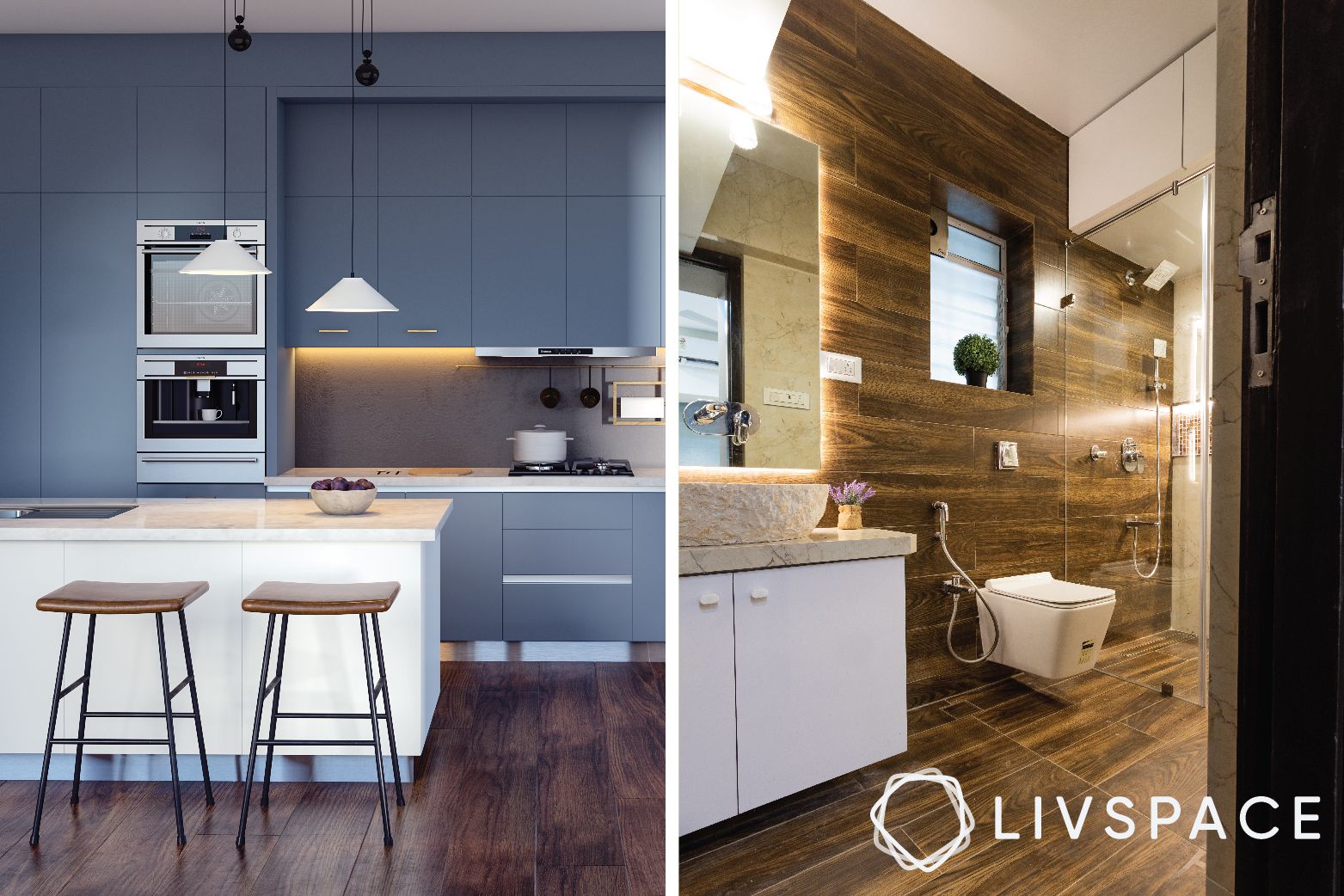 Wood might not be your first choice among the many types of bathroom tiles since it is prone to water damage. But, did you know that there are waterproof types of tiles available in wood too? Depending on the strain of wood used, some wooden planks can offer water-resistant properties. This is especially beneficial if you're keen on using wooden tiles in the bathroom.
As for kitchens, stick to only using wooden types of tiles as flooring. Since wood is not as resistant to scratches, staining, and heat as other materials, it's best to avoid using it on the walls of your kitchen/backsplash. Instead, you can consider using a wooden worktop on your kitchen island or dry zones.
Where to Use Wooden Tiles
Flooring for kitchens and bathrooms
Bathroom walls for dry areas
Vanity or kitchen island countertop/finishing
Also Read: 5 Brilliant Toilet Tiles and Everything You Need to Know About Them
7. Terracotta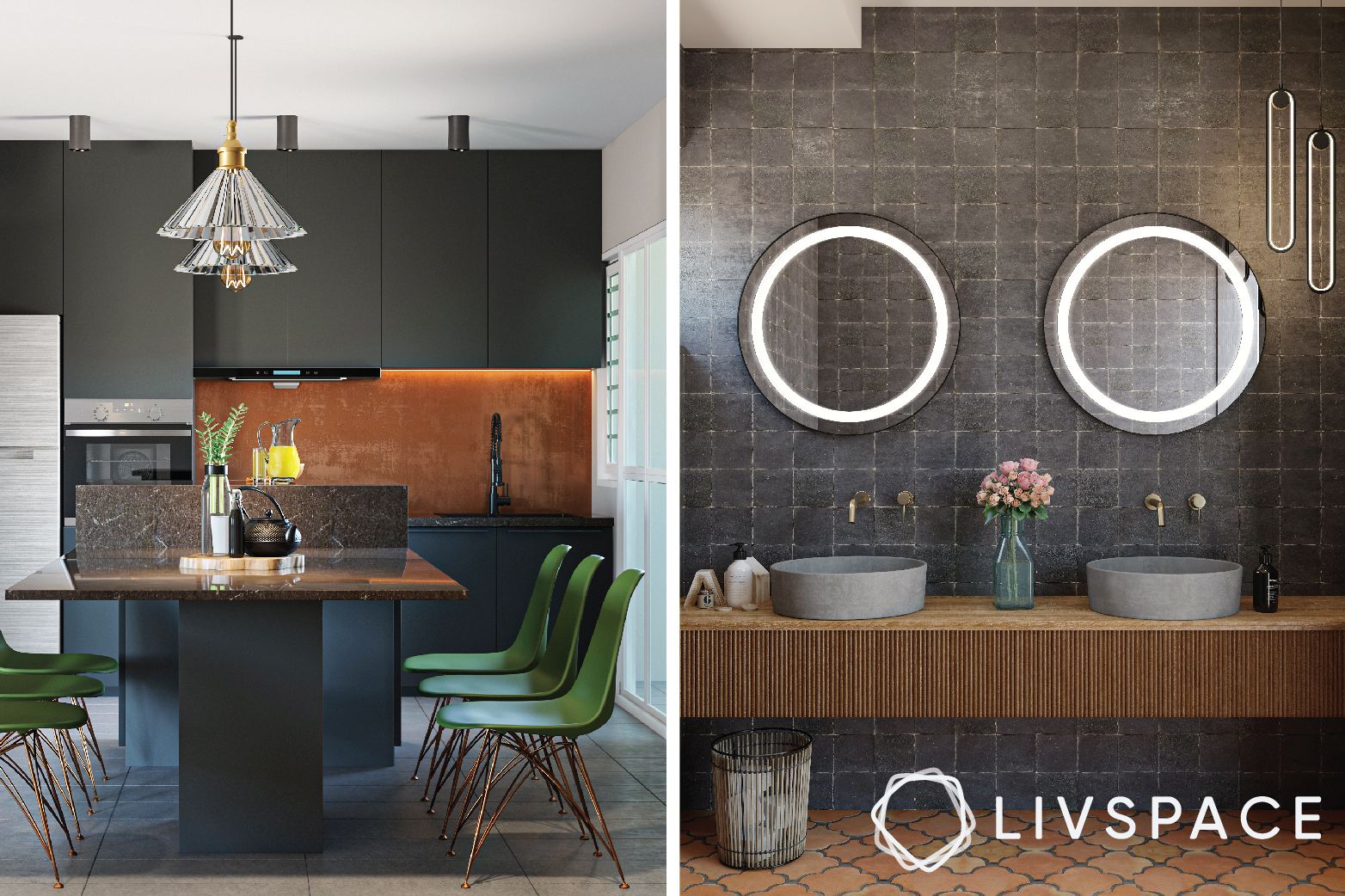 What better way to indulge in a bit of the rustic aesthetic than with terracotta tiles. These reddish-brown types of tiles can easily amplify the look of your space, owing to the colour it lends. Similarly, it brings a homely, farmhouse feel to the room while adding durability as one of its main functions. Play up the rest of your interiors with sleek fittings and decor to balance the look between rustic and modern.
Where to Use Terracotta Tiles
Kitchen and bathroom floors
Wall accents
Outdoor patio
8. Marble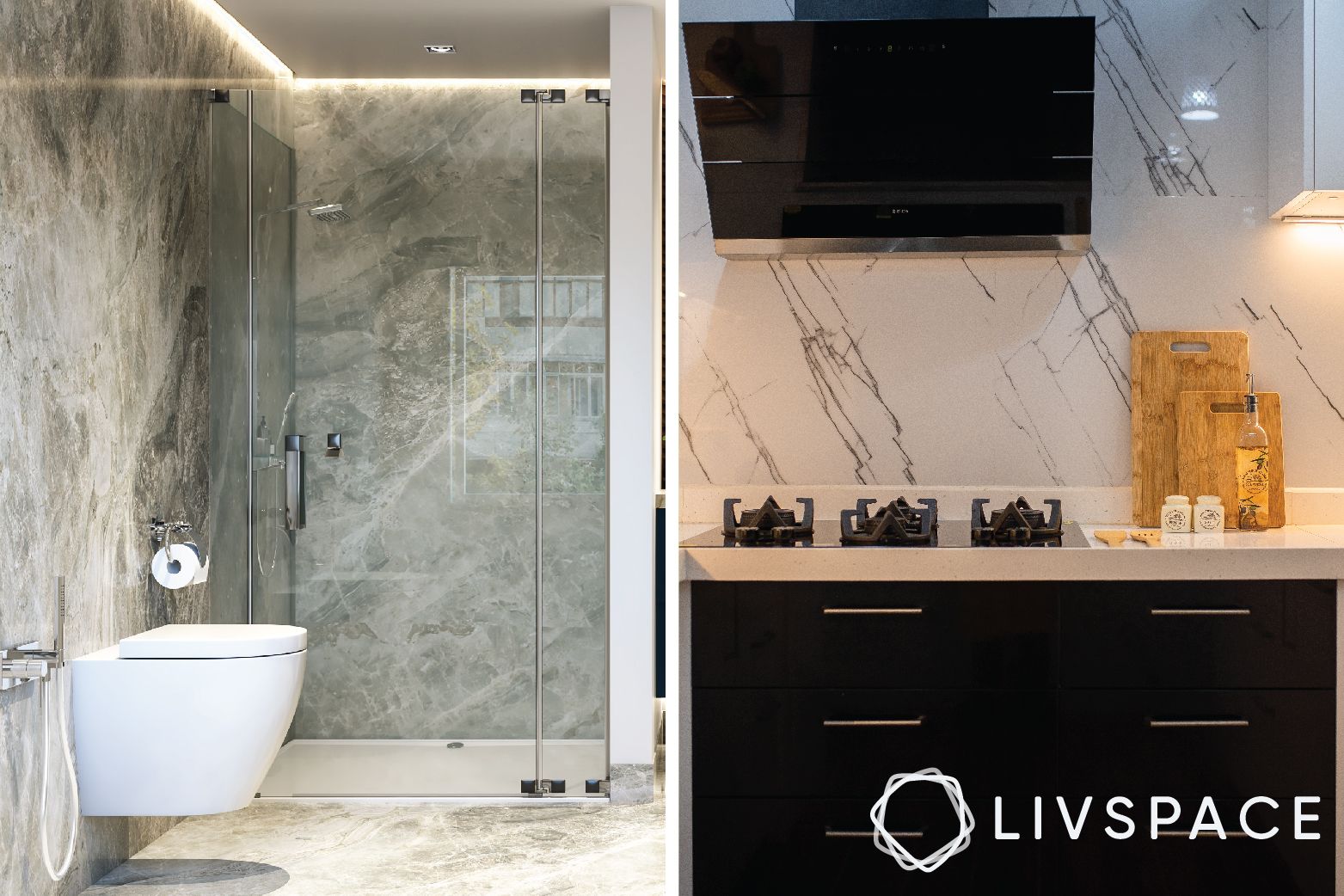 Sophisticated and reminiscent of the lush life, marbled interiors are a sure-fire way to make a statement. No matter where the placement of this material goes, it lends a luxe vibe to any and all spaces it occupies. At the same time, such types of tiles also tend to run up costs, making them quite an extravagant purchase.
However, what you end up paying for procurement and installation can also be an investment for your home's resale value. Compared to other types of tiles and materials, marble is a better investment as it has good returns. Be sure to maintain it well so that it retains its appeal if you do choose to sell your home in the future.
Where to Use Marble Tiles
Shower walls and floors (be sure to seal it to avoid water damage)
Kitchen countertops and backsplash
Furniture and decor
Flooring for every room
9. Stone/Slate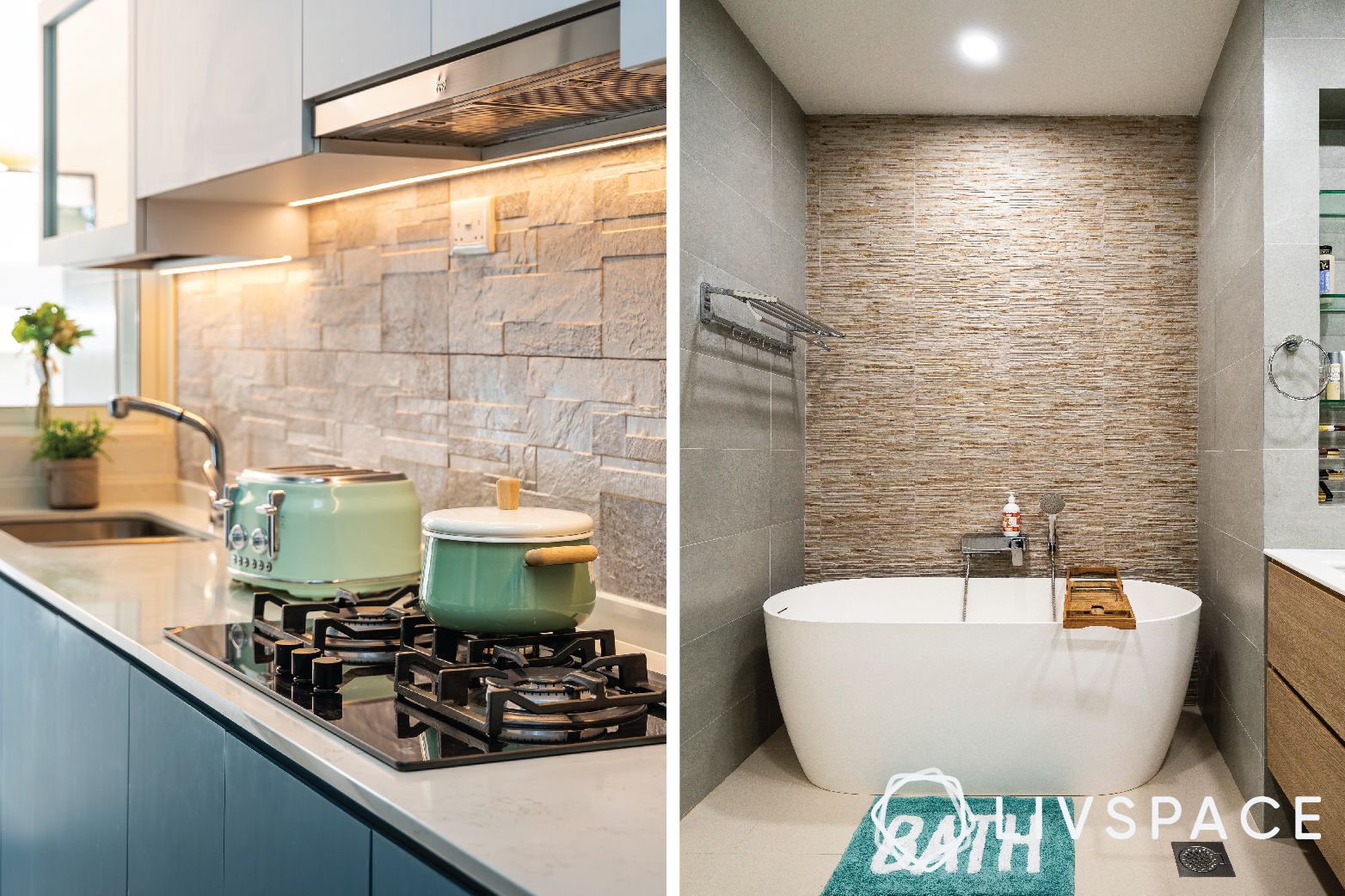 A natural stone, slate, can help lend a cool touch to your interiors depending on where you place it. In fact, it doesn't just end with their sturdy appearance either. These types of tiles can be highly durable and scratch-resistant as well.
In terms of the types of wall tiles you can consider for your home, stone cladding can be a good option. You can use slate for your backsplash, flooring, or even as wall accents in the bathroom.
Where to Use Slate Tiles
Accent wall cladding
Kitchen Backsplash
Outdoor flooring
Flooring for high-traffic areas
10. Vinyl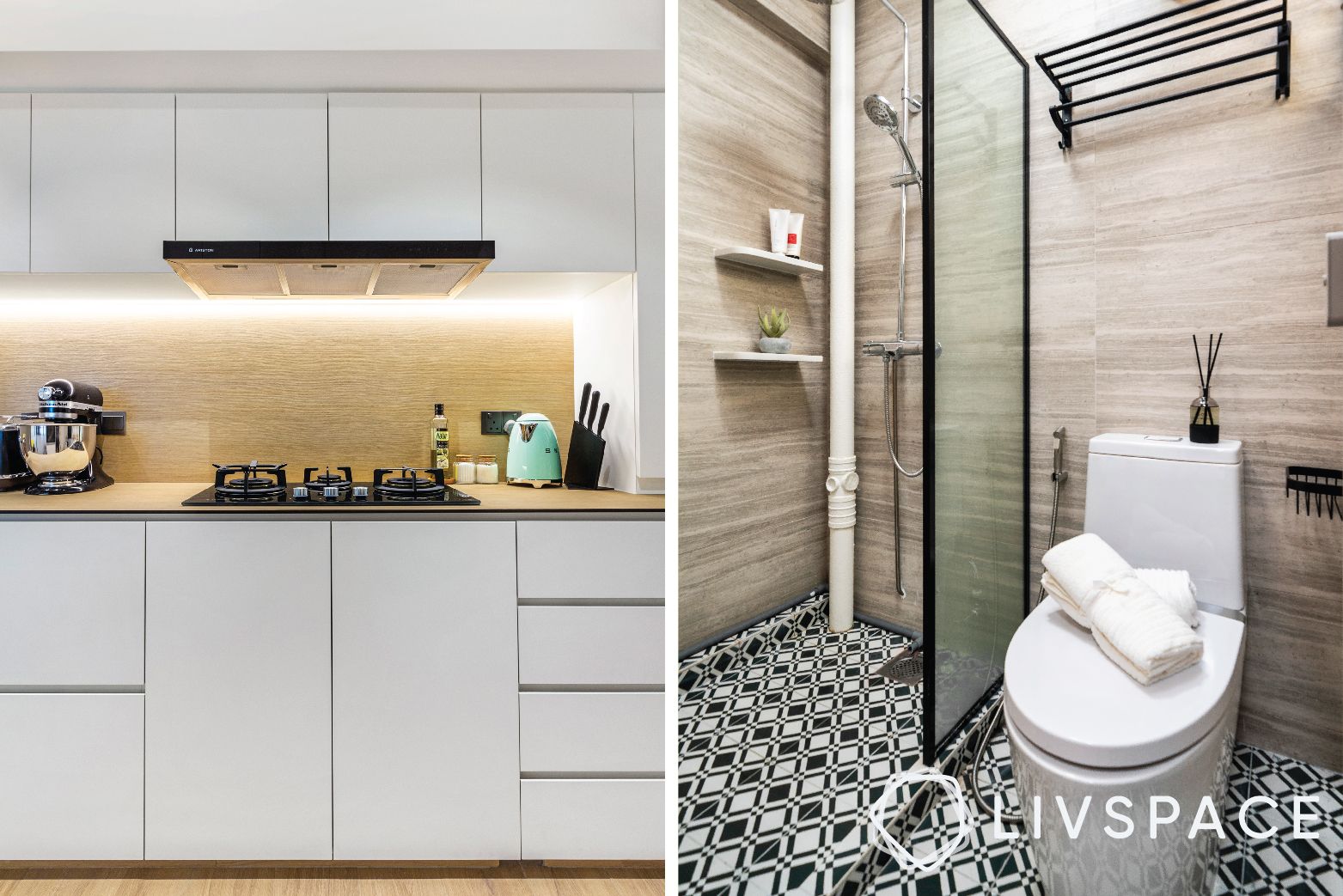 Known for being affordable and budget-friendly, vinyl is one such type of tile you should know about. Vinyl is a waterproof material that can be used almost anywhere at home. Moreover, owing to the many styles it's available in, you can also get a wood-grain look for a quarter of the price of wooden floors.
However, do note that these types of tiles run the risk of emitting toxins in the air if they are not certified. You want to choose Green Label certified vinyl sheets to ensure that your home environment is safe and toxin-free.
Where to Use Vinyl Tiles/Sheets
Kitchen and bathroom floors
Common area/bedroom flooring
Bathroom wall overlay
How Can Livspace Help You?
We hope you found our guide on these types of tiles useful! If you want your home to be just as beautiful, then look no further. Book an online consultation with Livspace today. Have some comments and suggestions you'd like to share with us? We're all ears! Feel free to write to us at editor.sg@livspace.com.