Have you ever entered a bathroom and instantly felt like damn, that's a good-looking space? Let us tell you the secret to that. It's nothing but the tiles on the walls and flooring that make a bathroom look attractive and designer. You can totally pick up tiles from your neighbourhood hardware store and still nail the look. It all depends on the design and pattern that you pick. We have some amazing bathroom tiles here, that will definitely give you inspiration for your next mini bathroom renovation project.
#1: Geometric tiles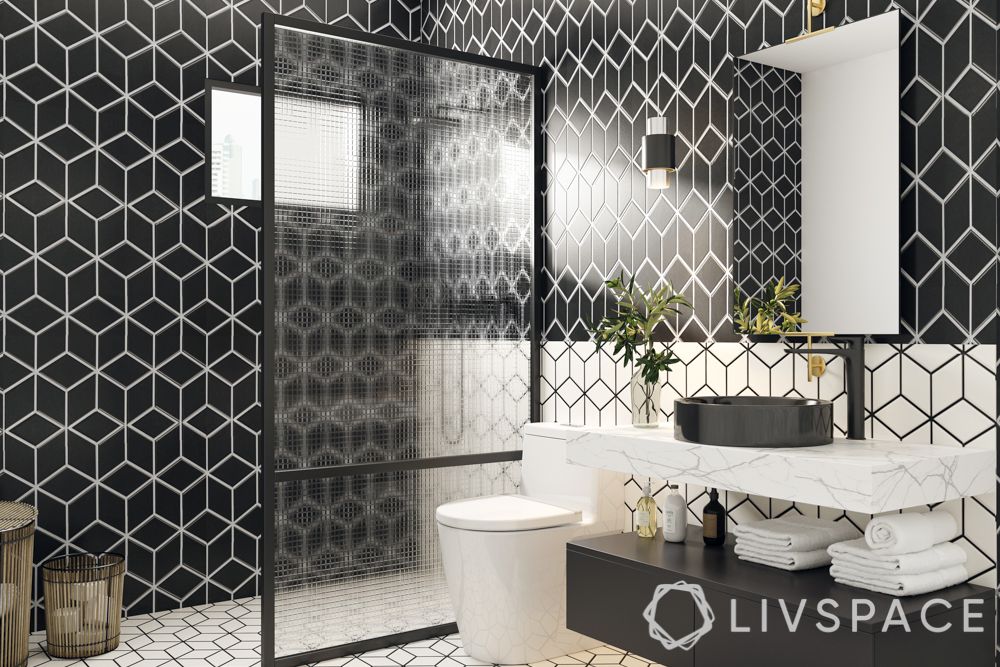 There's something about geometric patterns that make us go wow! The pattern in itself is so captivating that even in the simplest of spaces, it can make a huge difference. For this bathroom, we have picked black and white bathroom tiles in a cubic geometric pattern. Match it up with the vanity and voila! This monochrome bathroom really stands out because of the tiles. Make sure you break the floor and wall colours and don't use the same for both.
#2: Herringbone pattern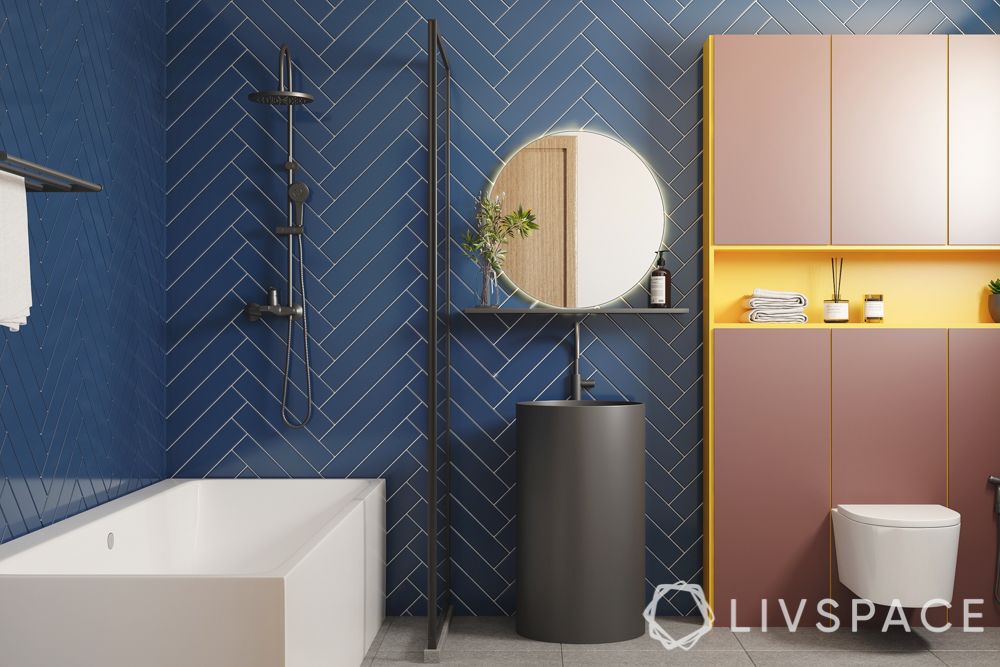 Here comes our favourite pattern — herringbone. This versatile pattern can be used to lay any type of tiles. In this bathroom we have used a cobalt blue colour for the bathroom tiles on all the walls. Blue is a very common colour for bathrooms, but we have chosen a different hue that you would normally not spot. Sleek and trendy black fixtures match perfectly with this shade of blue. Breaking the monotony is the dark rust and yellow storage cabinet.
#3: Penny tiles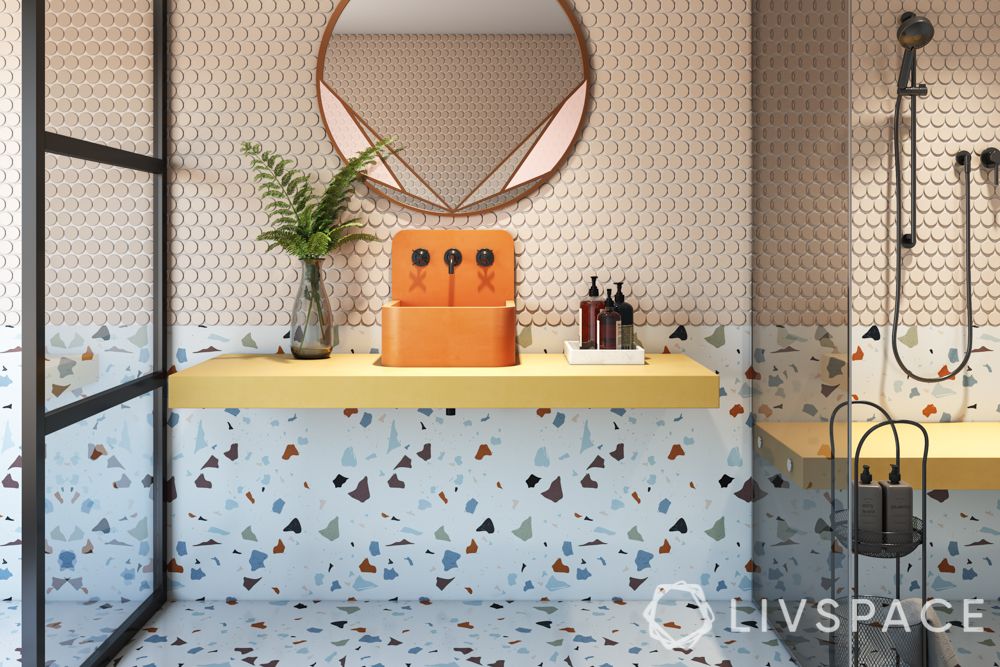 A cousin of hexagonal tiles, penny tiles have graced bathrooms walls for quite some time now. It's a classic type of tile that will always remain a classic. As the name suggests, penny tiles are round in shape and ideally a quarter of an inch in diameter. Glazed or unglazed porcelain is a good choice for this type of tile. You can also try glass or metal for that trendy look in your bathroom.
#4: Combination of two shapes of tiles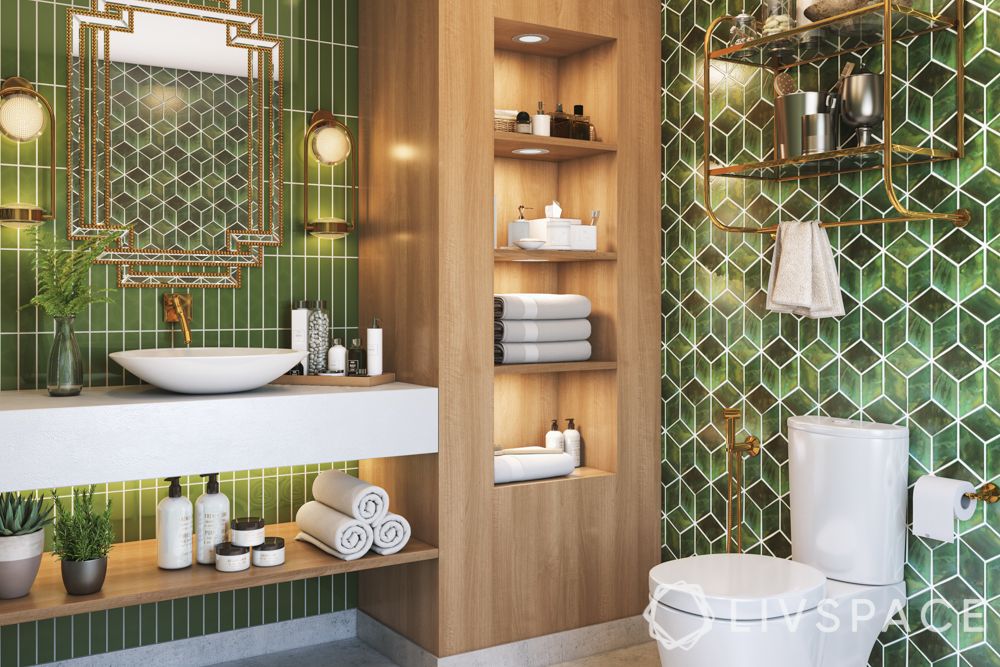 An offshoot of the geometric tiles, this trend focuses on using two types of patterns in one bathroom. Make sure you're using one simple pattern with another complicated one. For example, if you are using hexagonal tiles on one wall, try a simpler subway tile pattern on the other. Also, always use the same colour to maintain homogeneity in design.
#5: Statement wall with bold pattern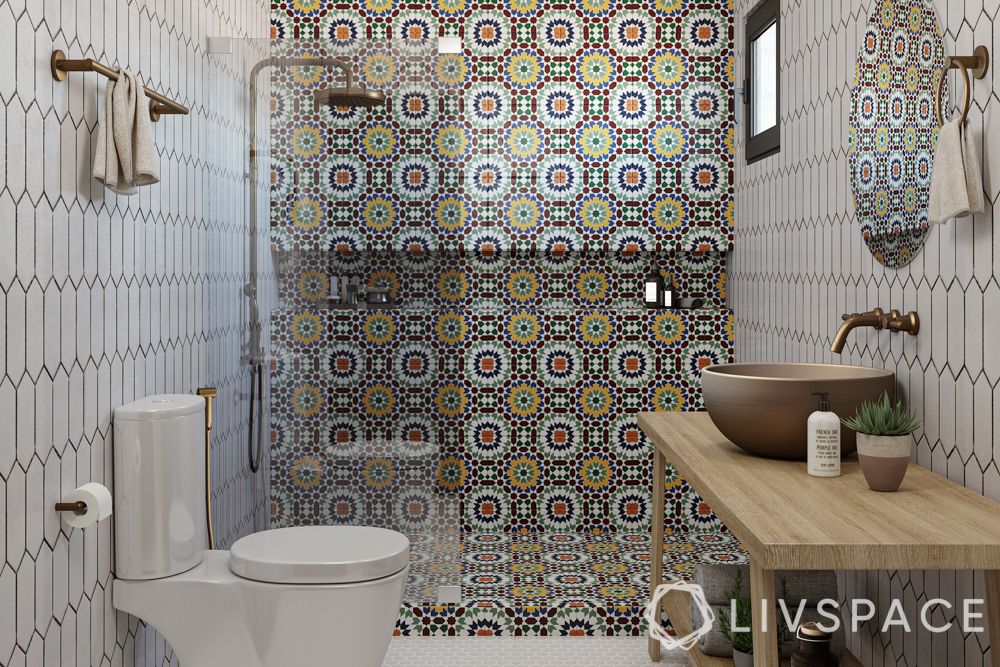 One of the most popular and evergreen designs of bathroom tiles is Moroccan tiles. It adds a lot of vibrance and colour to this space. A feature wall can be created with the use of this pattern and it is ideal to highlight the shower or vanity area. Ensure all the other walls have simple, neutral tiles so that it does not look overwhelming. This looks very interesting if the right pattern and colour is selected.
#6: Terracotta tiles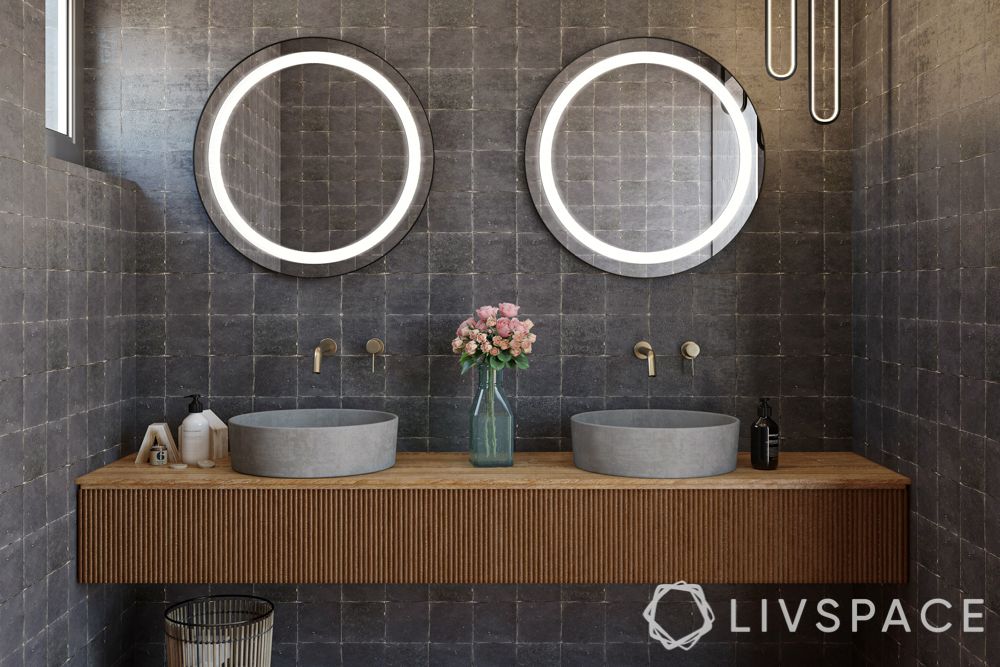 Are you someone who loves that earthy vibe and rustic feel in every room at home? Terracotta tiles add so much warmth to your bathroom that you will love it in there. They are a slightly trickier to maintain than porcelain tiles but totally worth it. You can combine two colours of terracotta tiles to add intrigue. Be vary of the size and choose slightly bigger ones so that you have lesser grout lines to worry about.
Are you ready to transform your bathrooms with these tiles? We hope you are! Check this out if you're looking for a complete makeover: The A-Z of Bathroom Design and Trends That Are Hot This Year.
Send in your comments and suggestions to editor.sg@livspace.com.