Tired of seeing the same boring old all-white interior design style? Come over to the dark side and embrace a duskier, moodier colour palette for your home. It's a common understanding that darker colours tend to make a room look smaller. But when done right, you'll be amazed how shades like black, charcoal grey and deep blue can lead to a home that looks luxe, cosy and still on trend.
1. Create Cosy Warmth With Dark Blue Shades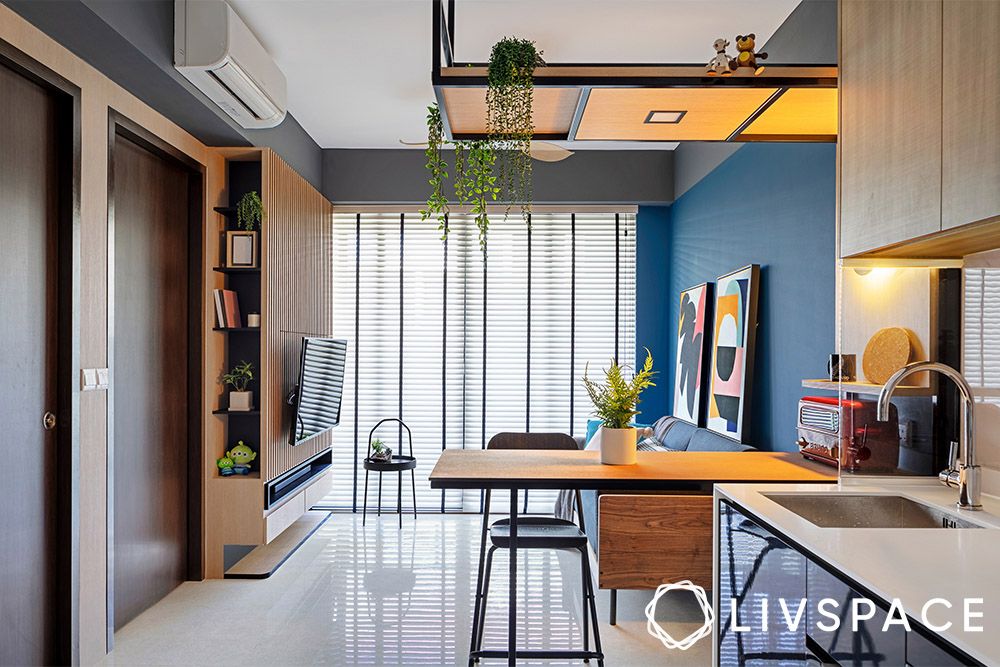 An all-white home can look overly clinical and sterile, but when you introduce darker colours, it can immediately feel warmer and more welcoming. In this home, the navy blue walls, muter grey accents and dark wood textures come together to result in a living room that invites you to cosy up to a relaxing night-in.
2. Pair Charcoal Grey With Walnut for a Sleek and Modern Look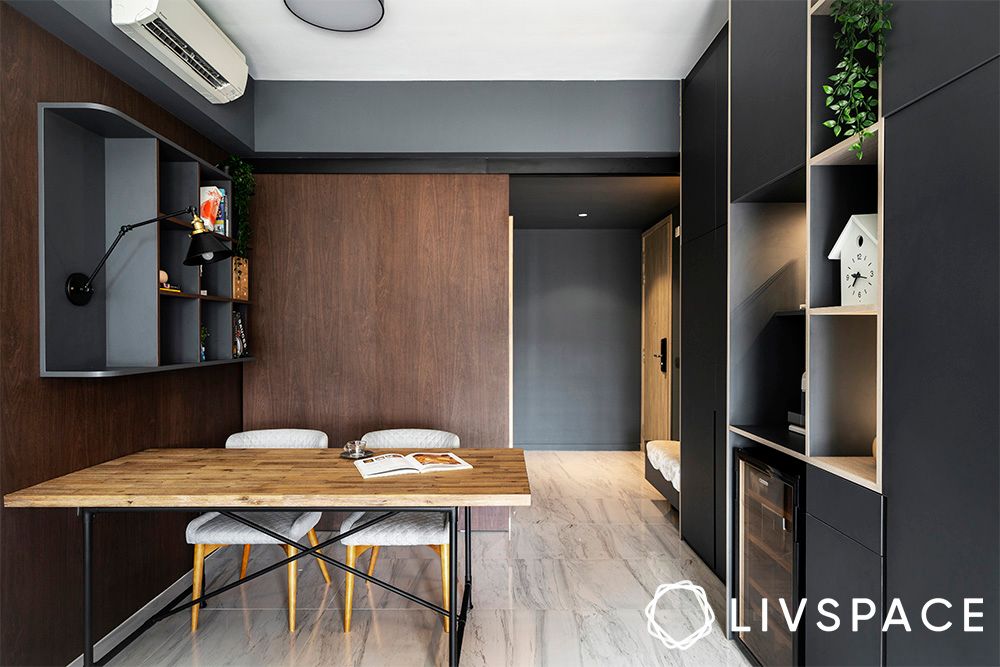 This home proves that darker tones won't necessarily make a room look smaller. Even in a tight space like this, the matte charcoal grey and dark walnut textures lend a sleek and professional look to the home. Imagine if this exact space was in all-white: the vibe would be completely different!
3. Introduce a Duskier Accent Colour to Liven Up the Space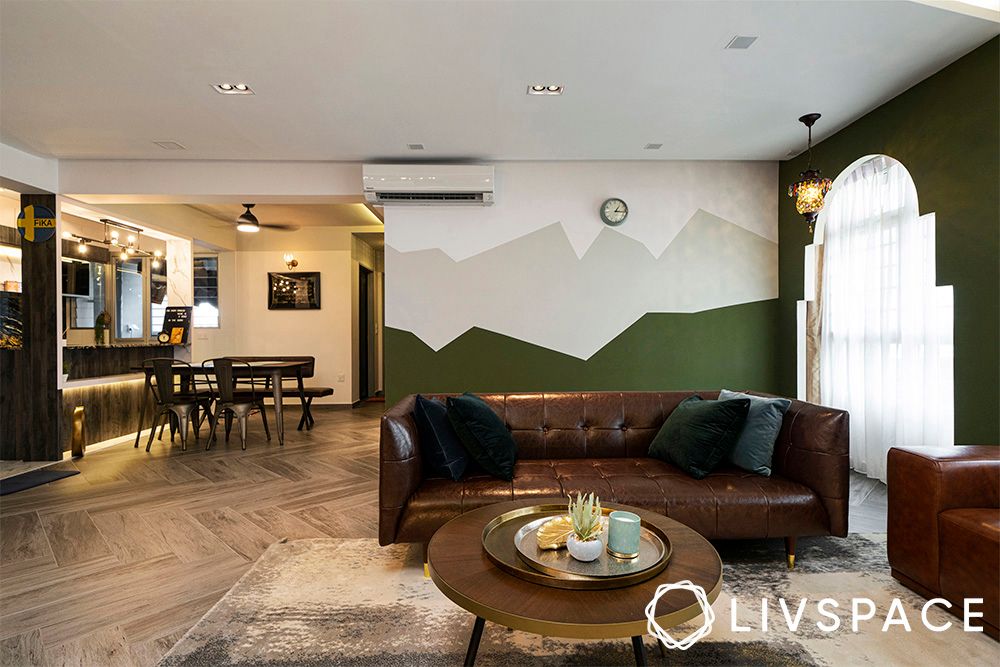 We understand that no one wants to stay in a gloomy, dark-themed interior. So why not introduce a darker coloured feature wall to your white interiors instead? Here, we see how the deep olive green actually accentuates the otherwise plain home. The addition of coloured and patterned walls brings a whole new vibe to the space, while still maintaining the home's look of pristine.
4. Lay the Foundation for a Luxurious, Modern Dark Interior Design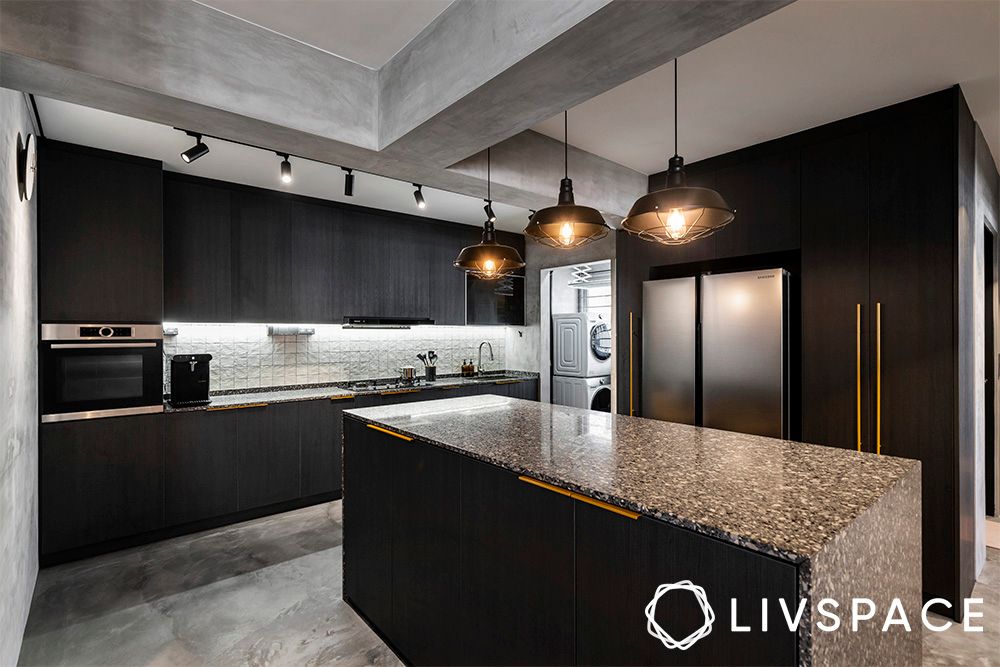 When done right, black can give off a sense of luxury and glamour in a modern interior design setting. This kitchen is decked with black cabinets, grey cement screed floors and brass cabinet handles. The result is a luxurious and modern take on the typical industrial style. We also love how the kitchen feels equal parts glamorous and decadent.
5. Monochromatic Black and White Works Wonders Too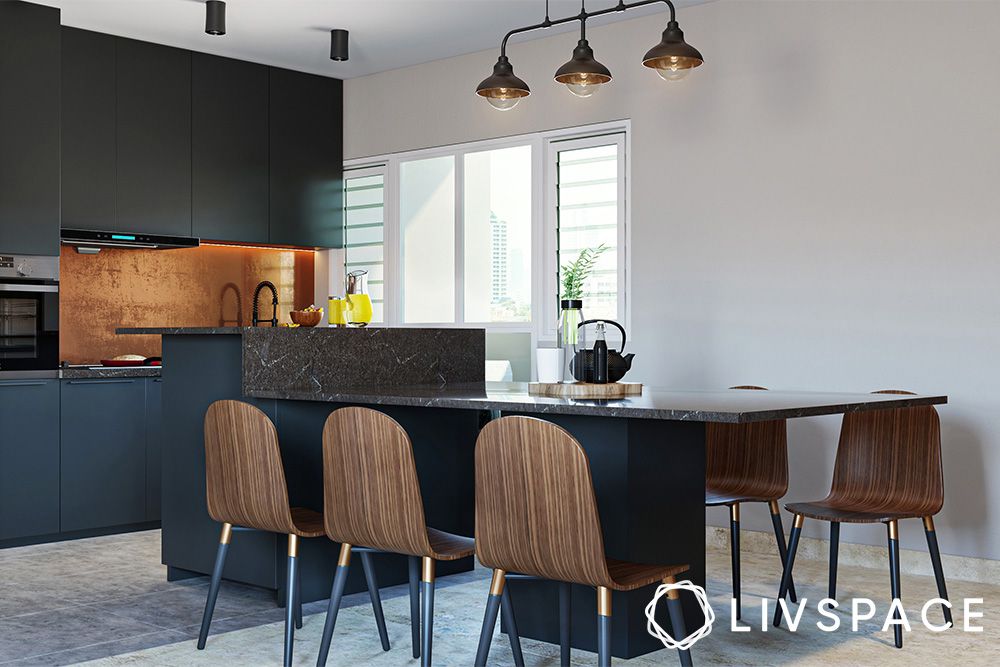 Not feeling an all-black kitchen? Temper your expectations with a monochromatic black-and-white colour combination instead. You get the blank canvas of clean white walls, but paired with the modern stylings of matte black kitchen cabinets. This particular home also benefits from having an open concept, which lends to the look of a luxuriously modern, dark interior design.
6. Go Grey in Your Dark-Themed House Interior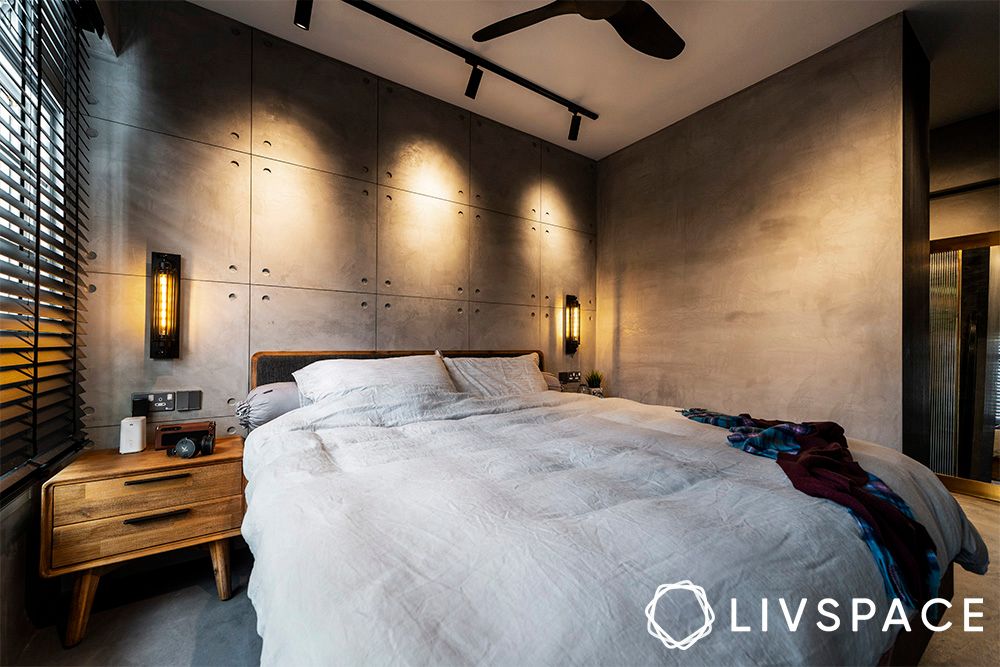 For those who are hesitant about staying in a dark house, you might want to experiment with a single room first. The bedroom is one of the best places to start. After all, it's a room that's meant to help you feel relaxed. In this example, the grey walls, black fixtures and warm lighting are all it takes to set the mood for a good night's rest.
7. Create a Sense of Luxury in the Bathroom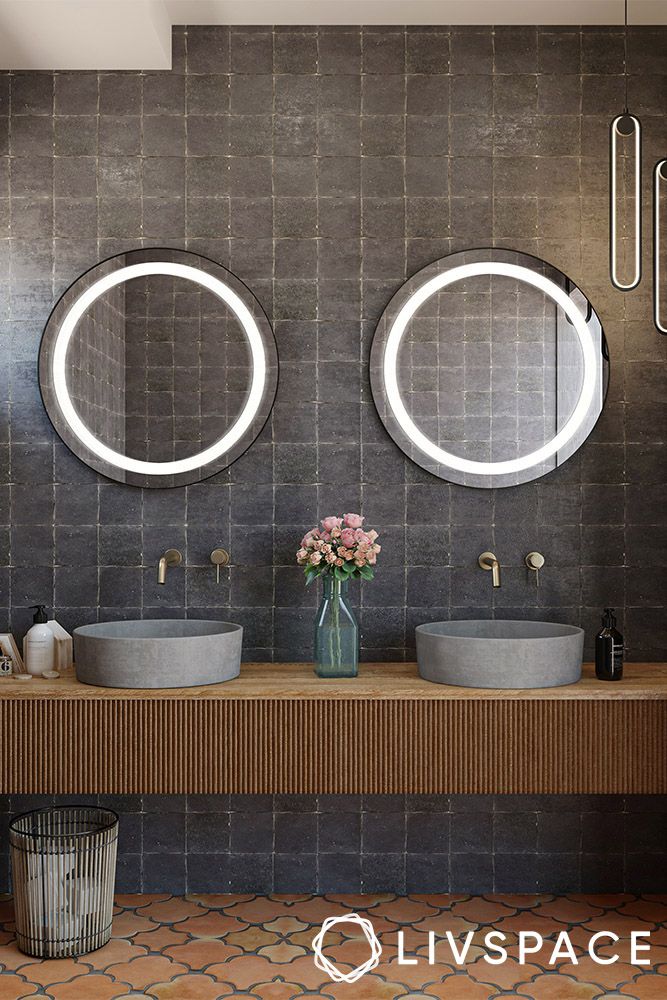 The bathroom is another space that you can easily adapt in your journey to embracing the dark side. Plain white tiles are a common sight in our toilets, so why not do something completely different? Here, rough-hewn grey tiles clad the walls, bringing colour, texture and style to an otherwise plain room. You can go a step further by balancing out the dark colour interior design with choice lighting fixtures.
8. Dark Colours Can Demarcate Spaces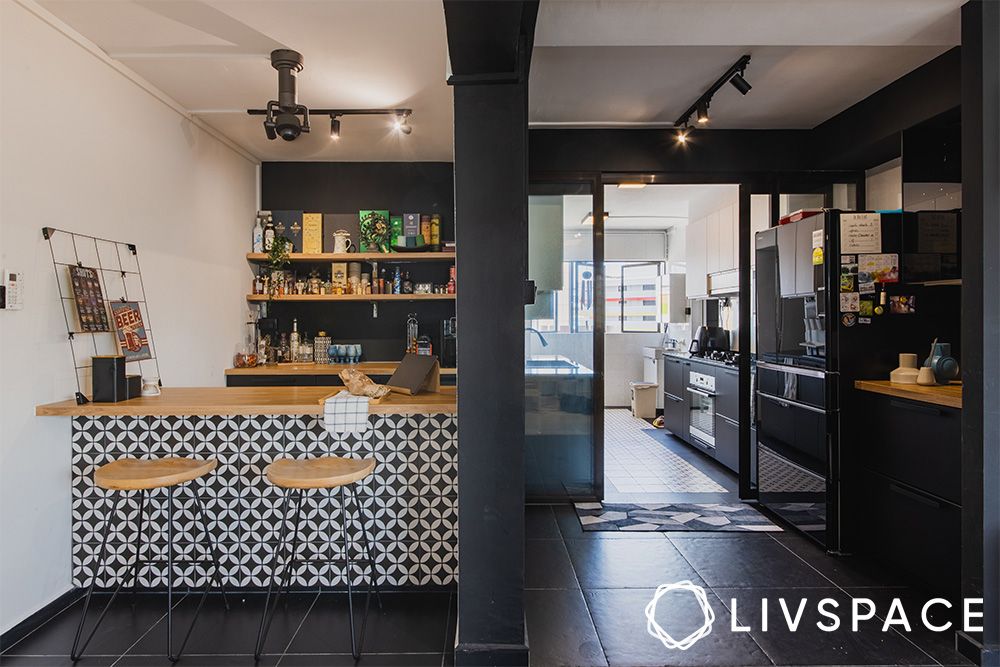 Layering colours is a smart way of elevating a modern, dark-themed interior design. This home exemplifies how a monochromatic black and white colour combination can visually anchor different spaces on a shared plane. The al-black space acts as a transitory walkway that subtly separates the kitchen from the rest of the home. It's a modern way of using darker colours in the home without making the interiors look gloomy or dull.
9. Set the Scene With a Rich and Luxurious Shade of Blue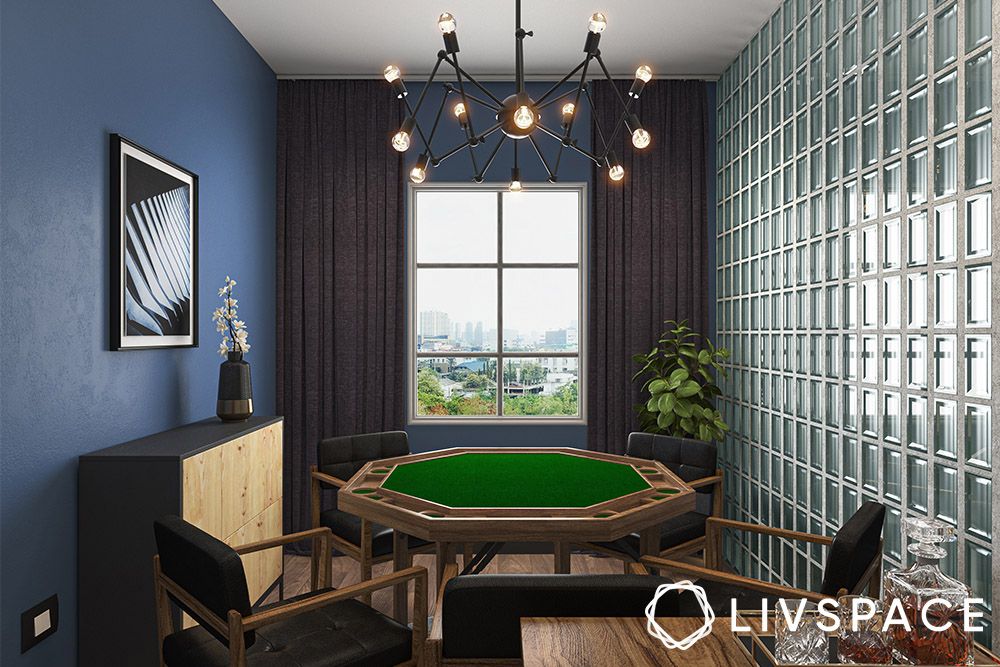 We've established that darker colours can help set the mood in any room of the house. In this particular example, we love how the navy blue walls complement the space. The addition of blackout curtains, a statement ceiling lamp and all-wood furniture transform this tiny space into a room that's bursting with character and modern style.
10. Use the Right Lighting in Your Modern Dark Interior Design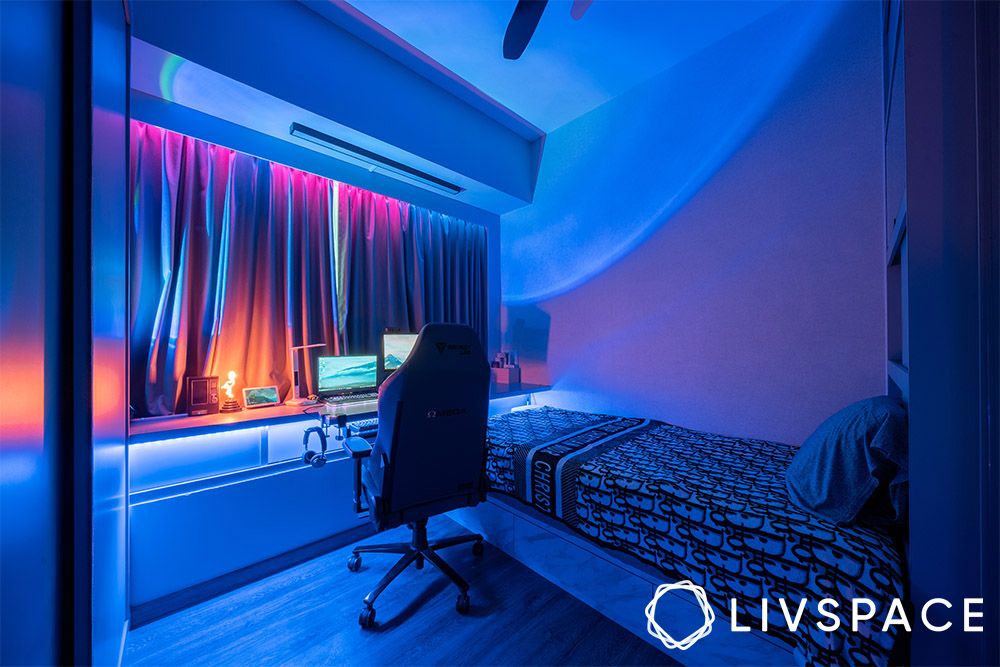 If you're still not convinced to start painting your walls black and grey, here's a way you can still try out a dark colour interior design. Use the correct type of lighting to set the scene and develop a dark yet modern house interior. In this son's bedroom, muted colours on the wall are lit up with blue lights, transforming the entire space into a stylish retreat. The addition of LED light strips also help in this space stand out in style.
Check out this black, white and grey resale HDB:
How Can Livspace Help You?
If you're interested in trying out a dark interior design style for your own home, come speak to our designers! All you have to do is book a free consultation with Livspace designers.