Let's face it, most of our homes aren't as spacious as we want them to be. There is always a need for space in homes, whichever room it may be. While space constraints of all other rooms can be taken care of, what about living rooms where the family or friends gather? How can you work with a compact HDB living room design?


Worry not, we have some ideas for you. Here's a curated gallery of compact HDB living room designs for your inspiration. Take a look.
#1: Warm browns for a cosy space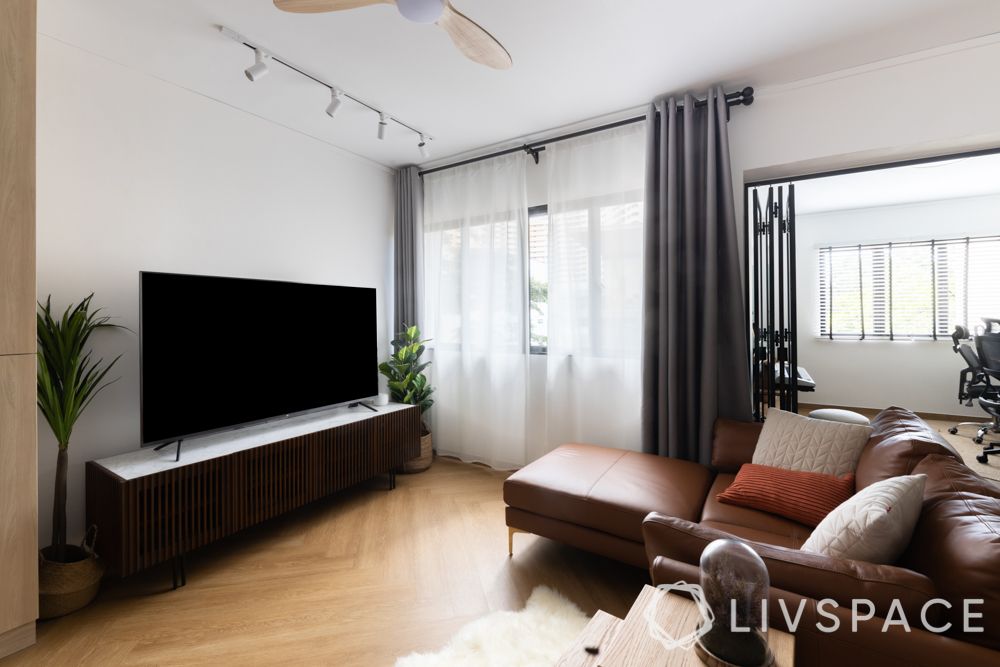 Owned by a couple, this cosy living room features only an L-shaped brown leather sofa and a dark brown TV unit with laminate finish. Accentuated with light wooden flooring, this living room is easy on the eye. The mix of warm browns makes this compact living room simple and tasteful.
Check out the rest of this home here: 4 Room HDB Renovation for a Couple Who Loves Scandi and Clean Look
#2: Follow a light colour palette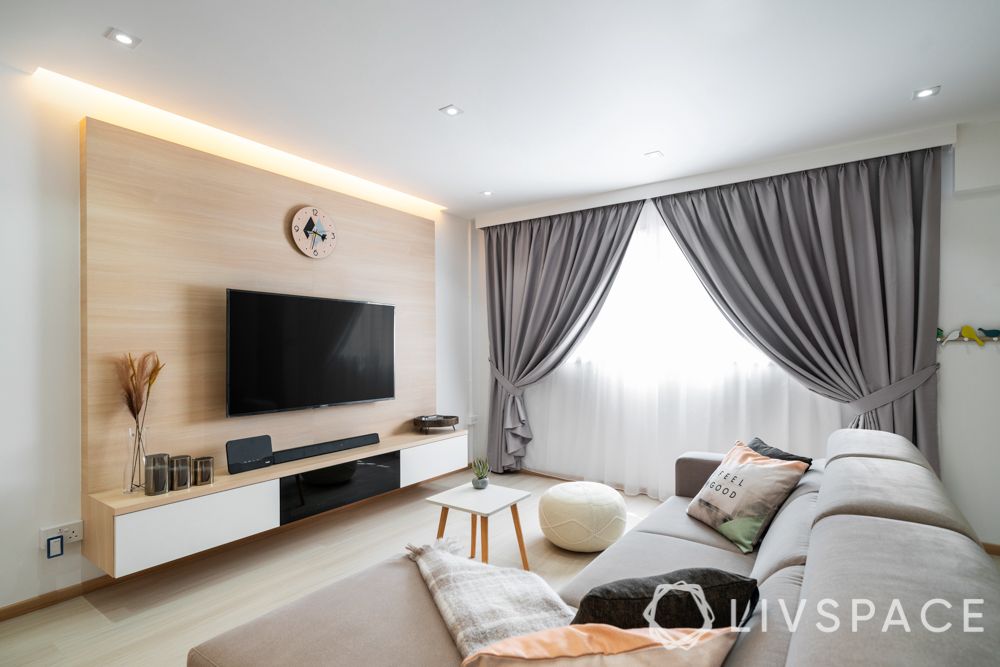 A light colour palette is always recommended for compact living rooms for it opens up the space. Here, you can spot a light grey couch on light wooden flooring. The TV unit is finished in laminate and features white drawers that are used for storage. The windows are adorned with dark grey and white drapes. In addition to the recessed and strip lights, the whole setup is brightened up by the flood of natural light.
#3: Wall mirrors for a roomy appearance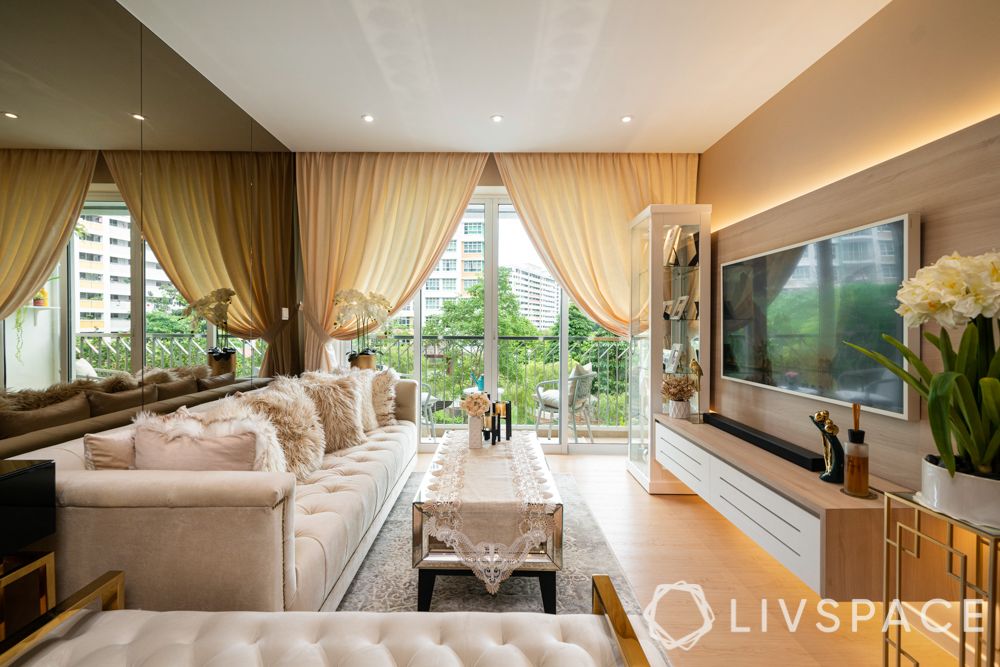 Have a narrow living room at home? No problem. All you have to do is install wall mirrors to make it look wider. Take a look at this living room, for instance. Although compact, the homeowners have inculcated many items— plush couch, throw pillows, carpet, coffee table, a glass cabinet and more— in this space, and yet it does not look cluttered!
#4: More than one seating option in this HDB living room design
The trouble with compact living rooms is that it often lacks enough space for everyone to sit together. This HDB living room design addresses this issue by incorporating versatile seating options. Along with the sofa and pouffes, there is intelligent bay seating out here. Moreover, the neutral shades and wall mirror open up the space significantly. Impressed? If yes, you must take a tour of the entire house: How We Made This Compact 3-Room HDB Look Spacious.

#5: Built-in wall shelves for storage and display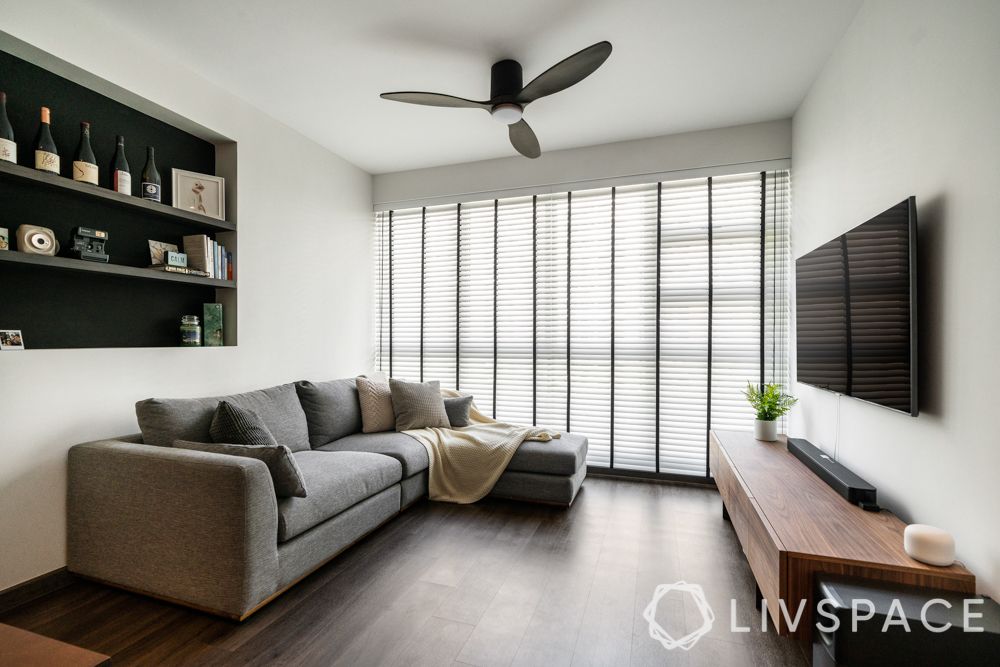 If light shades aren't your thing, let us introduce you to this living room. This room features dark wood flooring and white walls, following a mix of light and dark hues. The dark grey L-shaped couch and walnut TV unit sit perfectly in this minimalist setup. The built-in black shelf on the wall behind the couch is perfect for storage as well as display.

Take a look at How This Clementi Avenue Flat Got a Fresh, Minimal Look.
#6: A multi-functional HDB living room design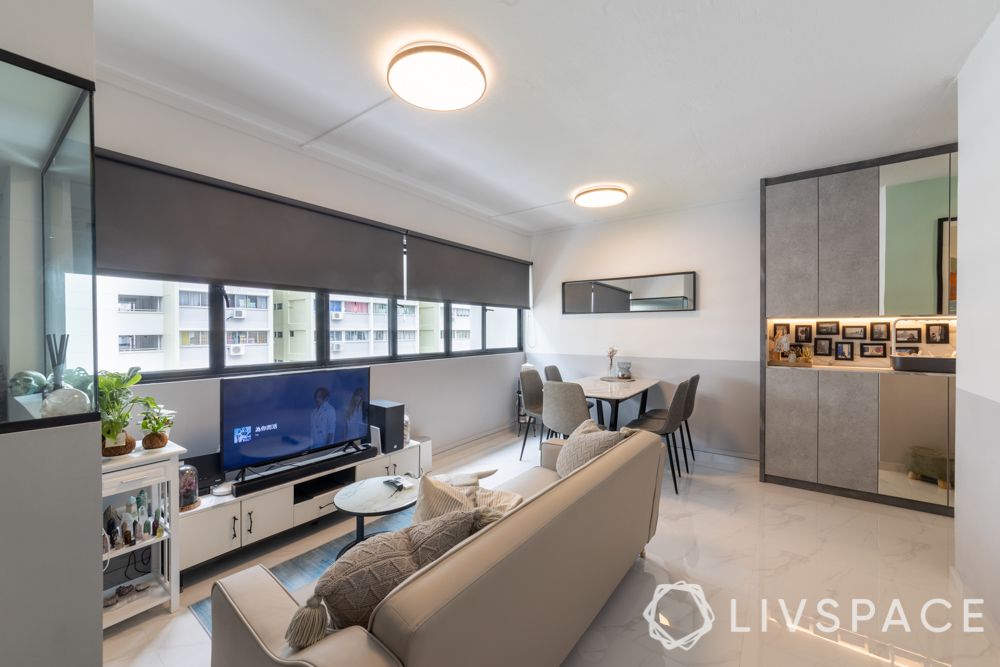 Simple and functional, this compact HDB living room design has got everything a person needs. The limited space is optimised cleverly by dividing it into a living and dining area. The living area has a white TV unit for storage and display. The beige couch looks oh-so-comfortable with a small coffee table.
This Resale HDB Flaunts Fifty Shades of Grey. Check it out.
#7: Couch and TV — Only the bare necessities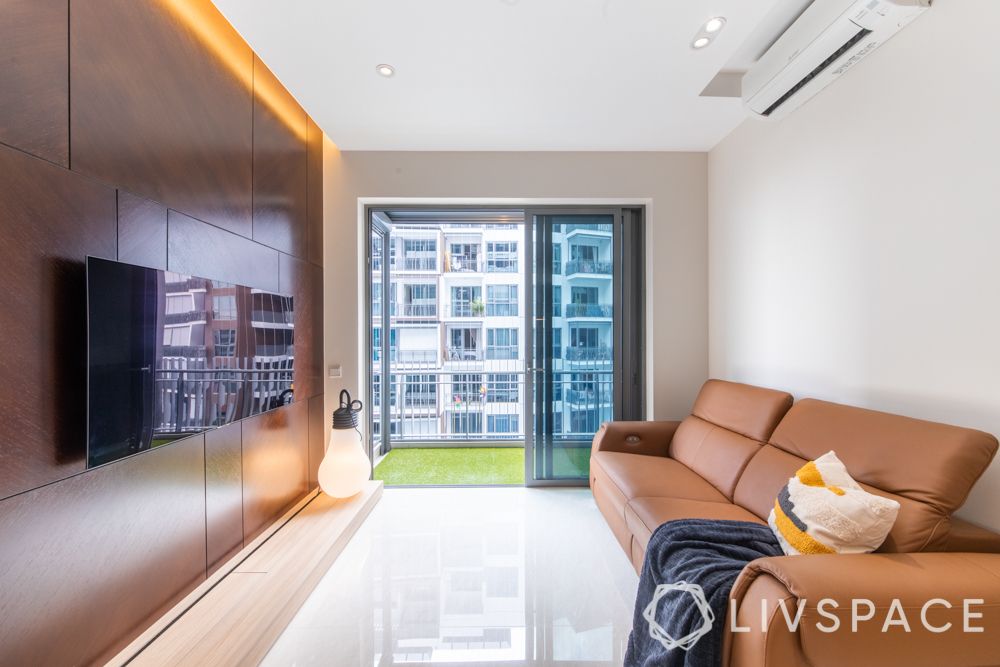 Why should a living room have everything when it can look equally sophisticated with only the bare minimum? For instance, this living room has only one simple copper-coloured couch and necessary lighting. The dark brown panelled TV wall is the highlight of the room. This comes together perfectly with the white walls and flooring.
#8: Narrow living room high on decor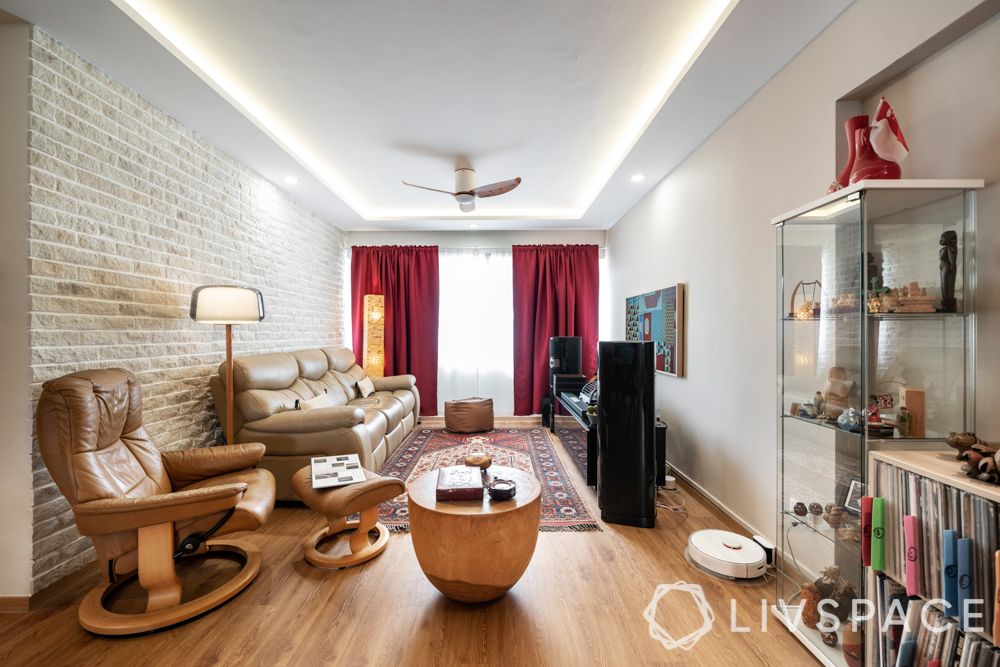 As we looked at a living room with just bare necessities, we must show you one high on decor. This HDB living room design comprises a stone wall on one side, light wood flooring and beige seating on the other. In addition, there is a pouffe, ottoman, a coffee table as well as a glass display case. What adds more character to this room are the popping maroon curtains and an Indian-style carpet. Don't miss out on the rest of the house: This Is How a 20-year-old HDB Should be Renovated.
We hope that this HDB living room design gallery inspired you. Now, all you have to keep in mind is the size of the space and introduce the elements accordingly. Want to learn more? Here are Top 10+ Space Saving Ideas for Compact Homes That are Worth Trying