Fashion is the clothes you buy; it changes with seasons. But how you wear these clothes determines your style. In this regard, your home is not very different from you. So why not pick a style that suits it like second skin? Your living room design is particularly important here because it is the first thing you see when entering your home. 
And to help you choose the right style for your home, we recreated the same living room with five different styles. So let us see which of these living room ideas resonates with you. 
Style #1: Minimal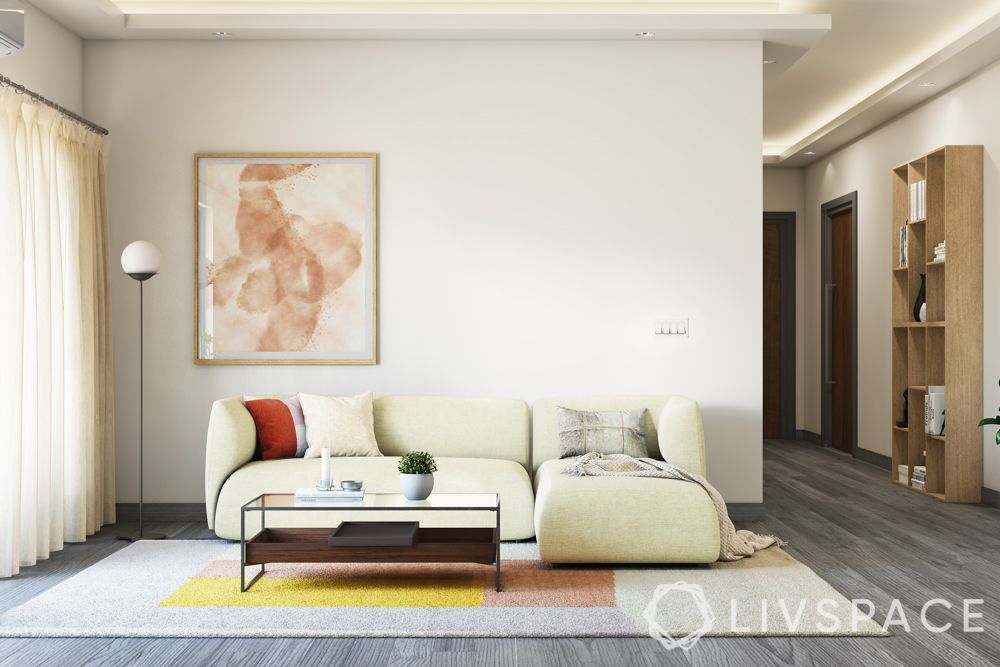 Compact living room? Looking to renovate your space on a budget? Minimal is the way to go. Clean design using the bare essentials is the core principle of minimal design. Not only does it make your room look bigger, it also has an impact on your lifestyle too—choosing to do more with less! 
How to spot this style? 
Clean and clutter-free design
Crisp straight lines
Sleek and light furniture
Neutral colour palette
Lots of free space
You should opt for this style if
How to recreate this style in your home?
Most homes in Singapore have an open layout. We would urge you not to make it look busy with partitions or cabinets. 
Keep only the bare minimum furniture. While the definition of 'essentials' varies from one person to another, it would typically include a sofa, TV console and centre table.
Opt for simple furniture designs. 
Make a mental note to furnish with whites and neutral colours like grey, beige or tan
Keep a slim floor lamp in the corner
For storage use corner units or sleek cabinets
Cover the floor with a area rug (preferably monochromatic)
Avoid elaborate feature walls because they are a little heavy for this style. Instead, pick a single piece of artwork for the walls. And this becomes the focal point of the room. 
Style #2: Industrial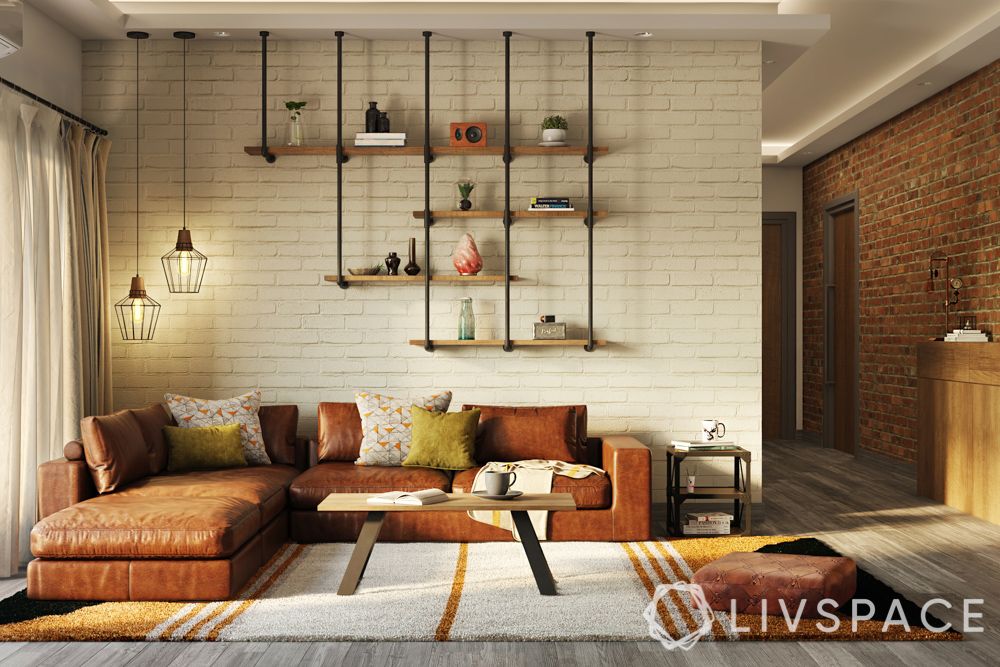 Remember a time when factories used to be located inside the city? You probably don't because it happened way back at the beginning of the 20th century! Eventually, as cities became more populated, factories moved out of the city limits and these premises were used to create low-cost housing. Thus, the industrial style owes its design aesthetics to a tight budget!
How to spot this style? 
Open spaces with large windows
Exposed pipes and ducts
Rugged and unfinished look
Raw and neutral colour palette
Use of industrial materials like concrete, iron and ropes
Distressed finishes and repurposed furniture
You should opt for this style if
How to recreate this style in your home?
Opt for a feature wall with exposed bricks or cement screed. It is a trademark feature of the industrial style.
Reuse your furniture instead of buying new things. Sustainability is a basic principle of this living room design style.
For storage, use open and bare warehouse shelves. They are inexpensive and gel well with this style. 
Pick roped pendant lights, black metallic cage lamps or edison lamps as statement lighting.
Use things like bicycle wheels, motorcycle handles, which are usually considered industrial-esque to dress up the walls. 
Cement screed flooring is a great pick for your living room, provided you have the option to renovate the floors. 
You can read about a real-life home designed by us using the industrial style in Tampines Greenweave.  
Style #3: Contemporary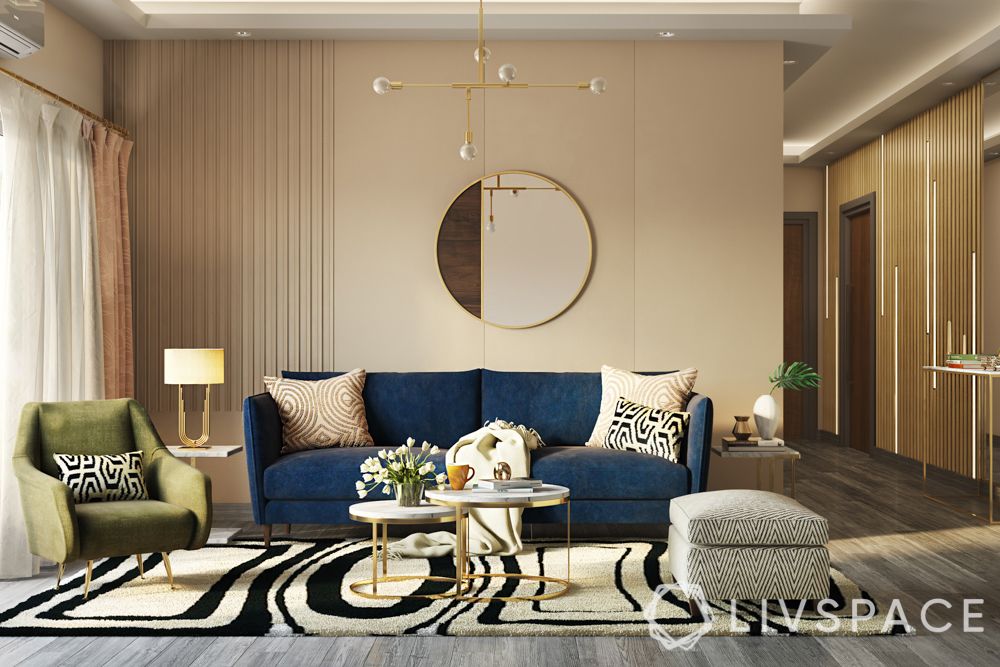 Contemporary simply means whatever is in fashion at the moment. And right now, it includes simple and streamlined furniture in a spacious setup without too much clutter in the design. It also includes some aesthetic use of textures and geometric patterns with a few bright pops of colour. This, of course, can change in five to ten years. But then, so will your taste!
How to spot this style? 
Clean and straight lines that define the basic framework the the room
Fuss-free and sleek furniture (could include floating or wall-mounted furniture)
Feature walls with grooves or panelled texture
Neutral colour palette with some pops of fresh shades like blue, green or pink
Geometric patterns in art or accessories
Lighting fixtures with metallic accents and bare bulbs
You should opt for this style if
How to recreate this style in your home?
Pick furniture that has sleek silhouettes so that they do not take up too much space. You can opt for fun shades like indigo or rust red. 
Your feature wall should ideally have wallpaper with a subtle texture or coat of paint in a colour that is easy on the eyes (like peach or light yellow). You can also opt for groovy panelling with laminate.
The lighting fixture you choose should have metal accents with naked bulbs; it's a contemporary design that is really in!
For storage use sleek consoles or chest of drawers in matte finish
The area rug and artwork you choose would fit right in with geometric patterns. 
Decorate with round oversized mirrors; they are a typical sight in contemporary living room ideas. Plus, mirrors make the room look larger!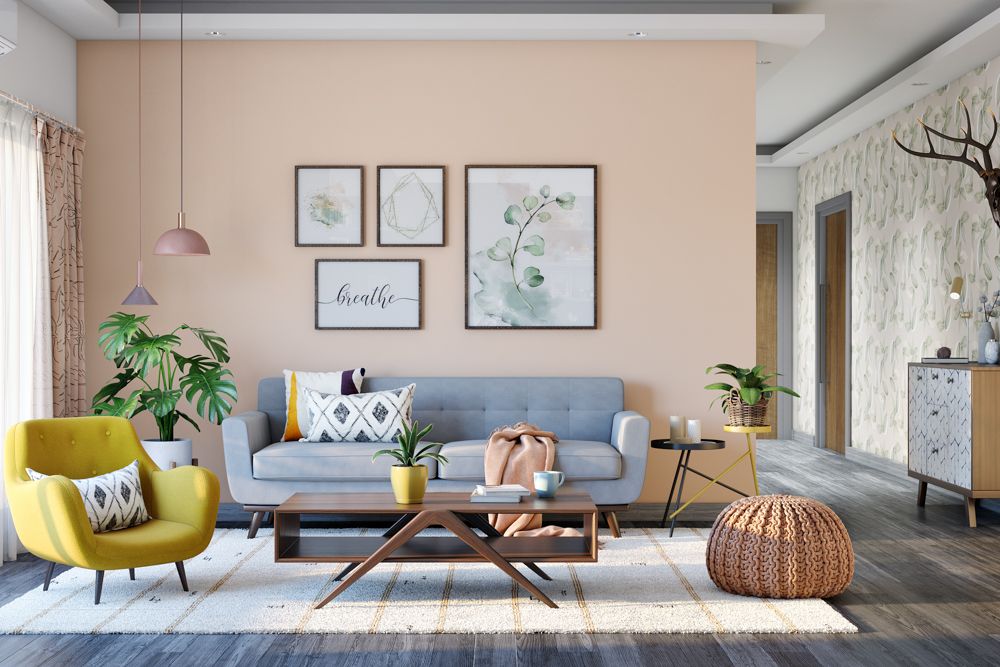 'Hygge' is a Danish for cosiness stemming from contentment and wellbeing. This word captures the underlying vibe of the Scandinavian style. When you're home, you will experience a feeling of warmth wash over you thanks to the warm finishes, openness of the design and cosy furnishing. It is very easy to find furniture and accessories for this style because it's a current raging trend. 
How to spot this style? 
Plenty of natural light coming into the room
Use of neutral colours like grey, peach, tan as well as whites
Light-coloured wooden furniture in very simple designs
Use of rattan or cane furniture and accessories
Knitted patterns for rugs, poufs and throws
Only natural fabrics like cotton and linen used for furnishings
Striking monochromatic patterns seen in soft furnishings
You should opt for this style if
How to recreate this style in your home?
Stick with a neutral colour palette without using too many colours together. Use tones of the same colour instead to create texture. For instance, place a grey sofa against a light grey wall.
Have two sets of curtains, one heavy to block out sunlight and one sheer to let in the maximum amount of light.
Pick furniture in light-coloured wooden tones as well as basic design.
For storage, put in floating wooden shelves.
Create a gallery wall with framed posters or photos, but don't crowd it with too many.
Add monochromatic textures in this space via rugs, cushion covers and artwork.
If renovating the floor is an option, install warm wooden flooring for a cosy vibe. 
Keeping easy to maintain potted plants is a great way to increase the joyfulness of your living room.
Take a look at how we designed this HDB BTO in a Scandinavian style. 
Style #5: Zen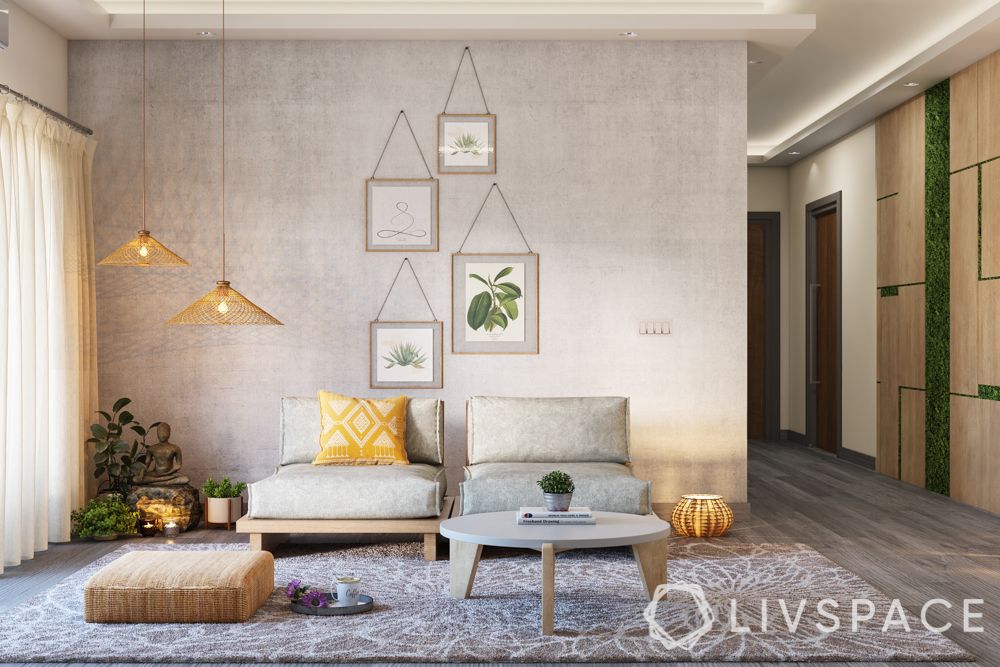 If you want a living room design that will 'spark joy' opt for the tried and tested zen style that comes to us from Japan. It is not the commonest of styles we see in Singapore but you always get extra points for being original! This style is based on the concept of a perfect energy balance or 'chi' that gives a happy state of mind.
How to spot this style? 
Low-lying furniture that recreates the vibe of an Asian setup
Dim-lighting to set a whimsical mood
Use of muted colours and whites
Sparsely placed furniture to keep clutter away
Knitted rugs on wooden flooring
Plants in pots and bottles as well as green walls (moss walls)
A water body like a fountain or sprinkler 
You should opt for this style if
How to recreate this style in your home?
Furnish your living room with floor cushions and low-lying ottomans and stools instead of a couch. Add a low-height coffee table to the mix.
Opt for a heavy woolen rug to mark out the seating area.
Candles are considered positive energy for the house as they have fire. For electrical lighting, use low-hanging pendant lights with dimmers.
Spruce up the interiors with potted and bottled plants instead of accessories. 
Create a zen corner in the living room design that has a source of flowing water, plants and pebbles. This balances the 'chi' in your home. 
We sincerely hope that you find the eternal style for your home here. If you want us to explore any other styles, write to us.
How Can Livspace Help You?
We hope you found our ideas useful! If you want your home to be just as beautiful, then look no further. Book an online consultation with Livspace today.