What comes to your mind when you think of modern house interiors? If you're picturing monochrome palettes, sleek accents, and clean lines, you're on the right path. However, if you guessed it's a home that follows current design trends, you might want to rethink it. In fact, you'd be surprised to know that modern house design is a style that emerged in the early to mid-20th century!
Intriguing? Keep reading to get the full picture of what modern interior design entails.
What Is Modern House Design?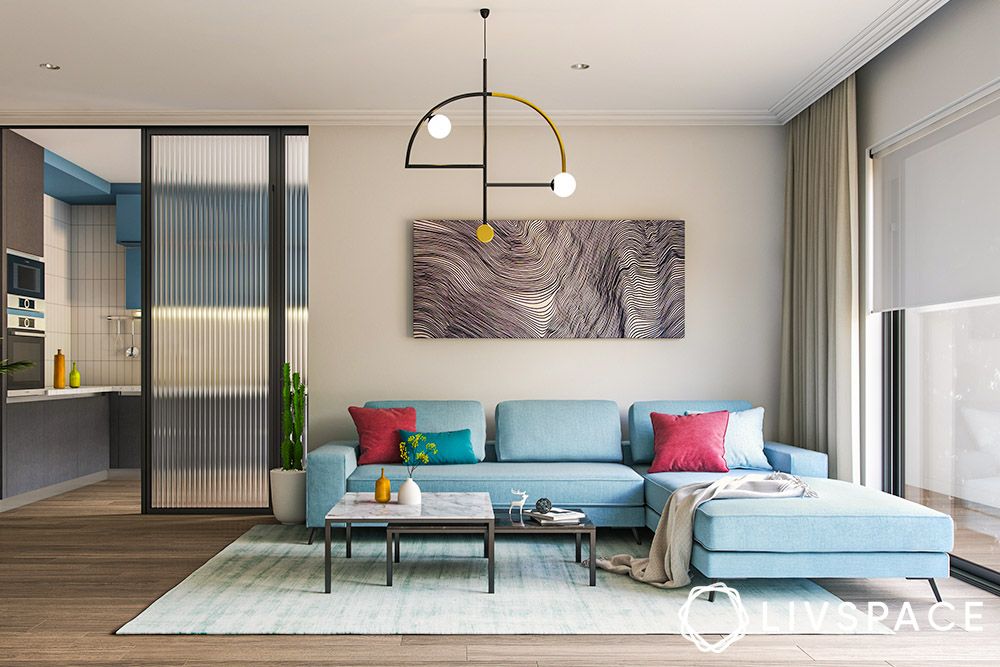 With its base in German and Scandinavian design styles, modern house design can be described as simple and uncluttered. It's believed to have emerged between the 1920s and 1950s. This interior style grew increasingly popular and is still well sought after in Singapore, even today.
'Form follows function' is the key idea behind the modern design style. Simply put, every element in a modern home, whether it's the interiors, furnishings or decor, should have a practical purpose.
Fact Check
Modern and contemporary design are often confused with one another. However, they are, in fact, two very different design styles. Contemporary design is something that follows the current trend, whereas modern style interior design is more functional.
What Are the Features of Modern House Interior Design?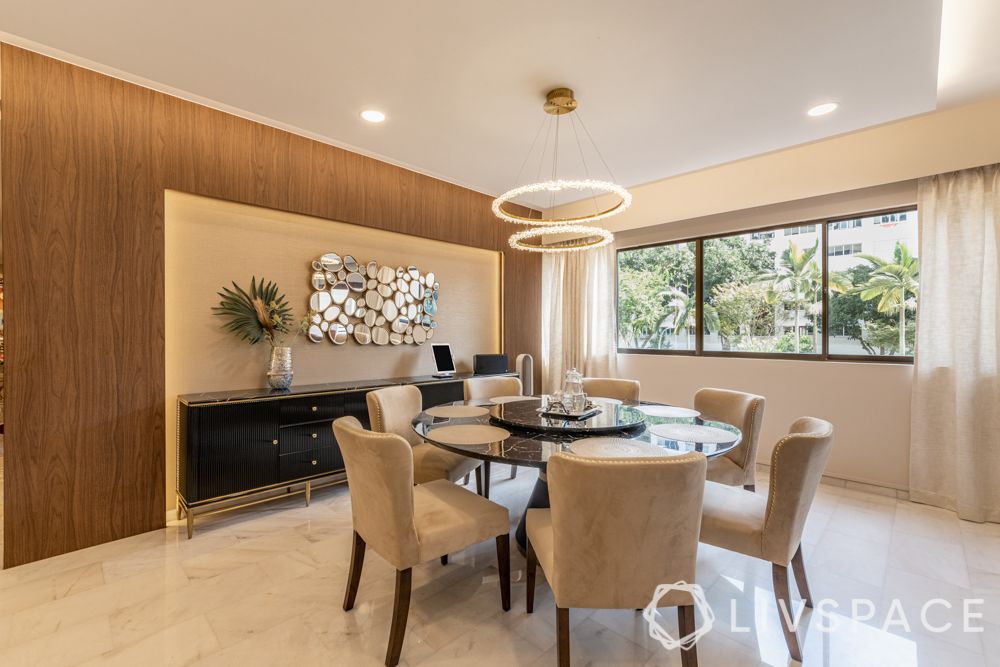 While picking a specific design style, it helps to know what to look for. This is also because there can be a bit of overlap between the design elements found across interior styles. For example, both modern and Scandinavian design styles prefer the use of natural materials, but this doesn't mean they are one and the same.
Here's where being able to identify the markers of modern house design is imperative. These are some of the common giveaways of a modern house:
Clean lines
Limited, minimal, and practical decor
Monochromes or neutral/earthy colour palettes
Open floor plans that use minimal furniture and decor
Use of natural materials such as wood, metal, and natural fibres
Functional approach to design rather than aesthetics
Clutter-free and subtle design that's easy on the eyes
A focus on natural light in every room
Also Read: 6 Easy Ways to Get That Modern Look at Home if You're Renovating
Here Are Some of the Best Modern Livspace Homes in Singapore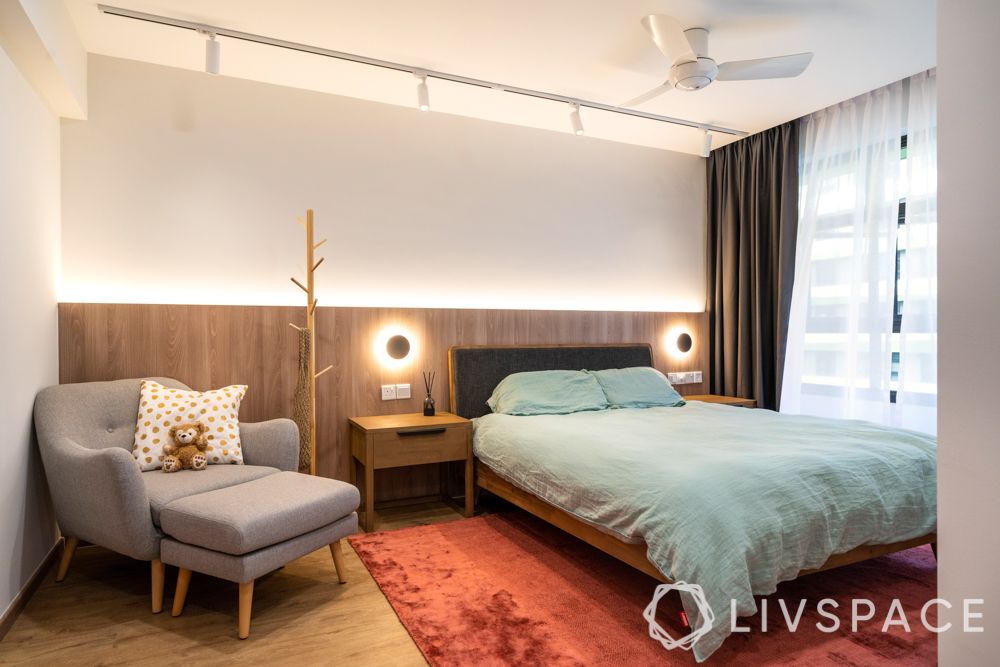 Homeowners Shuyi and Zhibin's HDB BTO bears a simple modern house design that uses a neutral colour scheme for the walls. Following an open layout, this modern house is chock-full of storage units. The open layout also helps the couple host more guests whenever they plan gatherings.
Get the Look
The highlight of the bedroom in this simple modern house design is its wooden tones. You can get a similar look by pairing wooden furniture with wooden flooring. If you feel like your modern house design is getting too monotonous, you can use soft colours to add interest.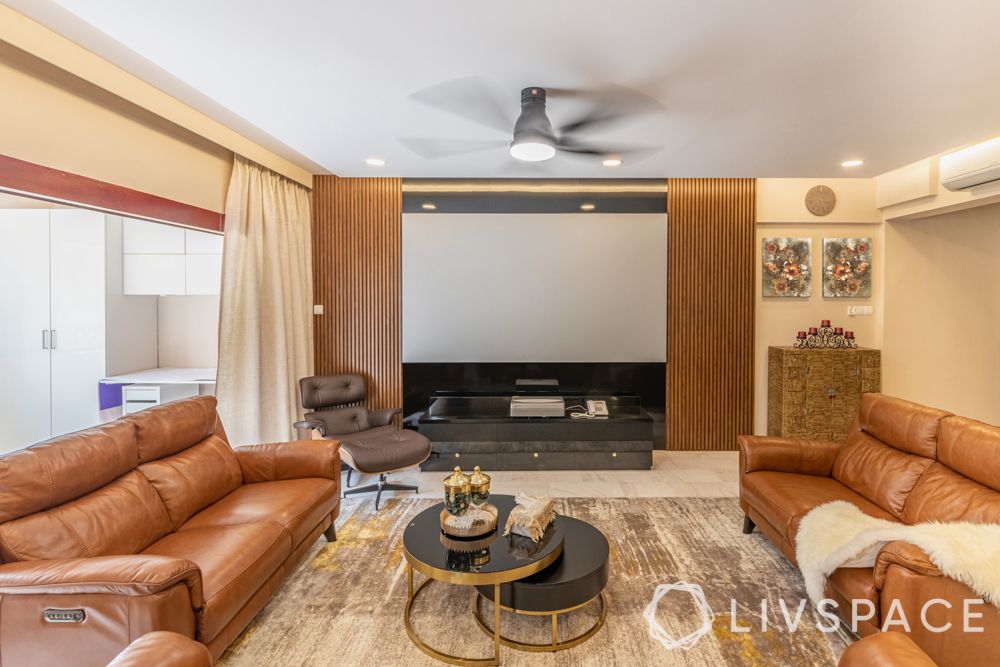 No matter how you look at it, this 4-room condo spells luxury modern interior design. With its comfy furniture and calm colours across each room, it instantly evokes a warm and welcoming vibe. Complementing the neutral colours of this modern home design are the metallic highlights.
Get the Look
To recreate these luxury modern interiors, our designers suggest using monotone colours. Which, in this case, are warm shades of beige and brown. Additionally, you can also use materials such as wood, metal, and leather as seen in this modern house design.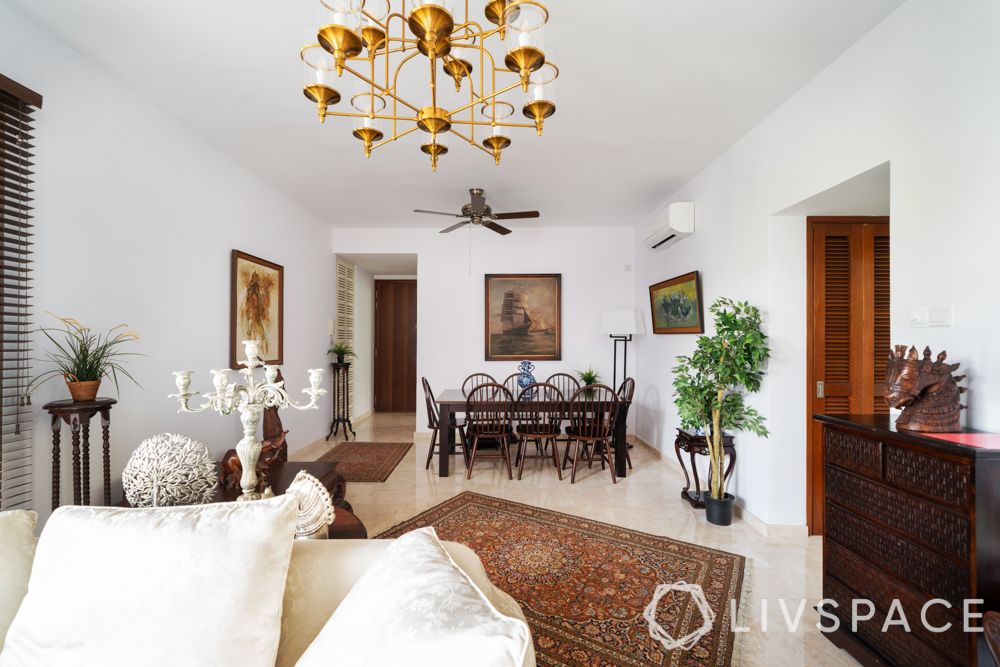 Are you a fan of wooden furniture? If yes, you're absolutely going to love this home! Owned by an Indian couple, the home exemplifies their cultural roots. Flush with dark, intricately detailed wooden furniture, the condo is typical of traditional Indian homes.
However, don't let their furniture fool you into thinking this is a traditional style home. If anything, it's the perfect meeting point of Indian traditional and modern house design.
Get the Look
Thinking about recreating this resort style home? Then you certainly must have your walls painted white. Add some wooden furniture, a statement chandelier, and a few decor items to perfect this look. If you'd like to add more character to the space, you can also consider hanging a few paintings.
Also Read: 15 Hacks for a Modern House Design Inspired by Livspace Homes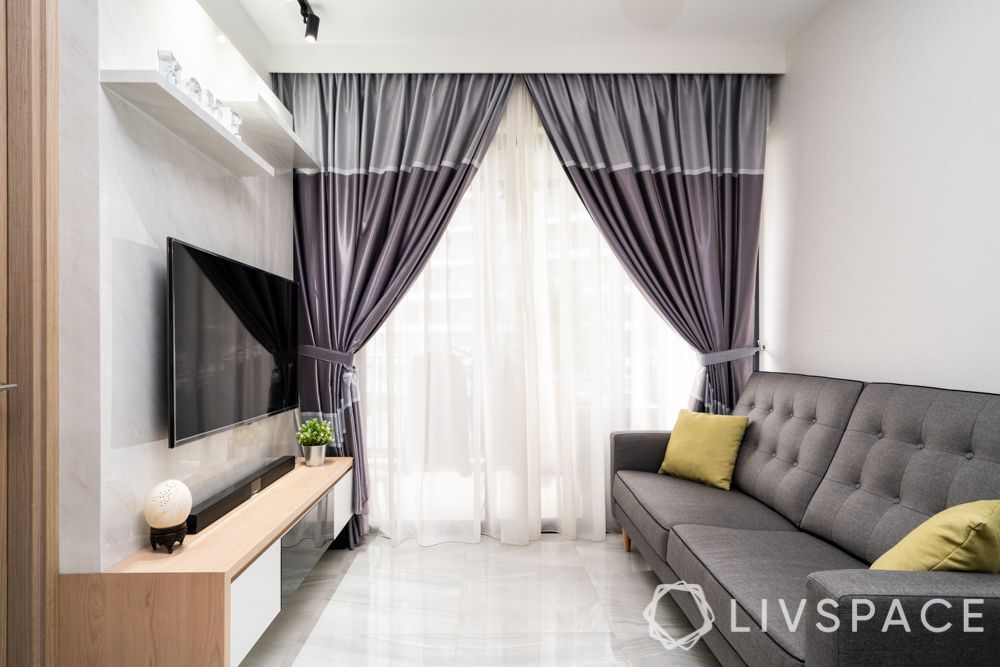 Another perfect example of modern house design is this 3-room condo. Optimisation of this compact space has resulted in a completely functional home. We used white and grey palettes across the home, creating a monochromatic palette.
To accentuate this colour palettes, we went with light wood carpentry to tie the look together. The decor is kept minimal to create a clean and uncluttered look, which is essential in compact homes.
Get the Look
A neutral palette with complementary colours is what you need to achieve this neat modern house design. Also, invest in some floating and multifunctional furniture to save space.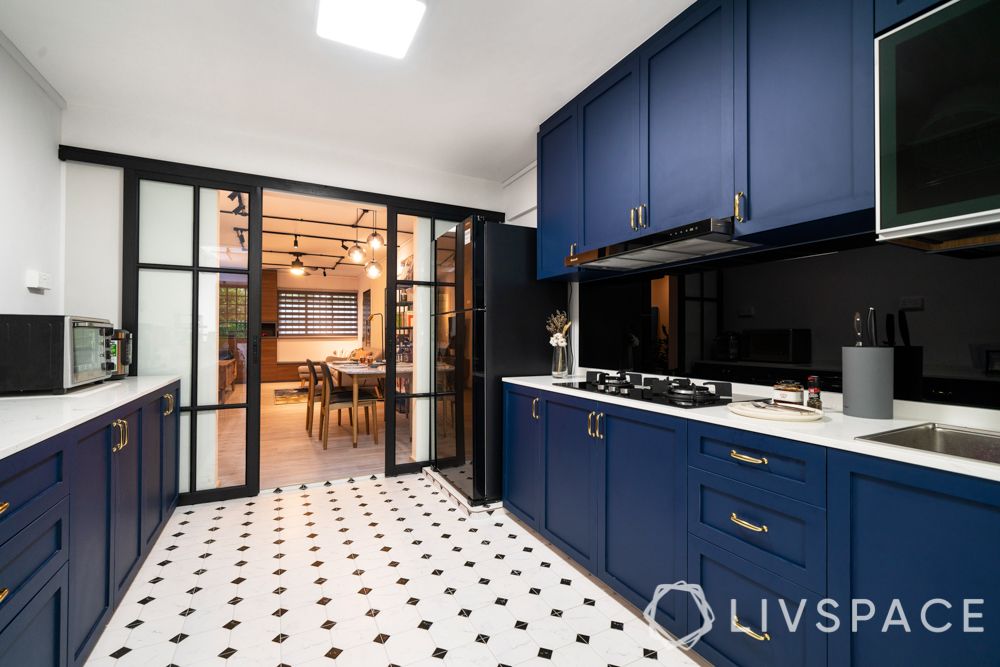 Last, but not least, is yet another compact HDB with beautiful modern interiors. With extensive use of vibrant colours, patterned tiles, and glass, this home is awe-inspiring. What's more? Every corner of this modern house design is packed with storage units!
Get the Look
There's nothing like a spot of blue carpentry to really make your interiors pop. If you're big on colourful interiors, consider taking cues from this home and experiment with them. You can also use a sliding glass door to highlight that modern house design feel.
How Can Livspace Help You?
We hope this guide gave you a clear idea of modern house design, and how to implement it. If you're looking to renovate your home into a modern space, look no further. Book an online consultation with Livspace today.
Have some comments or suggestions you'd like to share with us? We're all ears! Feel free to write to us at editor.sg@livspace.com.
Disclaimer: All contents of the story are specific to the time of publication. Mentions of costs, budget, materials, and finishes can vary with reference to current rates. Talk to our designer for more details on pricing and availability.