There's nothing like clean lines and an undeniable sleekness when it comes to modern homes. We all live in the modern era but our home sometimes lacks that finesse. While we all want to induce some modern charm into our home interiors, it is seldom easy without some basic steps. To begin with, the layout has to be right and the others can follow suit. We have some amazing modern house design ideas that will give you an idea about how you can get the look at home.
#1: Focussing on colours in the living room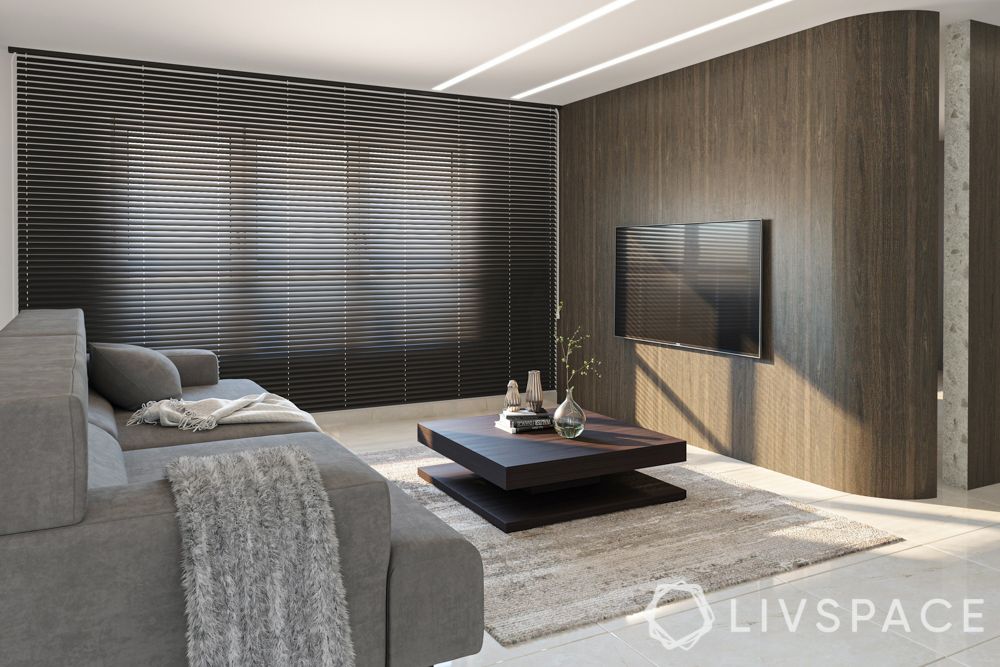 This living room is a perfect example of a modern house design. The main element of focus being the colour scheme used here. Whenever you want your home to be designed with modern sensibilities, the colours should deviate towards neutral and cool tones. For this living room for instance, we have used a laminate panel on the TV unit wall and light grey upholstery for the sofa. Making things simpler and cleaner are the Venetian blinds. Notice the cove lighting in the false ceiling that completes the look of this space.
#2: An open layout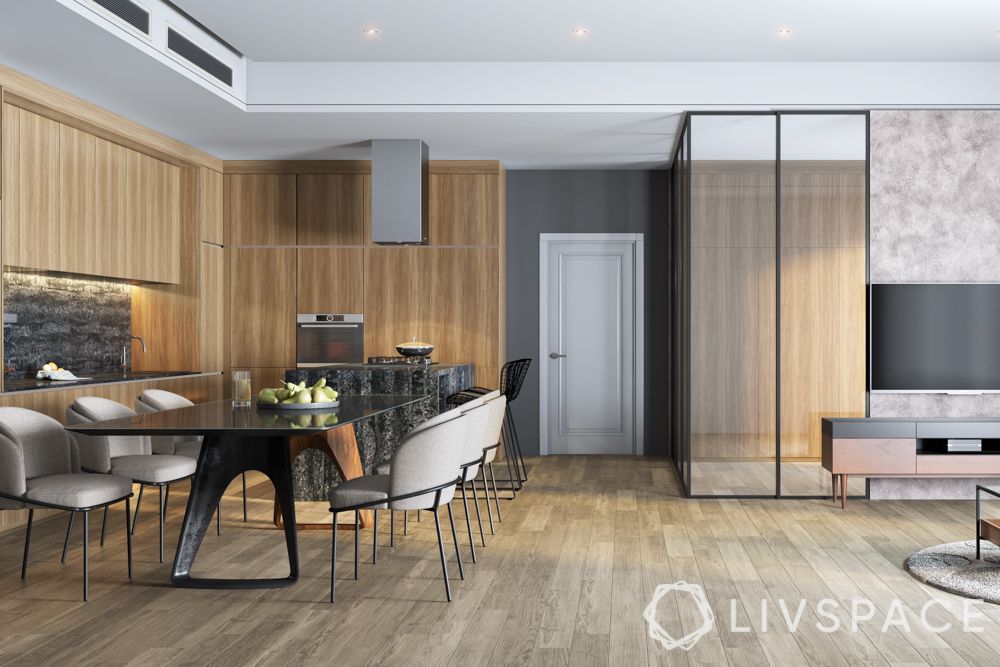 Modern house design always favours open layouts so that the look can be replicated throughout the home. Spacious interiors with large windows and open floor space are the true definition of modern design. Here we have integrated the dining area right next to the open kitchen. This makes it ideal for get togethers and conversations. Notice how the entire kitchen is finished in laminate that matches with the flooring.
#3: Playing with the right patterns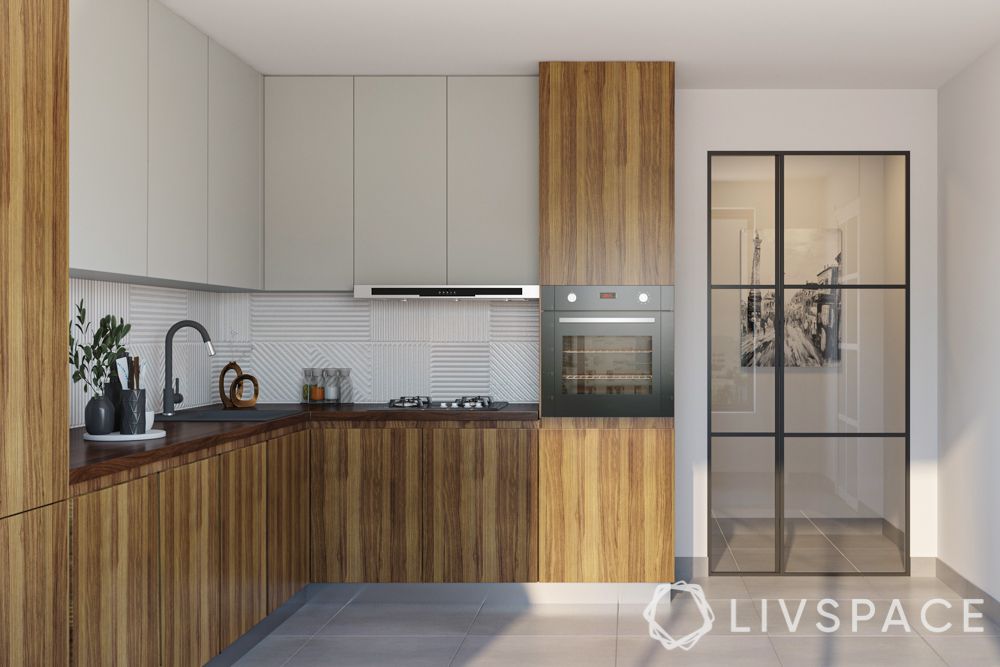 Let's agree that modern design treads on the edge of being monotonous if not dealt with carefully. Imagine using only neutral colours and paring them up with plain walls. Wouldn't that make your home look dull? So how do you infuse some character into it? The answer is simple—patterns and texture. Try to use textured laminate and tiles with self-design or subtle patterns on them. This will make your modern house design come to life.
#4: Clean and straight lined furniture
Furniture is the main element of any design style and if you get this right, you are sorted. For this bedroom we have chosen a fully upholstered bed paired with modern side tables. Keeping up with the open and spacious layout, we have added a glass screen that doesn't weigh the look down. Even while selecting armchairs, make sure you pick something sleek and not bulky.
#5: Selecting the right accents and accessories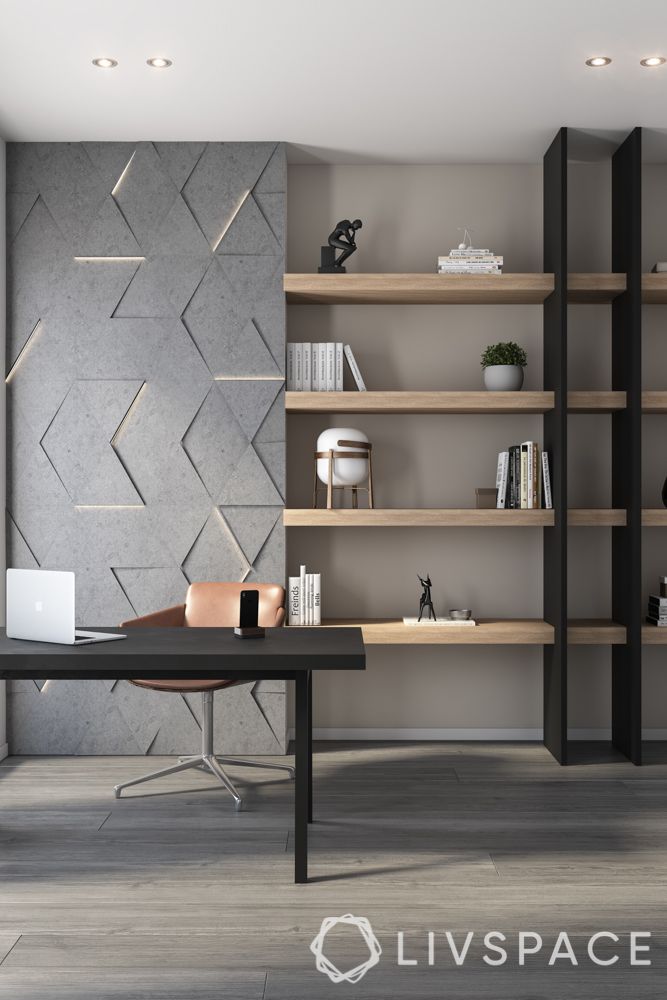 For the study room we have selected a simple study table and a full-length bookshelf. To add an element of interest, you can add an accent wall like this. Geometric patterns never go out of style and 3D walls look great in a modern setup. Wall shelves set in a niche make sure that the space is not cluttered. Keep the flooring minimal and simple by opting for wooden tiles.
#6: Design elements matter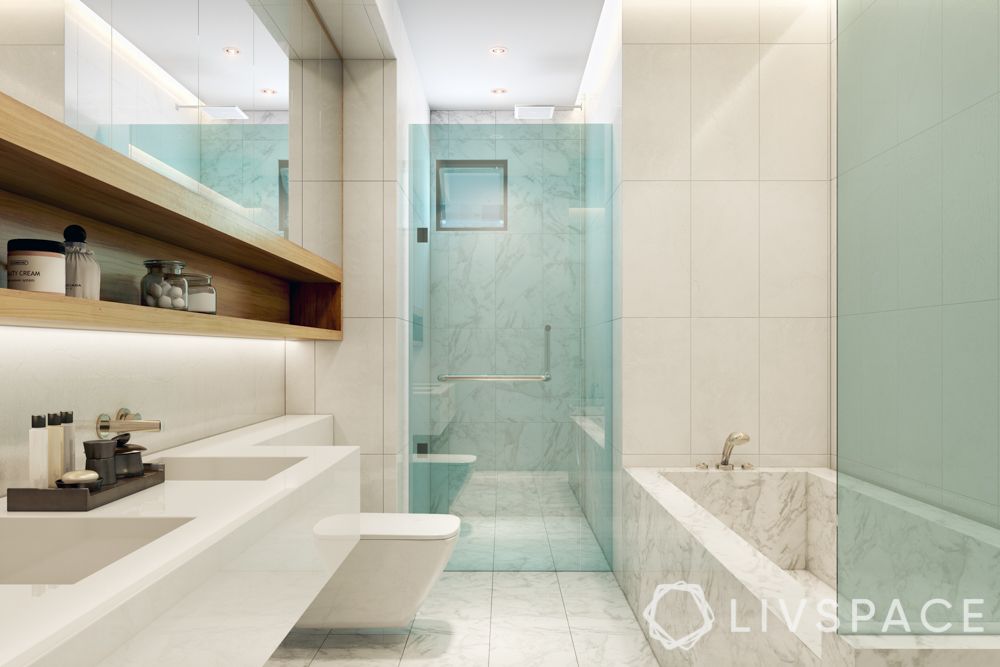 There are plenty of bathroom fixtures that you can pick from when it comes to modern aesthetics. Floating fixtures should be your go to since they look sleek. White works best for modern toilets, with a hint of texture like marble veins. Do not compromise on storage and add a mirror vanity unit that can hold all your toiletries. Also focus on the lighting and stay away from bulky lights.
We hope you now know the major elements of modern design. If you want to learn more about other design styles, check this out: 10 Interesting Interior Design Styles That You Need to Try at Home.
Send in your comments & suggestions to editor.sg@livspace.com.