Just because you have a compact toilet space, doesn't mean you have to compromise on how it looks. With the right small bathroom ideas, you will be able to enhance the functionality and appeal of a small bathroom design easily. Mask space restrictions and make the most of your toilet design by trying out a few of these simple small bathroom design ideas.
#1: Dark & Plush HDB Toilet Design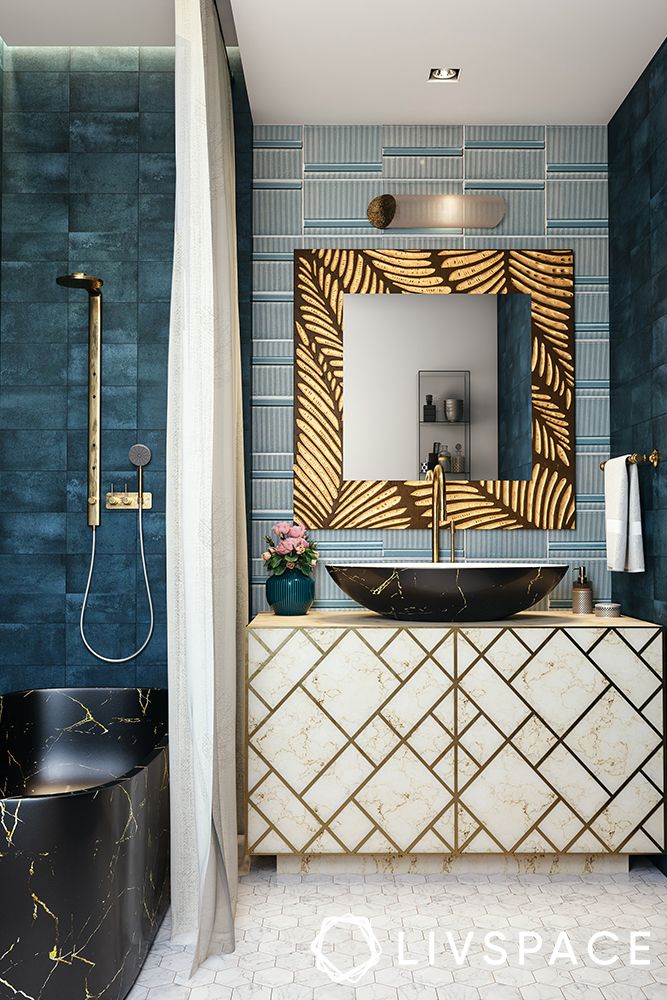 If you need to maximise the natural lighting in your bathroom, then go for simpler small bathroom design ideas like this one. You may opt for a light colour scheme that's popular with Scandinavian and Moroccan aesthetics.
To make your HDB toilet design more interesting, add a combination of wall tiles. This is also one of our most popular small bathroom designs with shower. We have used different tiles in the shower area to create a distinct visual effect from the remaining wall space.
#2: Small Bathroom Ideas for BTO Toilet Designs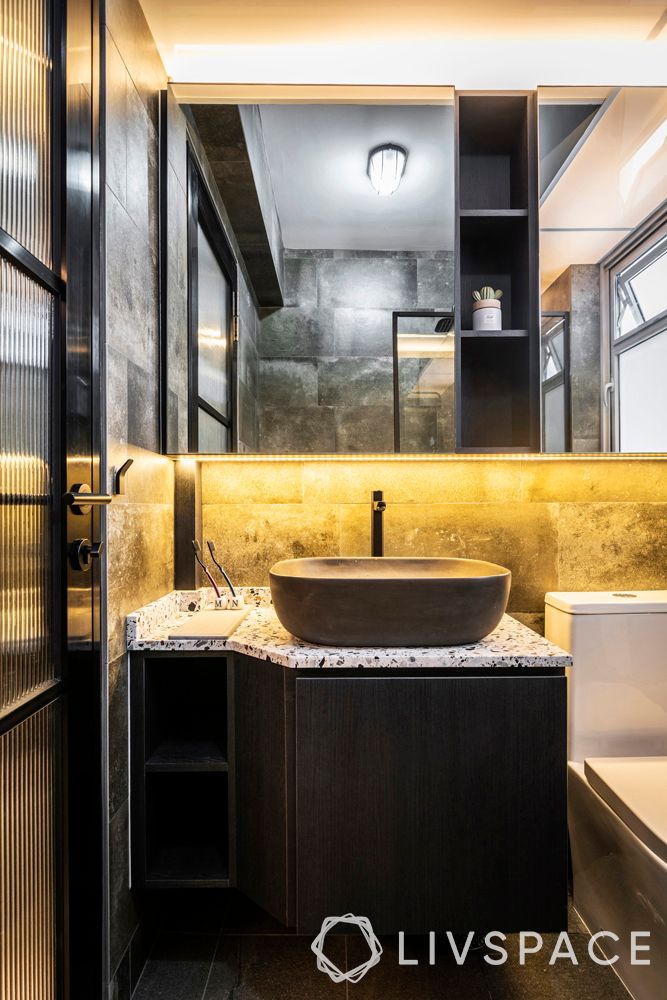 The trick here is to create a dark background using contrasting colours to make the elements stand out. This is a great way to manipulate the size of any room. It's one of the most phenomenal BTO toilet designs because it has a rich and regal look.
You can even add some golden accents and warm lighting to further accentuate the look. Dark colours and metallic accents come together to create one of the most perfect small bathroom ideas. We love the bathroom countertop and how it adds a visual break from the bold and contrasting colours!
Also Read: Inspirational 5-Room HDB Renovation Ideas From Stunning Livspace Homes (Under $80K)
#3: Simple Small Bathroom Ideas That Give You a Sense of Calm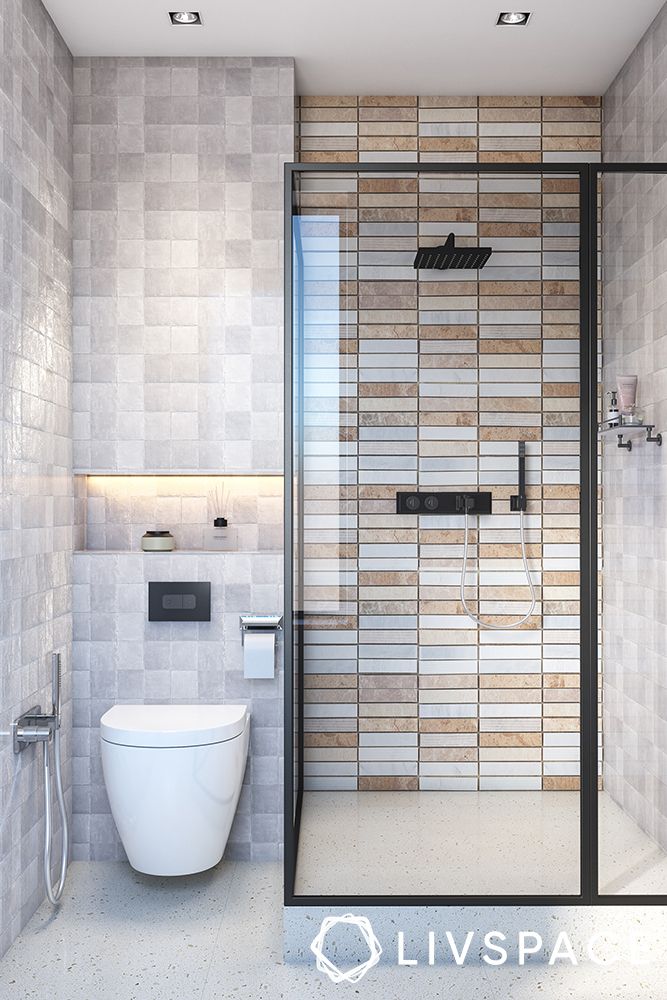 Noteworthy small bathroom ideas from this bright Scandinavian toilet include a light colour scheme, clear shower enclosure, rebellious black hardware, elevated floor level in the shower area, and three types of tiling. The floor has black and white terrazzo tiles, while the walls have a combination of tiles in two different shapes and sizes, to create depth and a sense of dynamic.
#4: Small Bathroom Ideas for a Modern Toilet Design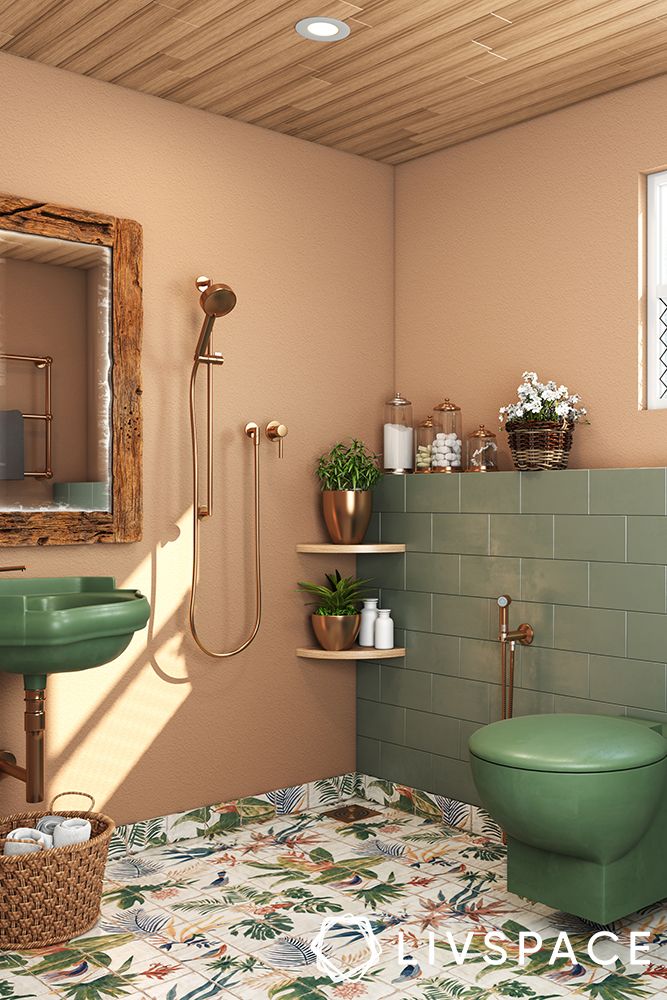 One of the effective toilet design ideas for small bathroom designs is to incorporate beautiful visual diversions. Make your guests forget about the small size of your bathroom by creating a focal point that will draw their attention. This one's for all those who have lost their hearts to the tropical prints. You are someone who will not settle for plain small bathroom ideas. You should use a unique colour scheme paired with beautiful patterns, like in this bathroom.
Here, we used a combination of pistachio green tiles and pastel peach paint on the wall. The wooden tiled ceiling and the contrasting leaf printed floor distract from the size of the bathroom. It also helps that all the walls are finished in the same paint, as they offer a sense of continuity.
#5: Small Bathroom Ideas Focused on Storage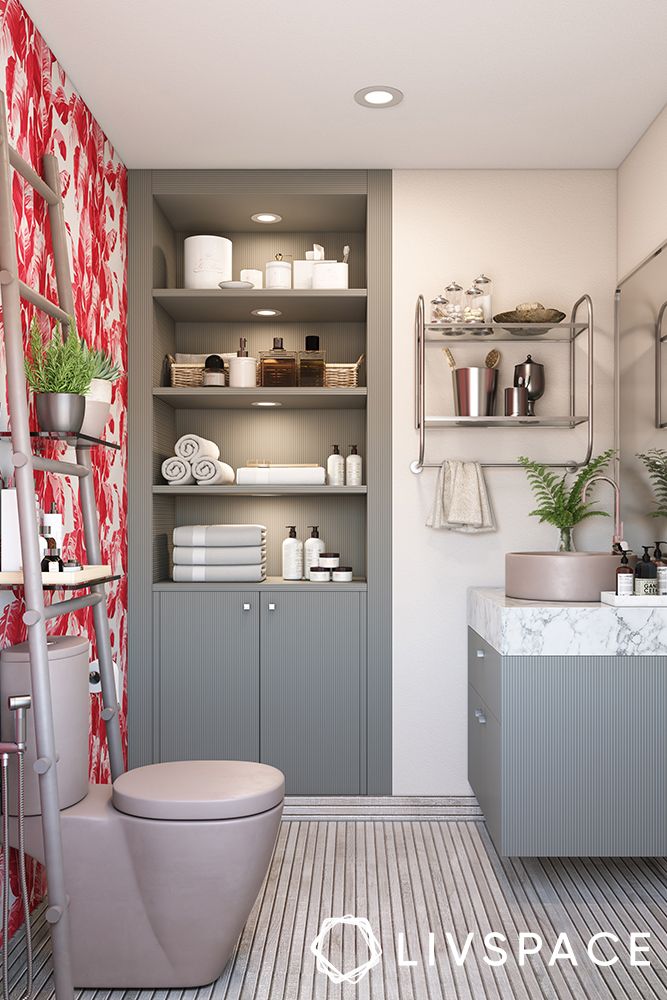 Creating small bathrooms designs with ample storage can be challenging due to the need to balance multiple factors without compromising hygiene.
The more objects you have in your bathroom, the more challenging it becomes to clean. Hence, you must facilitate easy maintenance by prioritising unobstructed light and keeping the floor space as free as possible.
#6: Toilet Design Ideas With a Vanity Unit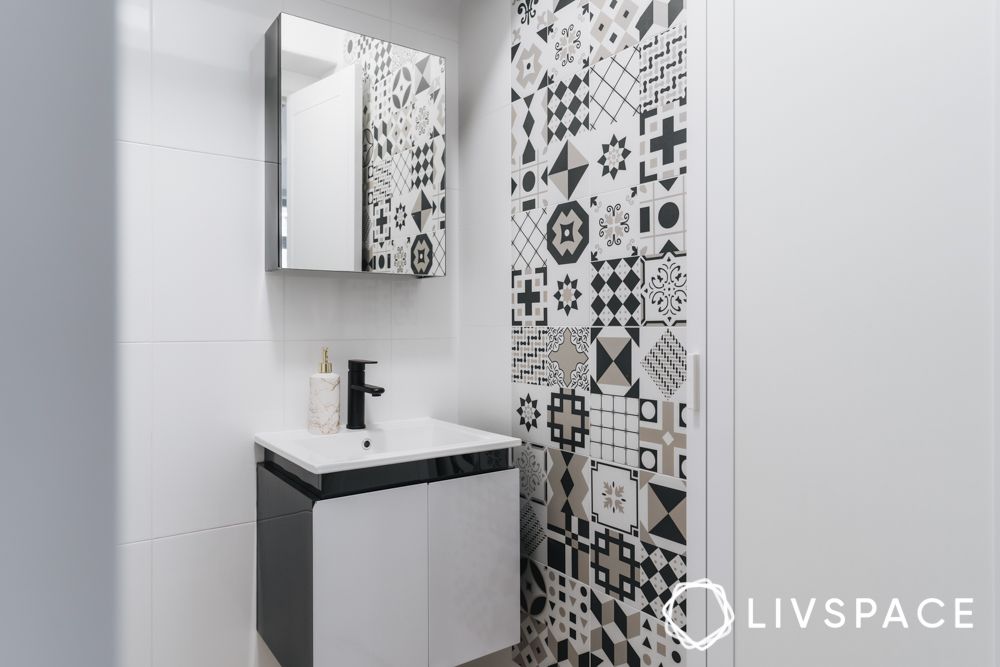 For small bathroom ideas, let's also talk about the typical storage unit – the vanity. You will notice that all of our best bathroom designs usually feature wall-suspended fittings. This allows unobstructed flow of water from the floor to the drain, and secondly, easy cleaning of the entire toilet floor.
Hence, a wall suspended vanity unit under the sink is one of the most hygienic small bathroom design ideas.
Also Read: How to Design a Bathroom That Stands the Test of Time
#7: DIY Solutions for Old HDB Toilet Design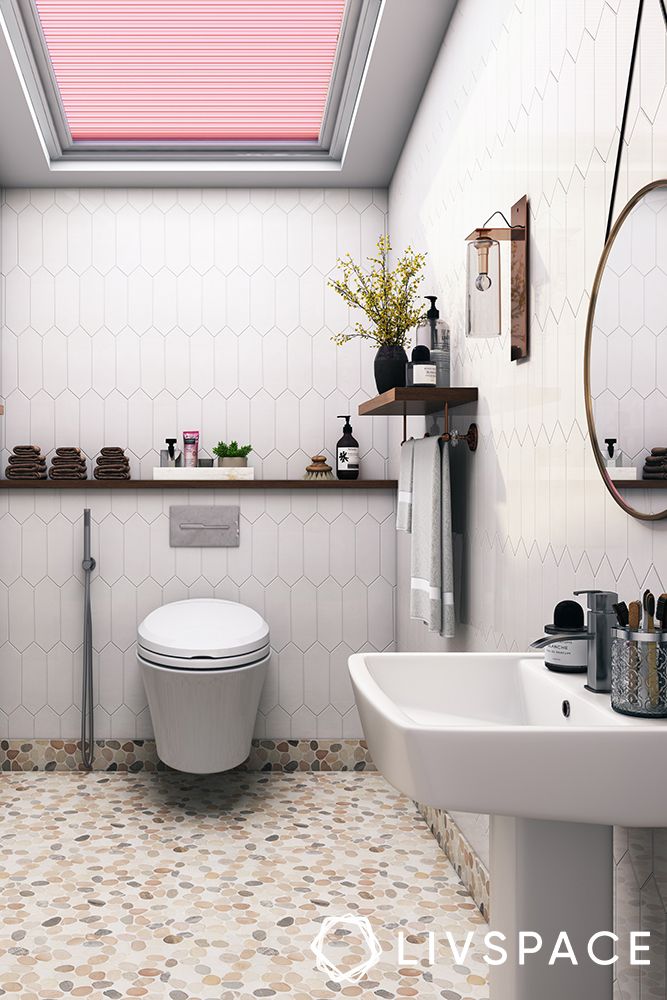 We understand that renovation work like hacking, re-tiling or re-plumbing can be challenging and expensive for old HDB toilet designs. So, you might be looking for simpler quick-fixes. You can buy ledges and hangers to store your toiletries, towels and cleaning supplies.
These open, wall-fixed units are easy to clean, don't trap moisture and dry quickly. Match them with the interior of your small bathroom design to let them contribute to the aesthetics.
#8: Modern HDB Toilet Designs for a Spacious Look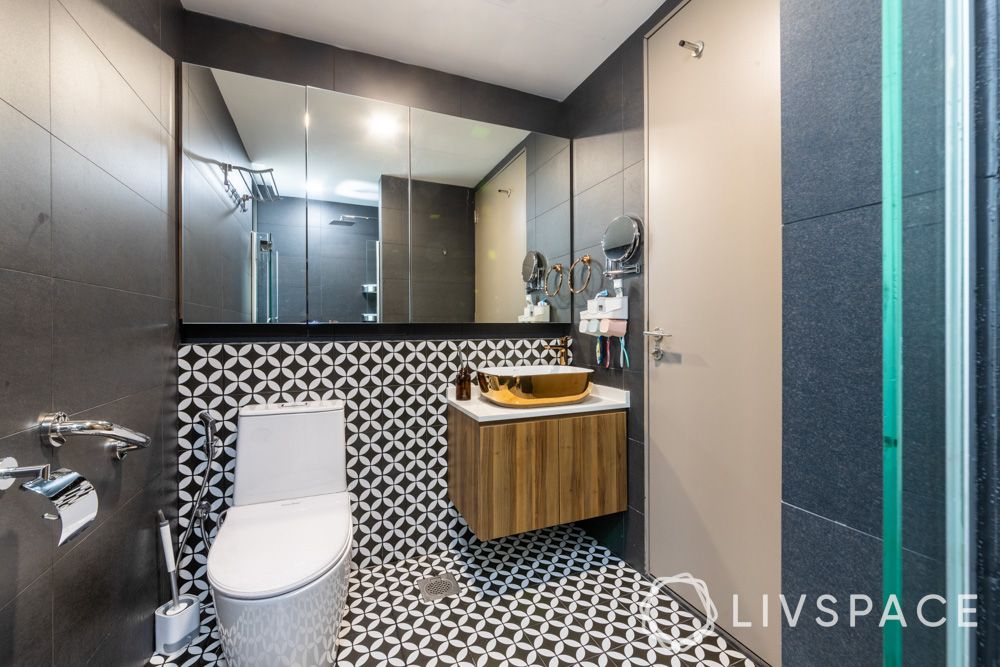 Small bathroom ideas that make your space look bigger are golden! Or, in this case, monochrome. In this small bathroom design, the patterned black and white tiles reflect plenty of light.
Not only is the flooring of this modern HDB toilet design stain resistant, but it's also seamless because the grout lines aren't visible. Such seamless floor tiles help in masking the dimensions of the floor and are simply ingenious small bathroom ideas.
#9: Luxurious Small Bathroom Ideas for a HDB Toilet Makeover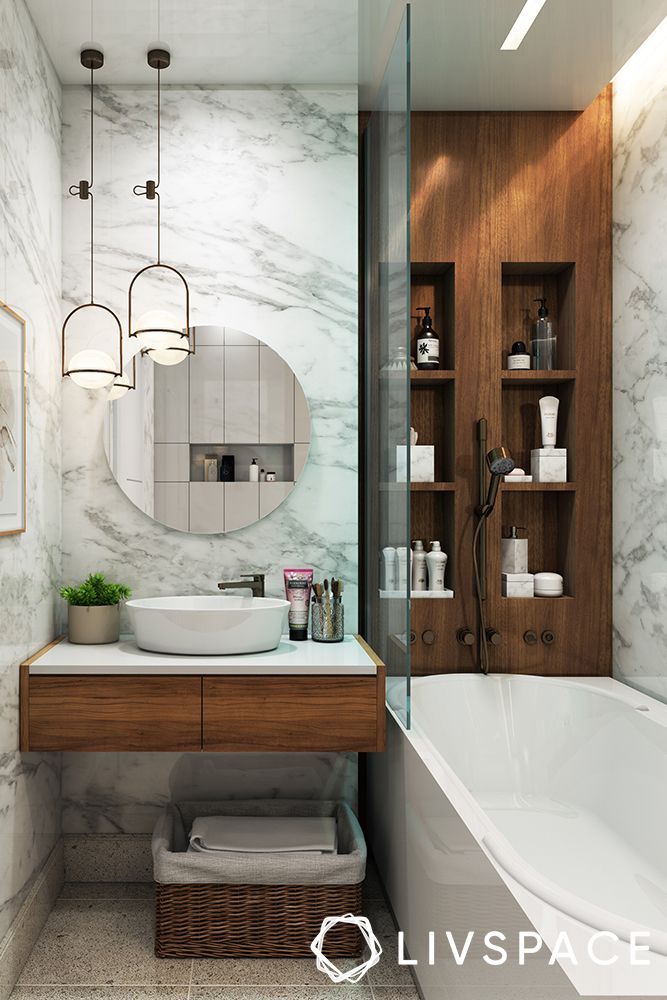 Lessons from this HDB toilet makeover are many and diverse, starting from the granite flooring to the false ceiling. You can employ some timeless toilet reno ideas like combining wood, marble and golden metallics.
There's a tiny vanity that prevents the bathroom from looking cluttered and a protruded wooden panel with niche storage offering a unique solution. This is the best way to renovate, as it ensures your small bathroom design looks both tidy and modern.
#10: HDB Toilet Makeover Ideas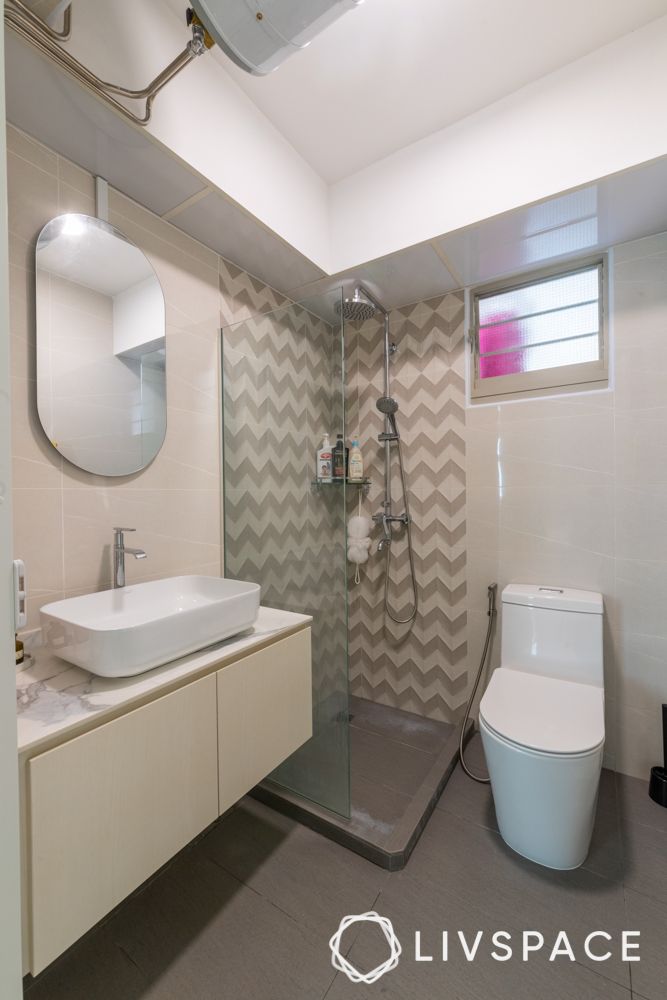 If there's a renovation already going on in your house or if you are planning one, do not give up on your tiny toilet yet. It's time to dive into some toilet reno ideas and give your bathroom a makeover it deserves.
You can get trendy wall and floor tiles, build storage as per your requirement, customise the plumbing to suit your requirements, or get stylish hardware. This HDB toilet makeover features simple small bathroom ideas that manage to pack a punch while having a clean and cohesive look. The shower cubicle is small yet cleverly fitted into a niche. Amazing, isn't it?
Also Read: 10 Things to Consider While Designing the Perfect Small Bathroom
#11: Small Bathroom Ideas on a Budget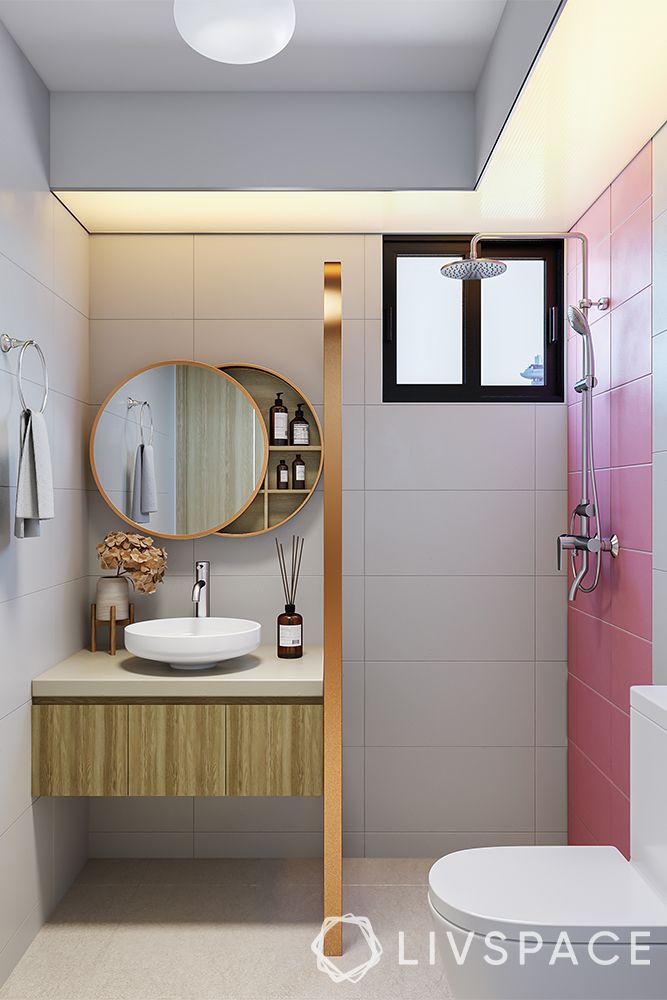 If you don't have the space to create a shower cubicle, why not implement a partition in your small bathroom design? Take a page out of this toilet design in pastel shades.
This small bathroom design makes a splash with its shower partition, hanging vanity unit and thrifty decor. But most of all, with its wall-mounted storage unit behind the mirror. Remarkable addition, isn't it? Be sure to try out such ingenious small bathroom ideas for your toilet design. Let us help you!
How Can Livspace Help You?
We co-create award wining designs for homes you love living in
We have a 5-year warranty on kitchens and wardrobes
We're Asia's fastest growing home renovation provider
Book an online consultation to see how we can help you design your beautiful home and make the most out of your small bathroom/toilet design.