Just because you have a tiny bathroom or less than required square footage, doesn't mean you have to compromise on the look and feel of it. You can easily bridge the gap with clever design tips and ideas that will make the available space work harder. With these small bathroom ideas, you can choose your personal favourites and renovate your bathroom keeping them in mind. Add maximum storage or go easy and keep it simple with designated zones. Check out these design tips.
#1: Go bold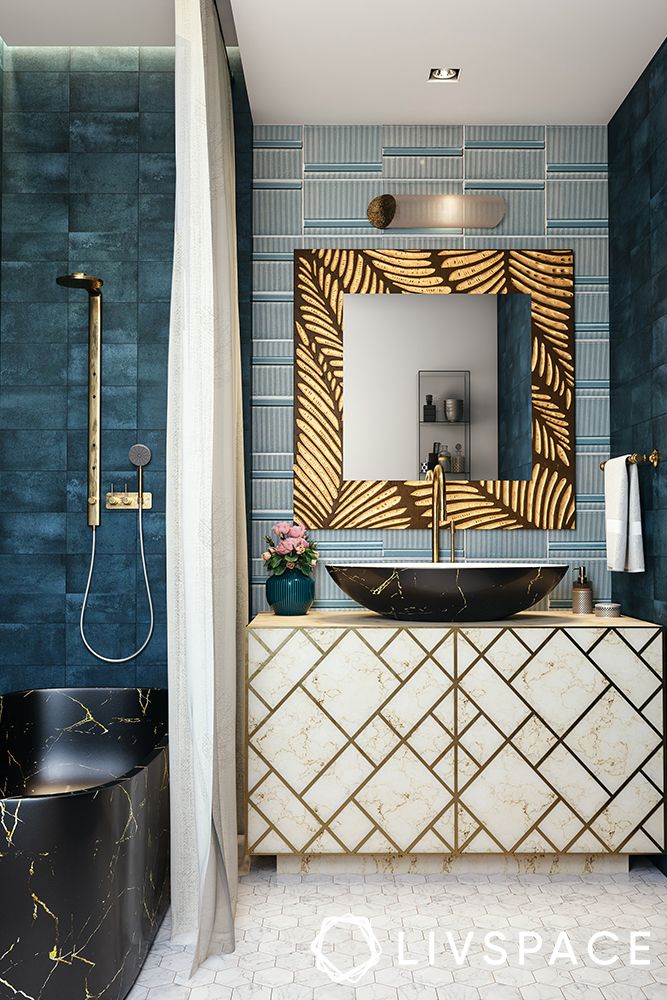 It is often assumed that dark colours make small spaces look more cramped. While it might be true to an extent, but if you choose the right shade, you might win over this situation. Of course, you will have to add some accents that will further accentuate the look. Dark colours and metallics pair impeccably. We just love this veined black bathtub against the backdrop of dark blue walls.
#2: Simply Scandi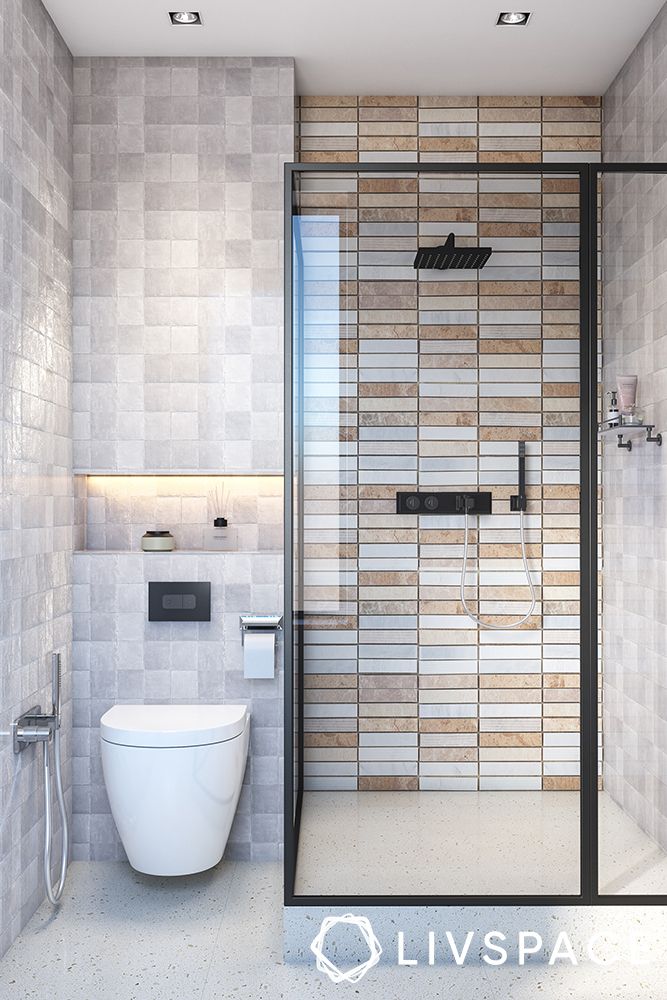 Coming to the extreme opposite of bold, here we have a simple Scandinavian design to woo you. If you are someone who likes to keep it light and bright, then this basic bathroom design will appeal to you. The shower cubicle is set on an elevated platform and separated with the use of a glass partition.
#3: Play up the floor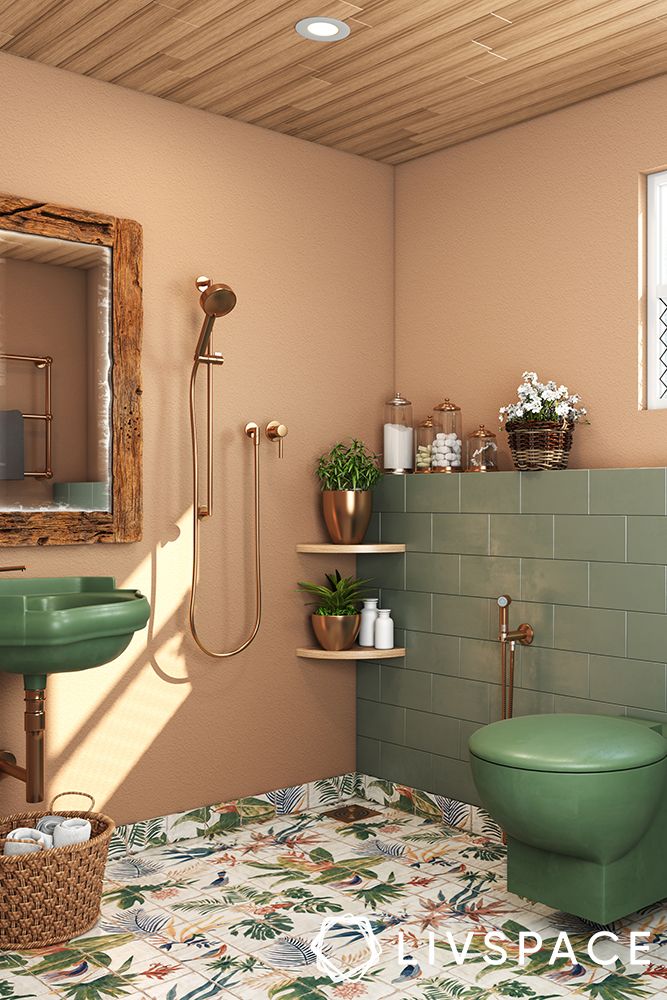 This one's for all those who have lost their hearts to the Tropics. You are someone who will not settle for anything ordinary. So what if your bathroom is small? You can still pretty it up by using a unique colour scheme paired with beautiful patterns. Here we have used pistachio green on the wall tiles and matching leaf printed tiles on the floor. Add corner shelves for extra space.
#4: Add maximum storage space and some accents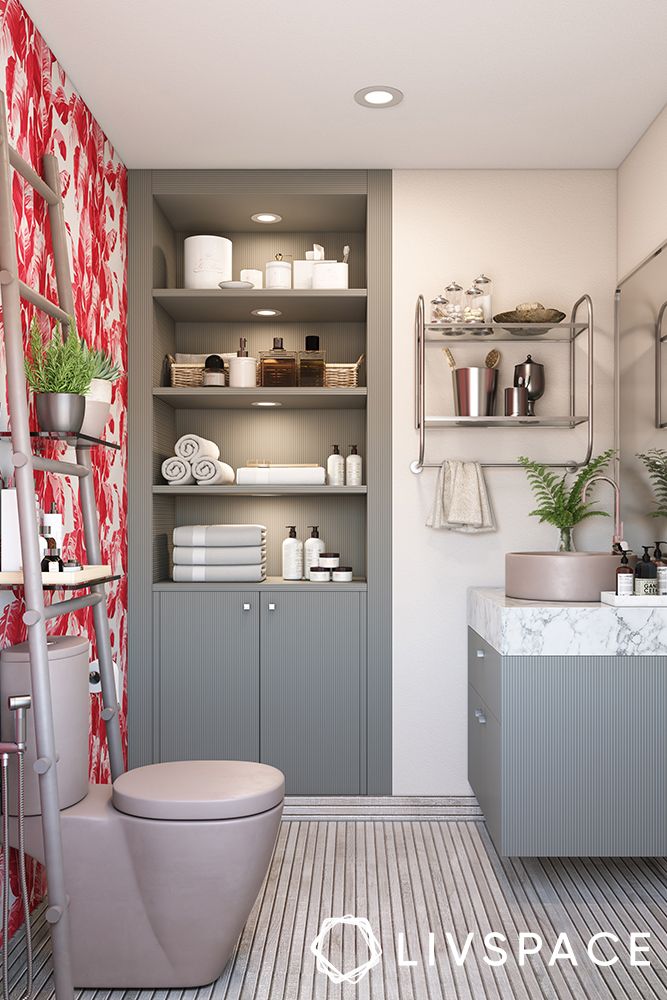 This is one of the smartest small bathroom ideas out there. High on storage does not mean huge square footage. Your compact bathroom can flaunt a lot of things if you plan it right. Instead of a freestanding storage unit, go for in-built storage. This way your storage will be concealed in the wall and you will have enough free floor space. You can shop for storage shelves that can be placed behind the WC. Don't forget to add a pop of colour to the walls!
#5: Find a spot for everything without overcrowding counters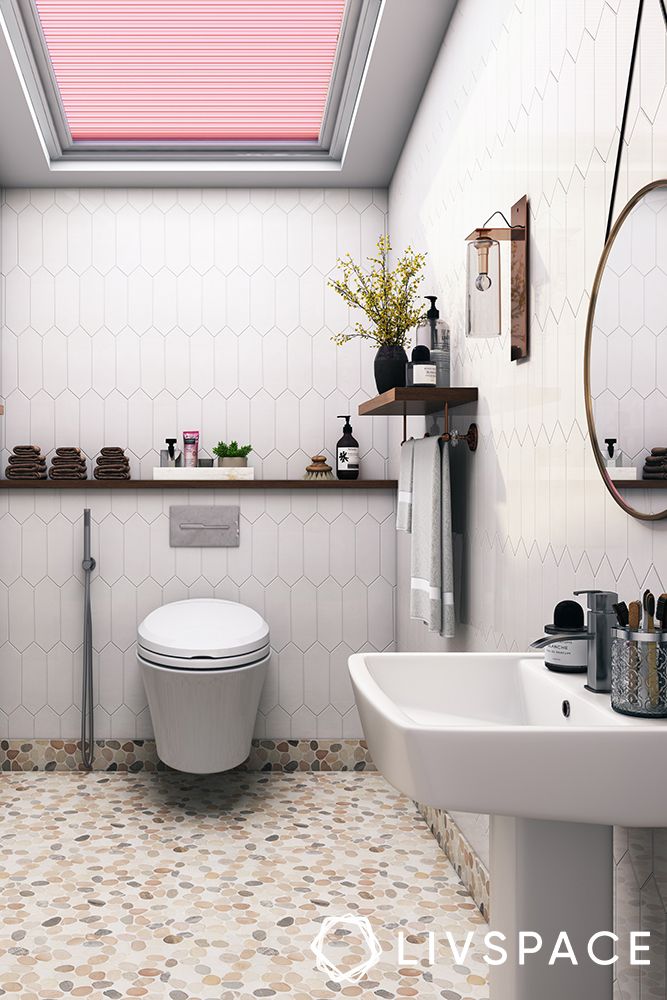 We understand that it is difficult to incorporate a complete vanity unit in a compact space. But you can still have all your essentials in your bathroom. All you need to do is get wall ledges pinned up at designated spots like next to the plug point, next to the washbasin and so on. You can now place all your things on these ledges instead of a full-blown vanity. That's one of the smartest small bathroom ideas we know!
#6: Utilise wall space intelligently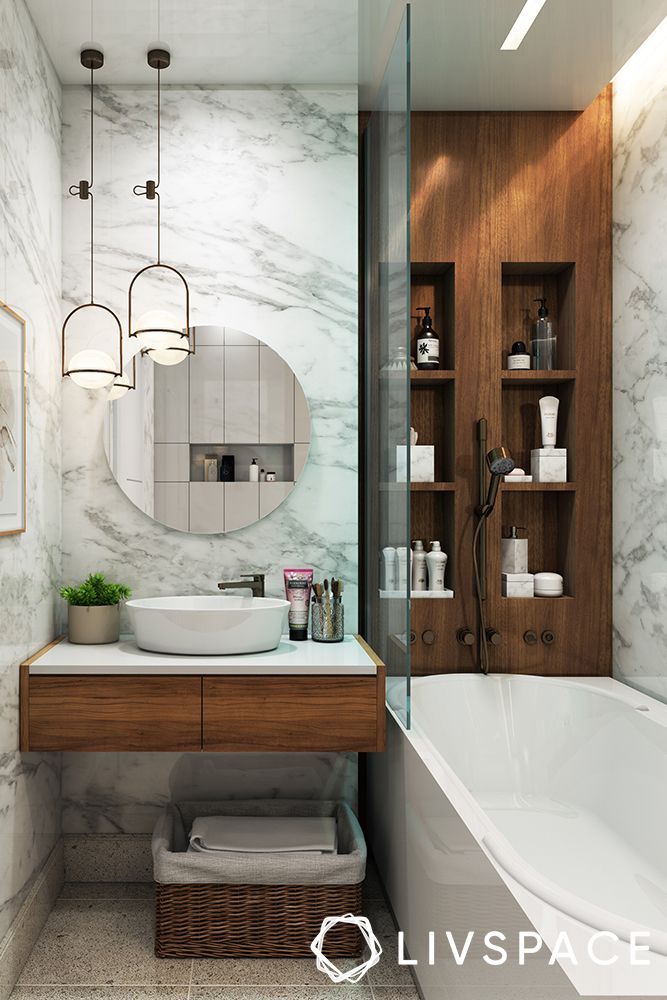 Don't have free floor or counter space at all? Vertical storage is your go-to option! Create niches in your bathroom wall and place your items there. You do not need any extra space for this hack. An entire wall can be turned into storage with the right placement and material. Just make sure your stuff is safe from splashes when you are using a wall next to your bathtub.
If you're looking for ideas to design your spacious bathroom, go here: How to Give a Stylish Look to Your Bathroom.
Send in your thoughts and suggestions to editor.sg@livspace.com.