Ah… the bathroom. It is where we clean, groom and prep ourselves at the start of the day, and where we relax for a nice hot shower or bath at the end of the day. And what's the easiest way to stir in a little ambience? Lighting! The wrong style and type of HDB bathroom lighting not only makes it look overwhelming or bare, it can also affect your daily prep routine (yikes!).
With smaller HDBs, come smaller bathrooms, but that should not deter you from making the right decisions. To begin, consider the daily tasks in your bathroom, the amount of natural light coming through your window, and the waterproof capability of your light fixtures. Now, let's show you the different styles and types of lighting that can add a special touch to your private time.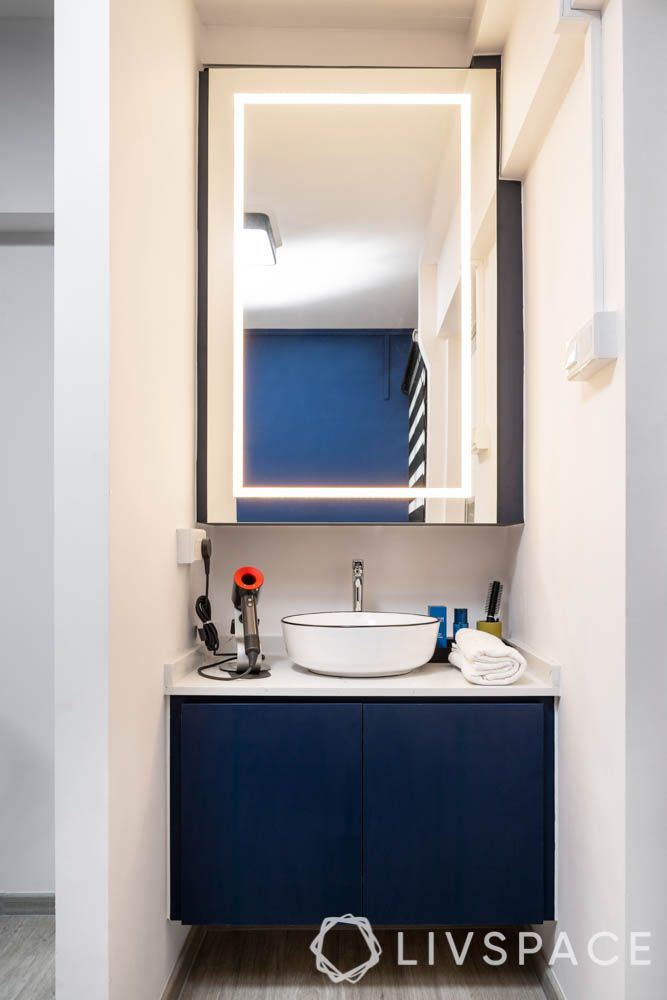 Different Types of HDB Bathroom Lighting
#1: Ceiling Light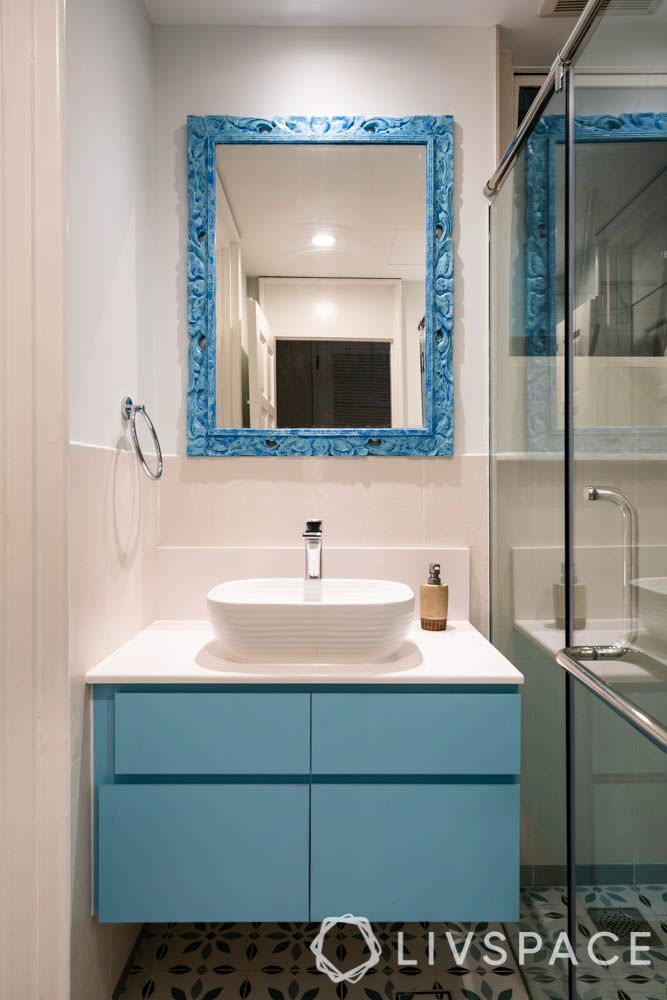 The good ol' ceiling light offers straightforward main lighting for the entire bathroom. Choose a simple and something minimal that does not overwhelm your small bathroom. But it has to be bright enough to light up the whole area while being water-proof as well. This makes cleaning and maintenance easy.
#2: T5 LED Lights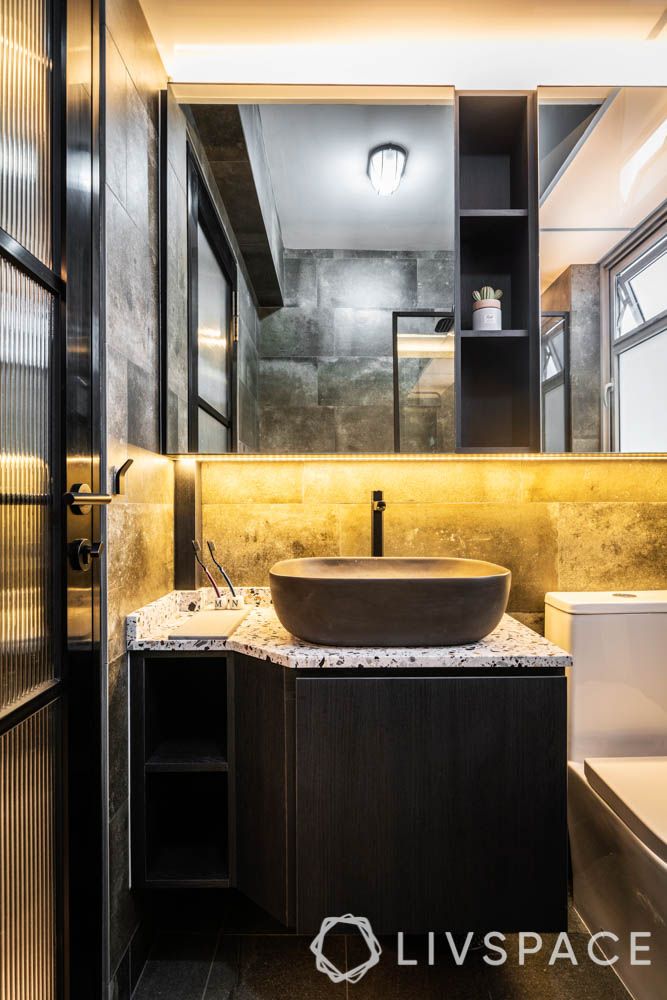 The great thing about newer HDB flats is that they provide the additional option of installing lights inside the ceiling pipe area just above its grid-like plastic panels, making it a perfect place to install T5 LED lights. T5 LED lights should rest comfortably within the ceiling borders for sufficient lighting.
Opt for warm white lighting that radiates a nice ambient feel for your evening ritual. You can replace those grid-like panels with acrylic panels that diffuse the light further with a softer glow and hide those unsightly pipes.
#3: Cove Lights/ LED Strips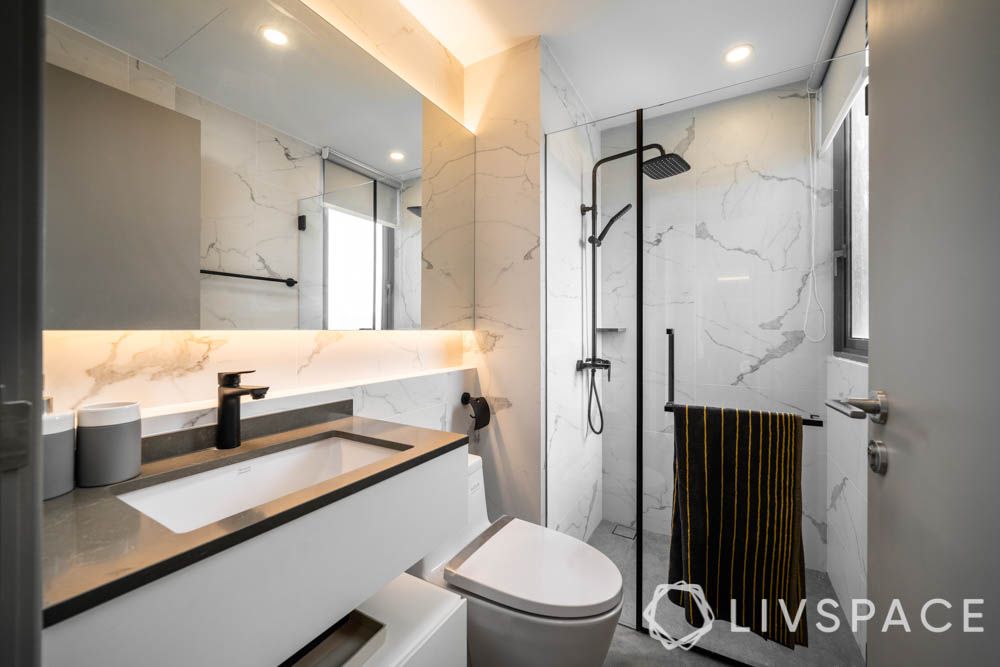 If you like the feeling of being in a 5-star hotel bathroom, cove lighting is another option to explore. These lights can be hidden discreetly behind mirrors, shelves or false ceilings, with soft glows of light billowing from the edges and bouncing off from the walls, looking elegant and natural.
Alternatively (and affordably), you can "cheat" your way to do this by lining waterproof LED light strips along the edges of your chosen corners. You can also opt for a bathroom mirror with integrated diffused lighting.
#4: Wall Lights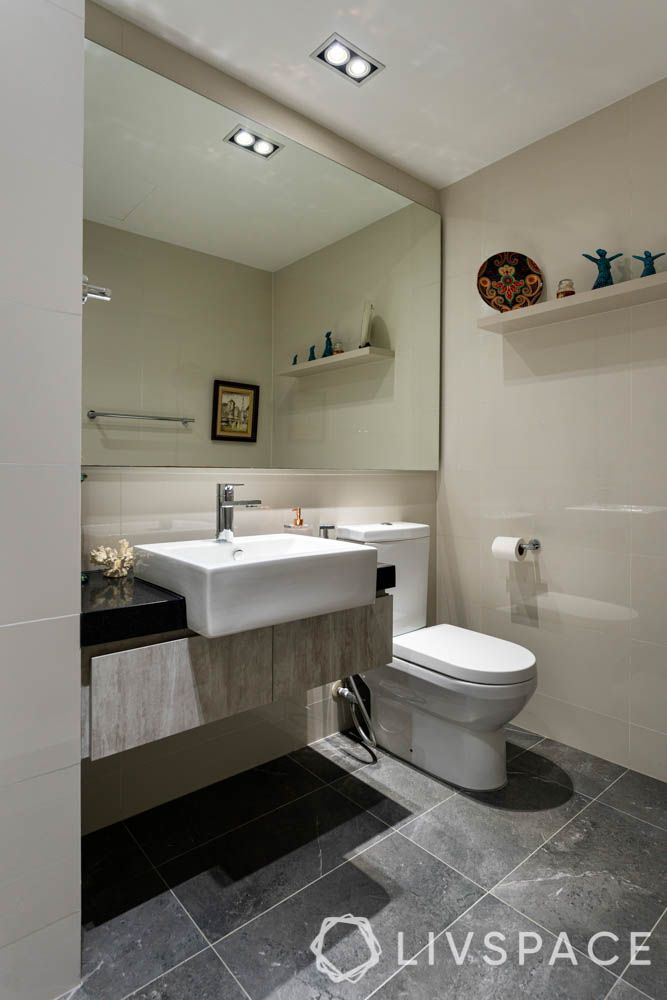 When done tastefully, wall lights can add charm to your bathroom and soothe the atmosphere. Sconces should be placed on the sides of your vanity mirror at eye-level or slightly higher. Avoid sconces that point light downwards as they can cause harsh glares and uncomplimentary shadows. A wall light can also be mounted right above your mirror for greater illumination.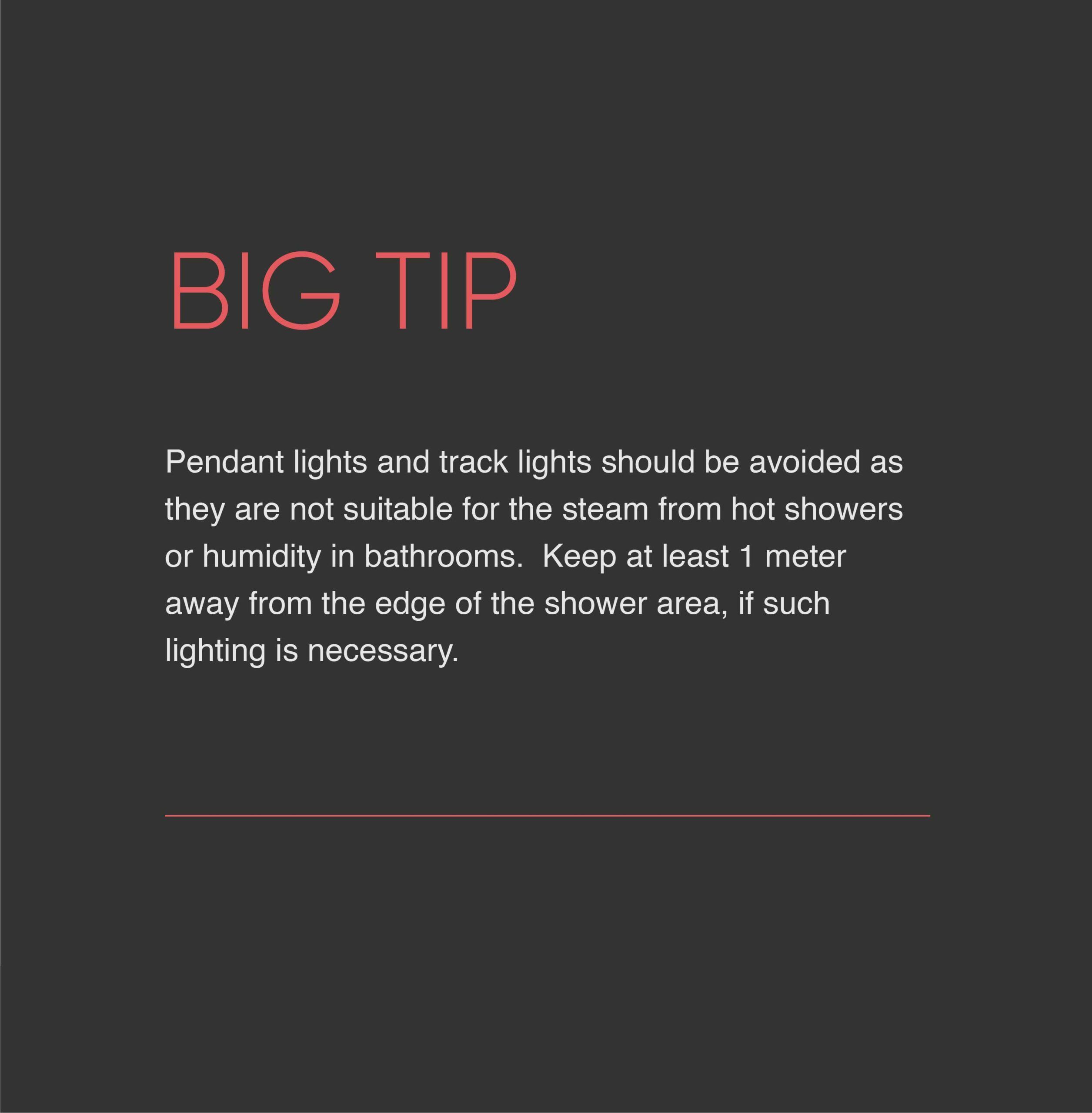 Choosing the right light temperature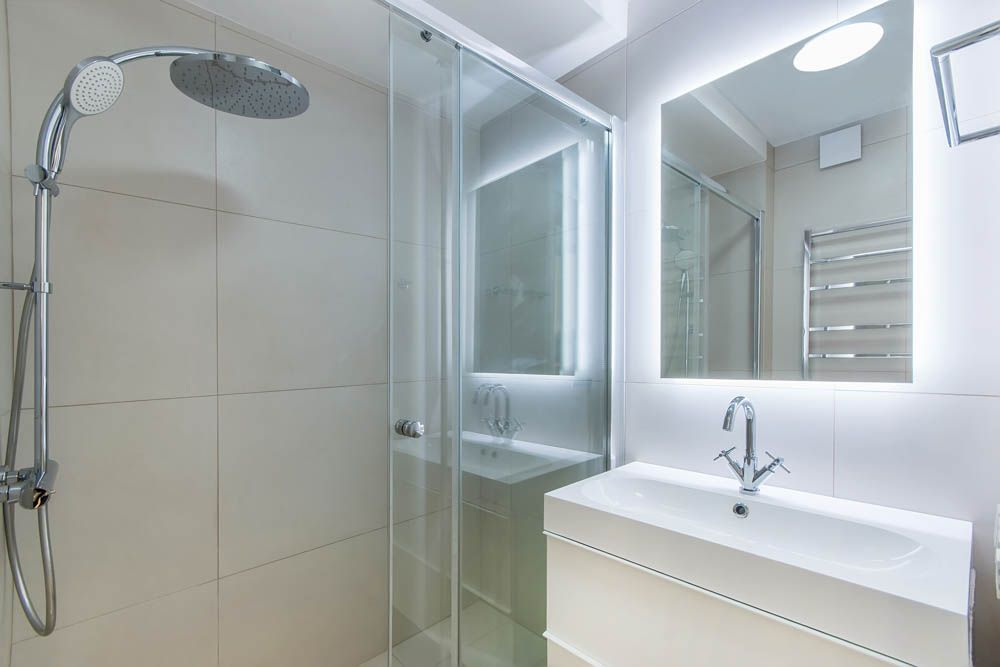 Colour temperature of lights are measured in Kelvins (K). The higher the Kelvins, the whiter the light. Also, look out for the Color Rendering Index (CRI), which is the measurement of how colours of objects will look under a light source as compared to under natural sunlight.
The higher the CRI, the better the colour rendering of our surroundings. A CRI value of above 80 is considered good, while a low CRI can make colours appear more inaccurate, making tasks like applying the right colour of your makeup challenging.
Here's how to select the right light temperature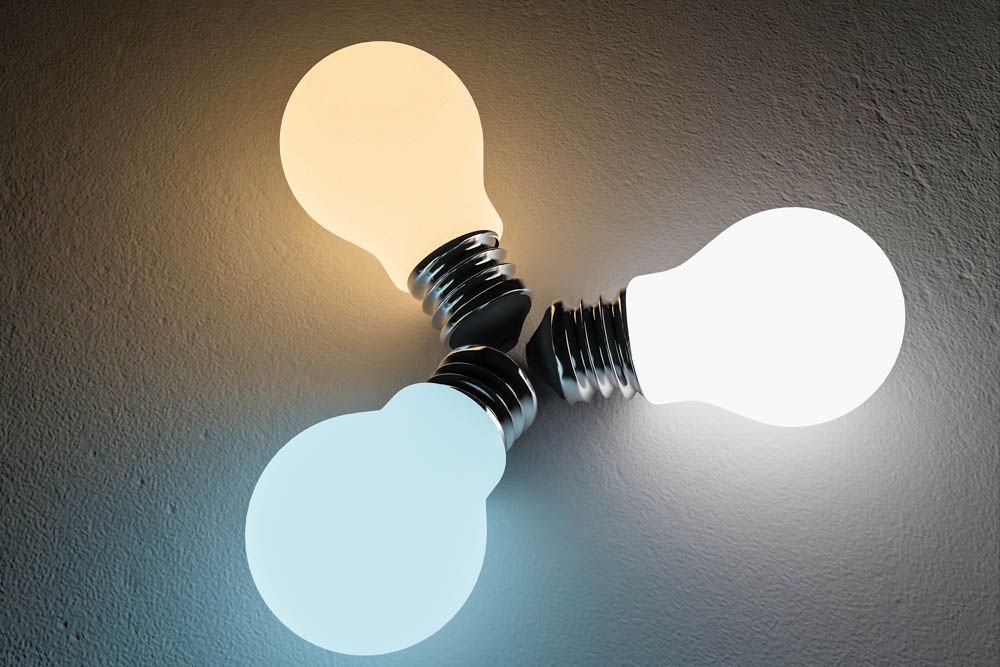 Warm White (2000K – 3000K): Warm white light emits a yellow tint and tends to be soothing, cosy and soft. It can be relaxing for our tired bodies during a night shower. Warm white lighting can be used for wall lights, cove lights, and T5 LED lights.
Cool White (3100K – 4500K): This is bright, refreshing and clear, making it ideal for everyday bathroom tasks. The ceiling light is best suited for cool white lighting, since it is installed in the middle of the bathroom ceiling for general illumination.
Daylight (4600K – 6500K): This option emits the most blue light compared to the other two above. While it makes the colours of objects appear more accurately, it can be harsh, disrupting and glaring, especially for sleepy eyes visiting the bathroom in the middle of the night. Typically, it is not ideal for bathrooms (with the exception that weaker eyes may find it useful).
Tips to follow before buying HDB bathroom lighting
Familiarise yourself with the style, colour temperature and CRI of the lights by visiting light showrooms. This will help you to make clear and informed choices before installation.
Aim for long-lasting, energy-saving LED lights which help reduce electricity bills.
If opting for a single light source, choose a light that allows you to switch between the three temperature modes.
Whether you choose to install more than one light or stick with a single light, the key is to find the right balance that will give you ample lighting to operate different tasks during different times of the day.
Also, if you liked reading about lighting for toilet renovation, take a look at 7 Ways to a Bigger & Brighter Home as well.
Send in your comments & suggestions at editor.sg@praveenlivspace-com