You know the most exciting part of getting your interiors done? It's dressing it with decor! And there are several room decoration options to choose from. When it comes to home decor, it should be characterised by materials, colours, patterns and textures that call out to you and your unique taste. So why not work on it yourself? Here are 9 elements that will get you started on the right foot.
#1: Accessories
Oftentimes, designs tend to pivot around colour schemes more than room decoration. For now, we'll be focusing on decor items that you can add to your design right now without changing its theme. These accessories work great for compact as well as spacious homes. They are subtle additions that will give your home an expensive touch.
Bedside tables
When it comes to bedside tables as room decoration, this element is more of a necessity than decor item. Armchairs, benches, study and TV units come second to a nightstand making it one of the most convenient and functional must-haves.
Keep in mind that most nightstands are approximately 25 inches high to correspond with an average 25 inches bed and mattress. For compact homes, select a table that is the same colour as the wall or headboard. This gives the room a blended look making it look like there are fewer pieces of furniture.
Plants and planters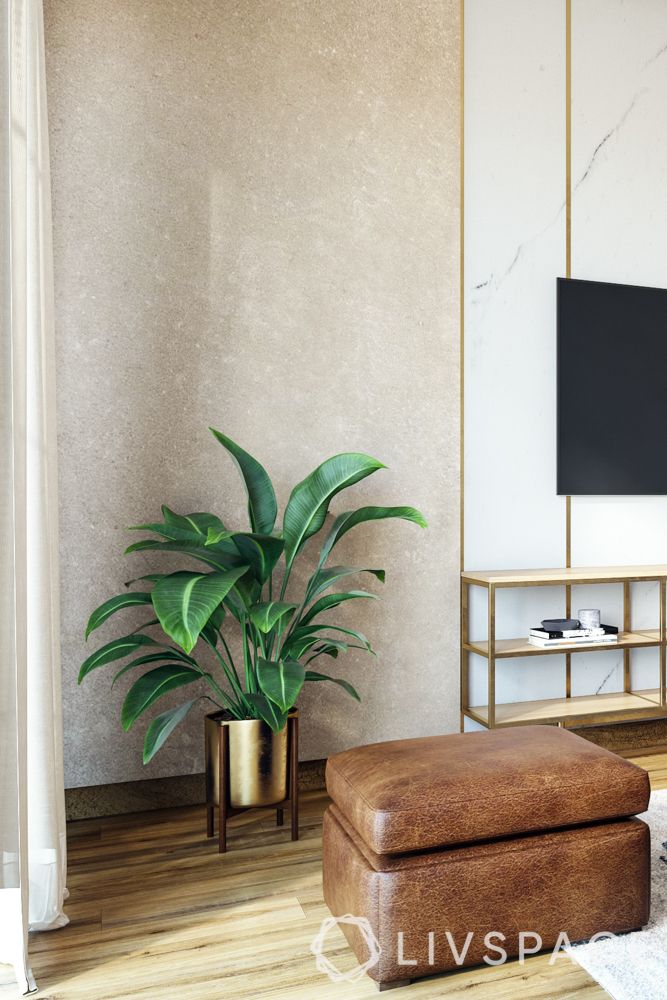 The quickest way to give your home a chic theme is by adding plants. Be it real or faux, plants instantly liven up the space and add a pop of colour. Based on colour and shared leaf profile, these are some of the plants you can opt for based on your design style:
Scandinavian: Ideal plants for a Scandinavian design are oversized Monstera plants, Swiss Cheese plants, Ficus trees or succulents. Opt for woven planters and baskets to stick to the room theme.
Mid-century: Here, a mix of textures and colours allows you to pick from a variety of plants like Monstera, snake plants, orchids, etc.
Contemporary: Opt for textured and spiky plants like cacti, snake plants or mixed succulents. This adds a contrast of textures and imperfection to a sleek and glamorous design.
Artwork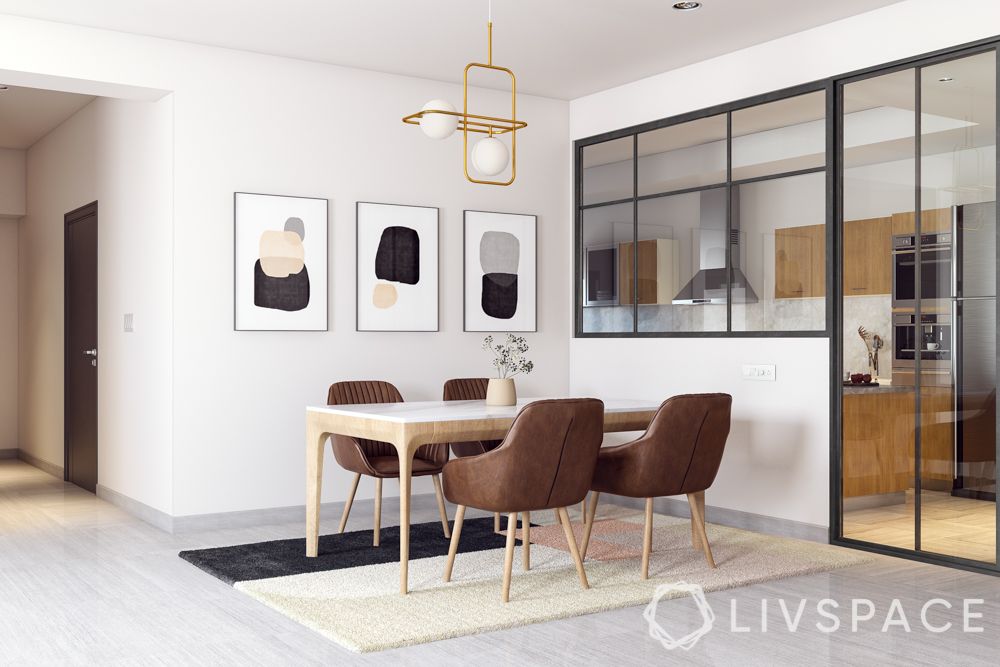 Our favourite hack to bring together a design is by using artwork as room decoration. Adding these creations will help you create an artful and personalised space in no time. You could pick up something that supports your local artists or maybe something that signifies culture and memories.
#2: Fixtures
Important in any home, fixtures are temporary attachments in a house. Here's a good rule of thumb when designing your home, if it takes a screwdriver to attach it or remove it, it's considered a fixture.
Take a look at some easy DIY room decorations installations that you can do yourself:
Handles and knobs
One of the handiest hacks to make your home look plush is by hand-picking handles and knobs. Here, the homeowners have opted for sleek golden handles from Ikea for their custom kitchen cabinets. However, you can switch up your bedroom and bathroom door handles as well.
Take a look at this list of some popular door handle types:
For doors:
Levers
D pull handle
Flush wardrobe handle
Door knobs
Thumb turn locks
For cabinets:
Cup handles
Pull handles
Cabinet knobs
Lighting Options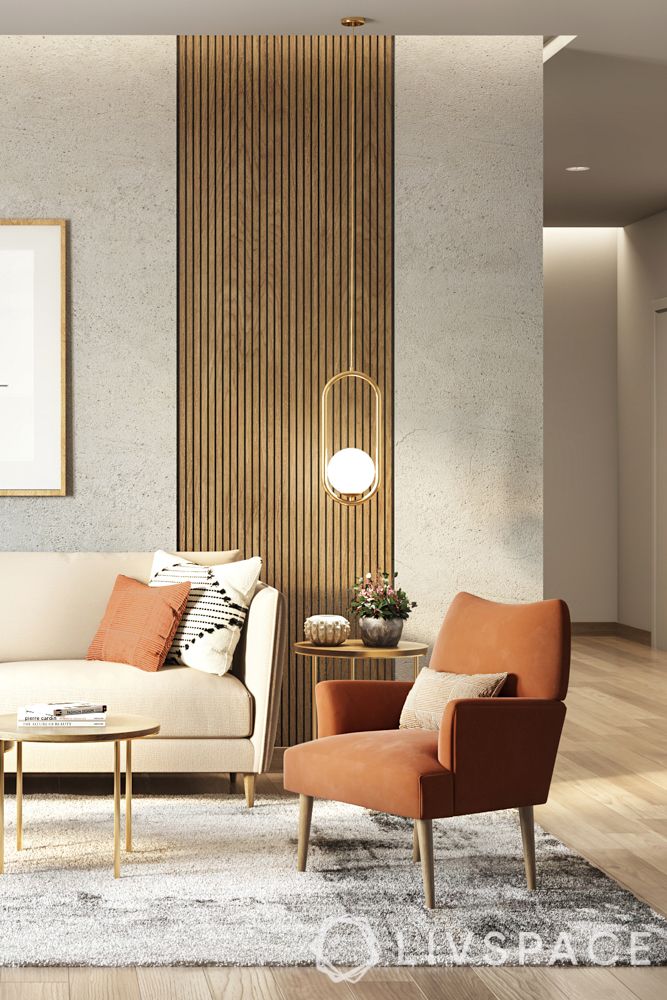 The most functional fixture of them all is lighting. Apart from installing the main light fixtures like track lights or false ceiling lights, statement lights are always worth the indulgence. Stunning fixtures on either side of a sofa or a contemporary one situated above a dining table, accent lighting can elevate your space and add a wow factor Here are some Lighting Options for Great Ambience for your home.
Mirrors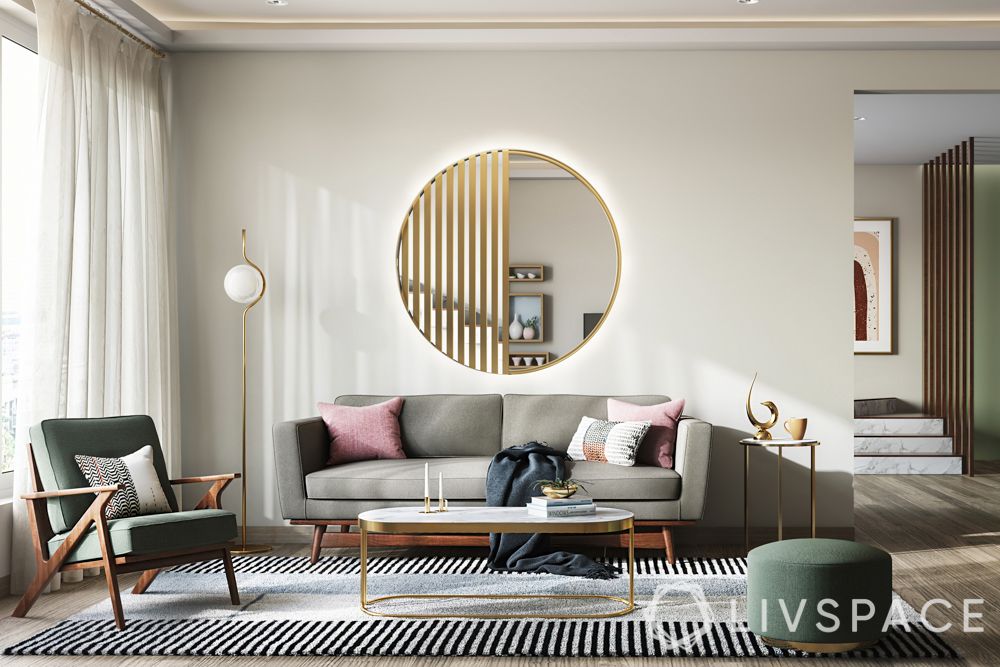 Something about embellishing a room with mirrors that no other element can do. With the evolution of unique mirror shapes, sizes and styles, this element is more than a looking glass. Mirrors hold their importance in interior design for their practical solutions to design problems.
Rectangular mirrors: These lengthy mirrors create an illusion of height and are perfect for narrow entryways.
Round/ oval mirrors: This soft edged shape is known to add visual variety to a room with square, sharp-edged furniture. They are ideal for rooms with plenty of boxy furniture.
Square mirrors: Working as an amplifier, a square mirror is a timeless option that you can't go wrong with. They are ideal for opening up a compact space like a dining room.
#3: Fabrics
Fabrics are an understated way of making a space warm and homely. These simple tips are sure to add a soft and comfortable touch to your home:
Throws, pillows and rugs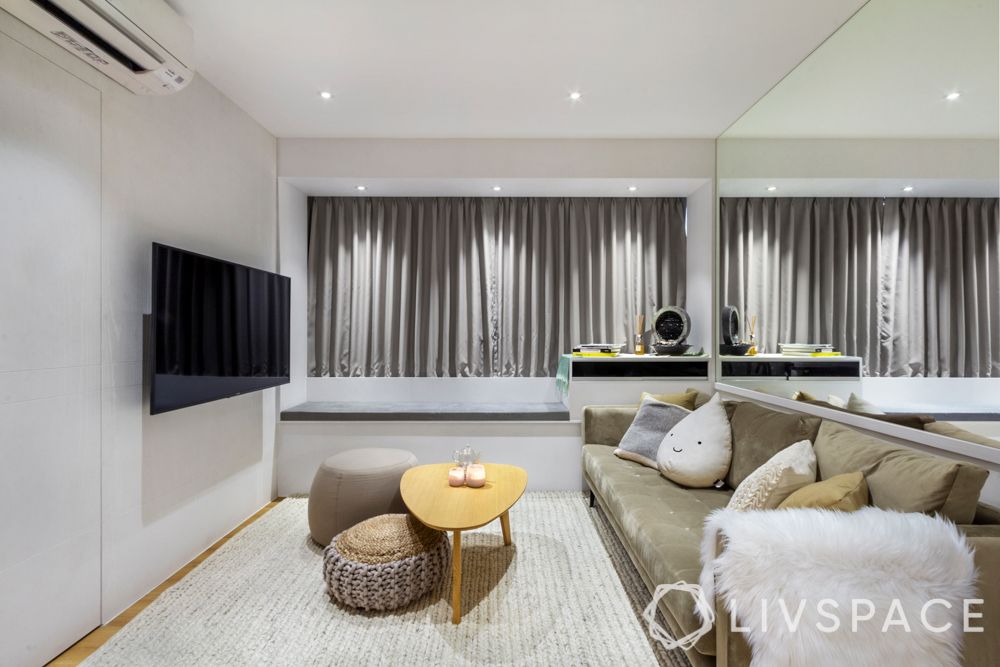 Another versatile way of breathing colour and life into your room decoration is by adding cushions, throws and rugs. From colourful cushions to fur throws, the options are endless. This can help add a bit of visual warmth to your seating and beds.
Bedding and linens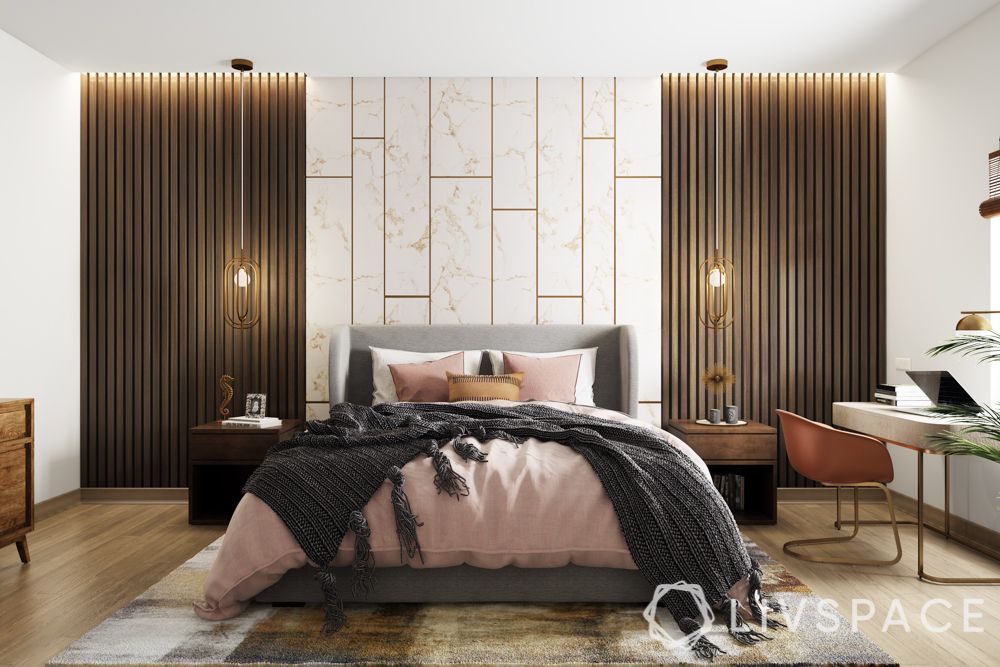 The quality of bedding is directly related to the quality of sleep you get everyday. There is more to bedding and linens than just materials and patterns.
Here are some factors to keep in mind when you go shopping for bed sheets, bed covers and any other linen:
Test a pillow by placing it over your arms, if it droops on either side, it's time to get new ones.
Choose pillows that are soft yet firm enough to give appropriate support to your head, neck and shoulders.
Pick the right thread count for your bed sheets. Thread count refers to the number of threads per inch and not the quality of the cloth.
Opt for seasonal duvets for different seasons. Check their togs to find out what season they are suitable for.
Curtains and blinds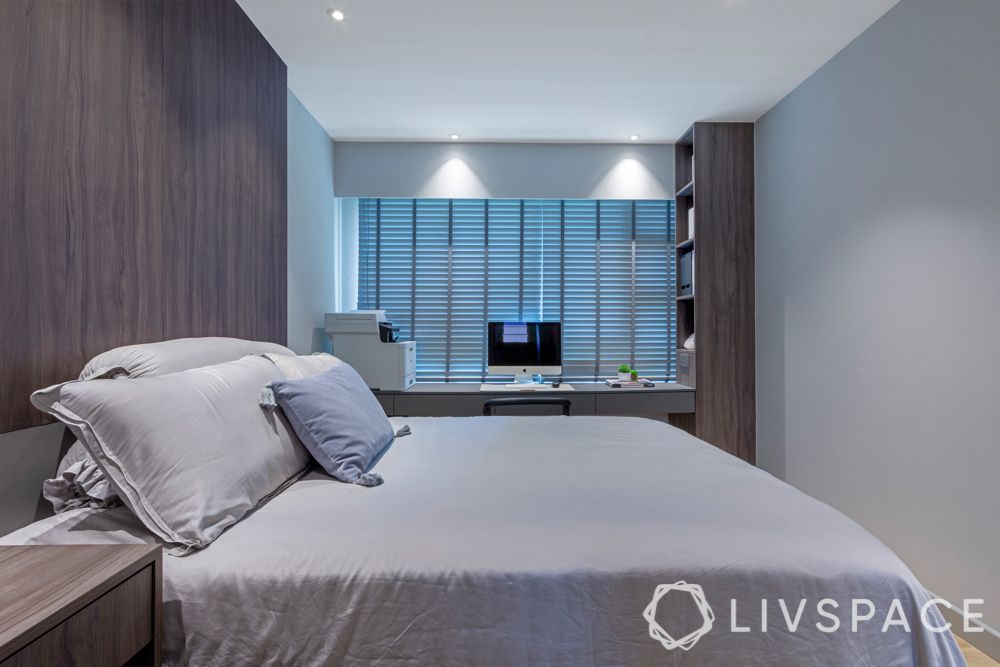 For most, window treatments boil down to two options, curtains and blinds. By default, curtains are better suited for a wide range of styles, whereas blinds add a more contemporary, modern look to the home. They come in a variety of colours, patterns and even thickness.
Scandinavian and Mid-century modern style: Opt for light airy curtains that exude some amount of sunlight.
Contemporary style: Opt for black out curtains, roller blades or blinds with a variety of colours like grey, red and green.
Take a look at Expert Advice: Solutions for the Top 3 Bedroom Design Problems for more information!
Send in your thoughts and suggestions to editor.sg@livspace.com.