There's no denying that Singaporeans love all things minimal. While a lot of people are turning to Japanese interior design ideology to get a slice of Japanese minimalism to Singapore, we're here to help you with what can really do the trick. We understand that it might be difficult to completely renovate your HDB or condo right away, so why not try borrowing some quintessential design elements from the land of the rising sun?
Check out these 6 ways in which you can infuse your home with a Zen-style vibe.
#1: Shoji screen opening up to lots of greenery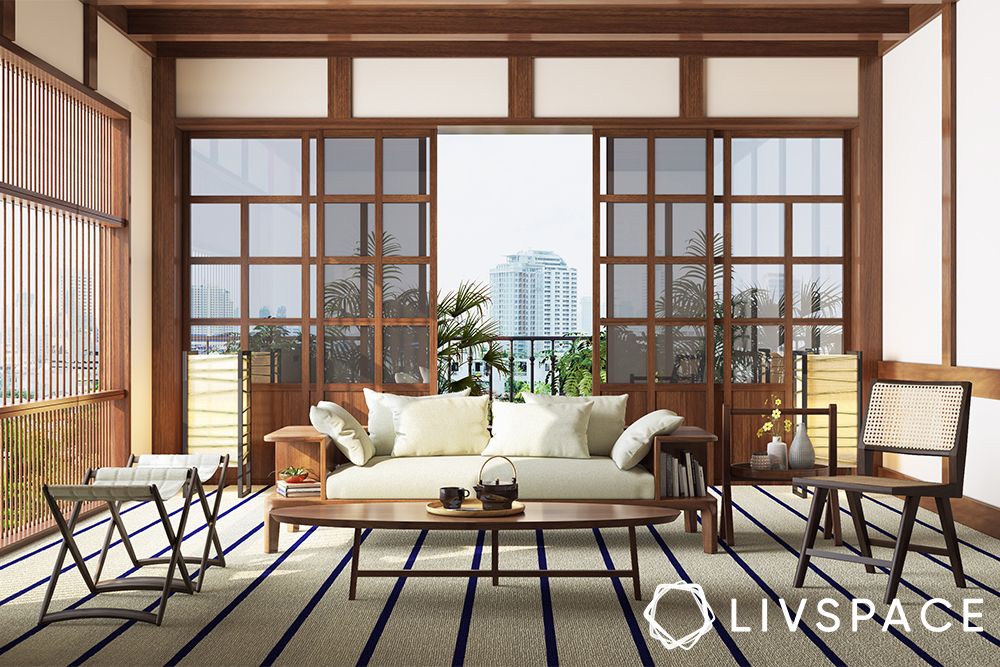 Quintessential Japanese design features: Shoji screen, wooden strip divider, wooden furniture
If you've ever visited Japan and seen the homes of Japanese natives, you will notice that they despise closed spaces. So one sureshot way to add Japanese interior design charm at home is to install huge picture windows that overlook greenery. Don't have a green view outside? Make one for yourself on your balcony. Fill it up with all sorts of plants (specifically bonsai – a Japanese favourite).
Another remarkable addition is this wooden screen made up of thin wooden strips that serve both as a divider and a design feature. This will allow natural light to flow in and maintain some level of privacy as well.
#2: Lots of wood in a minimal, open setting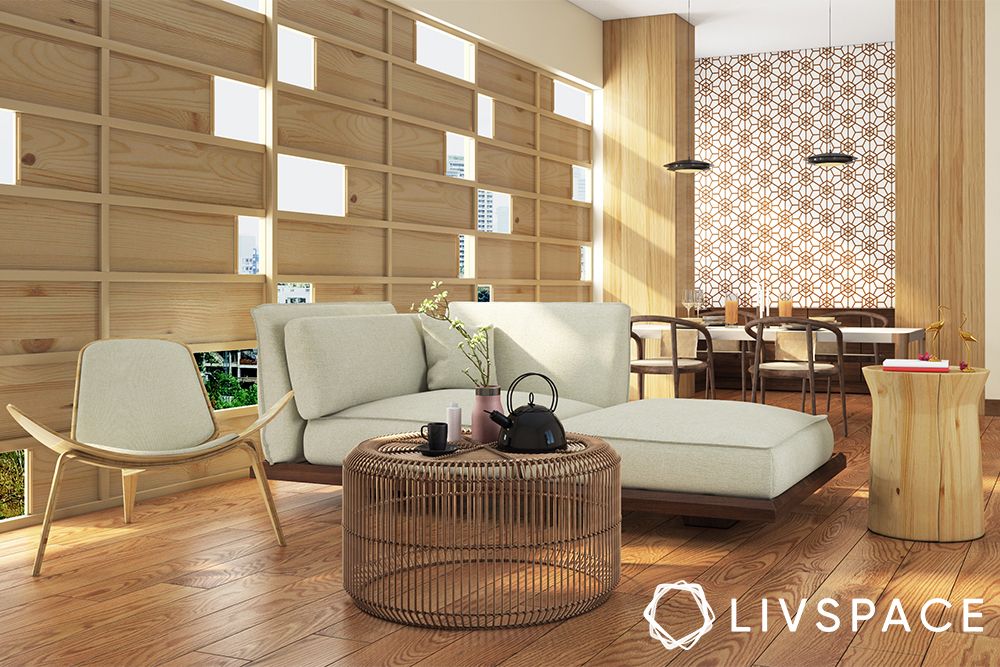 Quintessential Japanese design features: Open layout, wooden flooring
Japanese interior design swears by open settings where there is no hindrance in movement (of people and energies). Wood has to be the dominant material in your home if you are using this style of design. You can pair multiple shades of bamboo and laminate and yet, you will not go wrong. Just keep the focus on lighter hues. Furniture that is not too heavy on the eye is your go-to!
#3: Low seating dining table in natural wood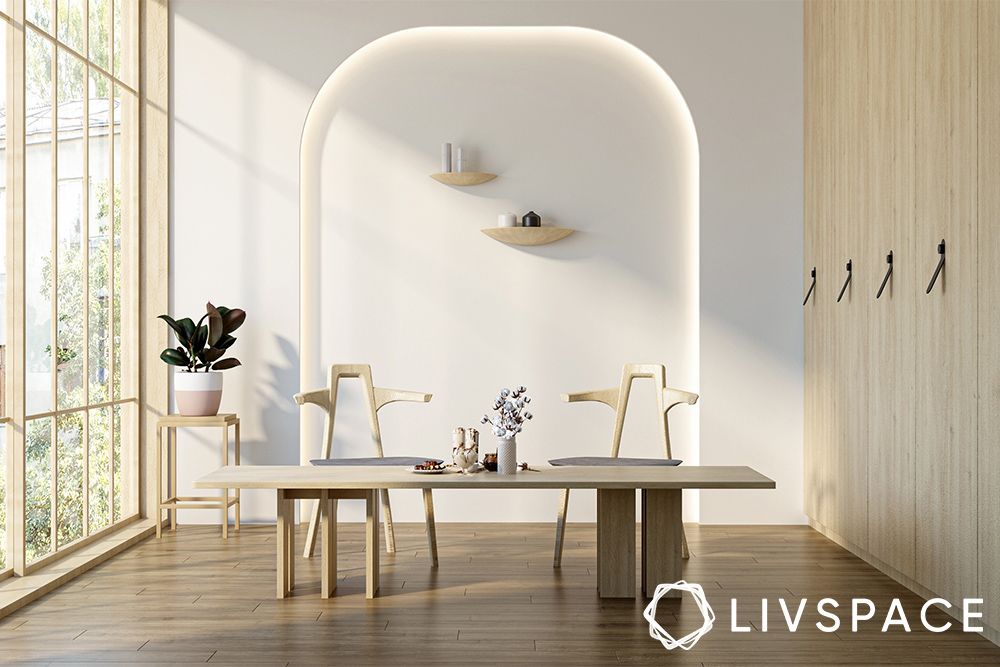 Quintessential Japanese design features: Minimal setting, low seating, glass windows
Have you ever seen a more simple and minimal dining room? We bet not. The Japanese believe in minimalism to the T and follow it religiously in design as well. Removing clutter is your first step to nailing this design style. When it comes to your dining room or anywhere else where you need a centre table with seating, you have to get a low seating setup. Allow natural light to flow in as much as possible.
#4: Meditating room with neutral walls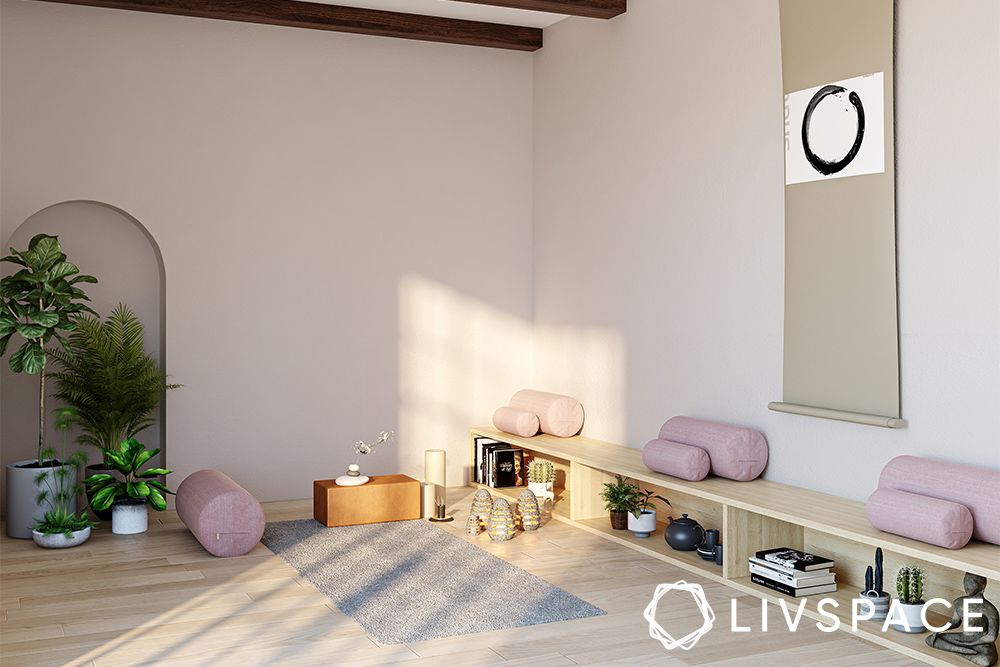 Quintessential Japanese design features: Wooden ceiling rafters, plants, neutral walls
What is the biggest challenge in today's time? We'd say it is creating a space at home where you can feel at peace and one with yourself. Therefore, having a room dedicated to meditation is a must. You'll always find one in Japanese homes. Wooden rafters on the ceiling are an element that you must try. And of course, add lots of plants and open shelves where you can keep your essentials.
#5: Tatami flooring in the bedroom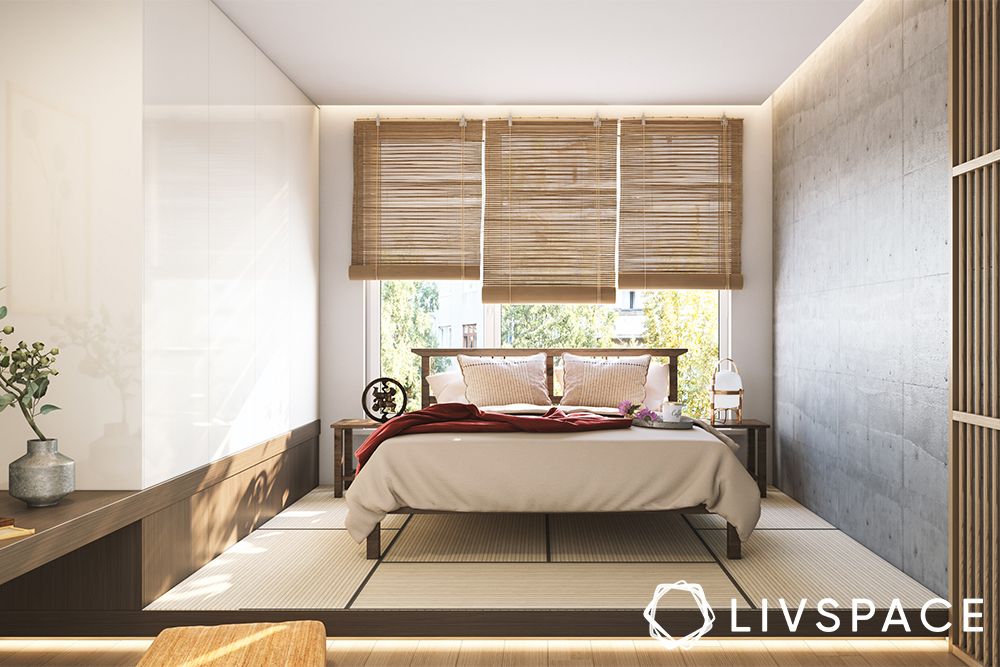 Quintessential Japanese design features: Tatami mat flooring, bamboo blinds, low-legged simple bed frame
According to Japanese interior design style, the right way to design a bedroom is to move upwards from the floor. Start by laying traditional tatami mats for the flooring, which are made of rice straw and very comfortable to walk on. If you're not intending on redoing the entire floor, just lay a small tatami mat in front of the bed. Furniture in a oriental-themed bedroom is ideally low and mostly accentuated by bamboo.
#6: Traditional bath with natural light and greenery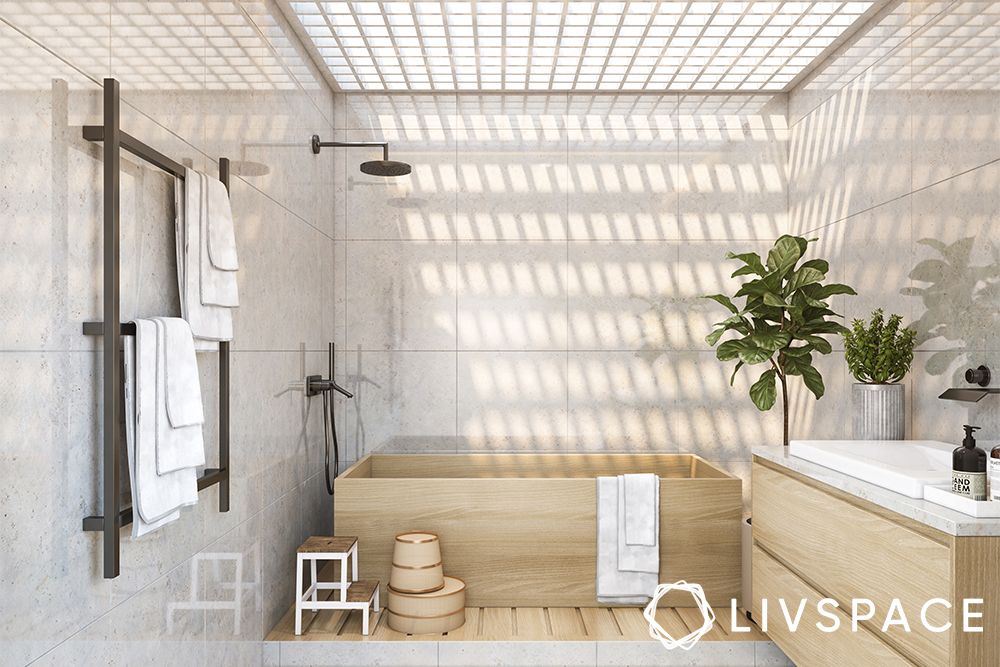 Quintessential Japanese design features: Deep bowl (ofuro) bathtub, natural wood, ambient lights
The traditional bath in a Japanese home usually consists of a deep bowl bathtub that is completely hidden in the floor. While it might be difficult to do that in Singapore homes, you can still get a deep bowl bathtub in wood or laminate to get a feel of it. For lighting, stick to cove lights and other types of ambient lights to keep the vibe as calm as possible. A sunshade above your bathtub is a huge plus!
Check out this Scandinavian-style HDB:
Love seeing such design ideas? You must check out How to Decorate the Wabi-Sabi Way!
Tell us
Which design idea caught your fancy? Send in your comments and suggestions to editor.sg@livspace.com.